"While we can't change our genes, we can alter our lifestyle to protect the longevity of our skin, body and mind."
– Dr. Claudia Aguirre
Just 2 hours away from LA in the desert landscape of Corona, Glen Ivy Hot Springs is a wellness enthusiast's ultimate playground built around mineral hot springs and their incredible health benefits. It's been around for over 150 years but it has certainly evolved over time, including in recent years to cater to today's eco-friendly luxury seeker. With its 19 different pools, mineral hot springs, exceptional spa treatments, gourmet cuisine, Scandinavian-inspired Starbucks-serving cafe. cocktail bar and the one-of-a-kind Club Mud and Grotto, Glen Ivy has all the makings for an epic spa day with a loved one or friends.
Last month, Glen Ivy celebrated the new skincare line /skin regimen/ (launched Feb 2018) at their spa and invited bloggers and influencers to learn more about the science behind the products, enjoy the facilities and experience the line firsthand with an Urban Longevity /skin regimen/ facial. Dr. Claudie Aguirre spoke about the
Effect of psychological stress on skin
The psychological power behind touch and music
DNA only being a factor not a determinant in how we age (we are not locked into our DNA)
and other skincare science topics.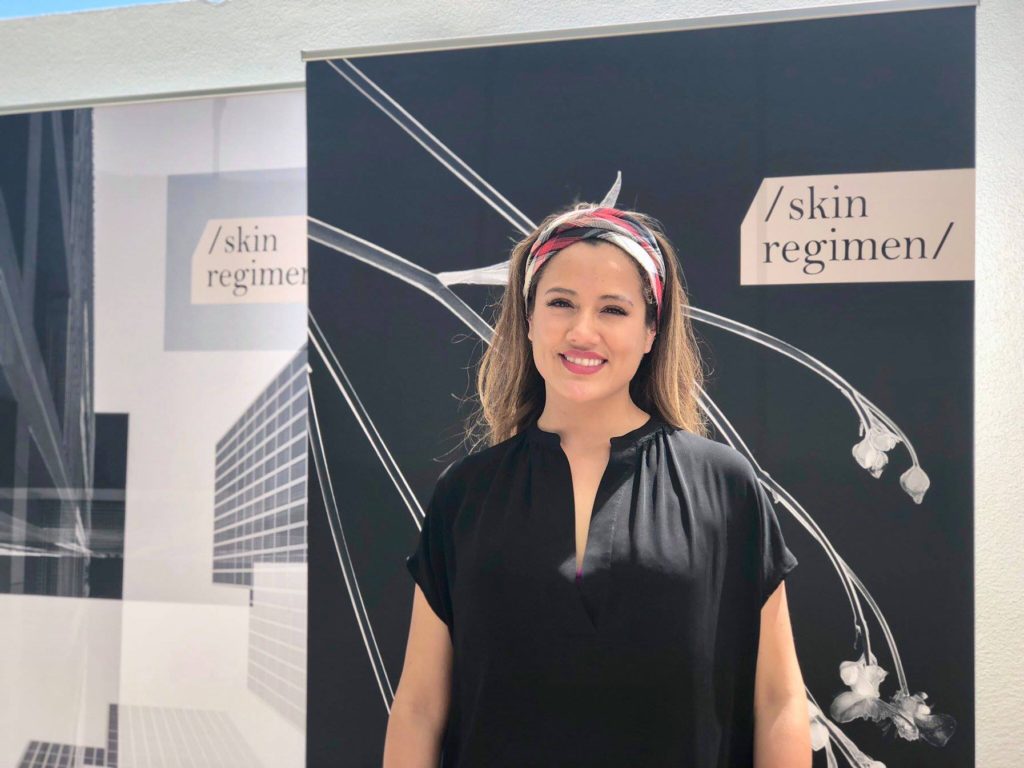 The Urban Longevity /skin regimen/ Facial Review
This expertly designed facial is for stressed skin or skin showing the first signs of aging. It is customizable to correct dullness, dehydration and expression wrinkles, it deeply renews the skin and leaves it glowing and protected.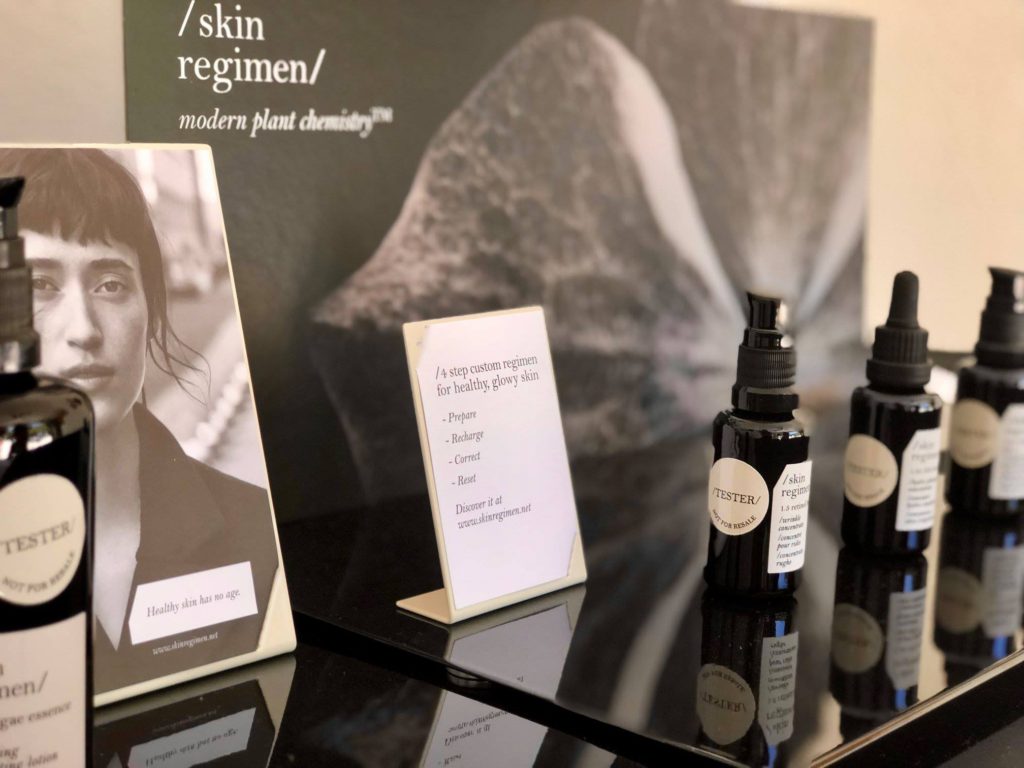 The spa has a beautiful entrance where /skin regimen/ products, Jane Iredale, NuFace skin tech devices, COOLA and other products are displayed and several treatment rooms. The facialist began with aromatherapy then proceeded to cleanse the skin. As it was a mini-facial there was no steaming involved. She used a 16% acid peel mask which felt very tingly and included a massage session using a Qigong and Rolling Roulage technique with her fingers, which felt like she was rolling my skin continuously. It also included  Macro Waves Sound, which uses both natural and synthetic sounds that help the mind detach, and a shoulder and upper back massage to provide a deep relaxation effect as the mask sat. Finally, the mask was wiped off and /skin regimen/ MicroAlgae Essence and Jane Iredale BB Cream SPF 15 was applied. My skin looked brighter and luminous, though I'm sure with the full facial you would reap even more benefits. The facialist also advised to reapply sunblock every hour not every few hours when in the sun.
Sole Focus Massage Review
This indulgent foot massage uses a technique called Zone Theory which stimulates points on the feet that improve circulation, stimulate mental calm and relieve physical tension throughout the body. 50 minutes felt like 5 with my massage therapist using her expert fingers to knead, rub, pull, and tap her way into the souls of my feet. If I get a massage I usually go for a full body one, but there's something interesting about the Traditional Chinese Medicine philosophy that the foot is connected to everything in the body. Perhaps there's some truth in this as I still felt relaxed and like I was walking on clouds after.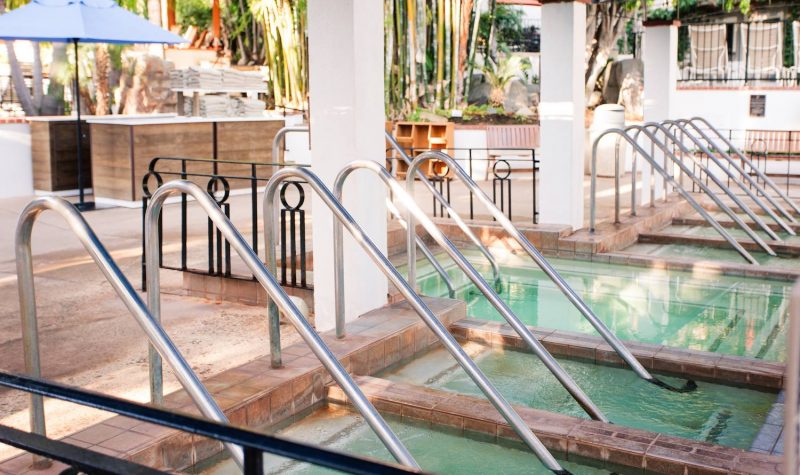 Glen Ivy Hot Springs Review
I'm not even sure where to begin, but Glen Ivy is simply beautiful- it's like a tropical oasis wonderland with every kind of amenity you would desire. Need a pool filled with red clay mud? Check. Need a pool with a panoramic view? Check. Want to lie in a pool that's basically a giant Epsom salt bath? Check. Healthy cocktail during the day? No judgement. Healthy cuisine crafted by an executive chef? Check. I could go on and on. It truly is an adult playground and an all day affair. I don't believe a day here is complete without complementing it with one of their spa treatments. Can it really be a spa day without some sort of massage? To give you a better idea of all that Glen Ivy has to offer, here are the deets:
19 mineral baths and pools
Club Mud (Californai red clay pool)
Women's Bathhouse with our own indoor pool
2 stylish saunas
Ivy Kitchen serving healthy, Mexi-Cali with a coastal twist and farm-to-table philosophy
Bar & smoothie café
Spa treatments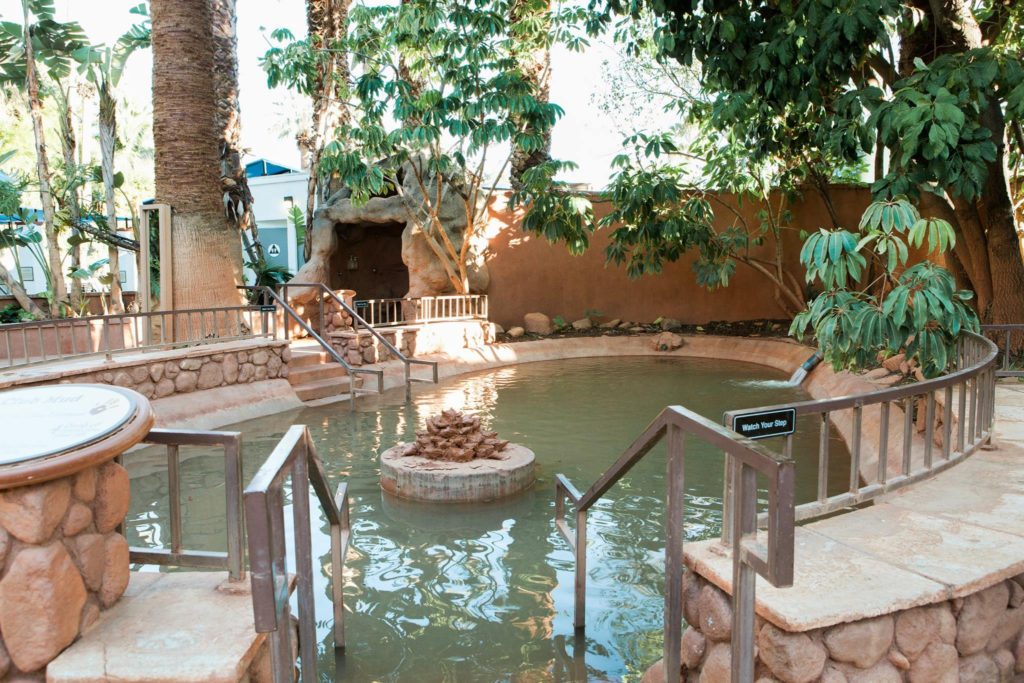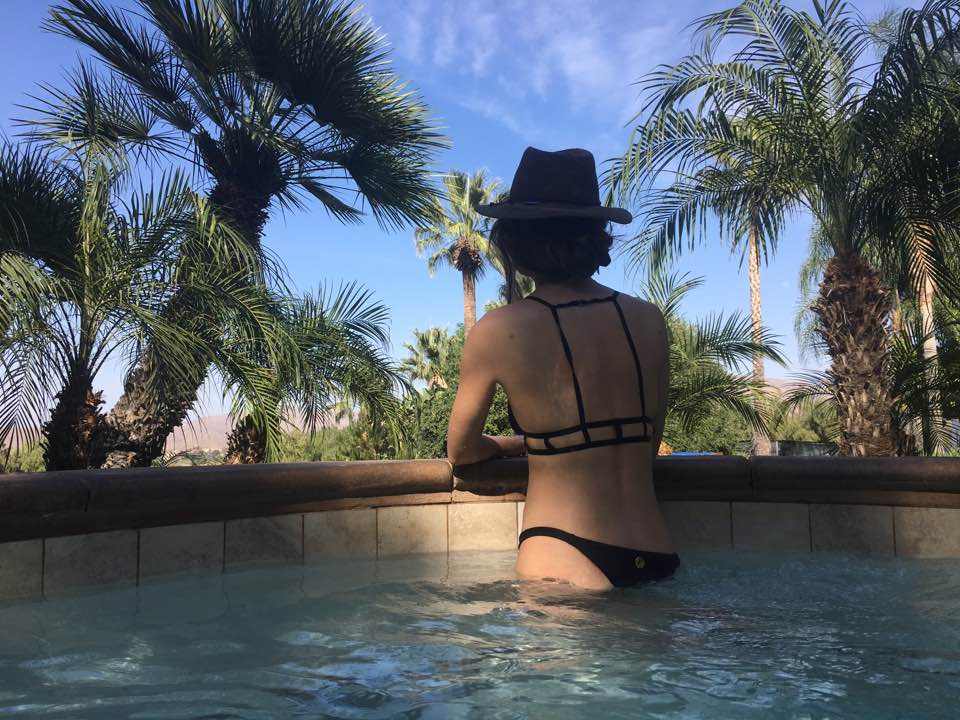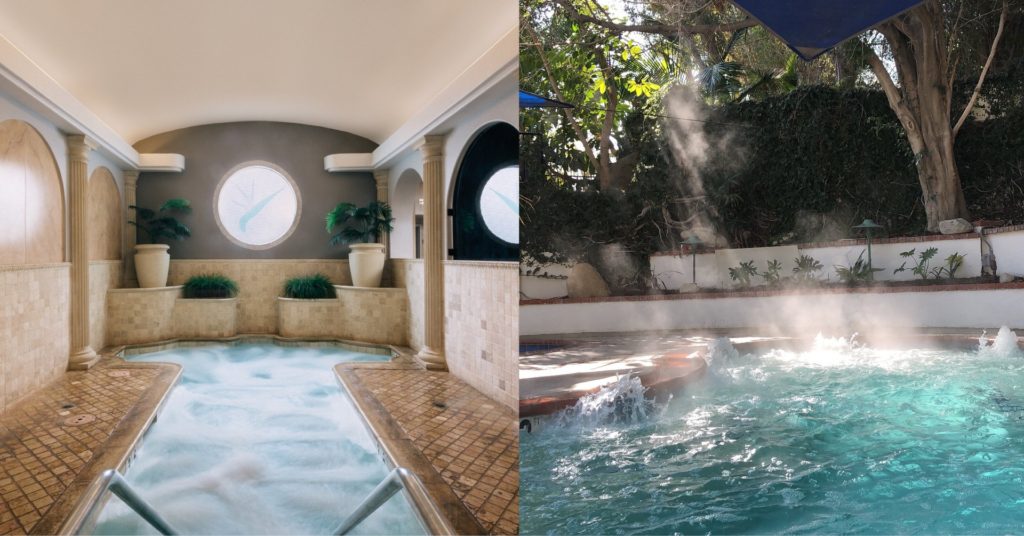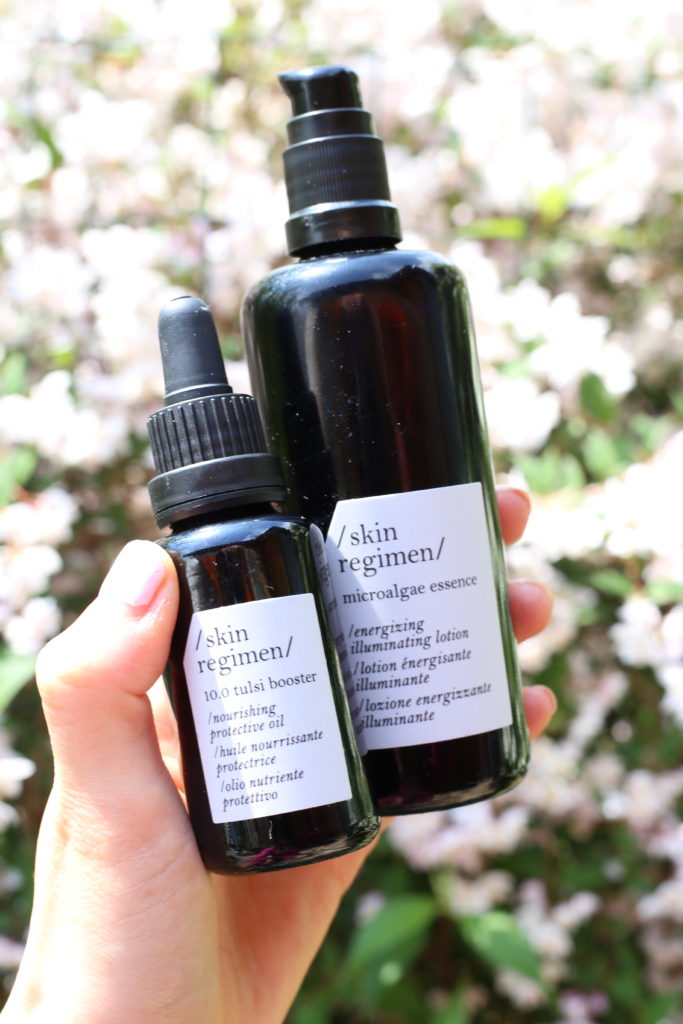 About /skin regimen/ skincare science-focused line for the stressed out urbanite
I wanted to wait to until I had tried out the /skin regimen/ products we were sent home with so I could share my experience. Please note I've only used these for about a week so these are merely my first impressions and not a real review. This is not an organic line, but takes a natural approach with zero synthetic fragrance, silicones, animal derivatives, artificial colorants, mineral oils and parabens. /skin regimen/ was designed for the urban-dweller living a fast-paced and stressful lifestyle. This kind of lifestyle alters the skin's normal cellular processes, particularly DNA methylation, glycation, oxidation and inflammation, contributing to cellular breakdown and eventually hindering skin health, even in biologically young skin. The /skin regimen/ products target the most common stress-related signs – dehydration, city-gray skin, wrinkles and imperfections using their signature Longevity Complex™ an exclusive mix of organic superfood extracts and a high-tech molecule, counteracting the effects of stress and aging accelerators. It contains the anti-inflammatory Wild Indigo, modulating excess cortisol and boosting beta-endorphins, Maqui Berry with powerful antioxidants anthocyanins, and anti-glycation Spinach and Carnosine, a dipeptide. Spinach, thanks to its folic acid content, also promotes a correct DNA methylation.
MicroAlgae Essence Iluminating Lotion
This is definitely more of an essence and a thick toner than a lotion. It gives a nice glow to skin and I use it underneath my serum and moisturizer, but as far as "illuminating" it does not contain any shimmer or mica. This has to be my favorite product out of the three I tried. It gives a major boost of hydration to my dry skin and has an invigorating scent that reminds me of cinnamon. The essence is concentrated with unicellular micro-algae and their Longevity Complex to recharge the skin and maintain optimal hydration.
This is a super lightweight concentrated oil featuring Tulsi, an adaptogenic ingredient used in Ayurvedic medicine to promote antioxidant activity and is designed for particularly dry and depleted skin. It feels almost like a serum than an oil, provides lasting hydration and I love that it incorporates Ayurveda. The scent is the same as the MicroAlgae Essence- a spicy cinnamon like scent.
This is another very interesting product – you leave it on overnight rather than washing it off after it dries and it works to detoxify the skin from accumulated pollution. It contains Gluconolactone and alpha-glucan yeast to boost the skin's ability to eliminate the toxins accumulated during the day. The mask has a balm-like texture and a beautiful natural scent I can't quite put my finger on. My skin feels softer and looks clearer and significantly more toned the next morning.
Thank you Glen Ivy Hot Springs and /skin regimen/ for this unforgettable experience!