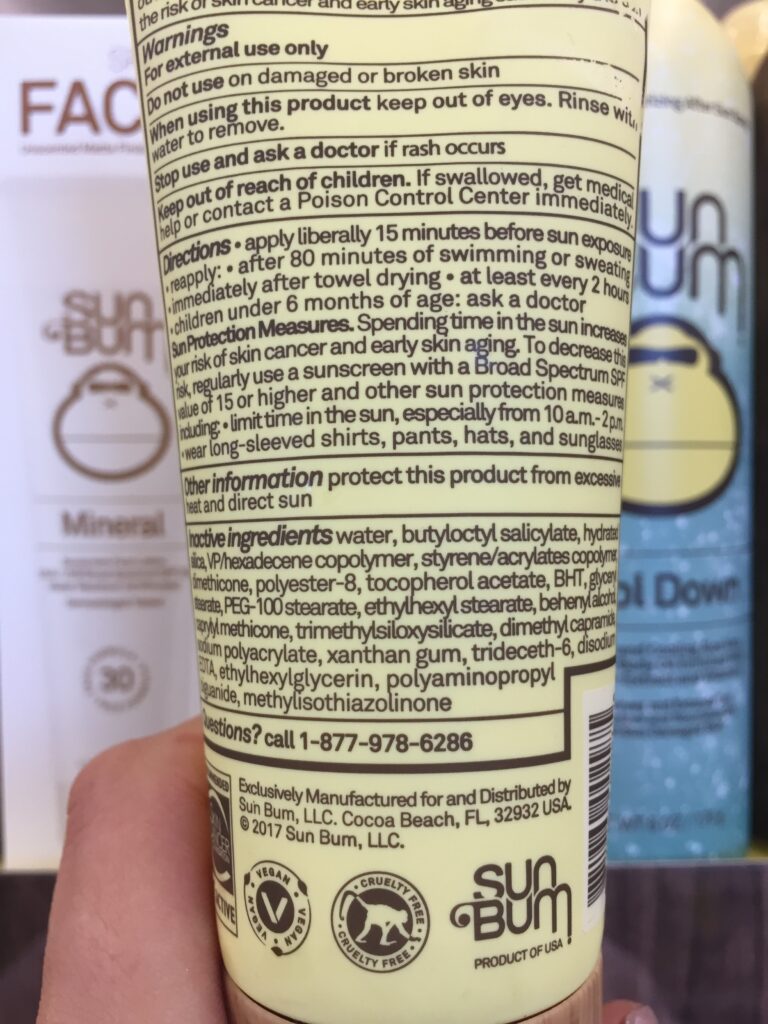 It's that time of the year that I receive an influx of sunscreen questions so I thought I would share the best and worst sunscreens including my personal favorites. Last summer the Environmental Working Group found that nearly 70% of the 650 sunscreens they tested were harmful or ineffective. They offered inferior sun protection or contained harmful ingredients like oxybenzone, a hormone disruptor, or retinyl palmitate, a form of vitamin A that may harm skin.
Most sunscreens are filled with these toxins:
-Oxybenzone, which is linked to hormone disruption and cell damage that may lead to skin cancer.
-Retinyl palmitate, which has now been proven to be a carcinogen.
-Octyl-methoxycinnamate causes oxidation damage of the skin, which means aging
-Butyl-Methdiebenzoylmethane, releases free radicals into the body.
-Benzophenone 2 (BP2), decreases the function of the thyroid, in a population that is already seriously suffering from hypothyroidism (under active).
Some facts to help you move in the right direction:
-The common sunscreen additive vitamin A speeds development of skin cancer. Studies by federal government scientists indicate that it may trigger development of skin tumors and lesions when used on skin in the presence of sunlight. Avoid vitamin A or retinyl palmitate, which is also called retinyl acetate, retinyl linoleate and retinol.
–. Sunscreen ingredients soak through skin and can be detected in people's blood, urine and even mothers' breast milk. Several commonly used ingredients appear to block or mimic hormones, and others cause allergic reactions on sensitive skin.
– You don't need anything higher than SPF 50. Higher SPF ratings don't necessarily offer greater protection from UV-related skin damage, especially UVA damage, and may lead users to apply too little thinking they're getting a lot of protection or spend too much time in the sun. The FDA has proposed banning them
-Majority of people don't apply enough sunscreen and don't reapply enough times then complained of getting burned
-Spray sunscreens can be inhaled and the EWG does not recommend them
These are EWG's worst sunscreens followed by the best.
EWG's WORST SUNSCREENS
Banana Boat Kids Sunscreen Lotion, SPF 100
Coppertone Kids Sunscreen Continuous AccuSpray, SPF 70
Coppertone Water Babies Sunscreen Stick, SPF 55
Coppertone Water Babies Foaming Lotion Sunscreen, SPF 70
Neutrogena Pure & Free Baby Sunscreen, SPF 60+
Neutrogena Pure & Free Baby Sunscreen, SPF 60+
Equate Baby Sunscreen Lotion, SPF 70
Up & Up Sport Sunscreen Lotion, SPF 50
Panama Jack Sport Sunscreen Lotion, SPF 85
EWG's Best Face Moisturizers with SPF
Juice Beauty Oil Free Moisturizer SPF 30
Juice Beauty Tinted Mineral Moisturizer SPF 30
Soleil Toujours Daily UV Defense Mineral Sunscreen Moisturizer, SPF 20
Kari Gran Three Sixty Five SPF 28
Supergoop! Daily Correct CC Cream, Fair/Light, SPF 40

Goddess Garden Organics Face the Day Daily Moisturizer, SPF 30

MyChelle Dermaceuticals Replenishing Solar Defense, SPF 30

Raw Elements USA Daily Lifestyle, SPF 30 (affiliate code OBL saves at rawelementsusa.com)
EWG's Best Beach and Sport Sunscreens

Badger Tinted Sunscreen Cream, Unscented, SPF 30

Bare Republic Mineral Sunscreen Stick, Tinted Sport, SPF 50
Check out the entire list here
EWG's Best Scoring Sunscreens for Kids
All Good Kid's Sunscreen, SPF 30
Badger Kids Sunscreen Cream, Tangerine & Vanilla, SPF 30
Bare Republic Mineral Sunscreen Lotion, Baby, SPF 50
California Baby Calendula Sunscreen, SPF 30+
COOLA Suncare Baby Mineral Sunscreen Stick, SPF 50
Goddess Garden Organics Kids Sport Natural Sunscreen Lotion, SPF 30
Kiss My Face Organics Kids Mineral Sunscreen, SPF 30
h o w E W G r a t e s s u n s c r e e n s
The organization rates each sunscreen on a scale of 1 to 10, with 1 being safe and 10 being dangerous. It grades each product on five criteria:
Health hazards (such as if it has an ingredient that's considered dangerous)
UVB protection
UVA protection
The ratio of UVA absorbance to SPF
How long-lasting the sunscreen is
MY PERSONAL FAVORITES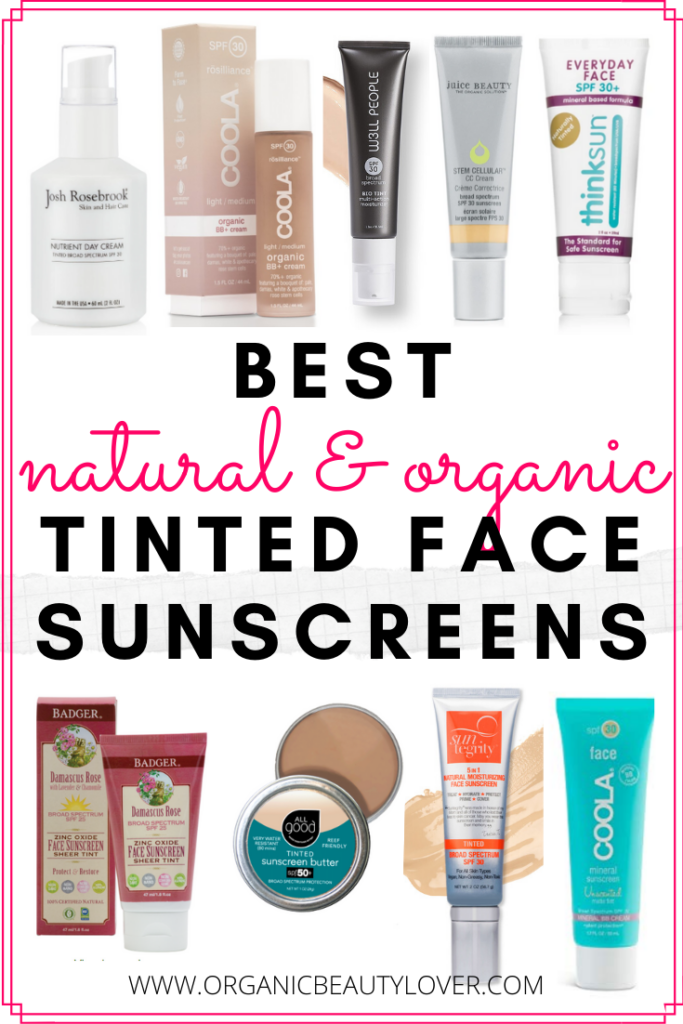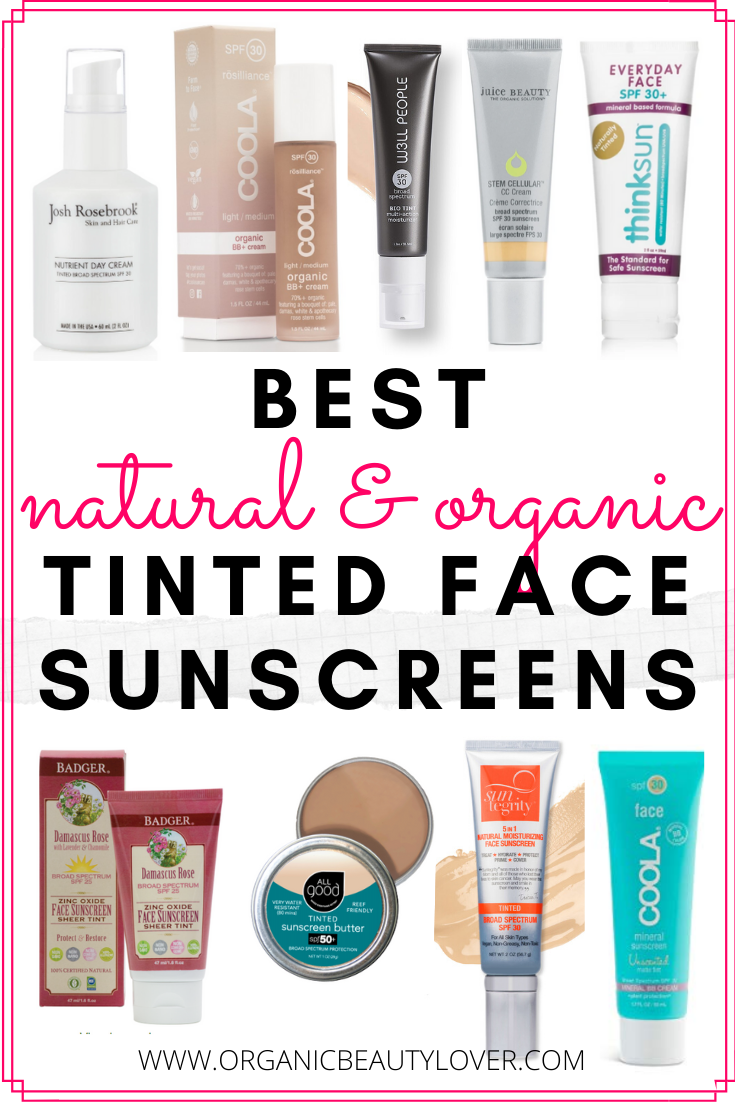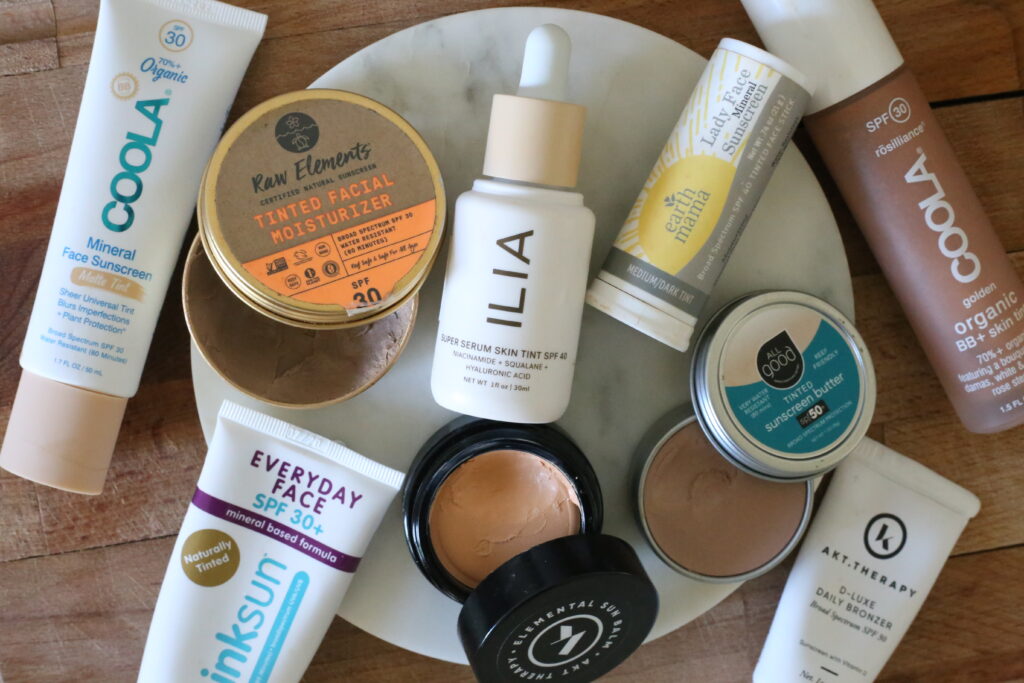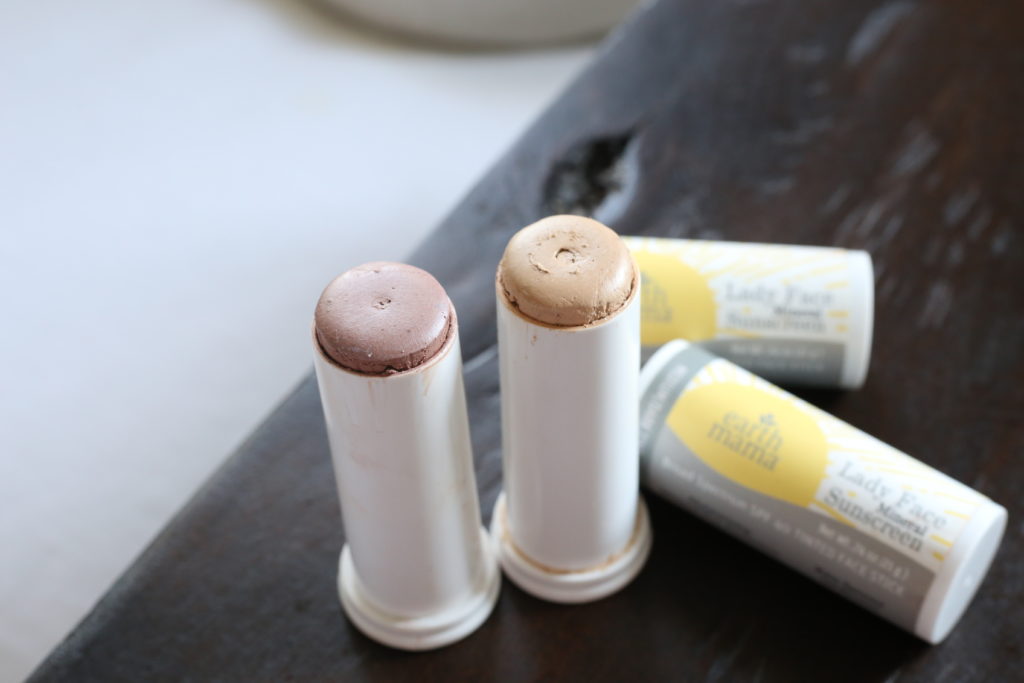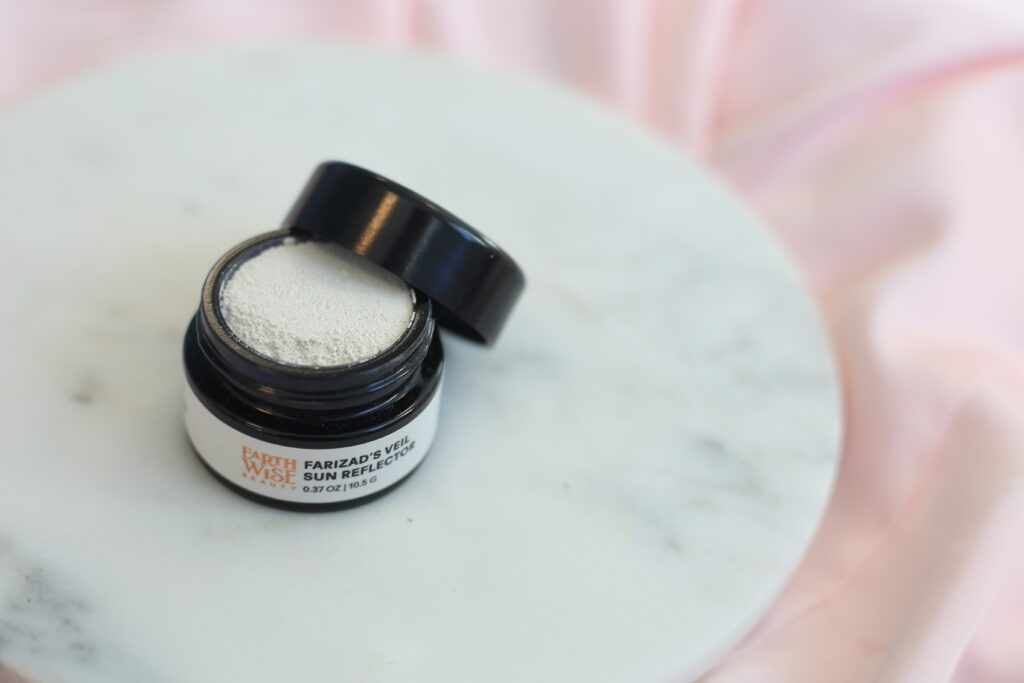 Earthwise Beauty Farizad's Veil SPF Powder
Earthwise Beauty's SPF Powder is made of the highest-grade, minimally processed non-nano and uncoated zinc oxide (particle size 325 nm), which is the safest, and most reliable sunscreen ingredient available today. Titanium dioxide is the other option but it doesn't provide full spectrum protection. The 2nd ingredient is pure powdered aloe leaves making this a mask in itself. These leaves are moisturizing, skin damage preventing & correcting as well as cooling & soothing. Precious Indian Pink Champaca Flowers, Madagascar geranium leaves, and a delicate frankincense from Oman lends it its scent.
This is the most versatile SPF product available. You can mix it with foundation, BB cream, moisturizer, face oil, face balm or even brushed on by itself.
Ingredients
Active ingredient: non-nano uncoated zinc oxide 94% (Canada); others: aloe barbadensis leaf powder*, organic hexane-free Rosa centifolia (rose) absolute (Morocco), wildcrafted hexane-free pink champaca absolute (India), organic Pelargonium graveolens (geranium bourbon) oil (Madagascar), Pelargonium roseum (rose geranium) oil*, wildcrafted frankincense oil.
*Certifi

Available in Europe at @divinegreenbeauty & @eminessences
In AUS at @eveorganics
USA: use code OBL to save 15% at earthwisebeauty.com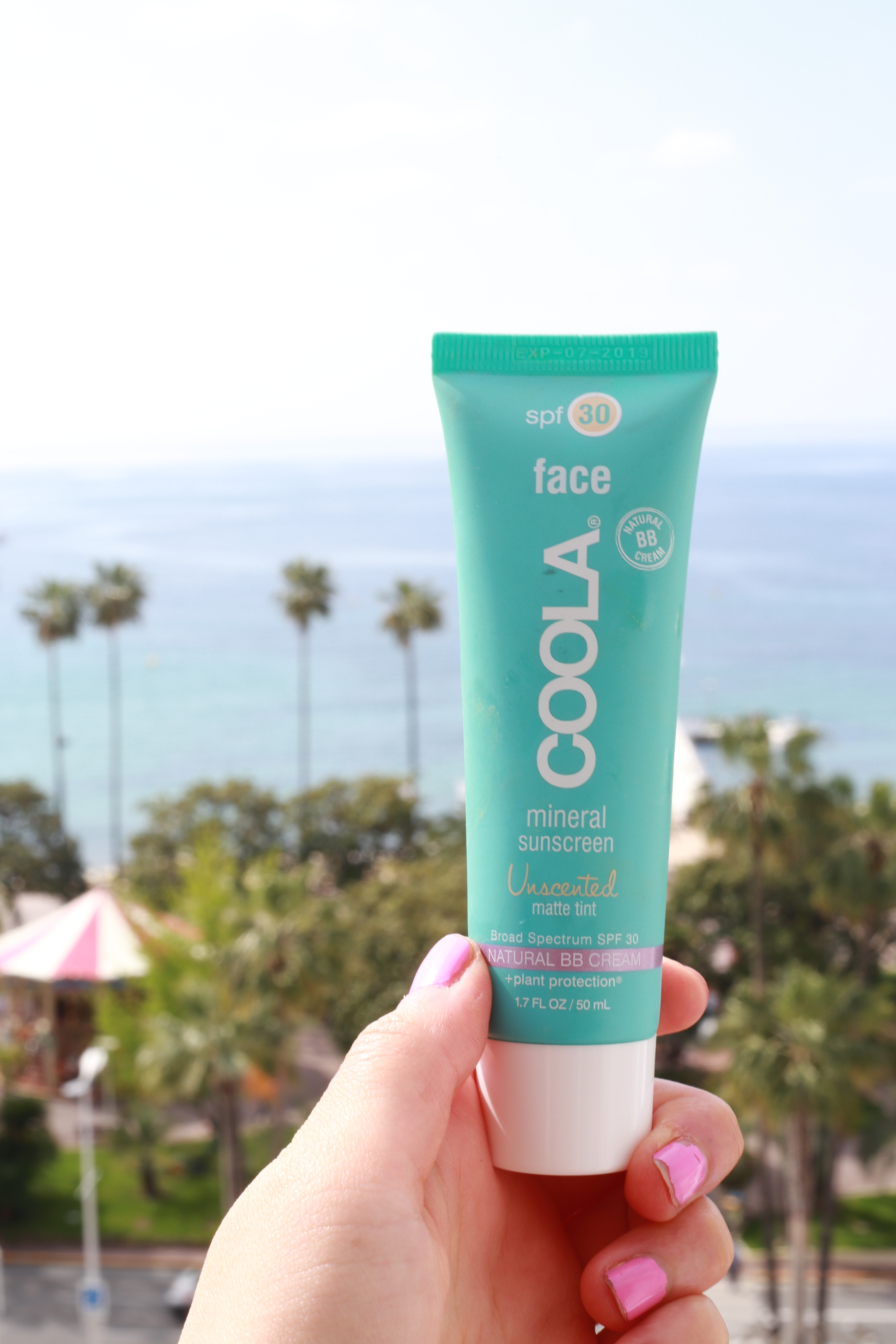 I love the SPF 30 Natural BB Cream by Coola in both unscented and cucumber. It goes on matte and has this amazing texture that feels lightweight and airy. Naturisimo is an online store that carries Coola and ships worldwide free if you are outside the US.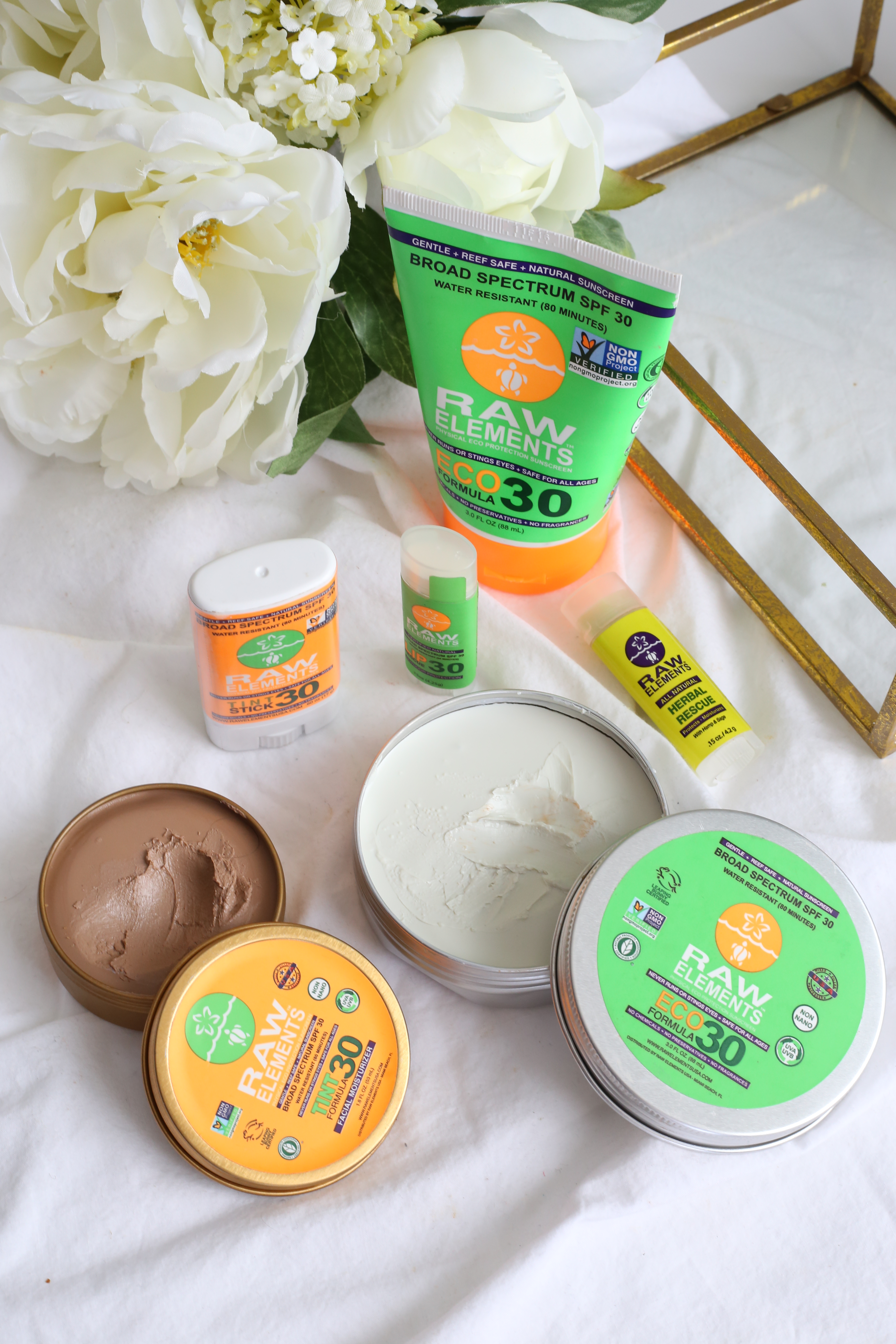 Truly one of the cleanest sunscreen lines, Raw Elements uses 23% zinc oxide (whereas many other organic sunscreens will only use as a little as 8%-15% and still say they're SPF 30) and their first ingredients are organic black and green tea extracts and nourishing organic butters.
-My favorite out of their line is the Tint SPF 30 Facial Moisturizer (it may be too rich for some) and then 2nd favorite is the ECO 30 in a jar.
-Their sticks are a tad too dry incuding the lip balms
-The tube is great at first but later becomes difficult to get all the remaining product out
-This line has a strong hemp scent which is a pro or con depending on your personal taste
Check out what the OBL CLUB who tested Raw Elements as part of our product testing campaign! Hit the tab labeled "SUNSCREEN"
Affiliate code OBL saves at Raw Elements. (This line is only available in the US)
Using 20% zinc oxide, natural pigments and organic active botanicals the W3ll People Bio Tint Spf 30 tinted moisturizer applies beautifully and feels great on my skin. The light shade looks very natural on me and I like that it has a pump.so it dispenses the right amount each time.
Earthwise Beauty's Farizad¨s Veil is a sunscreen I will never not have on hand because of its amazing versatility. It adds spf protection to any product you add to it (BB cream, foundation, sunscreen that doesn't have enough spf in it, etc.) It is pure highest-grade zinc oxide with powdered aloe leaves and Moroccan rose, Indian Pink Champaca and Madagascar Geranium Bourbon.
I have mixed it with:
-Face Oil
– BB cream
– Foundation
– Sunscreens that are lower in SPF and need extra
– Moisturizer
– Face Balm
Affiliate code OBL saves sitewide.
There are obviously tons of great sunscreens out there and many more I've tried that I liked but these are my personal go-to's.
–