Dyson Supersonic Hair Dryer Review: Yay or Nay?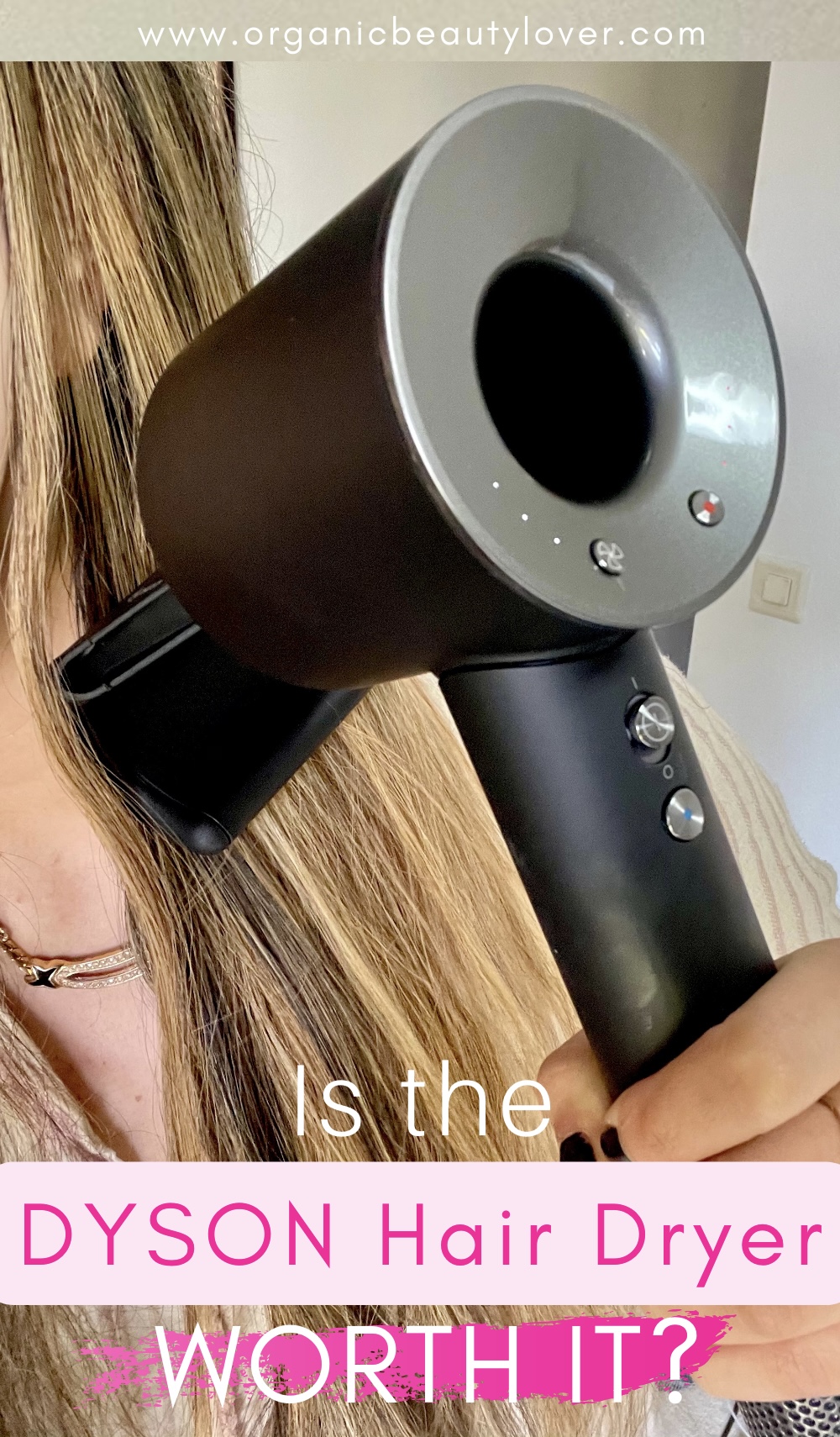 In this Dyson hair dryer review, I'm sharing my in-depth opinion on the $400 tool. When I was trying to decide between the Dyson Supersonic Hair Dryer versus the Dyson Airwrap versus other more affordable hair dryer brands, I ultimately went with the Dyson Supersonic hair dryer. There's so much hype around Dyson for hair, and I wondered what makes Dyson so special besides the technology, futuristic design and being famous for its vacuums.
SEPHORA SALE: $100 off Dyson Supersonic Hair Dryer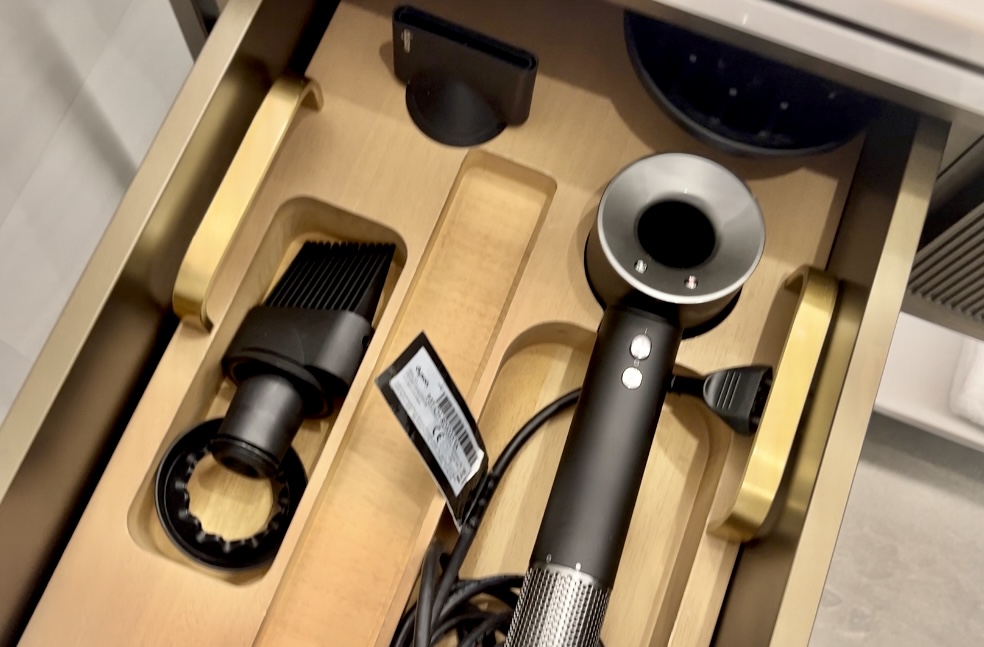 Even though I love the sleek look of a good blowout, the main reason I don't like to blowdry my hair is because of the cumulative damage it would cause to my already very damaged hair. The Dyson hair dryer promised to prevent heat damage through its ability to dry hair faster.
Still, is a hair dryer worth $429 when traditional ones cost less than $100 and how is the Dyson cost justified? I figured I could find out and if I didn't like the Dyson Supersonic, I could always return it within the return policy deadline. I'm sharing the good and the bad in this Dyson hair dryer review, and why I don't think majority of people should buy the Dyson Supersonic. I WILL say this is the kind of gift that would impress your mother-in-law.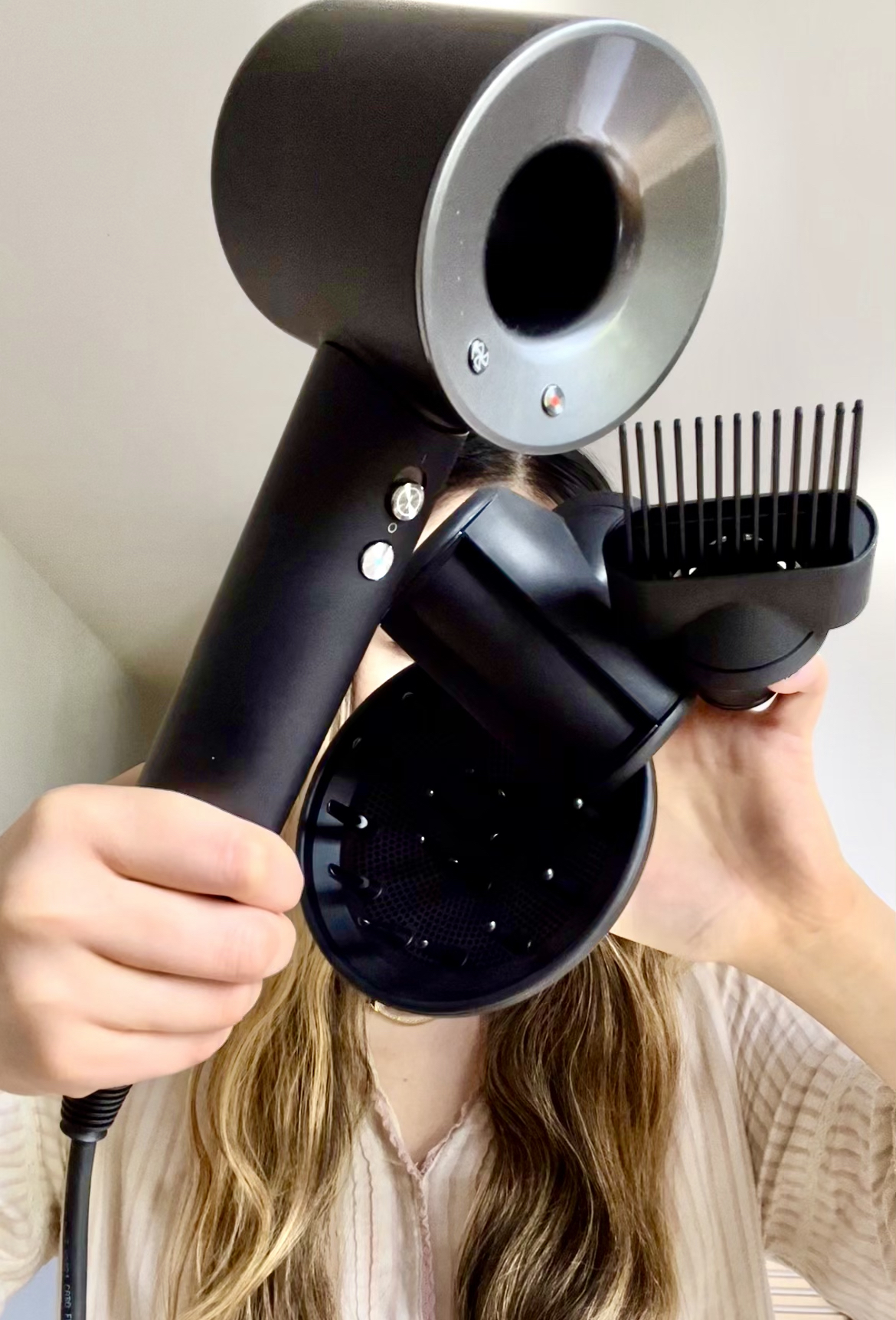 Dyson Hair Dryer Pros and Cons
I ultimately chose the Dyson hair dryer over the Dyson Airwrap because the Airwrap doesn't fully dry your hair and is mainly focused on styling. So if I bought the Airwrap I'd have one more styling tool to add to my collection but would STILL be in need of a hair dryer.
I also decided to go for the black version because black looks more chic than silver. Plus my partner could enjoy using it when he needs to blowdry his hair.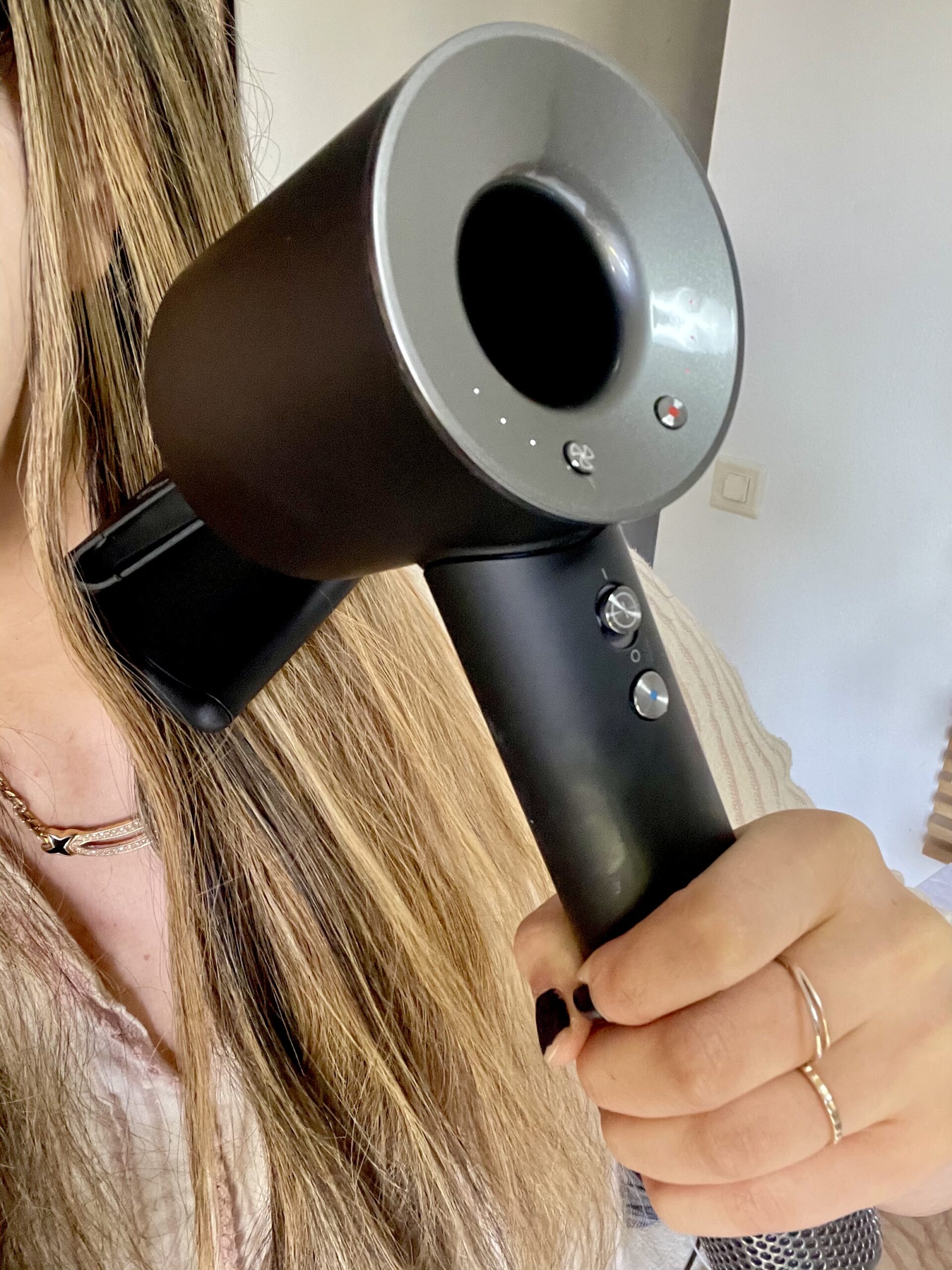 There's Dyson Supersonic hair dryers that are refurbished, but I decided to go with the regular hair dryer even though a refurbished one would have been $100 cheaper. Reason being for the warranty. Dyson warranty lasts two years normally, but for the refurbished one only one year. Amazon also offers refurbished Dyson products but I'm not sure what their warranty is.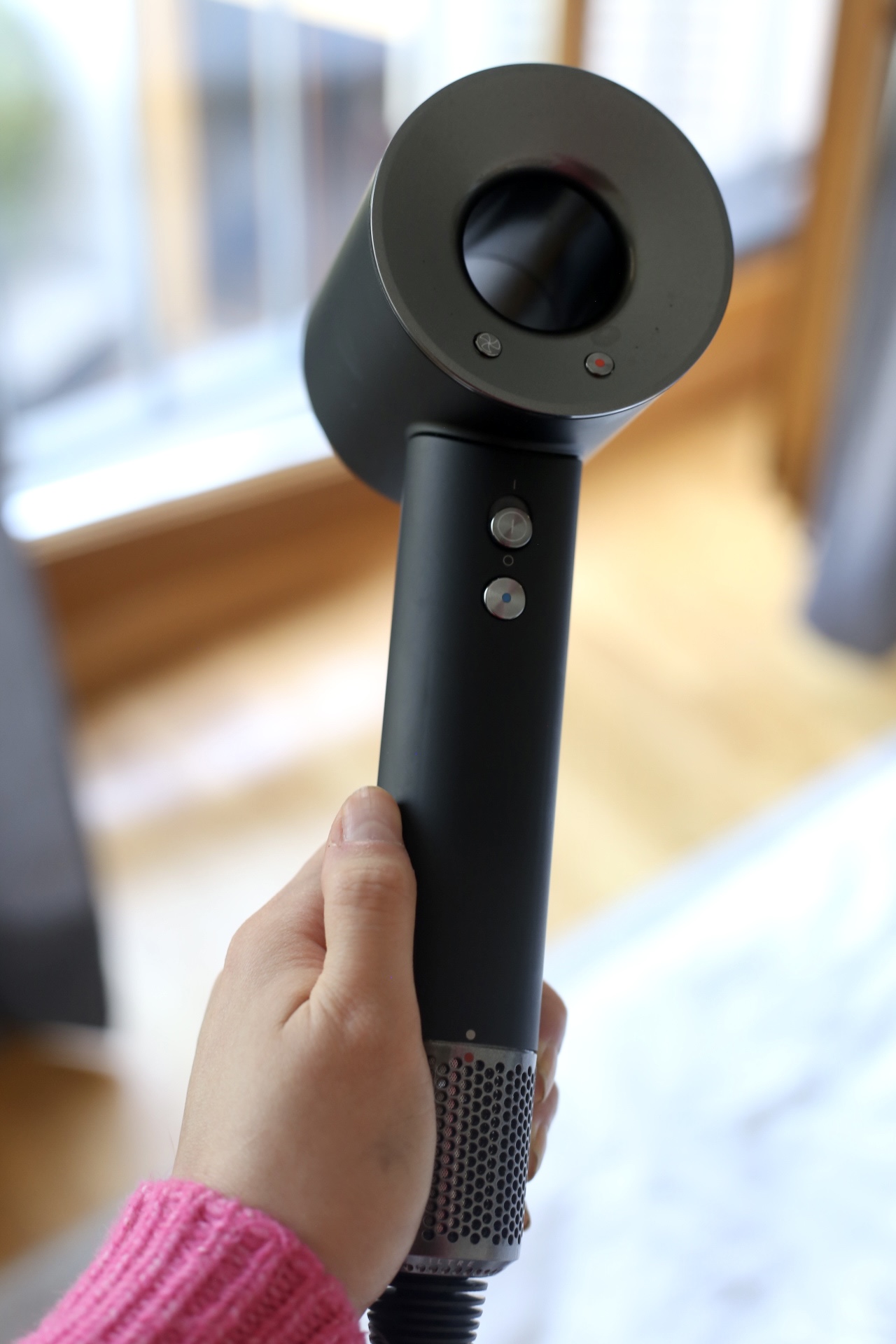 Here is what the Dyson hair dryer has to offer broken down in easy to read snippets:
Bladeless design
Uses the Dyson Digita Motor V9: Spins up to 110,000rpm, propelling 13 liters of air up to the amplifier every second
Uses an aerodynamic phenomenon called the Coanda effect that attracts hair to surfaces through jet propelled streams of air
Prevents hair damage with intelligent heat control technology that measures airflow temperature over 40 times per second
Air Multiplier technology that creates high-velocity jets of air to dry hair quicker than traditional hair dryers
Five magnetic attachments for easy switching in and out
Flyaway attachment eliminates the need to use a hair straightener separately
Made with all hair types in mind
3 heat settings
4 speed settings
Smaller shape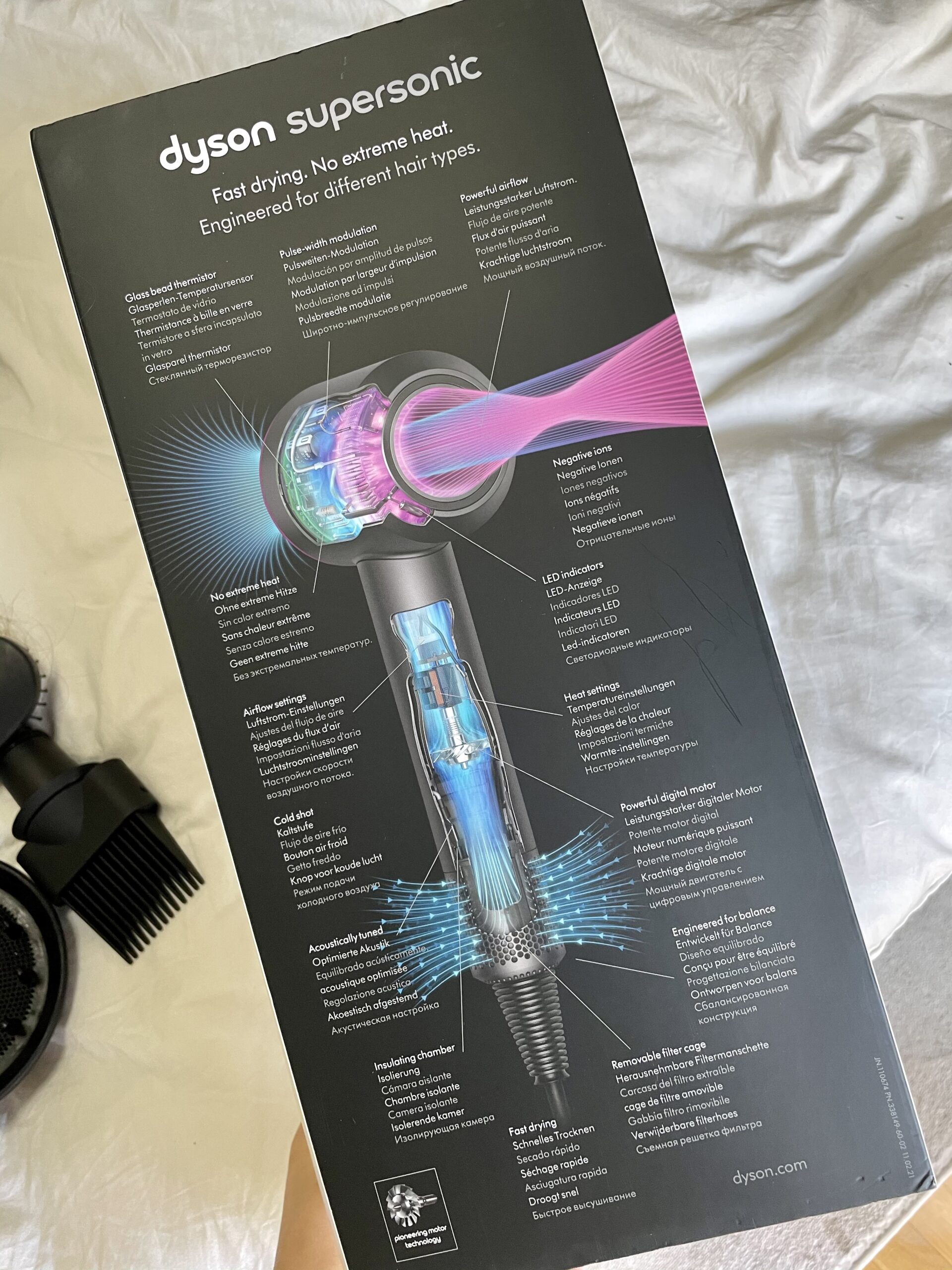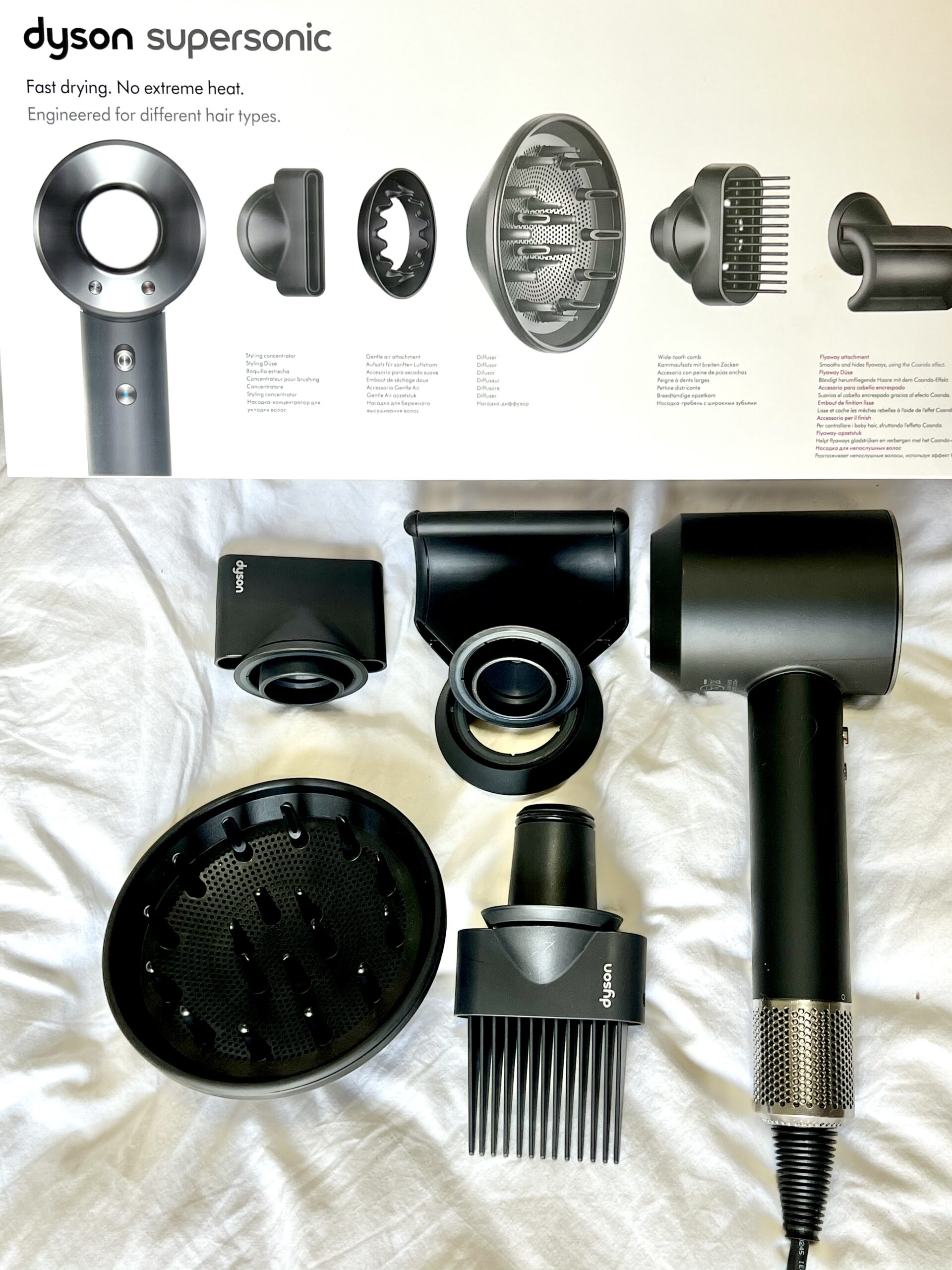 What Comes with the Dyson Hair Dryer
The Supersonic comes with five different attachments:
Gentle air attachment: diffuses air in a gentle and cooler stream of air. Ideal for sensitive scalps and thinner hair.
Diffuser: Larger diffuser for curly or wavy hair. Mimics natural air-drying by dispersing air across a wider surface area.
Wide-tooth comb: Great for type 4c hair
Styling concentrator: For a precision blowout. Used for styling and drying smaller sections of hair with a precise stream of air.
Flyaway attachment: Used after hair is dry to smooth out any flyaways and frizzy hair for an extra sleek effect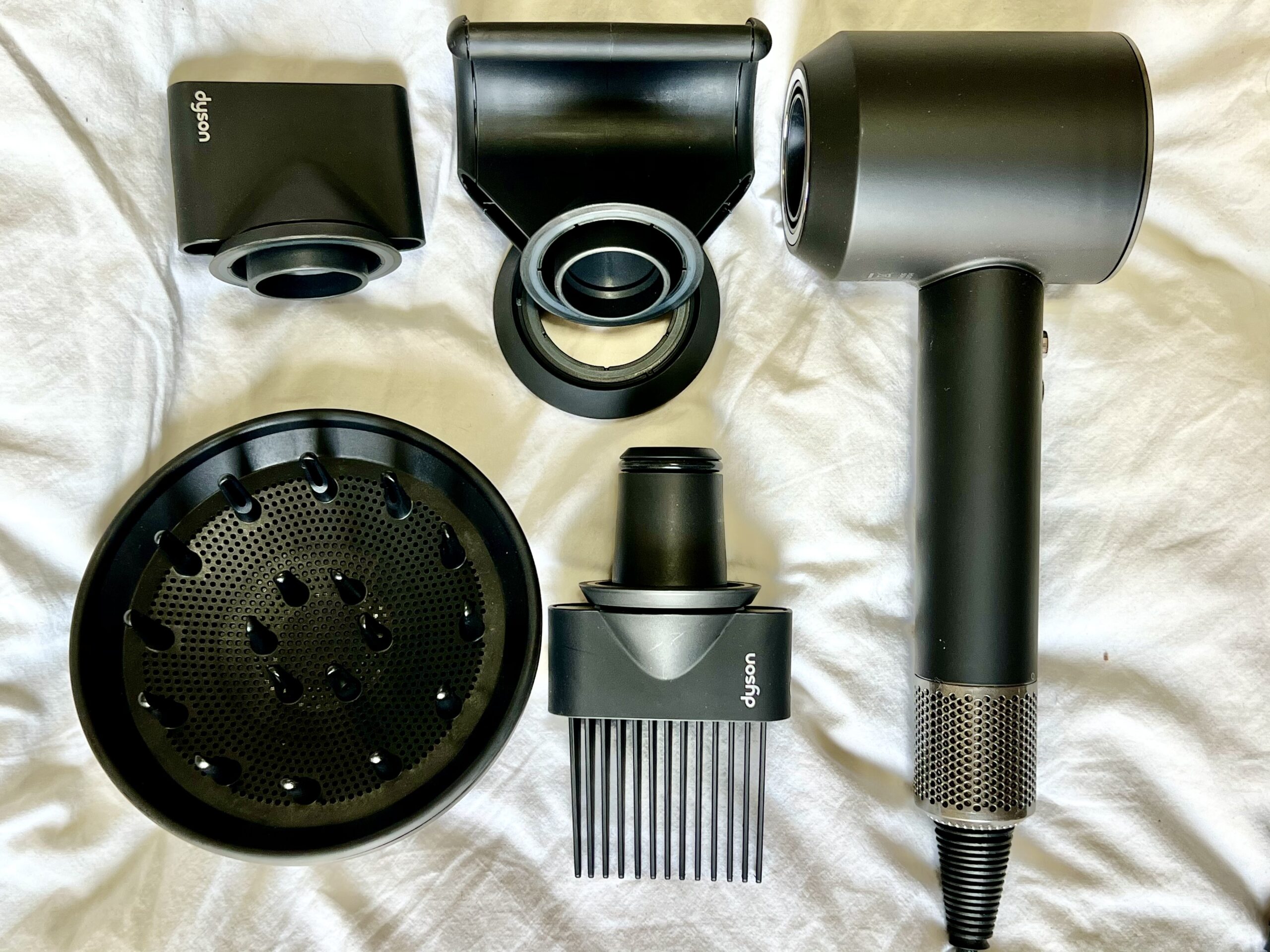 What You Should Know about Dyson Supersonic
Something I didn't know before I bought the Dyson hair dryer is that I needed to clean the filter once a month. Both the hair dryer's outer filter cage and the inner filter mesh should be wiped down regularly with a dry cloth. For something so expensive, you want to make sure you're prolonging product life with proper care.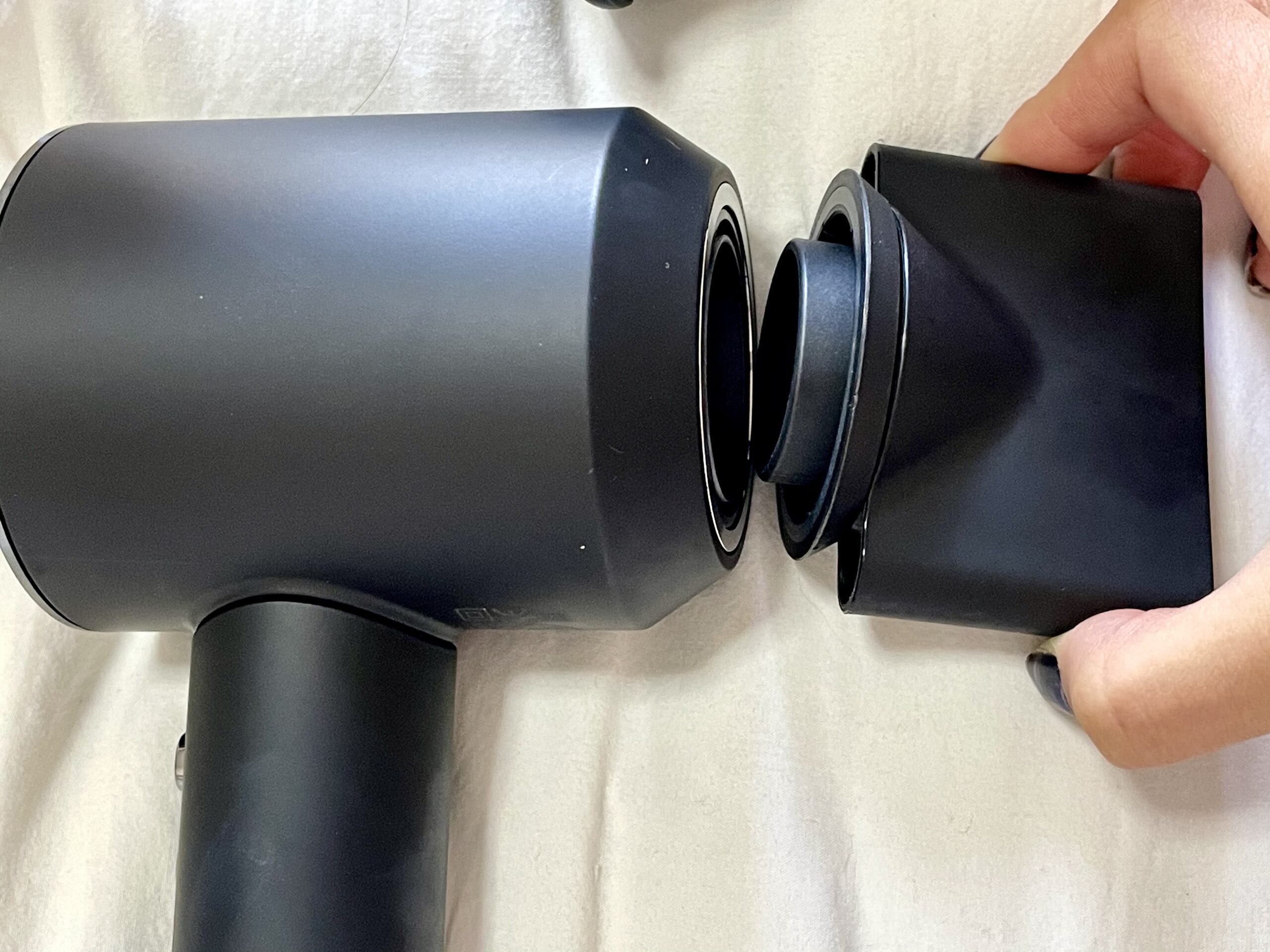 Also, while I was delighted that the Dyson attachments were magnetic, the magnets are extremely strong and a little difficult to pull apart. You do eventually get the hang of it, but at first the magnets were surprisingly strong.
While the Dyson technology exceeded my expectations, it fell short in the noise department. It might be another decade (or never?) before silent hair dryers exist. The third and strongest setting on the Dyson hair dryer is pretty loud while the 2nd setting is much more tolerable for my ears.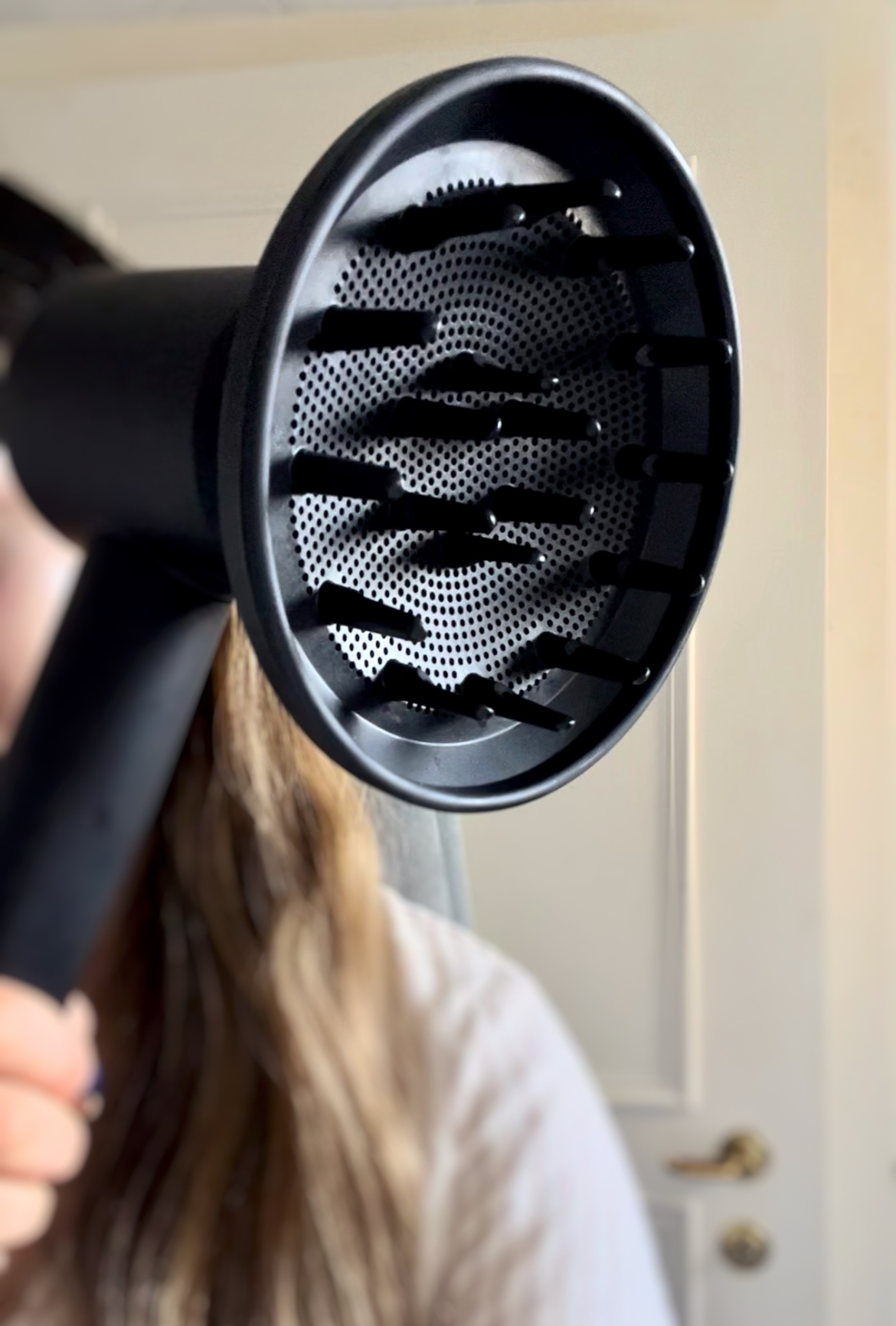 Figuring out how to use the Dyson hair attachments is a learning process. To maximize the results from the Dyson Supersonic it's important to know how and what to use each attachment for. For instance, I found that the diffuser worked best for the bulk of the hair drying process and the styling concentrator attachment was ideal at the very end. The best way to use it is to:
Point the nozzle away from the scalp
Place it around half an inch from the hair
The final step if I have time and want to look extra snatched is the flyaway attachment, which  easily replaces my hair straightener. I start just shy of my roots and go down the lengths and find that it gives me more of a sleek, shiny finish. The Dyson flyaway attachment has the most effect when used on the highest setting.
Speaking of which, the highest speed setting of the Dyson is can be a tad too strong to be used comfortably for the entire blow dry process. Ironically, the Dyson team should have made the 3rd speed just a little less powerful which would have possibly also made it less noisy. I find myself using the 2nd setting but wish I could take more advantage of the Dyson's power.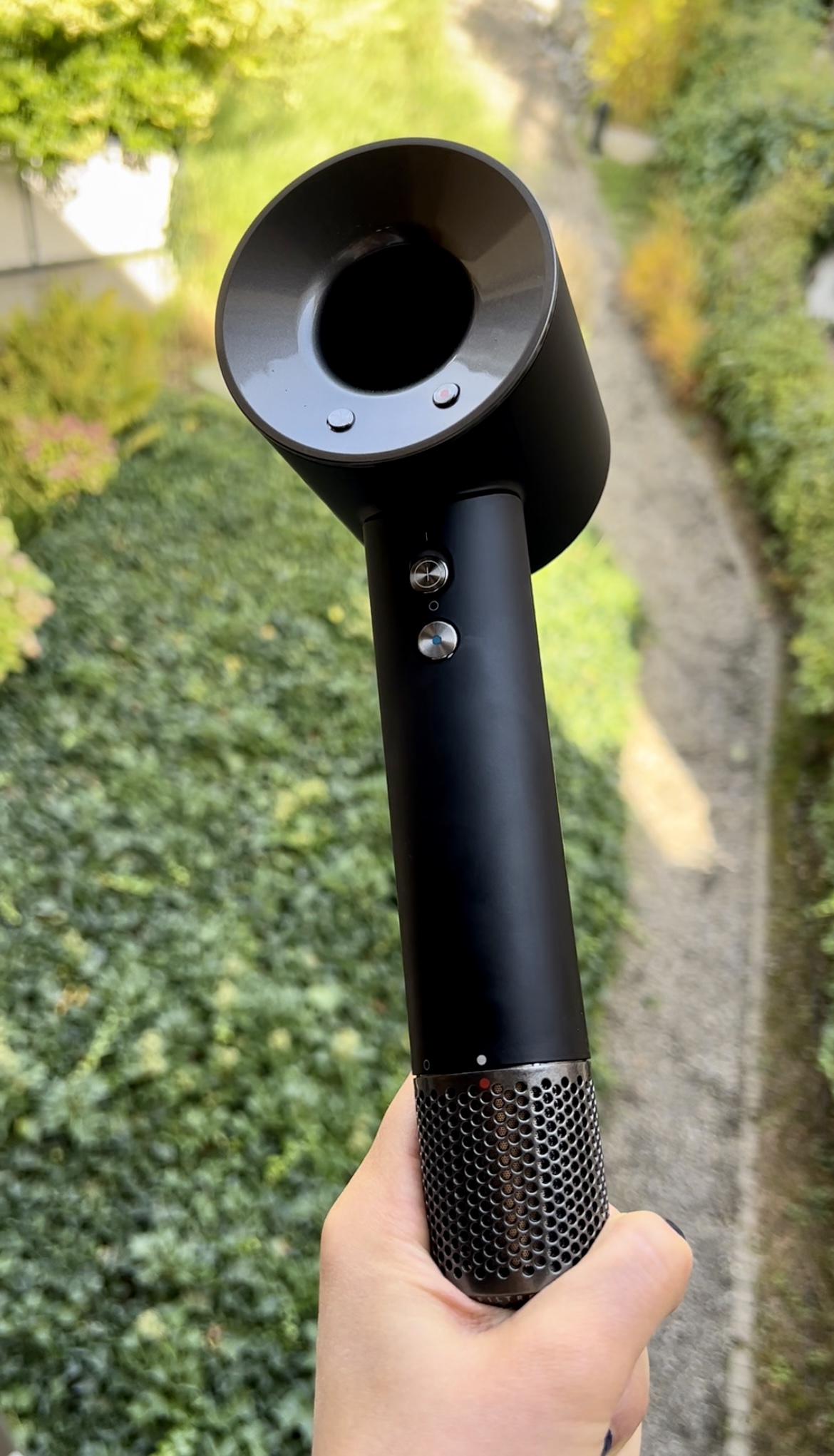 My Honest Review of Dyson Supersonic
Let me start by answering whether I think you should buy the Dyson hair dryer and then I'll explain why I got it for myself. No, don't buy it. Why? Because it's super expensive, and no one actually needs a $400 hair dryer in their life. The Dyson hair dryer never seems to go on sale either. They really position it as an exclusive, luxury product. My life (and hair) was truly fine before I got the Dyson for my hair and it would have been just fine without it. The Supersonic should be a holiday wishlist item that you'll only accept as a gift, ideally from your partner since they'll be the ones benefiting the most from you looking like THAT GIRL.

Here's why I personally bought the Dyson for my hair. "Buy less, choose well and make it last" by iconic fashion designer and environmentalist, Vivienne Westwood forever changed the way I consume. I prefer to invest in products that are superior and last forever instead of cheaply made items. I'm also financially in a place where I can afford to make big ticket purchases like this. As Jay Z once said, you can't afford something unless you can buy three of them. In my 20s when I was swimming in college loan debt and making a meager salary, I would never have even entertained the idea of such an excessive purchase.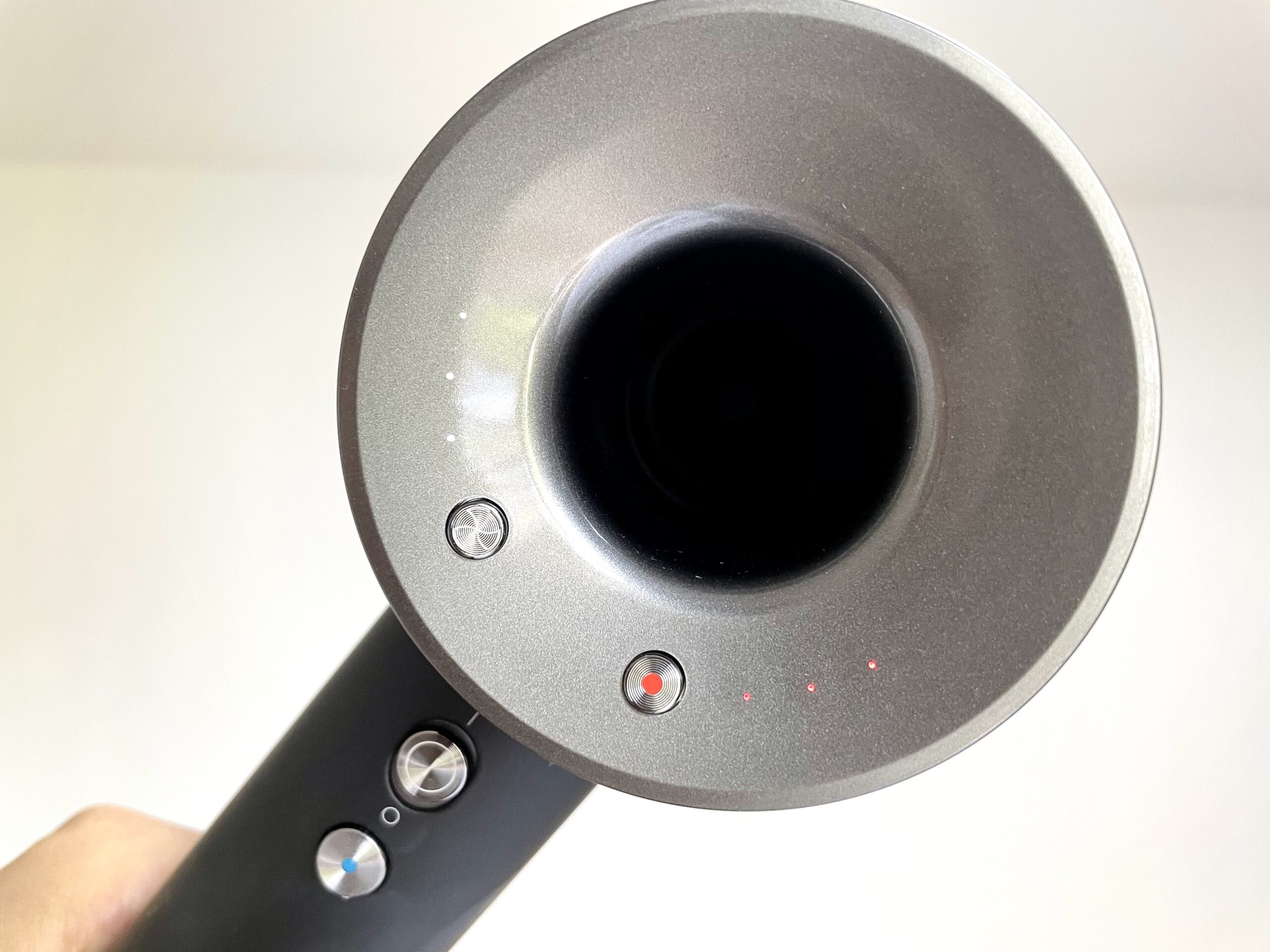 Lastly, I have very damaged hair from decades of chemical processing, bleaching, dying etc. Most people have not put their hair through what I've put mine through. In fact, all my friends have healthy virgin hair that they might have colored or put in a few face-framing highlights once in their lives to satisfy an itch for change. Their hair would stand up just fine to some occasional heat damage and recover quickly. Mine not so much. Mine's barely holding on by a strand.
Is the Dyson hair dryer a very cool hair tool? Yes definitely. There's a lot of aspects I love about it. The Supersonic is by far the most advanced hair dryer I've experienced and the technology is without a doubt impressive. I love the non-bulky minimalistic design. It's so easy to hold and even with the attachment on, the bulk of the device's weight is in the handle. Almost all hair dryers look like those ConAir ones with a handle and a body that looks like a horse's head. Because the top part is so bulky compared to the handle my hands always get tired, maneuvering it around my head becomes awkward and having to finish drying my hair becomes a lengthy and arduous mission.
Yes the Dyson hair dryer cuts down on drying time. I have very long hair that goes a little past the middle of my back and the Dyson dried it in about 11-12 minutes.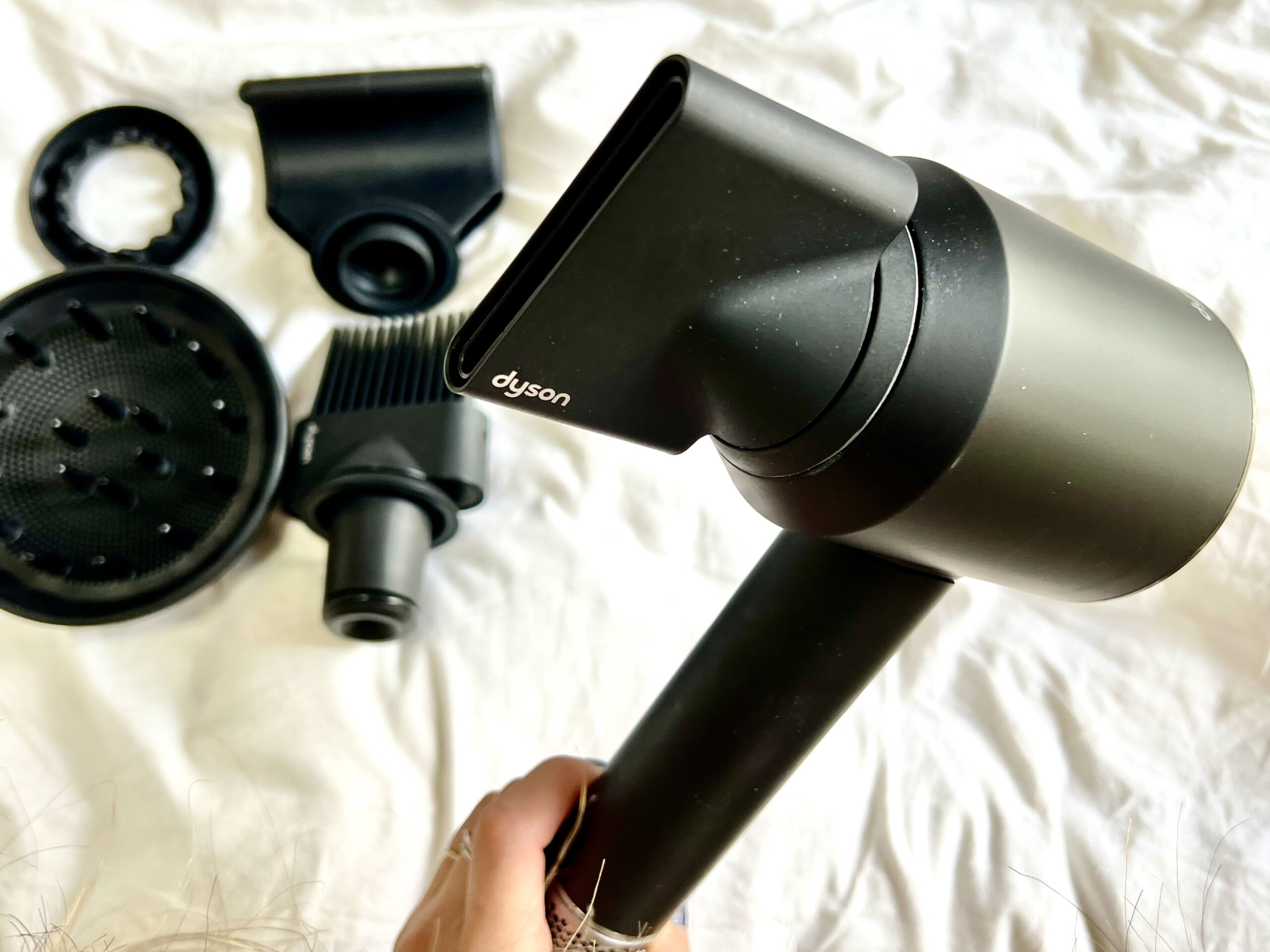 Who the Dyson Hair Dryer Makes Sense For
You have to tick at least two of these bullets for the $429 Dyson hair dryer to make sense as a purchase:
Budget is not a concern
Your hair is severely damaged, thinning, prone to breakage, heavily processed, etc
Your time is very limited and valuable – you don't have time to dry your hair for 20-30 minutes daily
You blow dry your hair daily because of a people-facing job or job that requires you to look impeccably groomed
If you normally use a hair dryer once a week or a few times a month for special occasions only, the Dyson Supersonic isn't worth it for you. If you've got a stressful, demanding job that requires you to look polished at all times and very little free time, then this hair dryer will save you time, effort and your mental health.
Dont forget to check the return policy of the retailer you might make your purchase so you can return it if you don't like it.
Skincare Devices Discount Codes
LED Red Light Therapy
Microcurrent for lifting
Radriofrequency for skin tightening