EVOLVh clean haircare products have long been a staple in my shower, because they're high performance, luxurious and completely natural and organic. While I may switch brands to ensure my hair doesn't get too used to whatever I'm using, EVOLVh will always be my default. Unlike conventional hair care brands that use synthetics that simply coat hair temporarily and cause product buildup, EVOLVh organic hair care is designed to solve the root of the problem so that your hair grows healthier and shinier. As someone who's been bleaching her hair for over a decade, making my hair in much worse shape than the normal female population, I need products that actually work for the most damaged and distressed hair. True to its name, EVOLVh has evolved to include many new and exciting hair product launches like their InstaVolume line, DreamGel and UltraFlex Hairspray (I'm still waiting on a purple shampoo!). In this updated EVOLVh review, I'll be sharing my honest thoughts on their latest clean hair care products PLUS an interview with EVOLVh founder and hair expert Boris Oak! As always, you can use my affiliated Evolvh discount code OBL to save 15% sitewide.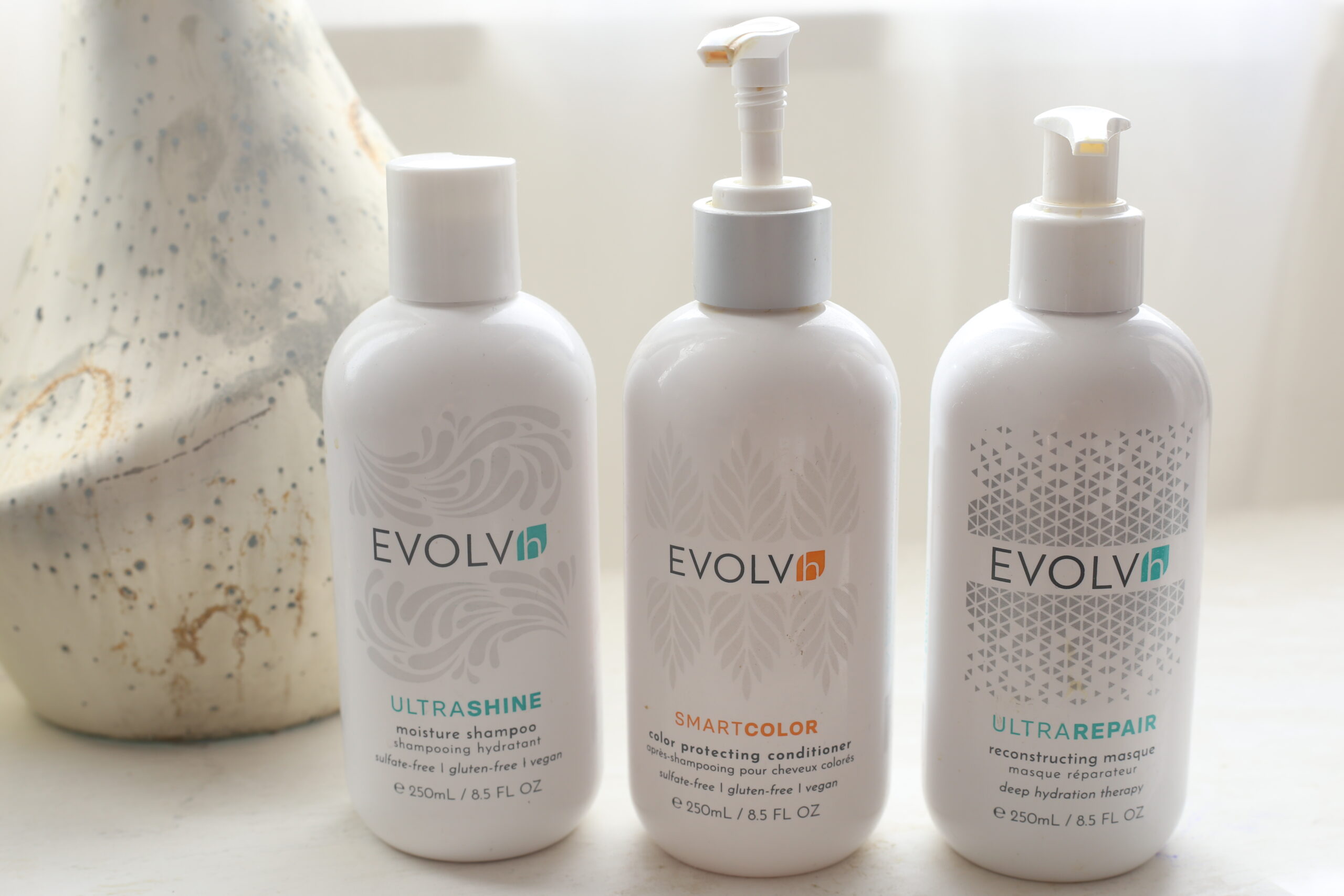 Interview with EVOLVh Founder Boris Oak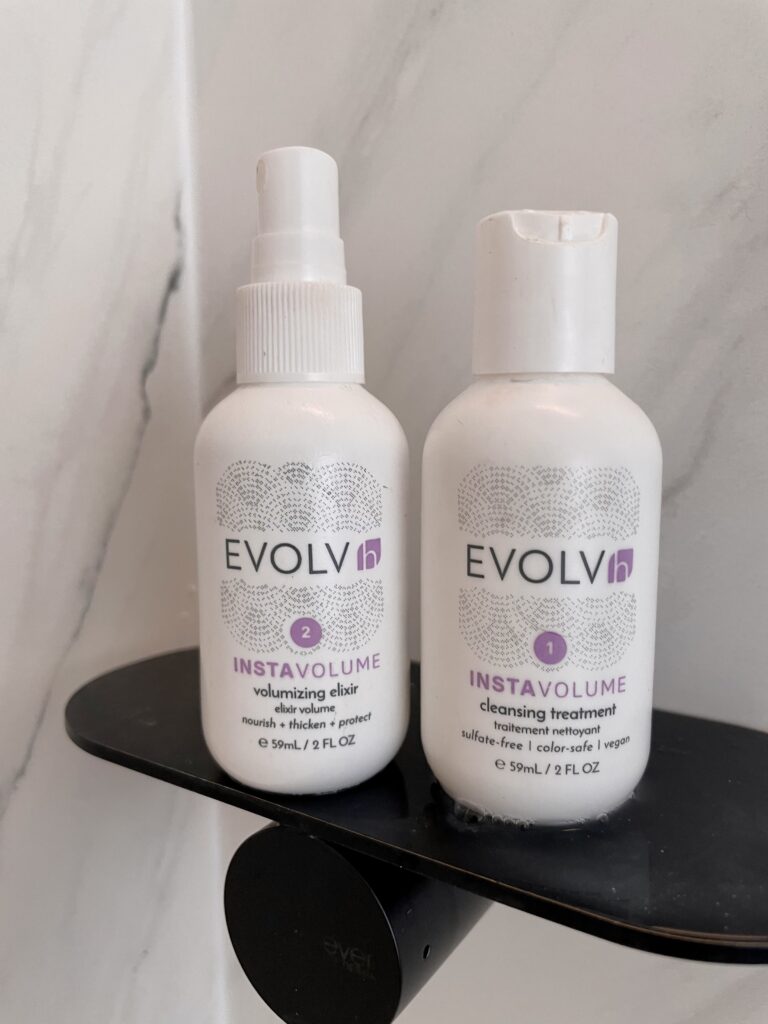 Q:
EVOLVh InstaVolume is the latest and greatest to hit the clean haircare space. It's completely different from the traditional shampoo and conditioner approach. Tell us more about how the Instavolume Cleansing Treatment and Instavolume Elixir work and why the move away from conditioner?
A:
InstaVolume works by incorporating flax and tapioca into the formulas at just the right levels plus amino and fatty acids plus pH at 4.5 – 5 which is optimal for healthy hair and the end result are products for volume that create results unlike anything prior. These products are life-changing, at least certainly in terms of our hair.
We moved away from a conditioner, the kind you would use right after shampooing, because they all add weight to hair and this is not what you need if you want more volume. The InstaVolume Cleansing Treatment is all that's needed in the shower followed by the InstaVolume Elixir Spray either just before or after towel drying. This 2-step system is the evolution of how to cleanse and treat hair for anyone desiring more volume.
Q:
Each of Evolvh's styling products has hit it out of the ballpark. That being said, clean hairspray is a notoriously difficult product to formulate in a way that pleases everyone. How did you approach this daunting task and how does EVOLVh UltraFlex Hairspray differ from other hairsprays in the clean beauty space?
A:
Yes you are absolutely right, it's not easy and it took us several years to get this formulation perfected. Our main approach was it had to be non-aerosol as aerosols contain hydrocarbons which we should all want to avoid, and it had to be alcohol-free.
Our hairspray is different because it is a working hairspray – which means it's designed to be applied to wet hair while styling. This makes it very flexible in how it can be used, hence the name UltraFlex.
Q:
I have been LOVING the Instavolume Volumizing Mousse. Tell us more about this product from your own perspective that we wouldn't be able to glean from Evolvh's website.
A:
Ahhh yes the Mousse! How I love this product! Two things I can add: first, why a mousse/foam as a delivery system? We made this choice  because a foam can saturate every strand with product much better than a cream or lotion. And for volume, this level of saturation is very beneficial. Which leads me to the second point, which is that InstaVolume Mousse, via the saturation I mentioned, lays down a perfect volume foundation and you can then use small amounts of new DreamGel or our styling crème or lotion to enhance the look even more.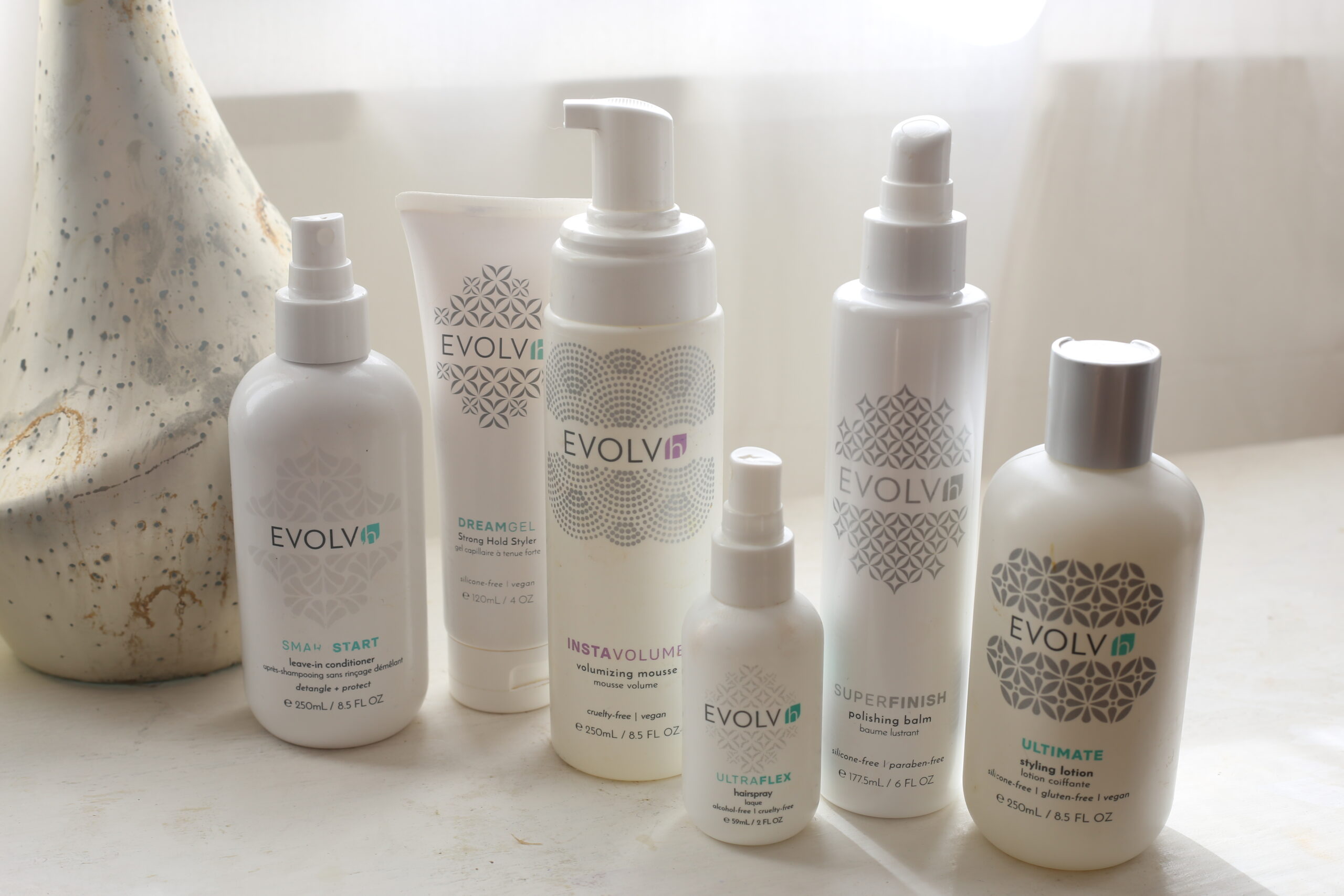 Q:
There's been a major focus on launching new styling products at Evolvh. With the use of styling products, product build-up becomes a concern. Based on your expertise how do you suggest we go about combating this?
A:
Our styling products are all water soluble and don't contain silicones, which adds up to products that rinse out easily and don't contribute to build up. In addition, our shampoos, including InstaVolume Cleansing Treatment, all do an amazing job of gently cleansing hair and removing dust and dirt and any other unwanted particles that accumulates in our hair.
Q:
I was today years old when I learned that every EVOLVh product, including all the styling products, double as hair treatments. Can you explain to us how Evolvh's styling products work as treatments for healthy hair in their own right?
A:
Yes, this is such an amazing point! All of our styling products contain amino and fatty acids, as well as anti-oxidants that work together to strengthen and protect hair. This is important because when we style our hair either with our fingers, combs or brushes, hot tools, etc., all of these actions can stress and damage hair and cause breakage and splitting. By adding treatment ingredients to our stylers we empower them to protect strands from damage during styling, which is essential for having strong, healthy hair.
Q:
2021 has been THE year of new launches for Evolvh. Can you give us any hints for what we can expect next from Evolvh?
A:
Ooooh well it will be very exciting, very innovative, and probably very unexpected.
Q:
Of course I have to ask this. What is your favorite product from the Evolvh line? Favorite clean skincare products?
A:
My current faves – it's a tie – the InstaVolume Cleansing Treatment and the Mousse! My hair-life without them would not be nearly this good, or this easy!
For skin – I'm not sure if you know, but I just launched a new skin brand called RUVI Beauty for Good. The "for good" part is because it is doing something very good for the planet. It also does something very good for the skin. It's just one product for now, Age-Defying Glow Serum. I've been using it daily for 3+ years, I worked on it for 3 years before making it available to the world, and it has done wonders for my skin.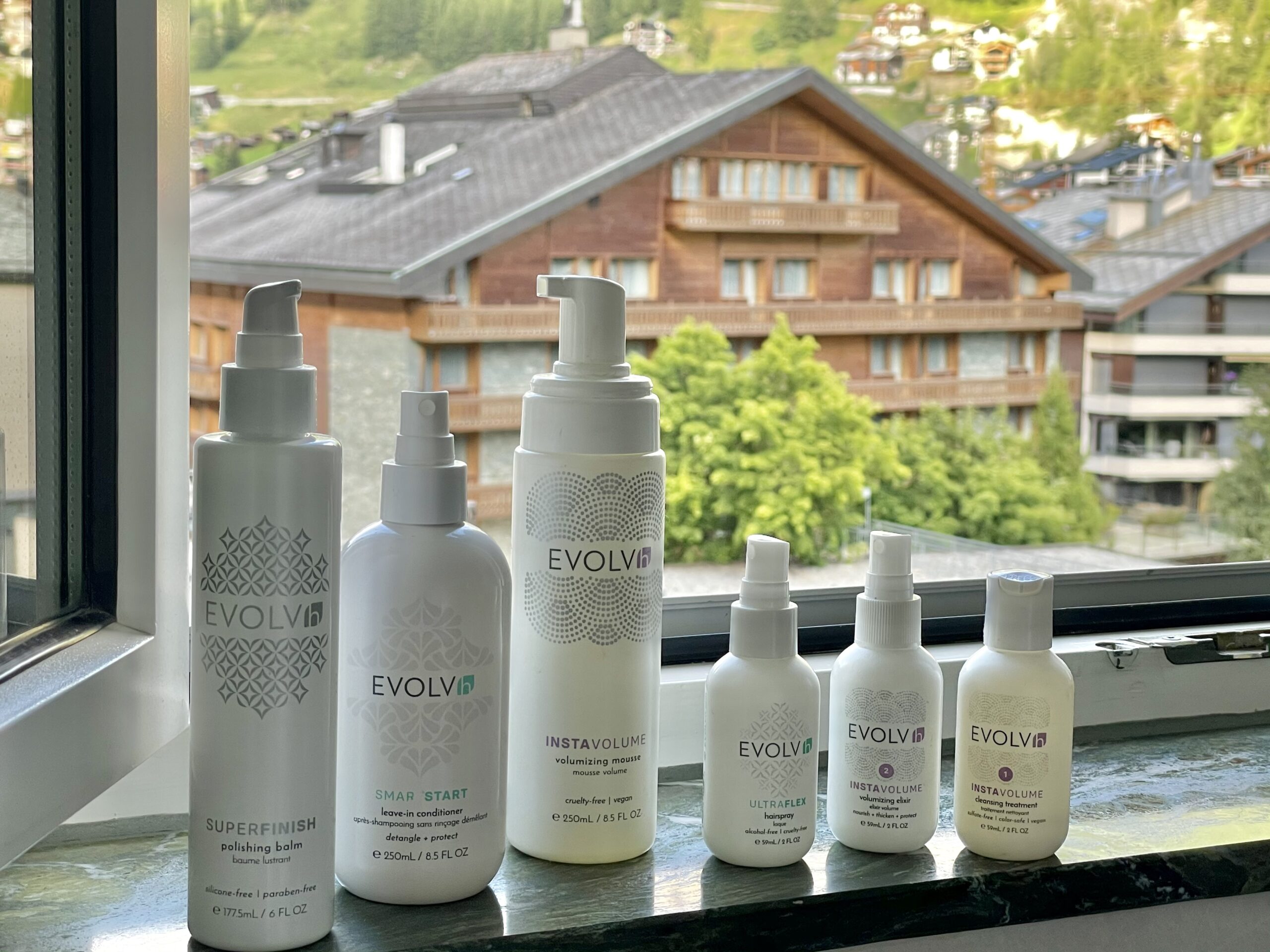 My Updated EVOLVh Review
In this new EVOLVh review I'm sharing my thoughts on their new:
InstaVolume Volumizing Mousse
UltraFlex Hairspray
DreamGel Strong Hold Styler
InstaVolume Cleansing Treatment and InstaVolume Volumizing Elixir duo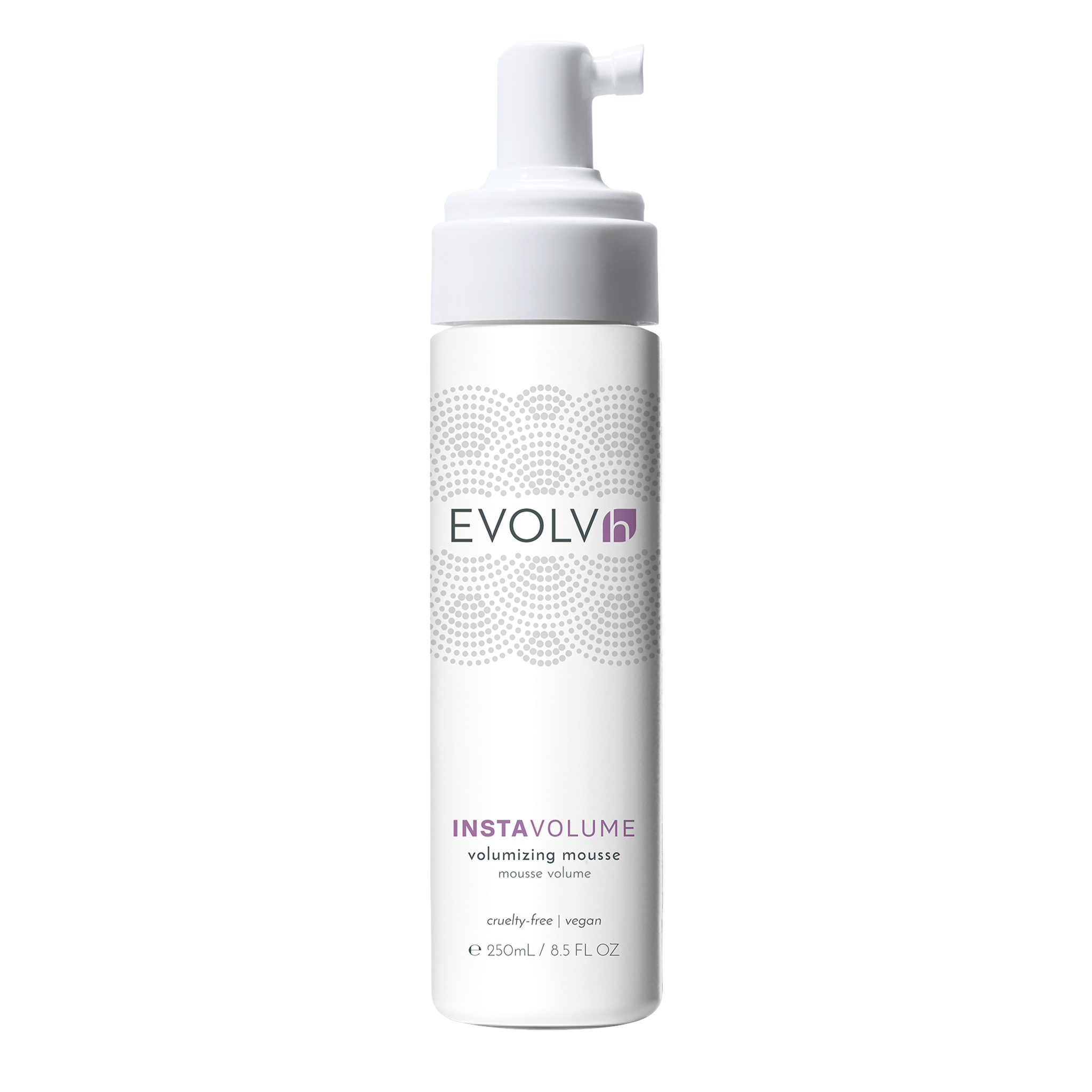 The EVOLVh InstaVolume Volumizing Mousse is a new 2021 product launch that's received very positive feedback from people who have tried it, so I know it's not just me. The InstaVolume Mousse comes out like an airy light foam that sinks into hair immediately without weighing it down or leaving hair feeling sticky. I apply this to damp hair at the roots (you can apply all the way to the ends) and it gives light volume with a subtle amount of hold. I noticed it also lasts into Day 2! Like all Evolvh products, the Volumizing Mousse is made with all natural, good-for-your-hair ingredients.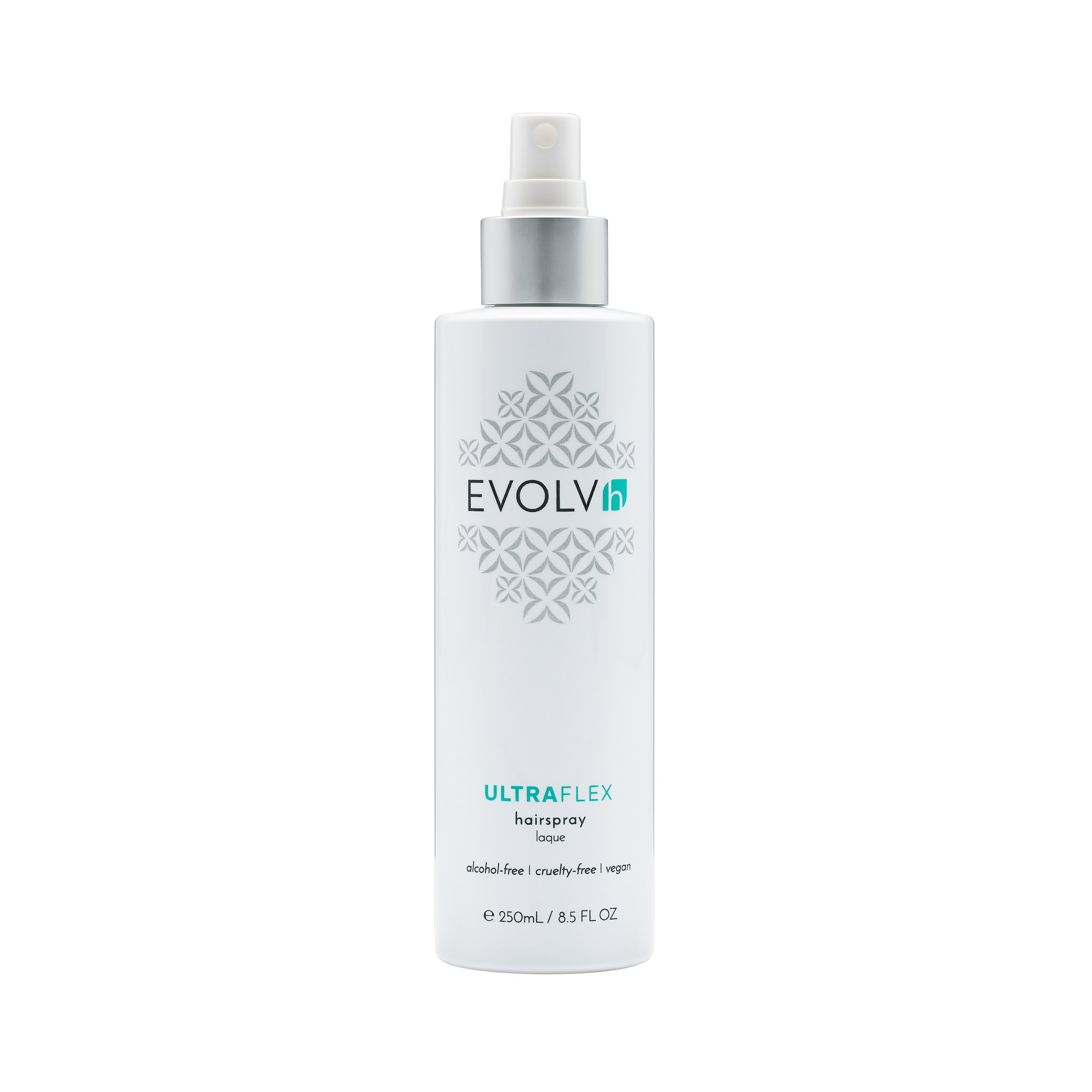 The Evolvh UltraFlex Hairspray might be my favorite 2021 EVOLVh launch of all! While this doesn't freeze your hair, it does noticeably provide SOME hold and reduces frizz which is all I want anyways.
The hairspray's travel size is also so convenient to place in your purse and touch up your hair while out and about. I spray this before heat styling as a heat protectant, and then after to help hold the curls longer. Even if I'm not using it as a heat protectant or hold spray, it's great as a leave in treatment on its own as it's made with all natural and organic ingredients that condition hair.
Tapioca Starch is what gives the UltraFlex Hairspray its hold and shine effect, flax its volumizing capabilities, and botanical extracts and oils its moisturizing and heat protectant effect.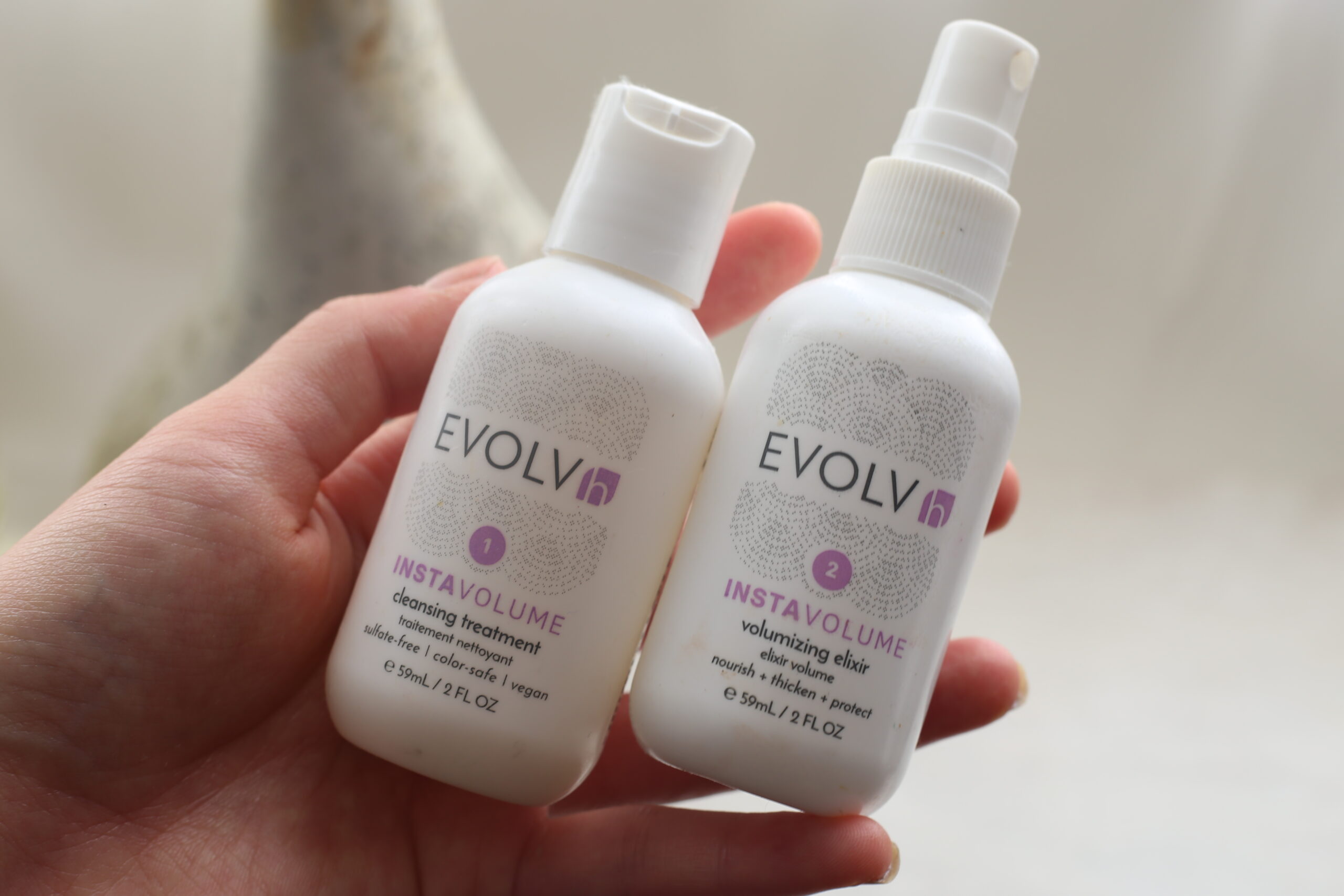 EVOLVh InstaVolume Cleansing Treatment was formulated for fine, oily hair and roots. It's a two step regimen that omits any in-shower conditioner – not something I can personally get away with. Even still, I found the InstaVolume Cleansing Treatment to lather very well and cleanse hair thoroughly. I can't get away with not using some kind of conditioner or mask in the shower so I used the InstaVolume Volumizing Elixir as a leave-in treatment and it helps hydrate and detangle my hair. The InstaVolume Volumizing Elixir was also formulated for flat, oily hair to provide fullness and absorb excess oil. To use it, you spritz a generous amount in damp hair and distribute it evenly with your fingers or a hairbrush.
I'm not so sure about the EVOLVh DreamGel Strong Hold Styler. While I appreciate the concept, I found that the liquid like formula squirts out too easily from the tube and has the tendency to spill. I also found the consistency very thin and fluid, which was unexpected as I was thinking it would be more a traditional hair gel consistency. When I apply an ample amount to my hair before styling I do notice a subtle amount of hold, but I would not call this a Strong Hold like the name suggests. I would personally choose the EVOLVh UltraFlex Hairspray over the DreamGel Strong Hold Styler any day as it's a lot less hassle free.
Save 15% with my affiliate Evolvh discount code OBL at www.evolvh.com