CurrentBody LED Hair Regrowth Device Review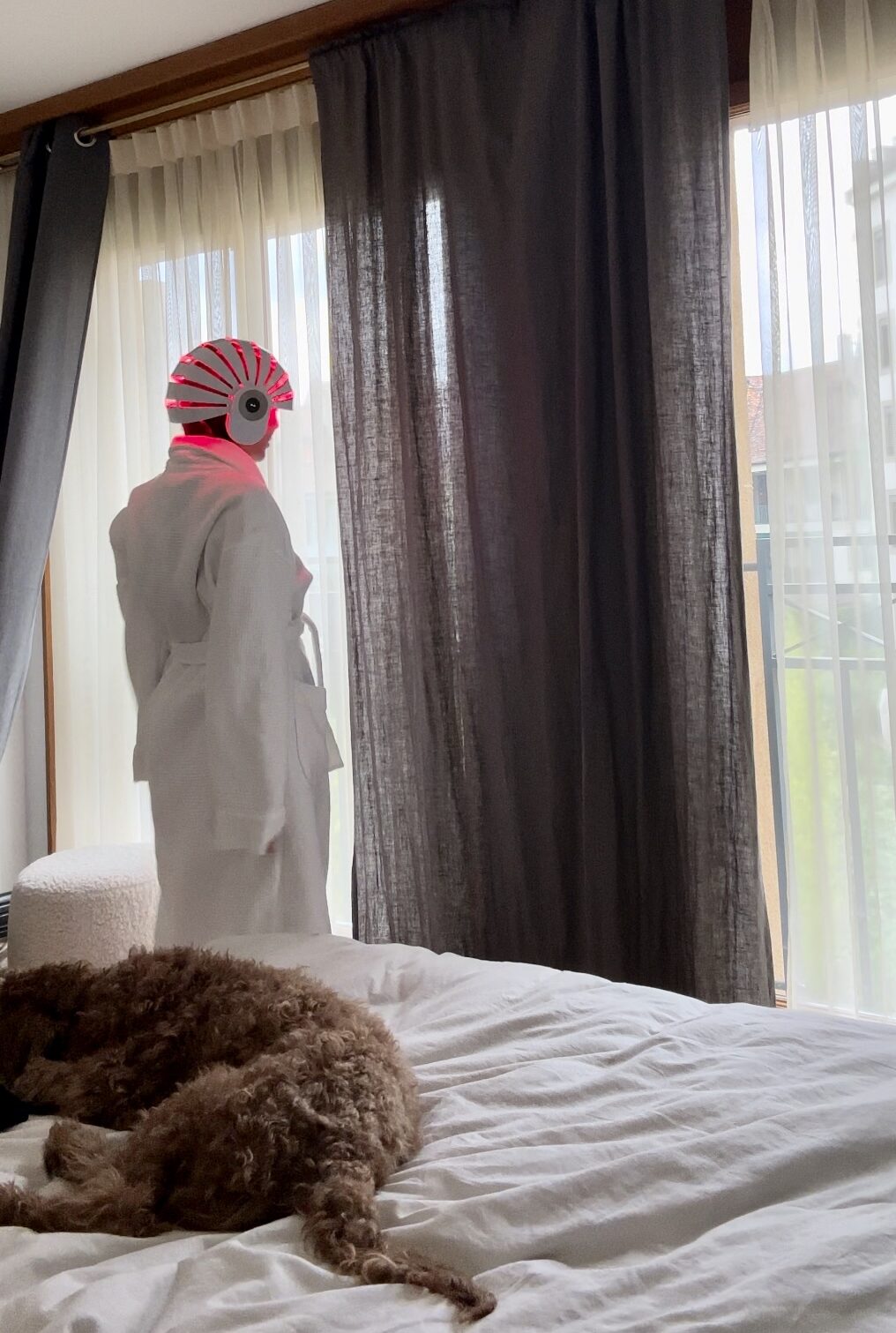 This post is kindly sponsored by CurrentBody.
Similar to LED red light therapy becoming popular at-home skincare devices, the same technology is also becoming popular as at-home hair regrowth devices. Honestly, what doesn't red light therapy help with?
It's been popular for a long time as a men's hair loss treatment, but lately LED light therapy has become more mainstream among both men AND women.
Male pattern hair loss and balding is a common plight that can start as early as teenhood with men, but women also suffer from hair thinning and loss from genetics, stress, postpartum and more.
Though it's mostly been used as a treatment for serious hair loss issues, LED red light therapy can also help with maintaining overall scalp and hair health even if you're only experiencing minor issues.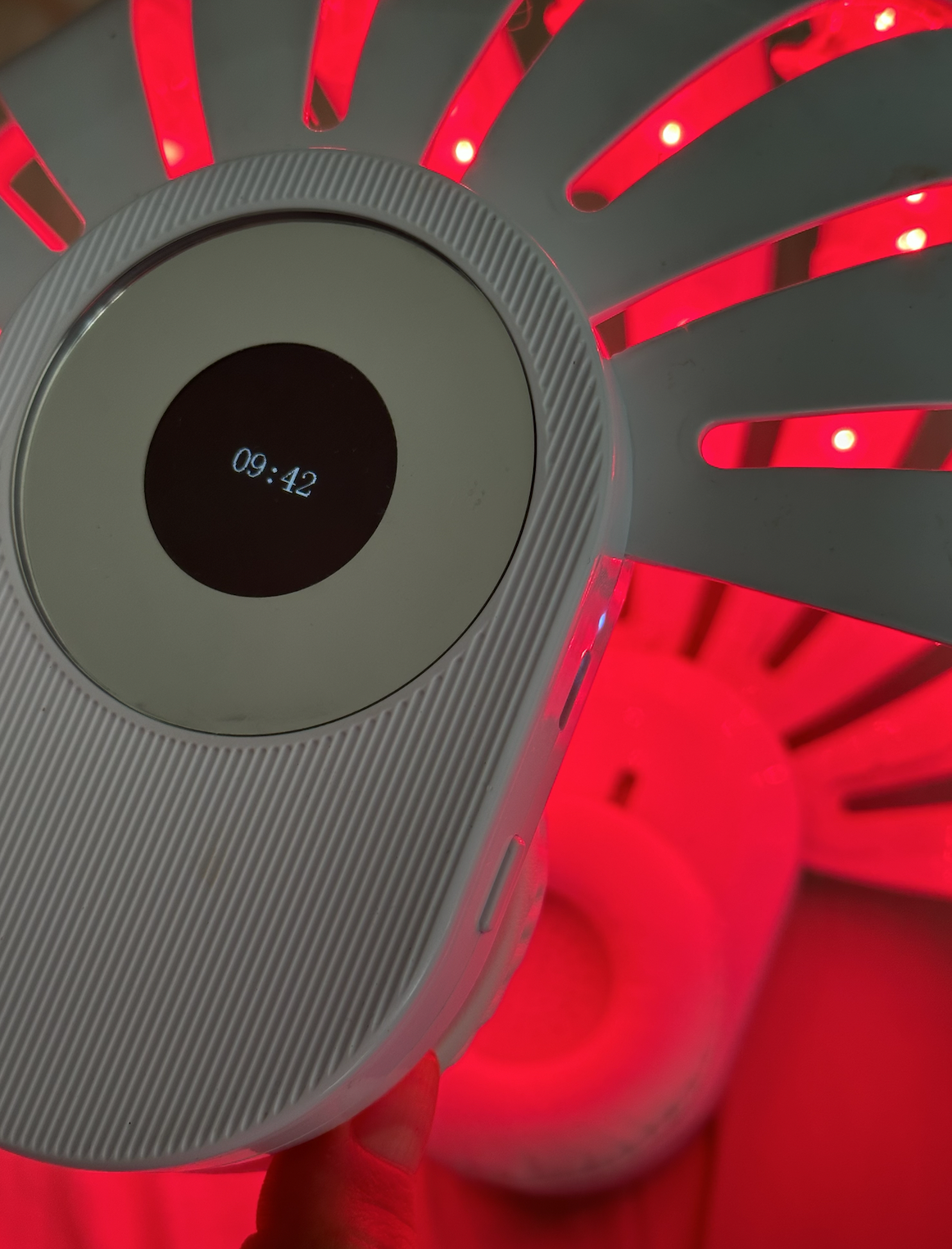 Who is Currentbody LED Hair Regrowth Device for?
The CurrentBody LED Hair Regrowth Device is designed to help with:
Thicker hair
New hair growth
Receding hairlines
Widening parts
Preventing future hair loss
CurrentBody Skin LED Hair Regrowth is indicated to treat androgenetic alopecia and promote hair growth in males who have Norwood-Hamilton Classifications of IIa to V patterns of hair loss; and to treat androgenetic alopecia and promote hair growth in females who have Ludwig-Savin Scale I-1 to I-4, II-1, II-2, or frontal patterns of hair loss, both with Fitzpatrick Skin Types I to IV.
How does it work?
The CurrentBody Hair Regrowth device utilizes 120 LED bulbs to deliver 18 J/cm² of the precise red (640nm) wavelength and covers the entire head.
It's clinically proven to give up to 126% more growth than topical, laser and supplement treatments alone and helps with stimulating blood flow of oxygen and essential nutrients to hair follicles.
At the core of red light therapy's effectiveness is its ability to stimulate cellular activity and promote circulation in the scalp. When specific wavelengths of red light are absorbed by the cells of the hair follicles, a cascade of biological processes is triggered. These include increased production of adenosine triphosphate (ATP), the energy currency of cells, and the release of nitric oxide, a molecule that helps dilate blood vessels and improve blood flow. Together, these mechanisms help to nourish the hair follicles, enhancing their growth and overall health.
Red light therapy has been shown to reduce inflammation, a key factor in hair loss. By targeting inflammatory pathways, this therapy can help counteract the damaging effects of chronic inflammation on hair follicles, facilitating a more conducive environment for hair growth.
Studies have demonstrated that red light wavelengths can effectively penetrate the scalp, reaching deep within the dermis and even into the underlying tissues. This ability to reach the root of the problem, so to speak, sets red light therapy apart from other hair growth treatments.
Studies have also shown that red light can stimulate the hair follicles and promote an increase in the production of keratin, a protein essential for hair health. By enhancing the production of keratin, red light therapy can potentially lead to thicker and fuller hair, addressing concerns related to thinning or fine hair.
It's also been suggested to accelerate the hair growth cycle. The hair growth cycle is divided into three phases: anagen (growth), catagen (transition), and telogen (resting). Red light therapy has been found to prolong the anagen phase, which means that more hairs are actively growing at any given time. This can lead to faster and more abundant hair growth, filling in areas of thinning or promoting the regrowth of dormant hair follicles.
When considering the science behind red light therapy and its potential benefits for hair growth, please note that individual results may vary. There are different factors at play that are unique to each individual, likethe underlying cause of hair loss, treatment duration, and consistency. But, the growing body of scientific evidence supporting its use is promising.
How to Use for Best Results
10-minute treatments for 16 weeks. When you see start seeing an effect depends on your hair growth cycle, but generally you should start to see an effect at around 6 to 8 weeks.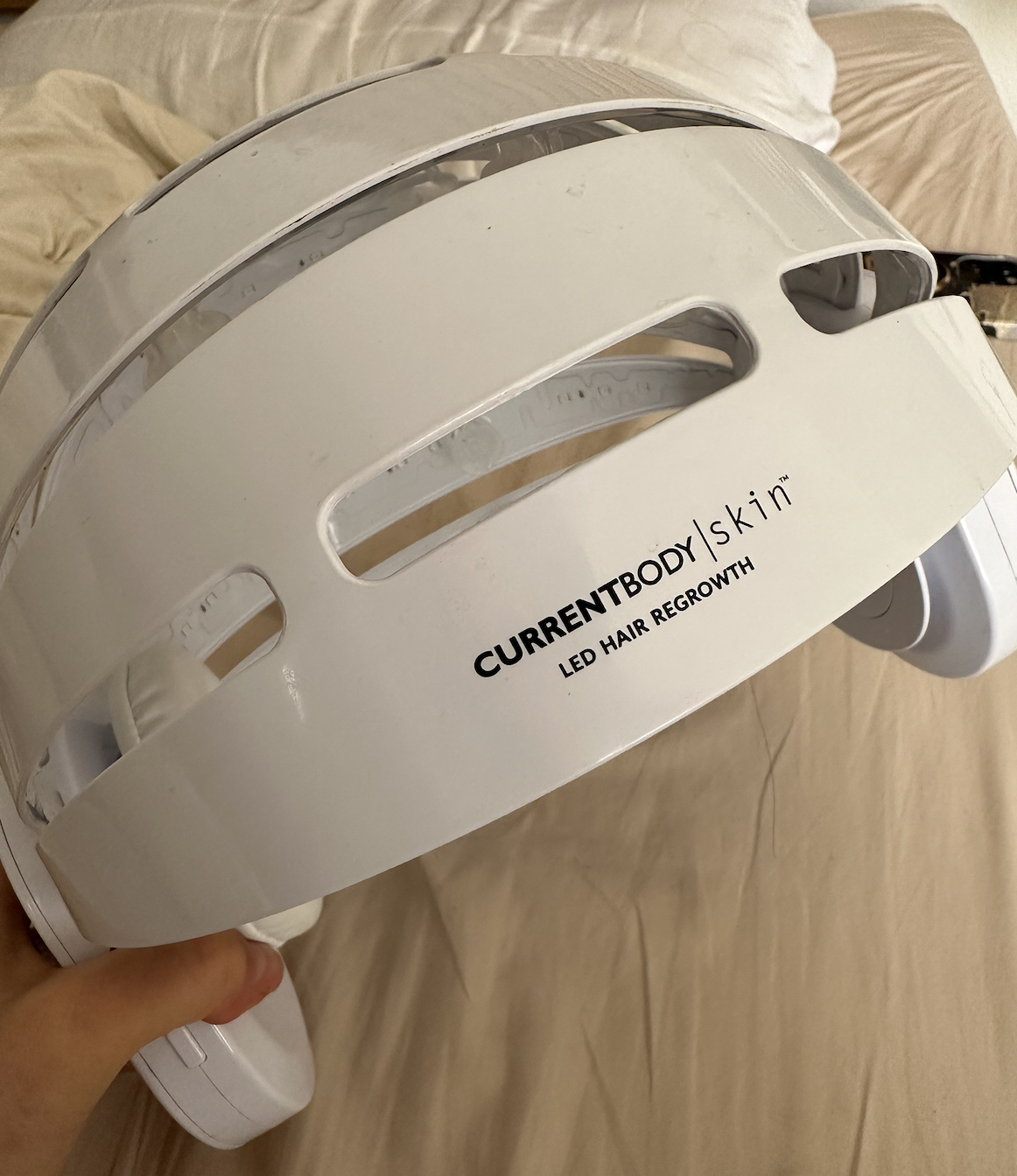 My Experience
If you've used LED face masks before, the CurrentBody hair device is actually more comfortable, in my opinion, because you're free to drink and eat throughout the treatment and there are no cords to deal with.
At the press of a button, the LED hair device turns on and an automatic timer on the side appears. After 10 minutes is done, the device shuts off.
It's been very easy for me to stick to using this device consistently as it's so hassle free. Because it's not a flexible silicone material, it does take up a bit of space.
I'm mainly using CurrentBody's hair regrowth device for overall hair loss prevention, healthier scalp & hair and ideally some regrowth at the hairline which I'm convinced is receding as I get older.
Currently I'm at about the 6 week mark, and can't say for certain whether there is regrowth at the hairline. It's that feeling where you think you could be seeing a couple of new hairs sprouting, but then wonder if you're just tricking yourself into believing what you want. I'll be sure to continue testing this for at least 4 months and report back here. As far as healthier, thicker hair I do feel like it's helping as I haven't done anything else different with regards to my hair care routine and have noticed less fallout.
Laser vs LED for Hair
Both technologies use the power of light coverage to stimulate cells, increasing blood flow and scalp circulation while delivering essential nutrients directly to the hair follicles. The wavelengths play an important role in hair growth and the development of strong, healthy hair follicle cells. Although these light therapy technologies are similar, there are notable distinctions.

Laser therapy uses a single wavelength to focus a narrow beam of light directly to the scalp, treating a small area. Comparatively, LED light therapy uses one or more wavelengths to treat larger surface areas of the scalp with a broader band of light. This means that LED light therapy has more coverage, activating a higher number of hair follicles per cm² compared to laser hair regrowth treatments.
Risk Free
CurrentBody has a 4-Month Money Back Guarantee, which gives you enough time to test out the full 16-week treatment period.