Dossier Review: Clean Perfume Versions of Designer Fragrances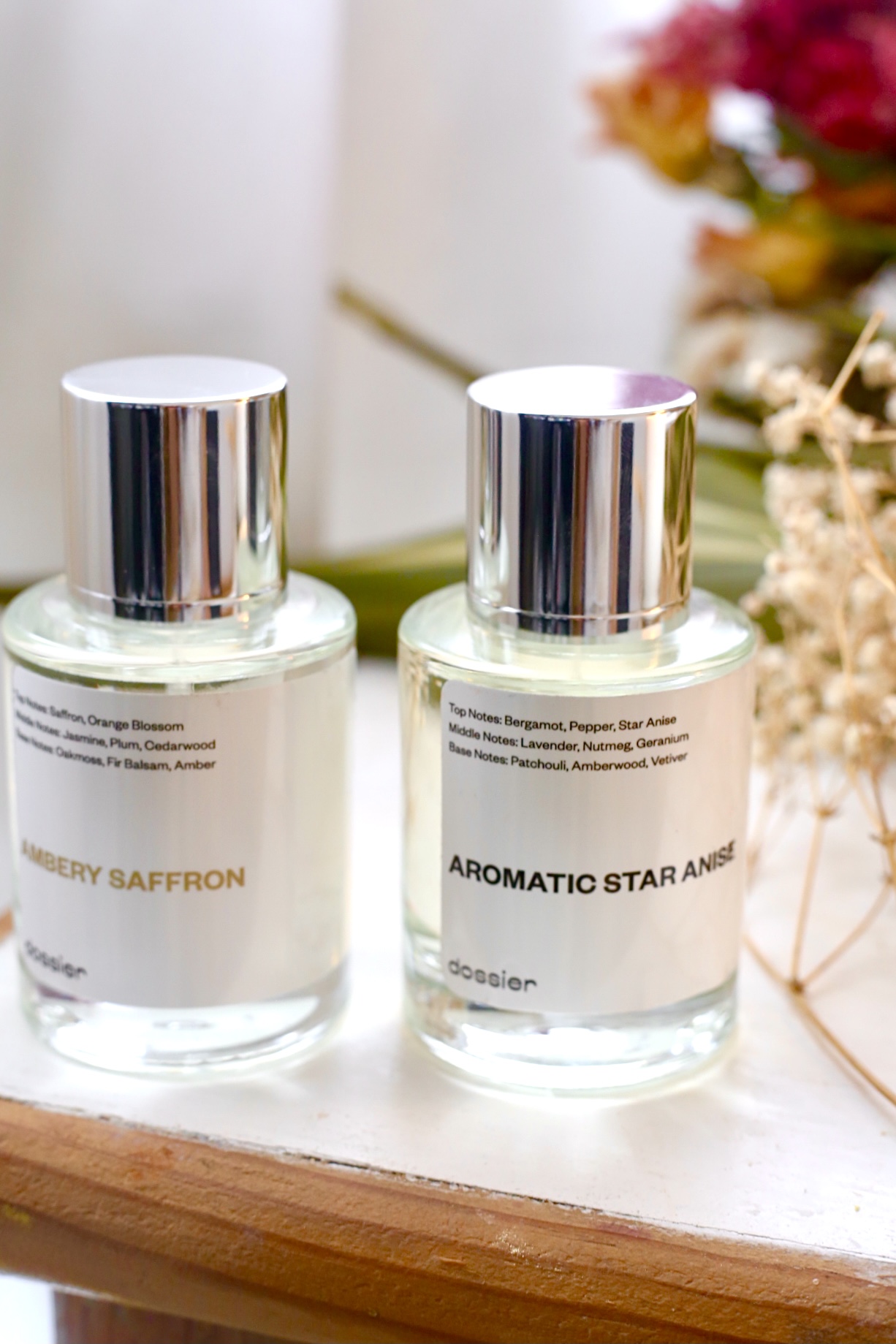 Dossier is a clean fragrance brand pushing the envelope when it comes to transparency and affordability. Their vegan products are ethical, sustainable, and sourced from the highest quality ingredients. Dossier also solves a major paint point for women – designer fragrances want to bankrupt us all! Dossier doesn't believe in having to pay hundreds of dollars in markup for beautiful fragrances. To achieve this, they work with perfumers in Grasse, France and their nose who's based in Paris. The result: accessible options inspired by the biggest fragrances of our time for under $50. Keep reading for my honest review on Dossier perfumes.
This post is sponsored by Dossier – all views are my honest opinion.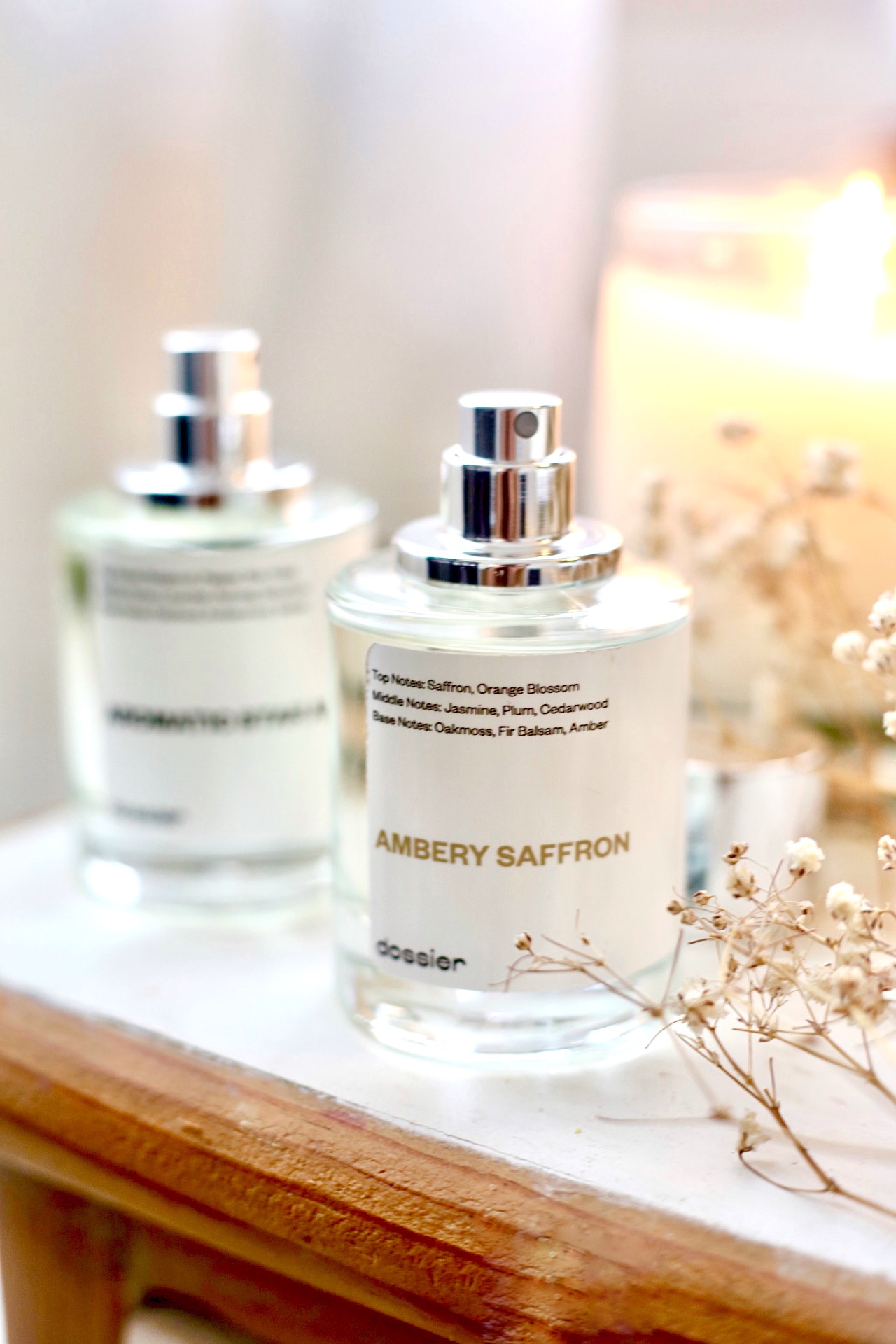 What I Like About Dossier
Extensive range of perfumes to choose from
Each perfume is Dossier's impression of a popular designer / niche fragrance
All perfumes are priced affordably at $29-$49
Risk free purchases
All returned bottles are donated
If you love a scent, you can purchase it as a large 18oz candle
Designer and niche fragrances cost hundreds of dollars, even all the way up to a thousand, making them an exorbitant expense for the majority.
For perfume addicts, this can quickly add up to some major credit card debt. So what is a perfume lover who needs a YSL Homme, Tom Ford's Soleil Blanc and Le Labo Santal 33 in their life to do? The solution: Dossier.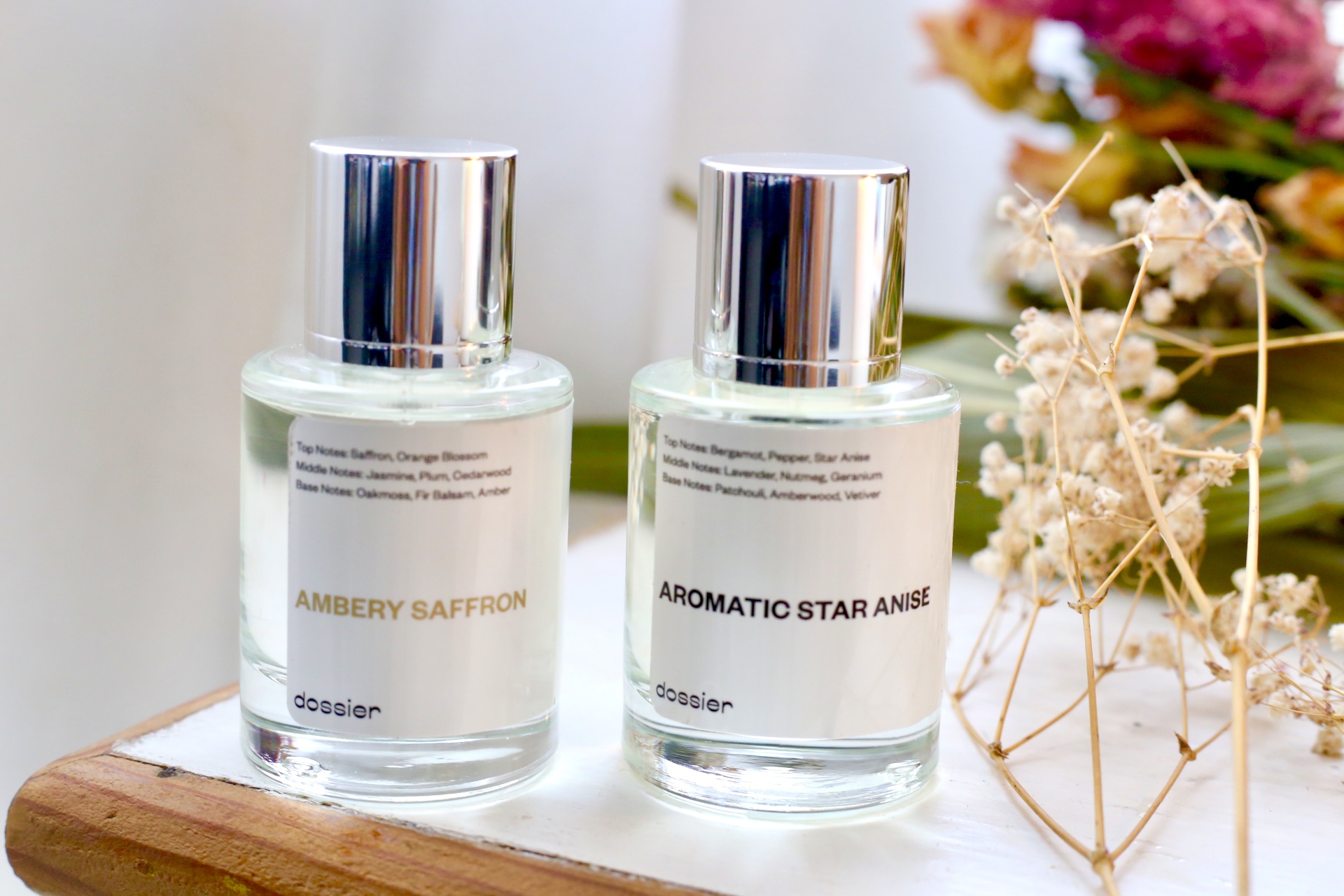 I tried two Dossier perfumes – Ambery Saffron and Aromatic Star Anise. Out of the two my definite favorite is Ambery Saffron as Aromatic Star Anise is inspired by Dior Sauvage. Ambery Saffron is feminine leaning while Aromatic Star Anise is decidedly masculine.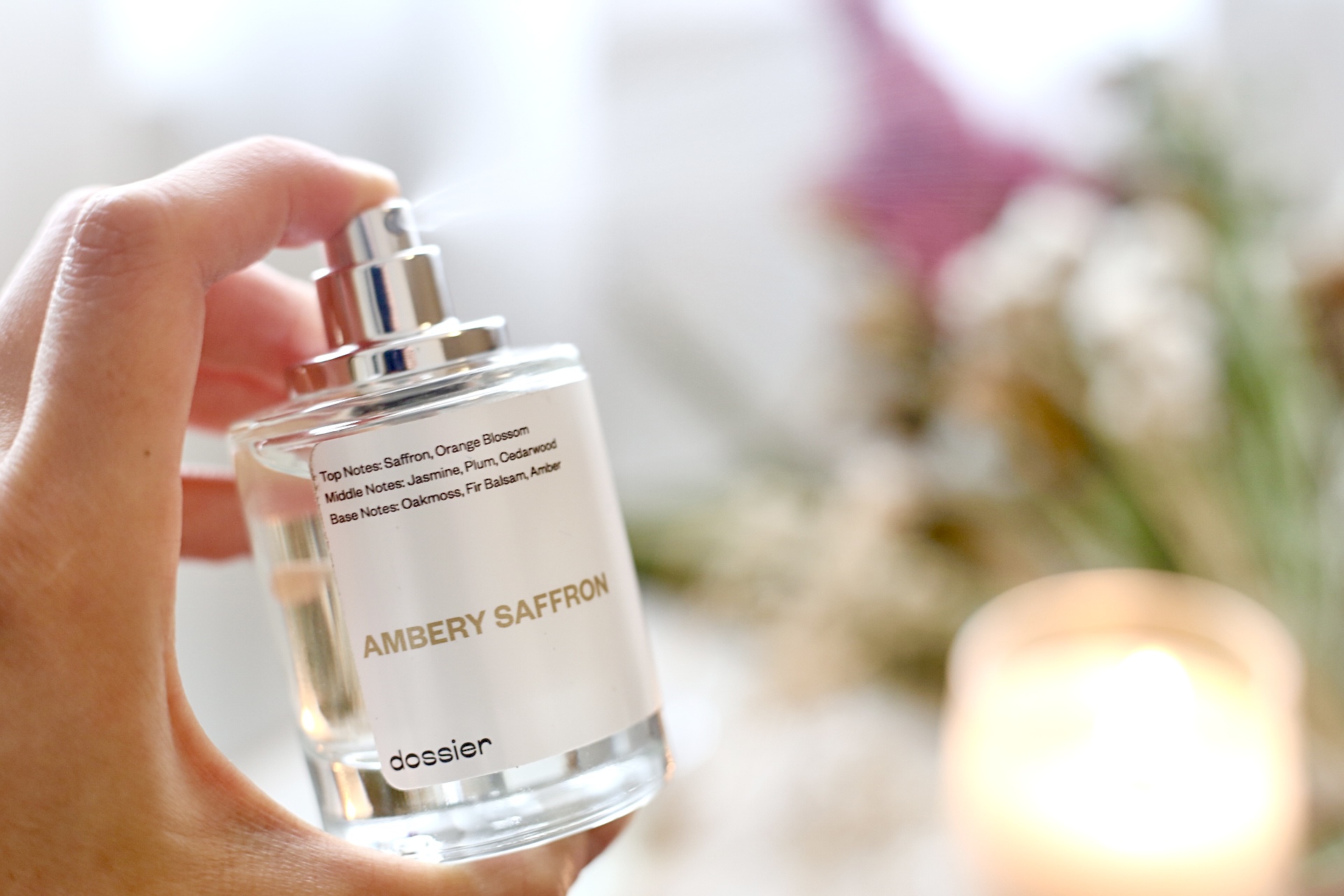 Inspiration: Baccarat Rouge 540
Top: Saffron, Orange Blossom
Heart: Jasmine, Plum, Cedarwood
Base: Oakmoss, Fir Balsam, Amber
Ingredients: Orange Ess, Marigold Ess, Hedione, Ambroxan, Mousse LHB/Everynyl
Price: $49
Ambery Saffron is Dossier's impression of Baccarat Rouge 540, an intensely complex fragrance that retails for $300.
Ambery Saffron opens with a slight whiff of the exotic that's quickly fleeting. I get a ton of warmth from start to finish that's creamy, slightly sweet, and slightly earthy.
Despite having Saffron in the name, I don't get saffron as a dominant note. I can't say how close this is to its fragrance inspiration, but I can say that as its own perfume, Ambery Saffron is a cozy scent I enjoy wearing daily during winter.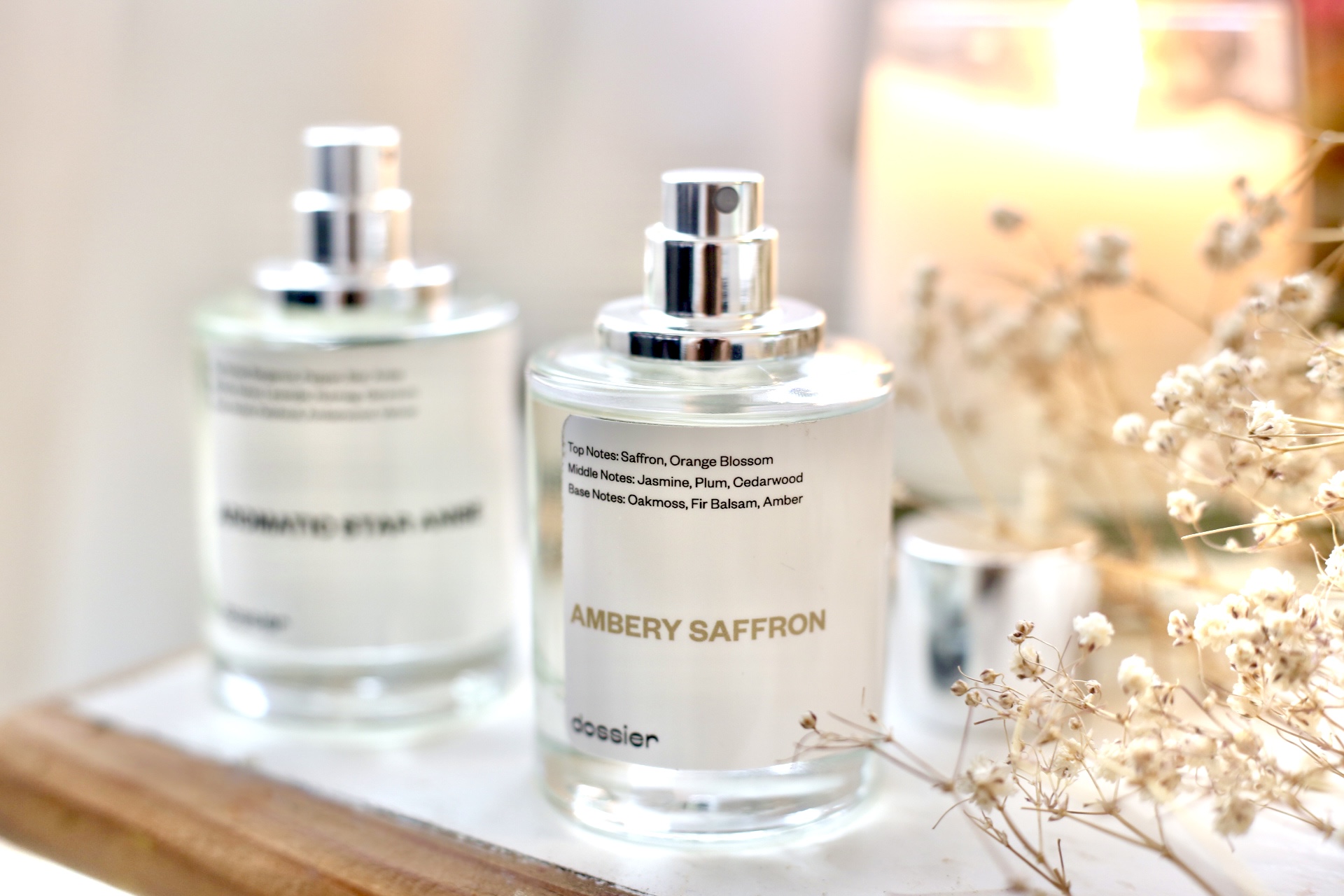 Do Dossier Perfumes Last?
On the performance spectrum, the projection and sillage of Dossier perfumes isn't as strong as their non-clean counterparts, about medium strength in comparison to other fellow clean perfume brands and stronger than 100% natural perfume brands.
Longevity is on par with other clean perfume brands, though will probably not last as long as their conventional versions. This is characteristic of all clean perfumes and not just Dossier.
If you're used to the longevity of conventional perfumes, this may be difficult for you to adjust to if the "clean" aspect makes no difference to you. Clean perfumes simply don't perform the same, because they're not filled with the same amount of synthetics.
(I go in-depth on why clean perfumes don't last as long as conventional perfumes in my clean perfume guide here.)
With a generous 5 spritzes, 6-7 hours post application I can still smell a faded version of the dry down, which isn't too common with clean perfumes.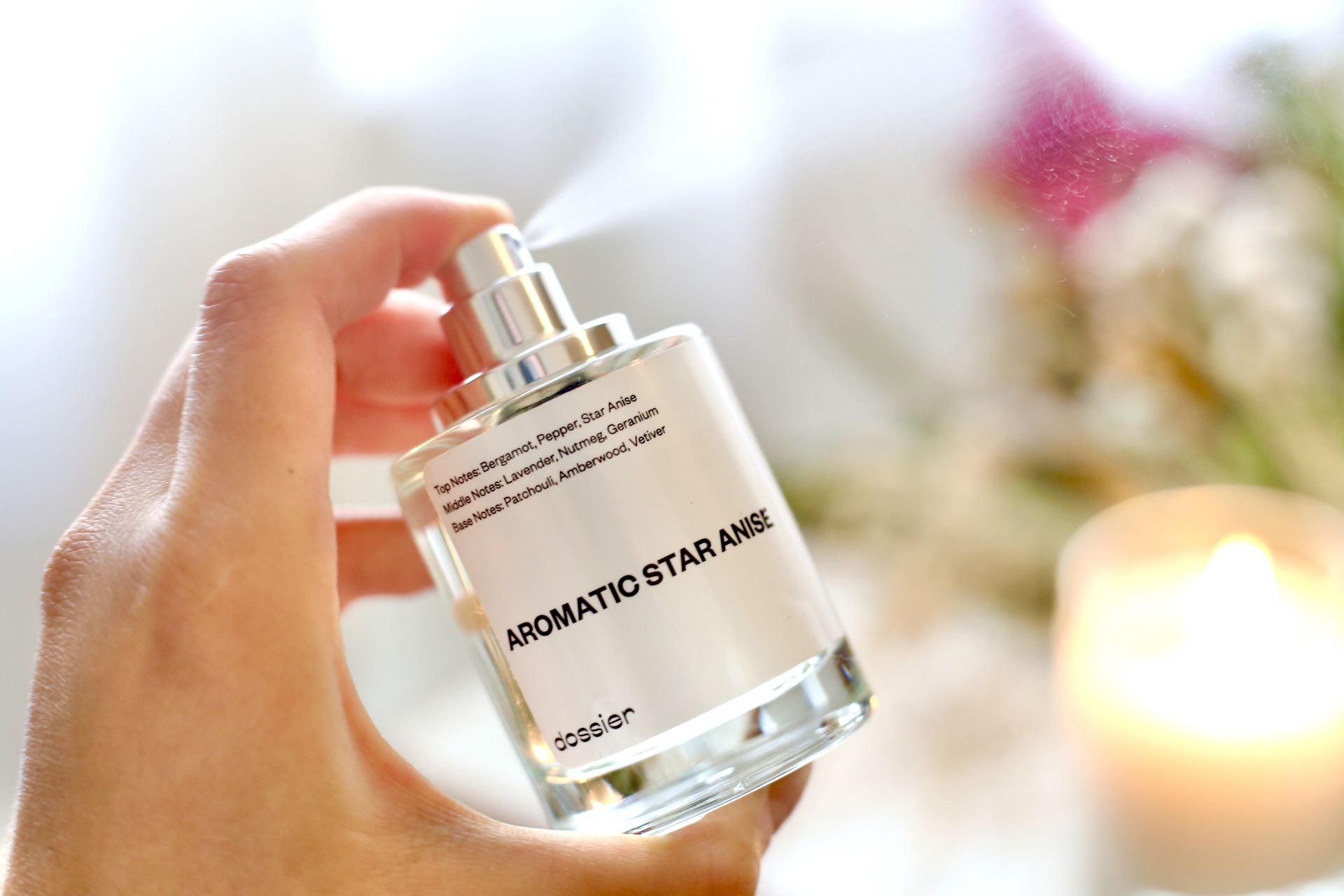 Inspiration: Dior Sauvage
Top: Bergamot, Pepper, Star Anise
Heart: Lavender, Nutmeg, Geranium
Base: Patchouli, Amberwood, Vetiver
Price: $29
Ingredients: Pink Pepper, Bergamot Ess, Lemon Ess, Elemi Ess, Geranium Ess, Lavender Ess, Patchouli Ess, Sichuan Pepper Ess, Vetiver Ess, Iso E Super, Hedione, Cetalox, Linalol, Dihydromyrcenol, Ambercore, Verdox, Methyl Pamplemousse, Magnolan, Coranol, Heliotropine, Ambrocenide, Cashmeran, Citronellol, Cis-3-Hexenyl Salicylate, Coumarin, Peonile, Mandarin Aldehyde, Pre Cyclemone B.
Another bestseller, Aromatic Star Anise is a masculine cologne inspired by Dior's Sauvage. Sauvage is a "fougere," a perfume category characterized by a blend of citrus notes, lavender, geranium, and patchouli.
Aromatic Star Anise is made at a concentration of 12% which is lower than Ambery Saffron's 18%, but it's actually a much bolder scent than the latter.
Though I can't remember what Dior Sauvage smells like, Aromatic Star Anise really does smell like a men's department store perfume. It also reminds me of Creed's Irish Tweed, which is a classic fougère and retails starting at $345.
Aromatic Star Anise hits you with a spicy opening and a hint of something exotic. For the first hour or so, this does smell too synthetic and sharp for my liking but gradually fades to a more well balanced scent as the woodsy notes bring it down.
Overall, this is much too masculine for me but if you enjoy fresh scents, Aromatic Star Anise might be up your alley.
Is Dossier Worth Buying?
Dossier wants you to try their perfumes without a fear of commitment, and they don't believe perfumes should be an investment, so there's really nothing to lose with their free returns. Perfume is also so personal and one woman's trash is another woman's treasure.
Just like with every perfume brand, there will be hits and misses. If you're a diehard fan of certain perfumes, then there's always the chance that Dossier's creations may not live up to your expectations. But if you're not looking for anything super specific and simply want a perfume that fits your note preference, then it's much easier for you to find a Dossier scent you like.