17 Best Non-Toxic Organic Candles that are Clean Burning of 2023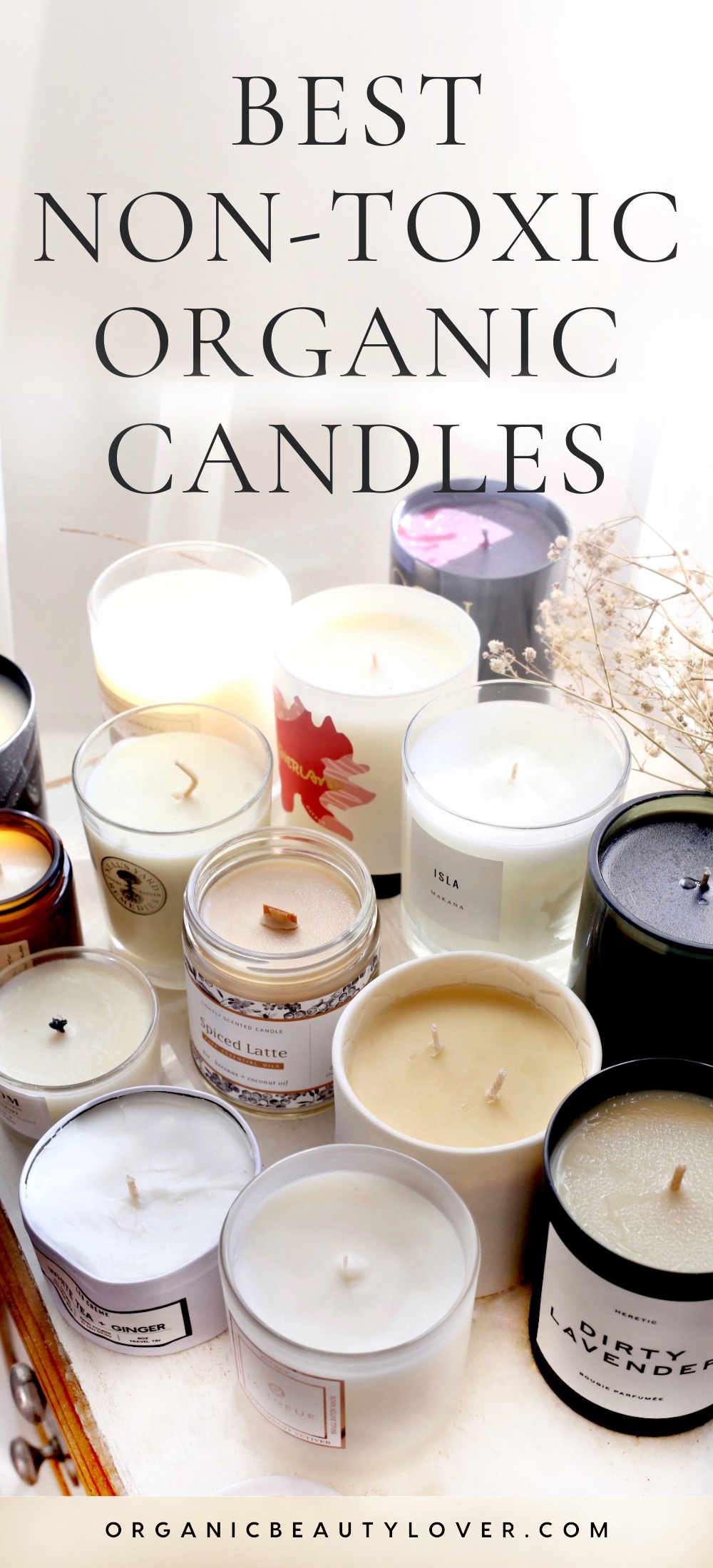 Welcome to the ultimate 2023 guide to natural candles that are non-toxic, clean burning and even organic. If you're here it means you're looking for the healthiest candles, and you're definitely not interested in the idea of burning Bath & Body Works candles that release harmful toxins into the air for hours on end. Thankfully natural candles do exist, and there is no shortage of clean candle companies making non toxic candles using natural and organic ingredients that are safe for you, your family and pets. Non toxic candles are also easily available on Amazon. Organic candles help enhance your home environment with their aromatherapy health benefits, and one natural wax even helps clean the air. So toss out your paraffin wax Yankee Candles and read on for candle ingredients to avoid, how to choose a natural candle and the healthiest candles that are non-toxic and organic.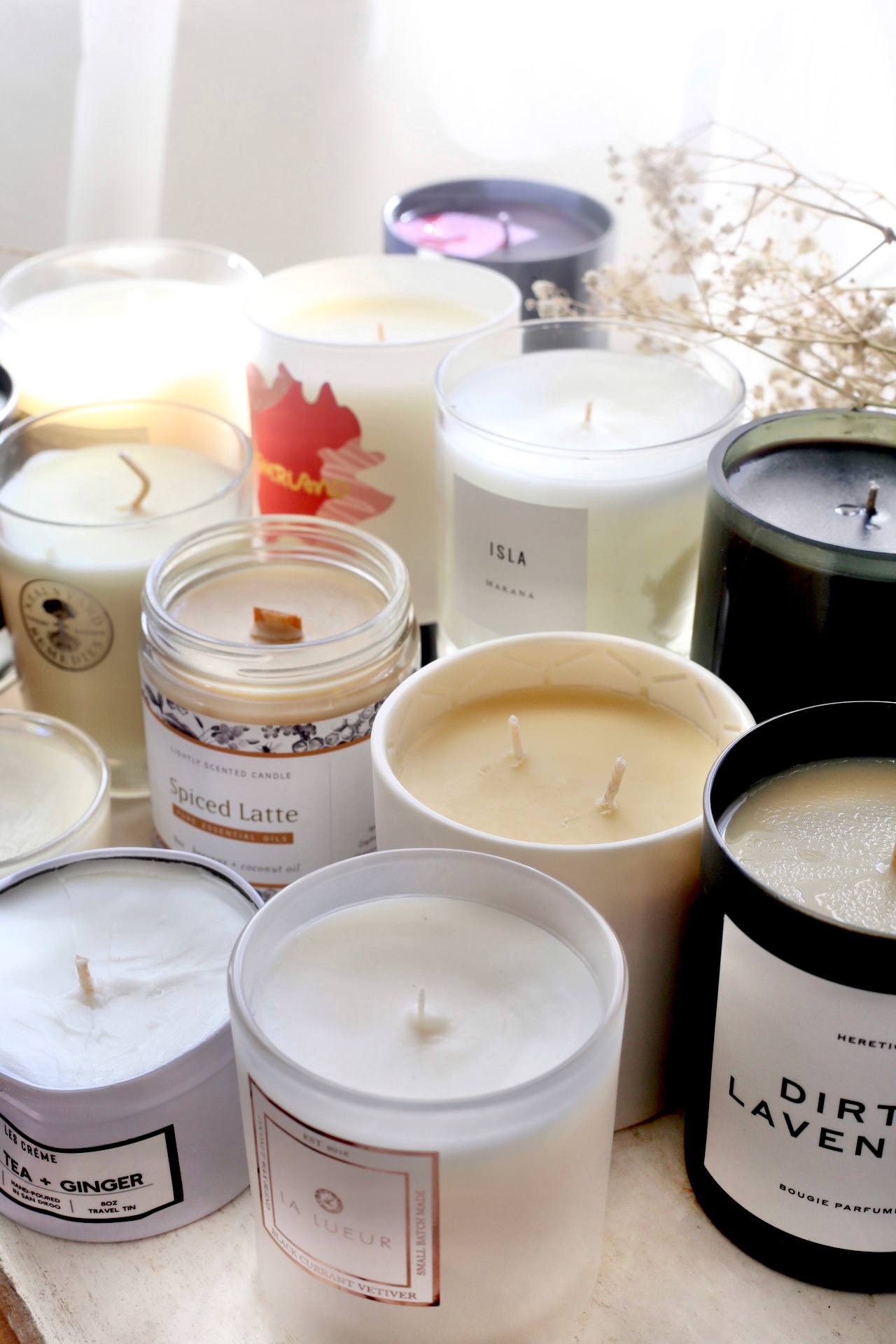 Why You Shouldn't Burn Candles
Conventional candles that is…Using conventional candles in your home means you're unleashing loads of toxic compounds and particles into the air that, over time, can be harmful to your health. Will one candle wreak havoc? Probably not. But if you enjoy burning candles fairly regularly, then it's important to be aware of what's actually inside these candles and their harmful effects.
We, as consumers, assume that companies have our best interests at heart and strive to do "the right thing." You would think companies wouldn't want to sell millions of American families candles that could harm their health, but that's exactly what they're doing – and making millions doing so. In this wildly unregulated industry, companies don't even need to label the ingredients in their candles. So why shouldn't we be burning these candles?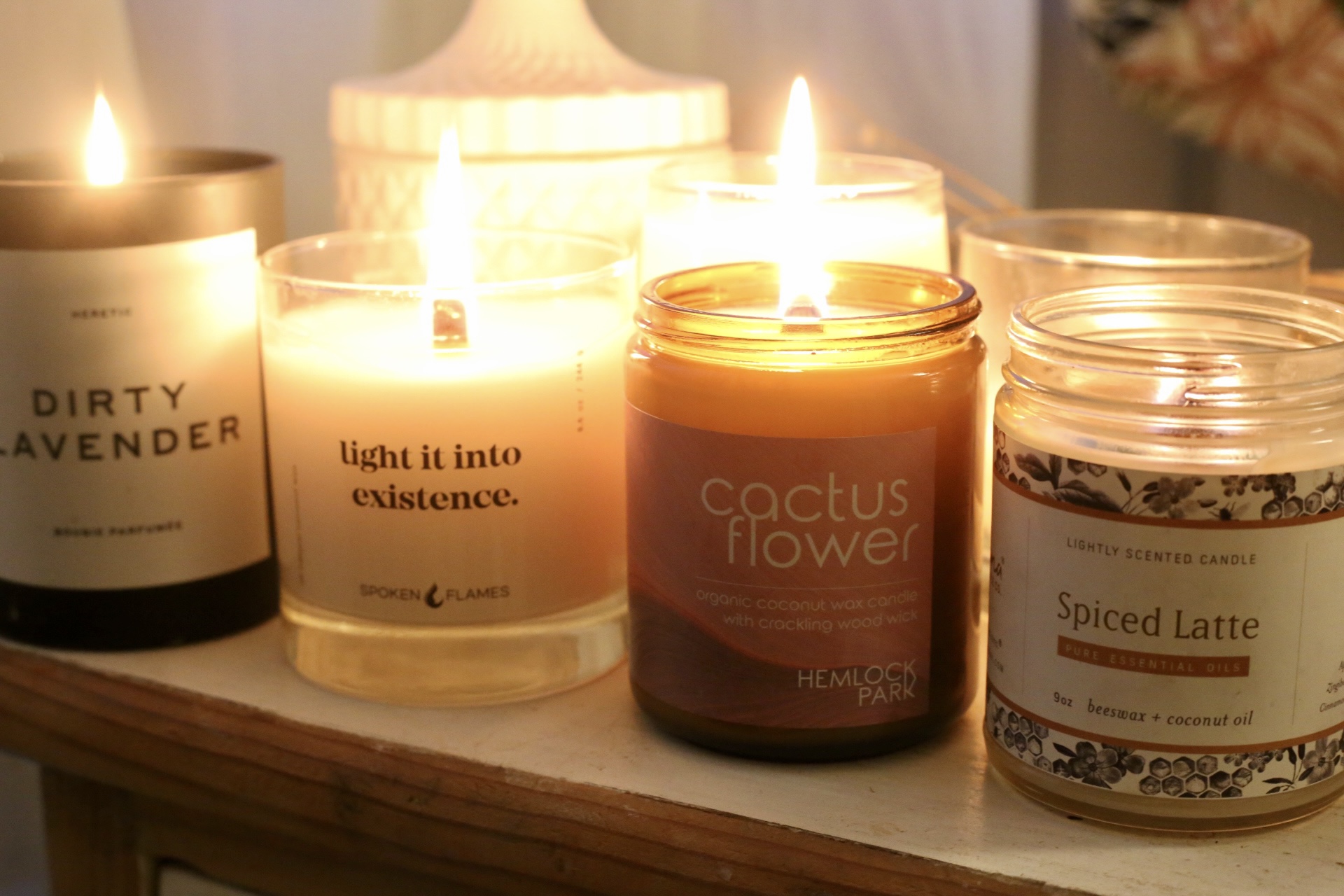 Check out the Newest Posts:
Which Candles are Toxic?
The dangers of conventional candles include:
Paraffin: petroleum-based product that can release dangerous volatile organic compounds (VOCs). VOC's can disrupt hormones, carcinogens and neurotoxins.
Formaldehyde, acetaldehyde, toluene, benzene, acetone and more can be released
Burning paraffin wax releases ultrafine soot with particulates that stay suspended in the air. This particulate matter, just like pollution, penetrates into the lungs, entering the bloodstream and leading to allergies, asthma, bronchitis, even strokes and cancer
Wicks that contain lead: In 2003 the U.S. Consumer Product Safety Commission banned the manufacture of all candles with lead cores. But many candles still contain lead or even have core wicks made of zinc and tin that can release trace amounts of heavy metals.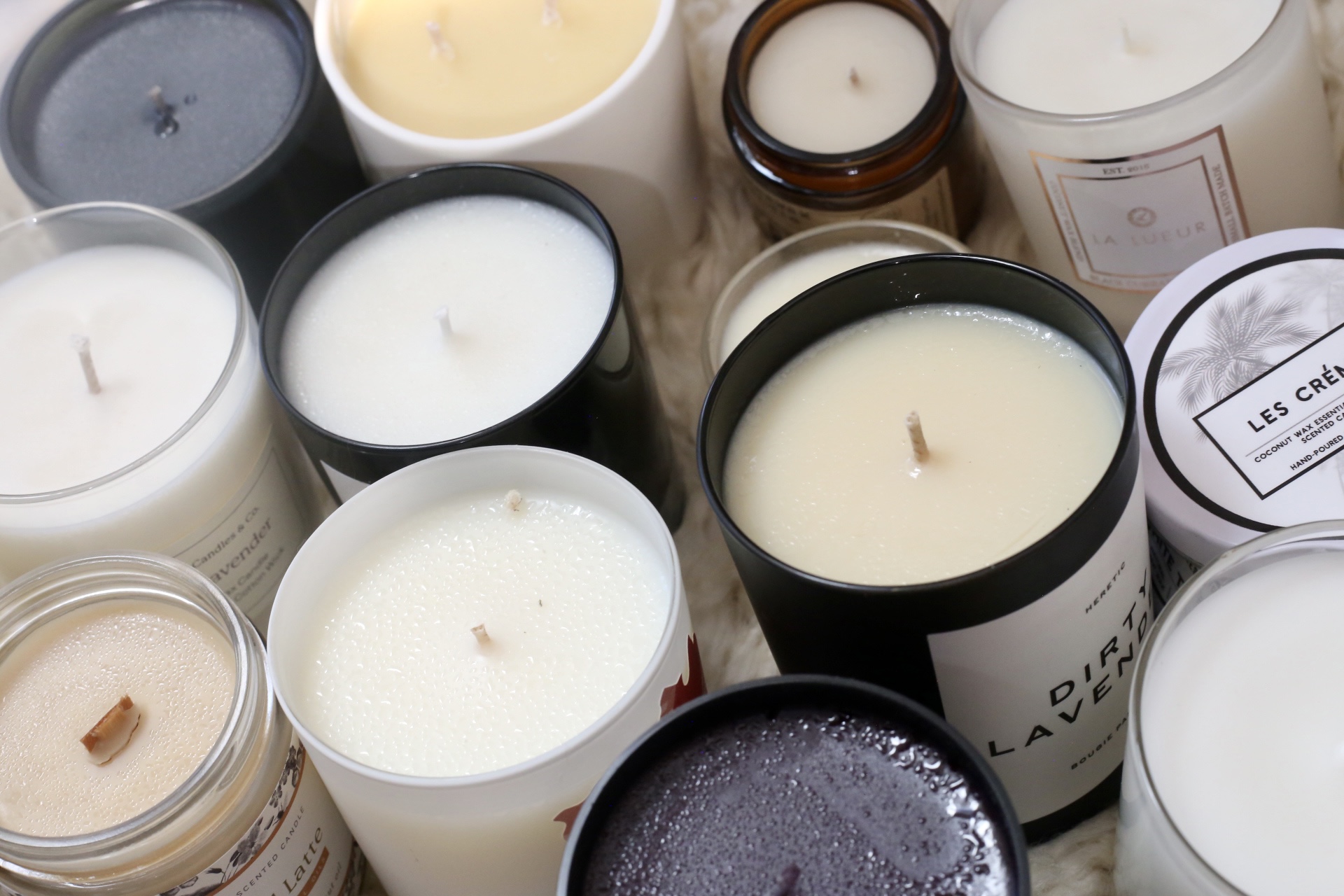 What Kinds of Candles are Non-Toxic?
I'll be sharing which candles are safe for your health and tips for how to choose one that's the best fit for you. Natural waxes include:
Soy wax
Beeswax
Coconut wax
Apricot wax
Rapeseed wax
Other 100% vegetable wax
Blend of the above waxes
Some companies use a blend of waxes, and will often state "wax blend" to indicate this.
For example, a candle company may use a proprietary wax blend of Coconut, Soy and Beeswax along with Apricot and coconut oils. The goal is to take advantage of the qualities of different waxes to produce the best natural candle that burns smokeless, soot-less, produces the strongest scent, and lasts the longest. In the candle world, this is known as clean burn, burn time and scent throw.
To make sure there is no paraffin wax lurking in the blends, you can reach out to the company and ask directly.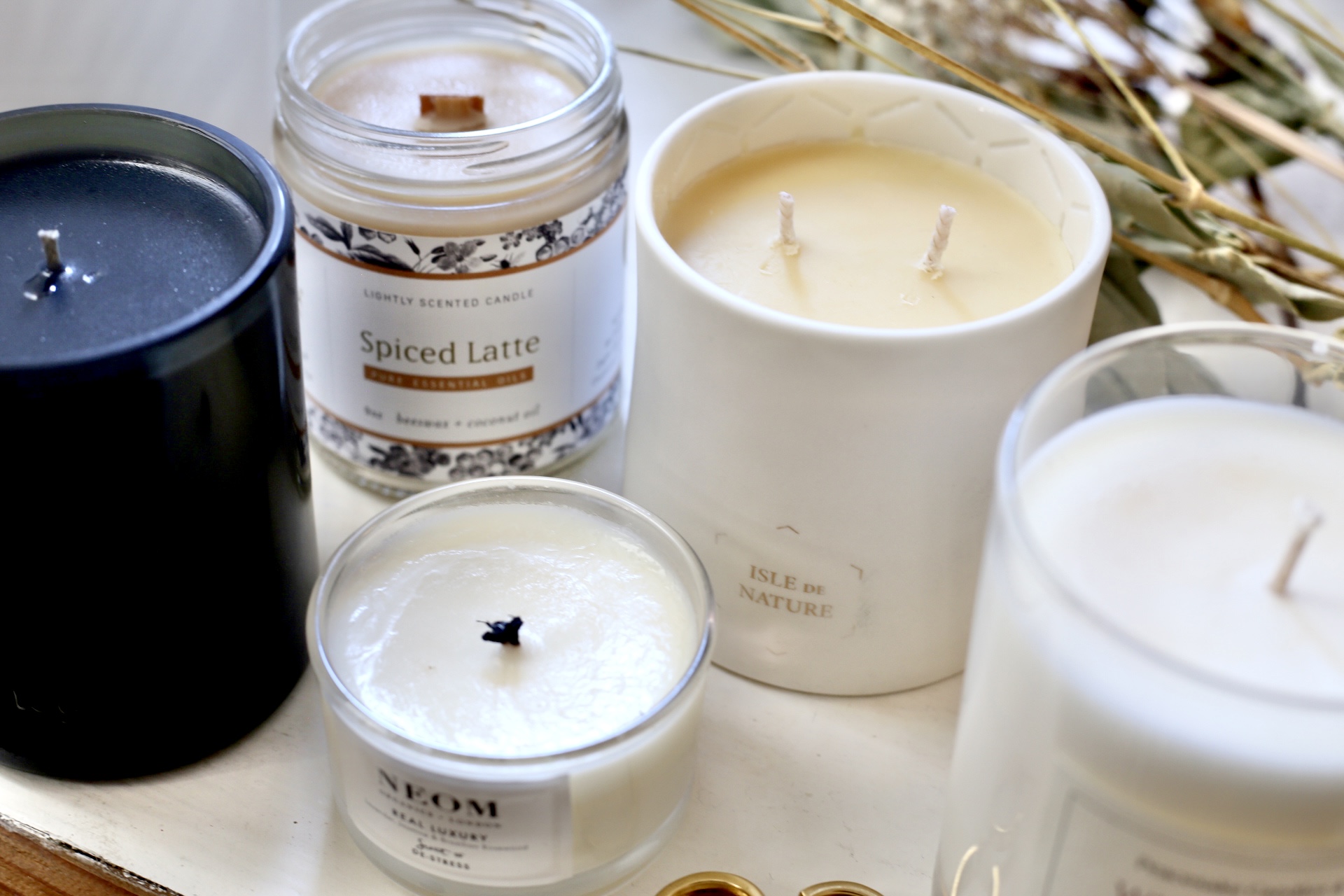 3 Things to Consider when Buying a Natural Candle
Wax type
Wick type: cotton, wood, paper
Fragrance type: natural, synthetic, or a mix of both
Other factors you might want to take into consideration with a non-toxic and natural candle are:
Artificial dyes (think those colorful Yankee Candles)
Recyclable and reusable containers
Complete ingredients list (or email the company directly for a clear response)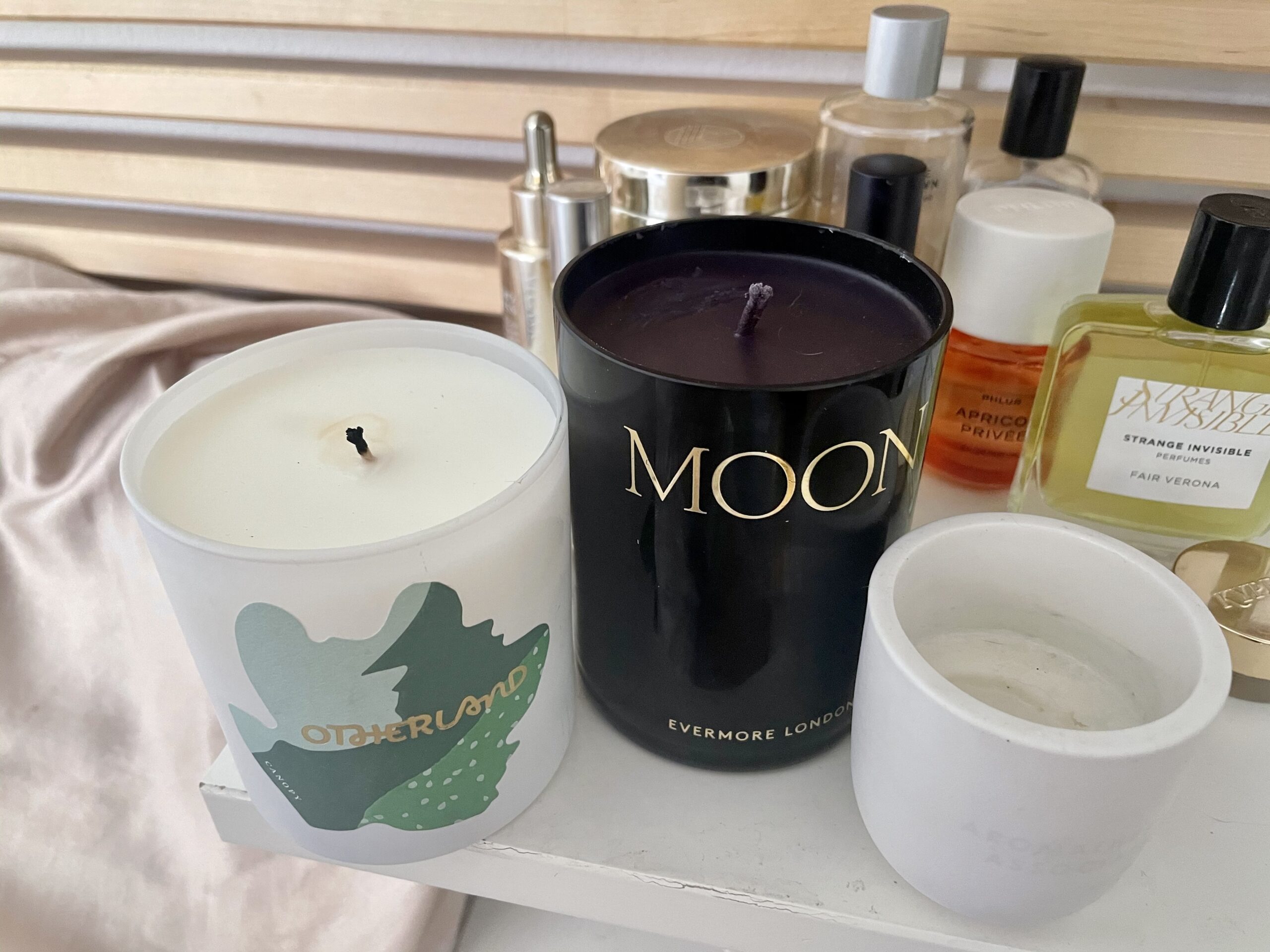 CANDLE WAX – Should I Buy Soy, Beeswax or Coconut Wax?
Everyone has their own personal preference with candles, but if you're new to natural candles, it's best to try out various types of candles from the wax to the wick type used to see what you prefer. Your perfect candle is out there somewhere!
Beeswax
One of the cleanest burning candle waxes
Warm, natural toned flame
A natural air purifier – Releases negative ions when burned and attaches to positive ions (ie dust, toxins, pollen, odor) in the air
Not vegan friendly
Soy Wax
Most common natural wax used in candles
Whiter, cool toned flame
Lower melting point
Less scent throw than coconut wax (holds up to 10% scent in its wax)
More affordable due to 94% of soy agriculture being made via genetically modified means
Coconut Wax
One of the cleanest burning candle waxes & often considered by candlemakers as the best natural wax option
Burns slower than other waxes for a longer lasting candle
Most eco-friendly wax to produce
Strong scent throw (holds up to 12% scent in its wax)
Zero soot particles released when burned
More expensive so it's commonly mixed with other waxes like soy wax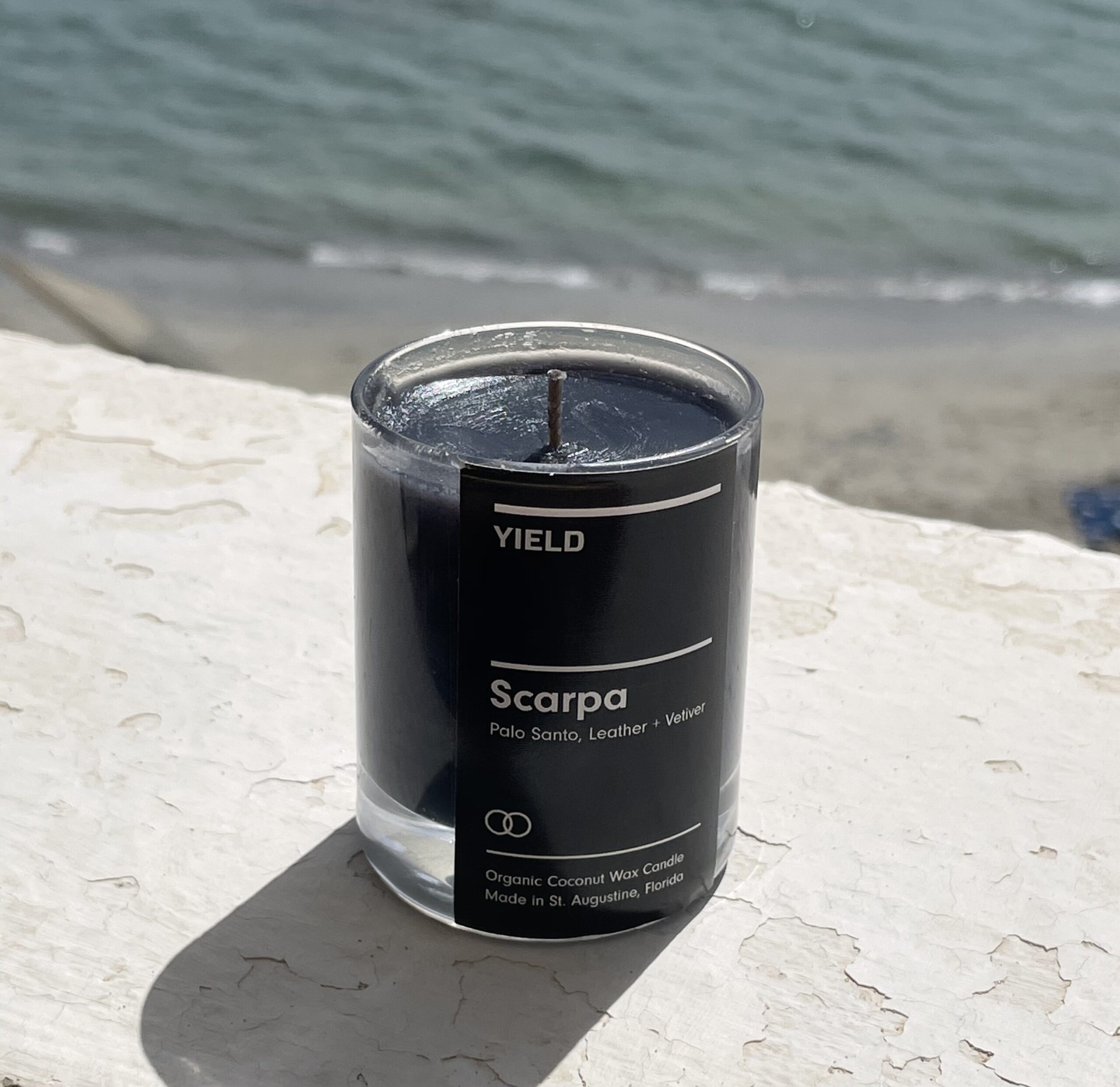 CANDLE FRAGRANCE – Should I Buy Essential Oil or Synthetic Fragrance Candles?
Fragrance choice is a personal decision and up to each individual. Candles are basically perfume for your home, and in the world of clean perfumes, there are many brands that combine both natural fragrance (ie essential oils) with synthetics to create a fine fragrance that has projection and longevity – while others remain 100% natural. Some people may be entirely against any added fragrance oils or safe synthetics, while others are okay with their addition for better performance.
The same correlates to fragrance in candles. A candle brand creating fine fragrance candles will perform more similarly to a conventional candle (but without the toxic paraffin wax) and have superior scent throw and a wider variety of scents. Even if the synthetic fragrance is phthalate-free, the cleanest option will always be 100% organic essential oils. But, essential oils are difficult to work with in candles as they can easily burn up without leaving any scent behind. Choose whichever type of candle fragrance that aligns with you the most.
Affordable Non Toxic Candles
High quality clean candles that are ethically and thoughtfully made simply cost more to make, so there aren't many cheap organic candles. Fontana Candle Co and Les Creme are budget friendly on their own, plus my discount code OBL saves extra. And La Lueur is the only natural candle brand I found to have a clearance section on their website.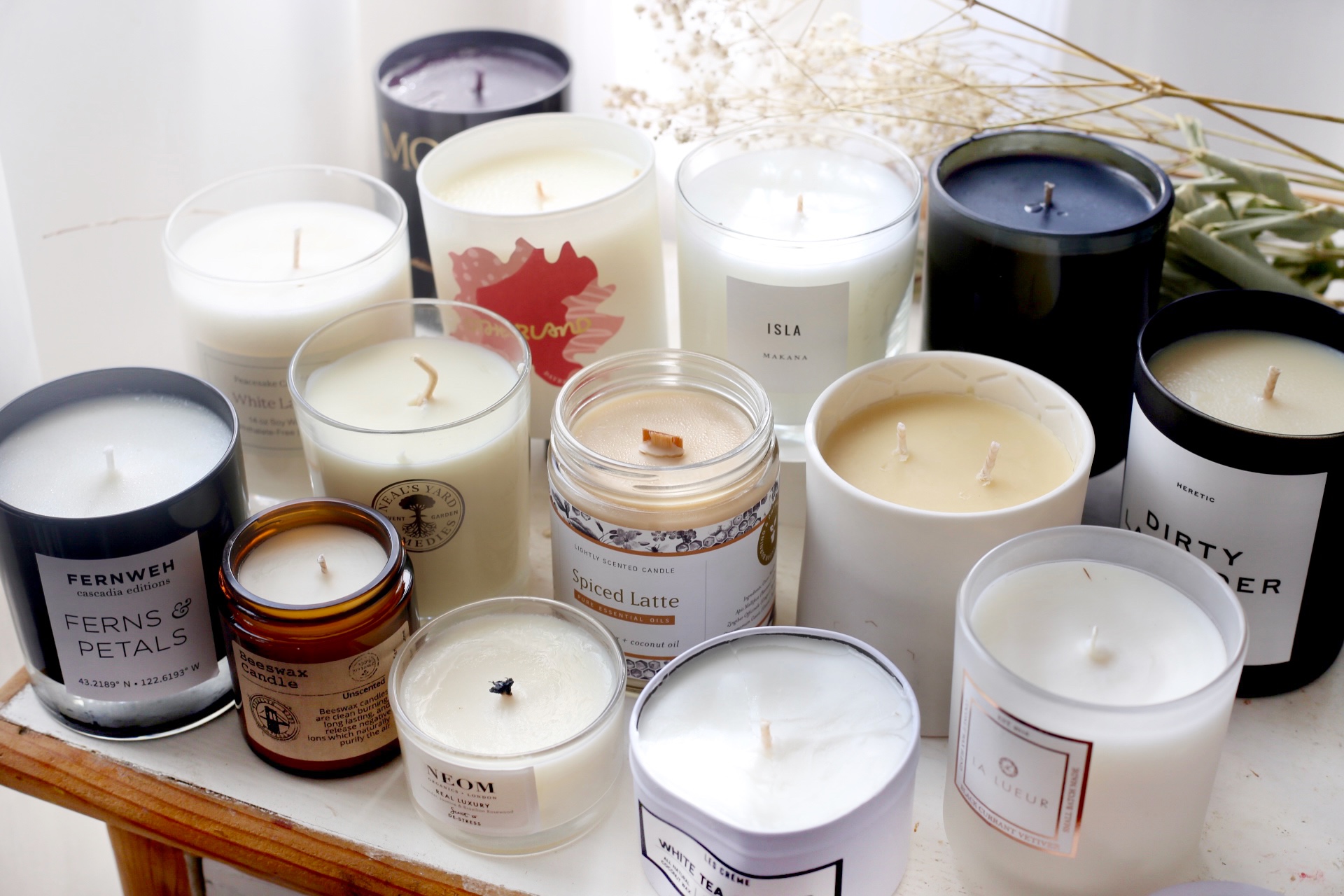 ---
Best Natural & Organic Candles
I'm sharing some of my favorite natural candles that are clean burning and indicating the 1) type of wax used and 2) if they're scented naturally with 100% essential oils or with added synthetic fragrance. Many of these natural candles can be easily purchased on Amazon too.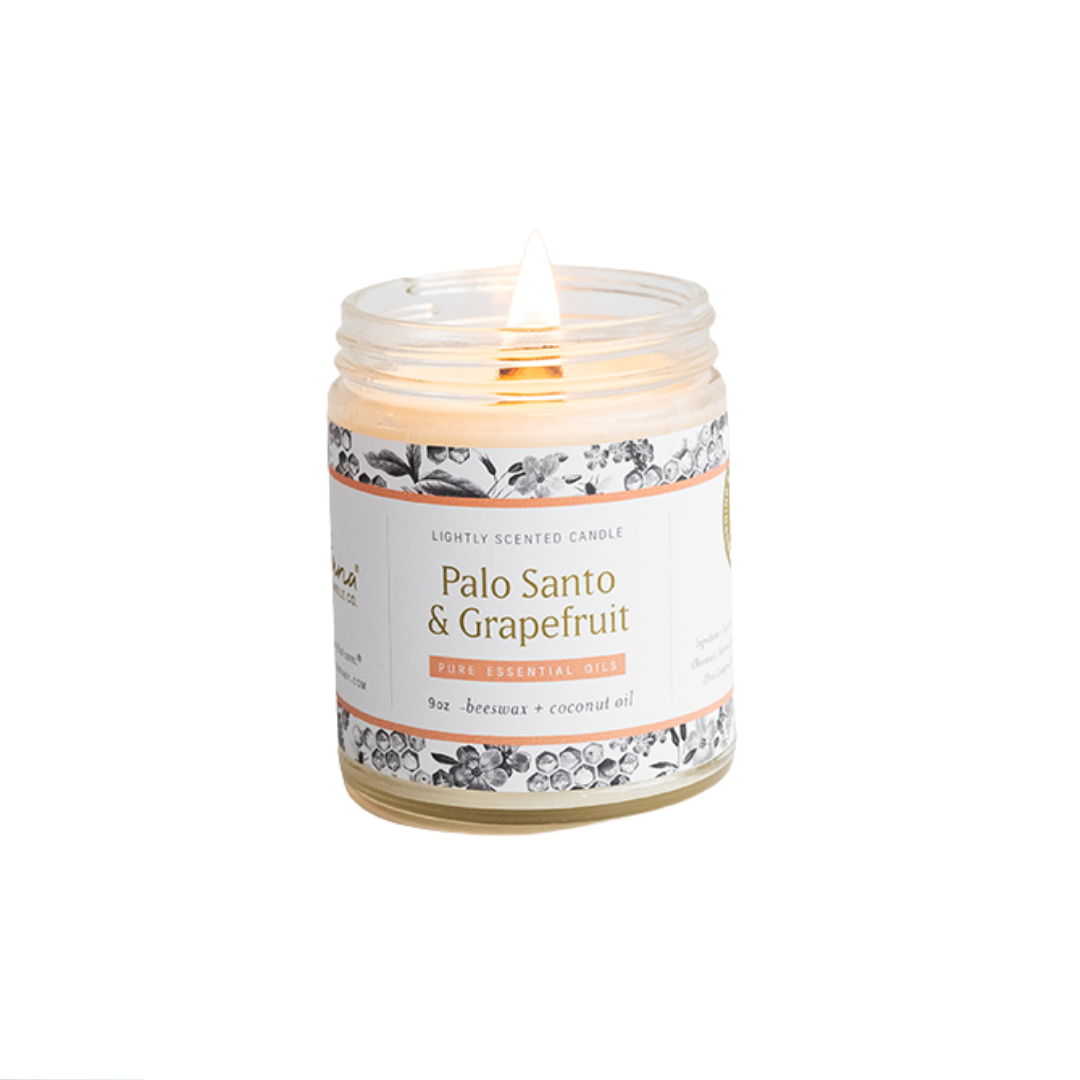 Candle type: beeswax
Scent: essential oils
SAVE: Use code OBL15 to save
One of the cleanest candle brands out there with zero questionable ingredients, Fontana Candle Co uses a blend of beeswax and coconut oil with a wooden wick. As beeswax is a difficult wax to use for candles, it took the brand 150 attempts, before finally finding the optimal blend that allowed a nice even burn without scorching. *Note: These are lightly scented*
Now available on Amazon.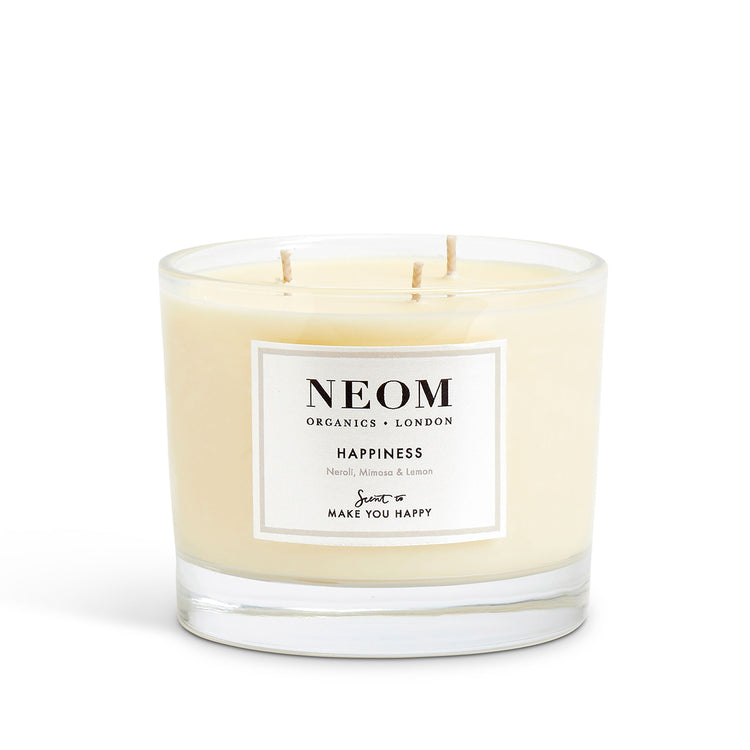 Candle type: 100% natural vegetable wax blend
Scent: 100% essential oils
Hand-poured in the UK, Neom Organics' bestselling 3 wicks contain up to 3 bottles of essential oils, contain absolutely no paraffin or synthetics for a soot-free burn. Shop Neom Organics on Amazon.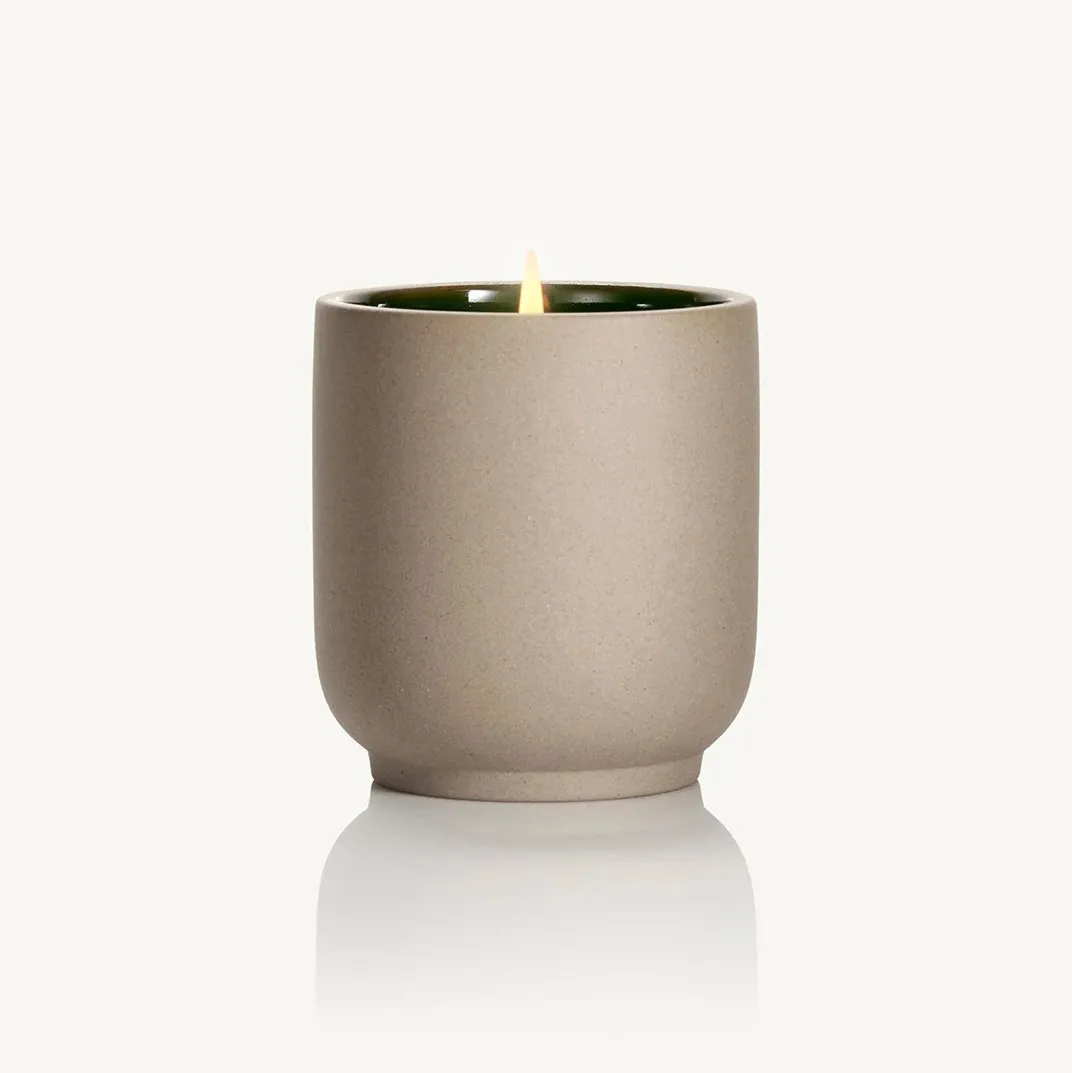 Candle Type: Soy wax
Scent: Essential oils + fragrance oils
SAVE: Discount code OBL saves 10%
Homecourt is Courteney Cox's newly launched home care brand she deems as "beauty products for the home." The clean burning Homecourt Cece candle scent is considered one of the best of the year. Using sustainably sourced ingredients the Cece candle has notes of Guatemalan cardamom, Dried mate absolute leaves, Sri Lankan cinnamon, Carrot seeds and leaves, Indonesian patchouli oil and Vetiver oil.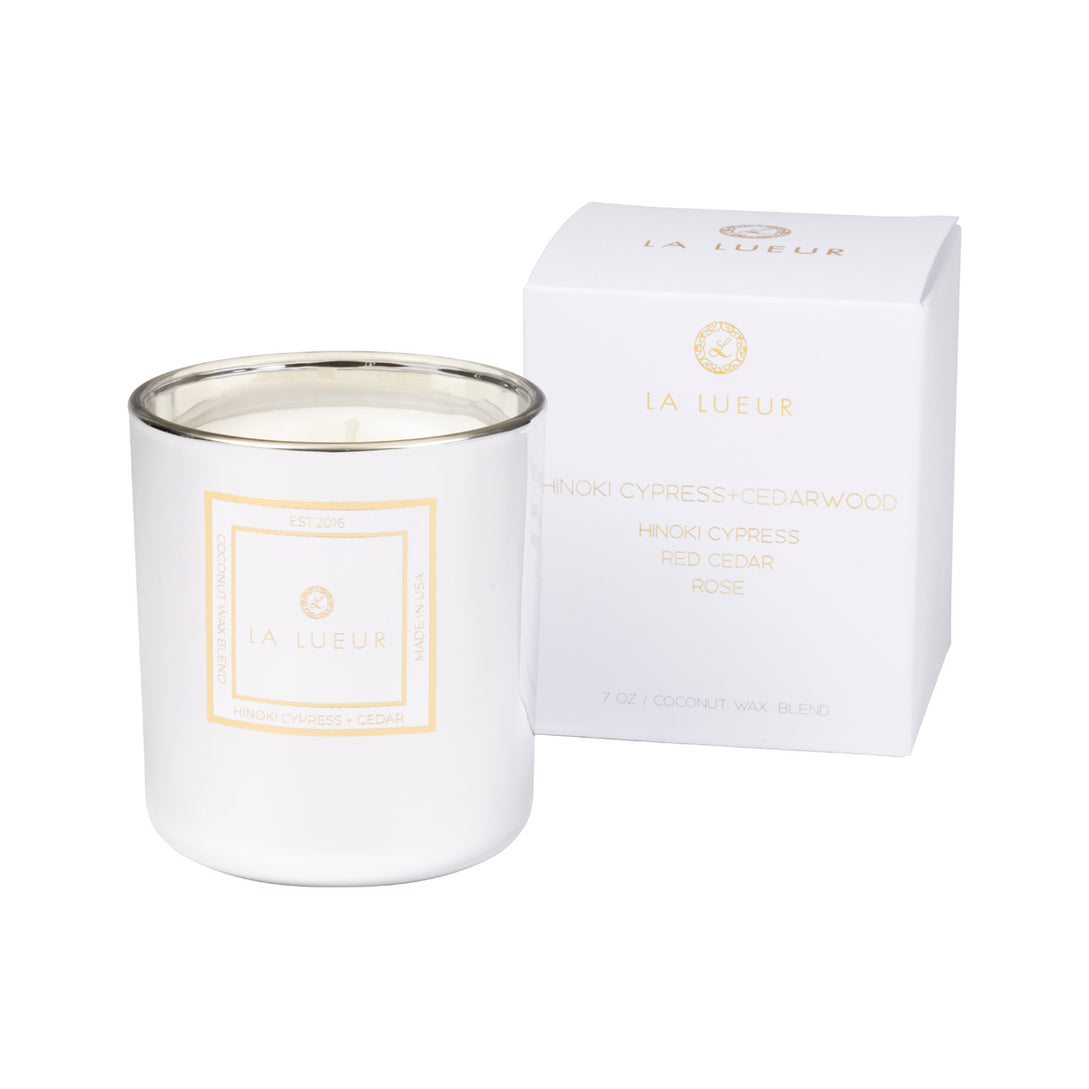 Candle type: vegetable, apricot and coconut wax
Scent: mix of essential oils and fragrance oils

Nebraska-based La Lueur uses a coconut wax blend that is clean burning, biodegradable, vegan, skin safe, non-toxic, colorless, odorless, and doesn't contain any candle enhancing additives. La Lueur candles are also crafted to be slow burning for a candle that's long lasting and burns evenly.
While many candle companies generally stick to one signature vessel, La Lueur offers a variety of beautiful, unique and luxe vessels to choose from, including a 100% natural green onyx stone vessel, ornate glass vessels and more.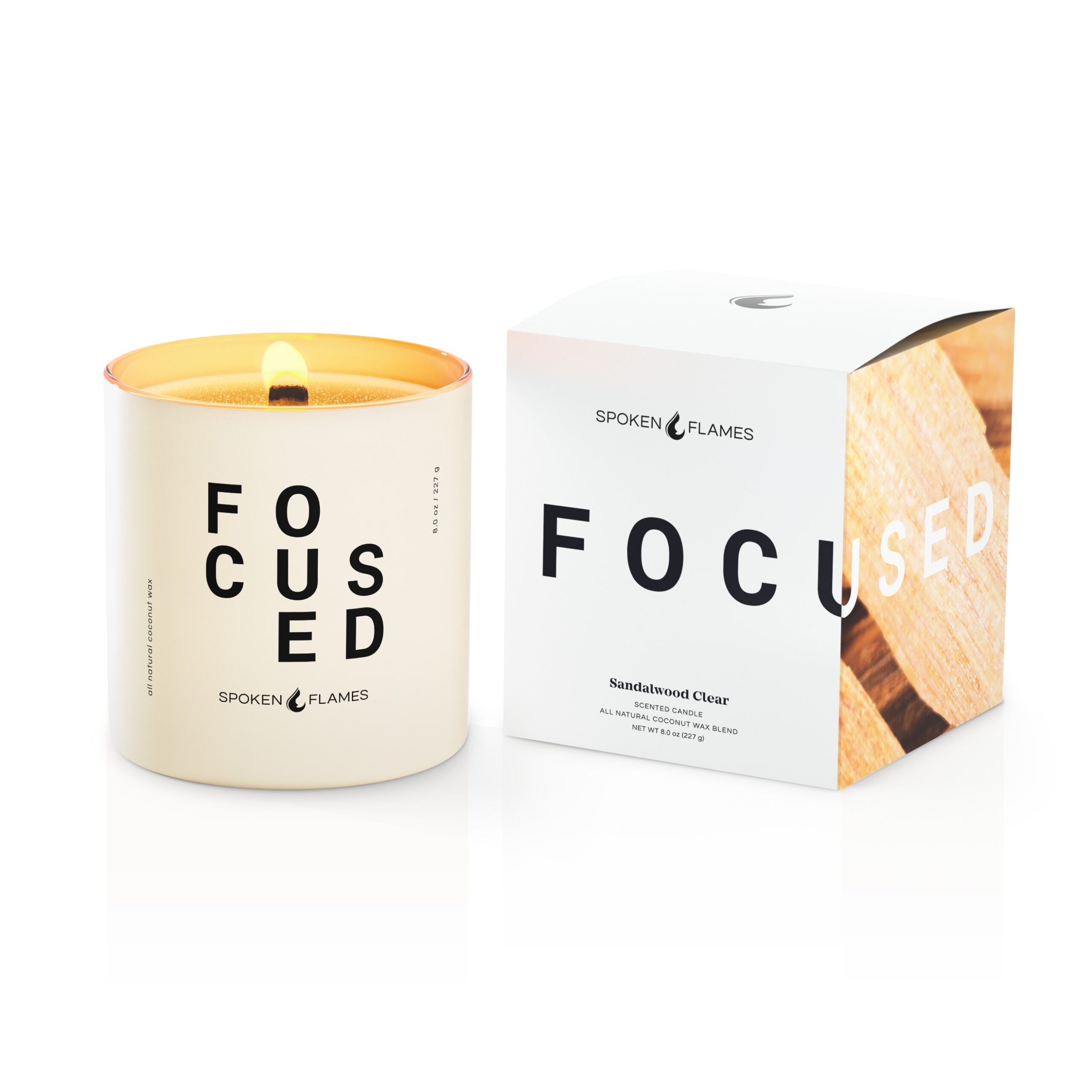 Candle type: 100% natural coconut wax blend
Scent: mix of essential oils with fragrance oils
For a candle that brings an out-of-the-box experience, Spoken Flames is a multi sensory candle that engages your senses of smell, sight (golden shimmer from ethical minerals) AND sound (crackling wooden wicks). Spoken Flames candles are hand poured by a small team in Brooklyn, NY. With each candle you unlock an audible affirmation or poem via augmented reality along with a visual scene. Spoken Flames offers an enhanced sensorial experience to bring you inspiration and a more mindful self-care moment. Each candle has a 55 hour burn and dual wooden wicks.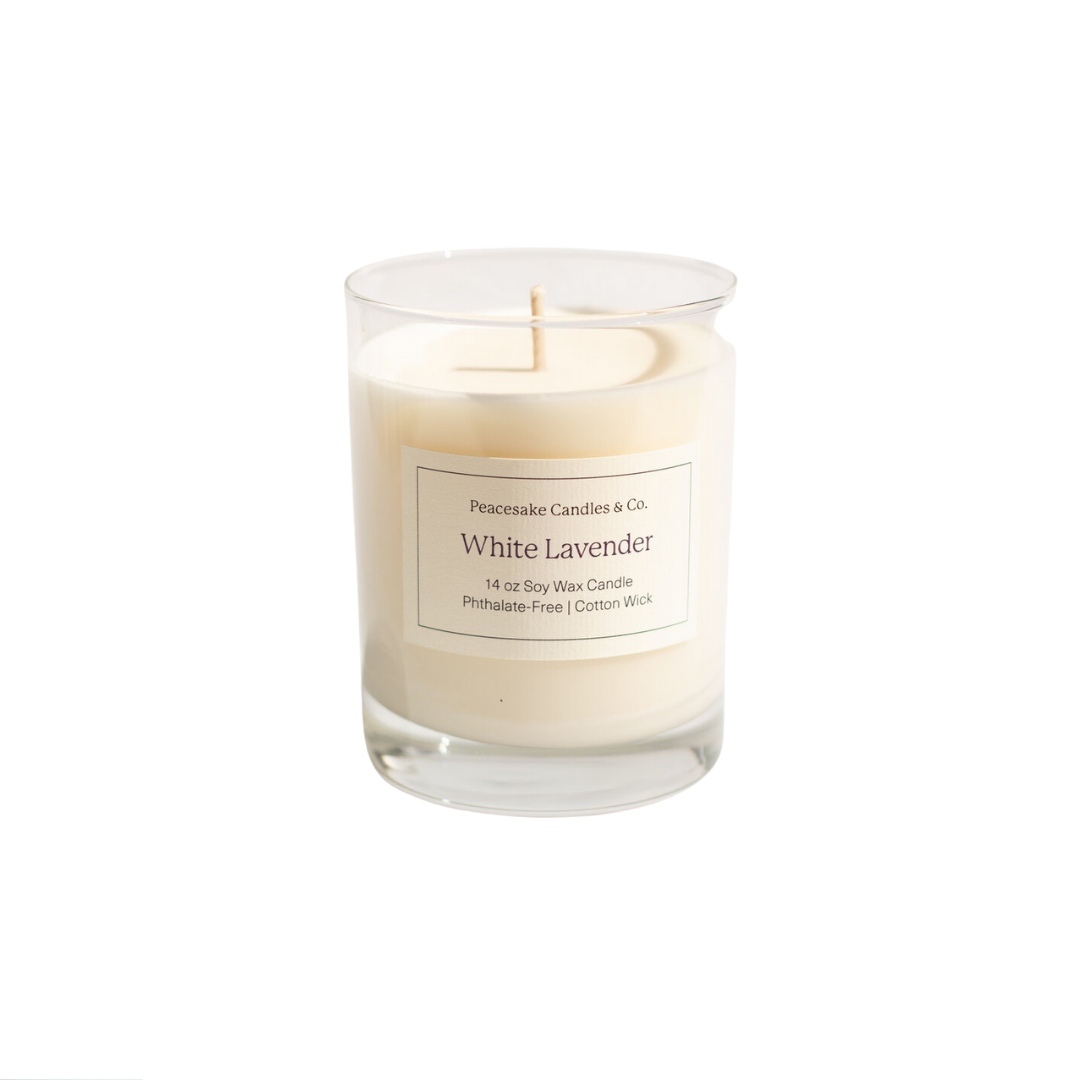 Candle type: 100% soy wax
Scent: mix of essential oils and fragrance oils
Strongly scented & generous 14 oz
All Peacesake candles are handmade with 100% soy wax that's free of herbicides and pesticides as well as genetically modified material. Their cotton wicks are free of lead cores and the dozen or so scents they offer are created using essential oils and fragrance oils. Peacesake candles are generously sized at 14 oz (most candles are 8 oz) and cost $30. White Lavender smells amazing with notes of sweet woodsy birch, calming floral and a little bit of pine.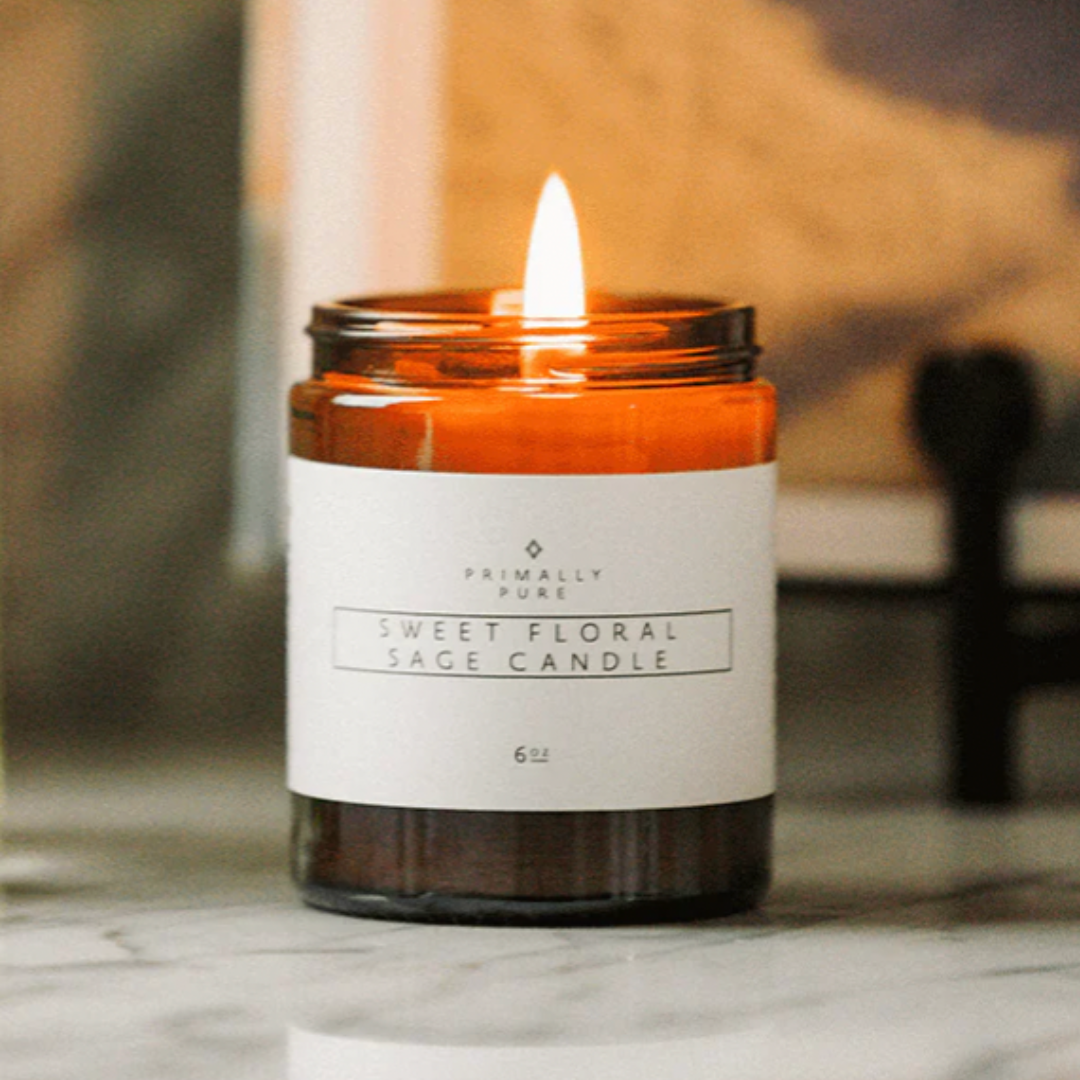 Candle type: organic beeswax and coconut wax
Scent: essential oils
SAVE: Discount code OBL saves 15%
Primally Pure's candles are made of organic beeswax and coconut wax with only organic essential oils. Sweet Floral Sage contains organic, wild-harvested and sustainably sourced essential oils of Pink Grapefruit, Wild Lavender, White Sage and Palo Santo. 6 oz and 9 oz jars available.
Candle type: plant-based waxes
Scent: essential oils + fragrance oils
SAVE: Discount code OBL saves 10%
Sustainable, handcrafted and consciously-made, Aerangis uses only plant-based waxes, lead-free wicks, non-toxic scents for their luxury candles. The scents are inspired by founder Alicia's most cherished memories, including a secret garden in Taiwan, a ranch and vineyard in upstate New York, and the spirit of New Orleans. Aerangis' scents are created by world-renowned perfumers and vessels by the historic Shuili Snake Kiln in Taiwan, where ceramics have been made for over a century.
Candle type: 100% soy wax
Scent: fragrance oils
P. F. Candle Co. is a handmade fragrance goods company, owned and operated by wife and husband team Kristen Pumphrey & Thomas Neuberger. Their cult favorite Teakwood and Tobacco scent catapulted the brand to fame and today they offer a wide variety of candles using fine fragrance oils.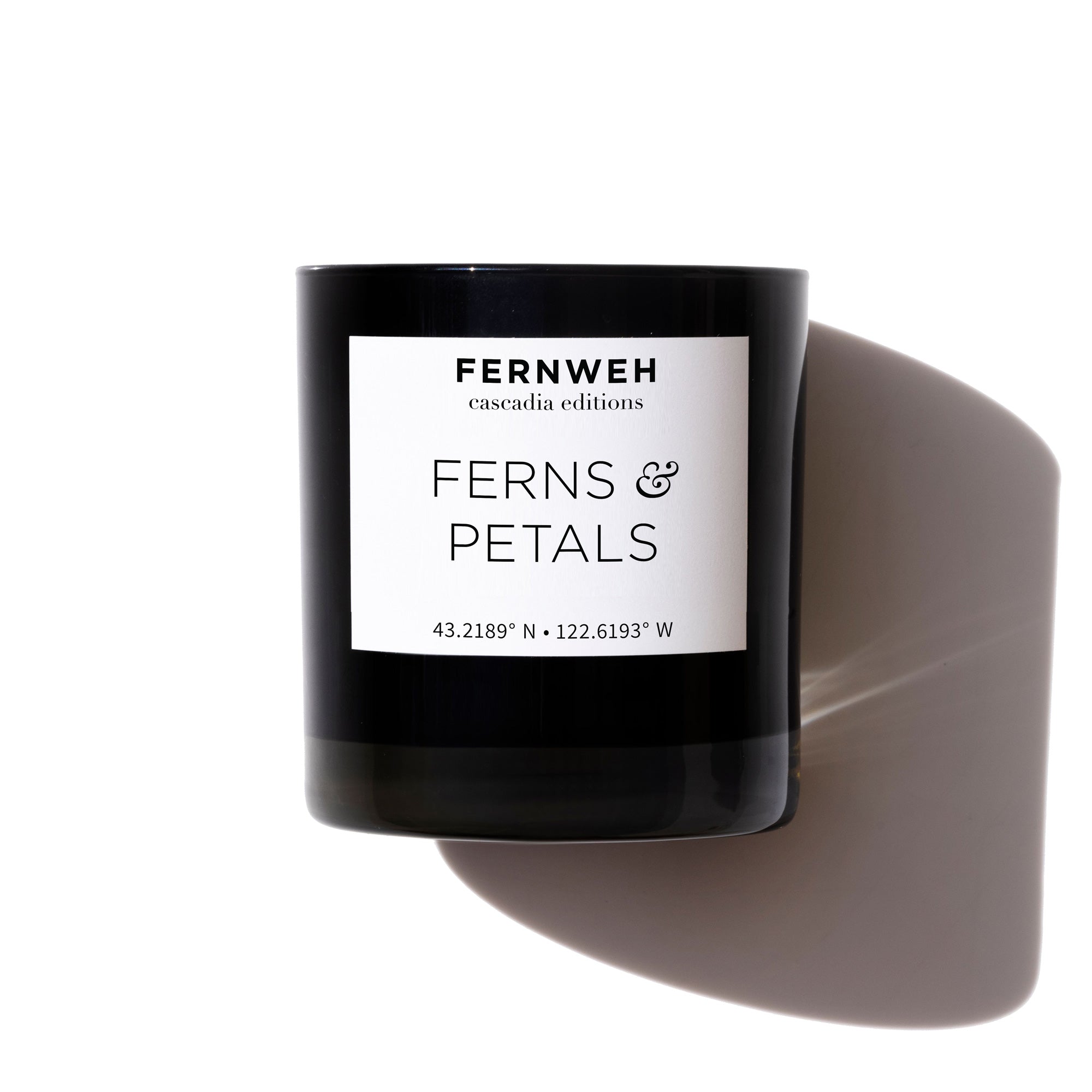 Candle type: soy and coconut wax
Scent: fragrance oils
Offer: BOGO 50% off
Inspired by travel and the deep connection between emotion, scent and memory, Fernweh candles take you on a scent journey to places near and far. The candles are made from a 100% soy wax blend and premium fragrance oils. The candles are hand-poured in the USA with no synthetic dyes, parabens, phthalates, sulfates, or toxic chemicals.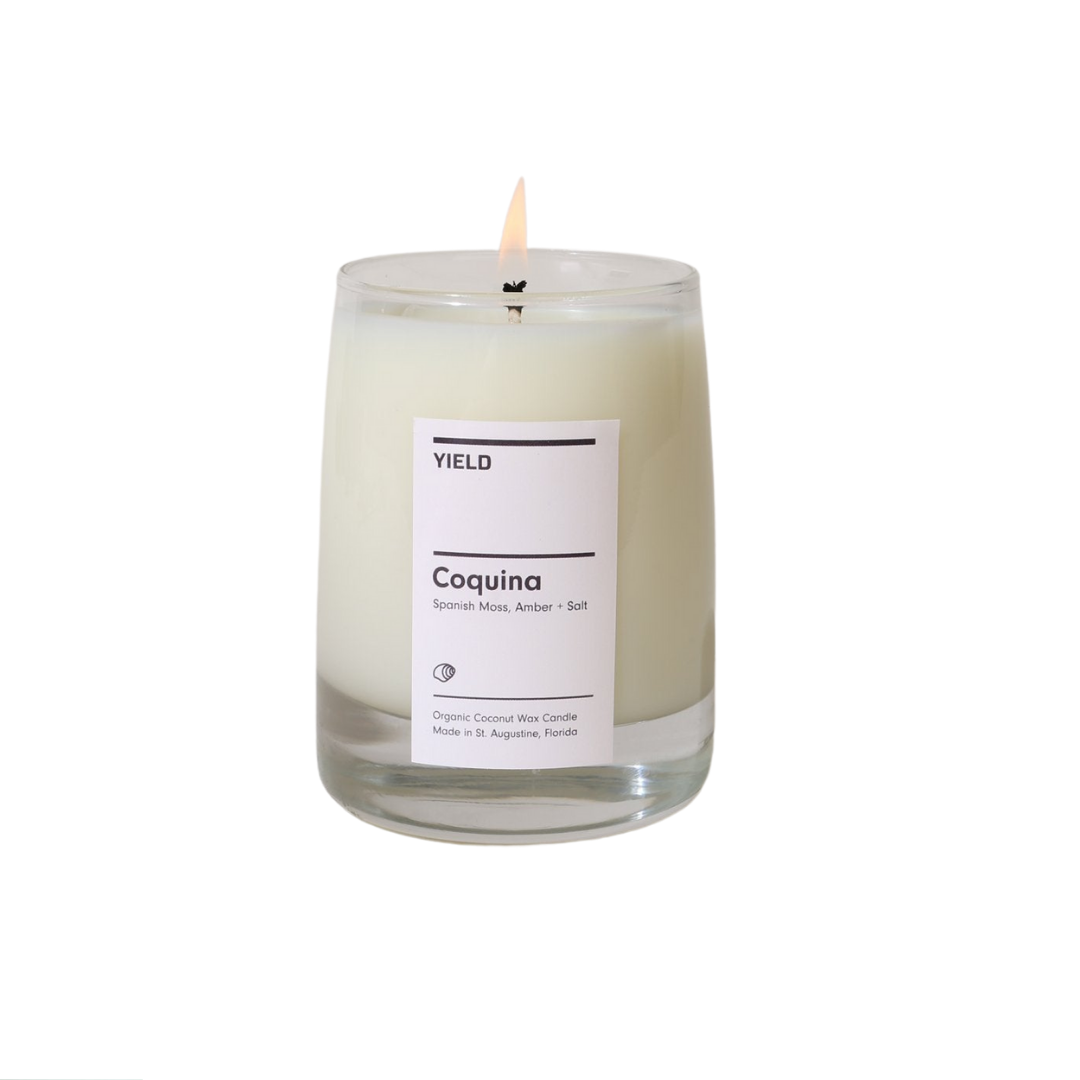 Candle type: 100% organic coconut wax
Scent: mix of essential oils with fragrance oils
Yield Candles are poured in Florida and are made with organic coconut wax and a clean burning cotton wick. Each vessel can be re-used as a chic tumbler or drinking glass.
Candle type: 100% soy wax
Scent: essential oils
Aromatherapy Associates candles have very strong scent throw and comes in beautiful cup shaped ceramic vessels. Each luxury candle has the equivalent of two 10ml bottles of pure essential oils.
Candle type: 100% organic coconut wax
Scent: essential oils and fine fragrance oils (check individual candle)
Each Hemlock Park candle is hand-poured in small batches at their artist-owned apothecary in Nevada. Hemlock Park offers a wide variety of 22 candle scents and a crackling wooden wick.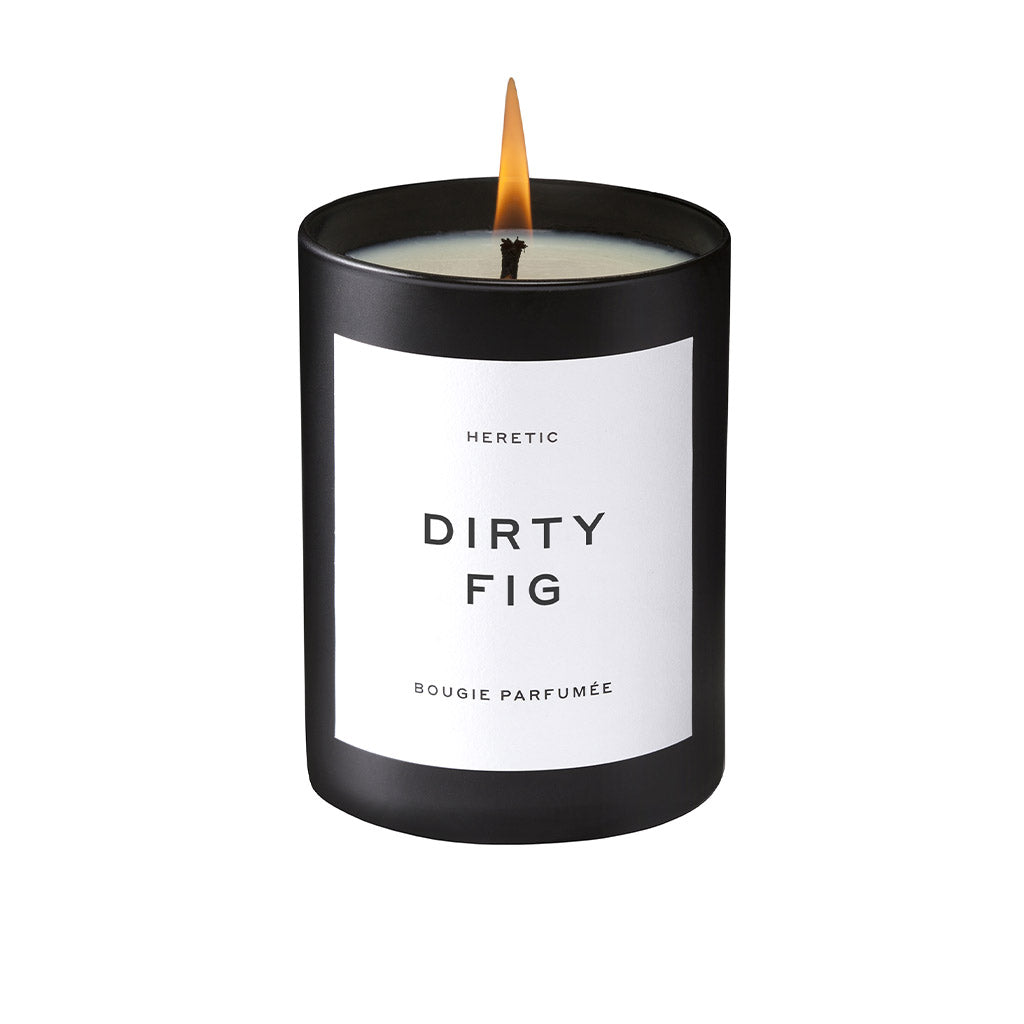 Candle type: 100% soy wax
Scent: mix of essential oils with safe synthetics
LA based natural perfume house Heretic Parfum is known for their innovative takes on classic notes like lavender, vanilla and coconut. For a clean candle with sophisticated fine fragrance scents that are as natural as possible, check out Heretic Parfum's luxury candles.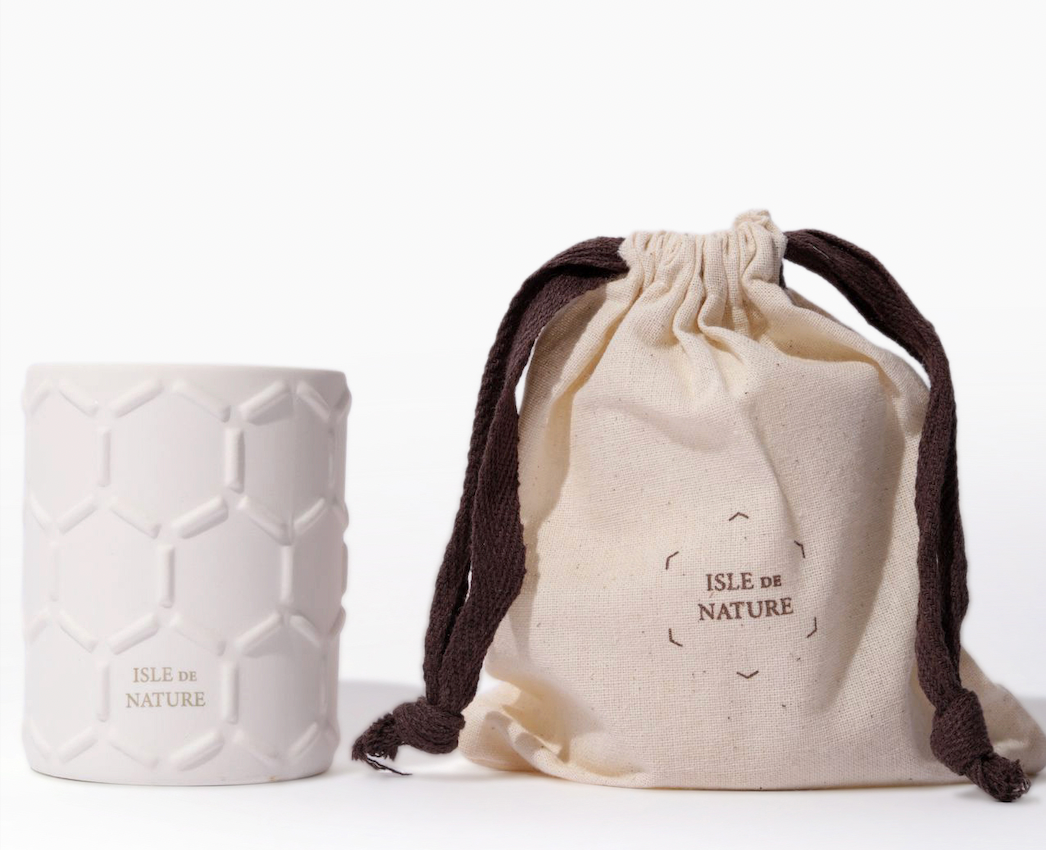 Candle type: Dominican Beeswax, soy wax and coconut oil
Scent: fragrance oils
Isle de Nature is a luxury sustainable candle brand that captures the exquisite indigenous scents of remote island paradises. With a strong focus on clean, non-toxic ingredients and sustainability, Isle de Nature gives back to rebuild local bee populations of remote islands. Their Pagua Bay candle is inspired by the nation of Dominica in the West Indies.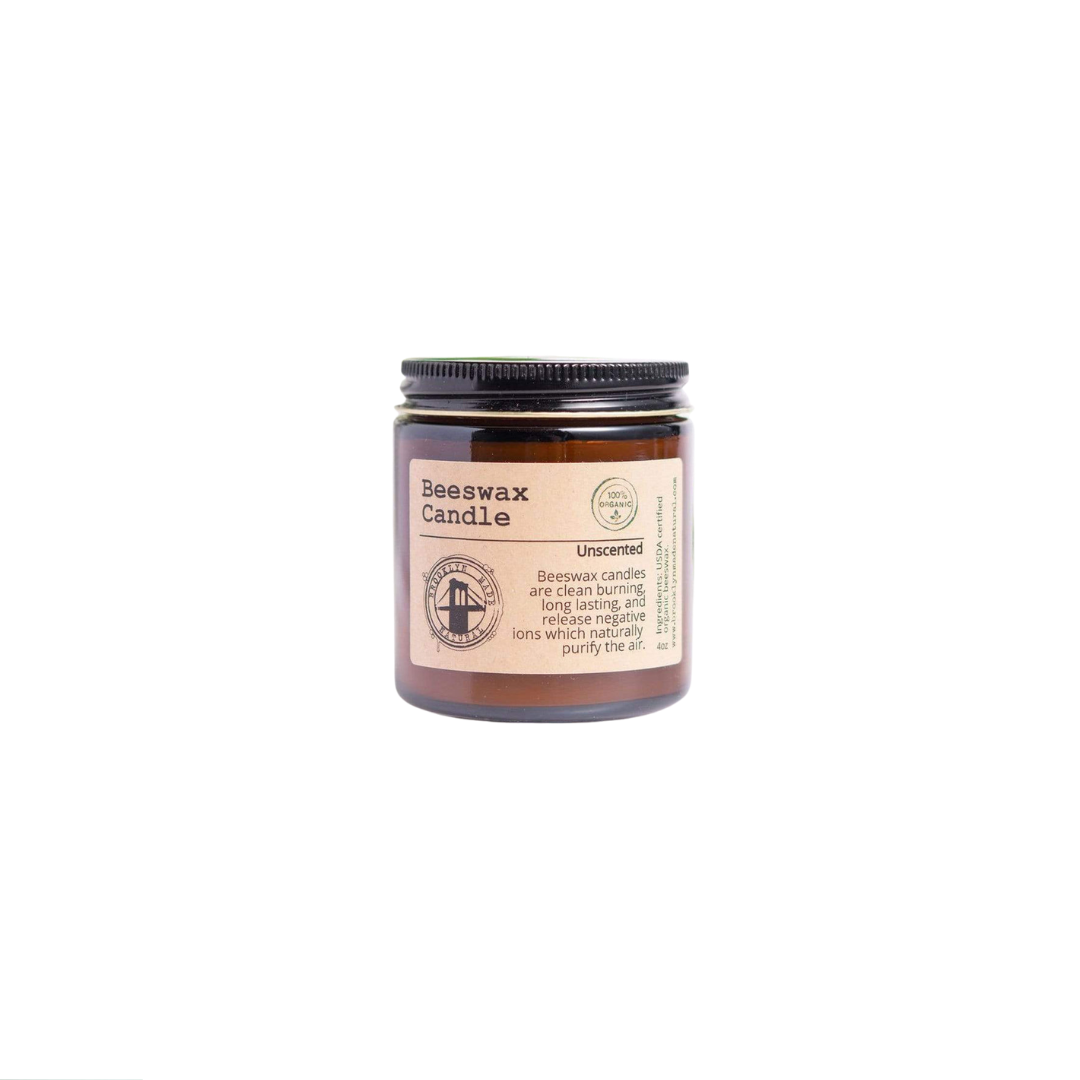 Candle type: 100% certified organic beeswax
Scent: no scent
Budget friendly
Yes there's an organic candle without any added scent that exists. If you only want the cozy feeling of a burning candle without any scent, check out Brooklyn Made Natural's 100% beeswax candle. The only con is that they only this one candle and in a small 4 oz glass jar.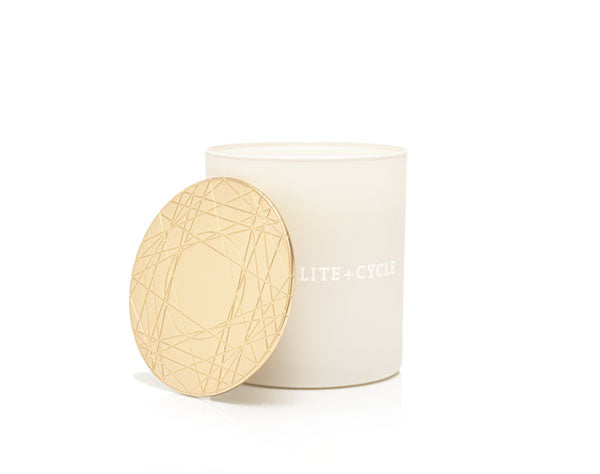 Candle type: 100% soy wax
Scent: essential oils
Los Angeles based all natural candle brand Lite + Cycle was one of the first clean candles I tried and repurchased many times. In my humble opinion, Vetiver is their best scent. It's an earthy and warm pure essential oil blend of vetiver with a hint of vanilla. They use unbleached cotton wicks and wick braiding and thickness is chosen according to the unique composition of each essential oil blend (may vary from scent to scent.)
Candle type: 100% organic coconut wax
Scent: organic essential oils
Choiselle organic candles are inspired by the beauty and botanicals of St. Lucia and the Caribbean. Each Choiselle candle is infused with organic essential oils and a wooden wick for the cleanest burning candle possible.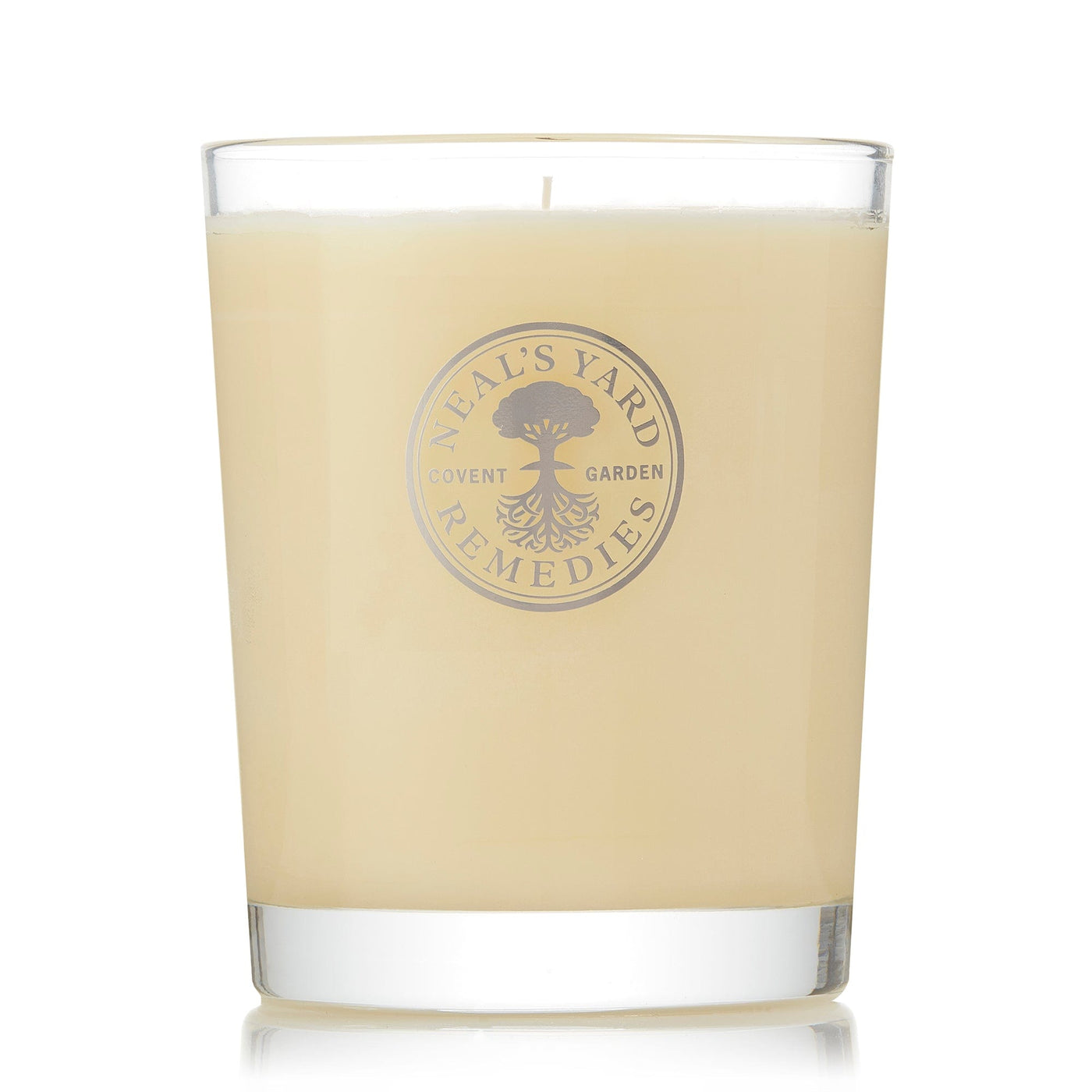 Candle type: organic beeswax
Scent: organic essential oils
Natural British apothecary brand Neals Yard Remedies makes hand-poured aromatherapy candles using organic beeswax and organic essential oils without any synthetic fragrance. Each candle has about a 36 hour burn  time.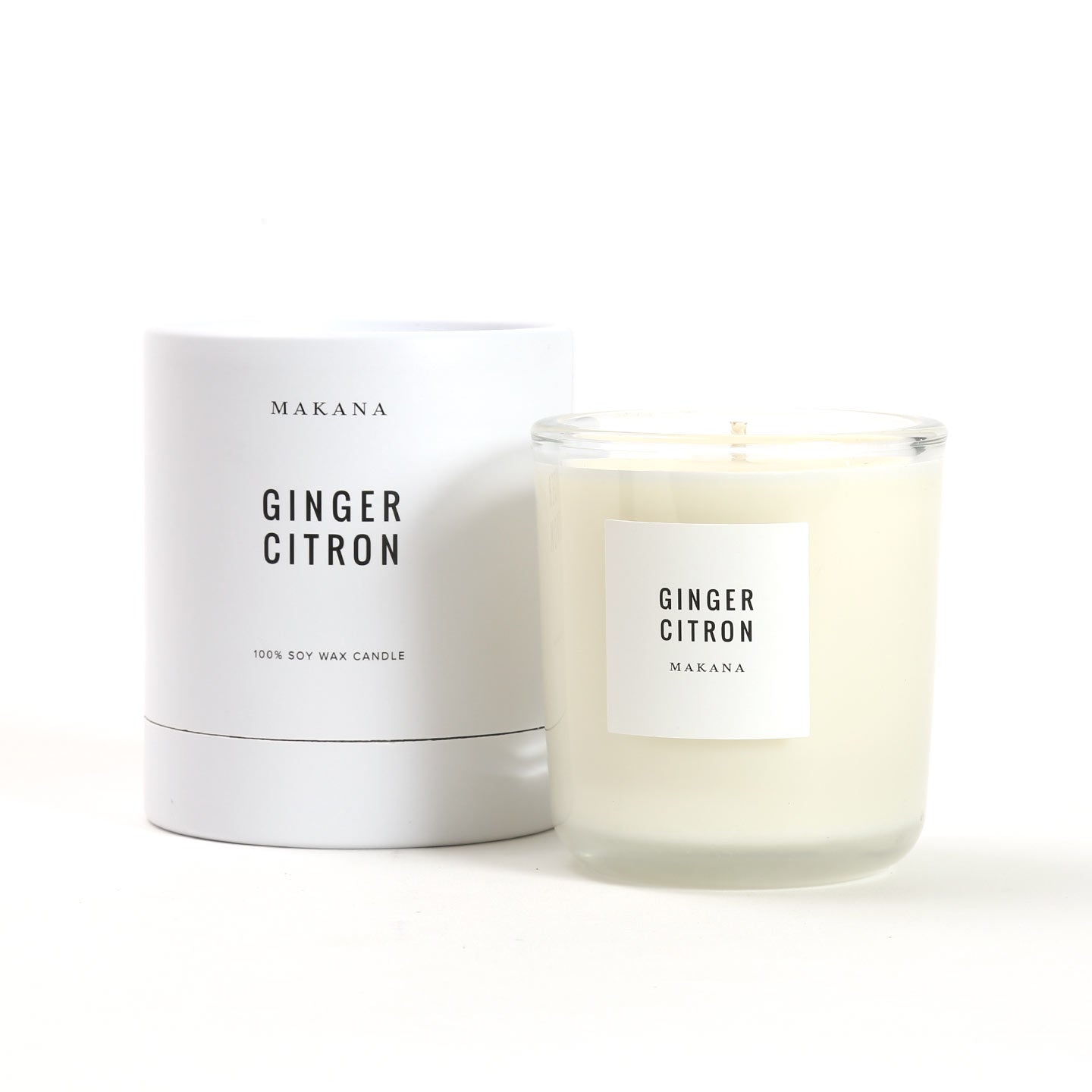 Candle type: 100% soy wax
Scent: mix of essential oils with fragrance oils
Island inspired and Laguna Beach, CA-based candle brand Makana makes clean candles using 100% soy wax and lead-free cotton wicks. Makana candles are free of dyes, pesticides, herbicides, harmful metals, preservatives and chemical enhancers.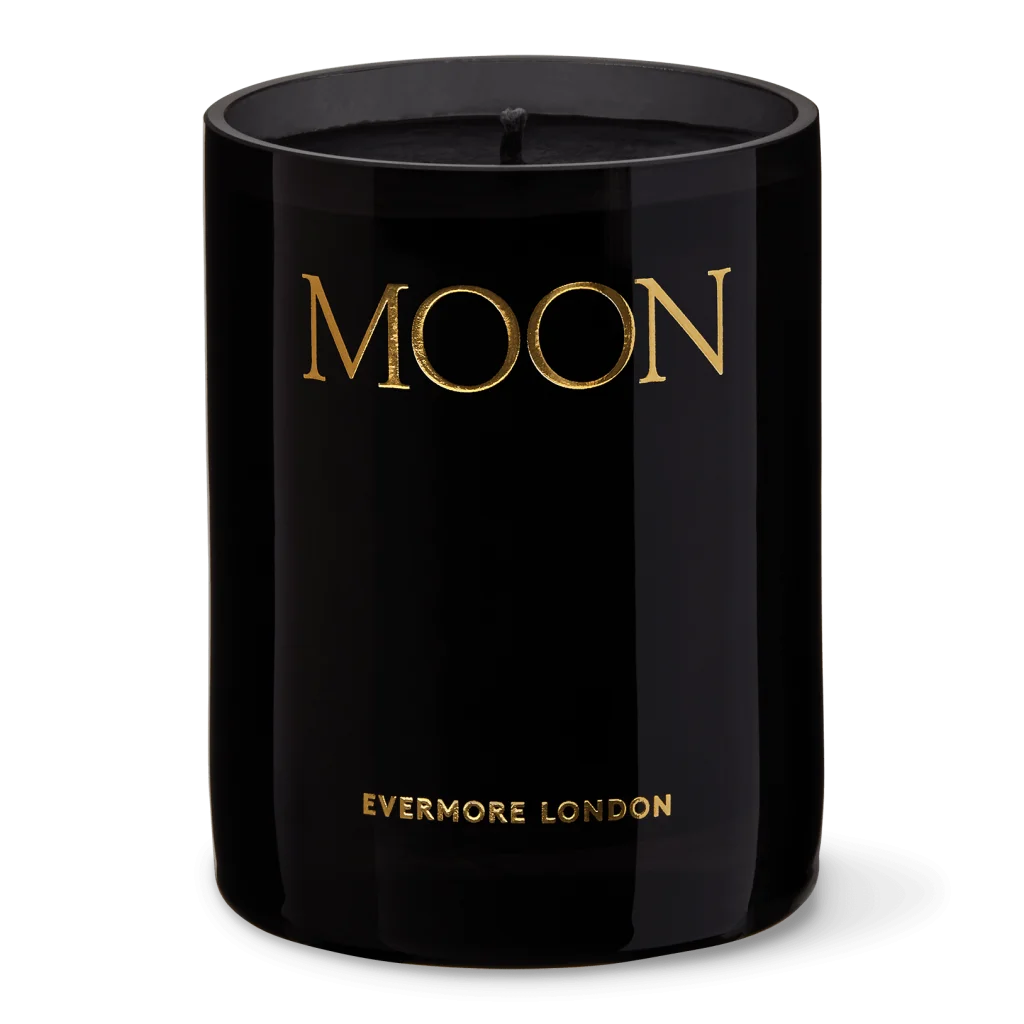 Candle type: 100% rapeseed wax
Scent: essential oils with safe synthetics
Ethical UK candle brand Evermore makes rapeseed wax candles with phthalate-free fragrance and sustainably farmed essential oils. Sustainability is at the core of Evermore's business philosophy and the brand requests up-to-date audits and certifications from their suppliers. Evermore's luxury candles come in hand-blown black recycled glass.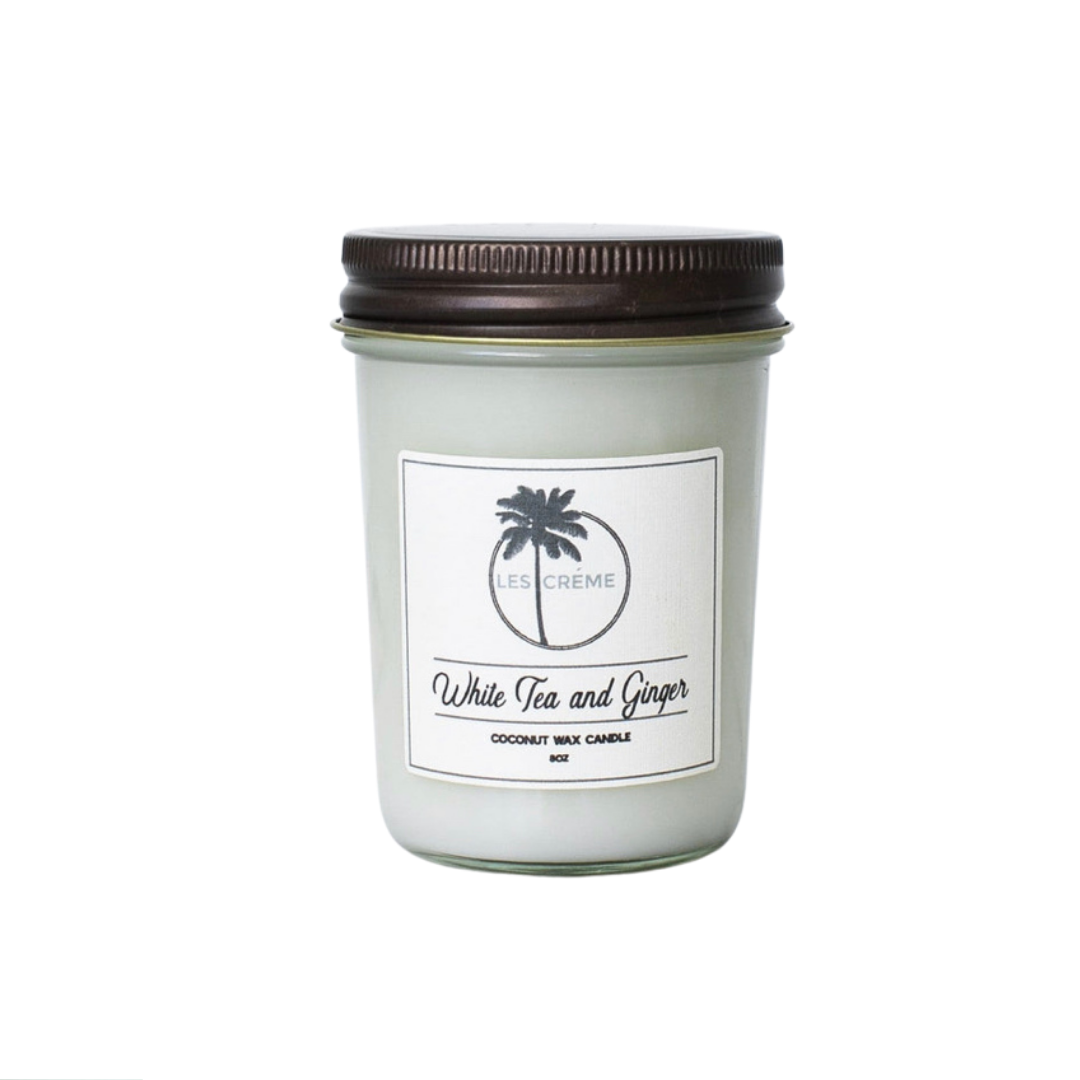 Candle type: 100% organic coconut wax
Scent: essential oils + fragrance oils
Based in San Diego, Les Creme makes budget friendly organic coconut wax candles. The small indie brand handcrafts products that contain no animal fats, are cruelty free and are formulated with the highest quality botanical ingredients.
SAVE: Discount code OBL saves
More Candles (Synthetic Scent)
If you're looking for a natural wax candle that performs similarly to a conventional candle, then here are a few candle brands I trust.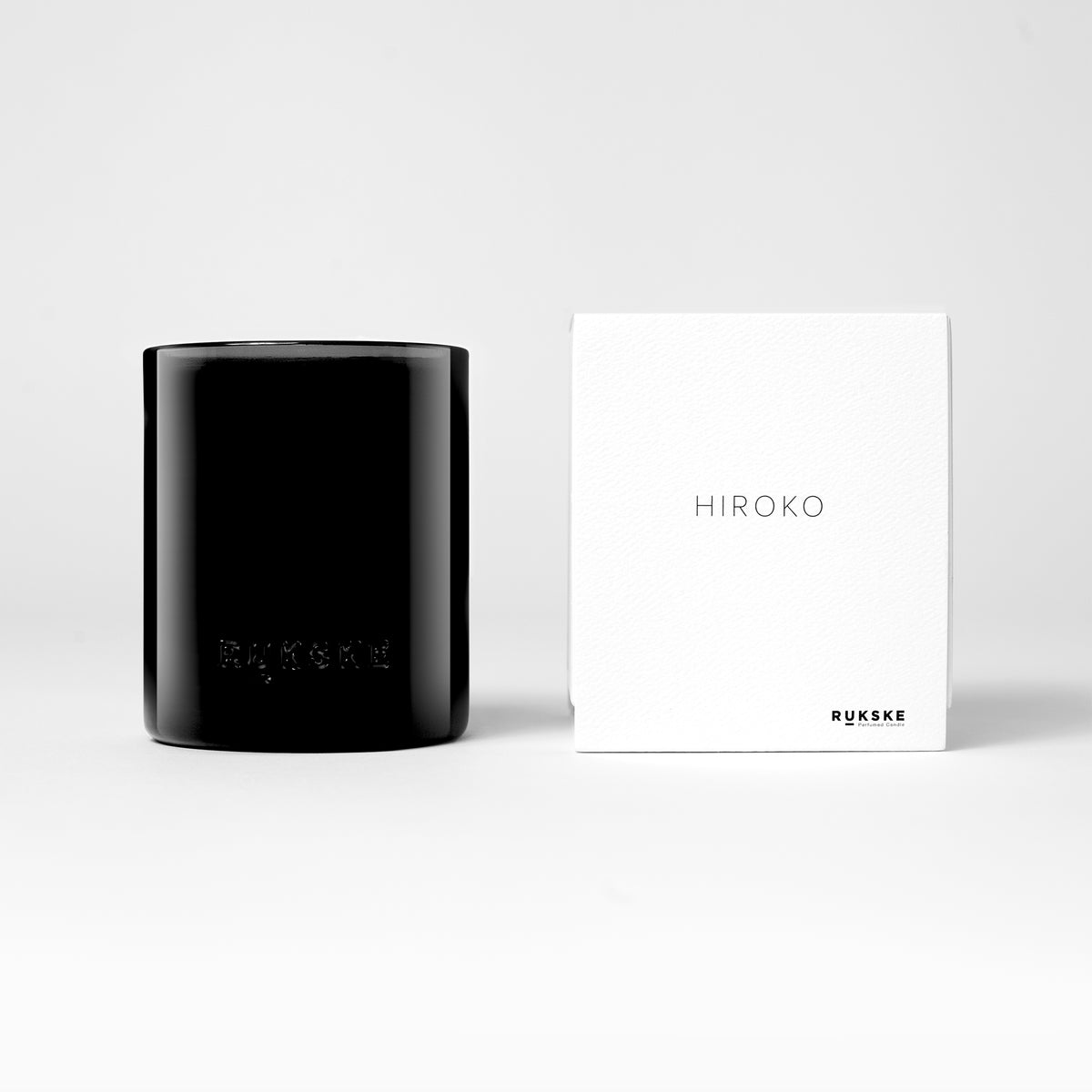 Candle type: soy and coconut wax blend
Scent: Fragrance oils, safe synthetics
Los Angeles-based luxury candle brand Rukske makes black wax candles with fine fragrance scents that transport. Hiroko is an intoxicating scent with top, middle and base notes that include patchouli, sandalwood, musk, clove, cedarwood and more. Goldie is also another complex and amazing scent – you can't go wrong with RUKSKE scents. RUKSKE candles come in thick glass vessels that are on the heavier side.