Hapa Kristin Review: Best Colored Contacts for Dark Eyes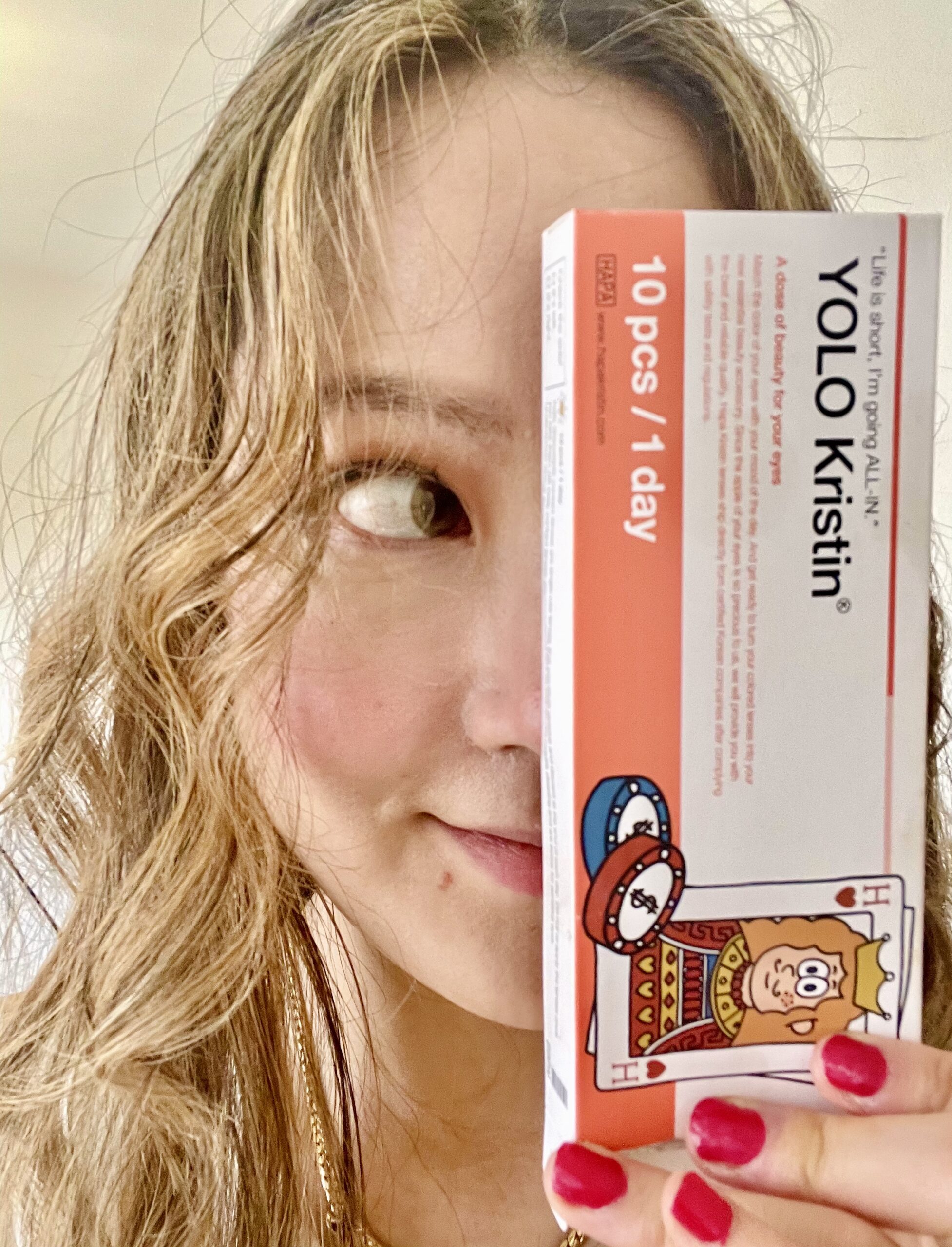 Based in South Korea, Hapa Kristin offers non prescription and prescription colored contacts that are natural looking, comfortable and high quality. I discovered Hapa Kirstin on Instagram and was immediately drawn to their fun illustrative packaging and wide variety of colored contact choices. I now regularly purchase these Hapa Kristin contacts on my own because these are the best colored contacts for dark eyes I've tried. Hapa Kristin conveniently ships with global express shipping and my contacts always arrive around three days after I've made my purchase. I've tried Peaceful Kristin, Yolo Kristin, Blase Kristin and Solitary Kristin. Read on for my Hapa Kristin review, colored contacts try on photos and a Hapa Kristin discount code!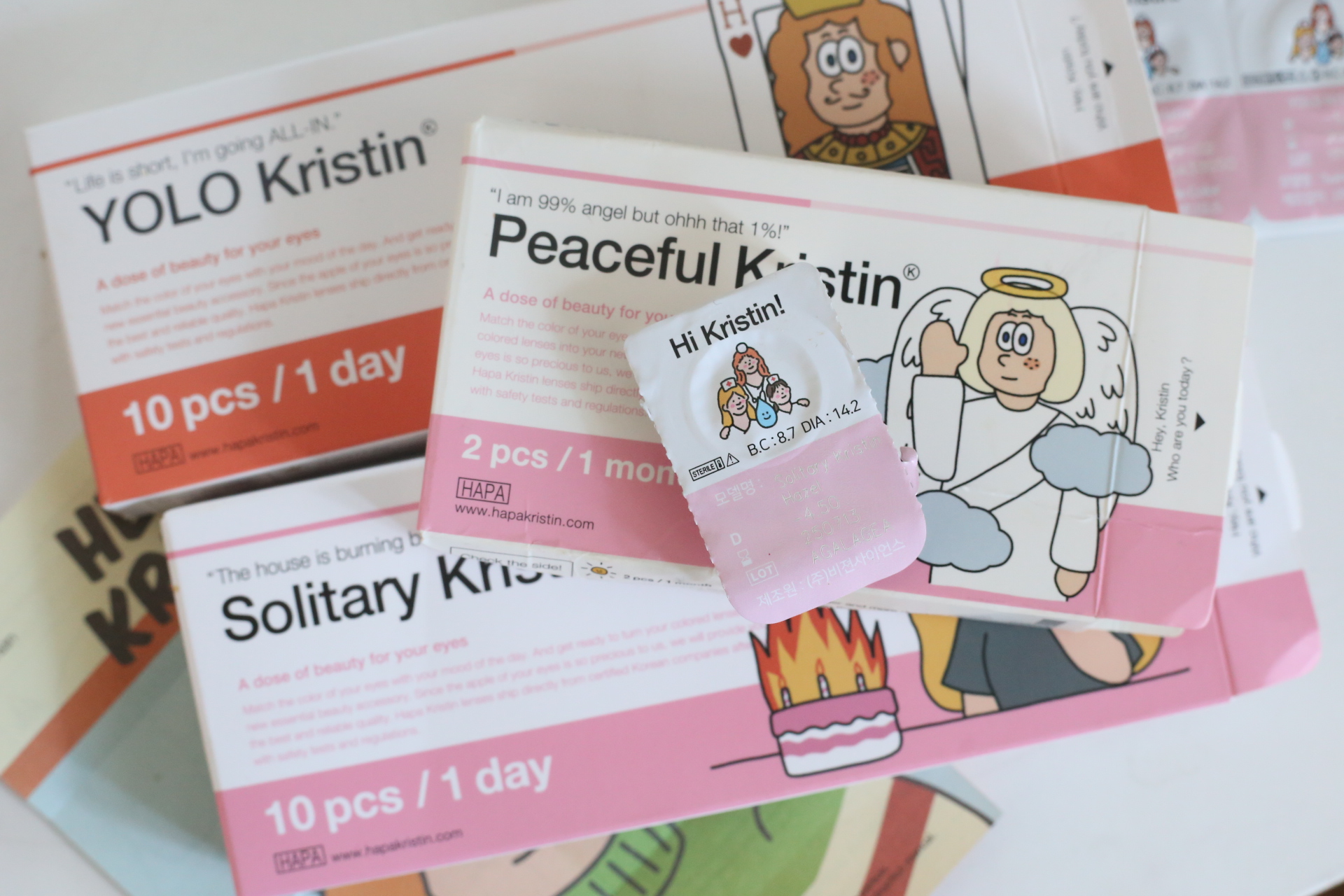 Is Hapa Kristin Safe?
If you've given up on colored contacts before, technology has come a long way since then! Colored contacts are now so much more natural looking and comfortable than the awful lizard eyes you'd get from lenses a decade ago. South Korea is known for having the most advanced beauty technologies in the world and it makes sense that would also apply to contacts.
Hapa Kristin says that they are constantly making advancement in their quality, under extreme discretion by the R&D department of their partner manufacturers. Hapa Kristin partners with manufacturers that have over 15 years of experience and are able to ensure quality of the products by inventing new techniques such as CLS™, Cast Molding System, blockage of harmful blue light, and photochromism production.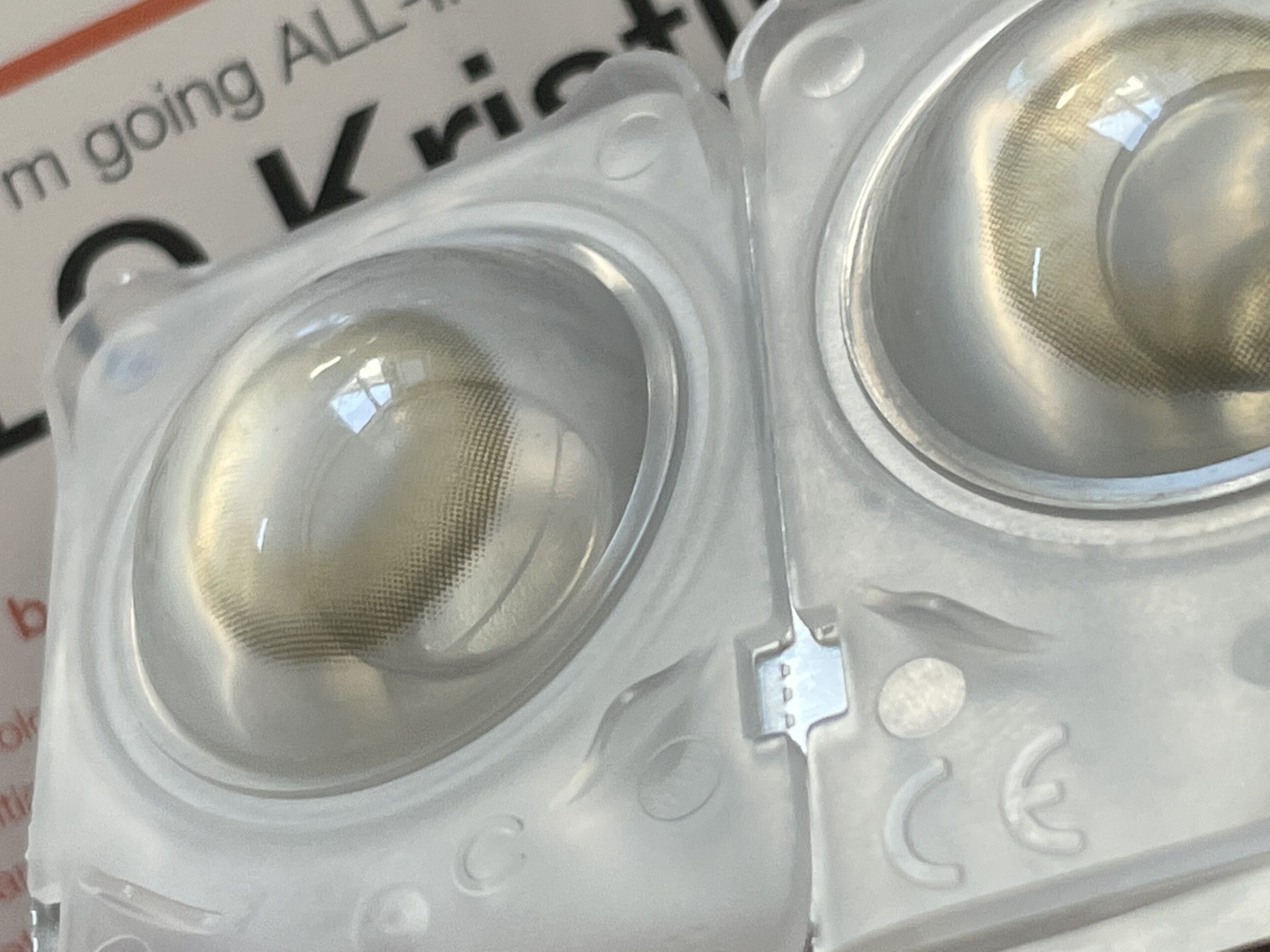 Where is Hapa Kristin From?
Hapa Kristin is from South Korea, the country with the most advanced technologies in the beauty industry. It's well known that North American and European companies travel to South Korea to learn about beauty innovations and technology to bring back to their home country.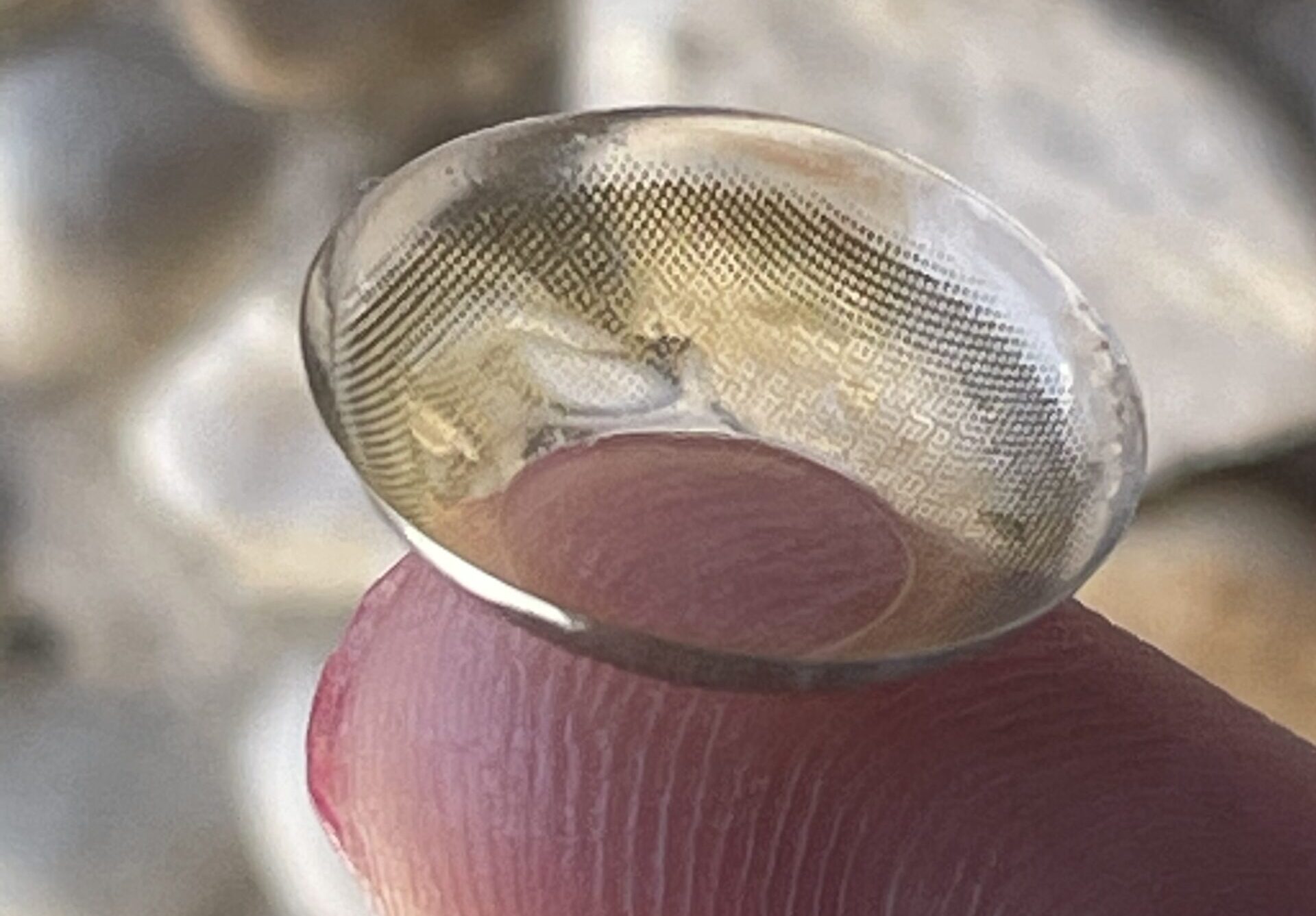 Hapa Kristin Daily vs Monthly Contacts
Hapa Kristin offers two types of contact lenses in terms of duration. You can choose daily disposable lenses that come with ten lenses to a box. That means if they are non prescription or you have the same prescription for both eyes, one box would be good for five separate days of use. If you have a different prescription for each eye, then you would need to buy a full box for each eye.
The other type Hapa Kristin offers is monthlies, so you'll receive two lenses in a box that would last for a whole month.
I personally find the daily lenses more practical. They also feel more comfortable for my very dry eyes and thinner than the monthlies.
Hapa Kristin Color Contact Price
Daily 10 lenses / 1 day: $19.99 per box
Monthly 2 lenses / 1 month: $25.99 per box
Hapa Kristin Color Contacts Prescription
Degrees available:
0.00, -0.50, -1.00, -1.25, -1.50 up to -8.00 (going up by -0.25)
If you're looking for the most natural lenses for dark eyes, it is hands down Hapa Kristin's YOLO Kristin contacts. While these are categorized as green on the Hapa Kristin site, YOLO Kristin is actually a very natural darker brown green shade. The mix of brown and green is just perfect. These don't even look like you're wearing lenses in both broad daylight and indoor lighting. YOLO Kristin is my all time favorite Hapa Kristin lens! Next up I'm dying to try Secretive Kristin in olive.
My pet peeve with colored contacts is when they look so obviously fake, which is why I stopped wearing colored contacts for years. If you already have light eyes you can get away with wearing just about any colored contacts and have them look natural. But with very dark brown, almost black eyes, getting away with colored contacts is a lot more difficult.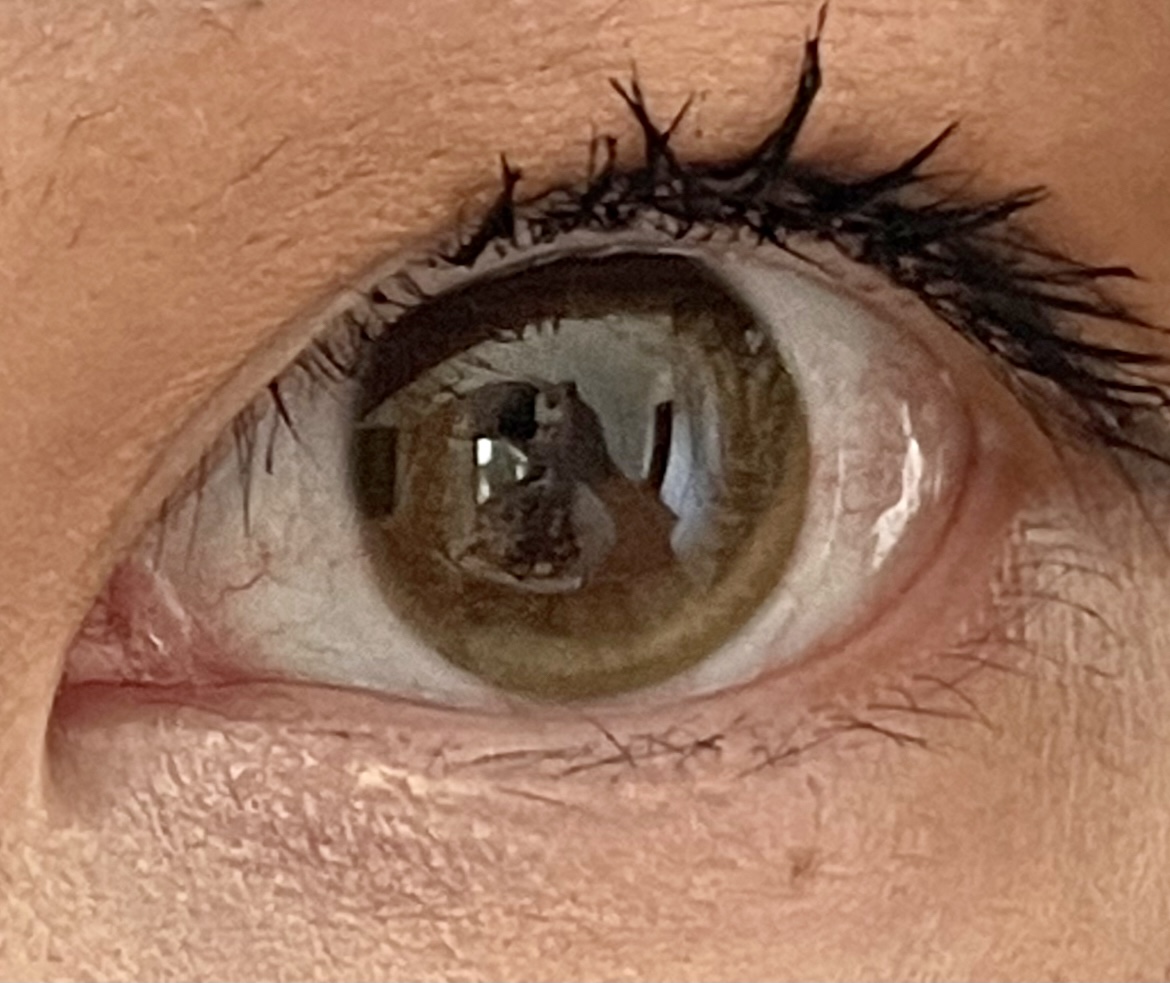 YOLO Kristin is a daily disposable lens so you pop them in for the day and throw them away at night. They are very comfortable and do not move around or shift.
Type: 1 Day
Pieces: 10pcs / box
Dia(all): 13.4 mm (14.2mm)
B/C: 8.7mm
Water: 48%
PC Hydrogel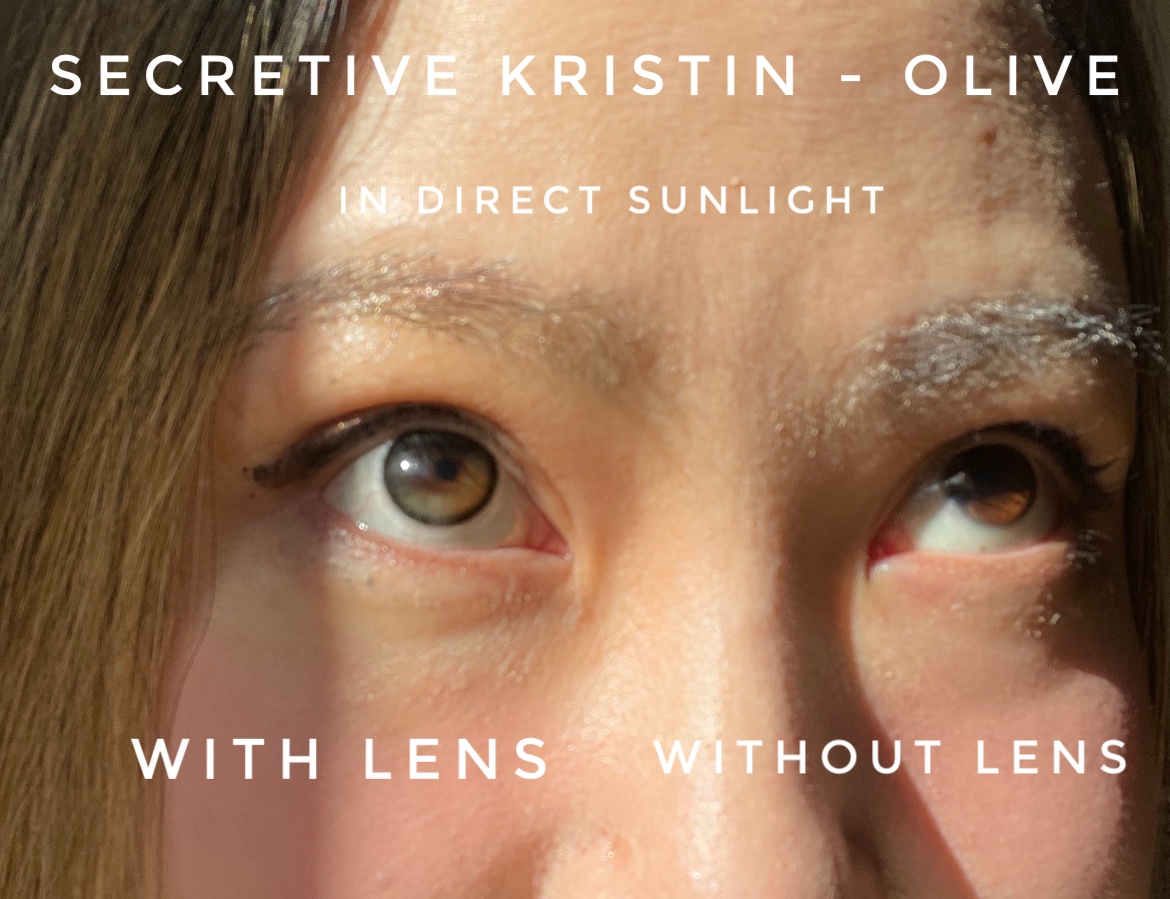 Secretive Kristin – Olive
I was excited to try secretive olive because the model looks amazing in them, but I was disappointed that in natural lighting they look exactly like my eyes without any change. See below.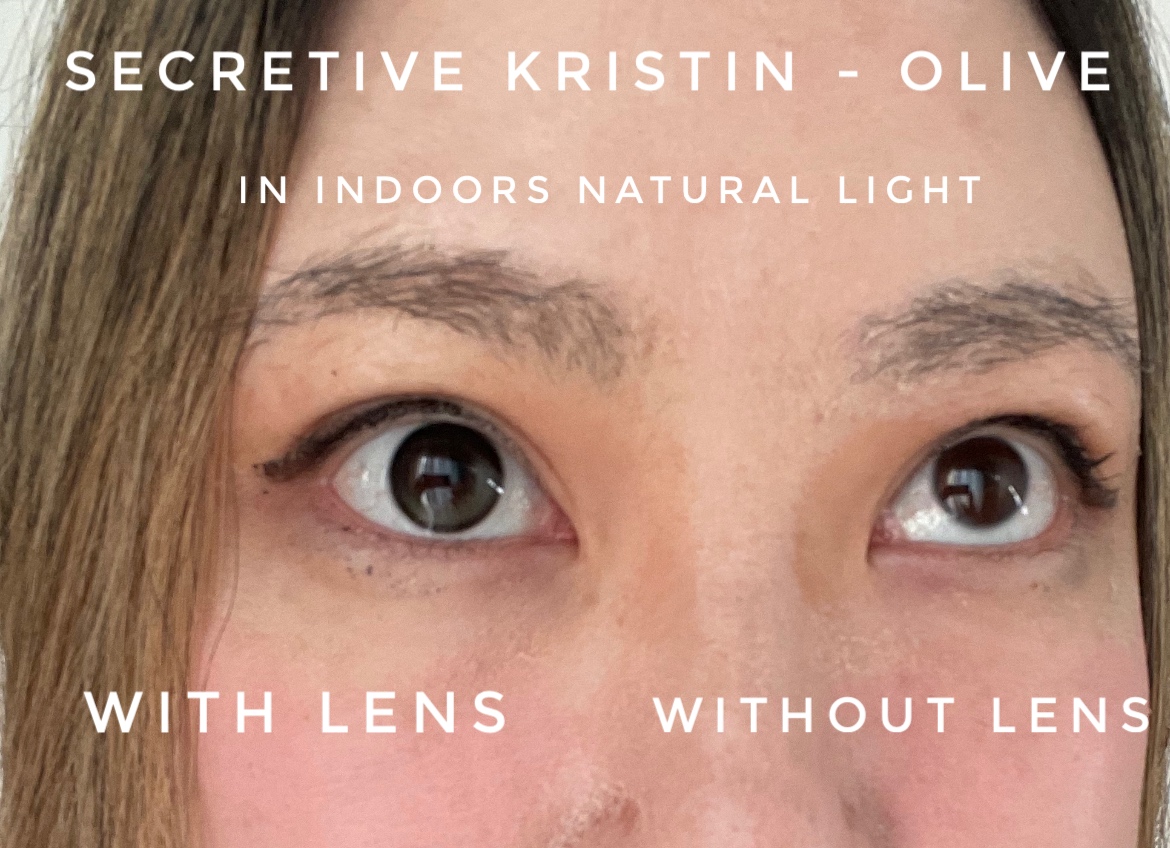 It's only in direct bright sunlight that you can see the true beauty of the lens. They do look absolutely stunning in direct sunlight but I rarely have my face in direct sunlight anyways to protect my skin. In direct sunlight the lens looks multidimensional just like a natural eye and I can see a bit of my brown coming through.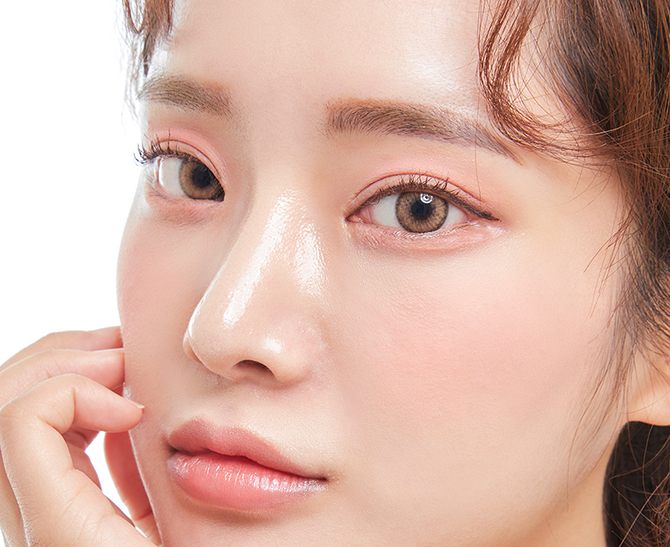 Peaceful Kristin is one of Hapa Kristin's most popular lenses and comes in ash brown, green, hazel, blue, charcoal grey, and brown.
Type: 1 Month
Pieces: 2pcs / box
Dia(all): 13.2 mm (14.0mm)

B/C:8.6mm

Water: 38%
Hydrogel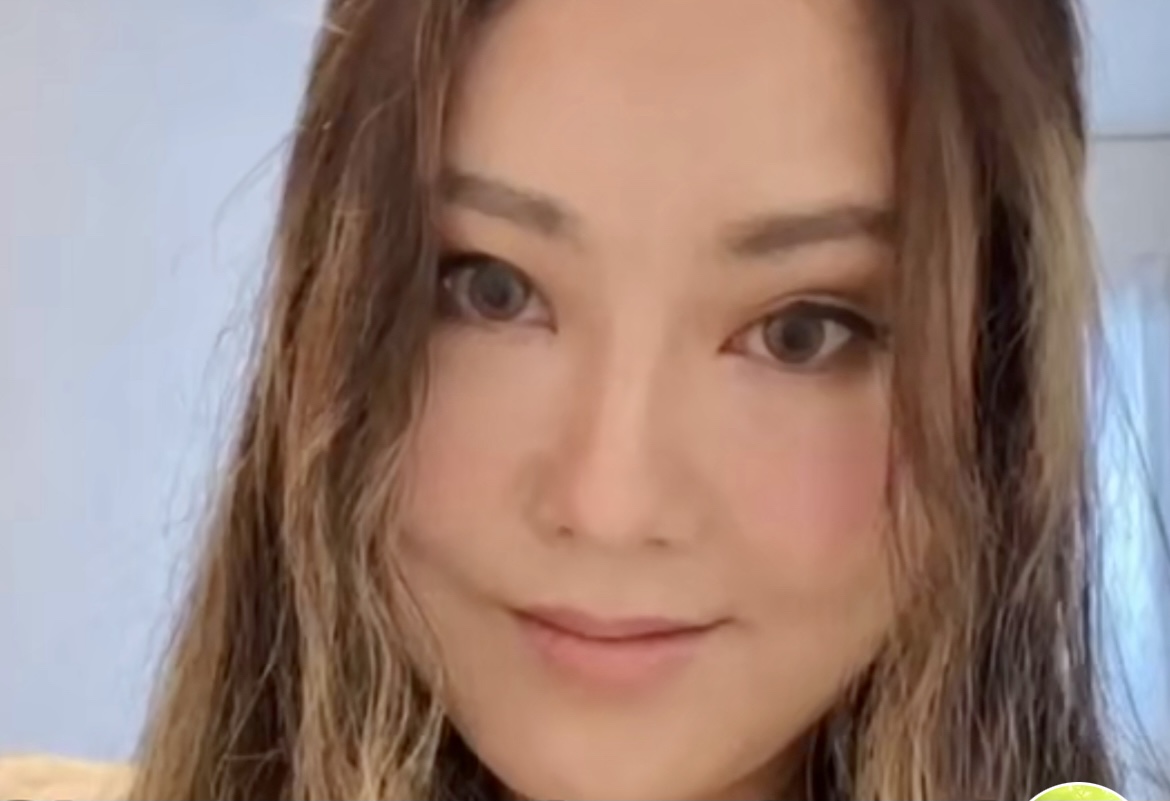 I really wanted to like Peaceful Kristin in Hazel but these just didn't look very natural on me. I'm not a fan of the dark ring on the outer edge. The hazel part also doesn't blend naturally with my black pupils, so while Peaceful Kristin might look okay in dimmed indoor lighting, not so much in natural lighting.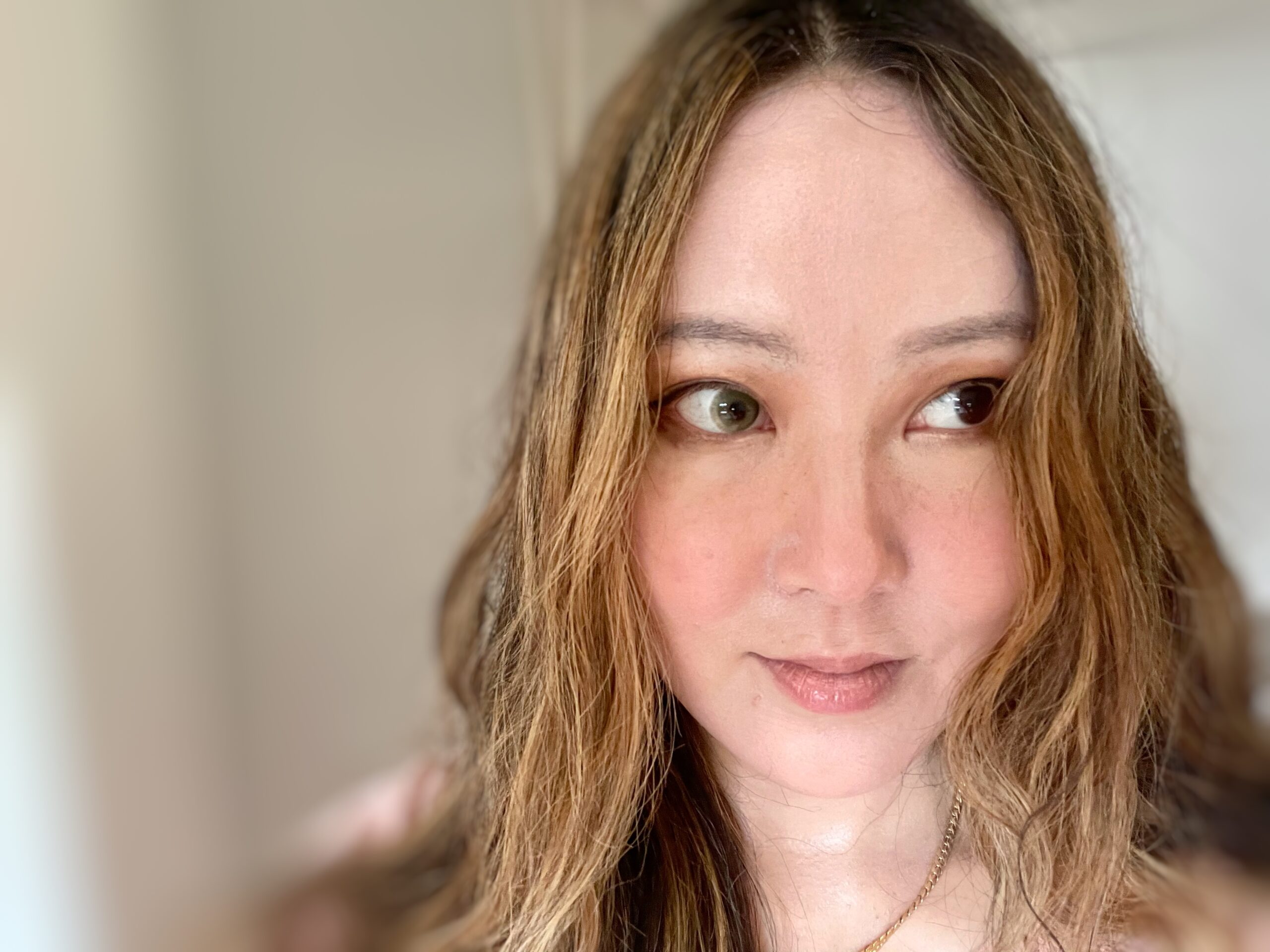 Type: 1 Month
Pieces: 2pcs / box
Dia(all): 13.2 mm (14.2mm)
B/C:8.7mm
Water: 48%
PC+Silicon Hydrogel
Blase Kristin comes in either green or brown. I chose to try the green and while it's a natural looking green, I still found the shade not natural enough for my Asian features. Blase Kristin is also a monthly lens so I didn't find them as comfortable. I feel like they shift slightly (apparent if you zoom into the photo above) when I move my eyes to the far left or right.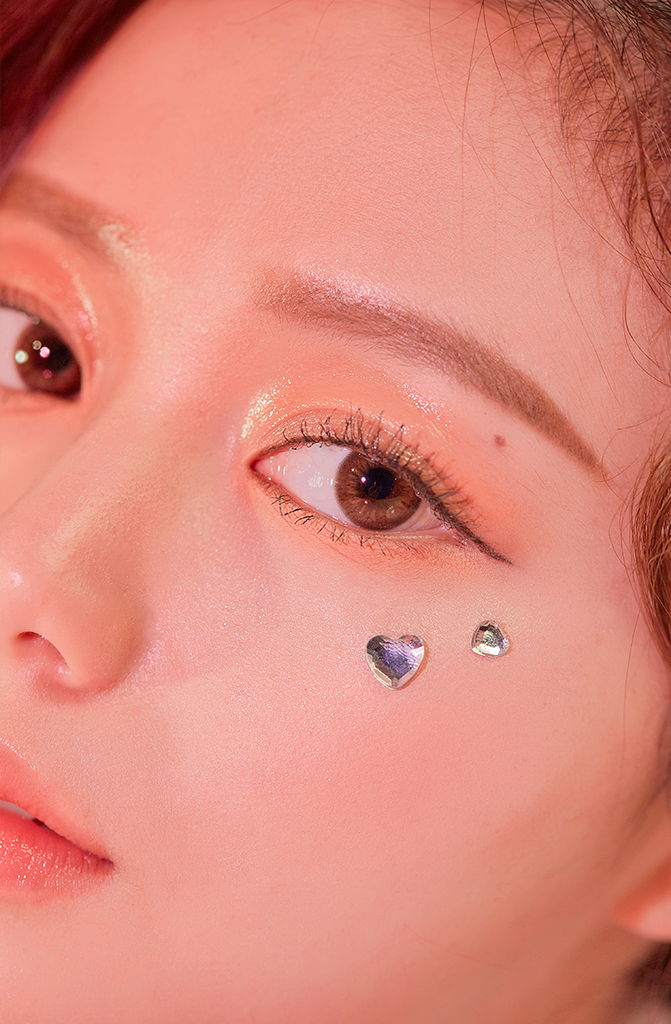 Type: 1 Day
Pieces: 10pcs / box
Dia(all): 12.6 mm (14.2mm)
B/C:8.7m
Water: 54%
PC Hydrogel
I tried Solitary Kristin because they are categorized as hazel, which is the most natural looking color for dark eyes, and the model wearing the lenses looked incredible. When I tried them on I realized that in person these lenses are much darker. If you have very dark brown eyes, these will hardly make a difference. Unless that's the look you're going for, if you are looking for a noticeable eye color change, I would say skip on Solitary Kristin in
Hapa Kristin uses DHL global express shipping to deliver around the world in two to three days. I always receive my package in 3 to 4 days with no issues in Switzerland – the fastest I've ever experienced. Because I'm internationally based, I keep my orders less then $50 so I don't get hit by customs duties and taxes and pay just $4.99 for extremely fast global shipping.
Hapa Kristin Shipping Rates
Flat rate: $9.99
Orders between $40.00-$74.99: $4.99
Orders over $75.00: FREE 
Countries not served: Russia, India, Brazil, United Kingdom, South Korea
Hapa Kristin Customer Service
Hapa Kristin has excellent customer service. As a paying customer I've dealt with their customer service firsthand, and Hapa Kristin is not only quick in replying but also very accommodating. After I put in an order, I wanted to change a few things and they responded next day and were able to change my order before it shipped out.
Save 10% with code OBL_10 at www.hapakristin.com.
*code is not affiliated as Hapa Kristin does not offer commission