Badger has been making pure, simple and effective products of the highest natural quality since 1995. They use organic plant extracts, exotic oils, beeswax, and minerals to create products that heal and protect the skin. One of these products being their sunscreens, which are widely accessible, affordable and used as a staple by so many families across the US. Badger has remained true to their crunchy granola roots and remains a family owned and operated company to this day. They've also earned the coveted B Corp certification as a company on a mission to better both people and planet. In this Badger Sunscreen review, I'm sharing my thoughts on the new Badger Clear Zinc sunscreen line.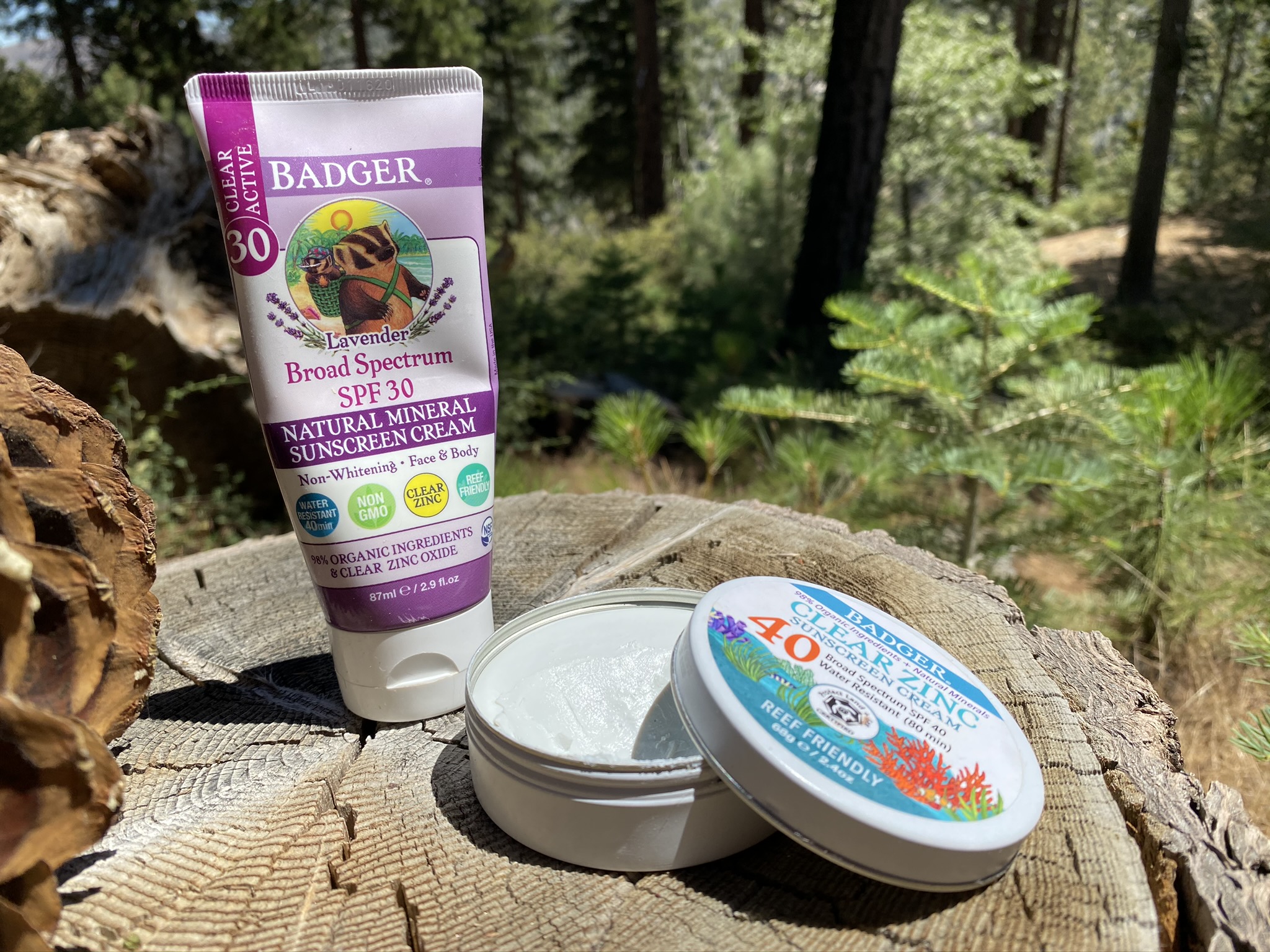 Badger sunscreens are always simple and pure just like everything else in their line. They're very budget friendly, often 98% organic, and come in a variety of scents and sun protection factors as well as baby and sport sunscreens.
One thing to note about Badger sunscreens is that they're very rich and emollient. For some they may be a little too greasy, so if you are averse to rich and heavy sunscreens Badger may not be for you. If you plan to use Badger as a face sunscreen, I would not recommend if you have oily or acne prone skin.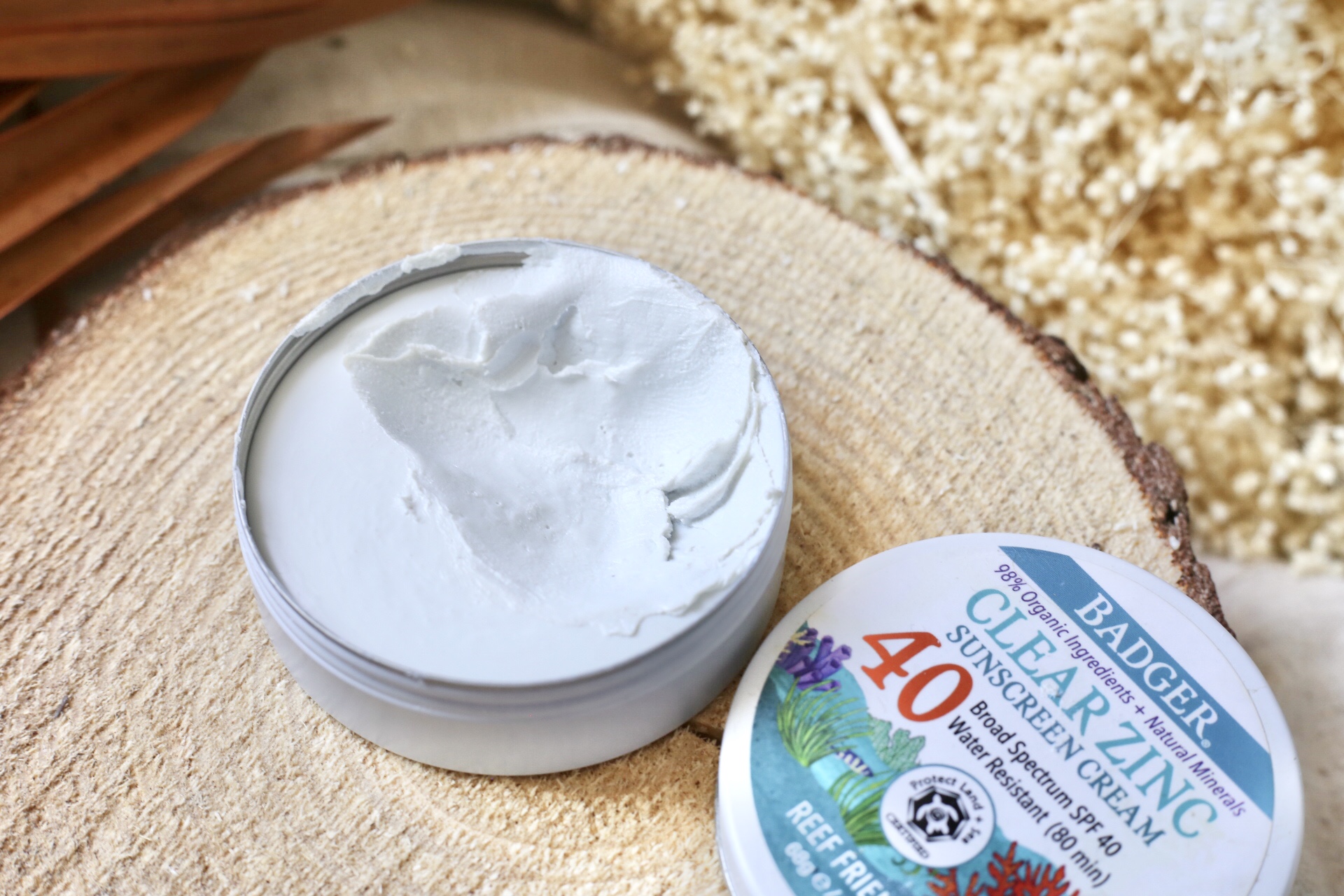 The Badger SPF 40 Sunscreen Cream with Clear Zinc comes in a round tin case, which I love and has just a small handful of ingredients. It has no scent to it and, even though it's branded as Clear Zinc, you will still see somewhat of a white cast. With the use of zinc oxide, it is virtually impossible to make a completely transparent sunscreen.
I also love that it contains 22.5% zinc oxide and provides more protection than other Badger sunscreens, so I know I'm being adequately protected. Badger's sunscreen cream tin is 98% organic, reef friendly, biodegradable and certified cruelty free. All in all, a great sunscreen if you can handle its richness.
Just 4 clean ingredients with no added fragrance
With 22.5% clear zinc oxide for safe, effective broad-spectrum protection. Clear zinc oxide is considered one of the safest active ingredients by the FDA.
80 minutes water- and sweat-resistant.
Non-comedogenic (won't clog your pores) and hypoallergenic.
Non-GMO certified by NSF to NSF Non-GMO True North.

suncreens.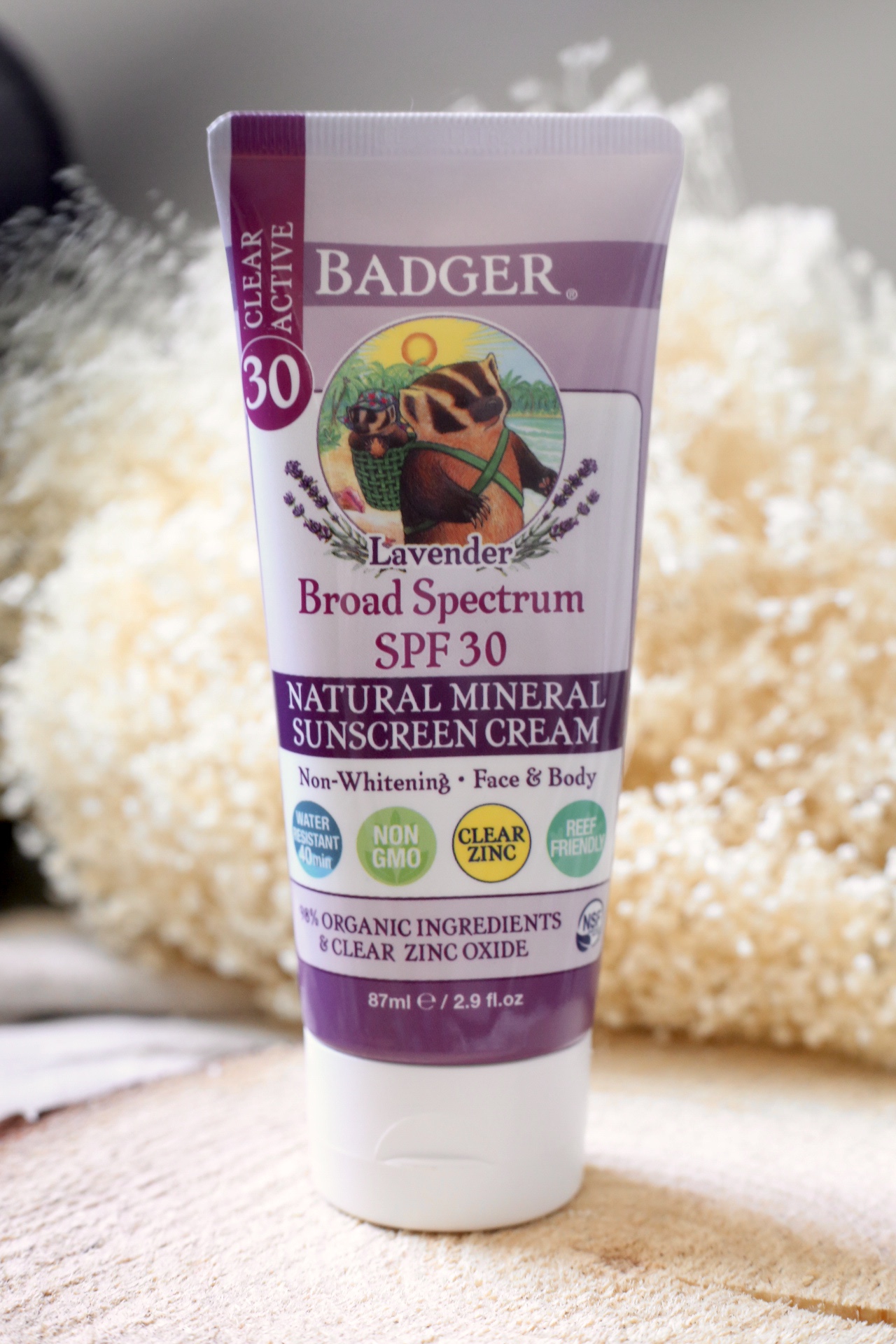 Badger Clear Active Sunscreen SPF 30 Lavender
The Badger Clear Active Sunscreen SPF 30 in Lavender is powered by their Clear Zinc Oxide and is 98% Organic. This reef friendly, mineral sunscreen rubs in sheer but will of course not be transparent as it's powered by zinc oxide, a physical barrier to UV rays. I love the subtle lavender scent – if you're a major lavender fan you'll enjoy this! 
The consistency, like all other Badger balms, is rich and emollient, but great if you have dry skin. It's made of just 5 ingredients of oils, beeswax, Sunflower Vitamin E and Seabuckthorn extract along with 18.75% zinc oxide. I skip using Badger sunscreens for indoor days as they can feel greasy and save them for active outdoor days and trips. They're sweat resistant and do a fantastic job at protecting my skin from burning in the sun.
Safely blocks the sun's harmful rays with mineral Zinc Oxide.
Rubs in sheer
Water and sweat resistant for 40 minutes.
Naturally scented with organic Bulgarian Lavender.
Made with skin-soothing organic Sunflower Oil, organic Beeswax, and Vitamin E.
Coral reef friendly, biodegradable, certified cruelty-free, and certified Non-GMO.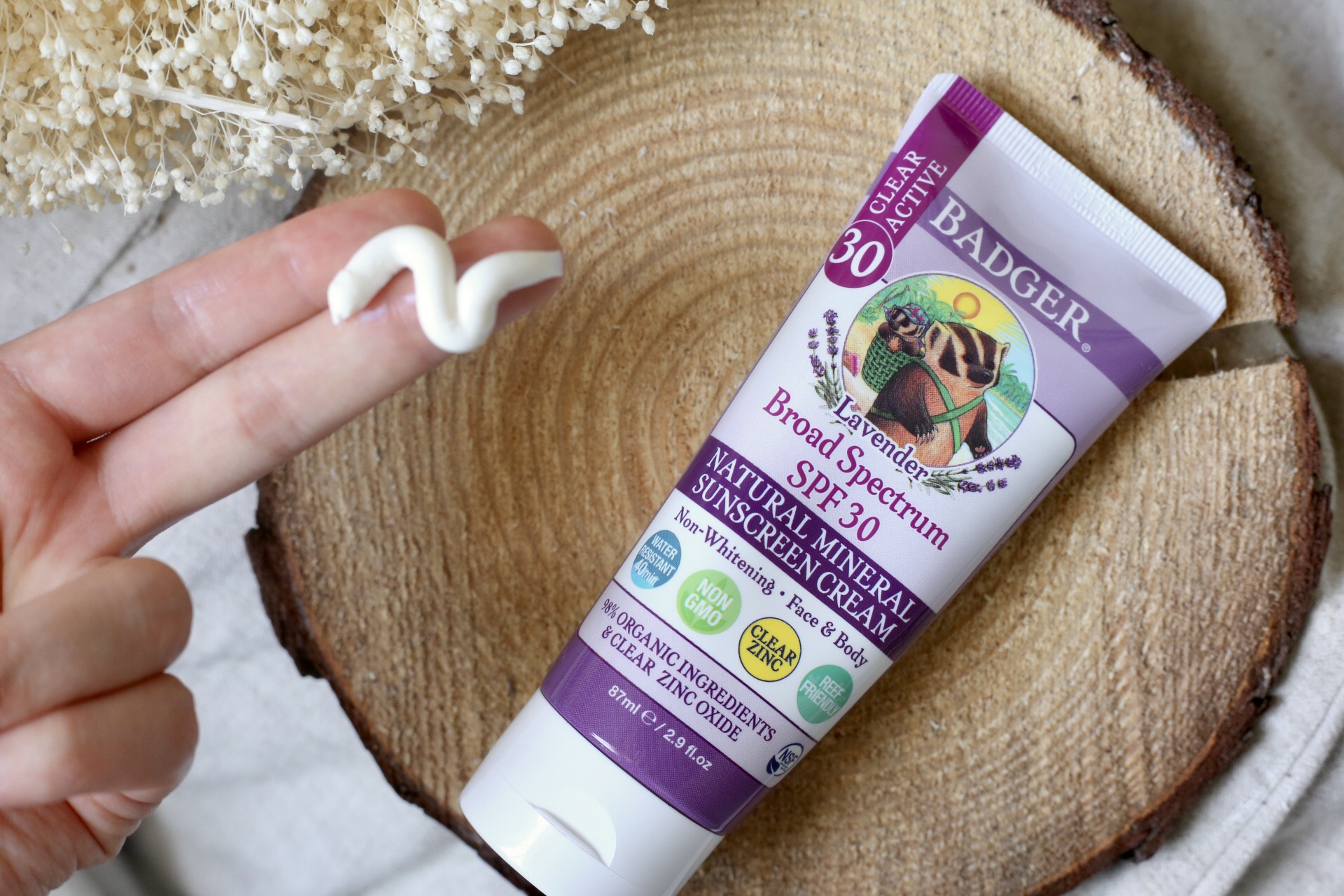 Badger Clear Zinc Sunscreen Ingredients
Active Sunscreen Ingredient:
Uncoated Mineral Zinc Oxide 18.75%
Base Sunscreen Ingredients:
Organic Sunflower Oil, Organic Beeswax, Organic Lavender Oil, Sunflower Vitamin E & Organic Seabuckthorn Extract.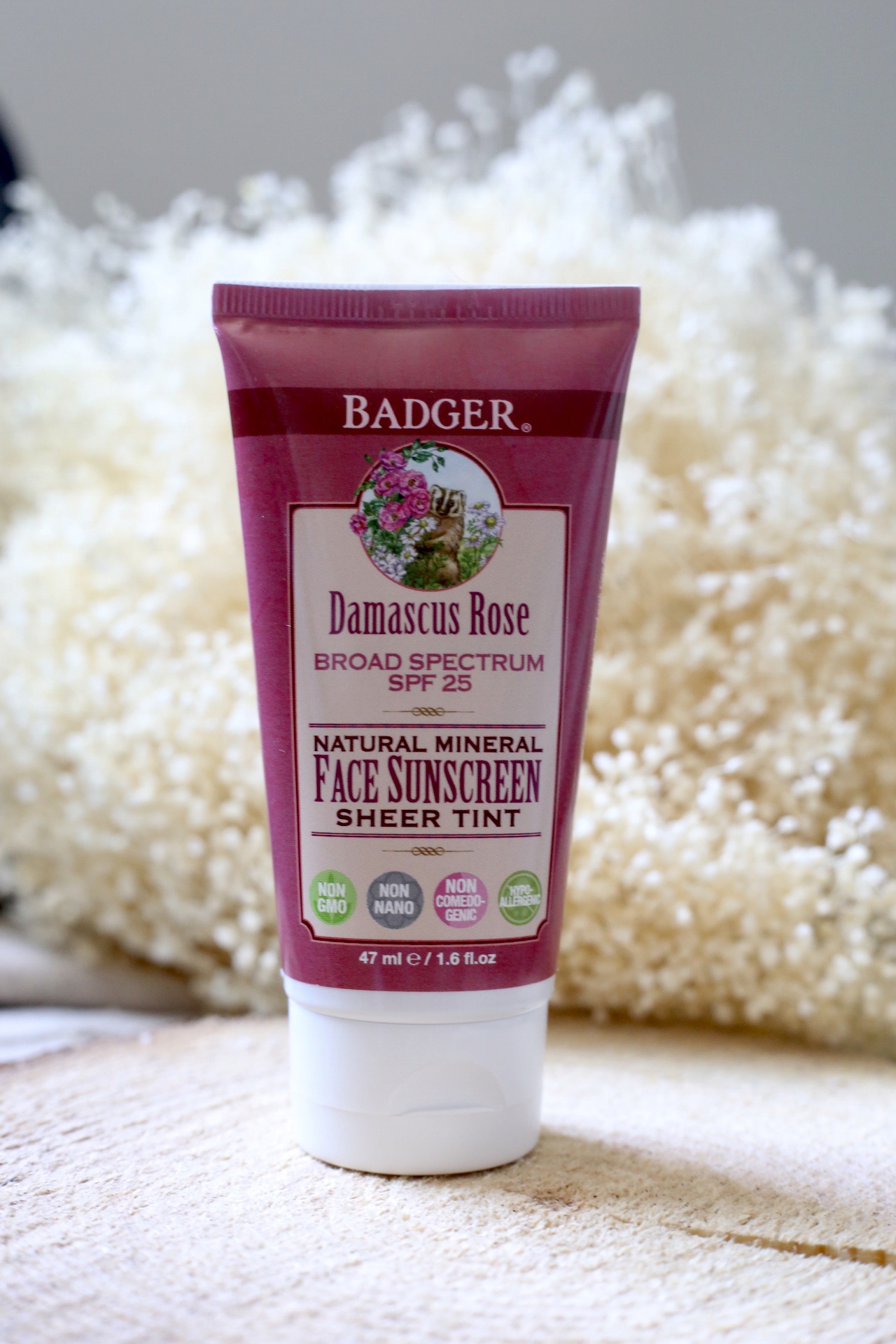 Badger Damascus Rose Tinted Sunscreen is one of the most under-hyped mineral sunscreens and a total gem. This mineral sunscreen is very lightweight and liquid like, applies well and has a lovely rose scent. The Damascus Rose Mineral Sunscreen is a great option if you don't like rich or heavy sunscreens, need sheer coverage or have oily skin.
Badger has been working on reformulating Damascus Rose Tinted Sunscreen in 2021 to be even better, so watch out for the new and improved version in the coming year.
Where to Buy Badger Sunscreen
Badger sunscreen is sold at just about every health foods and natural health store in the US. You can buy Badger sunscreen from:
Iherb
Whole Foods
Sprouts
Pharmaca
Erewhon
Mother's Market