Leahlani Skincare Review: 4 Best Leahlani Products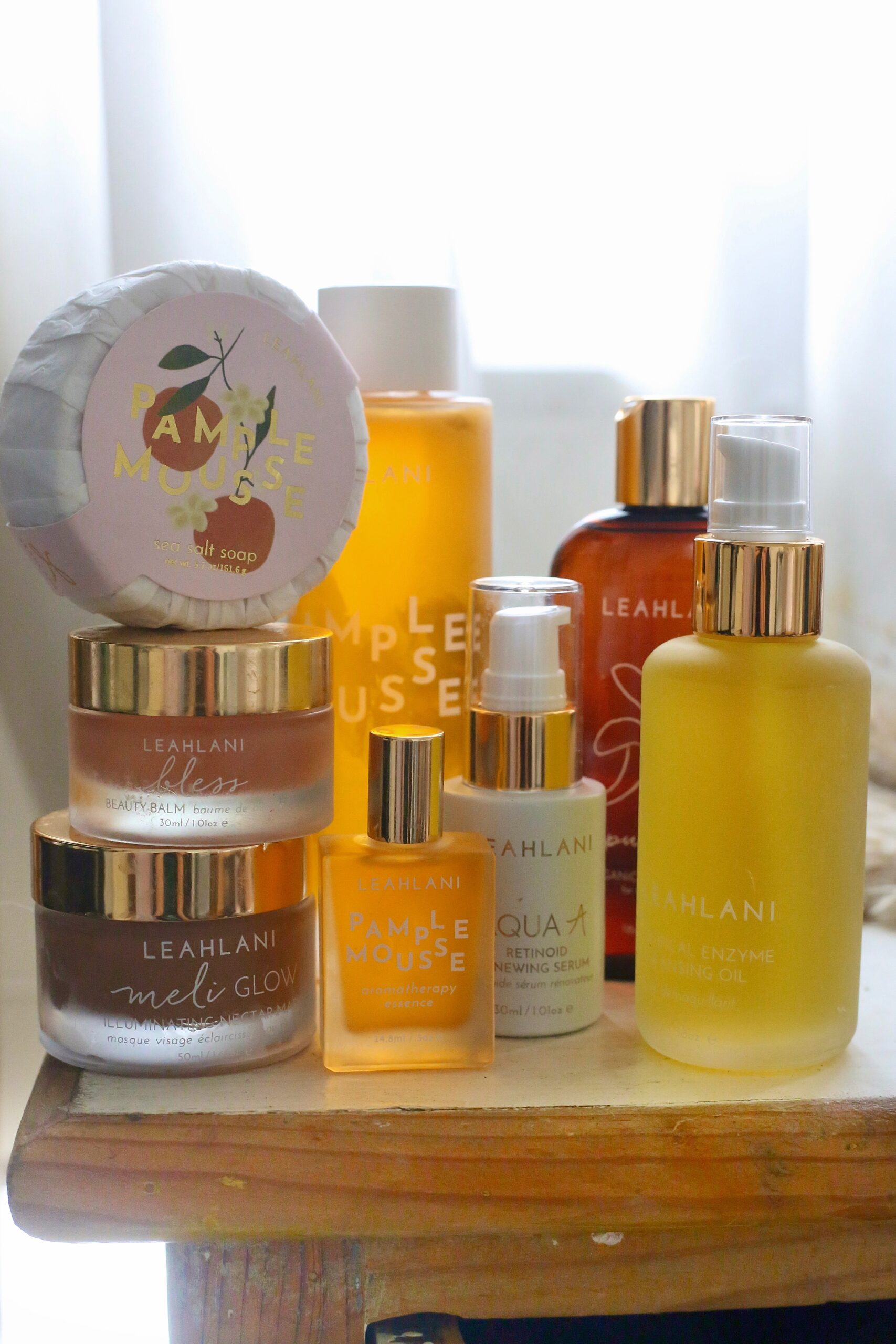 Leahlani Skincare is an all natural Hawaiian skincare line that uses organic, wild-crafted and local Hawaiian ingredients. While the line has grown over the course of more than a decade, Leahlani products are still made in small weekly batches right at their Kaua'i studio and shipped out within a few weeks max to ensure freshness. Even though there are both hits and misses in the Leahlani line, I don't think I've ever met an organic Hawaiian skincare brand I didn't like (Mahalo, Honua, Leahlani). Leahlani offers subdued luxury, Hawaiian essence and tropical scents that transport. You're about to get your aloha glow on, because I'm sharing my favorite Leahlani products in this Leahlani review.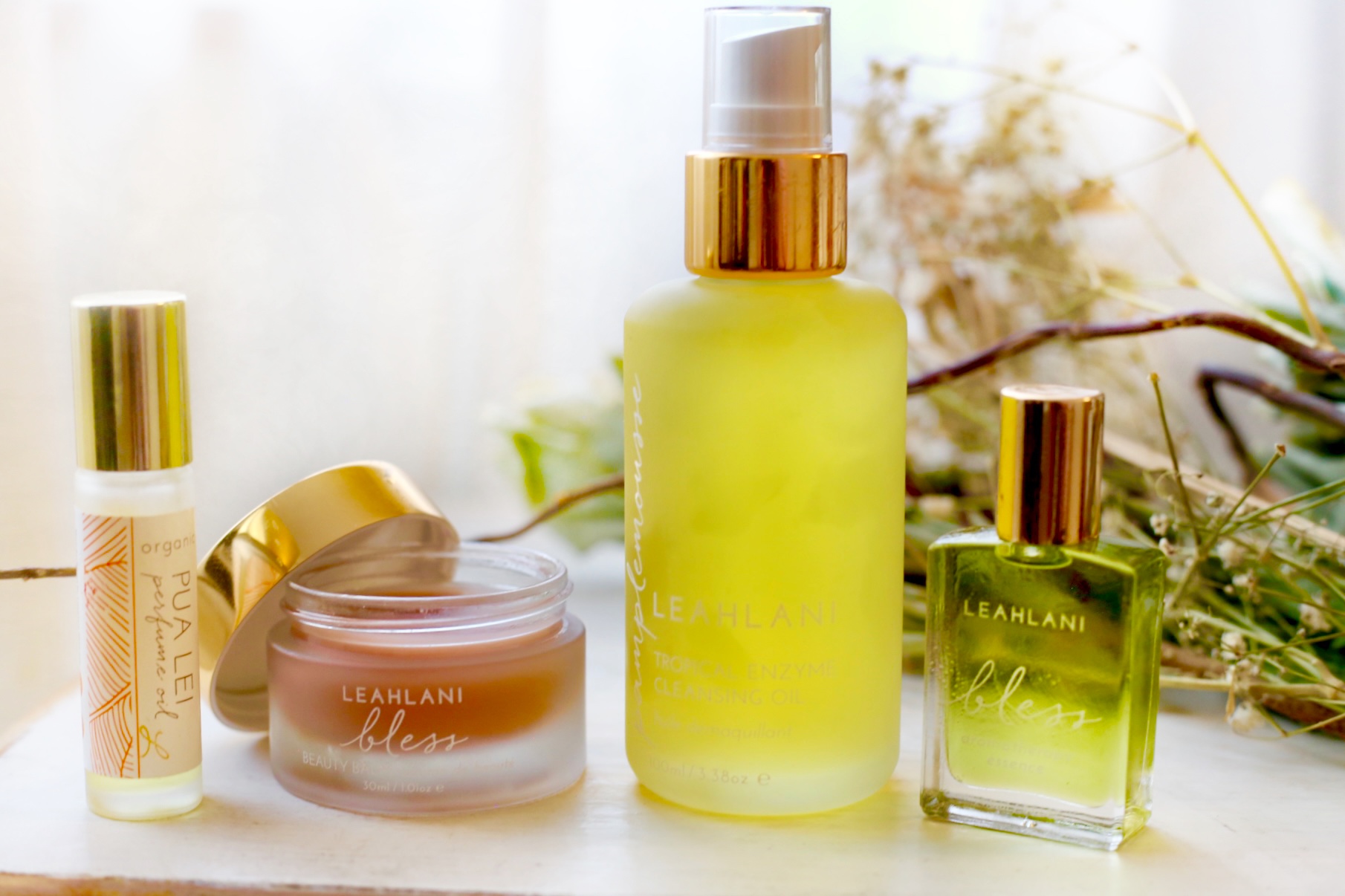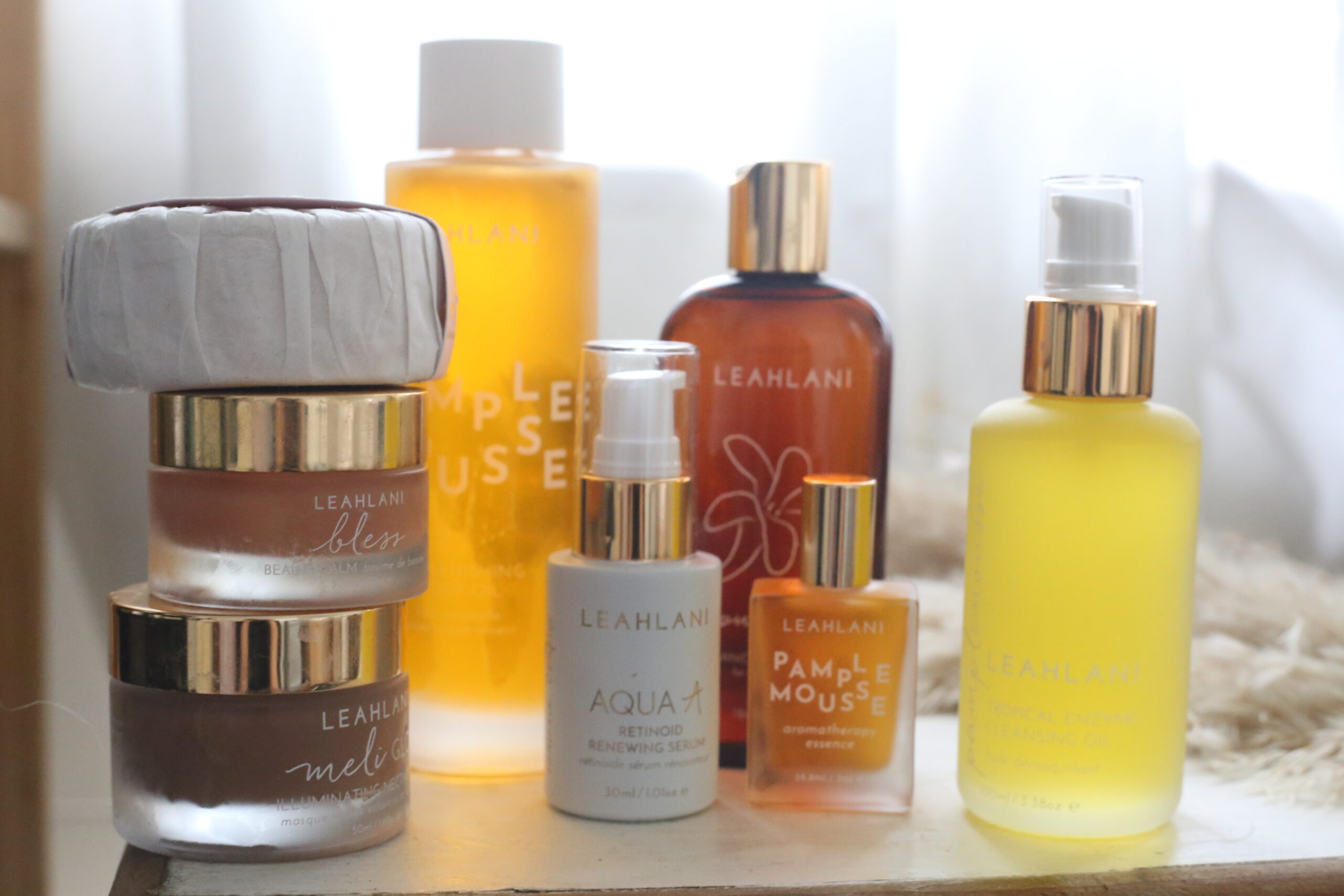 I know this is an unpopular opinion, as Leahlani's Mermaid Mask is a cult favorite product from the line, but I wasn't a big fan. I simply didn't fall in love with it, which is what I was expecting after hearing so many rave reviews.

Leahlani Bless Beauty Balm
The Leahlani Bless Beauty Balm is a buttery, dusty rose-colored face balm that nourishes, softens and smoothes skin. Bless Beauty Balm is a soft and easy balm to use with a beautiful floral scent of blue tansy and orange blossom. I love that it's not overly heavy and find Bless Balm light enough to use during the day if I want, and a great nighttime balm to slug.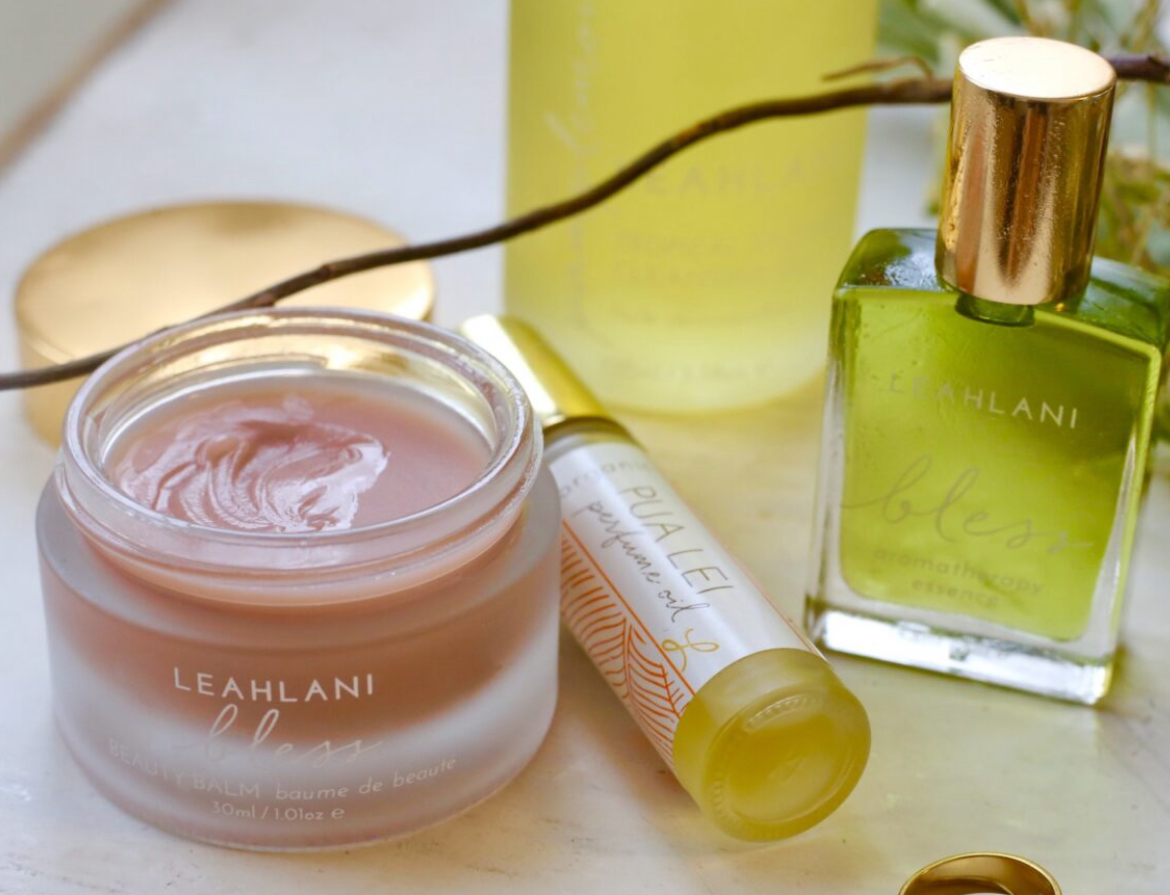 Leahlani Bless Beauty Balm is made of:
Cocoa butter and Shea butter base
Argan, Marula, Moringa, and Camellia seed oils
Passionfruit seed oil
Rosehip flower
Orchid extracr
Blue tansy flower oil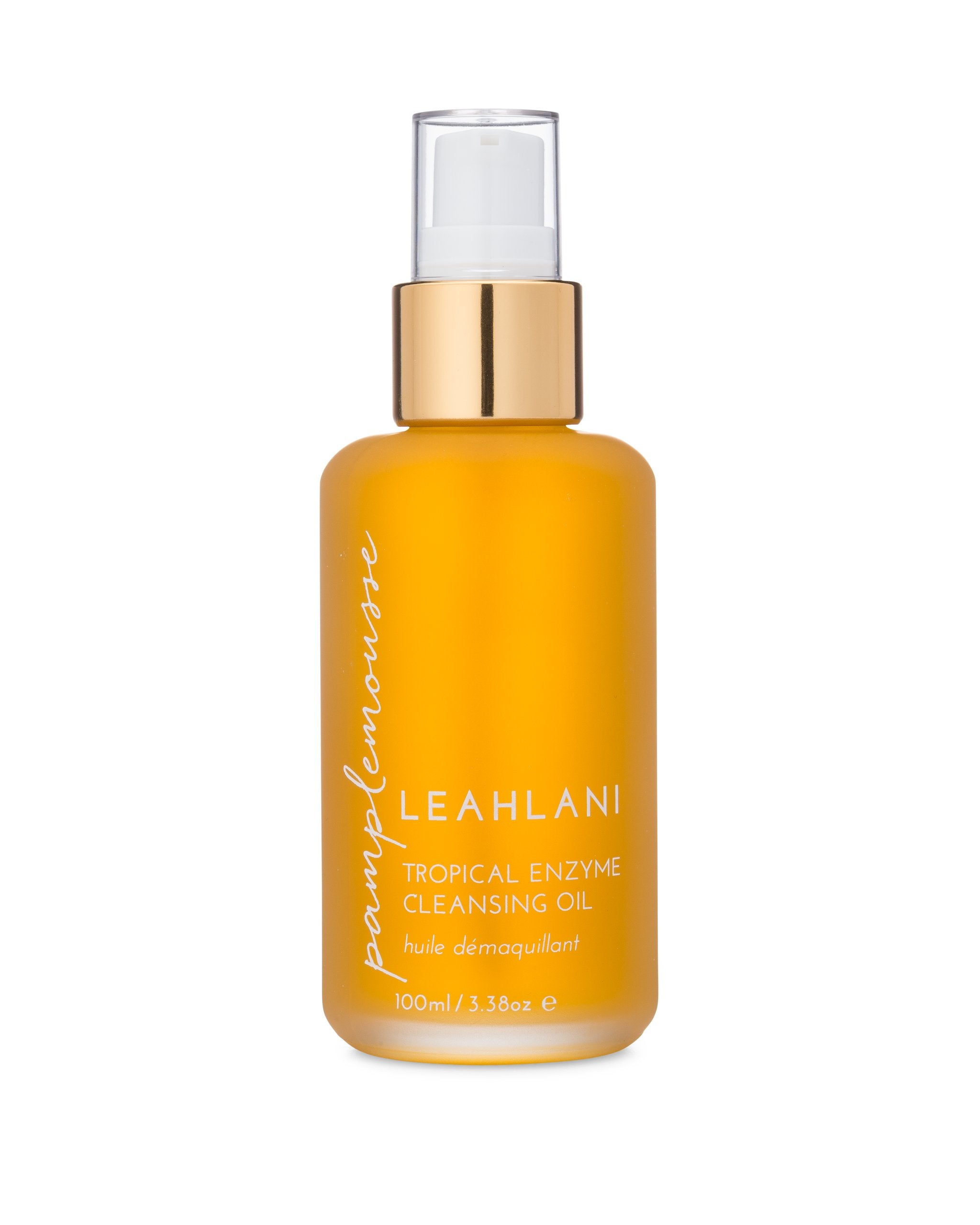 Pamplemousse Cleansing Oil
I love a thoughtfully formulated and fragrant cleansing oil that turns my otherwise tedious nightly sunscreen and makeup removal routine into a luxurious ritual. The Leahlani Pamplemousse Cleansing Oil is a blend of tropical oils, enzymes of pineapple + papaya, sweet vanilla bean and fragrant floral essences. During the summer, I'm very drawn to the tropical scent and formula of this cleanser. It has guava fruit, banana extract, and pineapple fruit along with plumeria and hibiscus flower extracts in a luscious blend of macadamia, sunflower seed and pink grapefruit peel oil.
Lightweight and silky, Pamplemousse dissolves the day's makeup and sunscreen easily while moisturizing skin. With water it every so slightly emulsified and rinses off. Pamplemousse Cleansing Oil is fruity, tropical Hawaii in a bottle for me.
Anyone who's been to and loves Hawaii will know how magical the island is. Scent memory is a powerful thing, and Leahlani bottles up Hawaii's essence in their organic fragrances. They also have a wide variety of body oils I'm eager to try.
While Leahlani offers several organic perfume products, I've tried Pua Lei Perfume Oil and Bless Aromatherapy Essence. Organic perfume has been my 2022 obsession, and I've been testing dozens upon dozens of clean and natural perfumes all year. Leahlani Pua Lei is one of my favorites!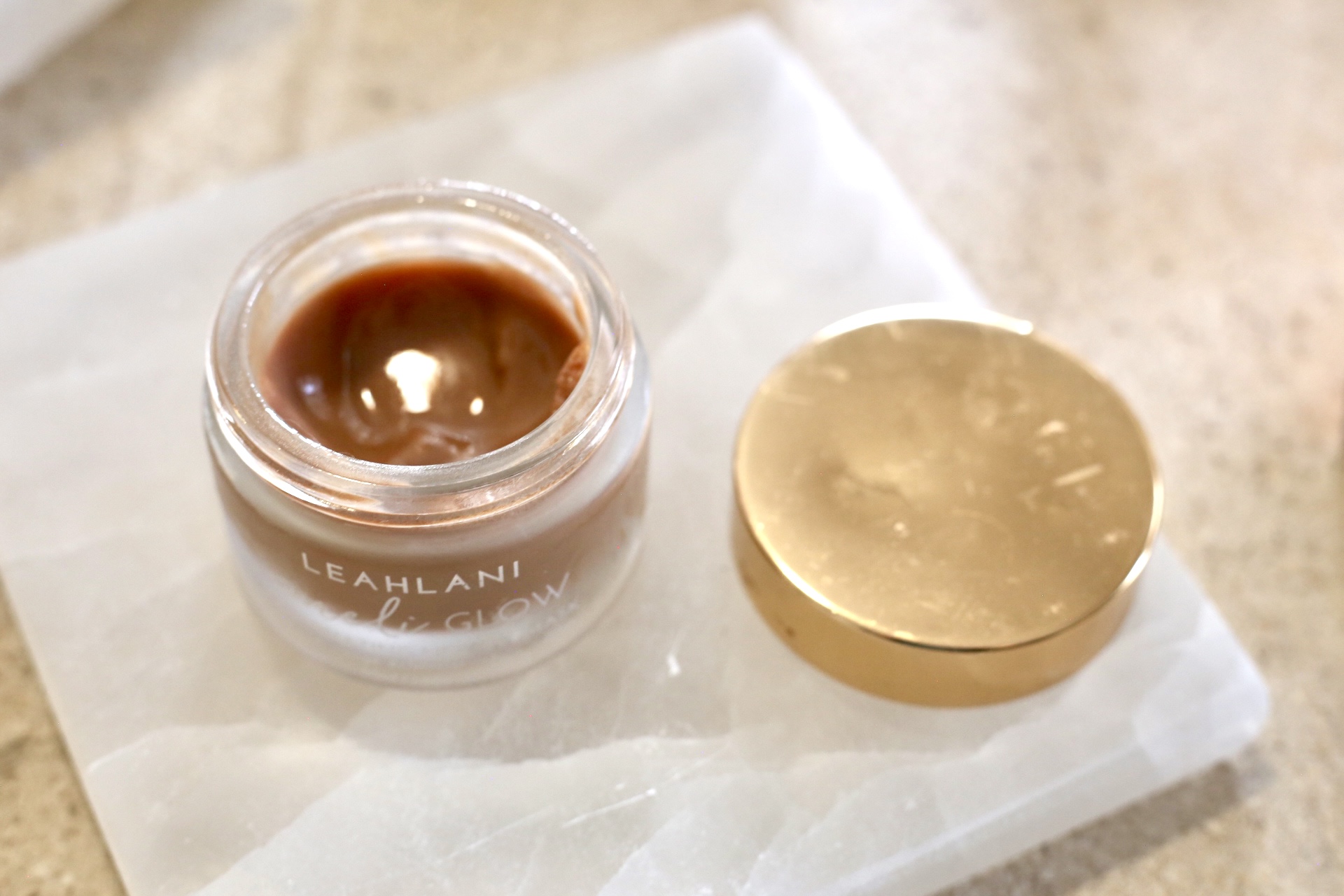 Meli Glow Mask
My skin responds very well to the Meli Glow Mask. It's an illuminating aka brightening mask made with organic raw Hawaiian honey, plant oils, Vitamin C, hyaluronic acid, and clays. It's even got strawberry, guava, banana, grapefruit and starfruit extract. This is a luscious honey mask that works best after a pore steam sessions. My skin does look supple, plump and bright after.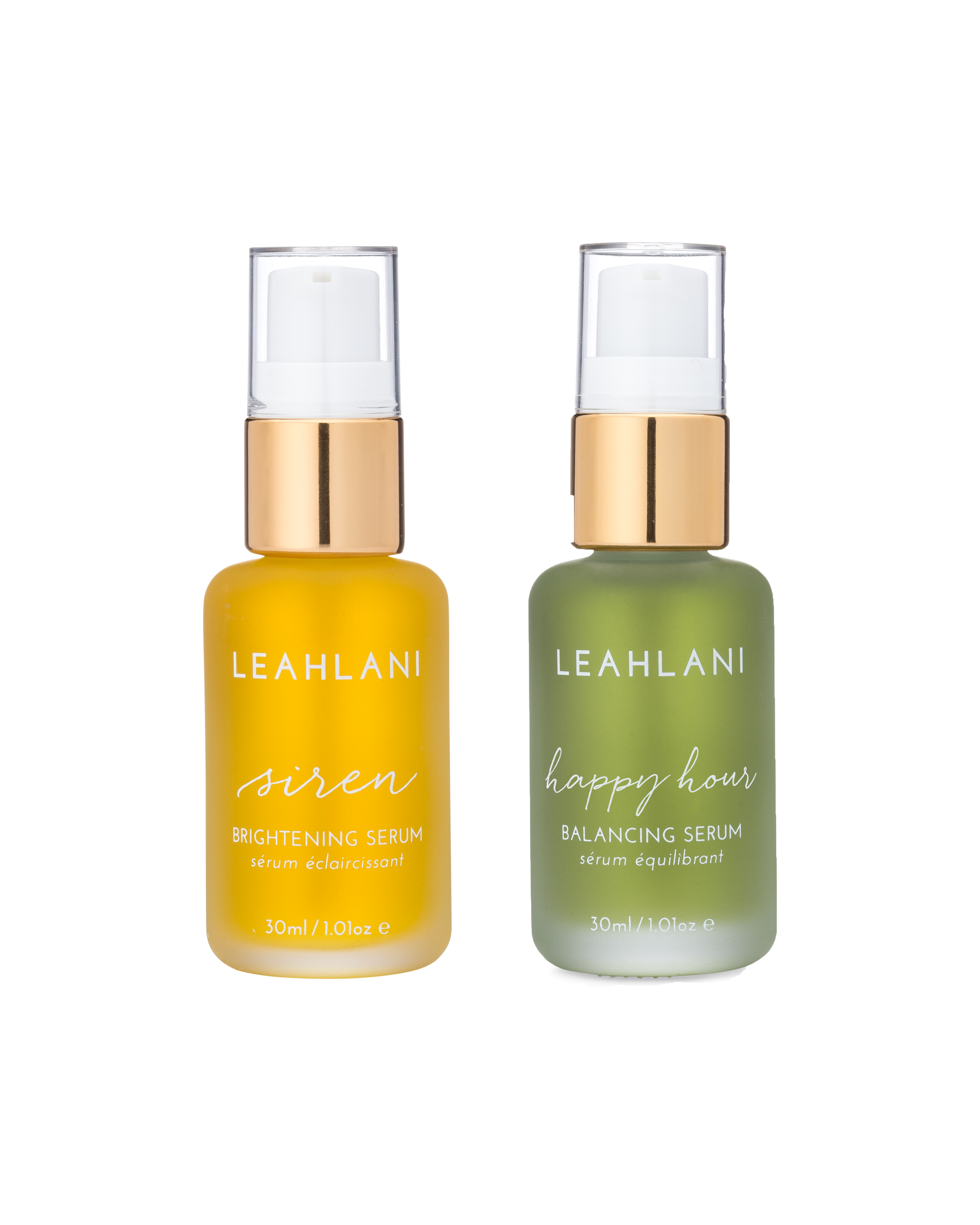 Leahlani Serums
Leahlani serums are not my top favorites from the line, but I can see why Leahlani fans enjoy these. Leahlani Siren Serum and Happy Hour Balancing Serum are actually oil serums not water based serums. They  were intentionally formulated to replace your moisturizer and are both lightweight and silky.
Happy Hour Soothing Serum addresses redness, scarring, dry patches, irritation, acne breakouts with an organic blend green tea, white tea and rooibos tea. It smells of lavender and reduces inflammation with a blend of lavender, chamomile and rose geranium.
Leahlani Siren Serum is a brightening face oil brimming with Vitamin C and A. It has a concentrated blend of 15 regenerating essential oils that helpeven skin tone and fade acne scarring and hyper pigmentation. Siren Serum also contains micro algae to boost cellular energy and smells lightly of sweet citrus.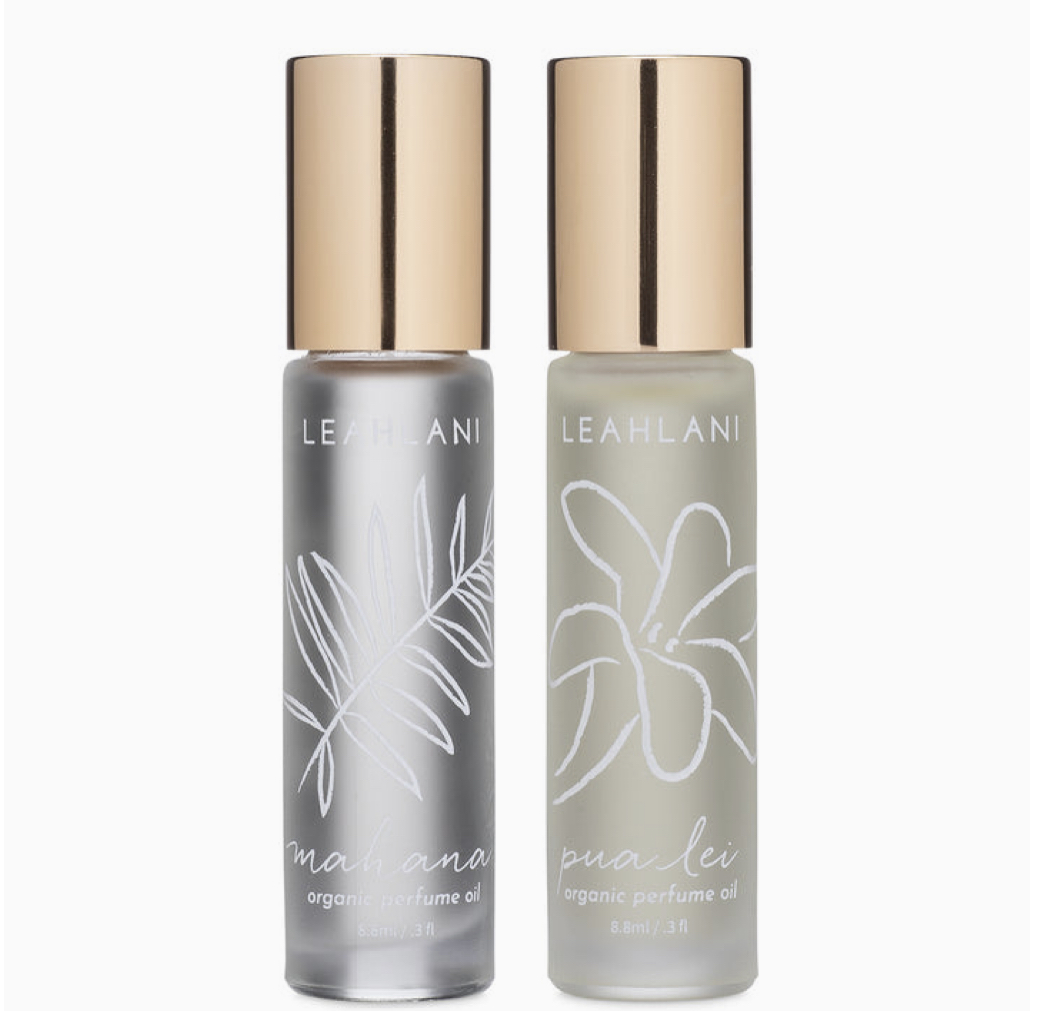 Leahlani Perfume Oil
Pua Lei Perfume Oil is 100% natural and is made of creamy tropical florals, sweet tuberose, and exotic puakenikeni flowers. Wearing Pua Lei feels like I'm wearing a freshly picked Hawaiian Lei. The Leahlani Perfume Oil lasts a solid 5-6 hours. Because it's an oil, this perfume lays close to the skin, so it's a fragrance just for your enjoyment. Pua Lei is very much a floral fragrance.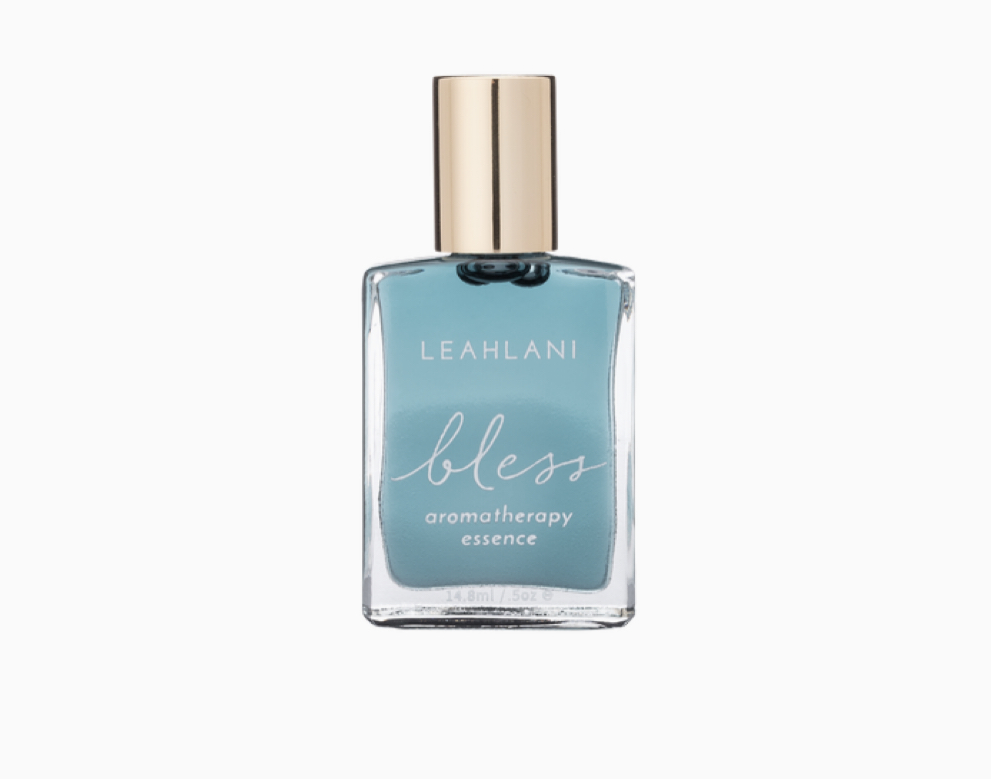 Leahlani Bless Aromatherapy Essence
One of Leahlani's personal favorites, Bless Aromatherapy Essence is an intoxicating tropical scent that's reminiscent of a warm summer evening of rain falling on citrus groves. It's a roll-on perfumatic aromatherapy blend made in a base of organic fractionated coconut oil without any alcohols and a proprietary blend of essential oils that has the same scent profile of Bless Beauty Balm. I get notes of strong notes of citrus and more subtle notes of tansy and florals.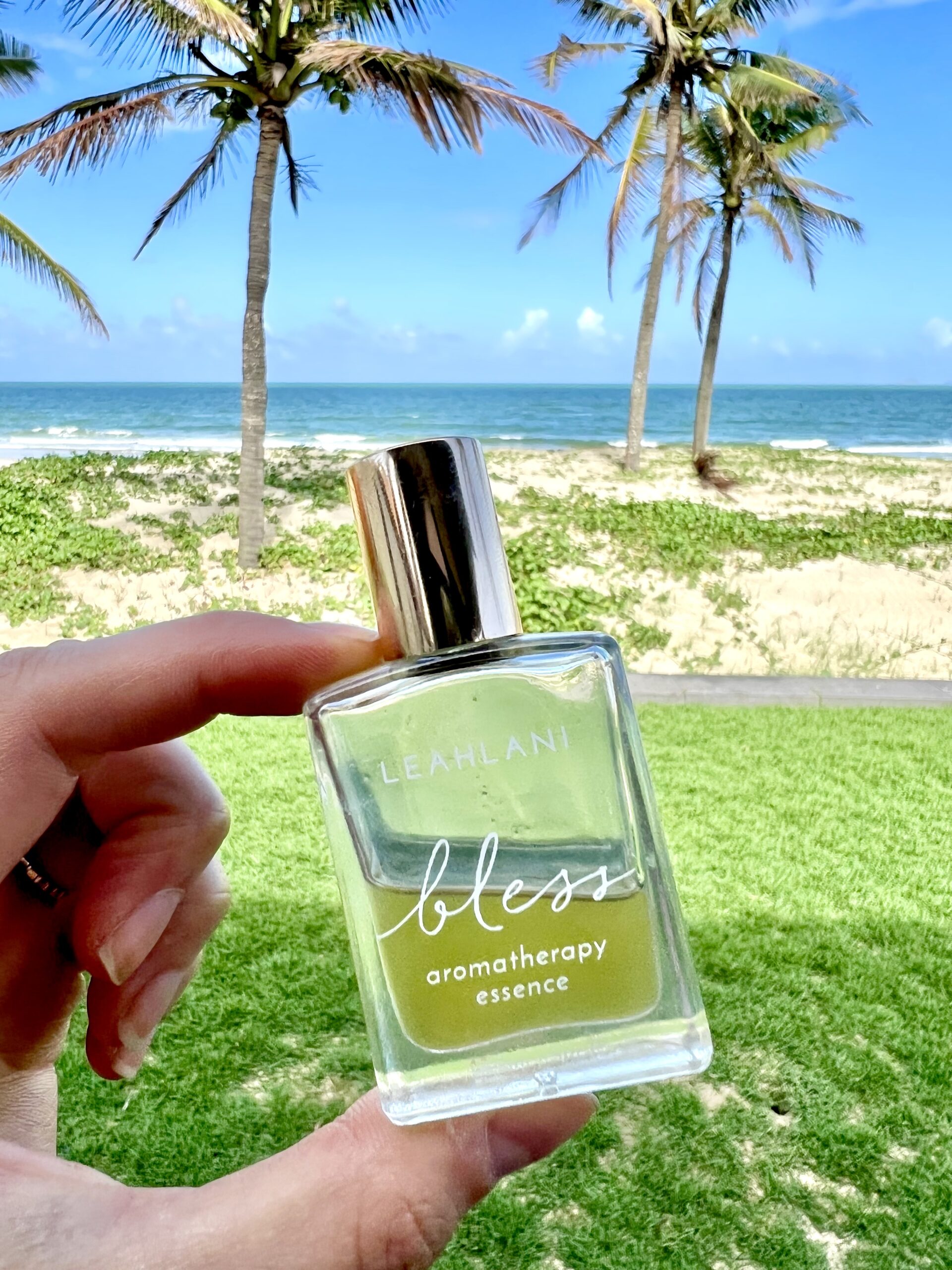 Leahlani Discount Code – OBL saves 10%
Save 10% with affiliate discount code OBL sitewide.