Bearaby Weighted Blanket Review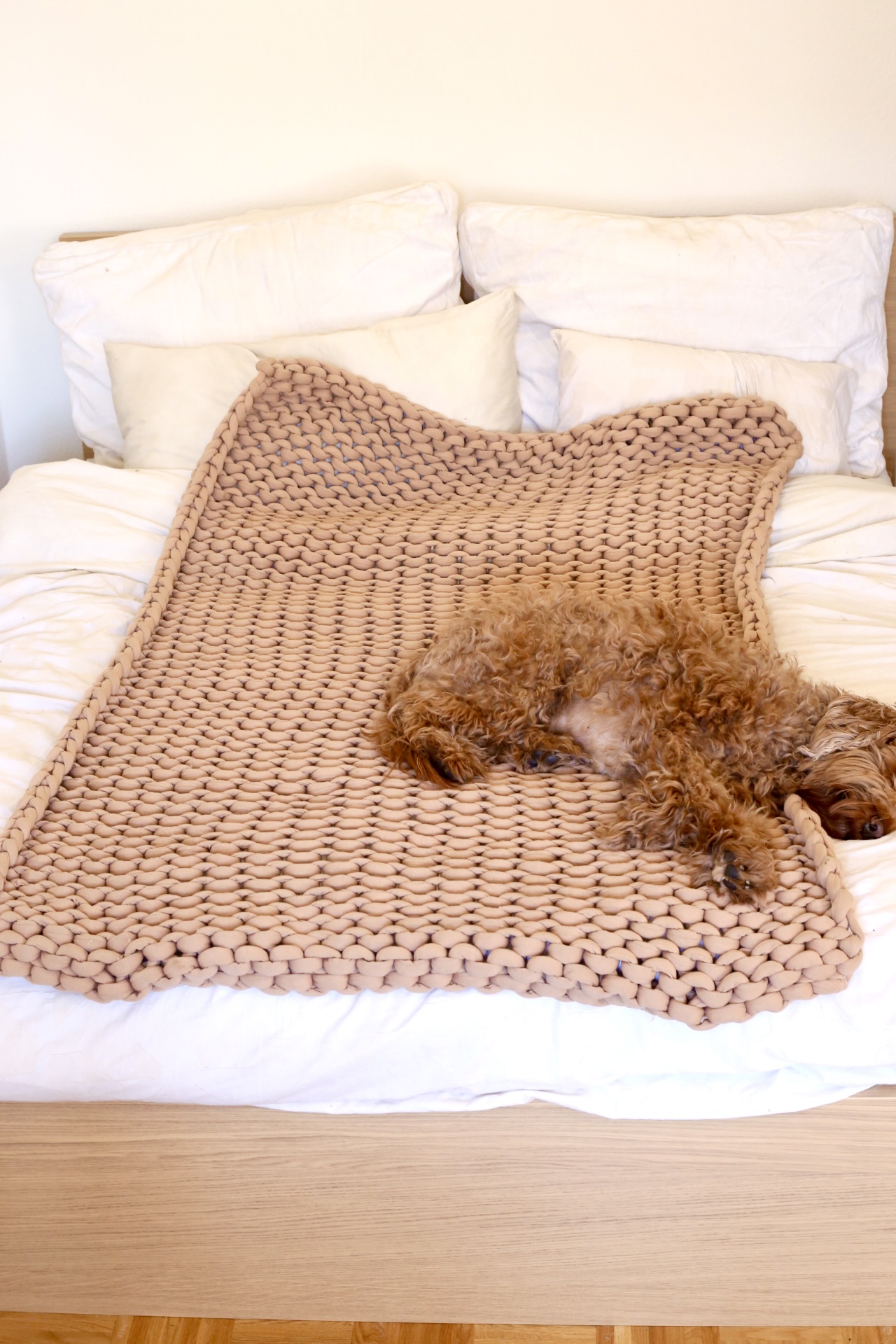 I've had the Bearaby weighted blanket for almost a year now and wanted to share my experience with this popular weighted blanket brand. Bearaby uses high-quality sustainable materials for all their products. The Bearaby weighted blanket comes in three different fabrics (Cotton Napper, Tree Napper, Eco Velvet Napper) and a variety of weights and colors. I own the Bearaby Tree Napper, which is made of Eco friendly Tencel. Scientific research shows that sleeping under an evenly distributed weight brings about a deeper, more natural sleep cycle. The sensation of feeling cocooned can also help reduce cortisol levels. I also had a few people who like to sleep over at my place try out the Bearaby weighted blanket to get a feel for their opinion. Read on for my honest Bearaby weighted blanket review.

Benefits of a Weighted Blanket
Weighted blankets are also known as a pressure blanket or gravity blanket. These are special therapeutic blankets that can provide a number of health and wellness benefits.
Weighted blankets were originally created for people with sensory processing disorders like autism. The blankets served as a non-medicated and natural form of therapy to help ease their anxieties and calm them down during episodes of stress.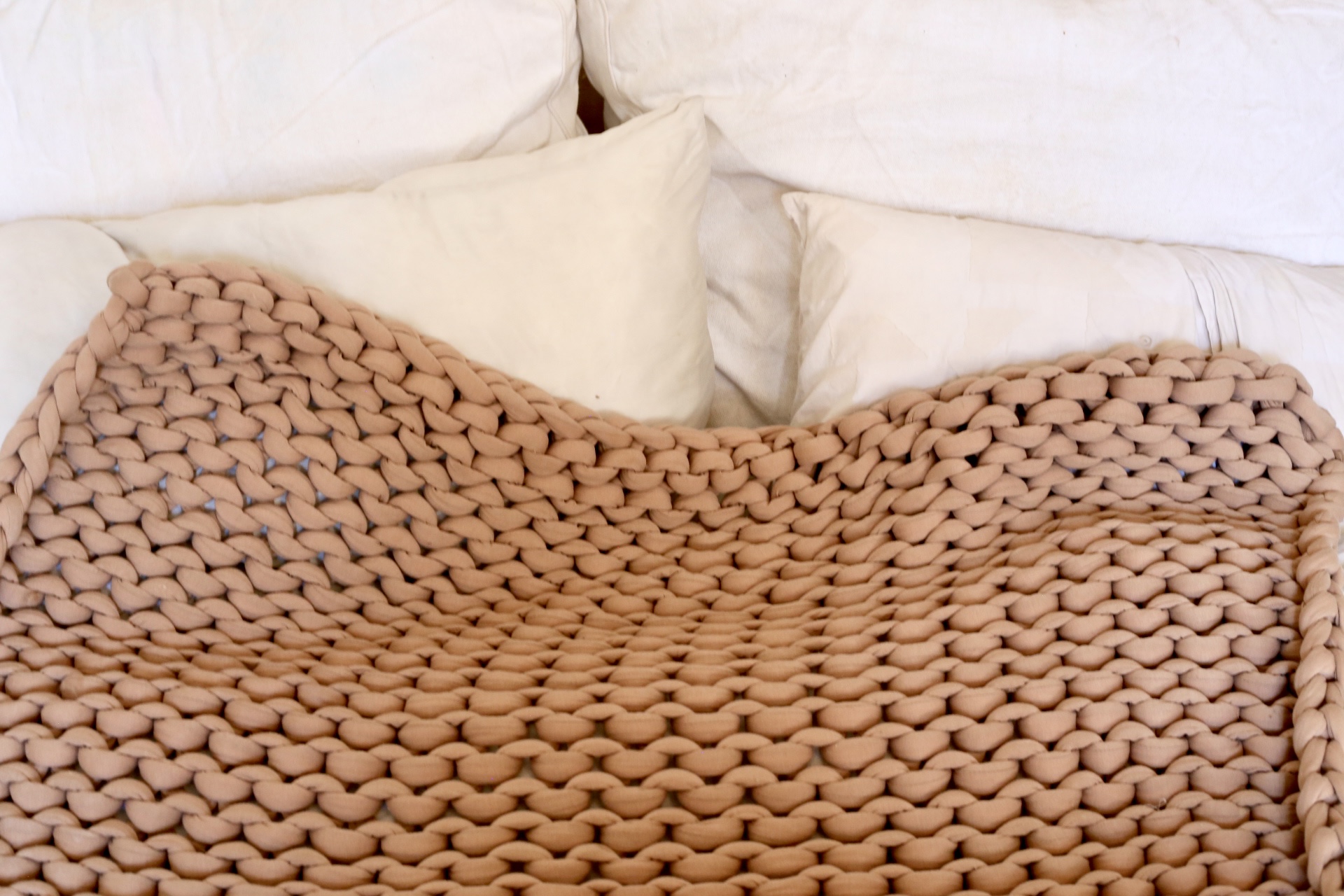 Weighted blankets:
Alleviates Anxiety-Induced Insomnia
Improves Sleep Quality
Promotes melatonin production
Mimics a hug
Lowers anxiety levels
Alleviates Obsessive-Compulsive Disorder or OCD
Alleviates Post-Traumatic Stress Disorder
Improves Behavior in Children with ADHD
Reduces Symptoms of Restless Leg Syndrome
Lowers Instances of Panic Attacks
The Bearaby weighted blanket looks like a chunky knit blanket hand-knitted to even perfection. It's evenly weighted and breathable so hot sleepers can still enjoy Bearaby.
Starting at $199, Bearaby uses only plant-based and organic materials and do not use any filler materials.
While Bearaby offers organic cotton blankets and eco velvet blankets, I chose the one made of Tencel material. Made from natural eucalyptus fibers, TENCEL™ Lyocell is silky soft, with a lustrous sheen and smooth, cool-to-the-touch feel.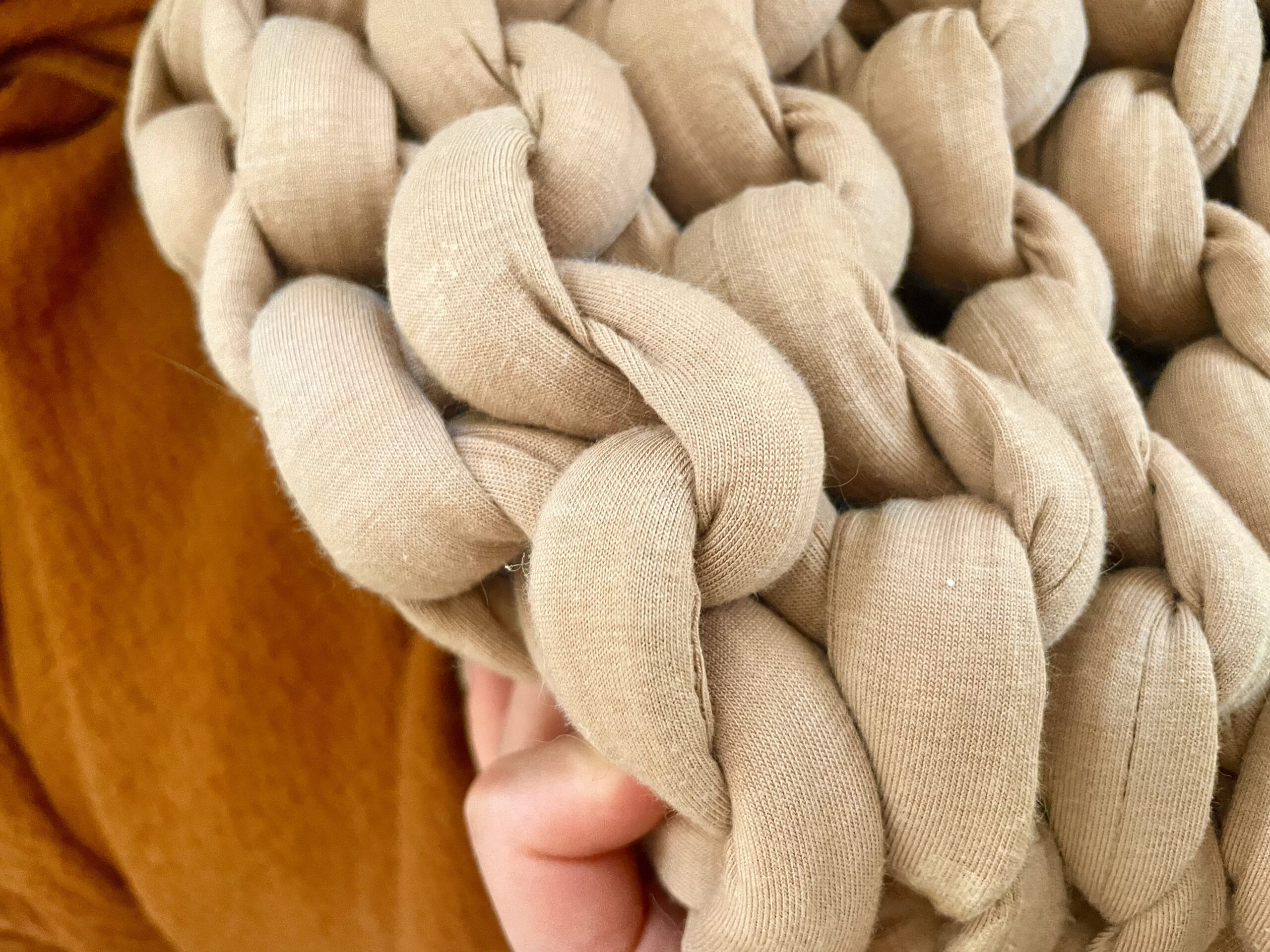 TENCEL™ wicks away moisture which makes it perfect for hot sleepers. Using no irrigation or chemical fertilizers, TENCEL™ is 100% biodegradable and one of the most sustainable fabrics on earth. It's more absorbent than cotton, softer than silk and cooler than linen.
MADE IN GREEN by OEKO-TEX® and Fairtrade International certified (48% Tencel, 47% organic cotton and 5% Spandex).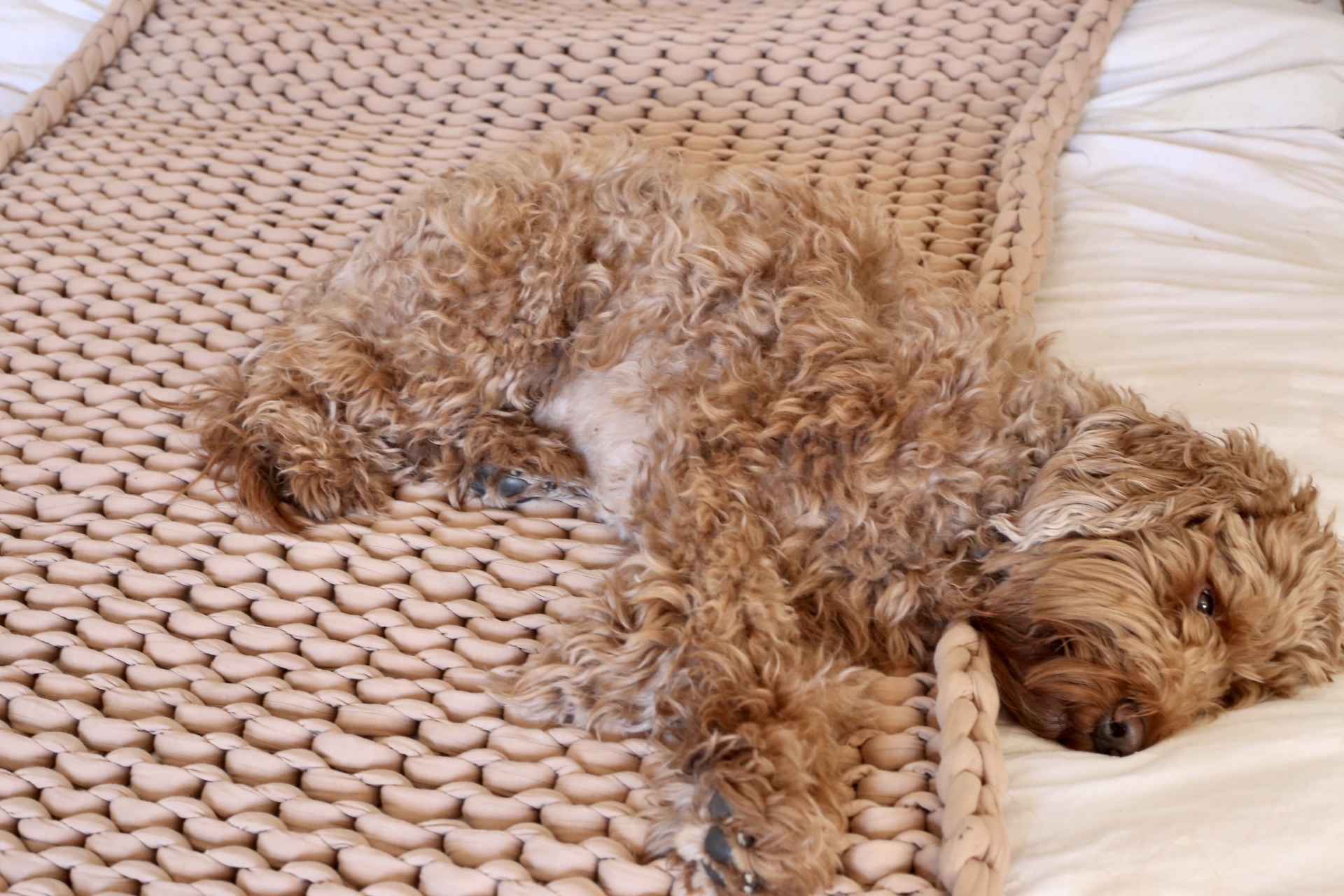 I chose the 20 pound Bearaby Tree snapper blanket in the shade Almond out of the three weight options:
15 lb ($269)
20 lb ($279)
25 lb ($299)
The bestseller Bearaby cotton blanket is more affordable and also offers a 10 lb blanket:
10 lb ($199)
15 lb ($249)
20 lb ($259)
25 lb ($279)
The 15 lb blanket fits the width of a twin bed exactly while the 25 lb fits the width of a full size bed.
My 20 lb blanket is wide enough to fit comfortably under one person, but not two. For a two person weight blanket Bearaby offers their Hugger blanket, a special larger blanket made for 2.
My friend tested out my Bearaby blanket and she loved it. She tosses and turns frequently in the night and she found that with the blanket she barely budged.
I also had my significant other try Bearaby, and while he was excited by the concept, when he actually used it, he found that he didn't like it.
I personally found the 20 pound Bearaby a bit too heavy and think I would have liked the 15 pound one more. There's definitely a lot of airflow so I don't get hot while using the blanket, but the 20lbs can get uncomfortably heavy after long periods. The Bearaby weighted blanket is amazing at helping you fall asleep, but I always need to shove it off in the middle of the night.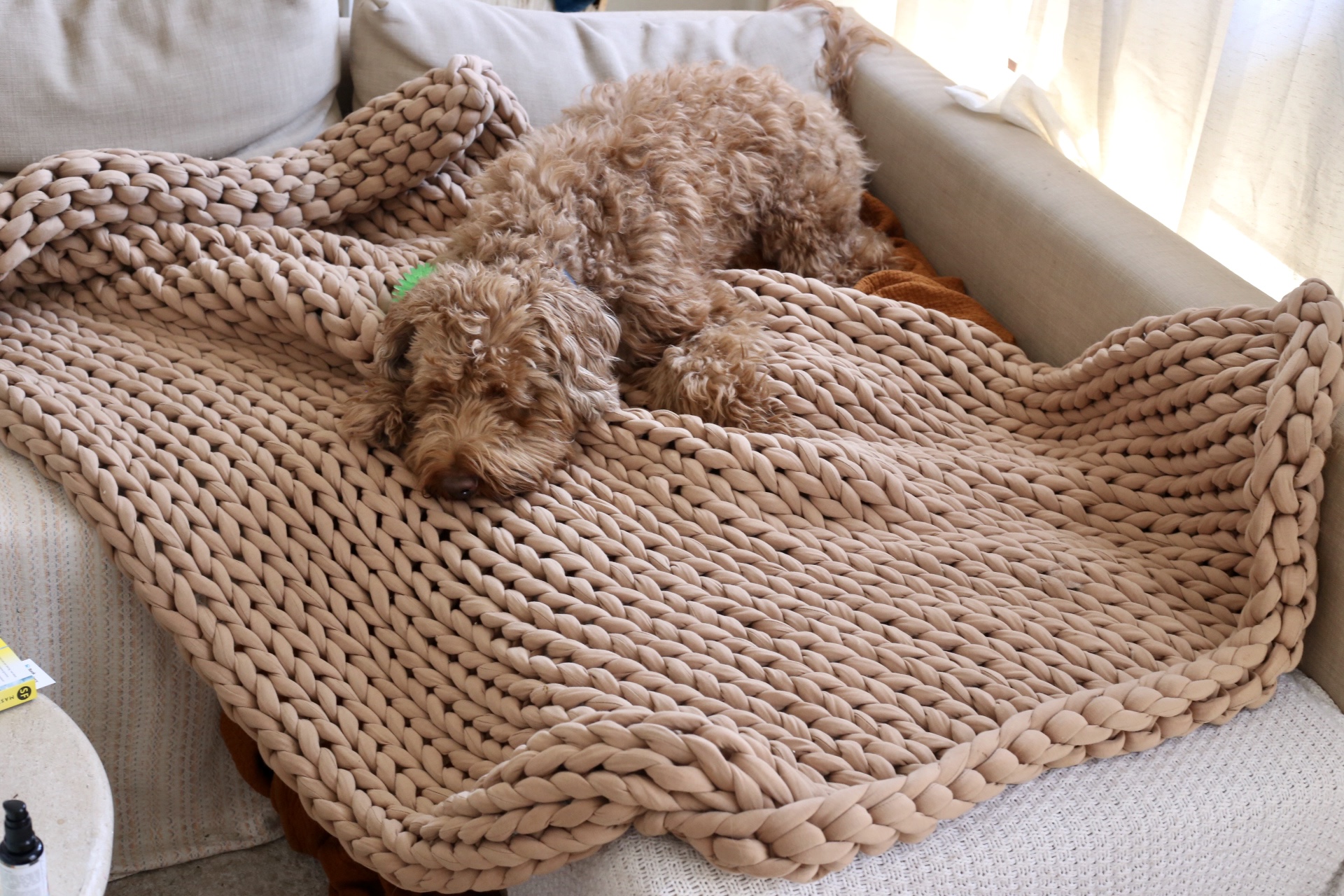 I also love using Bearaby as a couch blanket! During the fall and winter, cozying up and feeling cocooned in the Bearaby blanket while reading or watching Netflix Bearaby blanket is great. Overall Bearaby is a very beautiful and high quality product.