Kuli Kuli Moringa Review + Discount Code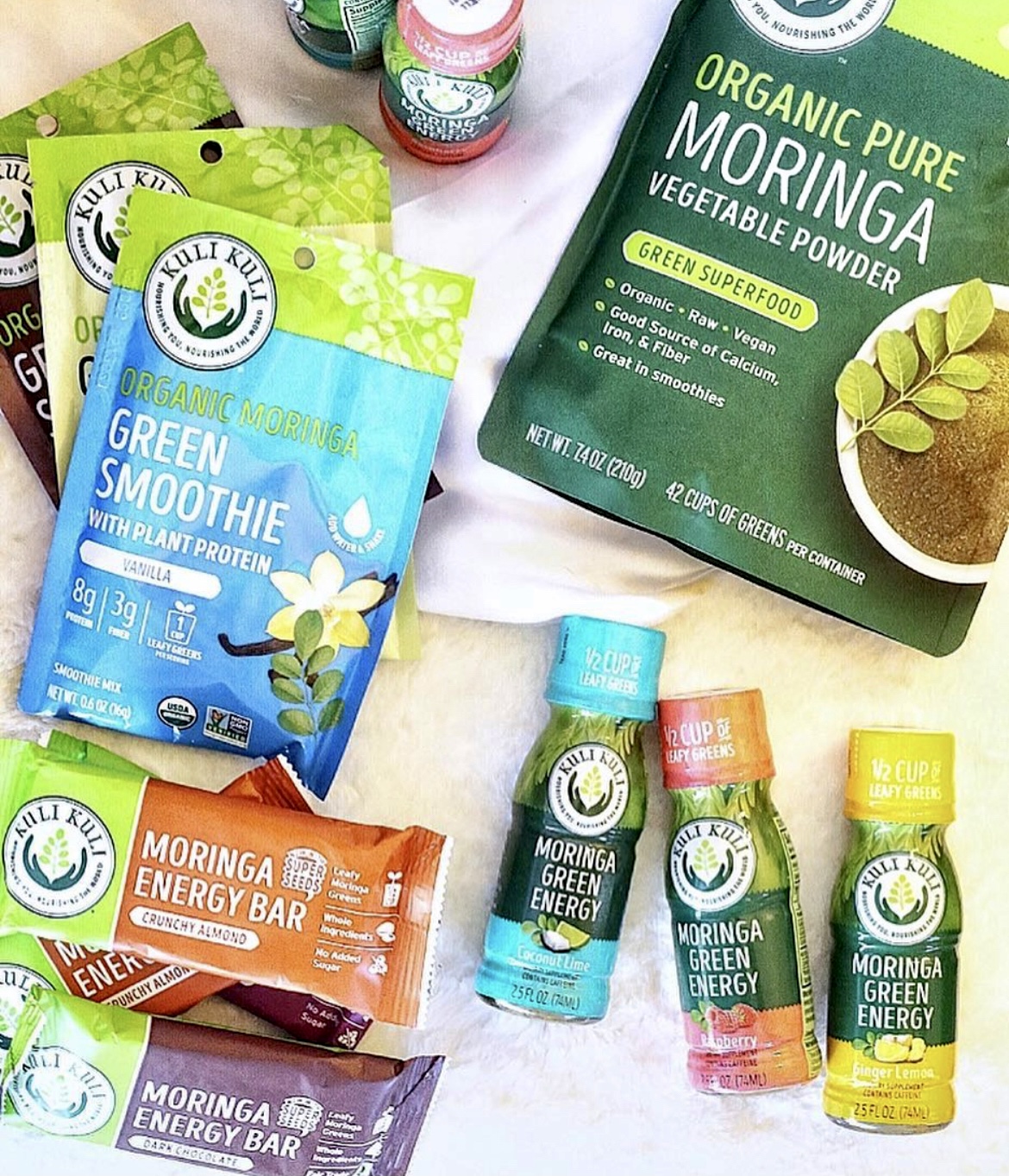 I've been a Kuli Kuli fan for five years now and wanted to share my experience with their moringa superfood snacks, smoothies and drinks. I love what this company is creating and doing behind the scenes to make an impact beyond selling a product. Kuli Kuli also happens to be the largest US importer of moringa. Moringa leaves are one of the most nutrient-dense greens on the planet, packed with protein, essential amino acids, 27 vitamins and 46 antioxidants. Kuli Kuli's mission is to turn climate-smart, community-grown superfoods into staple foods to allow them to generate stable income for thousands of farmers while also fighting climate change.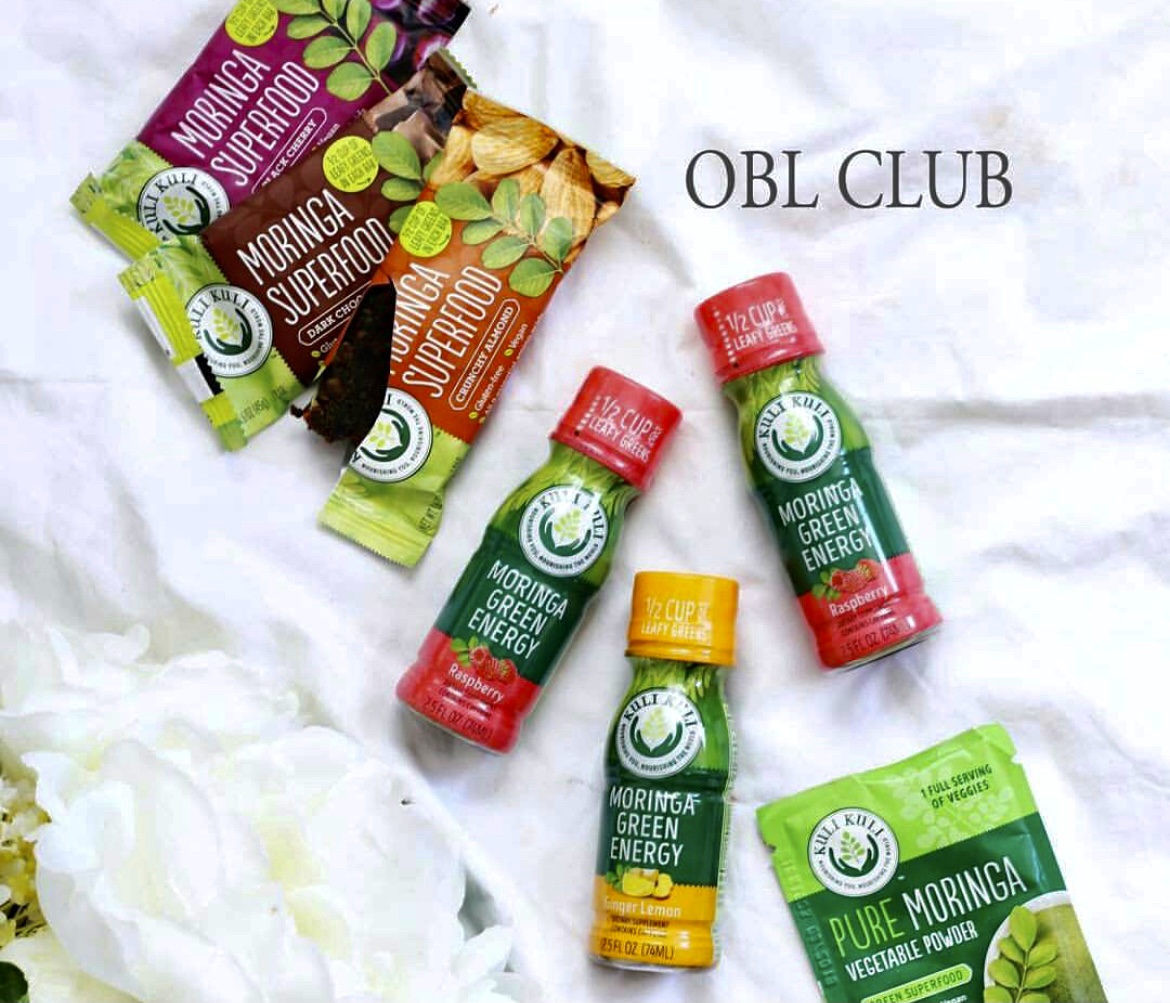 Where Can You Find Kuli Kuli Fods
Kuli Kuli sells their products in over 11,000 retail stores across the United States. Directly from their website they ship throughout the United States and also sell via Amazon, Thrive Market, etc
Kuli Kuli Food Certifications
B Corp certified
Member of OSC2, a network of businesses regularly working together to address sustainability issues in the natural products industry
All Kuli Kuli Foods products are certified organic except for their energy bars
They third-party audits and verifications to ensure their standards are met
USA inspected
Ingredients are 4x tested for quality assurance
Direct farmer relationships (no middlemen)
Their moringa is inspected for microbiological inspection and heavy metals. The moringa is tested at least four times before meeting the shelves.
All products are vegan except Honey Chamomile Green Tea Energy shot
Kuli Kuli was born when founder Lisa Curtis was working with women farmers in Niger. On their request, she decided to partner with them to bring their moringa to the US while building a sustainable future for these farmers.
Their moringa leaves are sourced from small family farms that meet their high standards for quality and impactful sourcing. By partnering with local entrepreneurs to create sustainable supply chains, they're able to provide nourishment, livelihoods, and reforestation in communities around the world. With each supplier, Kuli Kuli Food's focus is on regenerative agricultural practices, women's empowerment, and unlocking access to nourishing superfoods locally.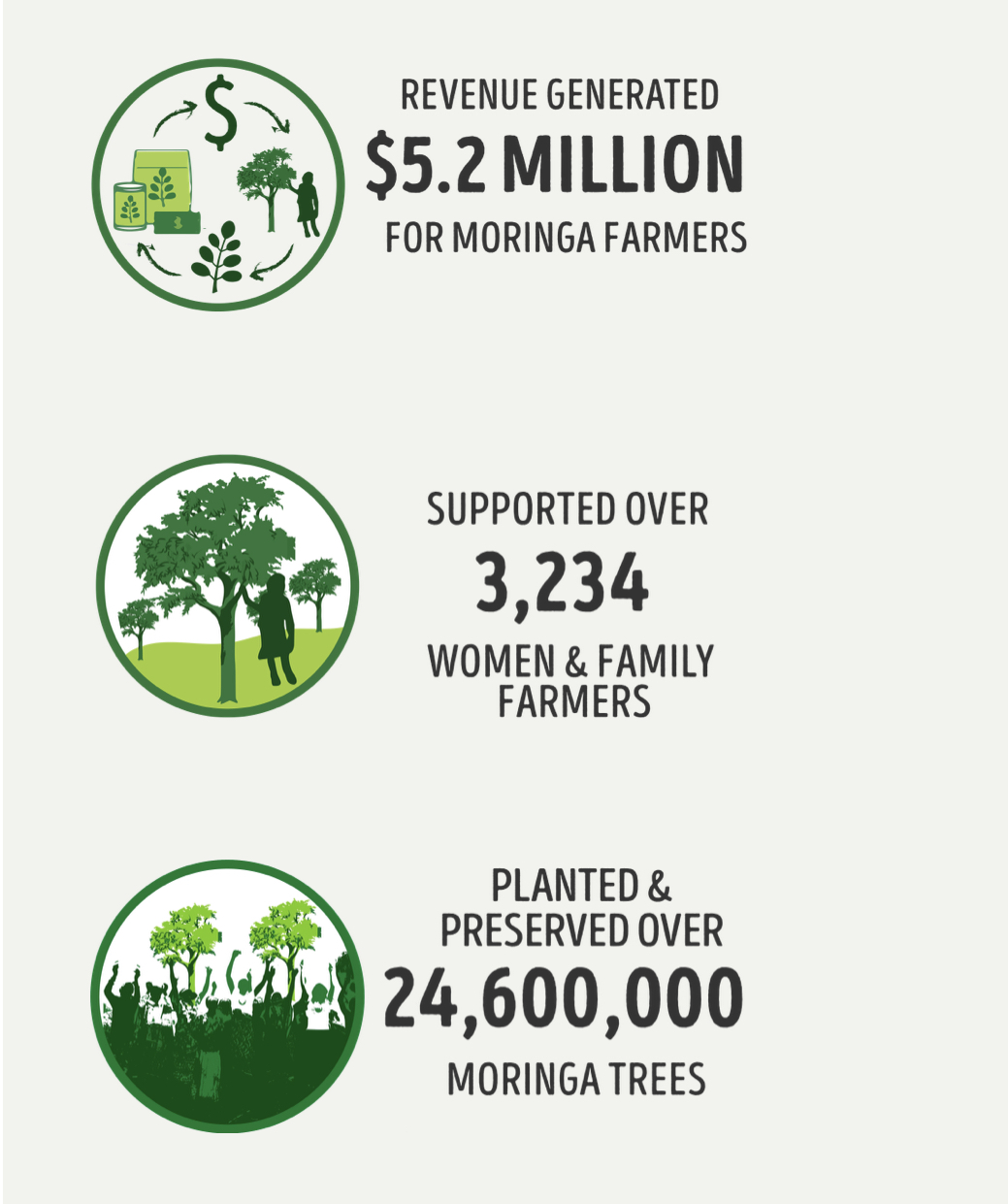 Moringa Benefits
More nutritious than kale and more anti-inflammatory than turmeric, Moringa is a nutrient powerhouse.
Moringa has 2x as much protein as yogurt, 4x the Vitamin A of carrots, 3x the potassium of bananas, and 6x as much iron as kale.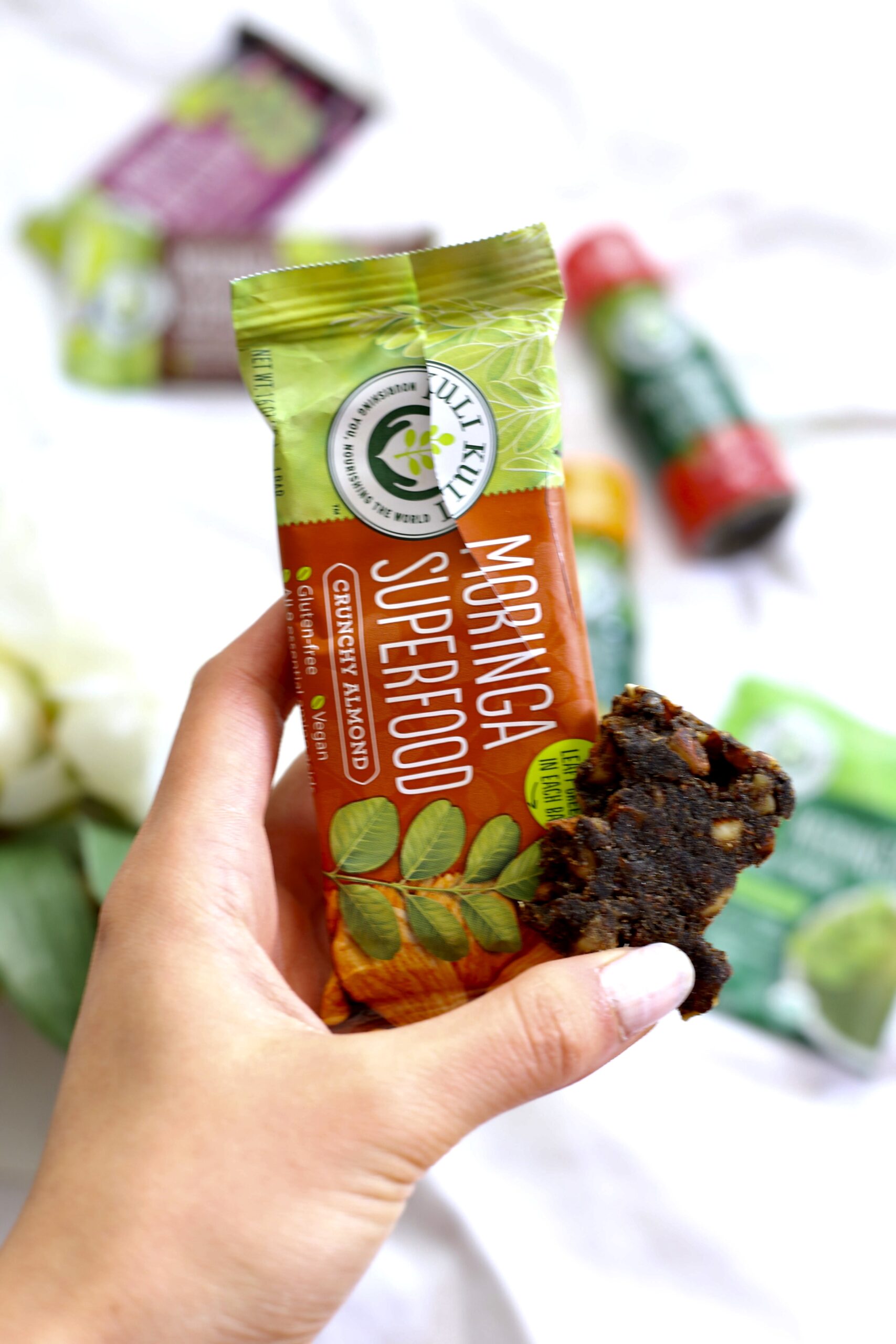 I love these soft nutritious bars that have just the right amount of sweetness I can't even taste the moringa at all! Crunchy Almond is my favorite.
Whole Ingredients
Vegan
Non-GMO
Gluten-Free
Fair Trade Certified Chocolate
Kosher Certified
Sustainably Sourced from Small Farmers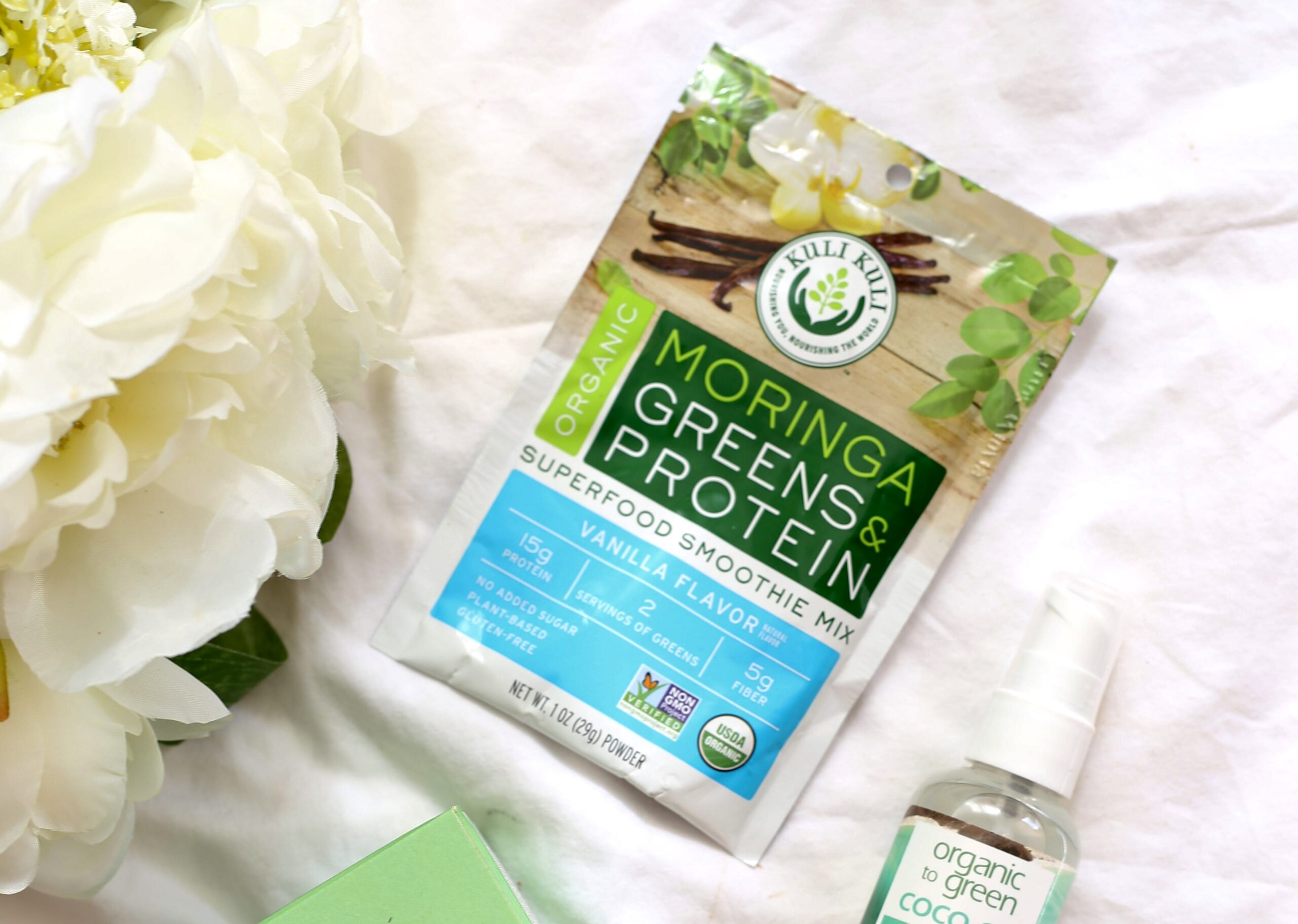 The Moringa Greens & Protein is also creamy and delicious.
1 cup of leafy moringa greens per serving

Caffeine-free energy 

Plant-based

No added sugar

Easy to Prepare – Just add liquid

8g Protein per serving

4g Fiber per serving

Organic

Non-GMO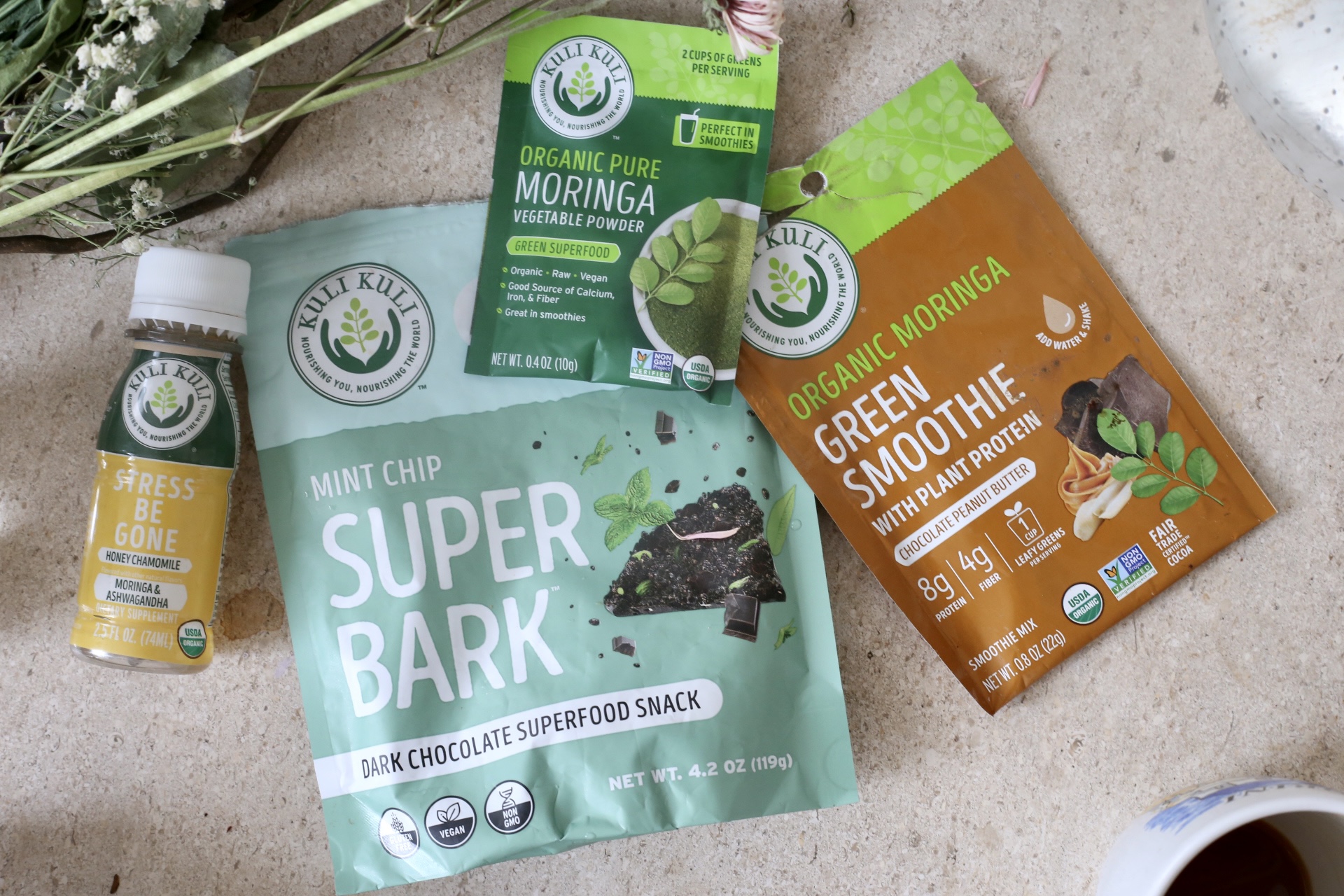 The Moringa sachets are fantastic for greens on the go, especially as someone who doesn't get nearly as many greens in as she should! One packet of Kuli Kuli's Pure Moringa Powder is equivalent to a full serving of vegetables and has 5x the value of a moringa capsule.
Super Bark Dark Chocolate snack is a crunchy brittle chocolate with a strong mint taste. They're not very sweet and can be so addicting.
The Kuli Kuli energy shots are very tasty and are a nice pick-me-up during the day. I just wish it were packaged in glass.
Energy Shot Ingredients:
Organic Moringa powder
Organic Lion's Mane powder
Organic Green Tea Extract
Water
Organic Tapioca Syrup
Organic Lemon Juice
Organic Natural Flavors
Xanthan Gum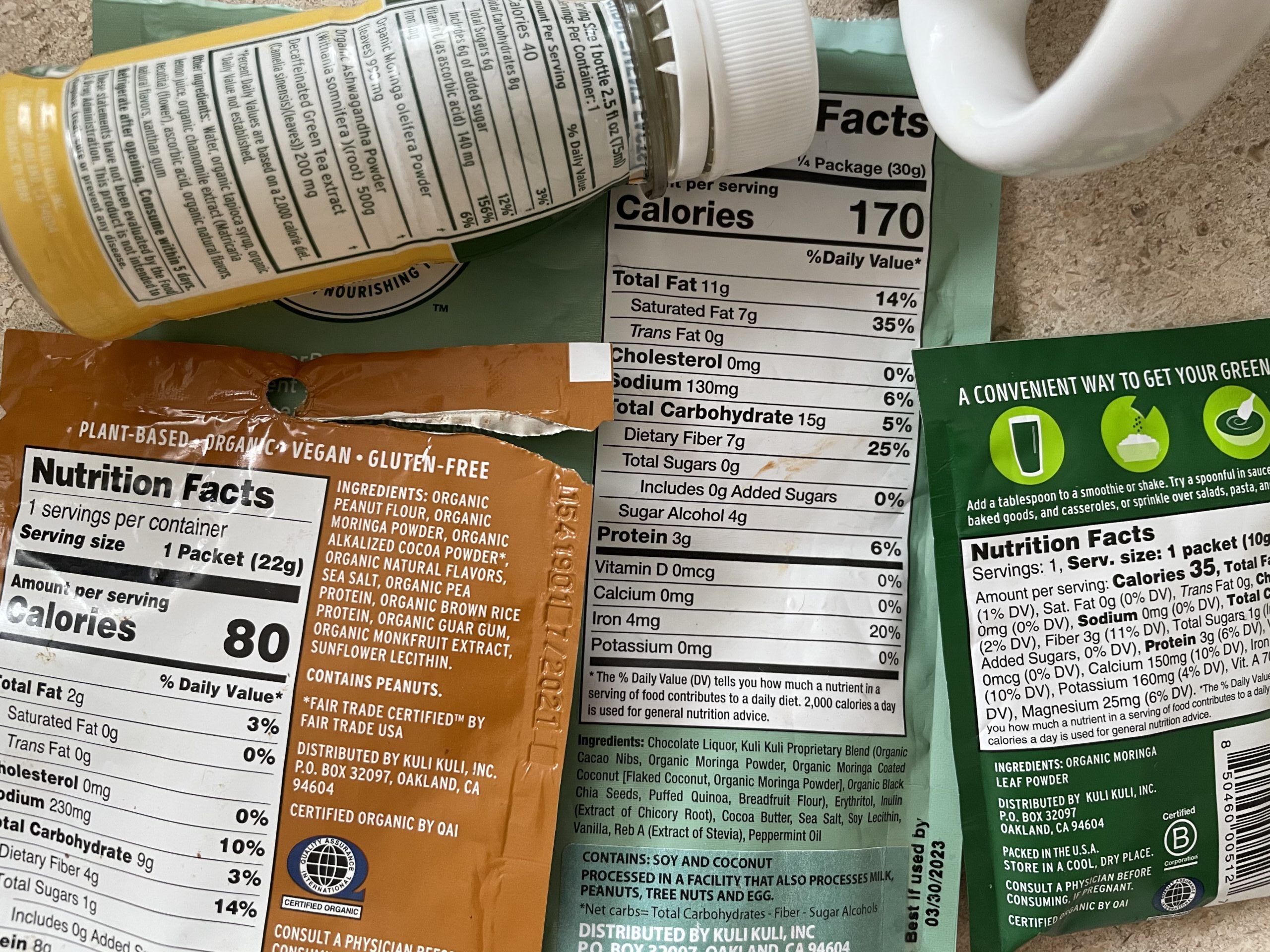 Use discount code OBL to save 15% sitewide.