Neshama Perfumes Review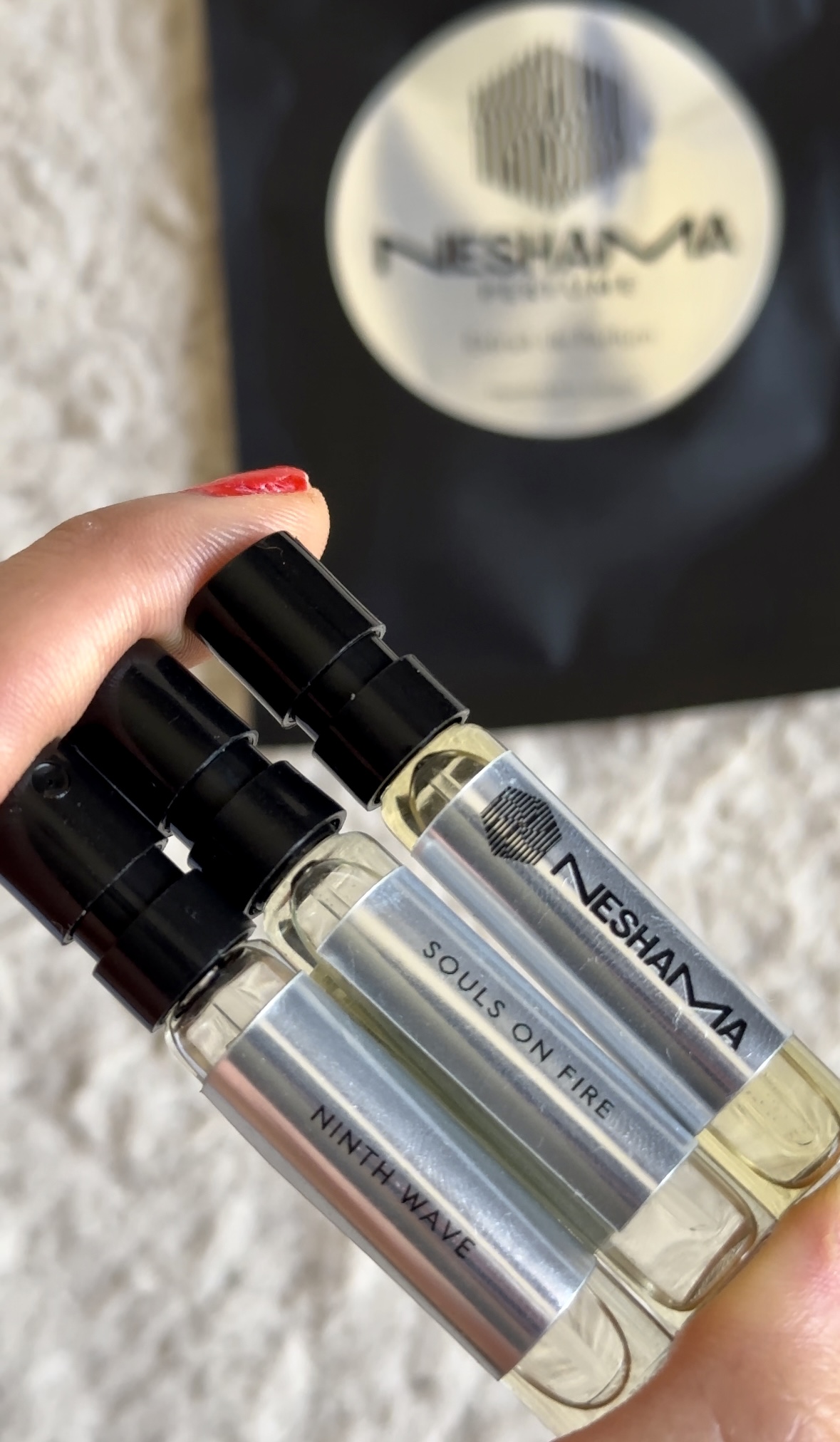 Hailing from London, Neshama Perfumes is a relative newcomer to the niche perfume scene, but they've already been making waves. Their Souls On Fire Osmanthus Floral was recognized by the Art and Olfaction Awards 2023 and they're still only currently having their soft launch. Neshama, which means soul in Hebrew, is a reflection of founder Simon Shaer's love for the wonder of natural materials in perfumery. The line currently offers three fragrances: The Ninth Wave, Souls On Fire and Jasmine and Tobacco Absolute. I was kindly sent over a sample set (also available for purchase) to try out all the Neshama scents and am excited to share my thoughts!
During Neshama's soft launch you can grab their perfumes on Etsy.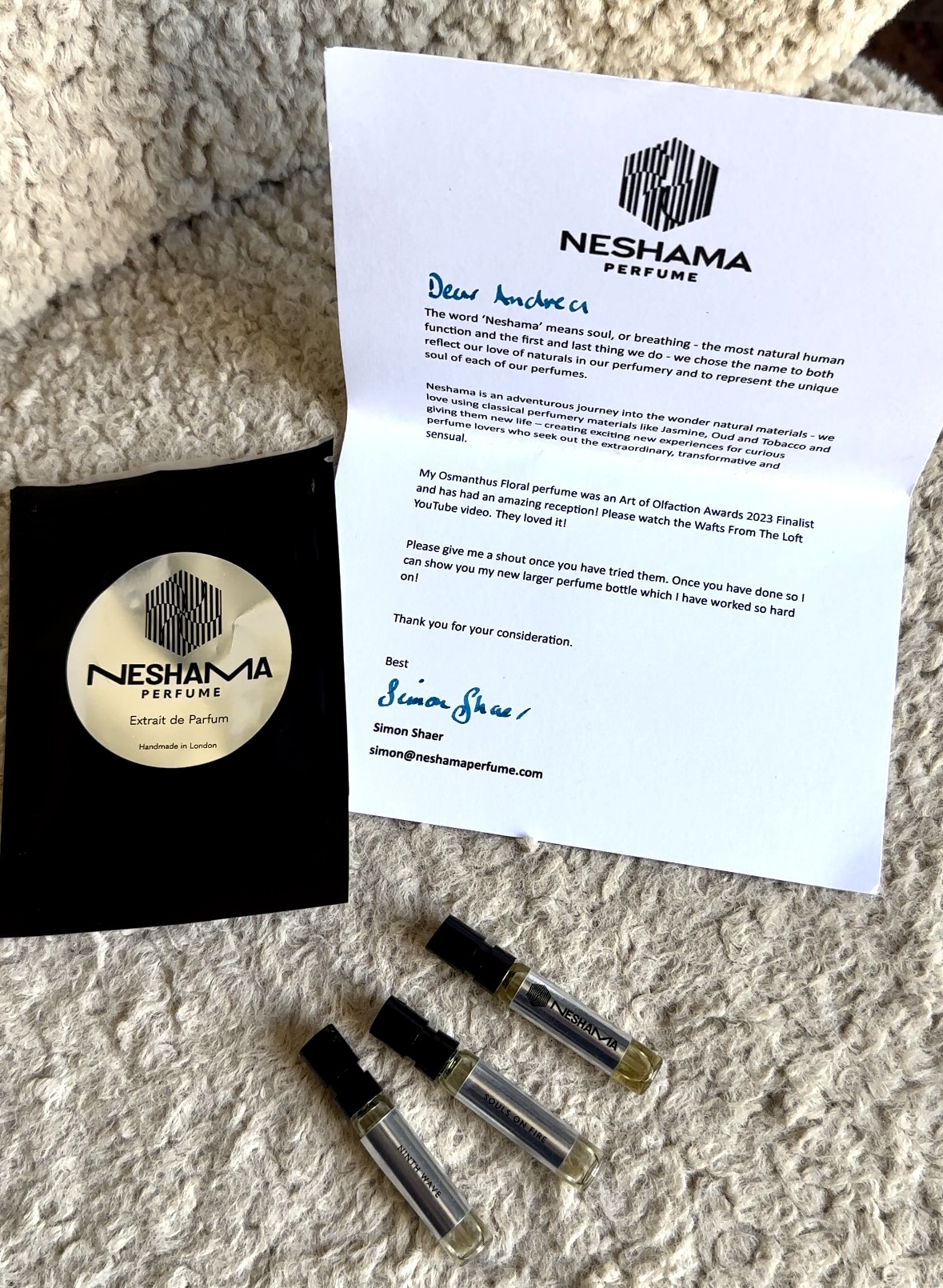 Souls On Fire Osmanthus Floral
I have to start with Souls On Fire, since it's my favorite. All three of Neshama's perfumes are floral, but each is unique. Souls On Fire is a narcotic spicy floral that seems to put my senses in a trance.
The concentration of this perfume is 20% and the key smells are Thai Osmanthus Absolute produced by Enfleurage in New York and Egyptian Jasmine from Albert Vieille who is based in the French perfume capital of Grasse. Both these companies make the highest quality natural perfumery materials. The perfume also has a small dose of civet, tobacco, and pink pepper to add spice. This perfume is like that of a pink sunset at the height of summer.

All these ingredients are sustainably sourced and we use a beautiful organic grain alcohol. This product contains real civet.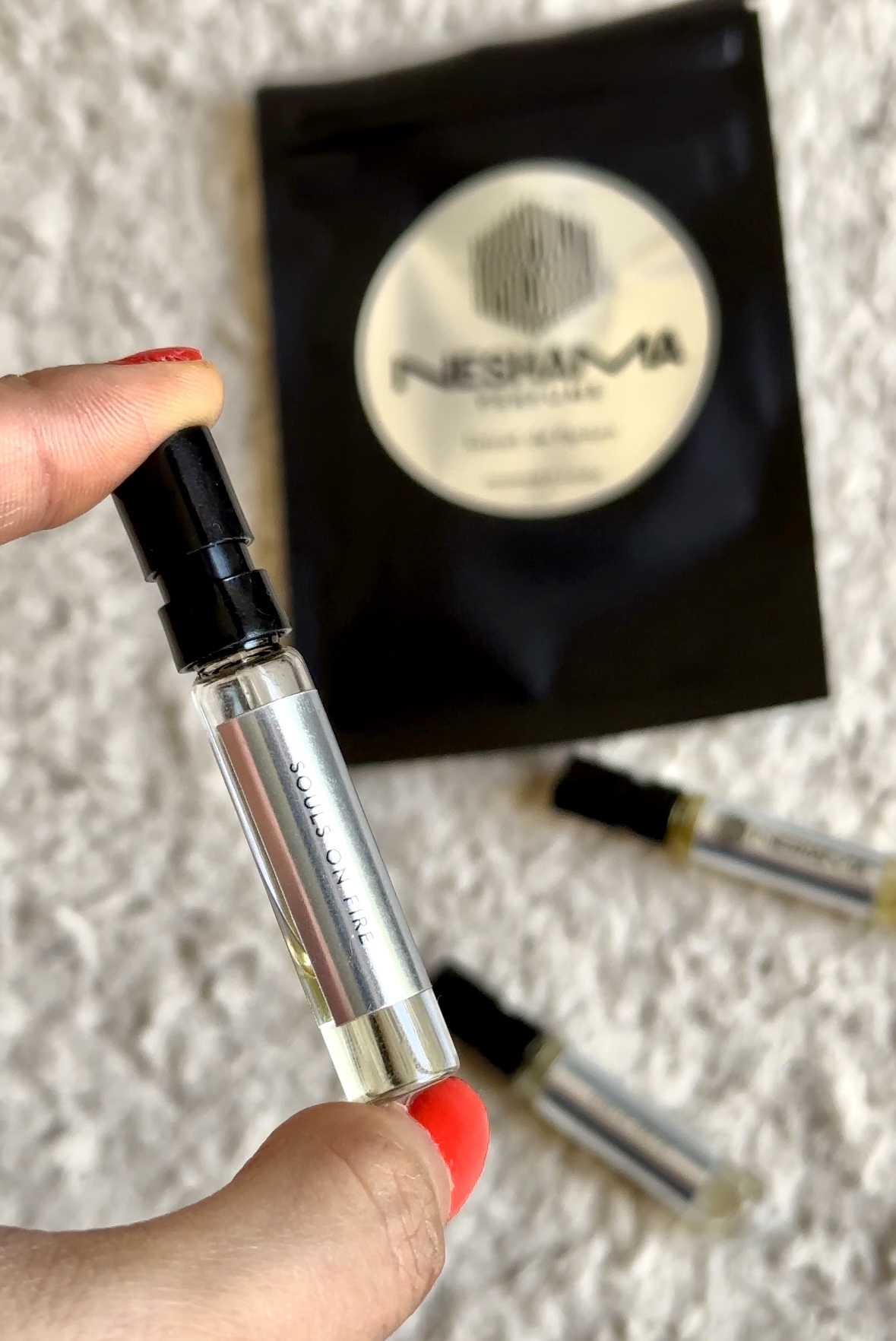 The jammy floral nature of Osmanthus blends beautifully with the darker note of leather and spiciness of pink pepper, while jasmine makes it all the more intoxicating. I'm still relatively new to the world of niche perfumes and I don't think I've smelled an osmanthus perfume before, which I'm guessing is because it's an uncommon and precious ingredient.
Because this is a natural perfume, it won't have the same projection or village as toxic perfumes, but there is some before it fades after a few hours.
Neshama Perfumes Jasmine and Tobacco Absolute
With Jasmine and Tobacco Absolute, you get a strong theme of Jasmine and Tobacco as the name suggests, but it also boasts plenty of depth with notes of New Caledonian Sandalwood, Cedarwood Virginia, Bergamot, Labdanum and Benzoin plus some spices. To me, this one is the more masculine leaning perfume in Neshama's line compared to The Ninth Wave and Souls On Fire. There's a bubbly quality to this perfume and it almost reminds me of Coca Cola.
Neshama Perfumes The Ninth Wave
I could have sworn that The Ninth Wave smelled floral woodsy to me, but it's actually a sandalwood and oud-focused fragrance though there is some geranium in it. The notes are:
Sandalwood, nargamotha, oud, castoreum, cedrat, bergamot, black pepper, geranium, cedarwood Virginia, cedarwood Atlas, nutmeg and oakmoss
This is a warm woodsy scent with spicy, earthy facets thanks to black pepper, nutmeg and oak moss. Generally these aren't notes I gravitate towards, but the sandalwood and oud steal the show here. Unfortunately, because I'm a noob I'm not familiar with the scent of nargamotha and castoreum. The Ninth Wave does lean slightly more masculine but I can picture myself wearing this.
Final Thoughts
Oftentimes niche perfumes predominantly cater to the fragrance snob community and not at all to the masses. They can sometimes be a little too unusual, too niche, too out-of-the-box for someone looking for a cookie cutter type of scent. Having said that, I do think Souls On Fire is a crowd-pleasing type of fragrance.