Henry Rose Review: Best & Worst Henry Rose Perfumes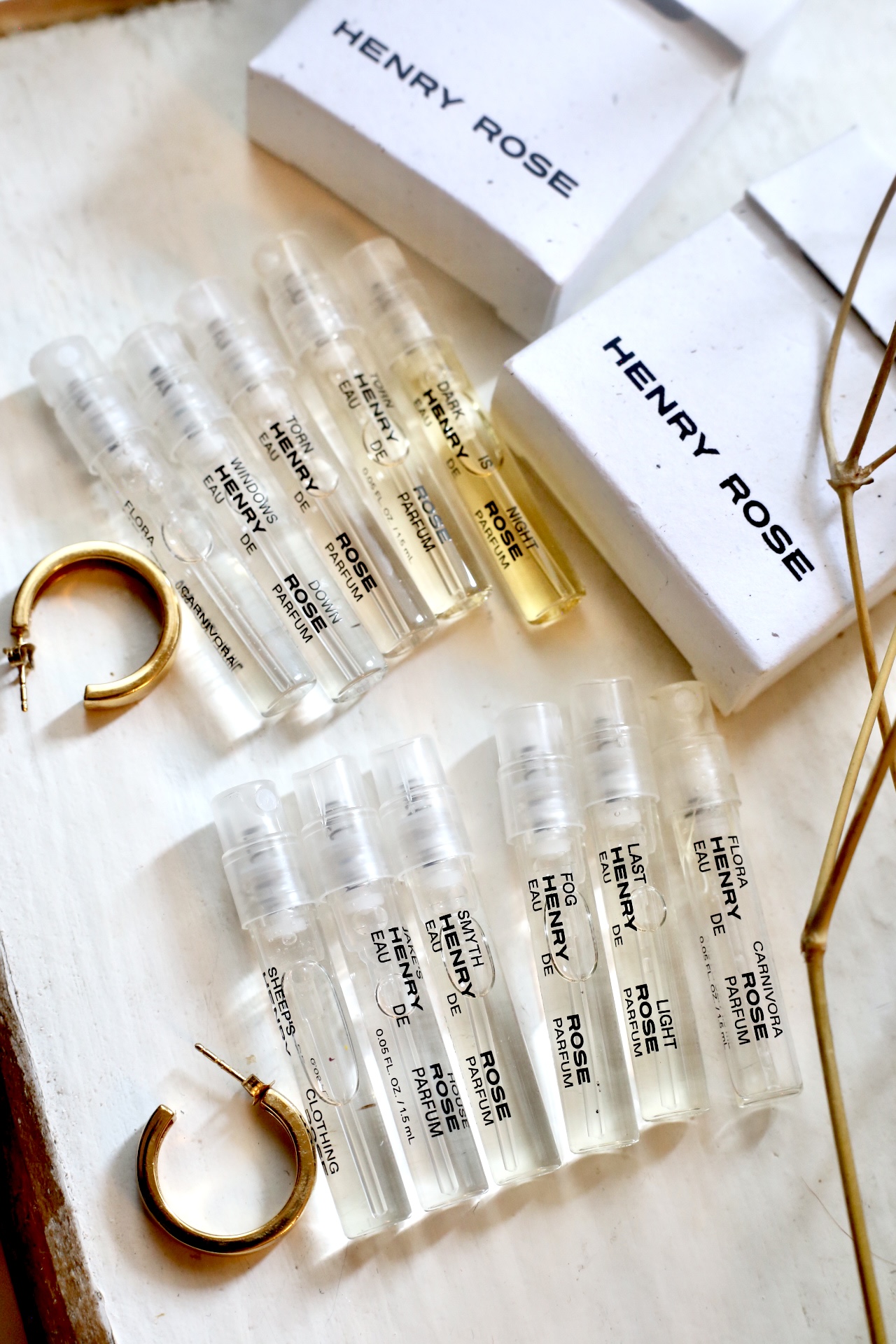 Famously founded by Michelle Pfeiffer, Henry Rose is a unisex clean perfume brand that's as safe and transparent as possible. Michelle Pfeiffer swore off conventional fragrance when her kids were born over a decade ago, and in 2019 launched Henry Rose with five perfumes. Henry Rose is the only line of clean perfumes to be formulated with the Environmental Working Group. They're also 100% transparent in disclosing every ingredient used and hold multiple certifications that ensure quality and safety. Henry Rose is EWG Verified (stands for health, transparency, and good manufacturing practices) and Cradle to Cradle Certified (one of the world's most rigorous product sustainability standards). So toss aside your Jo Malone and read on for the best and worst Henry Rose perfumes!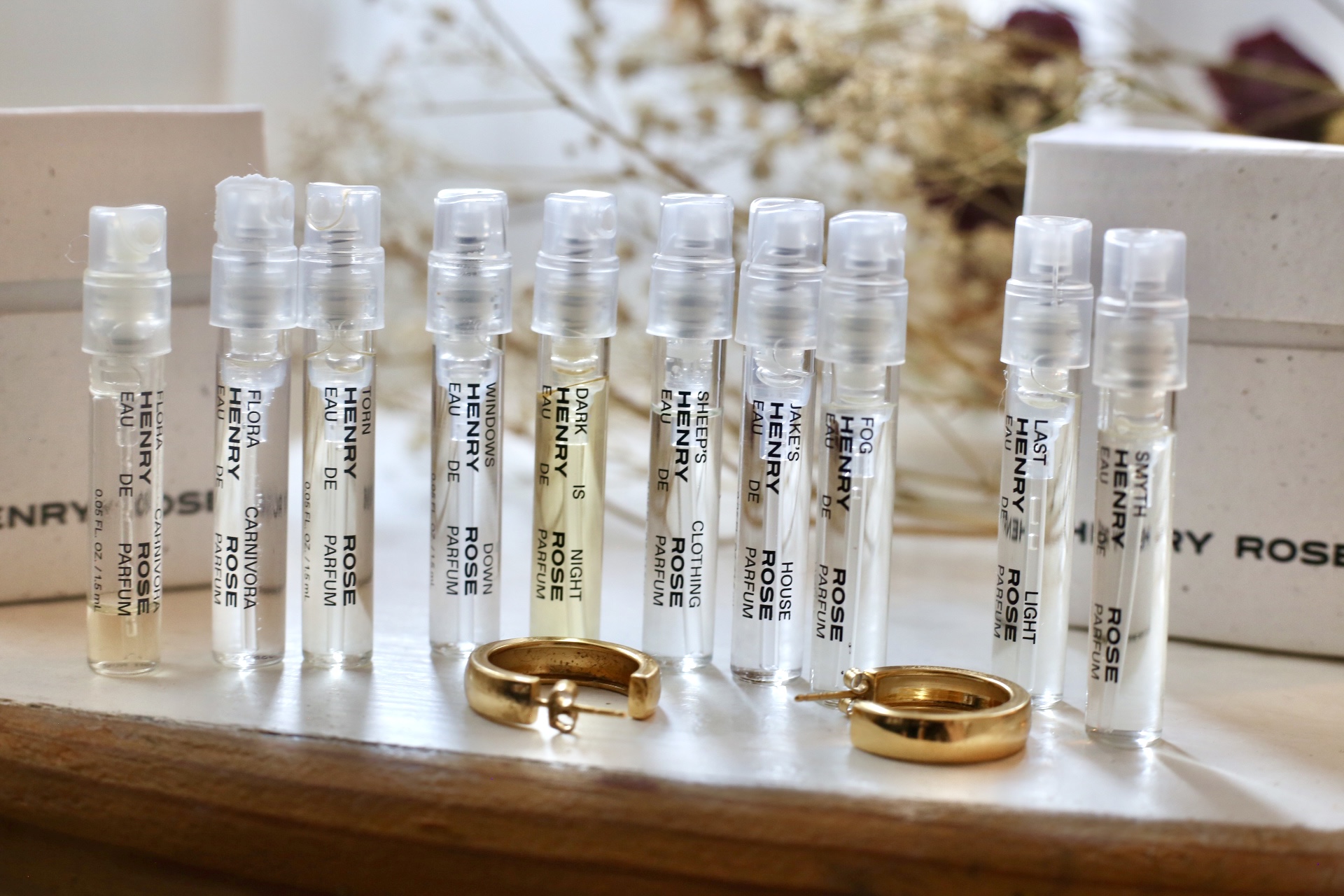 I purchased the Henry Rose Discovery Set, which comes with 10 perfume samples. Overall, I found Henry Rose to be a true genderless unisex type of clean fragrance line, with certain scents leaning more masculine and others feminine. As with any line, there are some real standouts and others that get lost in the crowd. The full size Henry Rose perfumes come in a minimalistic no-frills transparent glass bottle with black cap. They also lean slightly on the expensive side for a clean perfume made with synthetics.
Check out the newest posts:

Longevity: 3 hours maybe 4 depending on the number of spritzes. Certain scents are much lighter than others and fade quickly, particularly  Sheep's Clothing and Windows Down.
Henry Rose is not sold at Sephora or Amazon. For clean perfume brands that are sold on Amazon click here.
Most Popular Henry Rose Scents
These are the Henry Rose scents I consider the best – keep in mind this is personal to me and everyone can have different favorites according to their taste!
Jake's House (Clean & soft honeyed musky floral)
Jake's House is a perfectly unisex scent that's neither too masculine nor too feminine. It goes right down the middle and would work just as well for a man as it would for a women. Henry Rose Jake's House is clean, easy, and soft with a honeyed characteristic to its floral and musky notes. There is an everyday type of scent and could easily be worn on its own and layered with other perfumes without becoming offensive. Top notes: fresh marine Middle notes: Neroli, Peony, Jasmine Bottom notes: Ambroxan, Musk
If you love florals but don't want something too sweet or juvenile, I think Flora Carnivora is a great scent to check out. This is Henry Rose's only true floral scent and one of their most recent new launches from 2021. Flora Carnivora is much more feminine leaning and floral but not in a bright, uplifting way – this is a grounding and sultry floral with earthy and musky characteristics that feels grown up. You have the fragrant jasmine, tuberose and orange flower at the heart of the perfume, but deepened with vetiver oil, cedarwood, opulent  musks and Amber. I find it to be a softly rich and sultry white floral scent. Update: Flora Carnivora just won an Allure Best of Beauty 2022 award for best clean fragrance!
Torn

(sweet warm vanilla floral)
I'm such a sucker for vanilla scents and Torn is no exception. This is a yummy vanilla floral perfume with Rose, violet and jasmine at the heart and a base of Musk, Patchouli, Sandalwood, Vanilla Bean and Praline. I love the addition of patchouli and violet, which are scent notes I don't find very often used together  in clean perfume lines that aren't 100% natural and include synthetics. To me this is a scent that seducts but remains playful. It's a cozy, sultry, warm and sweet vanilla perfume that I can see most vanilla lovers enjoying or millennials upgrading to a more sophisticated vanilla scent. I cannot picture this scent on a man or on an older generation of women.
Dark is Night (sexy smoky earthy vanilla)
I don't consider Dark Is Night an everyday perfume as I have to be a in a particular mood to choose a "dark" and very rich earthy scent over lighter, more feminine scents, but Dark Is Night is beautiful, sexy and interesting. This is a very rich and heavy scent, and the longest lasting scent in the Henry Rose line. I spritzed this in the morning and I could still smell it in the early evening. While I say that it's not an everyday scent for me, that could change once fall and winter rolls around. In fact, I'd probably totally want a full sized bottle of Dark Is Night for winter. The notes are vetiver, freesia, patchouli and vanilla bean, but I mostly detect just the patchouli and vanilla bean.
Worst Henry Rose Perfumes
Okay keep in mind my worst scents are easily someone else's best scents, but here are the Henry Rose perfumes that I didn't like. And when I say "worst" I don't mean they're bad scents, I just wouldn't purchase a full sized bottle for myself.
I just can't picture myself ever shelling out $130 to buy a full sized bottle of Windows Down. I didn't feel drawn to this scent and nothing about it really stood out to me like some of the other scents. Windows Down is a light floral scent that's clean and crisp with some musk and green. The base notes are moss, guaiacwood and musk. For me, it leans a little too masculine but I'm not sure I would even care to smell this on a man. Though it's in no way offensive and I know many people love Windows Down, unfortunately it reminds me of any generic mass-produced perfume to be brutally honest. Maybe it's because I've been testing clean perfumes non stop for the last year, but Windows Down gets lost in the crowd for me.
Oh boy, Smyth. I tried hard to get into this perfume, but I just did not like this scent no matter what. I couldn't get over how much it reminds me of Bath and Body Work's fruity hand soaps. Smyth is a little too juvenile and sickly sweet for me, and much more suited to a younger customer. It's a juicy Jolly Rancher green apple scent that dries down to something generic. Smyth is another Henry Rose scent that disappears into the crowd. Top notes: Melon, Green Apple, Sorbet, Pineapple Middle Notes: Star Jasmine, Apricot, White Tea Base notes: Sandalwood, ISO E Super, Musk, White woods
Other Henry Rose Scents
Other Henry Rose scents were perfumes I enjoyed but weren't exactly enamored with were:
Fog

: I can see Fog entering my Best Of list  Fog in the winter, but I'm not as drawn to it in the current summer. I also hesitate to include Fog in my " Best Of" list as I know most women are partial to feminine, floral scents. This is a true woodsy scent that reminds me of Abbott NYC's Sequoia and Heretic's Sandalwood (which are both beautiful in their own way), except Fog has a tinge of sweetness to it that makes it a more alluring scent.
Sheep's Clothing: Strong opening pepper note that becomes a very light musky Rose. Don't think I'd spend $130 on a full size. This is a classic old-fashioned type of scent.
Last Light: Hard to put my finger on this scent as I neither loved nor hated it. I detected a sweet fruity scent with an underlying woodsy and musky characteristic. It's easygoing and inoffensive, but not sure I'd actually spend $130 to buy a full size. Last Light is particularly suited to peach scent lovers.
Easy and light:
Last Light
Windows Down
Sheep's Clothing
Jake's House
Smyth
Heaviest:
Most feminine:
Flora Carnivora
Last Light
Smyth
Torn
Most masculine:
Not a Fan of Henry Rose? Here's My Suggestions
If you're not a fan of Henry Rose's scents because they lean too masculine, cloying or heavy, then allow me to suggest the below clean perfume lines that lean more feminine: