Best DERMA E Products Review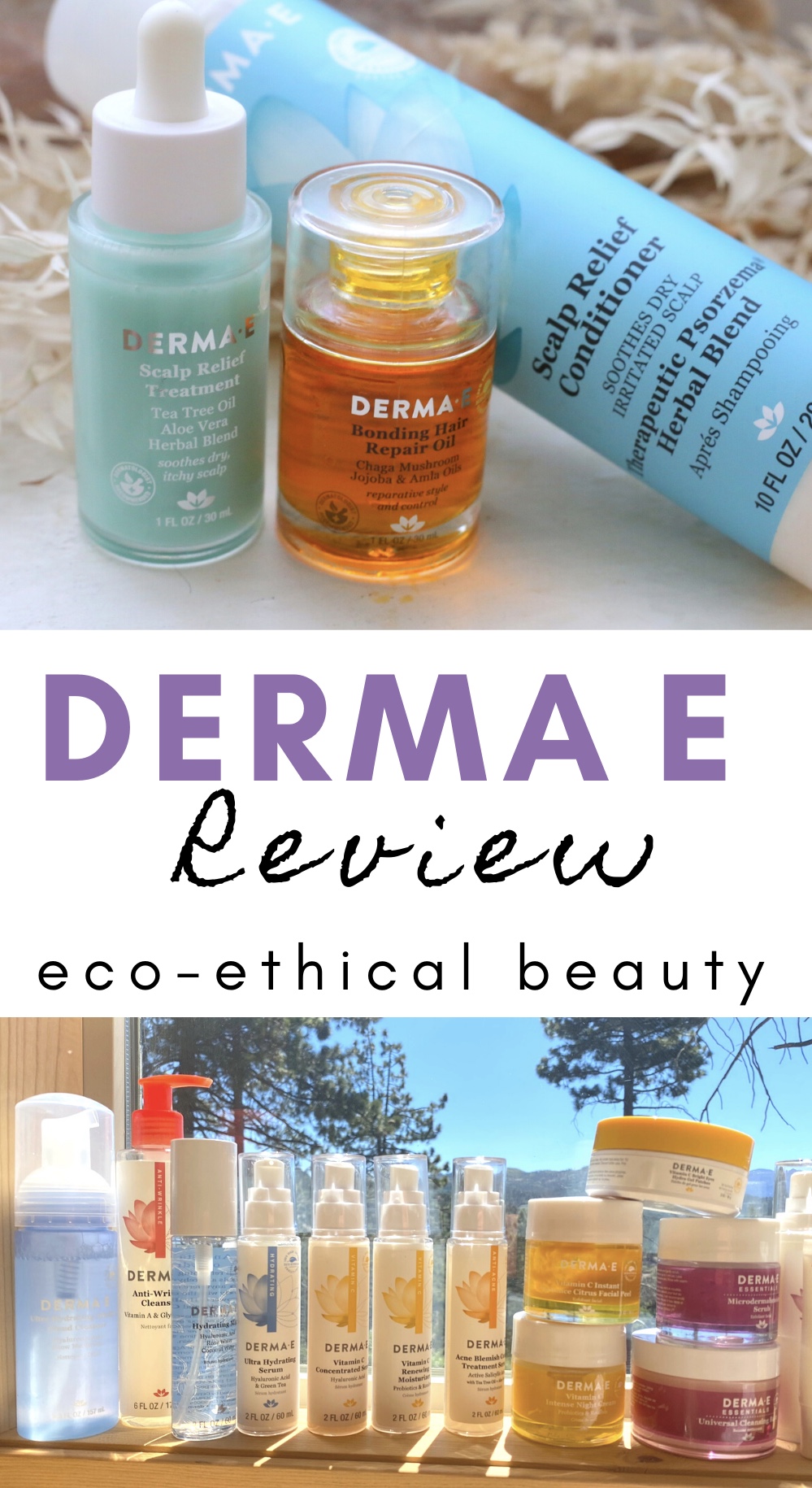 DERMA E is one the largest natural skincare brands in the US that makes affordable vegan products sold everywhere from Target and ULTA to Whole Foods and Sprouts. With everything from skincare to scar gel and sunscreen to hair care, DERMA E could easily take over your entire personal care and beauty routine. DERMA E call themselves a clean, eco-ethical brand because of their commitment to natural ingredients, the environment and giving back. Even though not all DERMA E products are 100% natural (they're a 100% vegan and cruelty-free brand), this company offers such a wide selection of products at incredibly accessible prices. In this DERMA E review, I'm sharing the best DERMA E products, from hair care to skincare including their new Scalp Relief products.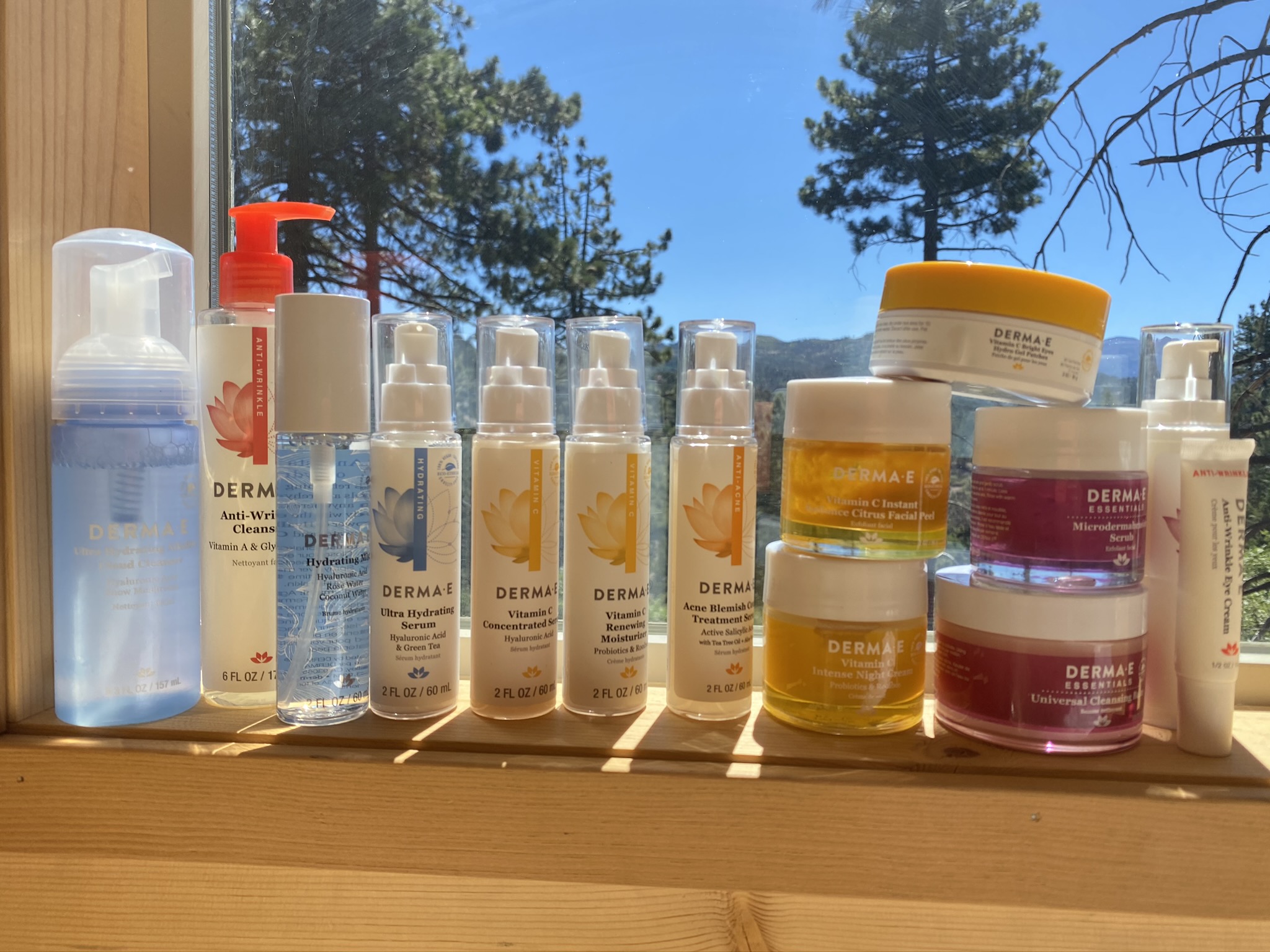 The reason DERMA E is not 100 percent clean is because they do include Phenoxyethanol as a preservative. While some DERMA E products are 100% natural and don't contain Phenoxyethanol, others may have synthetics. So if you're avoiding Phenoxyethanol then check individual products, and if not, you can be rest assured that DERMA E formulas are clean. DERMA E has an extensive "Refuse to Use ™ List" of over 2700 ingredients that they have been building since their inception in 1984. This list of banned ingredients include common offenders like: parabens, phthalates, formaldehyde donors, animal ingredients, synthetics fragrances, and more.
DERMA E also uses recyclable packaging components and offsets 100% of conventional electricity use with wind energy certificates. Every DERMA E purchase goes towards helping various social and environmental causes like: Paraguay Project, Vitamin Angels, World Wildlife Fund, Heal the Bay and Special Olympic.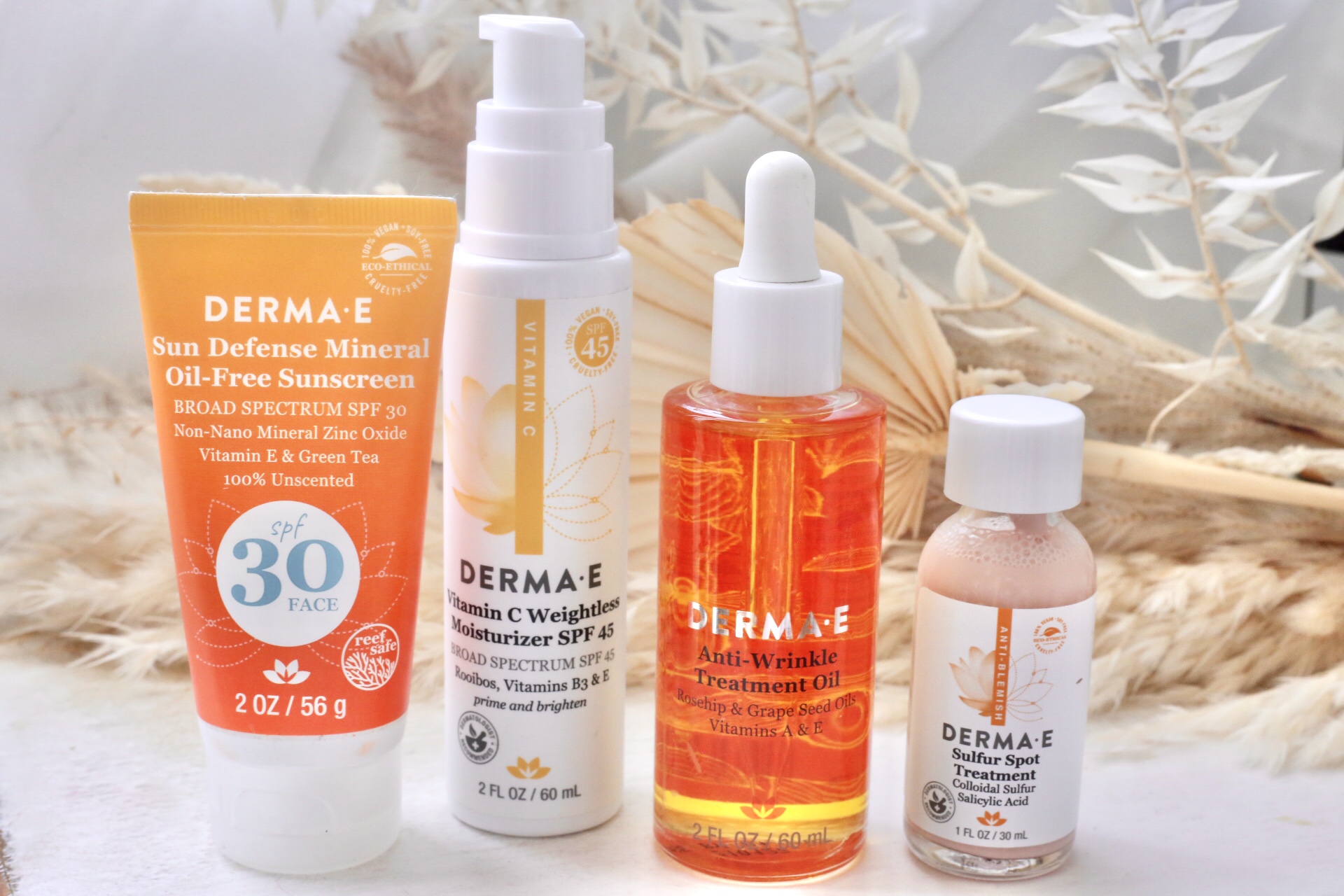 DERMA E is constantly innovating and launching multiple new products regularly. Blue light protection is suddenly the people's concern? Bam, DERMA E has come out with Blue Light Shield Spray. The people want a product that combines Vitamin C and mineral sunscreen protection, doesn't feel heavy and has a high SPF? Bam, DERMA E has launched Vitamin C Weightless Moisturizer SPF 45. Everyone's scalp is feeling itchy and flakey throughout 2020 and beyond? DERMA E says try our new Scalp Relief treatments. Ask and ye shall receive with DERMA E.
DERMA E also has promotions and sales going on regularly. Currently there's a 30% off sale on $40+ orders. If you miss one, a new one will always pop up sooner than later. So let's get right into this Best of DERMA E review.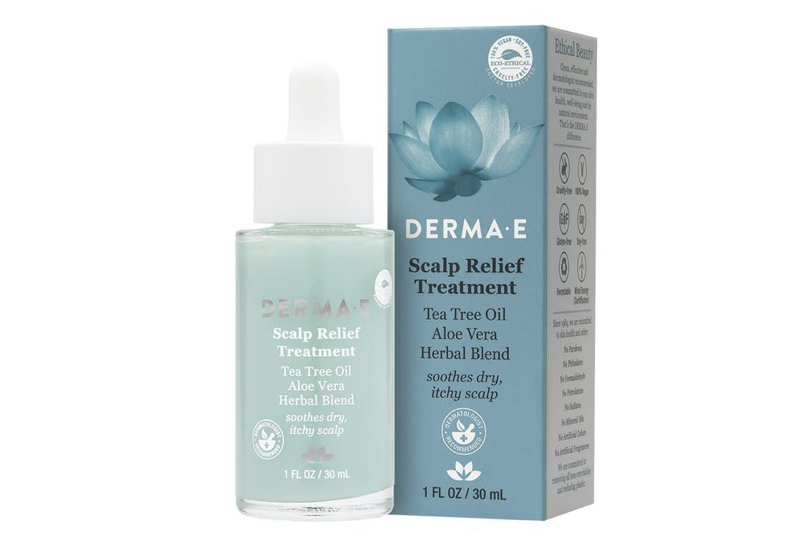 Looking for a itchy scalp solution or just a healthy, balanced scalp? The DERMA E Scalp Relief Treatment is perfect if you're suffering from an itchy or flaky scalp. DERMA E Scalp Relief Treatment is now award-winning and earned itself "Best Scalp Soother of 2021" by New Beauty Magazine.
A little bit of background on my hair: Because my hair is chemically processed and damaged I only wash it max twice a week. This causes my scalp to get itchy in between washes, sometimes even keeping me up in the middle of the night.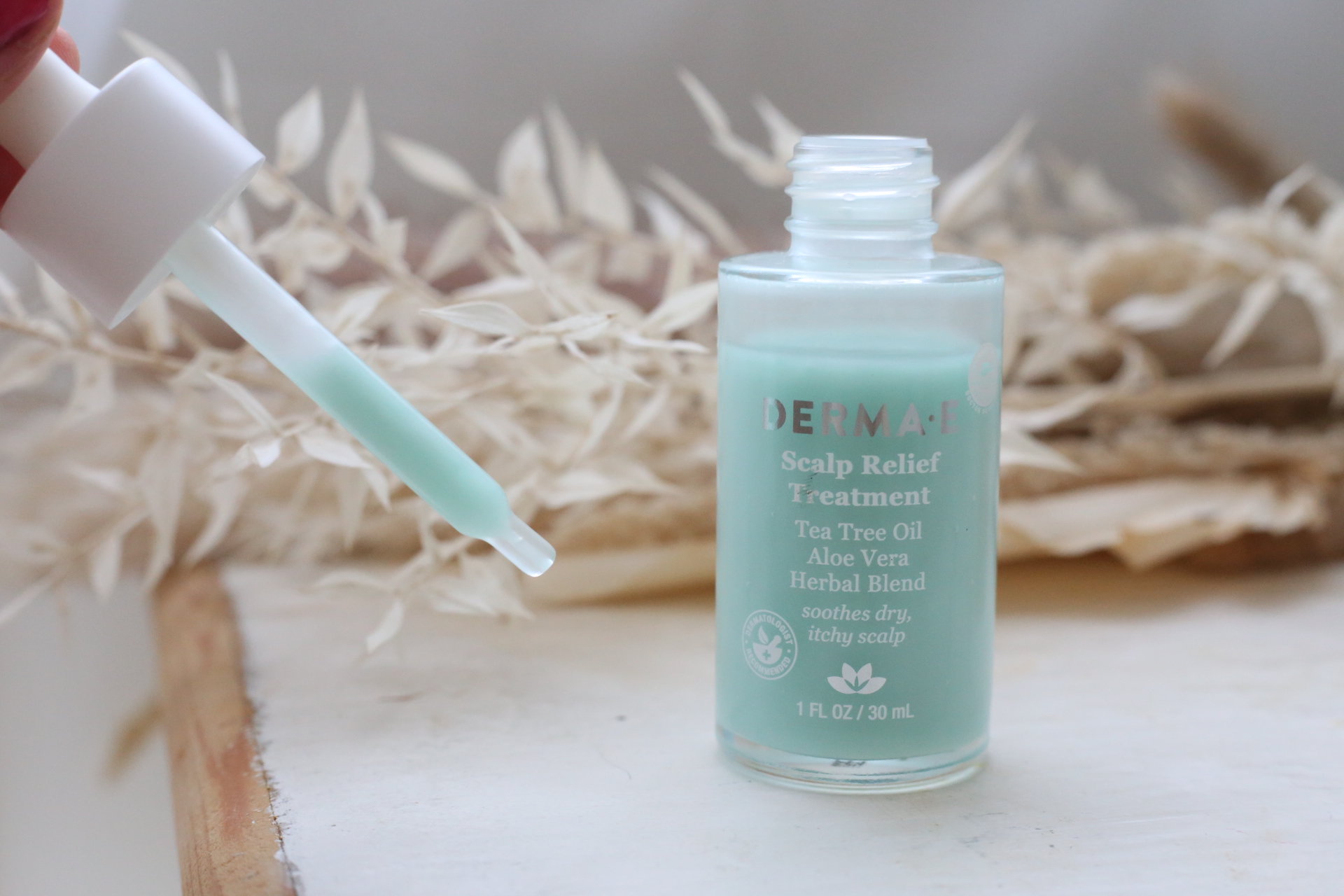 Enter DERMA E Scalp Relief Treatment, one of their newest hair products to launch — and it's less than $14. This targeted haircare product contains purifying Tea Tree Oil and cooling Menthol to soothe dry, flakey, and itchy scalp. Scalp Relief Treatment is also nourishing for the scalp with moisturizing Aloe Vera, Sea Kelp and adaptogen Amla Extracts (amazing for hair) and DERMA E's proprietary Herbal Blend of Neem, Burdock and Bearberry.
DERMA E's Scalp Relief Treatment is a liquid serum with a gorgeous sea green shade that comes from Blue Algae Powder. The serum can be used either on wet hair right after showering or as an overnight treatment.
HOW I USE SCALP RELIEF TREATMENT
I first have to give the Scalp Relief Treatment a good shake as the ingredients tend to separate. Then I take the dropper and use about 4-5 full droppers to apply the treatment all over my scalp. The DERMA E Scalp Relief Treatment gives my scalp a cooling sensation of instant relief that lasts for half an hour up to an hour. For a more intense treatment, I use an ample amount overnight, and for continued maintenance, a dropper or two on wet hair after a shower.

Key Ingredients:
Tea Tree Oil: This essential oil works to cleanse the scalp while improving scalp health.

 

Sea Kelp Extract: Rich in vitamins, this

 moisturizing 

algae helps to promote a healthier scalp and stronger hair.

 

Blue Algae: Works to moisturize
Amla Oil: This nutrient-rich moisturizing oil helps to promote hair thickness and

 health.

 
Ingredients: Aloe Barbadensis Leaf Juice*, Purified Water, Glycerin, Olive Oil Glycereth-8 Esters, Melaleuca Alternifolia (Tea Tree) Leaf Oil, Macrocystis Pyrifera (Sea Kelp) Extract, Aphanizomenon Flos-Aquae (Blue Algae) Powder, Emblica Officinalis (Amla) Fruit Extract, Melia Azadirachta (Neem) Leaf, Arctium Lappa (Burdock) Root Extract, Arctostaphylos Uva-Ursi (Bearberry) Leaf Extract, Fagara Zanthoxyloides Bark, Menthol, Methone Glycerin Acetal, Niacinamide, Chamomilla Recutita (Matricaria) Flower*, Camellia Sinensis (Green Tea) Leaf Extract*, Hamamelis Virginiana (Witch Hazel) Leaf Extract, Coptis Chinensis Root Extract, Mentha Arvensis Leaf Oil, Mentha Piperita Leaf/Stem Oil, Caffeine, Epilobium Angustifolium (Willowherb) Flower/Leaf/Stem Extract, Willow (Salix Alba) Bark Extract, Copper PCA, Leuconostoc /Radish Root Ferment Filtrate, Xanthan Gum, Potassium Sorbate, Ethylhexylglycerin, Phenoxyethanol.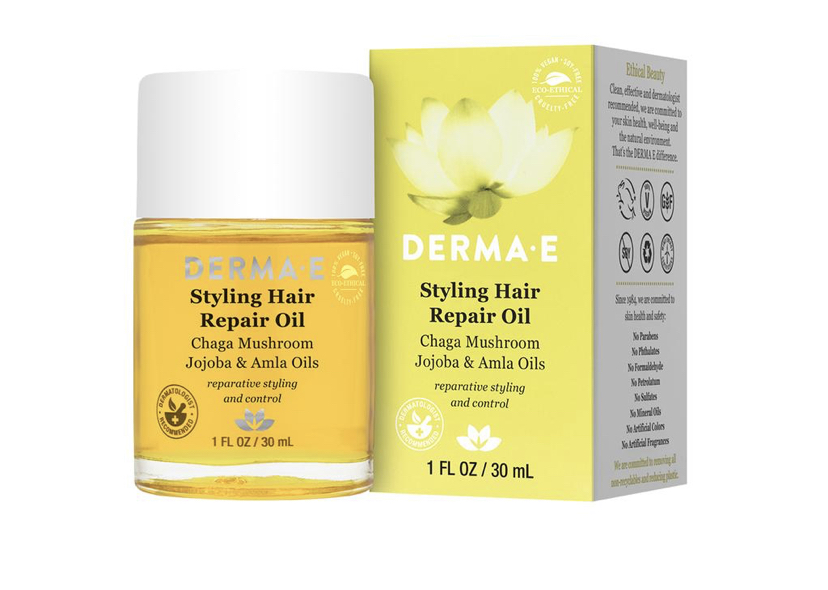 DERMA E STYLING REPAIR HAIR OIL $11.95
The DERMA E Styling Repair Hair Oil is a hair oil that doubles as a styling treatment. This innovative all natural hair care product contains beautiful ingredients for hair like Jojoba Protein to repair damaged hair and oils of Amla, Mongongo and Chaga Mushroom. The reason DERMA E Hair Repair Oil works so well as a styling treatment is because it's non greasy. 

I received one of DERMA E's first bottles to try and it was initially called Bonding Hair Repair Oil, but Styling Hair Repair Oil is a much better name. It's also less than $12!
One of Styling Hair Repair Oil's star ingredients is Amla and I am a HUGE fan of anything that has Amla in it. Amla is a wonder ingredient for hair. Otherwise known as Indian Gooseberry, Amla helps with hair loss and thinning, strengthens hair follicles and promotes healthier hair.
HOW I USE STYLING HAIR REPAIR OIL
It took a bit of experimentation to figure just how much of the Hair Repair Oil my hair can handle. If I use just a few droplets of the DERMA E Hair Repair Oil on damp hair, my hair dries sleeker and smoother. If I use too much then my hair looks a little too slick, so it does take a few tries to figure out how much your hair needs. I dispense a small amount of oil and work a little on my scalp but avoid the hairline and crown so I can maintain volume there. Then I dispense a little more and work through parts of hair that are most prone to frizz.
Key Ingredients:
Chaga Mushroom: Helps to 

support healthy hair and scalp

 

Jojoba Oil: Moisturizes hair while working to prevent split ends, dryness and breakage 

 

Amla and Mongongo Oils: Th

e

s

e

 nutrient-rich moisturizing oil

s

 help to promote hair thickness and 

support hair 

growth

 
Ingredients: Caprylic/Capric Triglyceride, Simmondsia Chinensis (Jojoba) Seed Oil, Helianthus Annuus (Sunflower) Seed Oil, Carthamus Tinctorius (Safflower) Seed Oil, Tocopheryl Acetate (Vitamin E), Amla Oil, Inonotus Obliquua (Chaga Mushroom) Oil, Schinziophyton Rautanenii (Mongongo) Kenel Oil, Linum Usitatissimum (Linseed) Seed Oil, Beta-Carotene, Natural Fragrance (Sweet Apricot) Oil. 

DERMA E's Scalp Relief Shampoo and Conditioner are doctor-developed and specially formulated to alleviate symptoms associated with a dry, irritated scalp.
DERMA E Scalp Relief Shampoo and conditioner both contain:
Therapeutic Psorzema® Herbal Blend (Neem, Burdock and Bearberry): replenishes a dry, irritated, scaling scalp, helping to promote optimum scalp and hair health.
Tea Tree and Menthol: help calm and cool itch on contact and help maintain scalp purity over time.
Salicylic Acid: penetrates to lift away excess flakes and surface buildup.
There are so many of us, both men and women, who deal with itchy and flakey scalp issues. I think the reason behind this is because a lot of us neglect our scalp and fail to treat it like skin. Because scalp is skin it needs its own scalp care regimen just as we have skin care regimens. A clogged scalp = hair loss. A dry scalp = dandruff and flakiness. Scalp IS skin!
I love that DERMA E's Scalp Relief shampoo and conditioners contain salicylic acid, tea tree and carefully selected herbs that help target irritated and scaling scalps. The shampoo does a great job at cleansing the scalp, is easy to lather and provides scalp with a cooling sensation thanks to menthol.
The conditioner I found surprisingly more nourishing than I thought it would be for my extremely dry and damaged hair. I normally don't use conditioners on my scalp as it tends to weigh down my hair (I need volume at the roots!), but the DERMA E Scalp Relief Conditioner should also be applied to the roots to help nourish and balance the scalp.
Shampoo Ingredients: Purified Water, Sodium Methyl Cocoyl Taurate (Coconut Derived), Cocamidopropyl Hydroxysultaine (Coconut Derived), Sodium Lauroyl Lactylate (Coconut Derived), Glycerin (Vegetable Derived), Salix Alba (White Willow) Bark Extract, Epilobium Angustifolium (Canadian Willowherb ™) Extract, Panthenol (Provitamin B5), Menthol, Salicylic Acid, Arctium Lappa (Burdock) Root Extract, Organic Chamomilla Recutita (Matricaria) Flower Extract*, Zanthoxylum Zanthoxyloides (Fagara) Bark Extract, Arctostaphylos Uva-Ursi (Bearberry) Leaf Extract, Melia Azadirachta (Neem) Leaf Extract, Coptis Chinensis (Chinese Goldthread) Root Extract, Melaleuca Alternifolia (Tea Tree) Leaf Oil, Organic Aloe Barbadensis (Aloe Vera) Gel Extract*, Retinyl Palmitate (Vitamin A), Tocopheryl  Acetate (Vitamin E), Phenoxyethanol, Ethylhexylglycerin.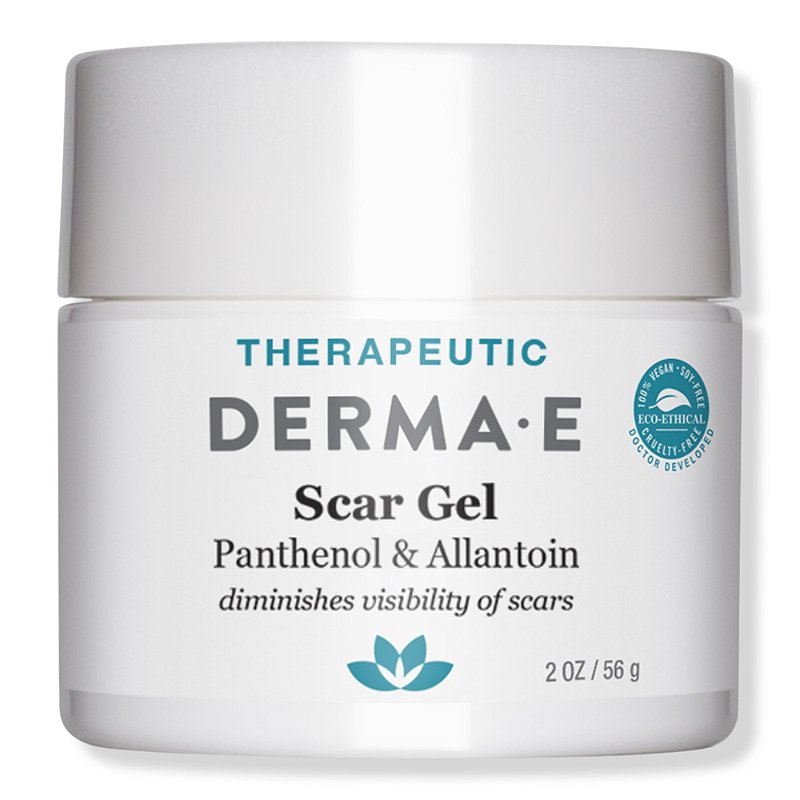 Derma E Scar Gel Review: My Honest Review
I seriously tested the Derma E Scar Gel for months, because I have an ugly, raised keloid scar from surgery. I did not notice any change to my scar even though I applied this lightweight scar gel diligently twice a day. Maybe the Derma E Scar Gel works on flat scars but it did not work on my raised scar. Save yourself the $20.
Derma E Sunscreens: My Honest Review
Vitamin C Weightless Moisturizer SPF 45
A wonderfully milky and perfectly smooth lotion
STRONG white cast beware
Provides SPF 45 protection
Love the added skincare benefits of Vitamin C
Sun Defense Mineral Oil Free Sunscreen SPF 30
Cannot recommend this sunscreen at all
Clumps and separates for me
Very strong white cast
Does not work at all for dry skin
Scar Cream Sun Protectant SPF 35
Velvety texture
Specifically for scar protection and to help reduce scar appearance
Contains Panthenol and Allantoin like the Derma E Scar Gel
A hint of white cast

DERMA E has a TON of good products, but I'm only sharing the very best that I would purchase over and over again.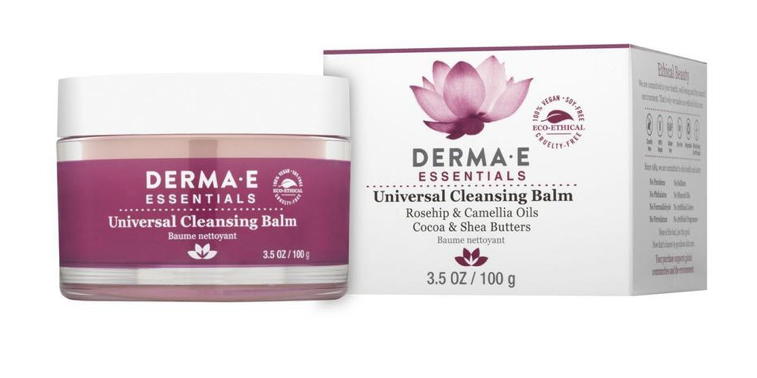 Wonderfully emollient balm that takes everything off and smells amazing
Contains rosehip oil, camellia oil and cocoa and shea butters
I've been through multiple jars and would recommend for anyone looking for an inexpensive good quality cleansing balm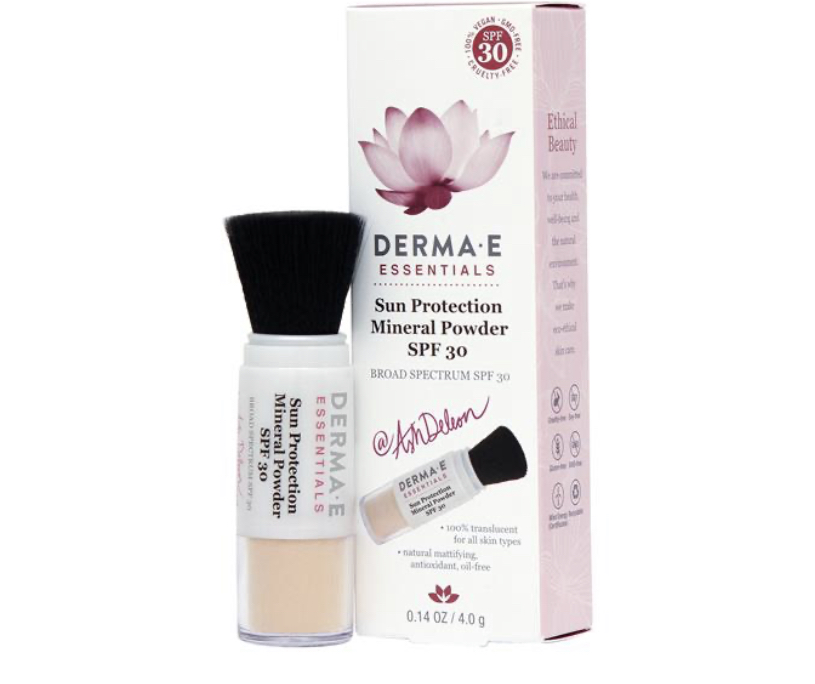 A go-to SPF powder brush that I always keep in my purse for re-applying SPF while outside
Its downside is that the bristles aren't the highest quality but they manage to hold up ok over time and are good enough for me

A very gentle cleanser that's great for sensitive skin
Non drying and smells amazing
Comes out as a light-as-a-cloud airy foam

One of my favorite affordable face oils that has clean ingredients and feels luxurious
Made with Jojoba, Argan and Seabuckthorn Oils
Has a bit of mica added for a luminous glow, but don't worry, it's a subtle, barely there effect

If you're looking to incorporate more acids into your routine, DERMA E has a great beginner AHA product that's gentle and costs less than $19
This has a silky lightweight consistency and feels much like a serum
Skin-brightening, non-abrasive blend of 5% Alpha Hydroxy Acids that helps slough away dead skin cells as you sleep
Also contains Lactic Acid to help with hyperpigmentation, Vitamin C, Green Tea and nourishing oils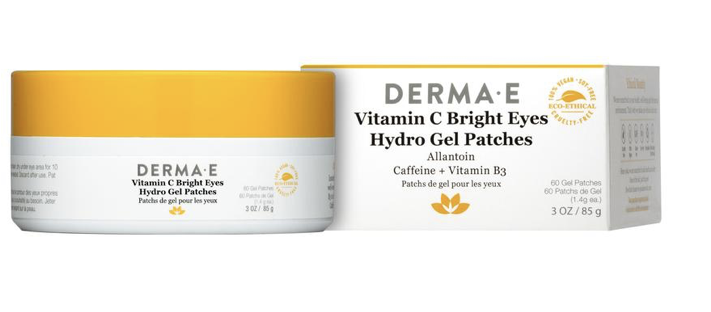 Made with Vitamin C, Hyaluronic Acid, Allantoin, Caffeine and vitamins
Don't expect brightening miracles but this works as a great pick-me-up
Cooling sensation plus hydrating
Comes with 60 gel patches for 30 uses!

A great way to incorporate acids into your skincare routine
Helps exfoliate, brighten and tighten
Alcohol free
Contains Glycolic Acid, Hyaluronic Acid, Rooibos, Rosehip, Chamomile, and Aloe Vera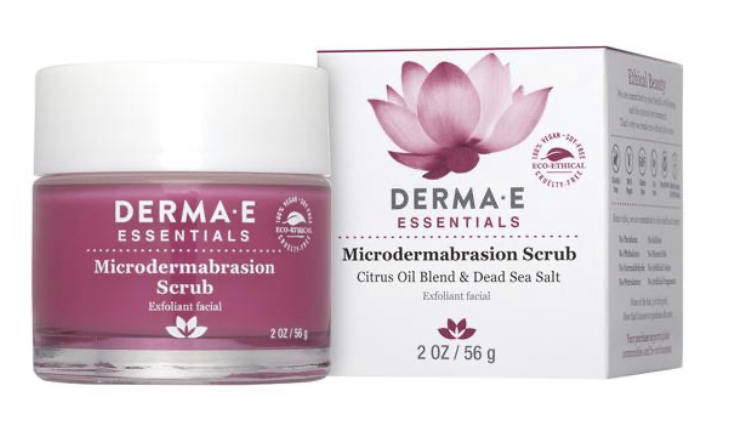 Made with Dead Sea salt, kaolin, and oils
Fine crystal, creamy scrub that gently exfoliates
Feels nourishing and hydrating
If you liked, be sure to pin this image!