Herbivore Botanicals Review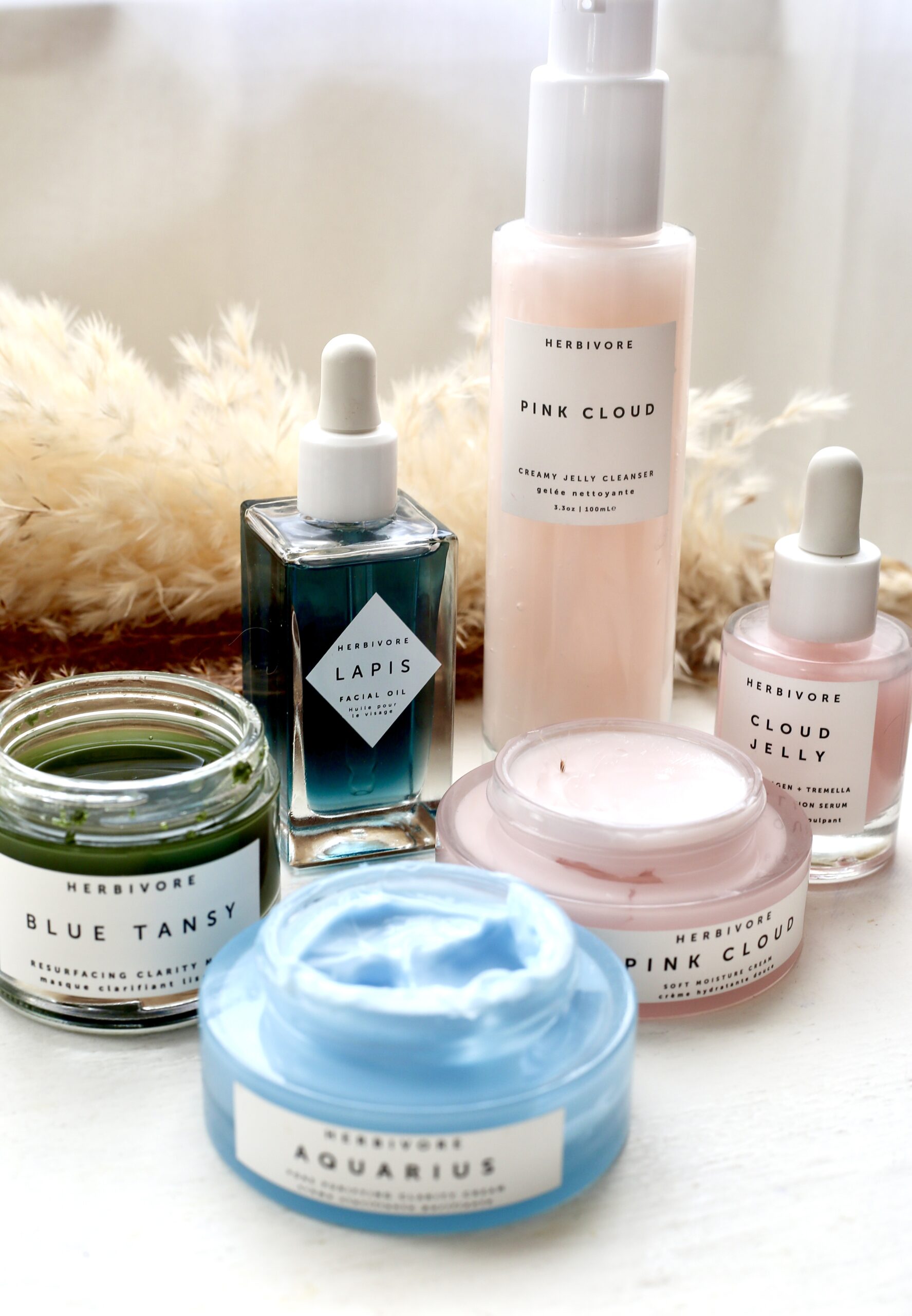 Herbivore, a natural skincare brand, began in 2011 from a Seattle kitchen and is now a widely known clean beauty name. Husband-and-wife team Julia Wills and Alexander Kummerow started selling their vegan and natural products from an Etsy shop. Fast forward and you'll now find Herbivore skincare sold at Sephora stores across the nation. Each Herbivore product is made without parabens, sulfates, phthalates, and synthetic ingredients. I tried Herbivore Aquarius Cream, Blue Tansy Mask, Lapis Facial Oil, Pink Cloud Jelly Cleanser, Pink Cloud Soft Moisture Cream and Cloud Jelly Plumping Serum and am sharing my honest thoughts on Herbivore skincare.

From my experience with Herbivore products, their formulas are gentle and mild. I'd recommend Herbivore to sensitive skin types, young skin or people new to clean beauty, but if you're looking for something powerfully anti-aging, skip Herbivore.
Best Herbivore Skincare Products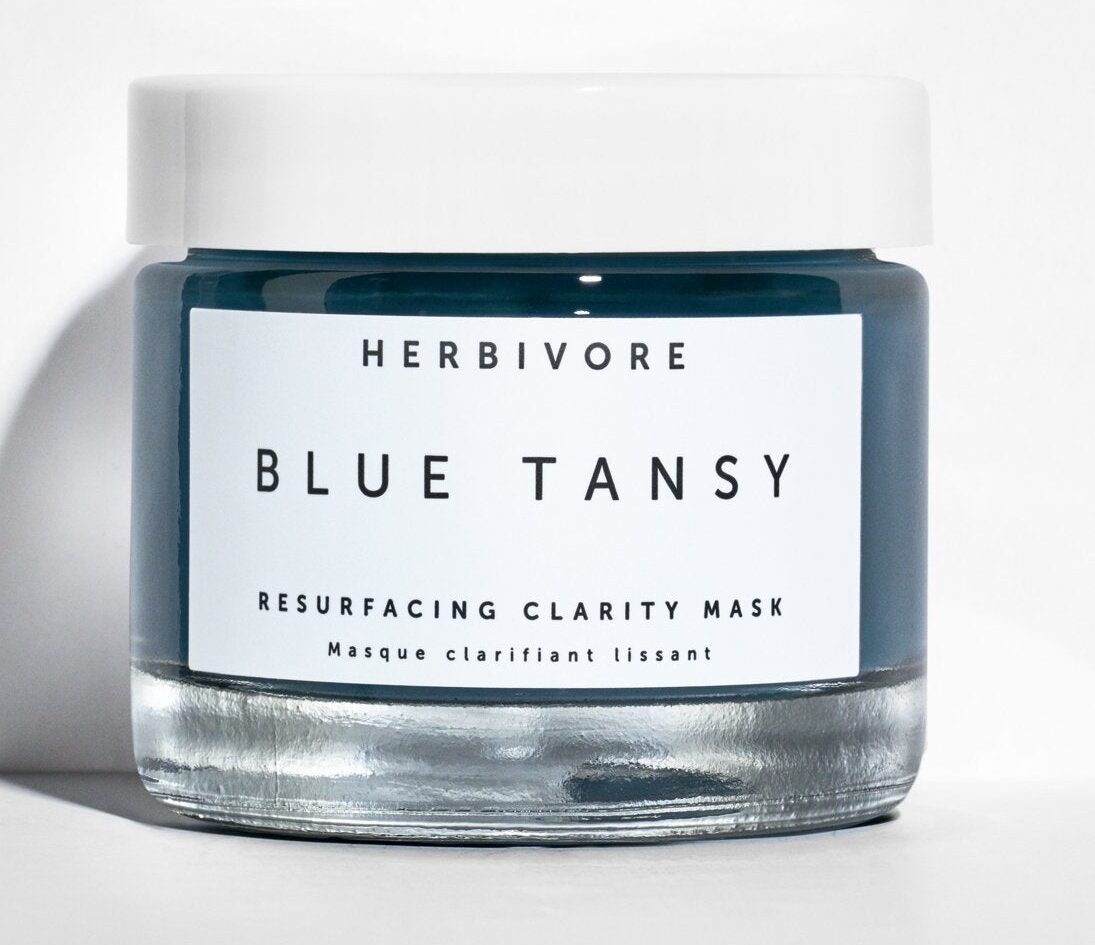 If you're looking for a hydrating AND a gentle resurfacing mask in one, the Herbivore Blue Tansy Mask does both. After applying I feel a subtle tingling sensation from the acids that quickly subsides. This is a gentle mask compared to my other resurfacing masks, but it feels so incredibly hydrating and wonderful on the skin.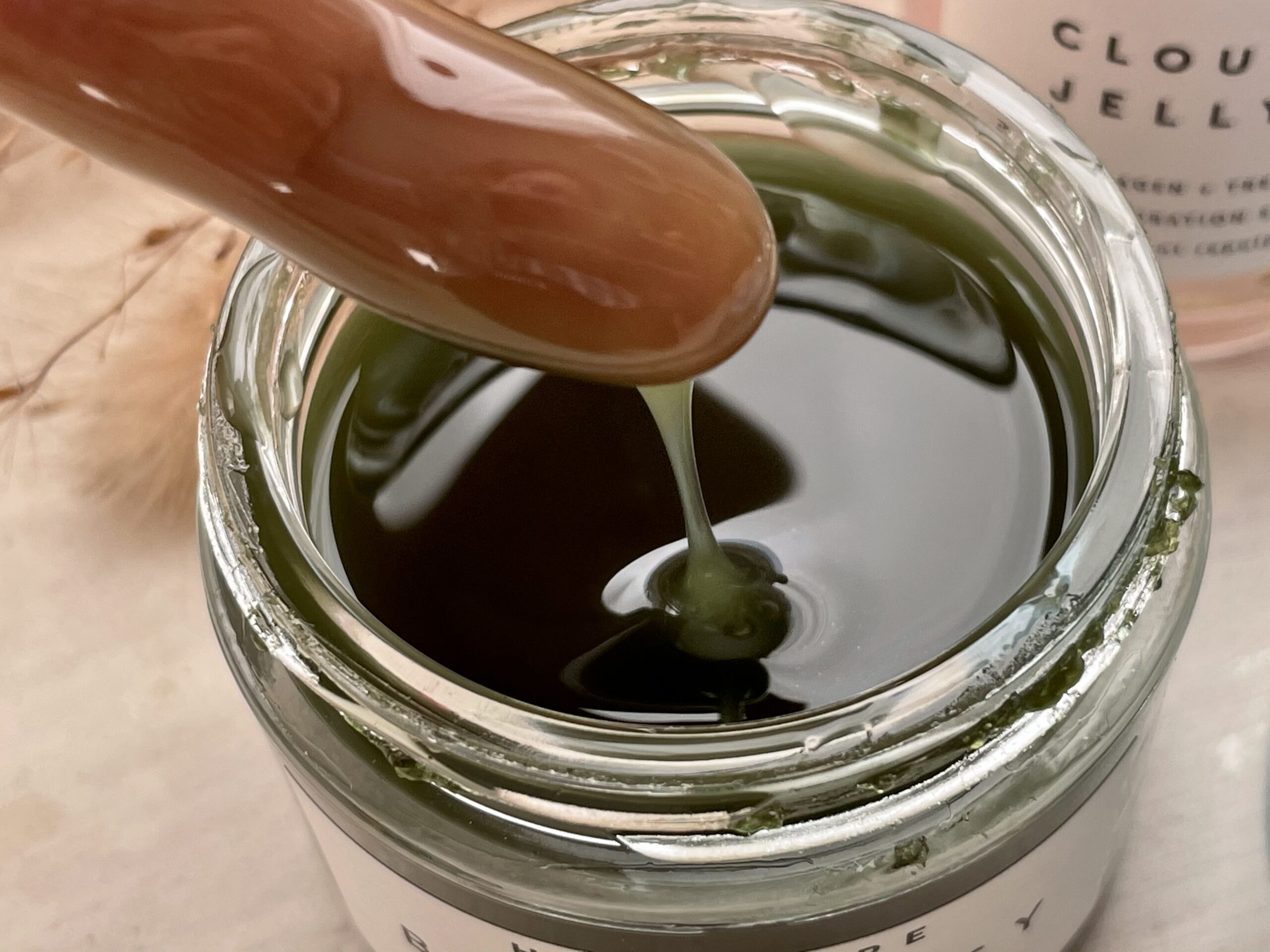 The Herbivore Blue Tansy Resurfacing Mask is a gel mask that's made of natural ingredients, which is why the effects are subtle. The Blue Tansy Mask contains Fruit Enzymes like Organic Pineapple and Organic Papaya, and Willow Bark and Blue Tansy Oil.
Ingredients: caprylate, salix nigra (willow) bark extract, tanacetum annuum (blue tansy) flower oil, ananas sativus (organic pineapple) fruit extract, carica papaya (organic papaya) fruit extract, carica papaya (organic papaya) leaf extract, jasminum sambac (jasmine) flower oil, leucidal (radish root ferment)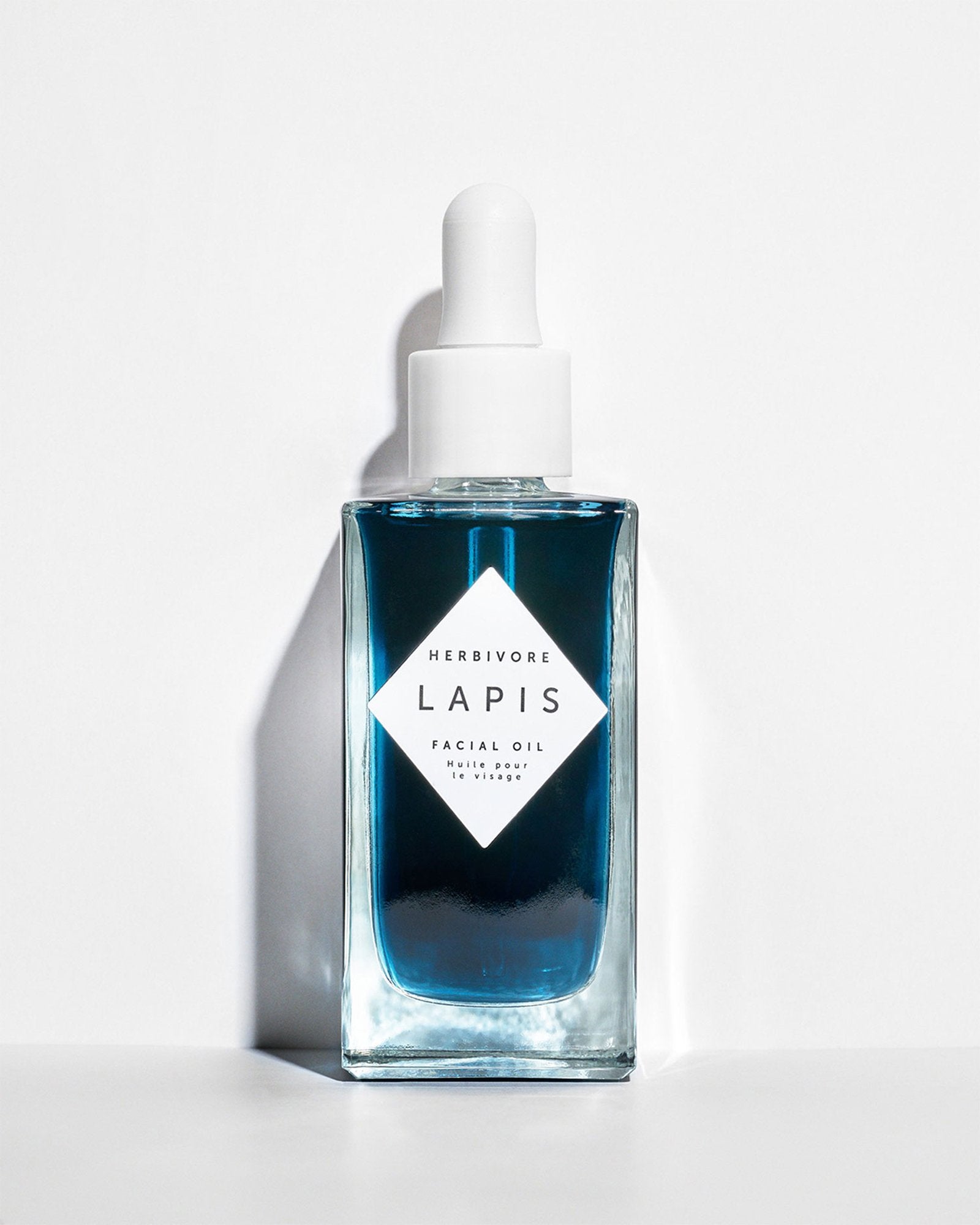 The Herbivore Lapis Facial Oil is a Squalane-based oil that's a liquid like oil and super lightweight. Firstly, you'll need to like the scent of Blue Tansy to enjoy this facial oil. It's a sweet and fragrant scent that makes me feel like I'm using the facial oil version of the iconic May Lindstrom The Blue Cocoon. The added Jasmine oil makes me feel like I've got the secret garden in a bottle.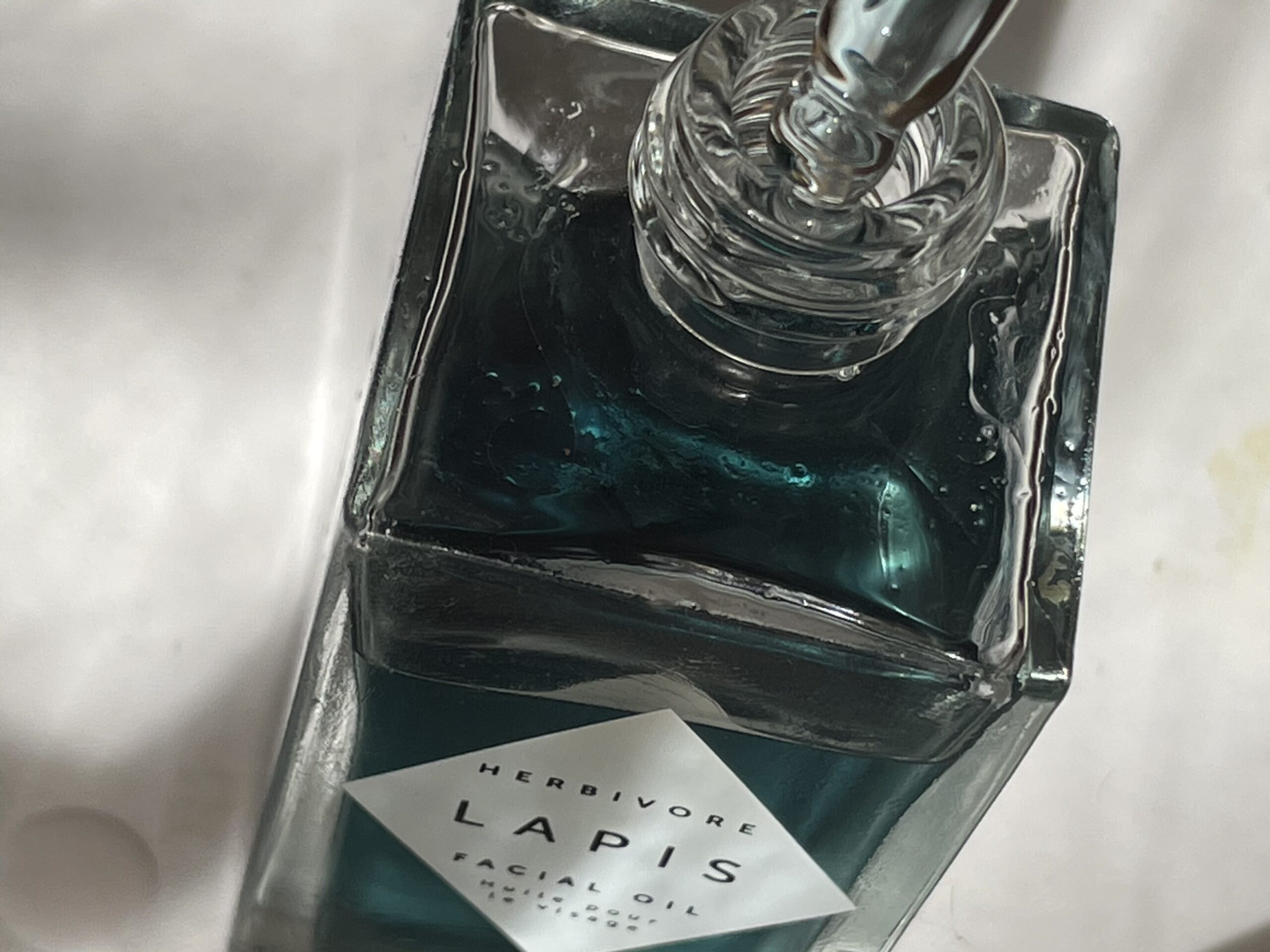 Because Herbivore Blue Tansy Facial Oil is made mostly of Squalane, it feels very hydrating on skin and absorbs instantly.
One thing to note is that this is a pricey face oil. Out of the Herbivore line I think this is one of their better products, but there are certainly more affordable face oils out there that are just as beautiful. I suggest checking out Earth Harbor Marina Biome Brightening Ampoule, which is very similar to Lapis but half the cost.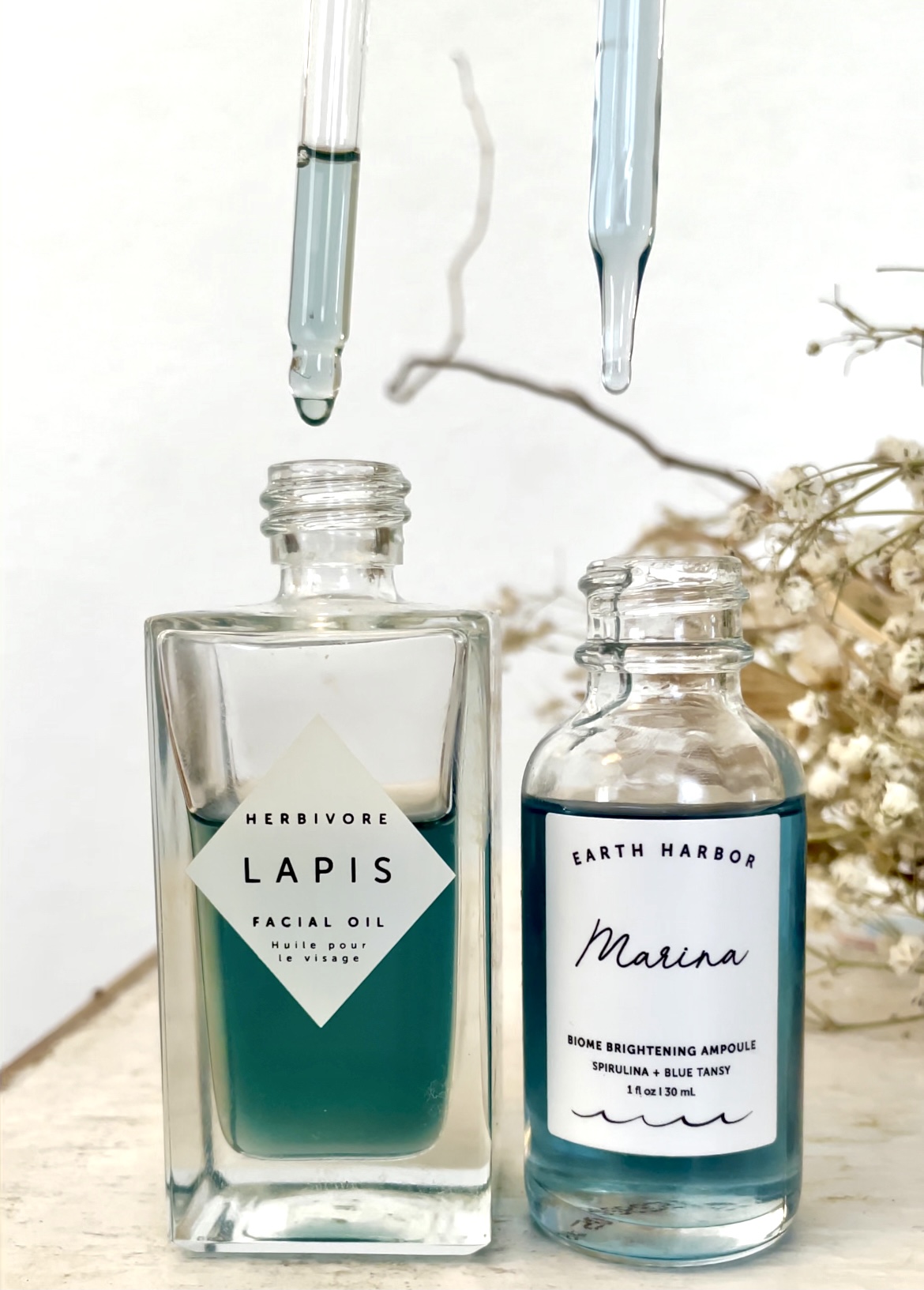 Ingredients: Squalane, Simmondsia Chinensis (Jojoba) Seed Oil, Caprylic/Capric Triglyceride, Aleurites Moluccanus Seed Oil, Tocopherol, Tanacetum Annuum Flower Oil, Jasminum Sambac (Jasmine) Flower Extract, Rosa Damascena Flower Extract
OK Herbivore Skincare Products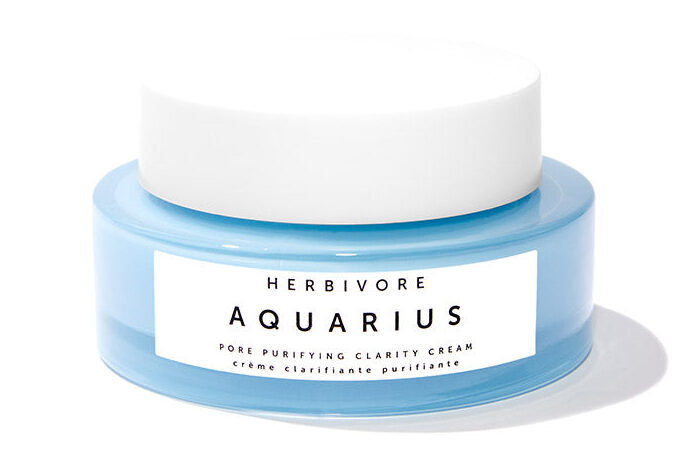 Herbivore Aquarius Cream
Formulated for oily and combo skin, the Herbivore Aquarius Pore Purifying Clarity Cream contains BHA to help clean congested pores. You have to enjoy the sweet scent of Blue  Tansy to like this face cream. Though it's not a strong scent in this product, it's still there. Some of its key ingredients include: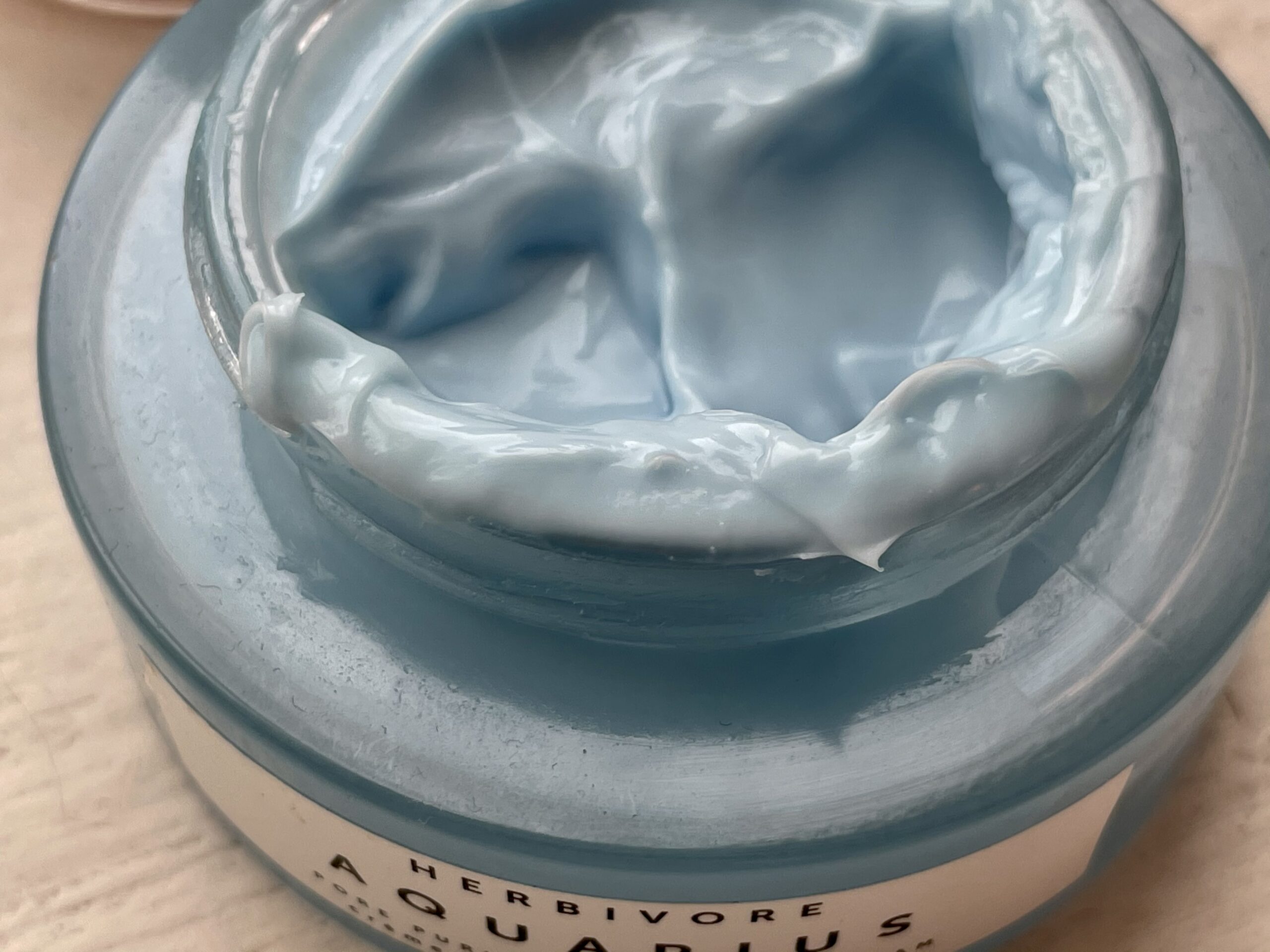 BLUE TANSY OIL:A natural plant oil that helps balance and soothe skin with lightweight moisture.
WILLOW BARK BHA: Nature's alternative to synthetic salicylic acid that helps improve skin clarity and reduce the appearance of pores by gently exfoliating skin.
ZINC PCA: Provides moisture and helps minimize shine from excess sebum.
I'm rarely ever impressed by moisturizers, and this one fit into the majority. I neither hate it nor love, thus I placed the Herbivore Aquarius in the "OK products" category. The Aquarius Cream is on the thicker, creamy side and is neither lightweight nor very rich. I'm not a fan of the very low glass jars that Herbivore's moisturizers come in.
Ingredients:
Aqua/Water/Eau, Caprylic/Capric Triglyceride, Cetearyl Alcohol, Glycerin, Squalane, Glyceryl Caprylate, Microcrystalline Cellulose, Propanediol, Salix Nigra (Willow) Bark Extract, Zinc PCA, Aloe Barbadensis Flower Extract, Camellia Sinensis Leaf Extract, Coccinia Indica Fruit Extract, Corallina Officinalis Extract, Curcuma Longa (Turmeric) Root Extract, Hamamelis Virginiana (Witch Hazel) Extract, Melia Azadirachta Flower Extract, Melia Azadirachta Leaf Extract, Ocimum Basilicum (Basil) Flower/Leaf Extract, Ocimum Sanctum Leaf Extract, Solanum Melongena (Eggplant) Fruit Extract, Tanacetum Annuum Flower Oil, Lactobacillus Ferment, Sodium Hyaluronate, Sodium PCA, Magnesium PCA, Sodium Stearoyl Glutamate, Cellulose Gum, Glyceryl Stearate Citrate, Caprylyl Glyceryl Ether, Caprylhydroxamic Acid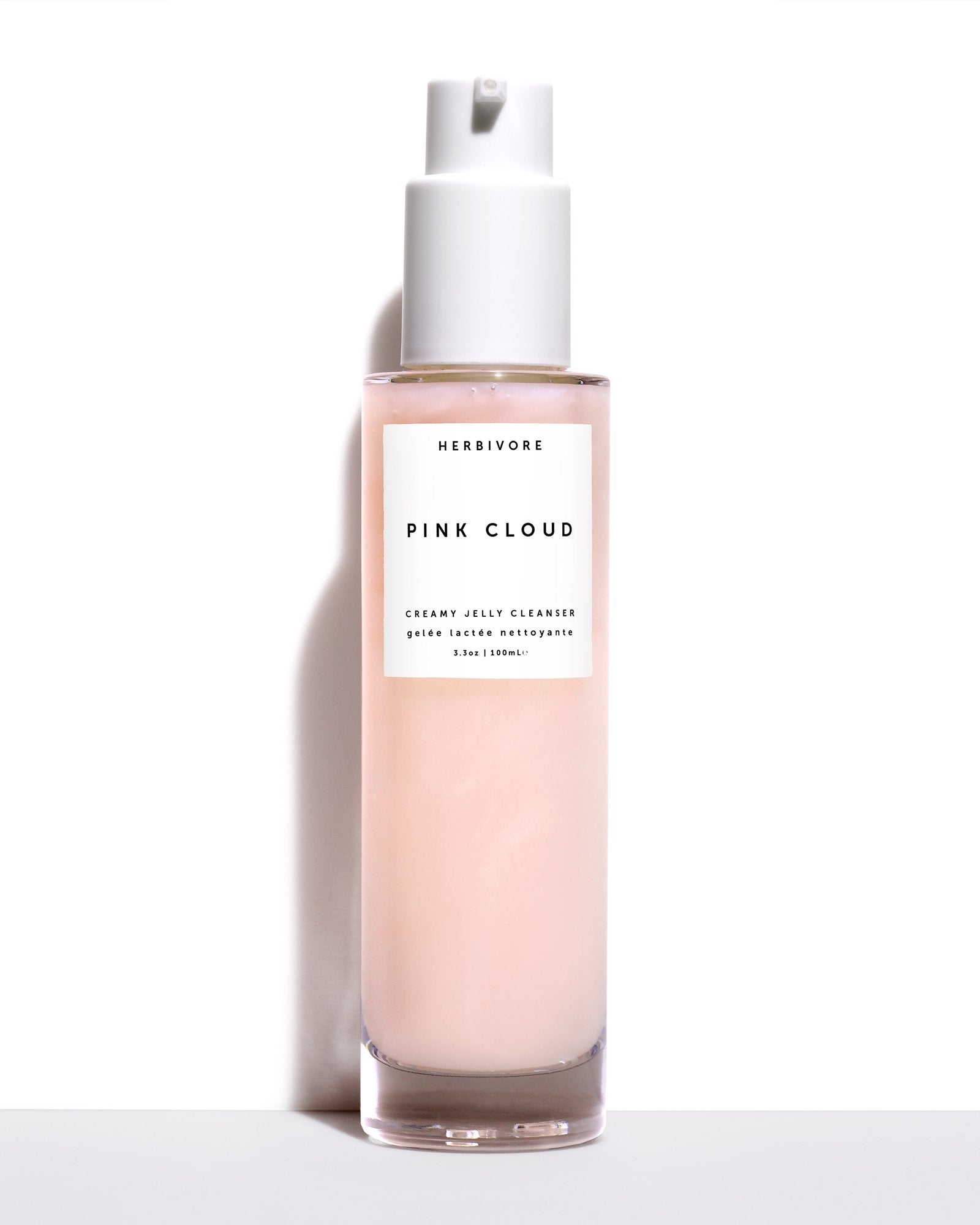 If you're looking for a hydrating, gentle and non-foaming cleanser, you may like the Herbivore Pink Cloud Jelly Cleanser. All natural and made with rosewater, Squalane, Chinaberry and Tremella mushroom, the Herbivore cleanser is a creamy gel that does not foam but does slightly emulsify and turn cloudy.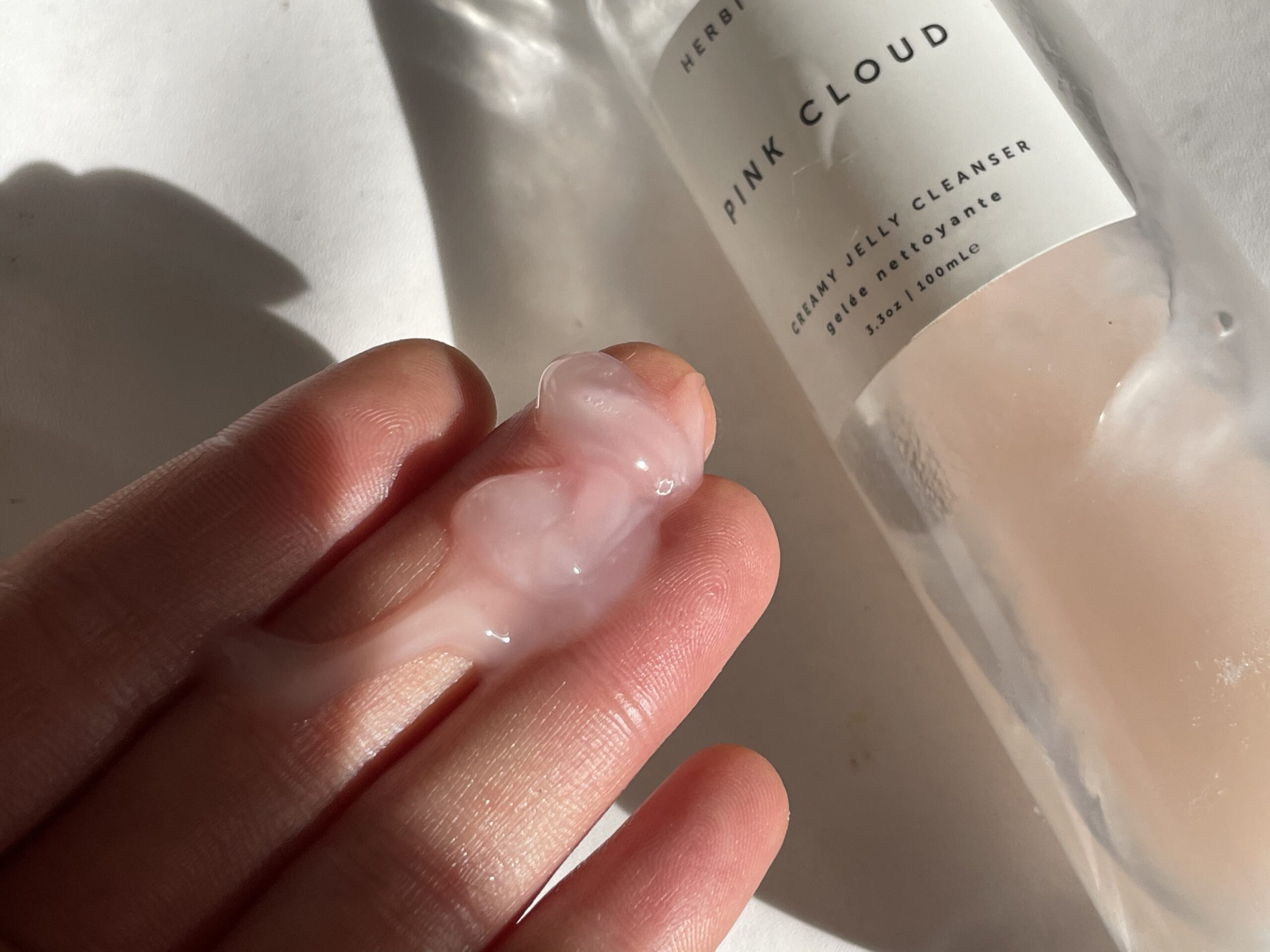 There isn't much cleansing power in the Herbivore cleanser so I don't use this to remove makeup or sunscreen. It works great as a 2nd cleanse. Because there are no essentials oils, there is a subtle natural floral scent from the ingredients that also reminds me of melon and is unique to this cleanser.
While the tall glass packaging is elegant, the Herbivore Pink Cloud cleanser is large, making it heavier than your average skincare bottle. Not ideal for my clumsy hands!
Ingredients: Aqua/Water/Eau, Rosa Damascena Flower Water, Decyl Glucoside, Glycerin, Sodium Lauroyl Lactylate, Squalane, Glyceryl Caprylate, Xanthan Gum, Glyceryl Stearate, Tremella Fuciformis Sporocarp Extract, Caprylhydroxamic Acid, Camellia Sinensis Leaf Extract, Aloe Barbadensis Leaf Juice, Citric Acid, Eclipta Prostrata Extract, Sodium Hyaluronate, Melia Azadirachta Leaf Extract, Moringa Oleifera Seed Oil, Cocos Nucifera (Coconut) Fruit Juice, Tapioca Starch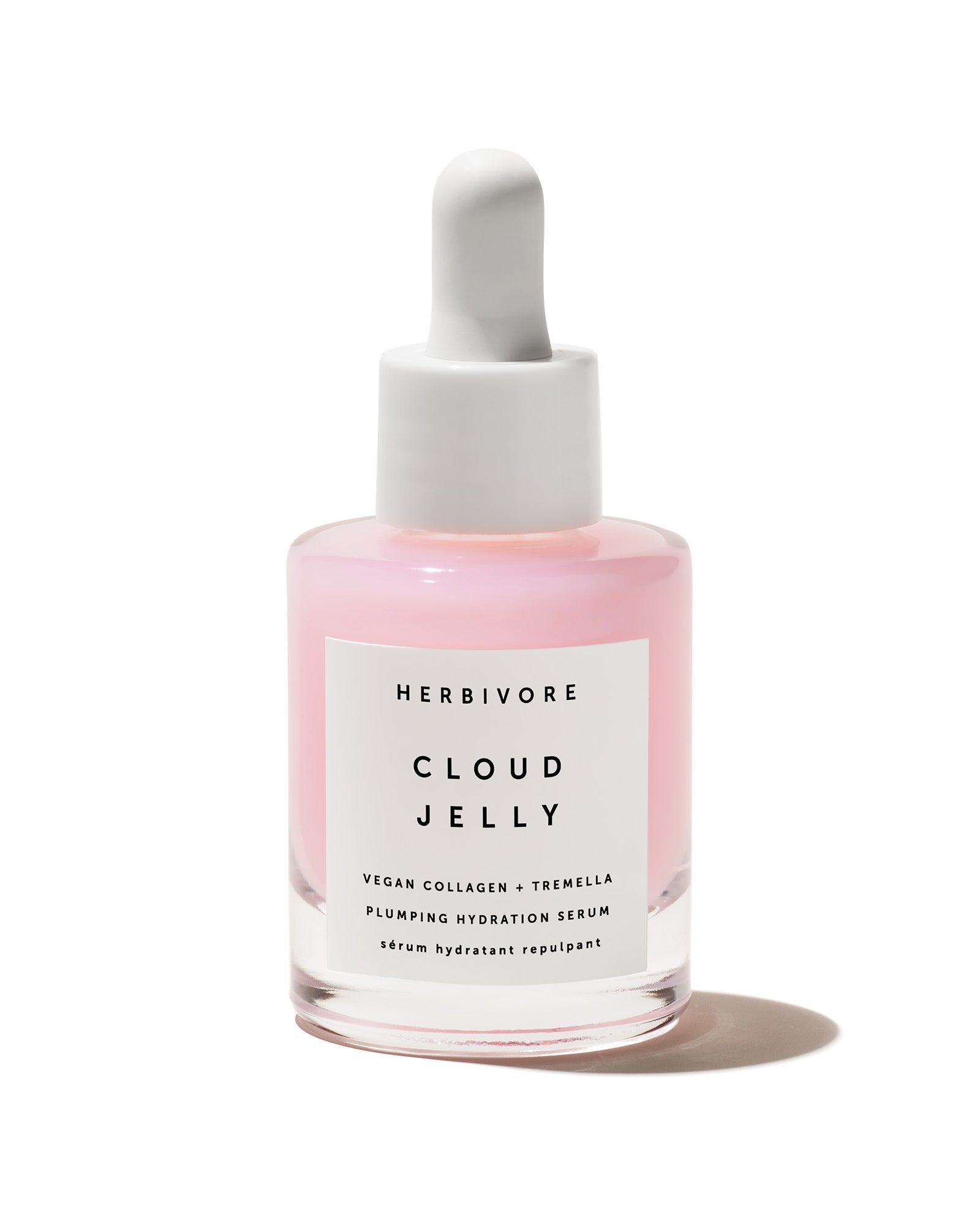 The Herbivore Cloud Jelly Pink Plumping Hydration Serum is a natural alternative to Hyaluronic Acid serum. Instead, the serum contains vegan collagen and tremella mushroom. It has a subtle floral and fruity scent thanks to strawberry extract.
The Herbivore Cloud Jelly Pink Plumping Hydration Serum is a light and goopy serum that doesn't leave a sticky feeling and does not pill. It definitely feels hydrating, but I do prefer hyaluronic acid versus natural alternatives. I've also never had pilling issues with this serum.
ingredients:
Aqua/Water/Eau, Aloe Barbadensis Leaf Juice, Glycerin, Hydrolyzed Corn Starch Hydroxyethyl Ether, Rosa Damascena (Rose) Flower Water, Tremella Fuciformis Sporocarp Extract, Vegetable Collagen, Fragaria Vesca (Strawberry) Fruit Extract, Prunus Persica (Peach) Fruit Extract, Hibiscus Sabdariffa (Hibiscus) Flower Extract, Leuconostoc/Radish Root Ferment Filtrate, Microcrystalline Cellulose, Sodium Phytate, Cellulose Gum Gluconolactone, Glyceryl Caprylate, Arginine, Caprylhydroxamic Acid, Eclipta Prostrata (False Daisy) Extract, Melia Azadirachta (Neem) Leaf Extract, Moringa Oleifera (Moringa) Seed Oil
Save 10% off your first purchase at Credo Beauty, where you'll find the Herbivore line sold