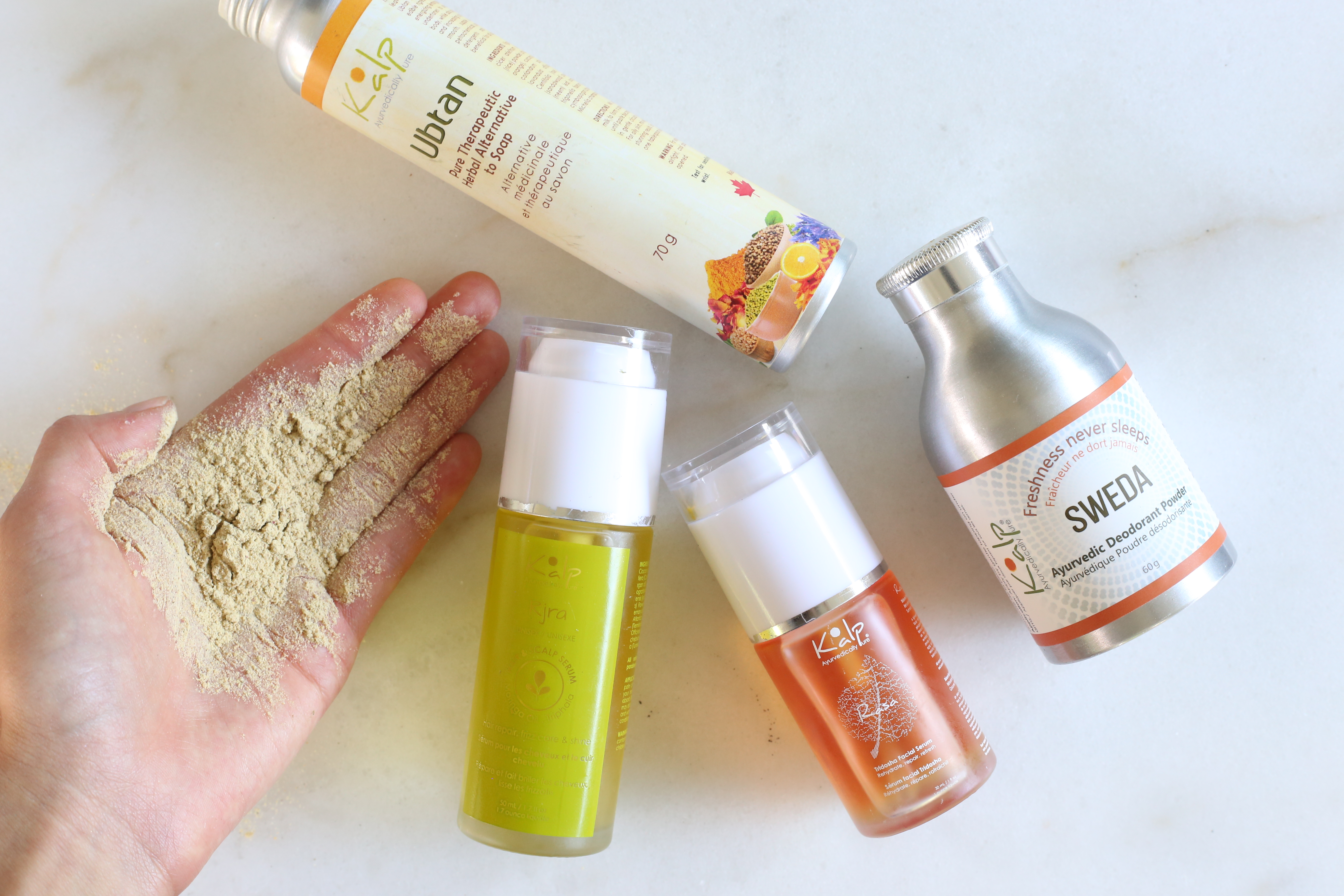 *This post was sponsored by Kalp- all thoughts are my own.
Founded by Seem Kudesia, a Doctor of Natural Medicine with years of experience in Ayurvedic medicine, Canada-based Kalp offers a line of skincare made of pure, vegan blends of herbs and essentials oils. All products are free from parabens, SLS, animal cruelty, and harmful chemical preservatives. They formulate products for skin types of the 3 doshas – sensitive, dry & oily. Dry skin may mean you are a Vata where the elements of air and space reign. If you've got hot or sensitive skin you could be a fiery/watery Pita. Or an oily Kahpa will be aligned with the earth and water? According to Ayurveda, Doshas need to be treated with ingredients that  have the opposite effect. For example, Vata will need elements that are rich, warming and moisturizing. The Pita is warm and strong and works well with ingredients that will make you calm and cool. The Kahpa is naturally moist and heavy and is finely balanced with light and warm astringents. I tried 6 different products from the line for the past 3 months and overall enjoyed the Ayurveda concept and the ingredients, though some products I liked more than others such as the rjra ayurvedic scalp serum and the soap alternative. This is also an affordable line ranging from $20 to $40 with free shipping on orders of $50+.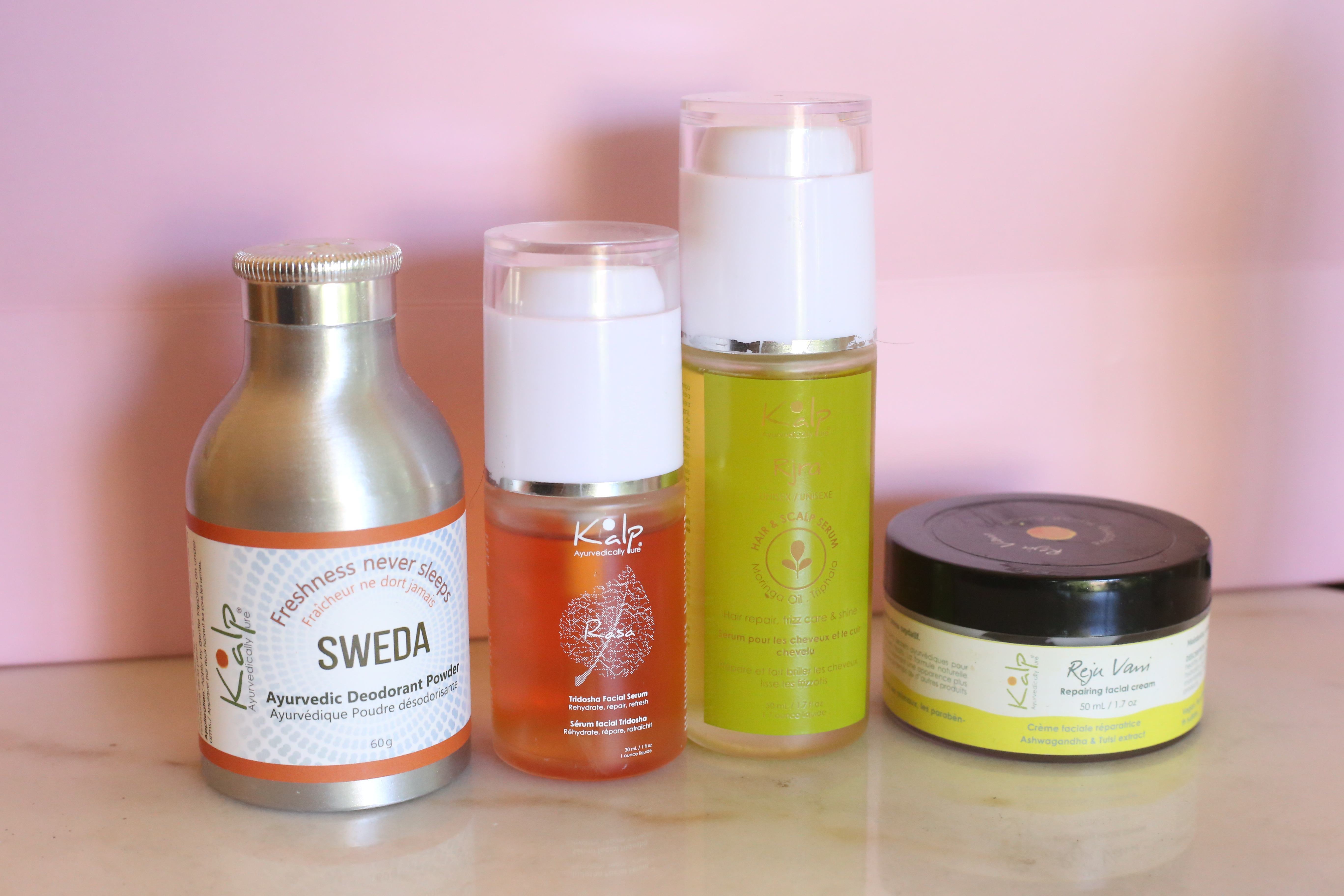 This was my favorite product from the line that I tried. I could not find any fault with it throughout my usage. It's filled with rich natural herbal extracts and oils, and made from perfect ratios of 100% pure moringa oil and triphala. Triphala is a traditional Ayurvedic herbal formulation consisting of three fruits native to India: Amalaki, Bibhitaki, and Haritaki. Regarded as one of the most popular formulas in Ayurveda triphala has many benefits for all three of Ayurveda's dosha constitutions. It's naturally detoxifying and helps with one's ability to rejuvenate healthy tissues. The first ingredients are some of THE best oils for hair: moringa, coconut, argan and camellia so it's a good formula from that alone. Im a woman on a mission these days to nurture my hair back to health after some lady fried it in Switzerland. I've kept it long so it's required an army of products including this serum which I used mainly on my scalp and as an overnight treatment. I felt that it worked very well in that results were consistent – shinier healthier hair with every use.
INGREDIENTS: Moringa Oleifera (moringa oil), Cocos nucifera (coconut) oil, Camellia Oleifera (Camellia) Seed Oil, Argania Spinosa (argan oil), Vitis Vinifera (grapeseed oil), Persea gratissima (avocado) oil, Simmondsia chinensis (jojoba oil), Hibiscus Sabdariffa (Hibiscus) Flower Extract, Rosmarinus officinalis (rosemary oil ), Citrus Paradisi (grapefruit), Cedrus Atlantica (Cedarwood )Extract, Triphala-(Terminalia Bellerica Fruit (Bahera), Emblica Officinalis (Amla) Fruit Powder, Terminalia chebula extract (Harra) Oil), Curcuma Longa (Tumeric) Leaf, Citral, Linalool, Limonene.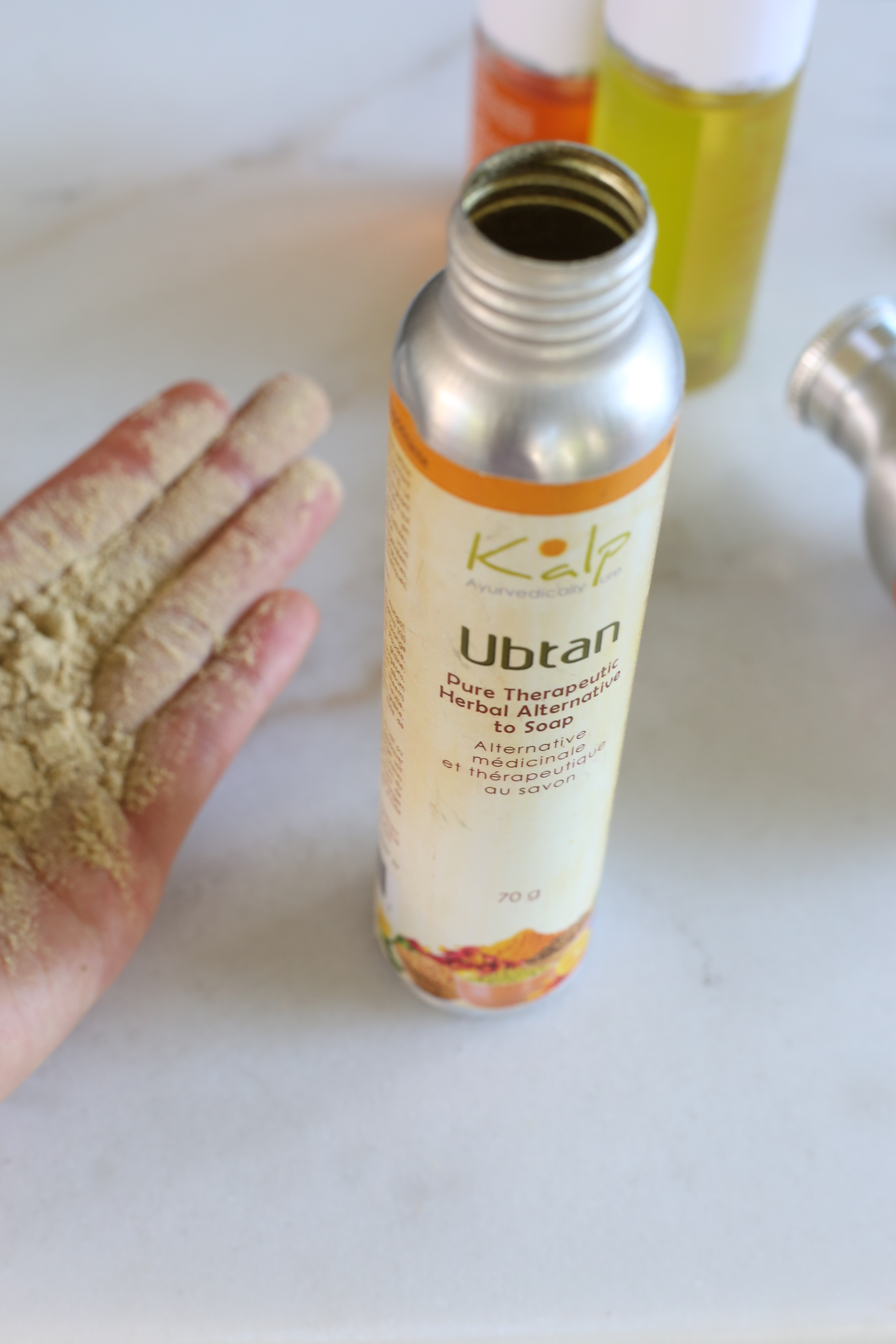 ubtan pure alternative to soap
Formulated with all natural 99% edible ingredients including  moong bean, chickpeas and rice powder, Ubtan is a dry orange powder (from the turmeric) that can be used as both a cleanser and exfoliator. It has a highly uplifting sweet champaca and lemongrass scent and also works to promote cell regeneration and increase circulation. This was a fun and interesting product to use and for me it served as more of a soft exfoliator or mask than a cleanser. When are you ever going to massage your face with moong beans and chickpeas right? You add a little bit of water to form a paste and massage onto skin. I always had baby soft skin after using this- but don't expect any major brightening or resurfacing effects.
INGREDIENTS: Vigna radiate (moong bean), cicer arietinum (chickpeas), oryza sativa (rice) powder, citrus aurantium amara (bitter orange), curcuma longa (turmeric) powder, coriandrum sativum (coriander) seed, lavandula officinalis (lohit) buds, rosa Centifolia (rose) petal, santalum album (sandalwood) powder, azadirachta indica (neem) leaf, ocimum sanctum (tulsi) leaf, trigonella foenum graecum (methi) seed.
In a base of arrowroot powder, baking soda and kaolin clay, this dry deodorant powder contains Sarsaparilla, an Ayurvedic herb traditionally known to purify the fat tissue, Triphala to help neutralize the odor of sweat and the reactivity of toxins that are being evacuated through the sweat glands, and Neem to help the immunity of the skin. I prefer a hands free application, but with this you need to shake the powder onto your fingertips then apply directly to the armpits.
INGREDIENTS: Maranta Arundinacea Root (Arrowroot powder), sodium bicarbonate, kaolinite clay, Hemidesmus indicus (sarsaparilla) Root, triphala powder: Terminalia chebula (Haritake) Fruit Powder, Emblica Officinalis (Amla) Fruit Powder, Terminalia belerica (Bibitake), Azadirachta indica (Neem) Leaf Powder and blend of essential oils.
This is a ridoshic (all skin types) facial serum made with a blend of 21 highly nourishing herbs, cold pressed moringa oil and other natural oils that aid in strengthening and revitalizing the skin. A lightweight fluid-like oil, rasa cntains amla fruit, arjuna bark, brahmi, turmeric, clover, neroili and ylang ylang oil. Please note it does contain coconut oil if you are avoiding this ingredient. I personally did not get any breakouts when using this. It's got a spicy strong cinnamon scent that's definitely not great before bedtime because it jolts the senses awake. It's fitting that the serum's ingredients are designed to provide an extra boost to tired and aging skin by stimulating skin cells.
Designed for dry and mature skin, the reju vani is a thick cream in a water base with Ayurvedic ashwagandha, brahmi, shatavari and amla fruit. It's a basic moisturizer with simple ingredients and an Ayurveda touch that protects skin from oxidative stress. The dheer cream uses natural restorative properties of methi and kalonji help to diminish blemishes and scars while Turmeric helps to maintain the health of facial blood vessels and decrease inflammation. The dheer is a little lighter in consistency than reju vani but feels hydrating just the same. These 2 products I didn't feel too strongly about not because they weren't bad products, but I just didn't feel they were as great as the others I tried. I prefer pumps or hygienic reasons and the packaging could be improved.
INGREDIENTS: Aqua (purified water), Stearic acid, glycerine, oleic acid, Isopropyl myristate, cetyl alcohol, glyceryl monostearate, natural wax, tocopherol (vitamin E), Ocimum sanctum (tulsi), withaniasomnifera (ashwagandha), CentellaAsiatica (brahmi), Terminalia chebularetz (haritaki), asparagus Racemosus (shatavari), Triticumvilgare (Wheat) Germ Oil,  Emblicaofficinalis (Amla) Fruit Powder, phenoxyethanol.