NuFace Review After 5 Years + Discount Code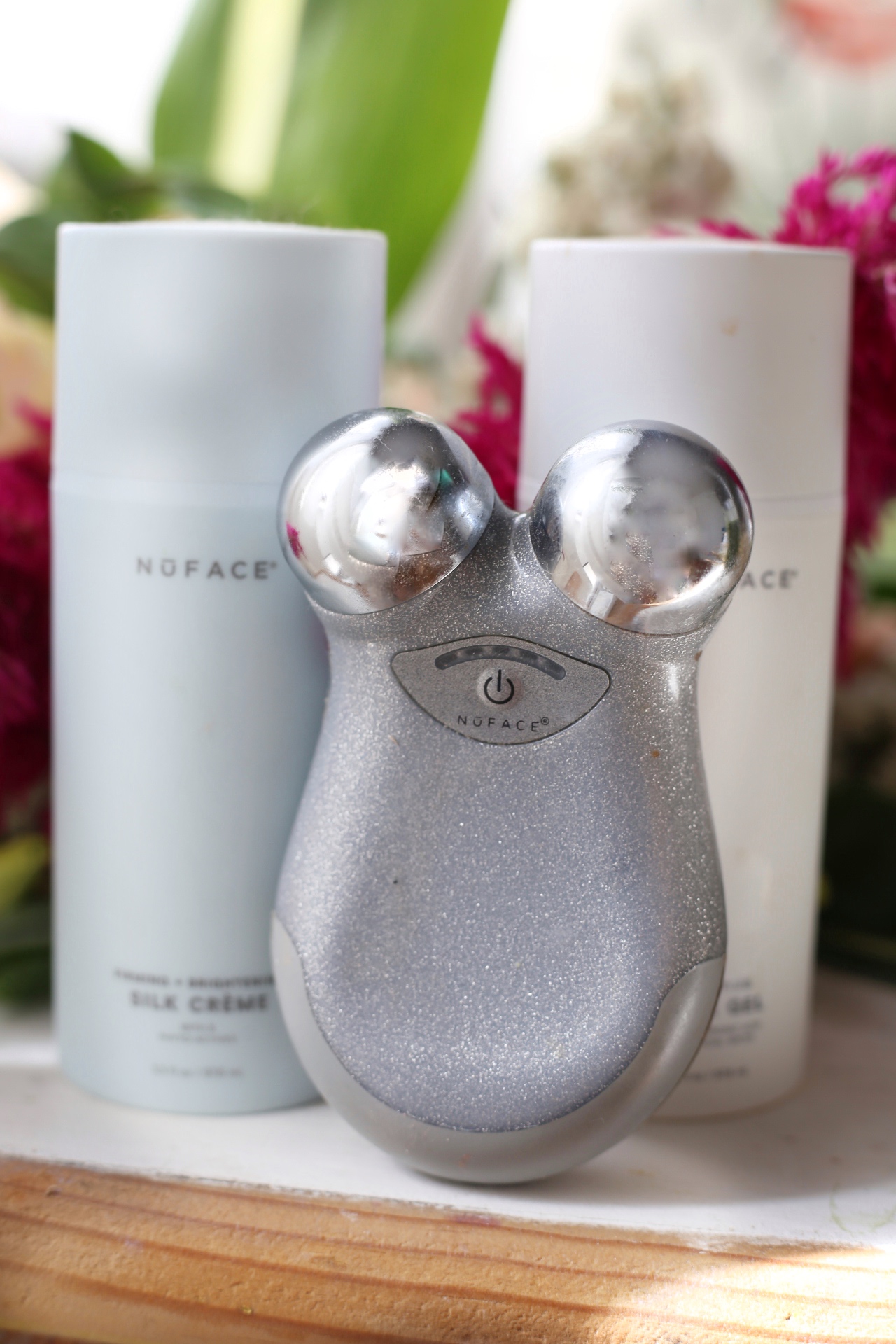 The question I always get: Does the NuFace really work? I started using NuFace in my mid 20s way before Hailey Bieber started using it, because I'm a big proponent of preventative skin care. During the many years I've had my NuFace microcurrent device, I'd often get asked if NuFace was worth buying and if I saw any changes in my skin from using it. These kinds of questions are so difficult to answer because it's unbelievably subjective (I get the same question about red light therapy too). These days I'm seeing a lot of NuFace dermatologists reviews, but I myself have a hard time trusting any dermatologist who is a social media influencer these days (because I know exactly how that game works). So I am sharing all my real thoughts and personal opinions about the NuFace device, including information on what a microcurrent device is and how to use the NuFace.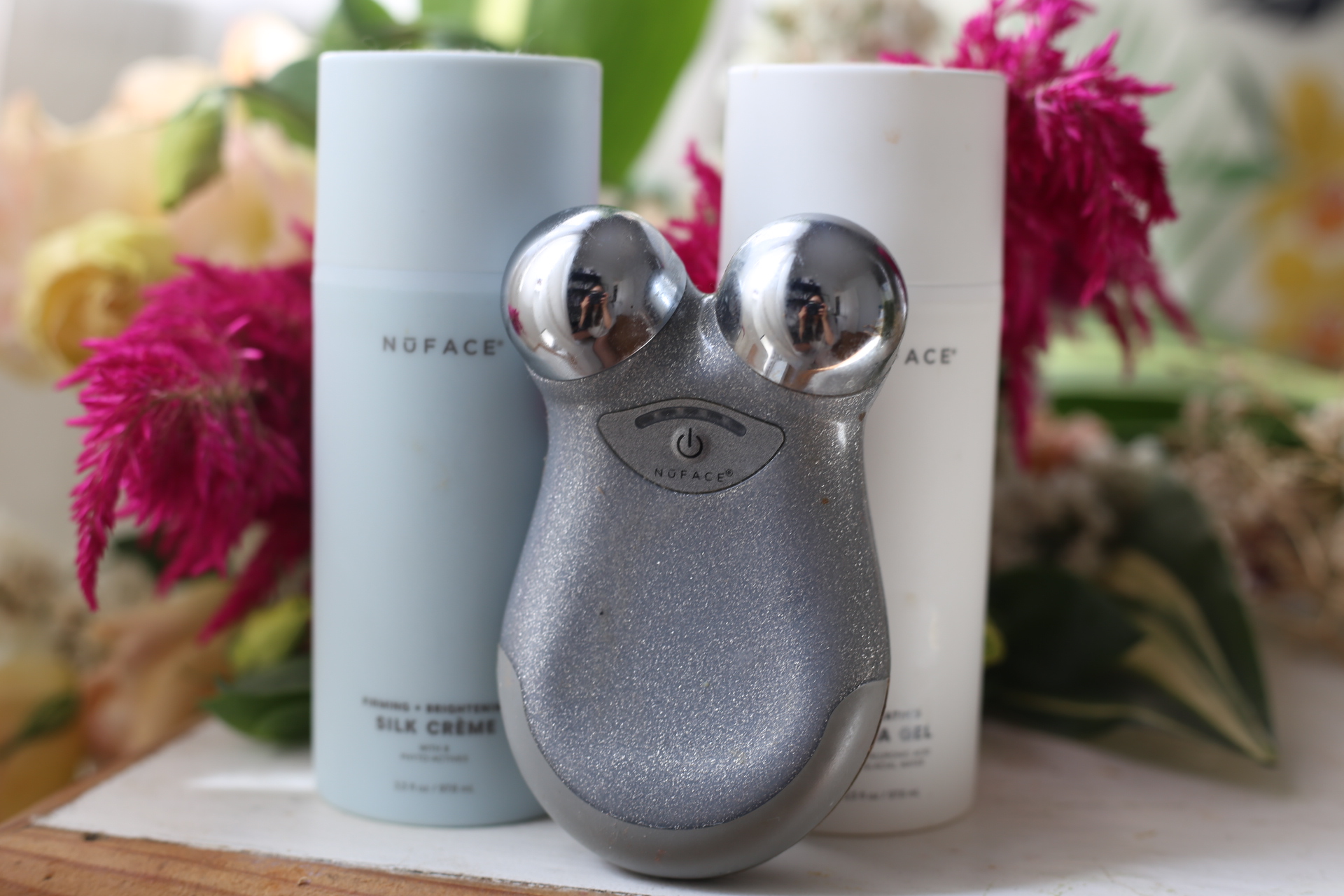 Is the NuFace Worth It?
NuFace is for those of you with sagging skin in need of lifting. It works underneath the layers of the skin to "work out" the facial muscles.
If you have loose skin that is in serious need of tightening, then I recommend looking into the Tripollar Radiofrequency device, which I also own.
Do I think you need the NuFace? If you're under 30 then no, I don't think you actually need microcurrent. Skin at this age doesn't experience any sagging yet. If you really must have the NuFace and you're young, then it becomes a preventative measure at best. The reason I used NuFace in my 20s was because I wanted to slow down sagging and keep my muscles nice and taught. Yes it's super vain (but aren't we all lol).
If you're in your 30s and 40s then I do think microcurrent is a worthwhile piece of skin technology to keep in your regimen, keeping in mind that effects are entirely subjective, subtle and the people in your life are not going to wonder if you had a surgical facelift. It's like asking if face yoga or gua sha massage is actually worth it. These are all just small things you do for yourself to feel good about the way you're taking care of your skin and yourself.
Here's where my opinion gets a little more technical. I don't think the original NuFace Trinity Facial Toning device that costs $300 is worth it. I think you're better off getting the NuFace Mini Device which is way more affordable.
Is the NuFace Mini as Powerful as Trinity?
The Trinity isn't worth getting because the NuFace Mini is just as powerful as the Trinity. The mini has the same maximum output at 335 microamps. It's also much more compact and portable. The only difference between the Trinity and Mini is that the head of the Trinity is interchangeable for you to use their red light attachment and others. I personally think if you are serious about incorporating red light therapy into your skincare, then you should invest in a proper LED face mask instead of gliding a little attachment across your face.
Pregnant women and people under 18 should NOT use NuFace.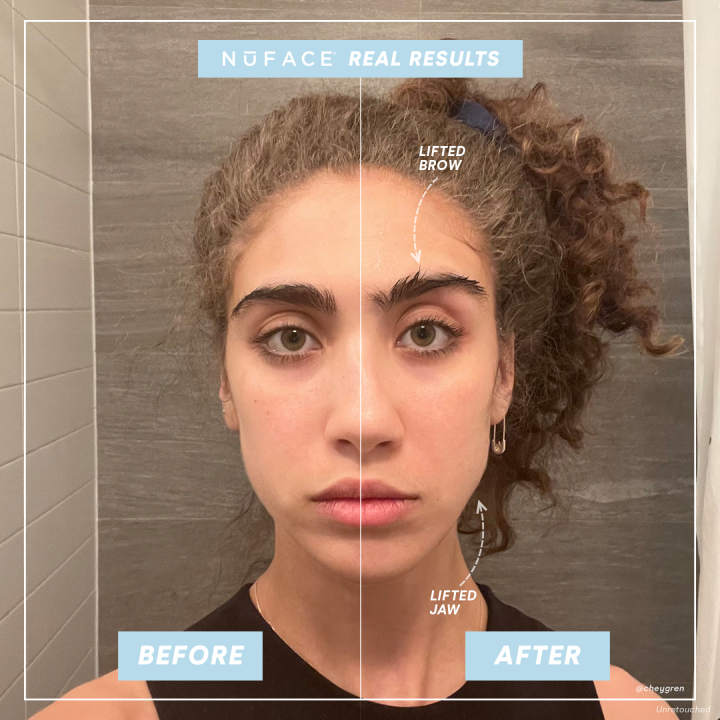 My Opinion on the viral NuFace TikTok
There was a Tiktok video by user Cheygren that went viral because it showed a noticeable difference between the right side of her face after using NuFace and the left side without. Yes the right brow looks lifted compared to the left, but I work for a facial device company that isn't microcurrent technology based – and guess what – it does the exact same thing. You do repeated movements enough to a portion of your face and you'll notice an effect immediately after. And of course, nothing in your face can change permanently without plastic surgery.
If you actually look really closely, the right nasolabial fold is more pronounced along with her dark circles. The left half of the face looks brighter and more plump overall. Her right jawline does look noticeably more defined. But, to me it looks angular, and as a young person, this only ages her face. When I look at just the left side, her face looks soft and youthful and when I look at just her right side, she looks like an older version of herself aged 5 years ahead. Which brings me back to my point that I don't think young people need this device. It's only a vanity purchase.
Also, take before and after photos with a grain of salt because it's almost always just lighting causing the subtle differences in photos. In fact, did you know that you (and your skin) can look completely different depending on the lighting in real life?
How Long Do NuFace Results Last?
I think this is a bit of a silly question because NuFace isn't some sort of intense cosmetic procedure like an in-office chemical peel. You're only using it for 5 minutes a day. Even if you managed to actually stick to using NuFace 5x a week for 2 months like they recommend, you still need to continue to use it a few times every week to maintain any results. Which means you shouldn't be trying to go as long as you can between uses like you would Botox.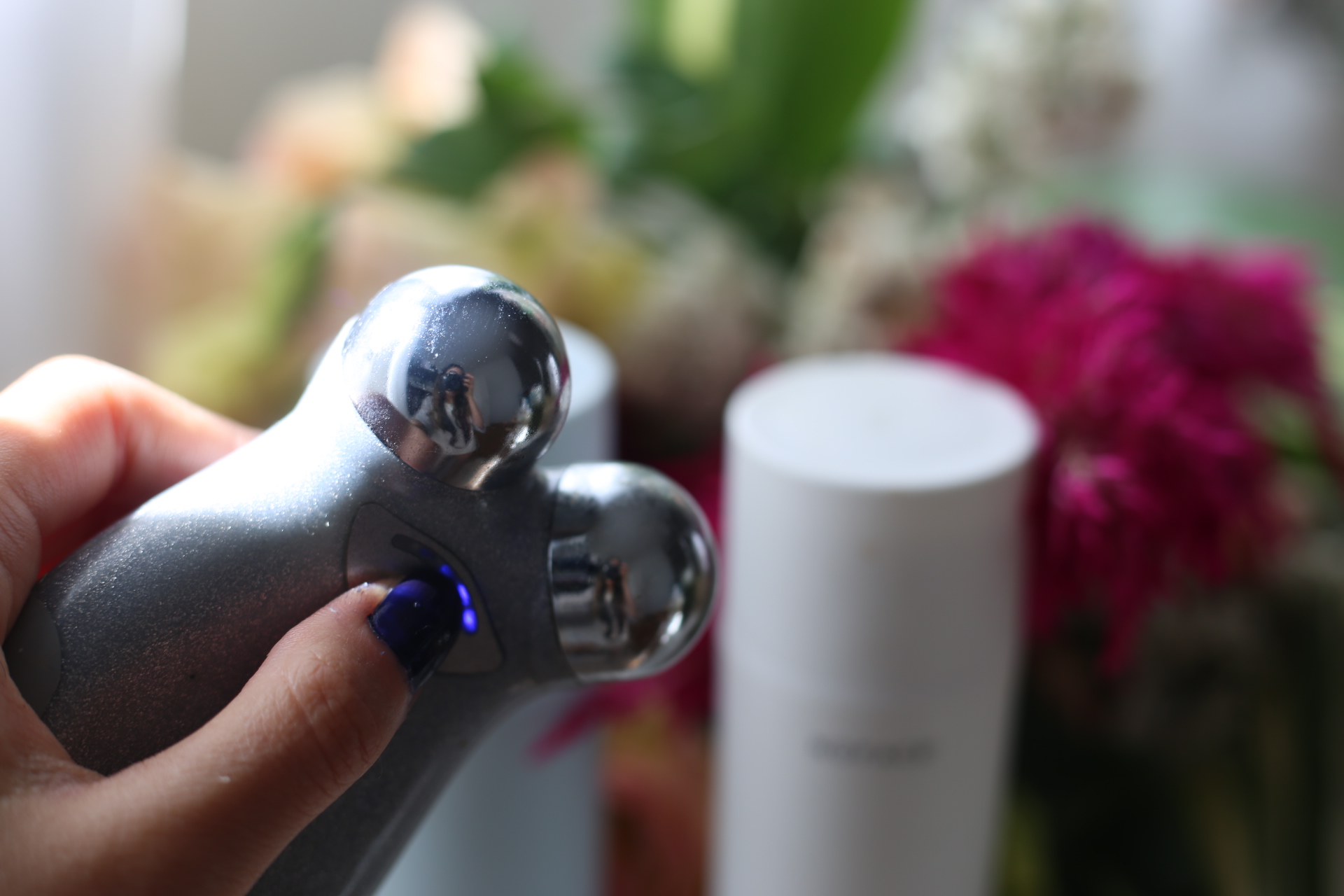 What is the NuFace Microcurrent Device?
The NuFace device is basically a way to give your face a workout. If you're too lazy to commit to face yoga, then NuFace is the easy, technologically-enhanced version.
Microcurrent uses low-level electrical currents to stimulate the muscles in the face.
It also stimulates energy production to help increase collagen and elastin production.
The electric voltage lifts and tightens the muscles underneath our skin, which results in a more toned and sculpted look.
First rule is you must have clean, bare skin that's oil free. Oil will block the Microcurrent from being delivered. Second rule is you can't skip on using their conductor products with the device. The salts and polymers in the gel help transfer the current from the device to the muscles. Not using the Microcurrent Activator product renders the device's technology useless.
CLEANSE: With an oil-free cleanser.
APPLY: Apply the Microcurrent Activator to skin
(Tip: It's best to apply in sections so that it doesn't dry out on areas of your face you haven't reached yet)
LIFT: Perform glides and holds. I always go in upward motions when gliding.
The device beeps periodically to let you know to move onto a different part of your face and shuts off automatically once the 5 minutes is up.
If I've applied enough Activator gel then I don't feel a thing. It's when there isn't enough gel that I can feel a zap sensation.
FINISH: Apply skincare as usual
NuFace recommends using the device for five days a week for the first two months, and then two to three times per week for maintenance.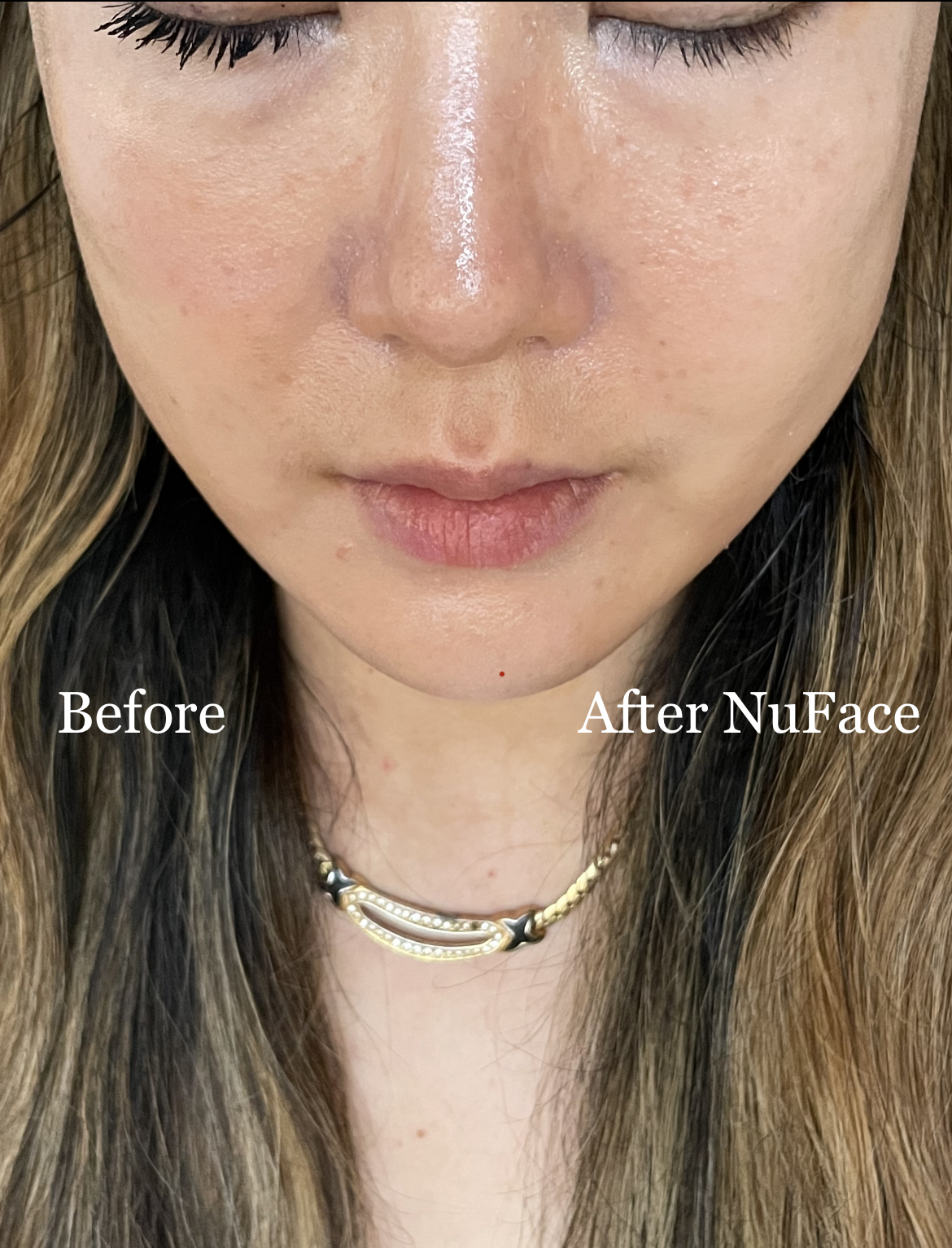 NuFace Before and After
Here are makeup free, completely untouched photos in natural lighting. I used NuFace on only one side of my face for 3 weeks straight.
As you can tell, any difference you think you may or may not see between the left and right is completely subjective.
There's a reason the "over 40" bloggers talking about NuFace (who have signs of aging that are much more pronounced than a 20 or 30 year old) don't look like they've had a facelift just because they've been diligently using NuFace. Any changes the NuFace makes will be so subtle it will probably only be you who notices them.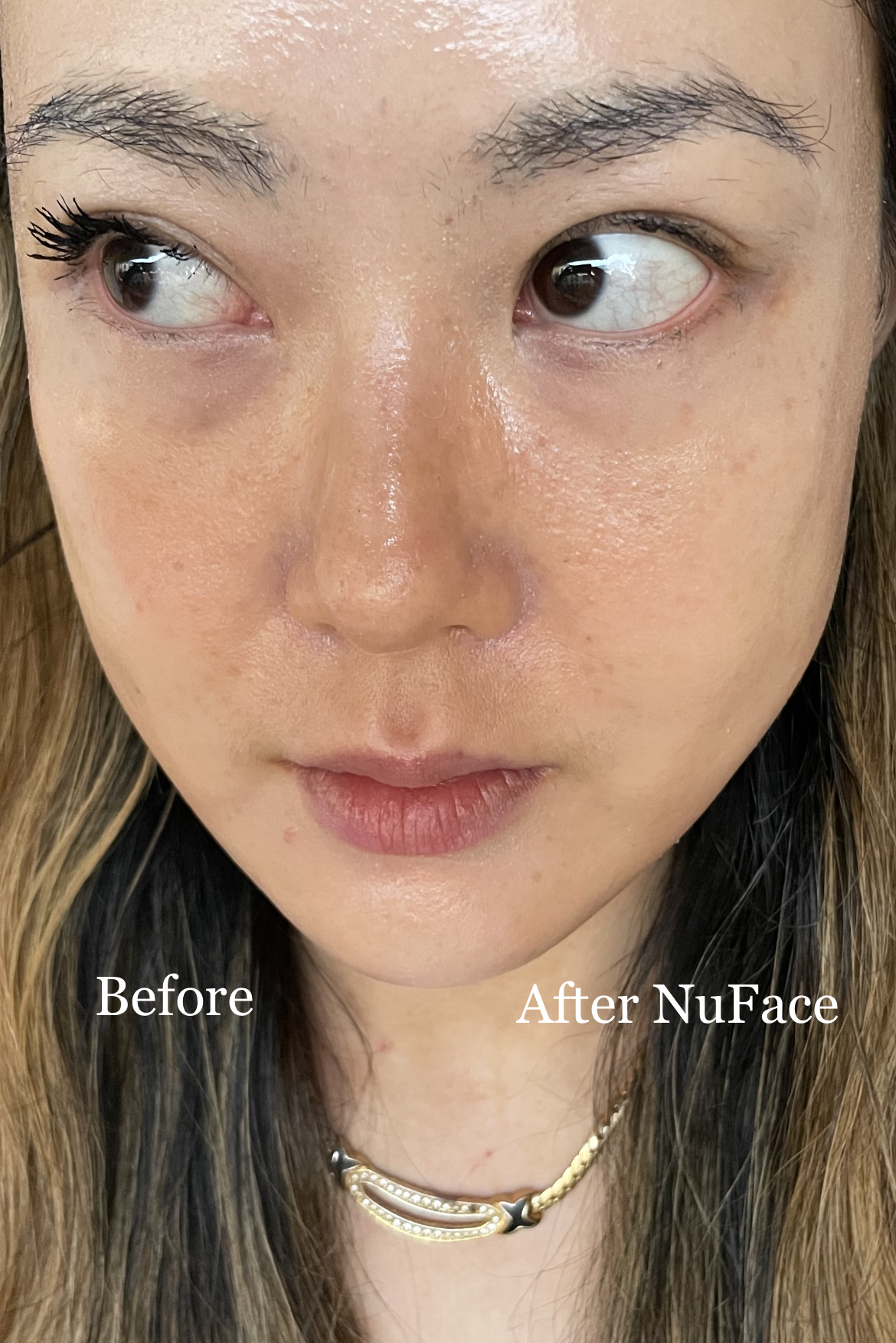 Final Thoughts
So I think I've made it clear that I don't think young people need the NuFace. For those of you who do have aging concerns and budget is not a concern, then there is no downside to getting the NuFace. If you would really like to include Microcurrent in your skincare but are on a budget, then my recommendation is to wait for a sale on their Refreshed devices. If you prefer a brand new device versus refreshed, then check out NuFace's Amazon Prime sale.
I also believe that nothing is a permanent fix aside from surgery, and no single device is going to give you miracle results. If you're buying fancy skin tools but you're not practicing good skincare habits daily, then you're wasting your money. You're better off remembering to wear sunscreen everyday, reapplying when you're outside, not constantly dragging your face down somehow while cleansing or applying skincare, not tugging the skin around your eyes, etc.
Save $100 on NuFace Trinity 
If you're interested in the NuFace Trinity which retails for $339, you can save $100 by using discount code OBLNF at the CurrentBody website.
---

---
More Discount Codes on Skincare Devices
Check out the newest reviews: