Native Sunscreen Review 2023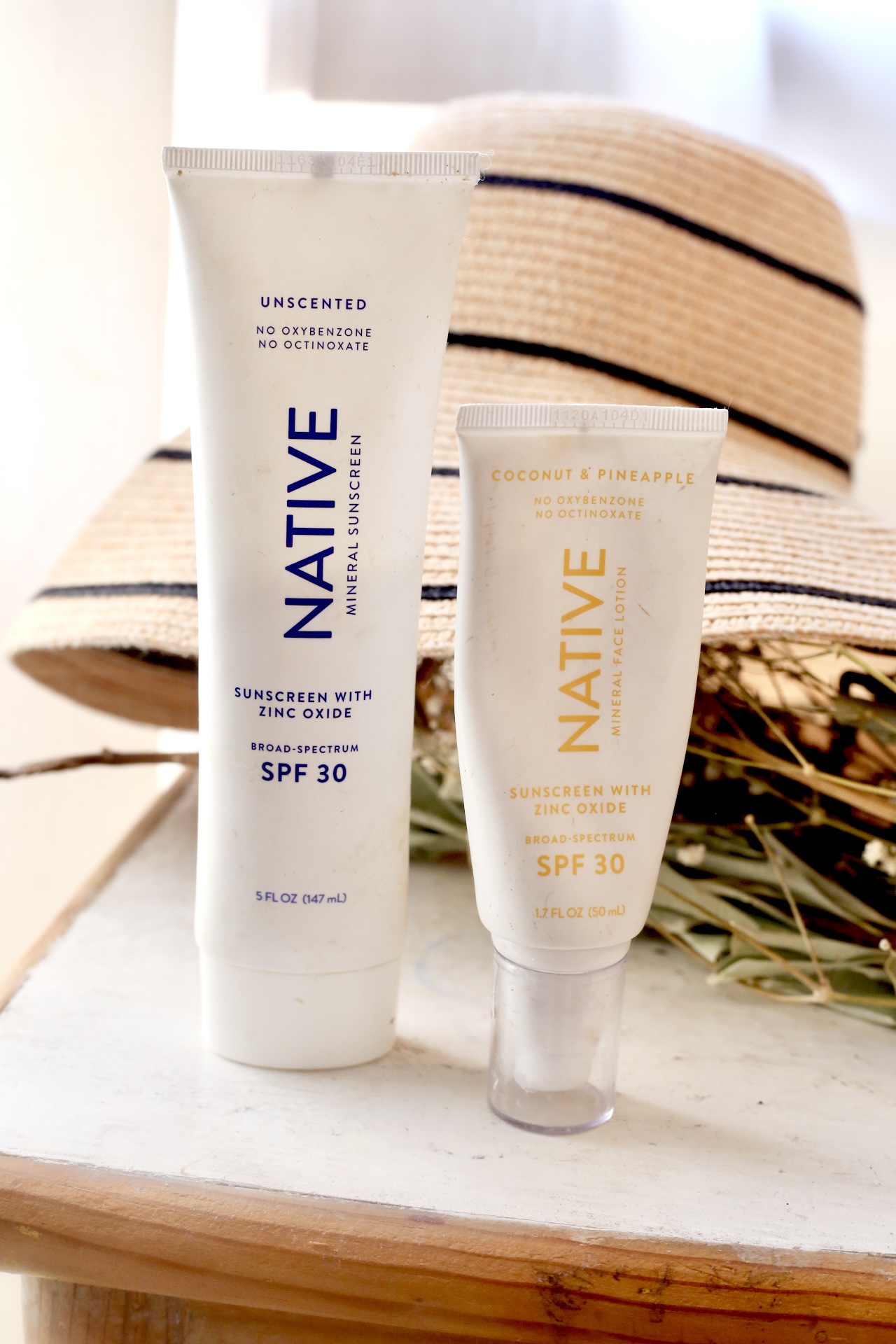 Native first launched their deodorants which became a mega hit, and in summer of 2021 the affordable clean beauty brand that's available in stores everywhere launched mineral sunscreens. Native has one face sunscreen and one body sunscreen that each come in either Unscented or Coconut Pineapple scents. I've been testing out the Native Mineral Face Sunscreen pineapple and coconut and the unscented Body Sunscreen for the past several months and I am ready to share my official Native Sunscreen Review.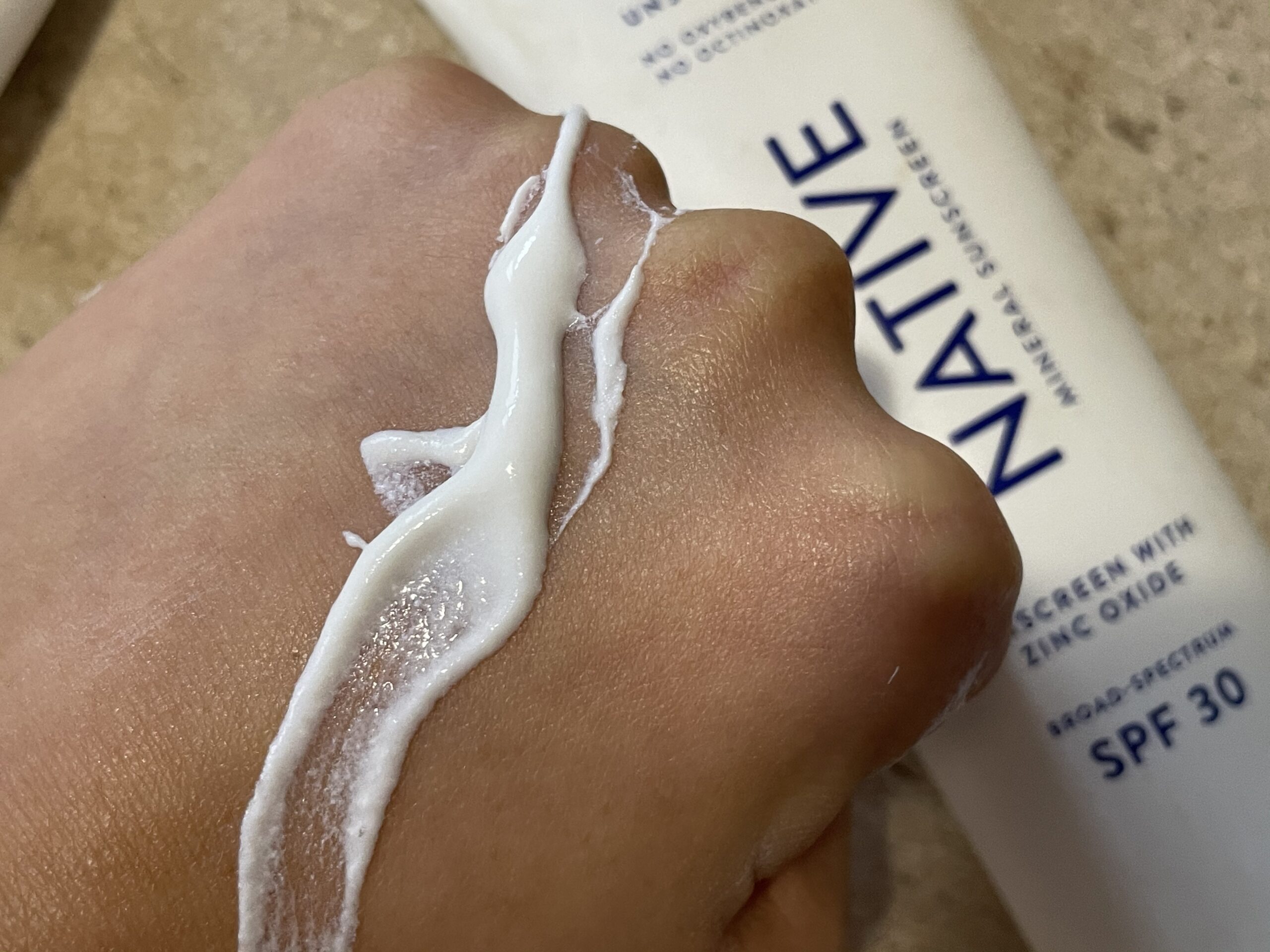 Check out the newest posts:
I'm happy to say that I've been enjoying the new Native mineral sunscreens, which I think are fantastic for the affordable price point. The formulation and texture may not be as perfect or sophisticated as the luxury mineral sunscreens I use, but the Native Sunscreens are still very wearable and I do reach for them often. They do have their faults though, which I'll be talking about in this Native review.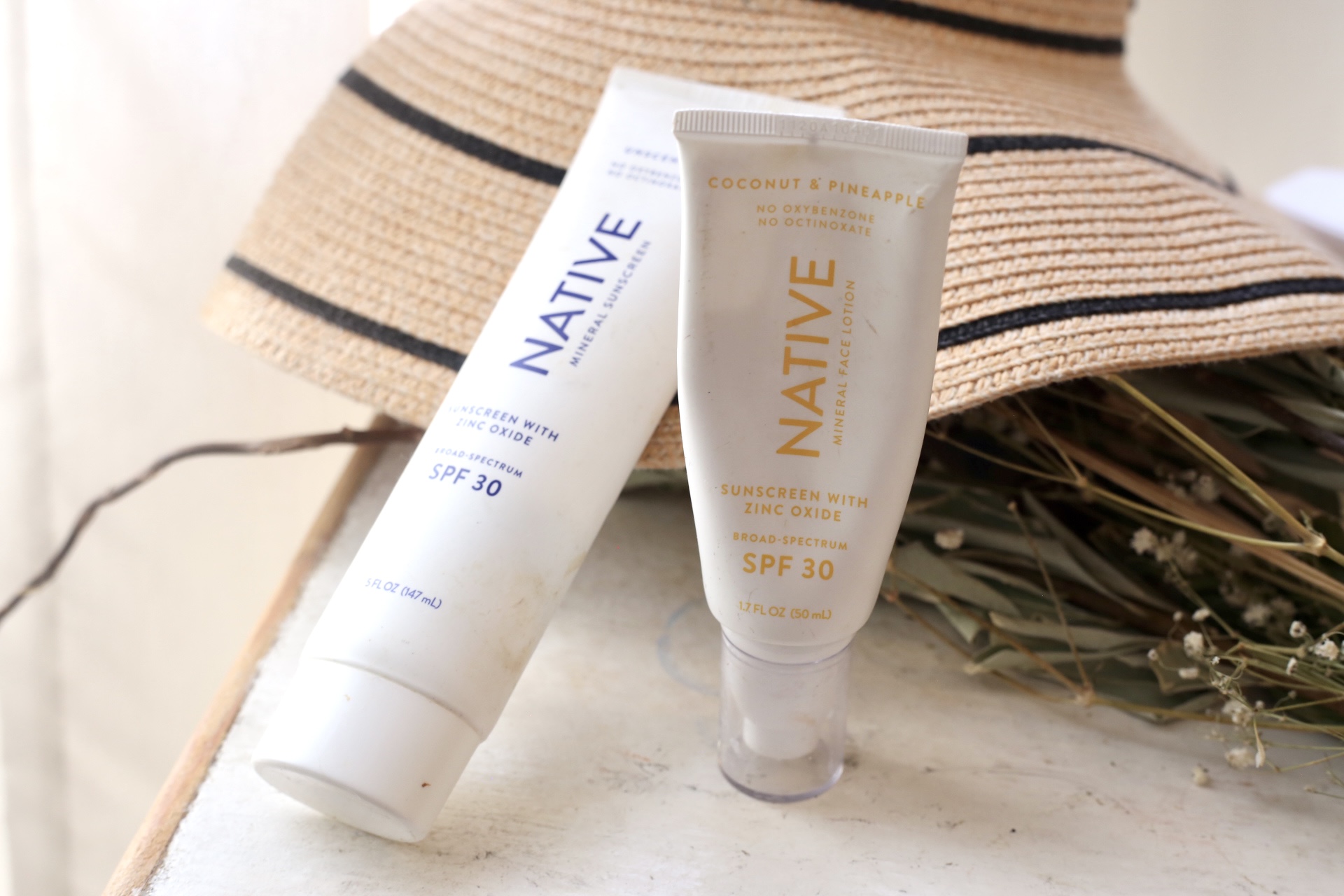 Native Mineral Body Sunscreen SPF 30
The Native Mineral Body Sunscreen contains one active ingredient as the UV blocker: non-nano zinc oxide. The formula is very simple and clean with avocado oil and sunflower seed oil, and the consistency is very lightweight and lotion-like. It can get a little chalky after applying, especially if 1) you're not pale and 2) with re-application (you need to reapply every 1-2 hours if you're in direct sun!). Some more oil or butter in the formula might have been better.
The ease of application is not the best compared to other similar clean sunscreens. I find Pipette Mineral Sunscreen, which has a similar light lotion consistency and price point, MUCH easier to apply. Native Body Sunscreen also has a slight tacky feeling initially after applying that is noticeable to me.

One of its biggest pluses is that the Native Mineral Body Sunscreen is an entire 5 fl Oz for just $20 and currently the biggest tube of sunscreen in my arsenal. I also like to use it as a face sunscreen, but it does require adding several drops of face oil for even application.
The Native mineral body sunscreen, being such a lightweight lotion and offered in a HUGE bottle, would make a great alternative to affordable mineral sunscreens that are often rich and greasy for some.
Native Sunscreen Ingredients:
Zinc Oxide, Vitamin E, Avocado Oil, Sunflower Seed Oil, Coconut Alkanes, Caprylic/Capric Triglyceride, Water, Glycerin, Cetearyl Alcohol & Coco-Glucoside, Arachidyl Alcohol, Behenyl Alcohol, Arachidyl Glucoside, Polyhydroxystearic Acid, Benzyl Alcohol, Xanthan Gum, Coco-Caprylate/Caprate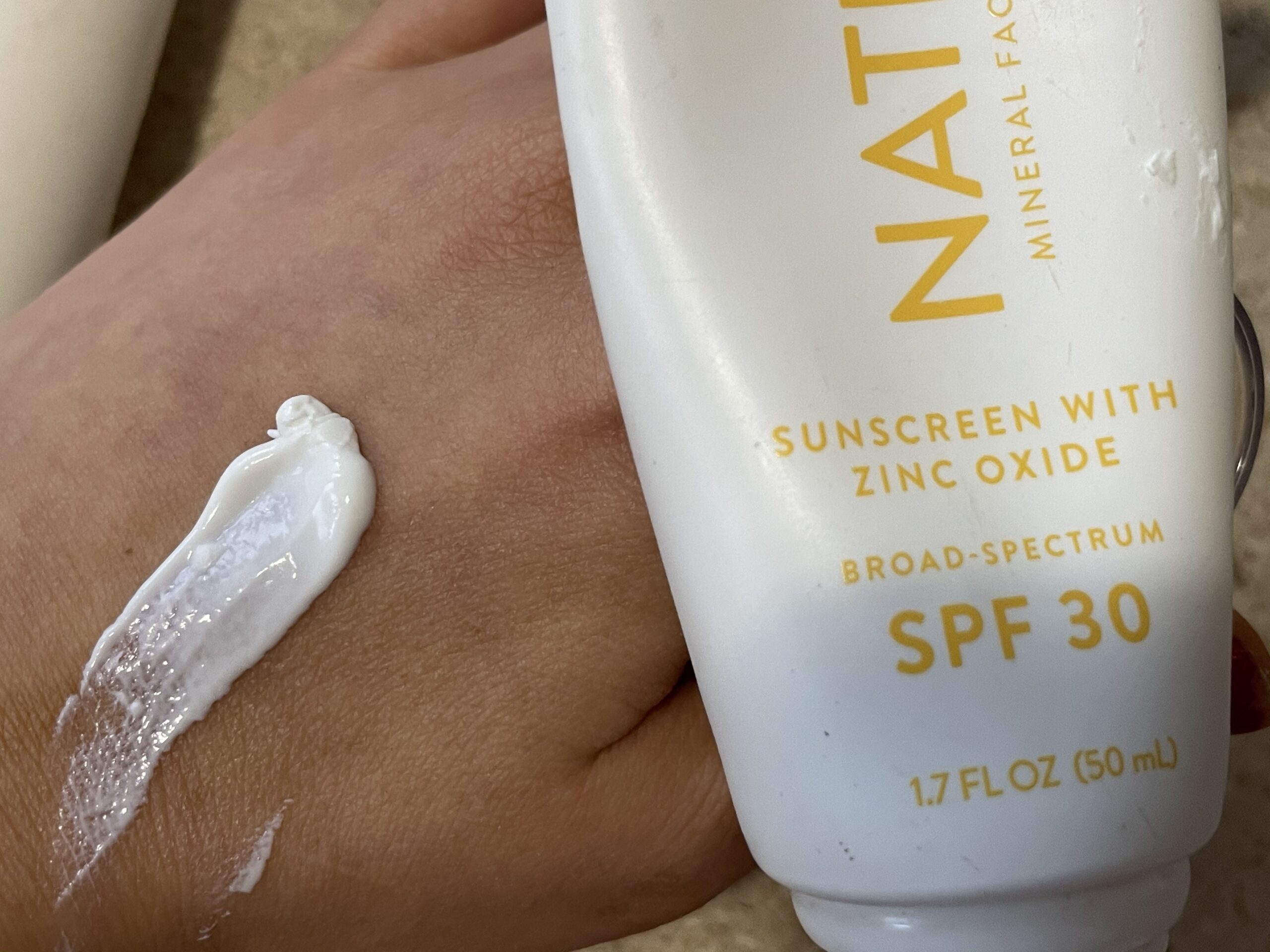 Native Mineral Face Sunscreen
The Native Mineral face sunscreen is a lightweight lotion but formulated for better application on the face than the body lotion. It doesn't have the chalky tendency that the body lotion has, but I do need to add a few drops of face oil (if it's not already part of my morning skincare routine) for this lotion to spread evenly and absorb quicker. Otherwise, it likes to spread unevenly and I feel like I would be trying to rub it in forever. I think oilier skin types would like the Native Face sunscreen.
As a mineral Zinc Oxide Sunscreen, the Native Face Sunscreen naturally leaves a hint of white cast but nothing too terrible. For organic sunscreens without a white cast check out this post. The Pineapple Coconut scent smells of a pina colada-filled summer and isn't overpowering. If I were to compare this pineapple coconut scent to others though, this one is not my favorite. The other thing I'm not a fan of is this removable cap, which is annoying to take on and off. I'd personally just prefer to get the Native Body sunscreen and customize it every time I needed to use it as a face sunscreen to save money.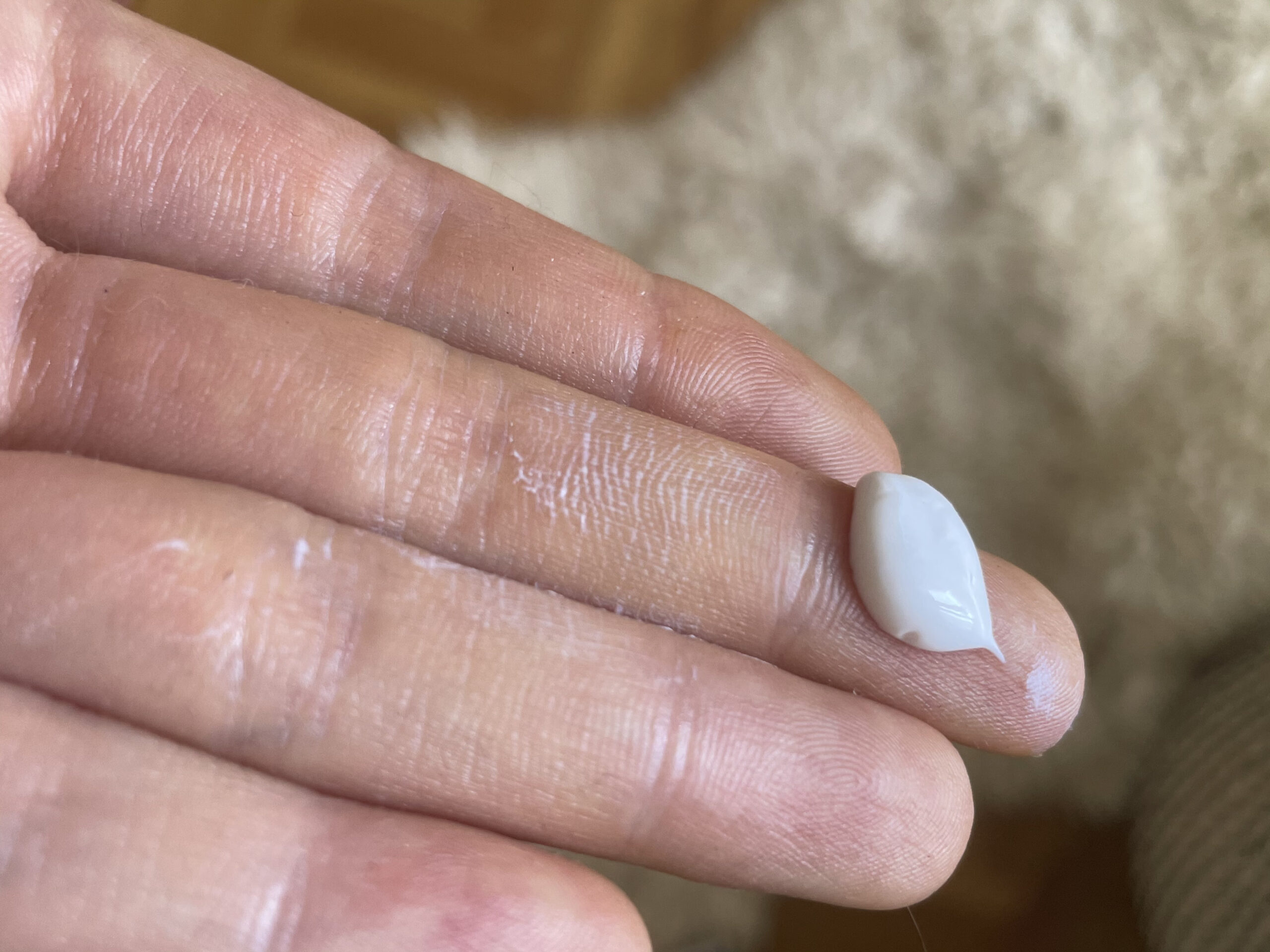 Update: I've noticed some regular people on social media (who are not skincare accounts) using Native sunscreen with only one or two pumps, which is not nearly enough. The pump dispenses such a small amount each time, and one pump is good enough to cover one cheek and a chin. You're not getting SPF 30 protection, and by using so little, the white cast effect is naturally much more subtle than if you were to use an adequate amount.
One thing to note is that Native sunscreen, both body and face, are NOT water or sweat resistant. If you're looking for a sunscreen that needs to endure water or sweat-filled activities, this is not the sunscreen for you. Check out the best sports sunscreens that are natural and organic here.
Native sunscreens are available online at their website only for US shipping.
More "Best Of" Organic Beauty: