Earth HarborWelcome to the ultimate guide to the best and worst Earth Harbor skincare products. Earth Harbor is a natural skincare line using clean, vegan ingredients inspired by the sea and earth. The Earth Harbor vibe is best described as beachy minimalism and their products are a blend of nutrient-rich plant oils, salts, herbs, seaweeds, and earth made in micro-batches for quality and freshness. Unlike many clean beauty brands today, Earth Harbor does not contain any fillers or synthetics, phenoxyethanol, dimethicone, emulsifying wax, mineral oils, or petroleum. I love Earth Harbor's subdued mer-babe vibe, budget friendliness and unusually wide array of products for a small family-run business. The best Earth Harbor products are their Ampoules, Mermaid Milk Moisturizer, Eclipse Mineral Sunscreen and Cacao Cove Face Mask. I'm sharing Earth Harbor hits and misses in my Earth Harbor review.
Earth Harbor was started by certified health scientist and herbalist, Ali Perry-Hatch, out of her treehouse kitchen. Earth Harbor is rooted in holistic phyto-technology with customizable formulas led by leading-edge biomimicry and clinically proven botanicals.
Each Earth Harbor product focuses on organic, high-performing, food-grade and upcycled ingredients. The brand shuns synthetics, filler ingredients AND superfluous ingredients, opting for concentrated and trim formulas.
Earth Harbor's certifications include:
PETA, Leaping Bunny, Climate Neutral, Sustainable Forestry Initiative, and Think Dirty certified
Members of 1% For The Planet, Campaign for Safe Cosmetics, Truth in Labeling, and Independent Beauty Association
Where is Earth Harbor located?
Earth Harbor is family owned and operated out of Saint Simons Island, Georgia. They also have a studio in the Utah mountains where they infuse, bottle and ship out their products.
Where to Buy Earth Harbor?
You can buy Earth Harbor at their website and their Amazon Store.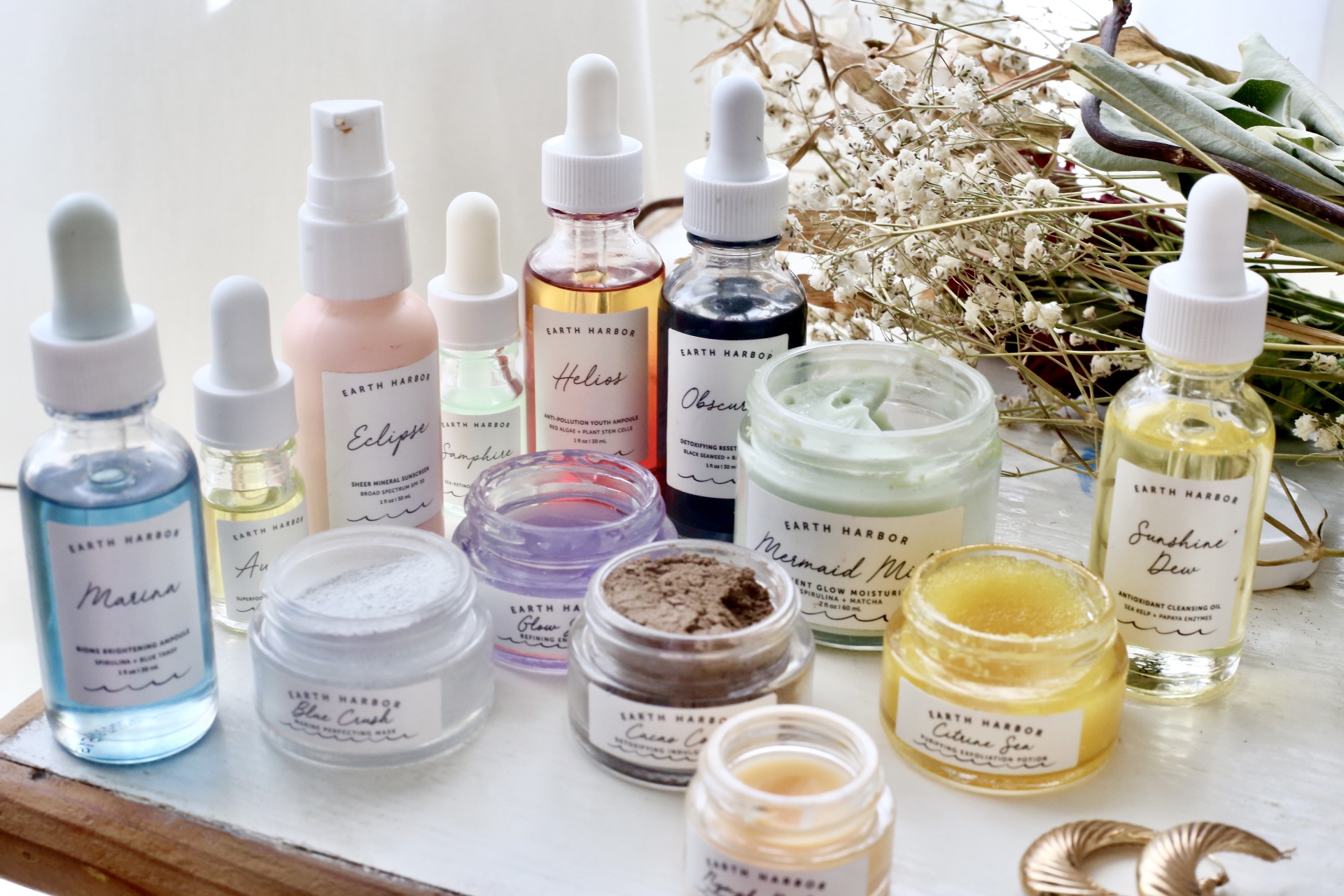 The Earth Harbor line offers 30 products, majority of which are skincare along with a couple hair and body care products.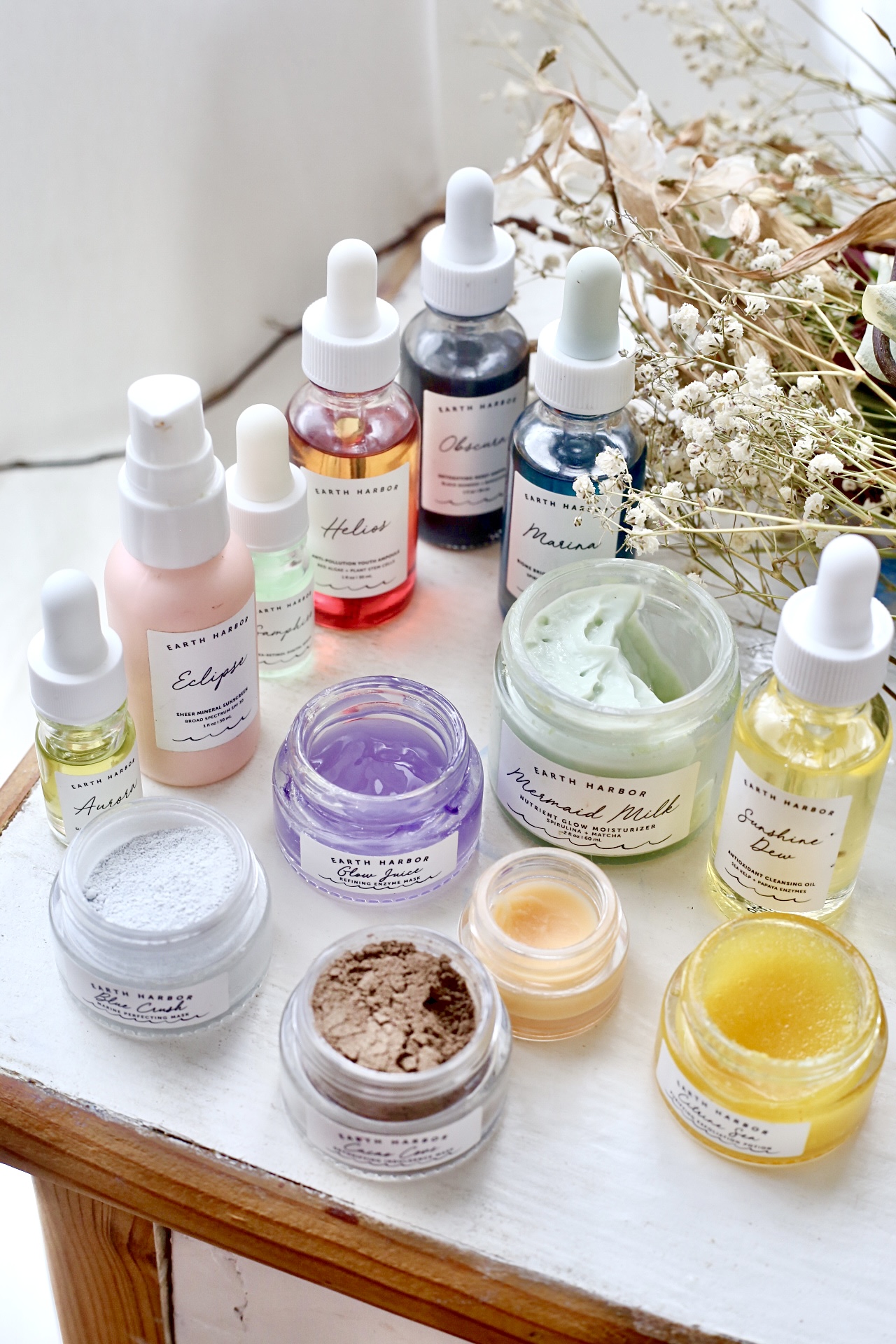 Apart from Siren Silk Moisturizer and Luna Phyto Resurfacing Serum, there are no products that cost above $50 with majority of Earth Harbor products ranging between $20-$40. Plus there's a couple of discount offers I'm sharing at the end of this Earth Harbor review. I purchased majority of the products on my own, because I was very curious to experience as much of the line as possible.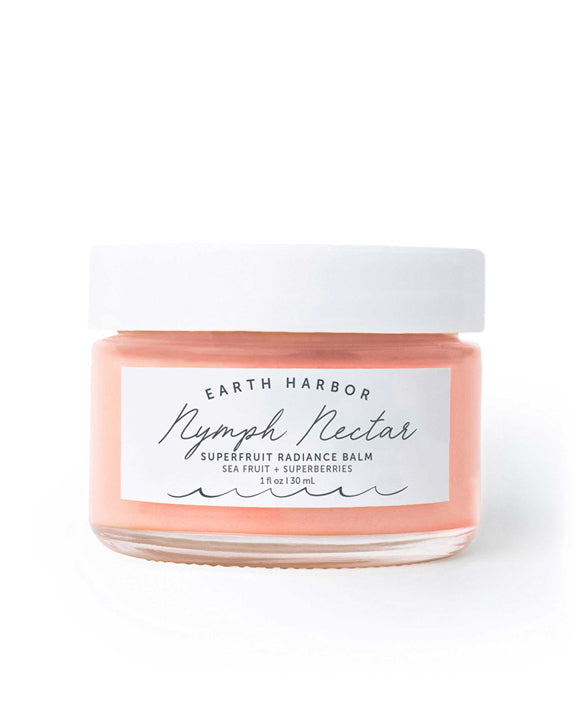 Earth Harbor Nymph Nectar Superfruit Radiance Balm
Nymph Nectar is an affordable face balm at $38 and is made with a blend of super fruits, butters, oils and seaweed. This balm has a soft consistency that feels like a buttery paste. Nymph Nectar contains Kokum Butter, Mango Butter, Cranberry seed oil, Raspberry seed oil, Olive Fruit, Moringa, Sunflower, Poppy Oil and more.
This is one of Earth Harbor's more strongly scented products with Papaya fruit isolate and blueberry fruit isolate added for an extremely sweet fruity scent. This smells like candy, which is not exactly ideal for me as a before bedtime skincare product. I prefer more herbal, earthy or even floral scents before bedtime.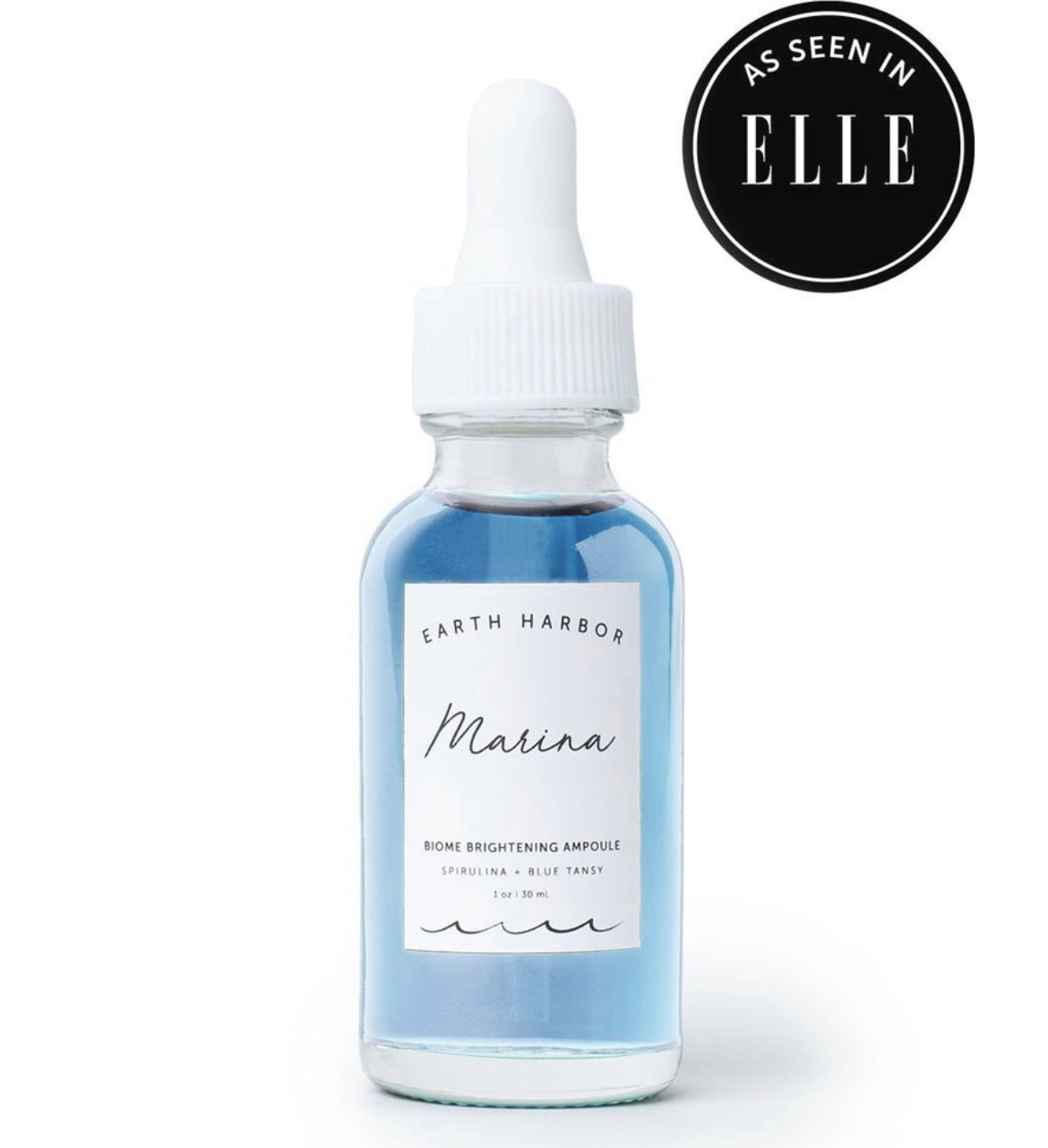 I tried a variety of Earth Harbor Ampoules, which are essentially face oils, and found them to thoughtfully formulated with mostly certified organic ingredients.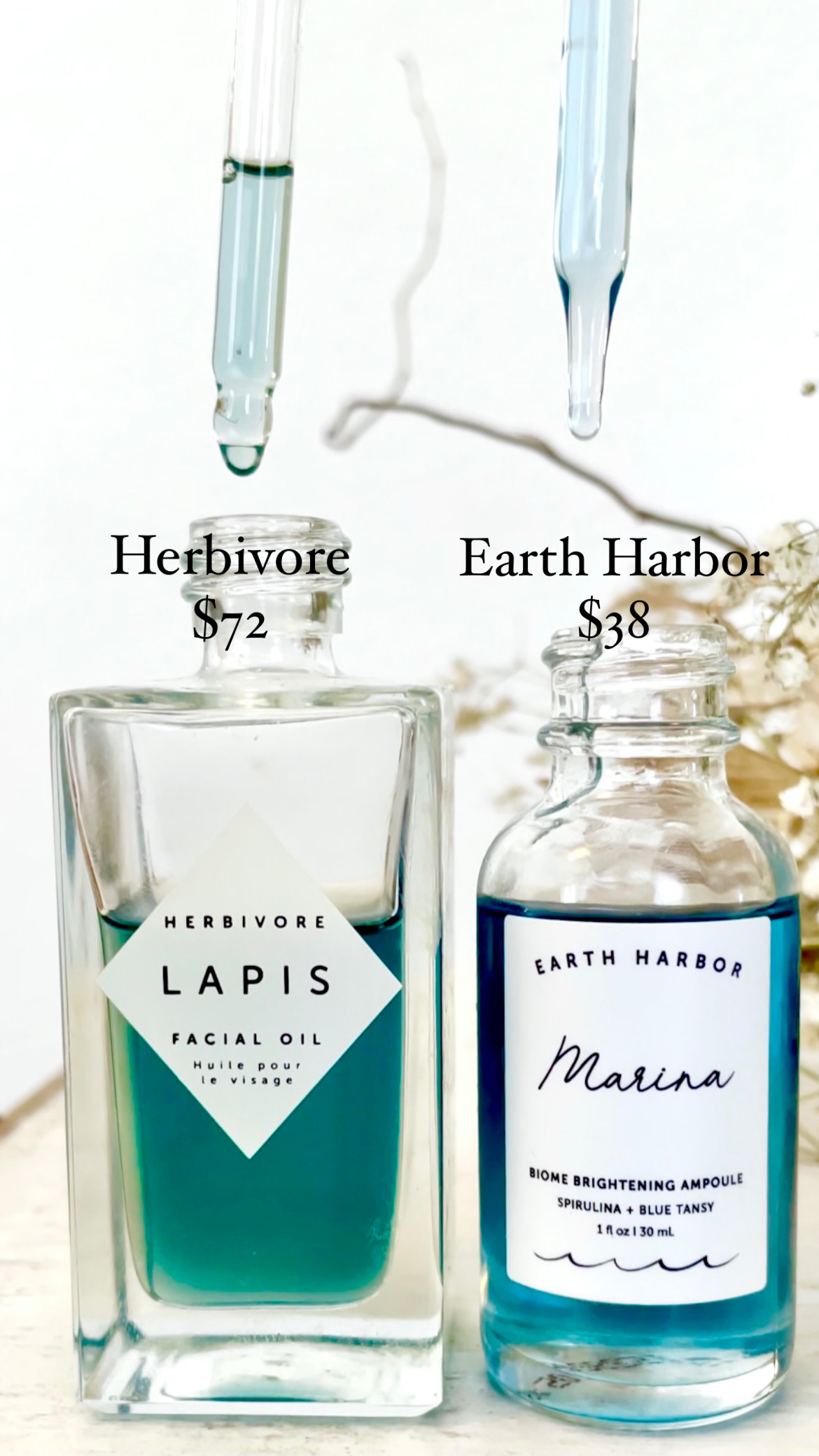 Earth Harbor Ampoules have subtle scents that lean floral, sweet and feminine.
For $38 Earth Harbor Marina is a fantastic dupe to the much more expensive $72 Herbivore Lapis Facial Oil. One of their best value products, Marina is wildly affordable for all it has to offer:
Spirulina superfood to protect skin from environmental toxins, and breakous
Blue Tansy contains Azulene, a naturally occurring deep blue constituent that helps even skin tone, balance and soothe skin, and alleviate redness.
Blueberry, Watermelon and Rosehip Seed Oil, Squalane
Japanese Green Tea Oil to help with hyperpigmentation and signs of aging
Many of the Earth Harbor Ampoules I've tried are lightweight oils that can just as easily be used during the day as the night. Marina has a sweet floral blue tansy scent that is soft and subtle.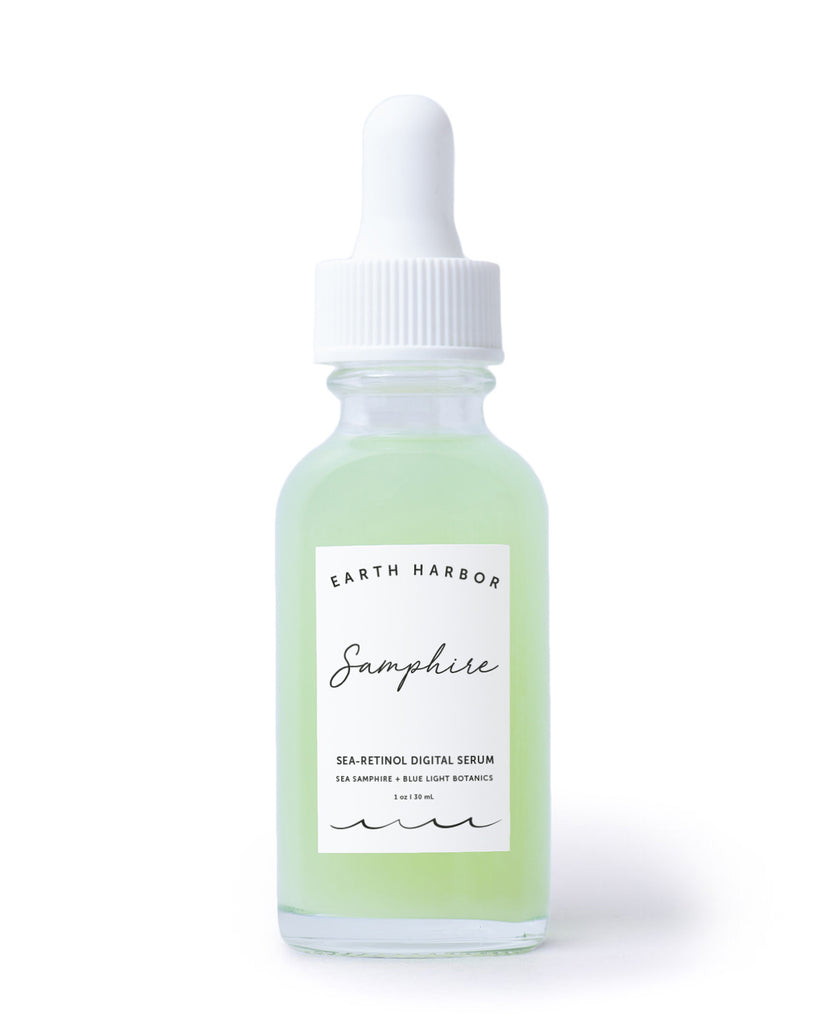 Samphire Sea Retinol Digital Serum
Earth Harbor isn't particularly known for their serums, so I wasn't sure what to expect with this product. I bought this as part of Earth Harbor's Smooth Sailing Kit, and was surprised by how much I liked it. I think this is a very *interesting* serum as in it has a very unique formula. Instead of the usual bakuchiol, or even rambutan, this green hued face serum contains Samphire. This is a botanical that acts like retinol (1% retinol product) but is naturally non-irritating, non-photosensitizing, and has high phyto-Vitamin C content. Sea Retinol Digital Serum contains:
A base of Certified Organic Banana Fruit Juice, Ocean MSM and Coconut Water
Red Algae
Persian Lilac Extract to nourish and protect skin from blue light damage
Vegan Hyaluronic Acid
Fermented Beet Sodium Lactate
Vegetable Glycerin
There is a subtle warm honeysuckle scent that is barely detectable. The consistency is quite onctuous and I'd categorize it as a medium to heavy weight serum. My skin tingles ever so slightly when I apply Samphire. This formula is well thought through and unique.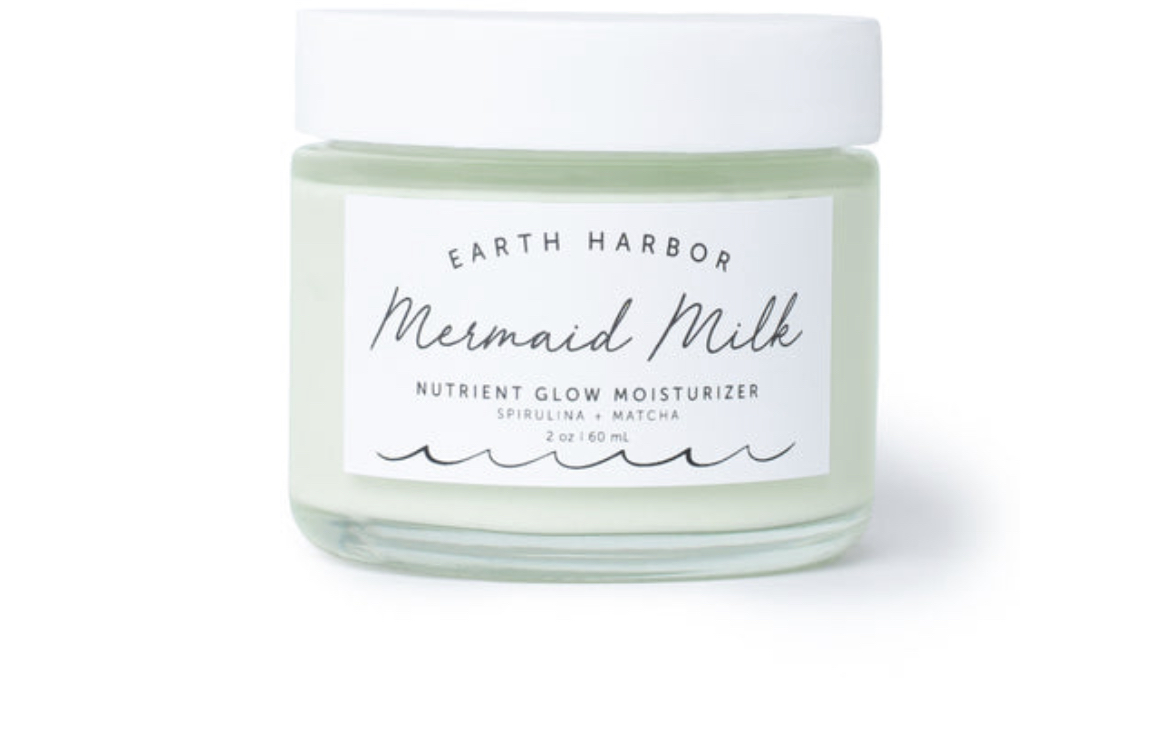 The Mermaid Milk Moisturizer is one of Earth Harbor's standout products in my opinion. It's much easier to formulate crowd-pleasing face oils than it is to formulate crowd-pleasing moisturizers and sunscreen, both of which Earth Harbor has tackled.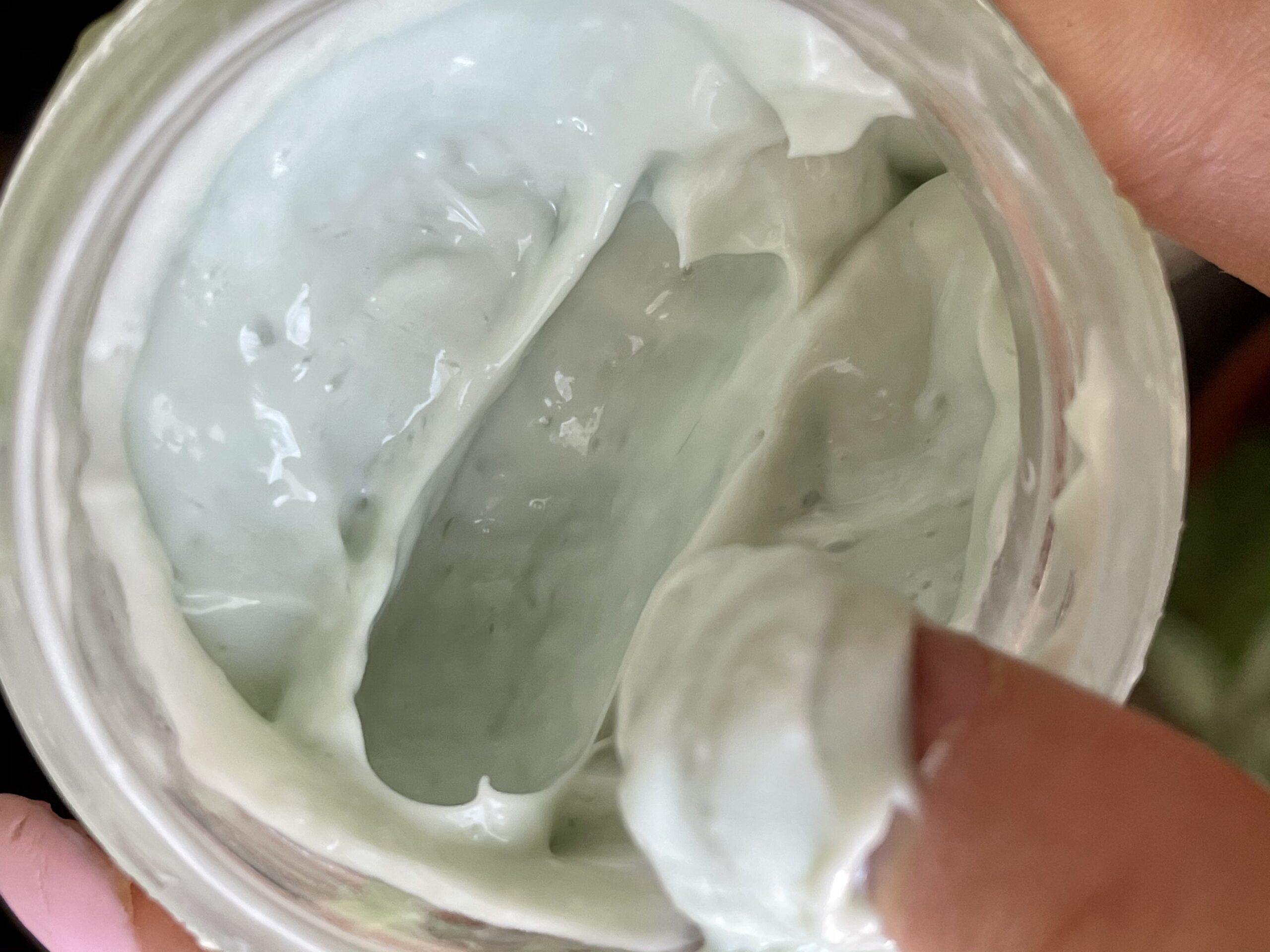 Mermaid Milk feels very hydrating and moisturizing all at once and begins in a certified aloe leaf juice base. Earth Harbor's popular face cream contains Spirulina, Matcha and Seaweed Extracts, Vegan Peptides, Eggplant, Ivy Gourd, and Tulsi, Blue Tansy, Turmeric and Vegan Hyaluronic Acid. I would describe it as having a light to medium consistency with a silky mousse like texture. I don't think oily skin types would like this but I can see most people with dry, oily and combo skin enjoying Mermaid Milk.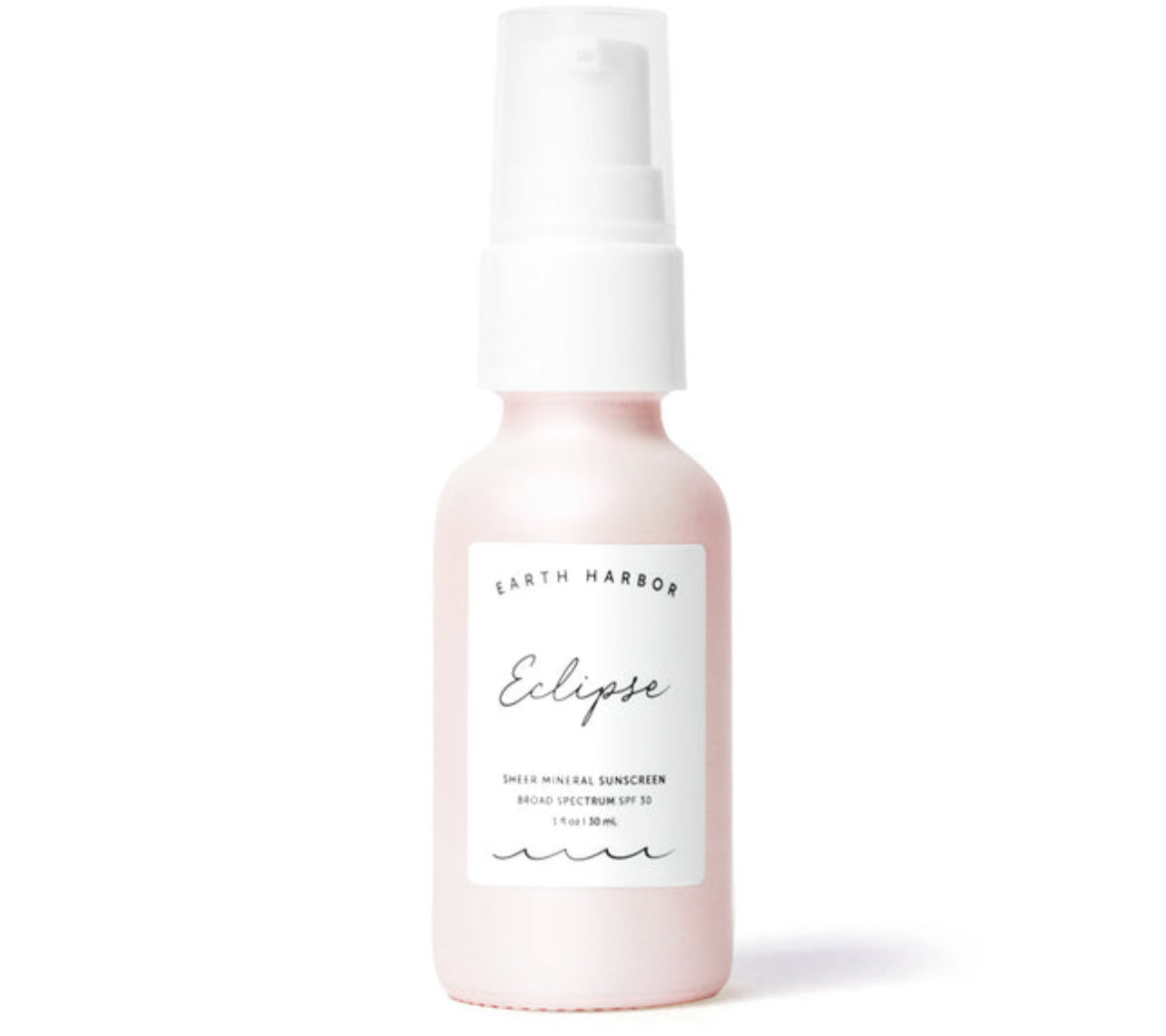 The Earth Harbor Mineral Sunscreen is made with 100% mineral-based with Zinc Oxide, Macroalgae, and Green Tea Extract to protect skin against UVA and UVB rays, blue light, and pollution damage.
Eclipse contains 18.9% zinc oxide which is high for a sunscreen labeled just SPF 30. I see a lot of sunscreens with less zinc oxide percentage also marked as SPF 30 (I'm looking at you Le Prunier Plumscreen). Earth Harbor Eclipse contains a Sheer Mineral Matrix, which the brand described as a breakthrough plant-based mixture that creates a suspended coating around the zinc oxide particles to make this sunscreen lightweight without leaving a white cast.

Earth Harbor Mineral Sunscreen has no oil content making this a thin lotion that leans matte. I love how easy this sunscreen is to apply. Because this is a "drier" lotion it may feel like it sits on your skin initially, but that quickly subsides. There's no scent. The major con of Earth Harbor's sunscreen is that it's not the most affordable sunscreen and one of the brand's not so budget friendly products with a cost of $25 for merely 1 fl oz.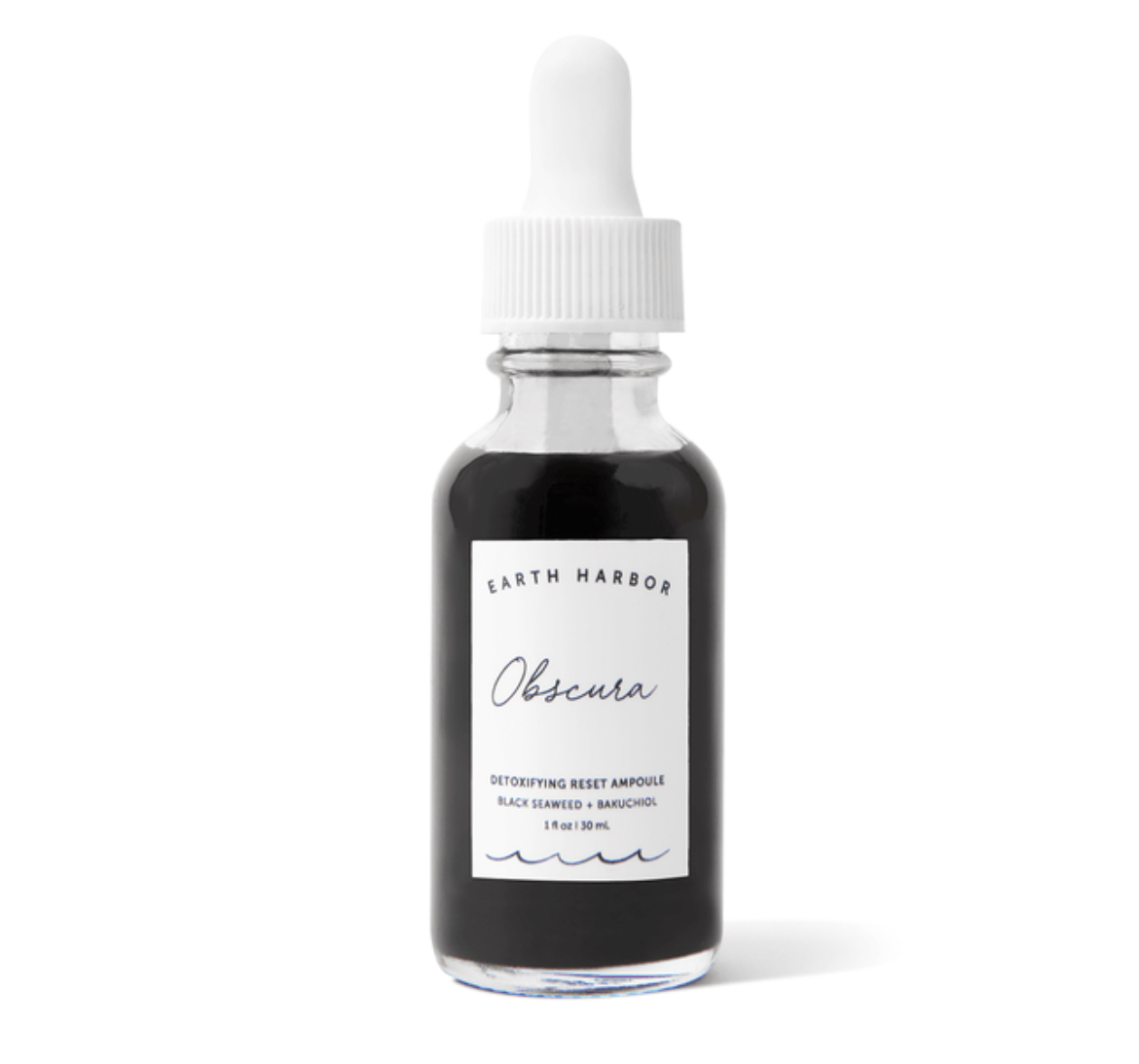 Possibly one of the most interesting face oils I've tried in 2022, the Earth Harbor OBSCURA Detoxifying Reset Ampoule is the deepest shade of black thanks to Bamboo Charcoal and Black Cumin Seed. It reminds me of other black-as-the-night clean beauty products like Odacite Black Mint Cleanser and Pai Carbon Oil.
As the name suggests, Obscura is a detoxifying product that acts as a overnight recovery detox and complexion refiner. It helps clear pores and buildup as you sleep, which then helps prevent and clear breakouts.
There's plenty of Star ingredients in this face oil: Black Seaweed, Bakuchiol, Black Cumin Seed, Bamboo Charcoal, Linoleic Acid, Tamanu Oil, Squalane, Kiwi Seed Oil and more.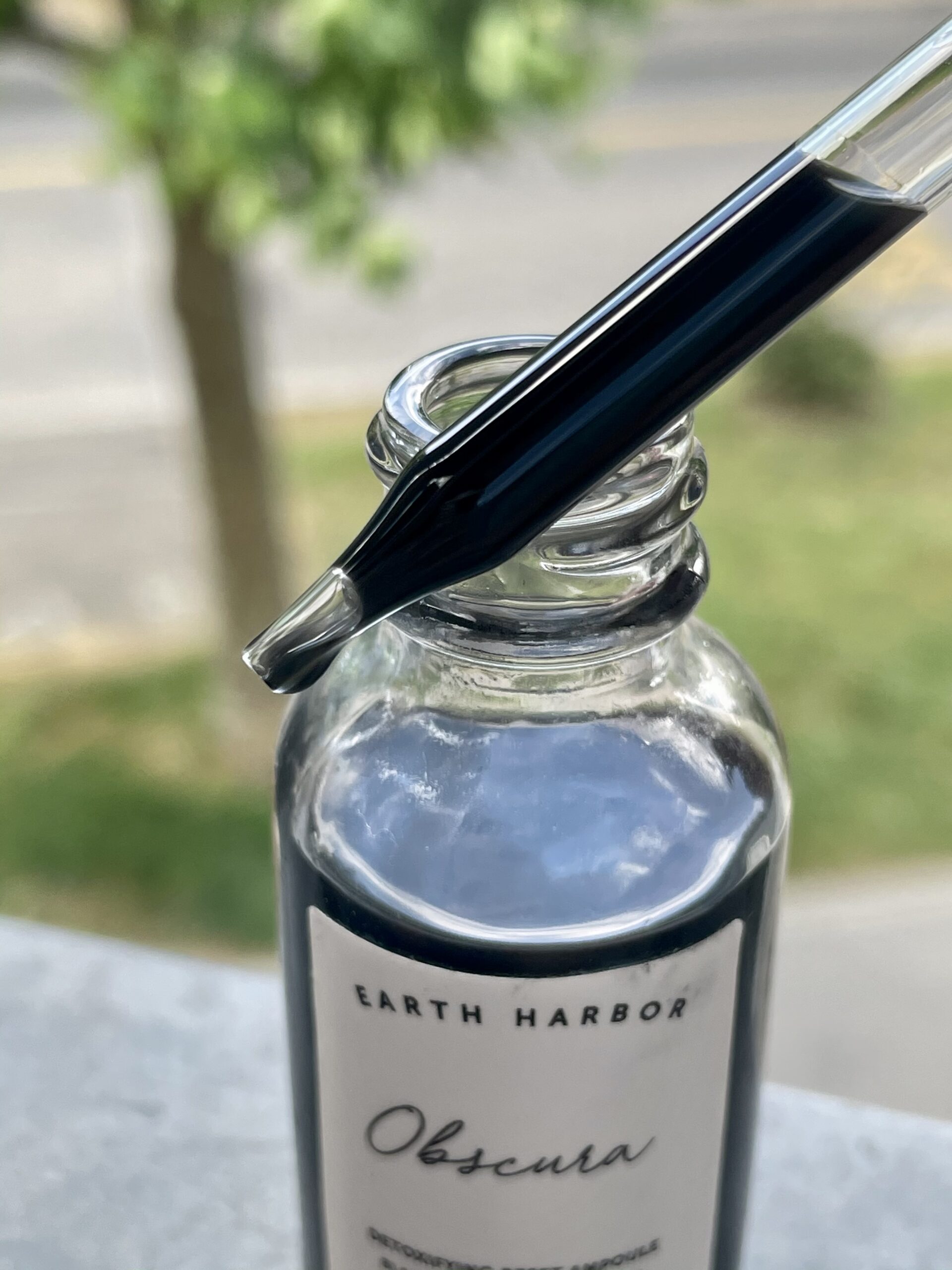 While Obscura is ideal for oily and acneic skin, I feel that any skin type could benefit from detoxifying benefits. Skincare at its core is about removing the bad and adding the good, in the most simplest terms. There is a very subtle sweet grounding scent and the consistency is almost liquid like. Obscura Ampoule gives skin a tinge of grey because of the Black Charcoal shade, and is meant for nighttime use.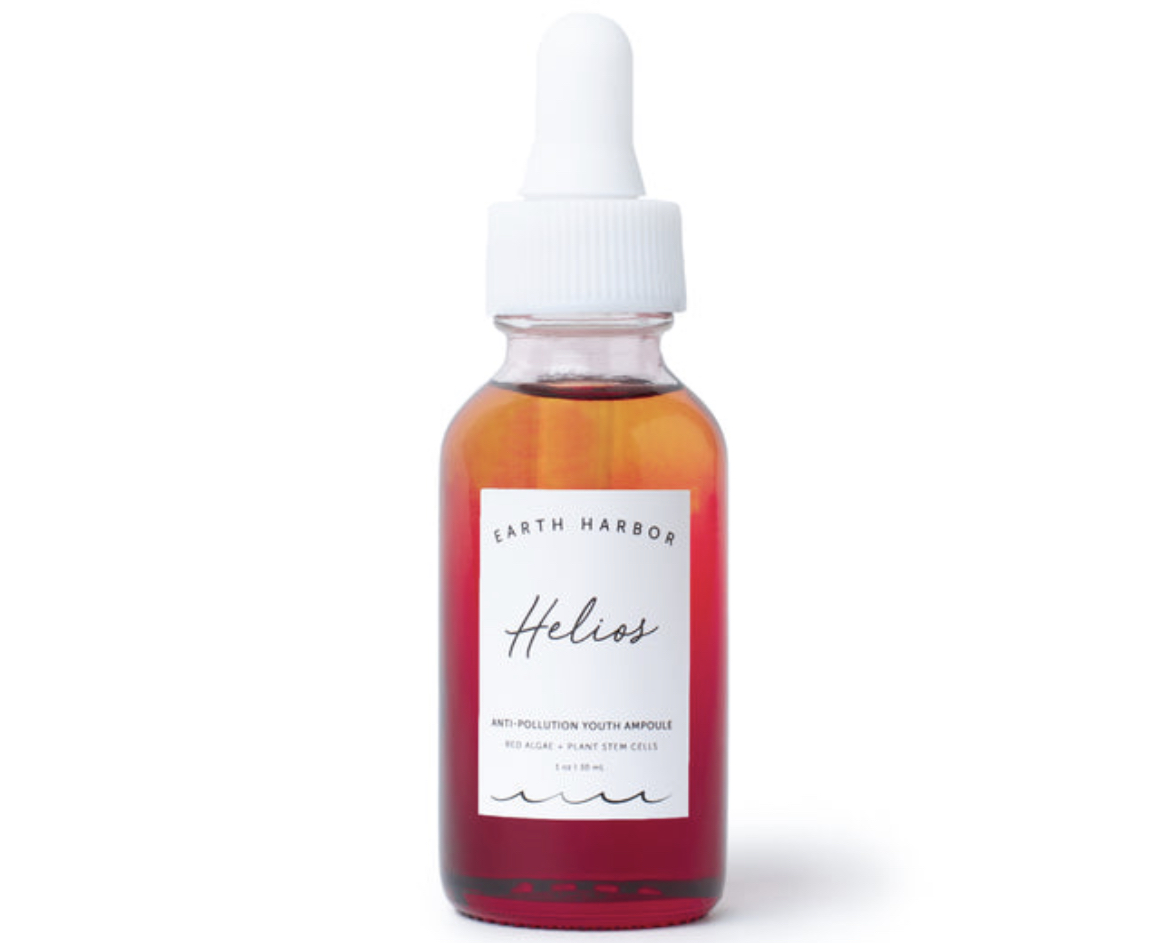 Earth Harbor Helios Anti Pollution Ampoule I feel is a thoughtful product especially suited to those who live in heavily congested and polluted areas. It's got an amazing ingredient I love to see in skincare – Astaxanthin! Earth Harbor Helios begins in a base of Grapeseed, Cranberry, Marula, Pomegranate, and Baobab Seed oil and has a silky light consistency though not ultra thin.
The Earth Harbor Helios looks like sunset in a bottle thanks to its two-toned glass packaging. The actual oil isn't tinged red at the bottom and is a golden hue throughout. I'm a sucker for anything with a neroli scent and this oil smells divine to me.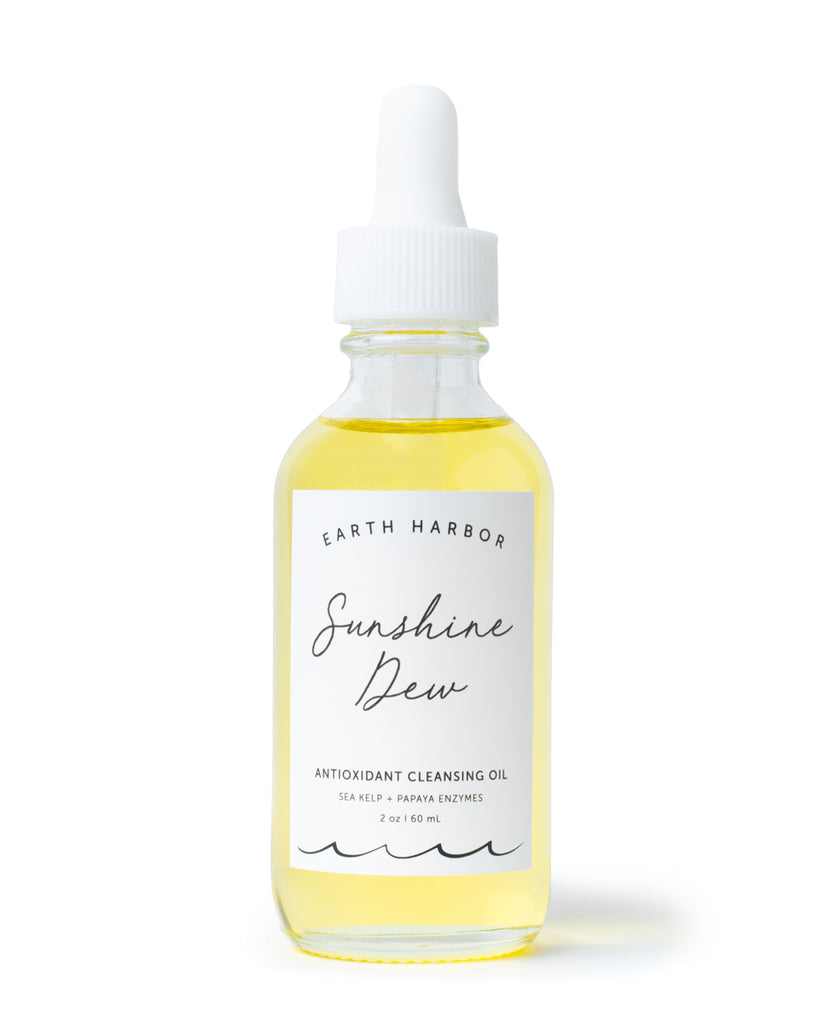 Earth Harbor Sunshine Dew is a lightweight rinse-off cleansing oil. It has a subtle sweet citrus scent with some warmness from vanilla extract. If you like a non-heavy cleansing oil that doesn't lean greasy or are new to cleansing oils, Earth Harbor's cleansing oil is a great option to look into. Sunshine Dew takes makeup and sunscreen off easily and doesn't feel heavy on the skin. It doesn't emulsify but it seems to rinse off easily.
The one thing I have an issue with is the dropper application method. I much prefer a pump bottle versus using a dropper when it comes to cleansing oils. Sunshine Dew is, in my opinion, another feel good Earth Harbor product that doesn't exactly impress me as a cleansing oil but would be enjoyable for many.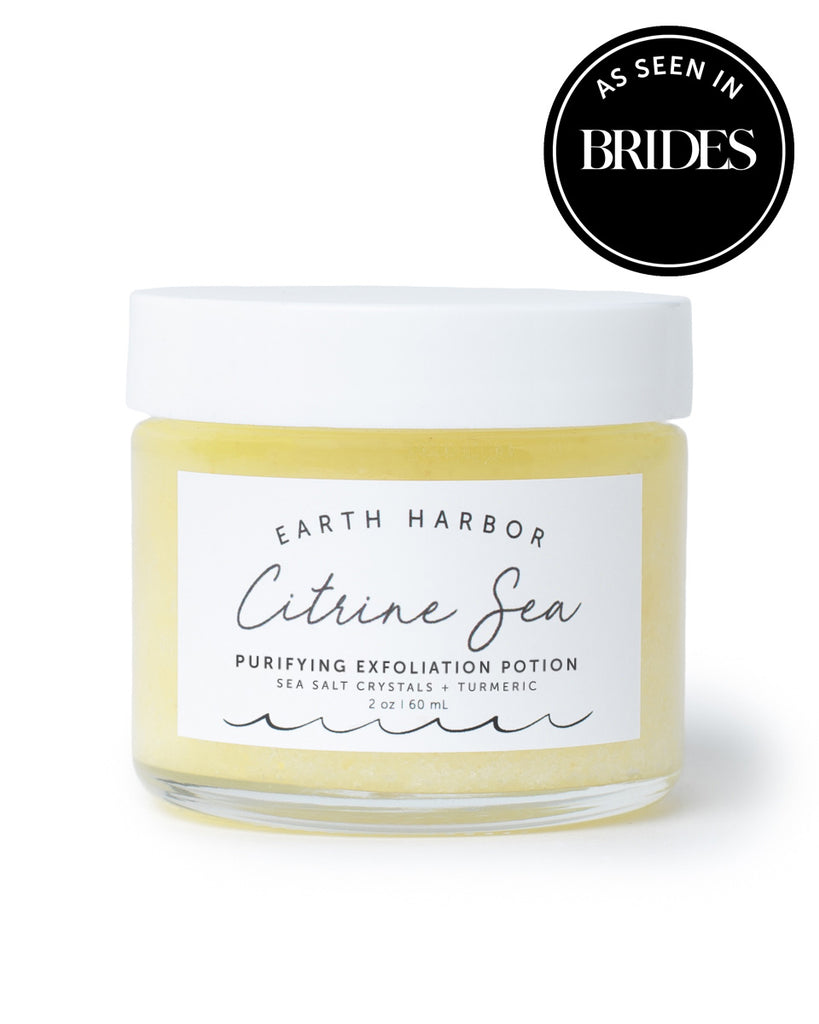 Citrine Sea Exfoliating Potion
I purchased the Merbabe Mask Kit to try out more of Earth Harbor's mask collection and while I didn't find them to be powerhouse masks, I think these are overall great quality, gentle options at very low prices. I personally would skip the Citrine Sea Exfoliating Potion because I find it too abrasive for my skin, but I enjoyed the other masks. My favorites were Cacao Cove Detoxifying Vitamin C Mask and Blue Crush Marine Perfecting Mask.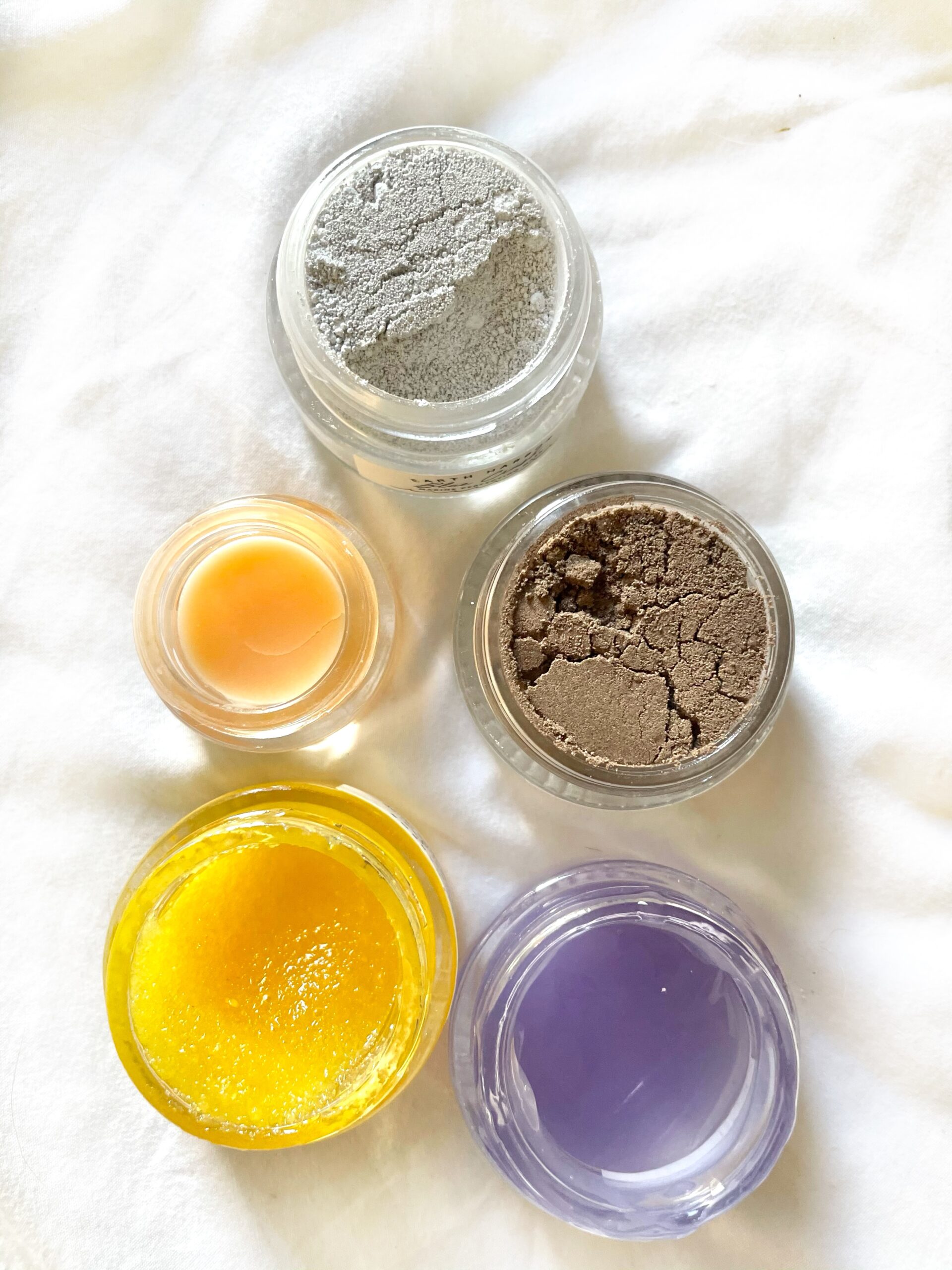 Earth Harbor Citrine Sea, in the most basic terms, is a physical exfoliator made of a blend of salt and oils. In Earth Harbor fashion, the brand chose Atlantic Sea Salt Crystals and added a few interesting ingredients to make this an exfoliator a little more special. You'll find liquified Turmeric, micronized Citrine Gemstone, Mustard Seed Powder and Neem Seed Oil. Citrine Sea smoothes skin and moisturized with coconut oil and shea butter.
I consider Citrine Sea a feel good product that would make your routine more fun, but I don't think it stands out as an Exfoliator. This product doesn't fit my personal taste, literally, as I didn't enjoy the salt particles that would accidentally enter my mouth, At just $20 Citrine Sea is one of the most affordable products in the Earth Harbor line.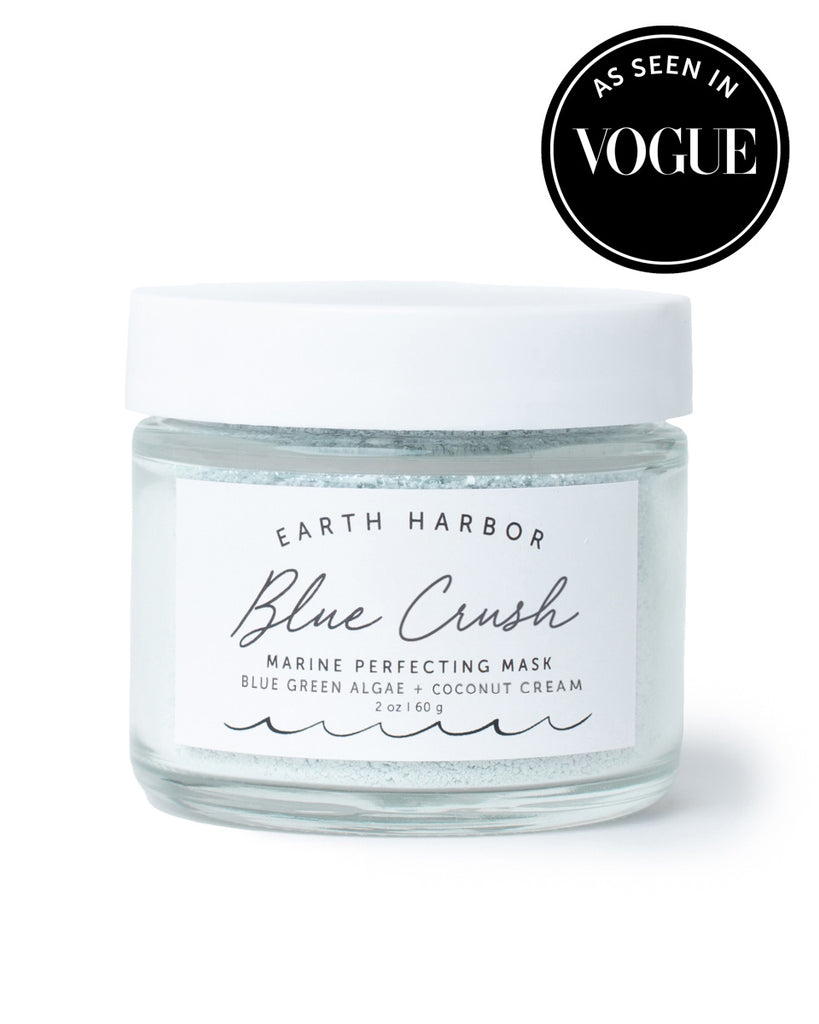 Blue Crush Marine Perfecting Mask
This is a gentle clay mask that helps draw out impurities and give skin a little pick me up. With a little water it turns into a blue paste and contains Kaolin Clay and Bentonite Clay to clear pores and Coconut Fruit Powder and Blue Green Algae along with Vegan Ocean MSM and Indigo Root Powder.
Just like Citrine Sea I think Blue Crush would be fun for young people or clean beauty beginners and newcomers, but not something I would recommend for those looking for a heavy-duty mask. I see myself using this product as a 3rd step in my cleansing routine for when I want a deep clean at night.
Blue Crush mask really only needs a few drops of water as anything more will turn this mask into liquid. I adore the coconut scent that's activated once mixed with water from the coconut fruit powder and it has a nice tightening effect as it dries.
Cacao Cove Mask
This feels like a chocolate mud mask through and through. It's gentle, creamy and hydrating and is made mostly of organic cacao with the addition of a clay to draw out impurities, Coconut milk and blue green algae. It does have some Vitamin C but don't expect this to be a brightening mask. It helps detox skin and give it some antioxidant nourishment. I notice a clearer, toned complexion after removing Cacao Cove.
Fair Trade Raw Cacao (Theobroma cacao) Powder°, Italian Green Clay (Montmorillonite)°°°, Coconut (Cocos nucifera) Fruit Powder°, Activated Coconut Charcoal°°, Allantoin (plant-derived humectant)°°, Zinc Oxide (non-nano, uncoated, micronized)°°, Vitamin C Ester (Ascorbyl palmitate)°°, Blue-Green Algae (Aphanizomenon flos-aquae)°, Vegan DMAE Bitartrate (fruit acid antioxidant)°°, Vegan Ocean MSM (Dimethyl Sulfone)°, Proprietary Blend of Therapeutic-Grade Citrus Essential Oils°°, Vanilla (Vanilla planifolia) CO2°°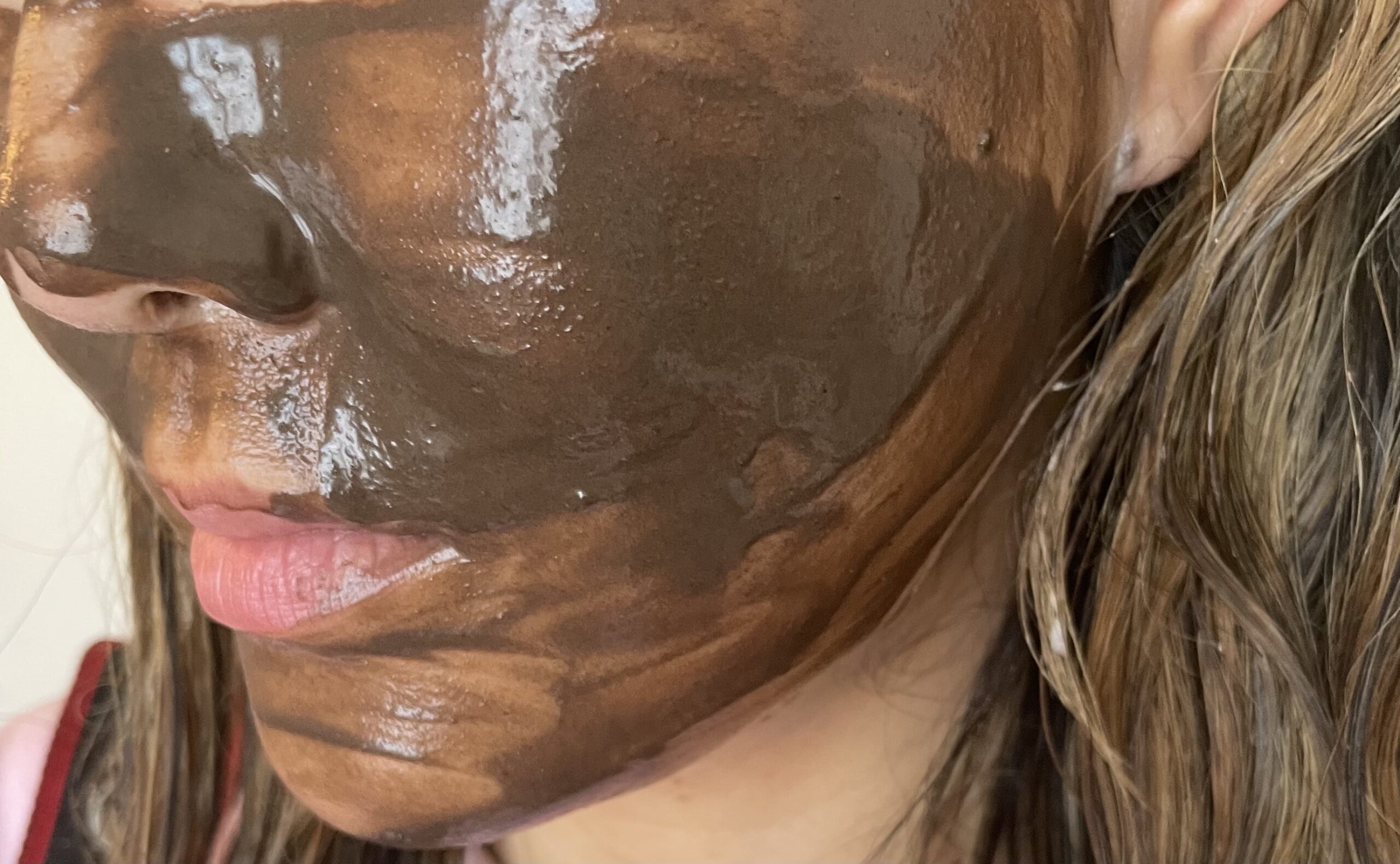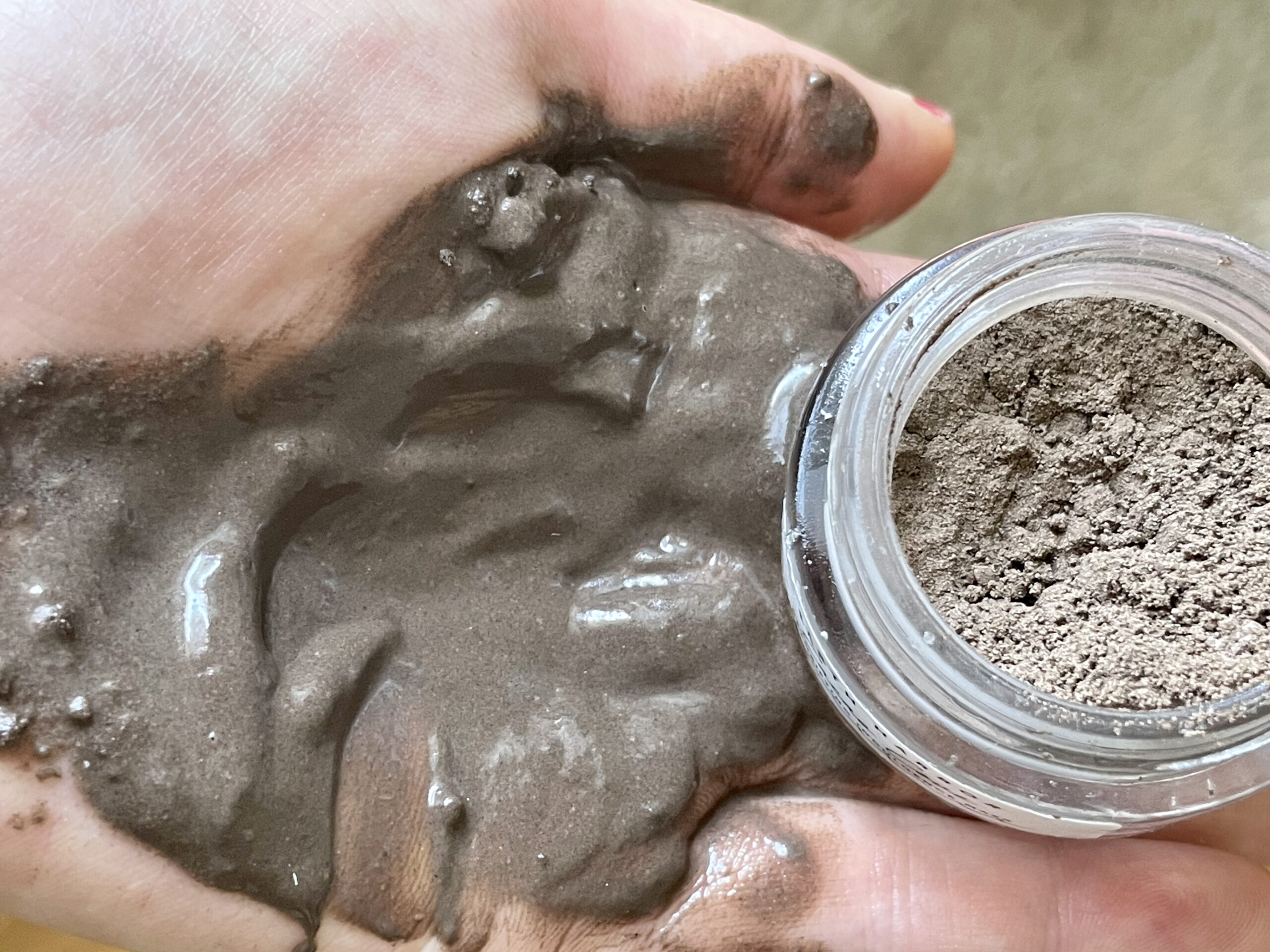 Earth Harbor has two promotional offers you can choose from:
Smaller orders of $30: $10 off $30+ order when you opt into their texts
Larger orders over $60: Use Earth Harbor discount code MERMAID15 to save 15%
Earth Harbor offers several different kinds of trial kits so you can try out a handful of products in smaller sizes for less.
Be sure to Pin if you liked this!