If you're looking for the best budget friendly mineral sunscreens that offer broad spectrum SPF protection and are made of natural and organic ingredients, I've rounded up the very best natural sunscreens that provide the most value for money! Each brand is committed to high quality, nontoxic ingredients and bringing you affordable sunscreens that are safe for the whole family. If you're tired of websites pushing expensive organic sunscreens as the best, you've landed on the right side of the web. Let's face it, spending $70 on a 1.7 oz little bottle of face sunscreen is outrageous for most people, especially when you need to be wearing sunscreen 365 days a year plus reapplying throughout the day. So if you're looking the best cheap natural sunscreens that won't break the bank, keep reading.
Each affordable natural sunscreen mentioned is:
Clean, natural and organic
Reef safe
Non-nano zinc oxide
Gentle enough for the most sensitive skin types
Cheap duh!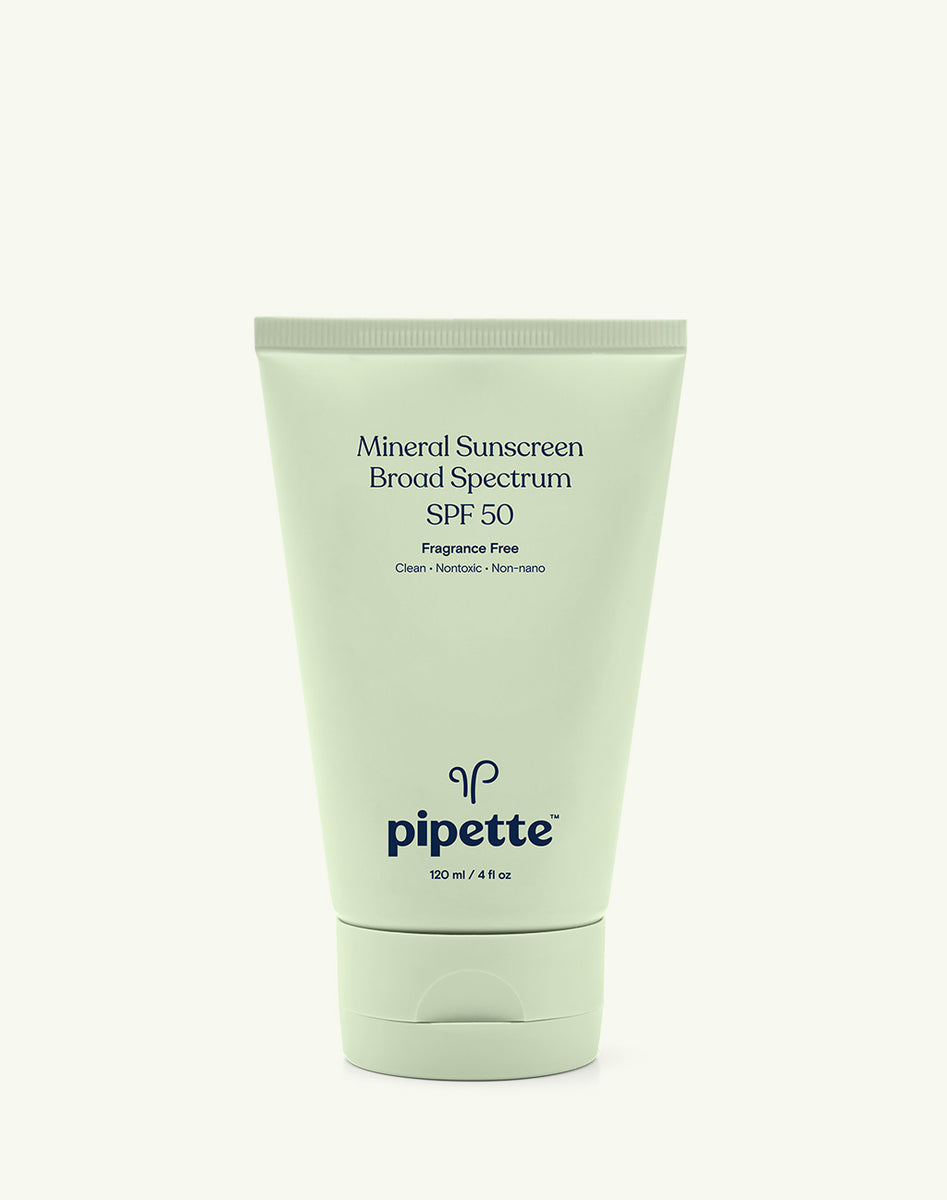 Pipette mineral sunscreen makes my #1 slot for best affordable natural sunscreens for a number of reasons:
High sun protection factor of SPF 50
Clean ingredients safe enough for babies
$11 on Amazon for an entire 4 fl oz (most natural sunscreens are 1.7 fl oz or at most 3 fl oz)
Lightweight milky lotion
Easy and even application with minimal white cast
Gentle, non-irritating ingredients
Contains Squalane and Wild Gooseberry
To put the affordability of Pipette Mineral Sunscreen into perspective, Cocokind Daily SPF 32, which is considered a budget natural beauty product, costs $25 for 1.7 fl oz. That means if Cocokind offered the same amount as Pipette (4 fl oz), it would cost nearly $60! Or if Pipette reduced their bottle to the same size as Cocokind Daily SPF, Pipette's would cost around $4.
For families or individuals who need the most bang for their buck, while opting for the cleanest sunscreen possible, Pipette is the most affordable mineral option I've experienced.
Pipette works great on both face and body as well as under makeup.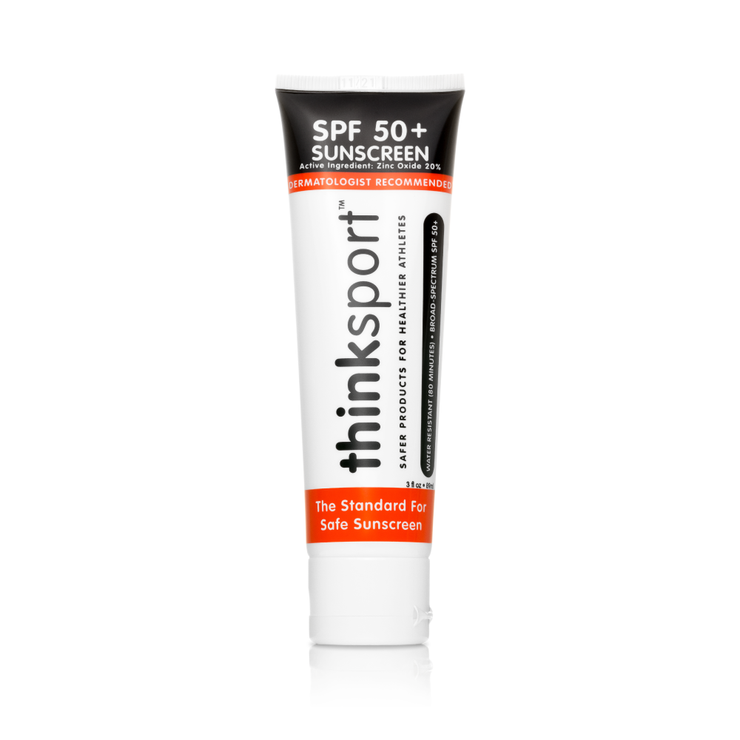 Thinksport is my 2nd top choice for best affordable organic sunscreen. On Amazon Thinksport costs just under $12 but comes in a 3 fl oz bottle, so 25% less than Pipette's 4 fl oz. It also has a tropical pina colada scent, that some people might love, but others might prefer a non-scented sunscreen.
Thinksport's packaging and branding is genderless or gender neutral, making it universally appealing to both men and women. Thinksport is also great for active outdoor days and beach days. Because of its emollient, thicker consistency it's highly moisturizing as well as water resistant. It also can work for both face and body.
Babo Botanicals makes my #3 spot as a best cheap mineral sunscreen. Babo costs just around $15 for 3 fl oz on Amazon. Formulated to be safe enough for babies and the most sensitive skin types, Babo Botanicals can be used by humans of all ages. While still an excellent budget sunscreen option, I docked points off of Babo because it can be drying for dry skin types, and has packaging geared towards a very specific and young age group.
Babo is a very gentle, non-scented sunscreen that works for both face and body, and one that I can see as appealing to oily and acneic skin types. A major plus about the brand as a whole is they offer a very wide range of sunscreen products including sprays, tinted and sticks.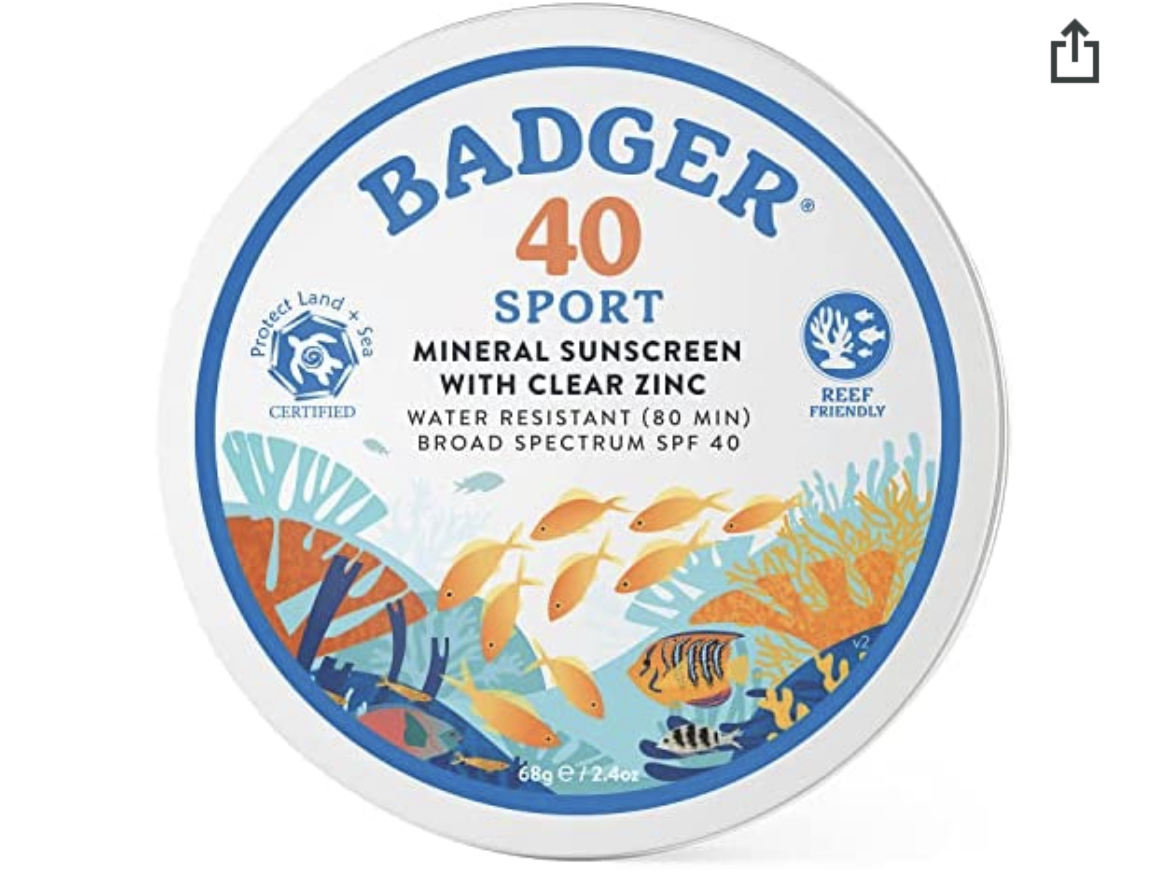 Finally, Badger Mineral Sunscreen with Clear Zinc is my final choice for best budget organic sunscreens. At around $12 for 2.4 fl oz you don't get as much product as the other budget organic sunscreens, but Badger mineral sunscreen is 98% organic and made with just a handful of ingredients.
Badger is great for active and outdoor days and is water resistant. One of Badger's cons is that their sunscreens are very rich and emollient. Most people may find it to lean towards the greasy and heavy side, while others may enjoy Badger's moisturizing capabilities. I would not use Badger sunscreens as an everyday face sunscreen.
Runner Up – Best Budget Natural Sunscreen
I'm including a couple product options below that didn't quite make my top list for best budget mineral sunscreens, but they do deserve a mention. Check them out if you didn't like any of the sunscreens mentioned above.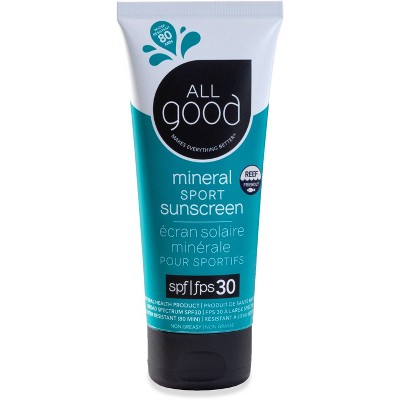 All Good is a clean sunscreen brand that's B Corp certified and widely sold at Target stores nationwide. If you love their sunscreen, they offer a variety of bulk sizes thats cost effective and environmentally friendly.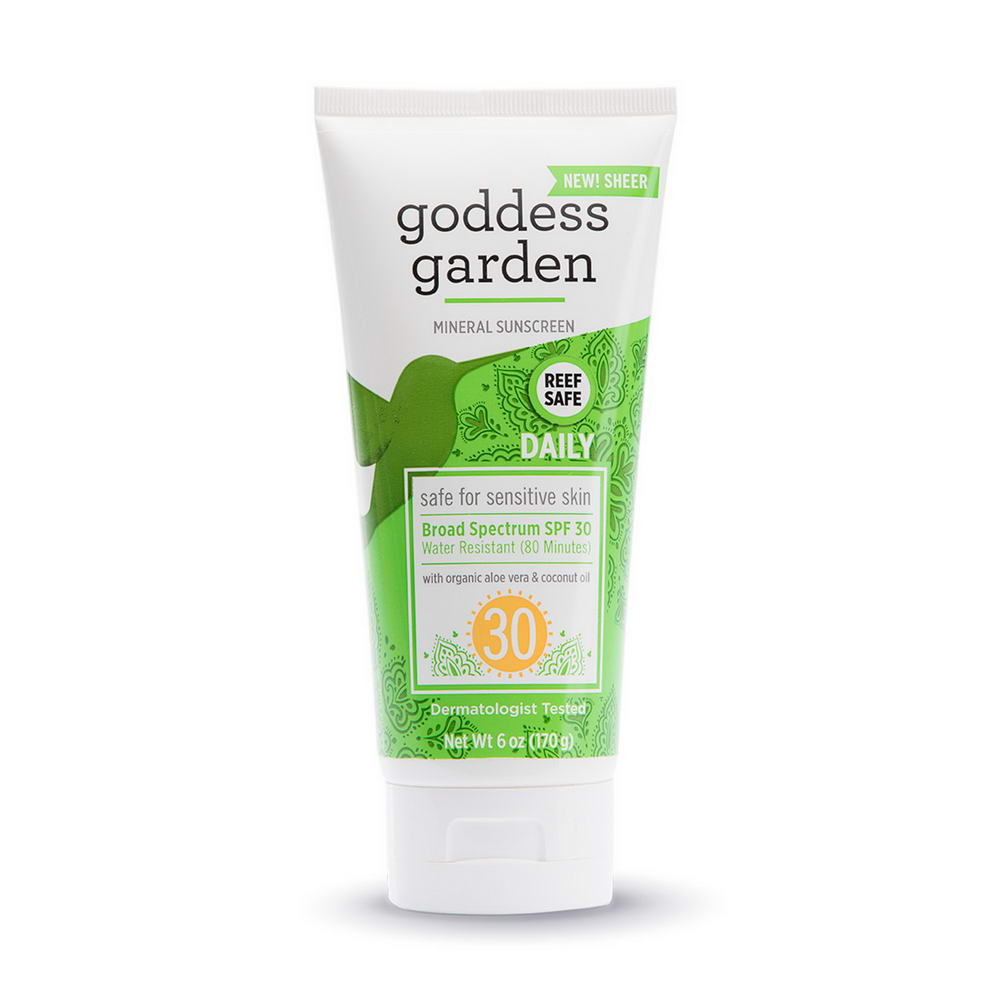 Goddess Garden also makes affordable mineral sunscreens safe for sensitive skin. The downside is that many, if not all, of Goddess Garden sunscreens contain lavender essential oil for a strong lavender scent. Depending on your personal preference though, the lavender scent could be a pro or con. If you love the Goddess Garden sunscreen they offer a jumbo 6 oz bottle for more value-for-money.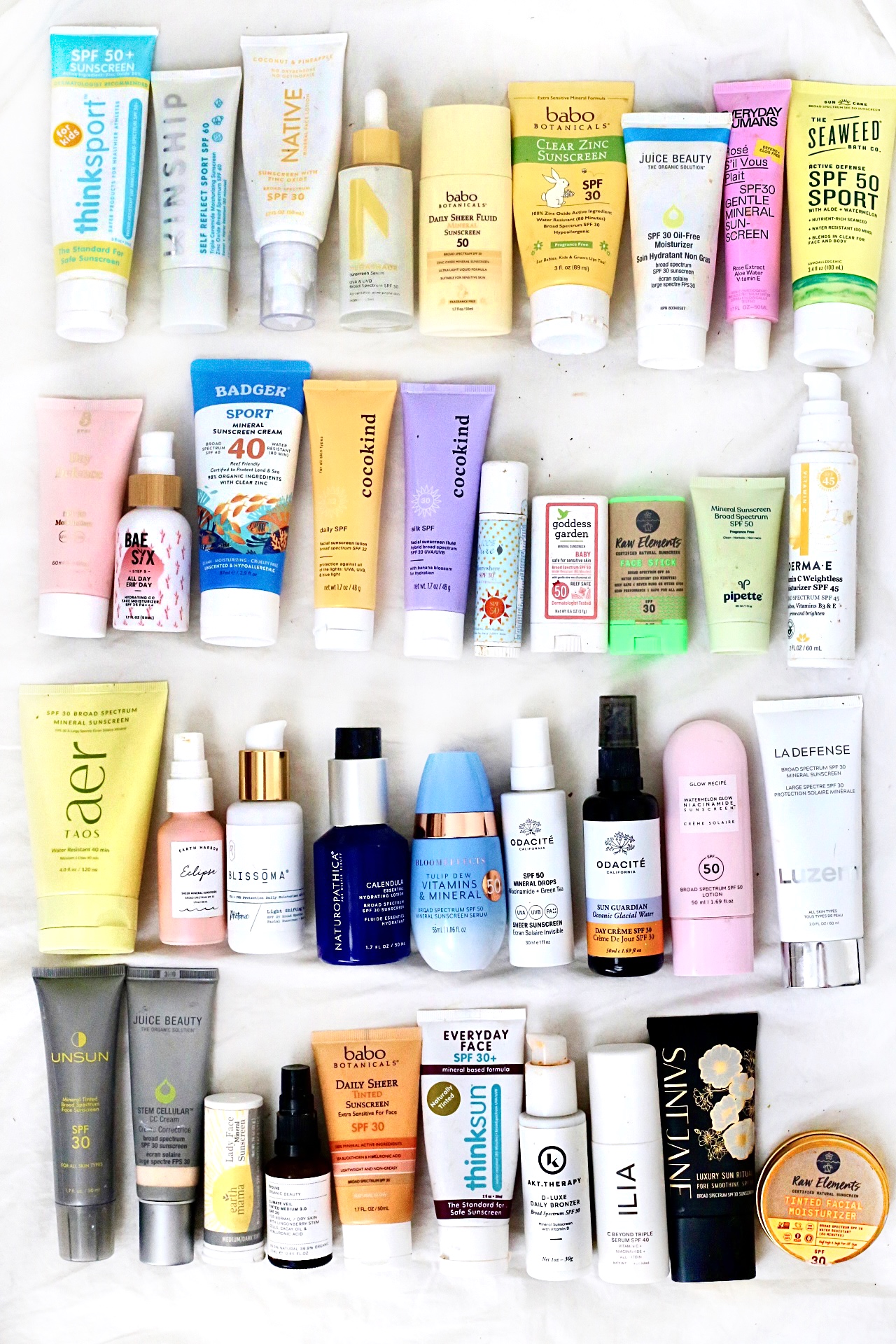 Be Sure to Pin If You Liked!