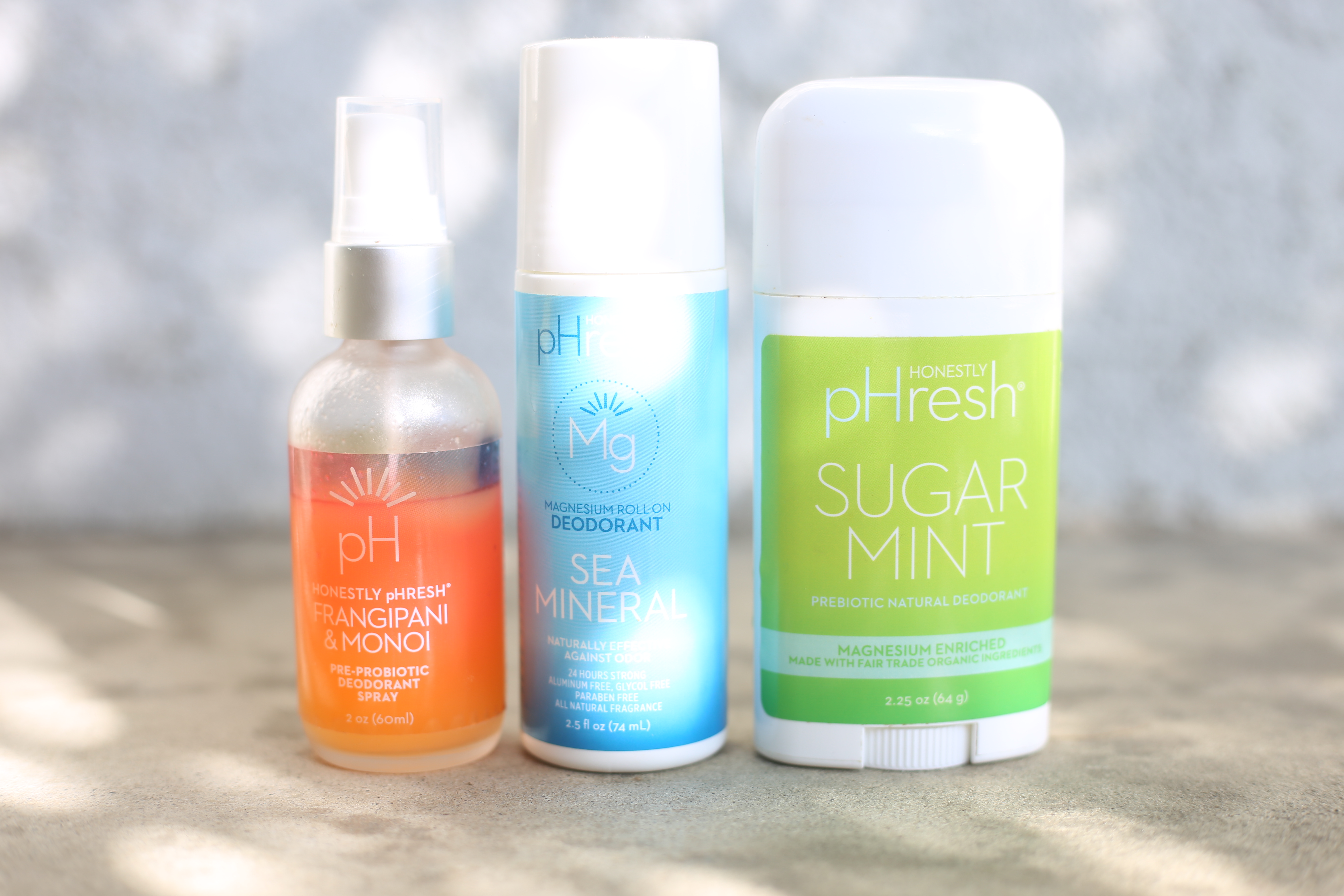 This post was sponsored by Honestly Phresh- all thoughts are my own.
Southern Caifornia-based Honestly Phresh is a line of 100% natural and nontoxic deodorants with a wide variety of interesting scents and forms of application. The line is also completely baking soda free. From sea mineral to sugar mint scents and roll-ons to spray applications, they have plenty of refreshing options for you to take your pick from. The deodorants have a base of organic and Fair Trade cocoa, Shea and coconut butters and are combined with essential oils, many of which are hand-extracted from a local farm on the Big Island of Hawaii. Honestly Phresh is:
Baking Soda-Free & Aluminum Free
All-Natural Ingredients Powered by Essential Minerals
Superior Formulation for 24-Hour Odor Protection
Free from: aluminum, parabens, pthlataes, glycol, gluten, GMOs, artificial color, synthetic fragrance, and baking soda.
Cruelty-Free & Vegan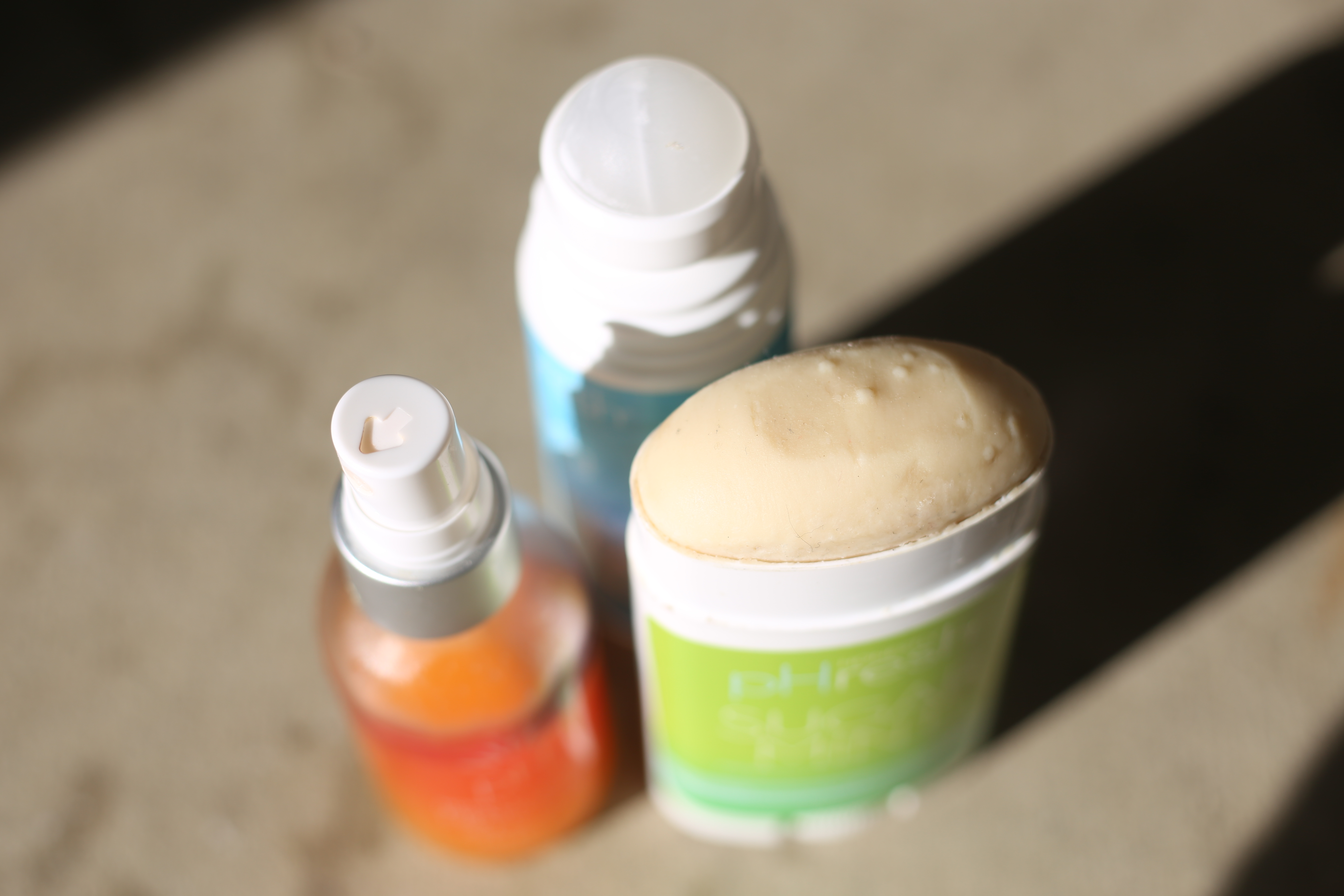 roll-on deodorant (sea mineral scent)
This deodorant features a magnesium-enriched formula, and seeing as half the population is magnesium deficient and need it to regulate more than 300 biochemical functions in the body, adding it to deodorant that's used daily and worn all day long is genius. I had no issues applying this liquid formula on and loved the fresh sea mineral scent that reminded me of the ocean. This is also the lightest and most compact deodorant out of the 3 types they offer and comes in Bombay Rose, Sea Mineral, Tropical Nectar and Element. Price $7.99
Ingredients: Magnesium Chloride*, Magnesium Hydroxide, Purified Water, Aloe Barbadensis Leaf Juice**, Hamamelis Virginiana (Witch Hazel) Extract, Vegetable Glycerin, Xanthan Gum,Salvia Officinalis (Sage) Leaf Extract, Humulus Lupulus (Hops) Extract, Rosa Centifolia Flower Extract, Citrus Aurantium Bergamia (Bergamot) Fruit Extract, Phenethyl Alcohol***
* Sourced from the Dead Sea **Certified Organic ***100% Natural per defined in ISO 9235, Natural fragrance created from natural extracts and isolates. **** A preservative that replaces parabens
There's a unique concept behind this spray, which has a base of organic aloe leaf juice and organic cane alcohol and is blended with notes of gardenia & plumeria. In our diets we actually need both prebiotics and probiotics for optimal health and this formula features both, providing not only good bacteria for a healthy flora but also the fertilizer needed to feed that good bacteria. If you love Hawaiian scents this is definitely a product you'd enjoy. Unlike the other products, the sprays come in a glass bottle which makes it eco-friendly but not easily portable. I used this before heading to Universal Studios on a 90 degree day and still smelled ever so slightly like a plumeria flower come night. The other 2 scents offered are Himalayan Cedarwood and Cardamom Rose. Price $14.99
INGREDIENTS: Organic Aloe Leaf Juice, Organic Cane Alcohol,Triethyl Citrate, Lactobacillus Ferment, Alpha Glucan Oligosaccharide, Organic Glycerin, Persea Gratissima (Avocado) Oil, Sodium Caproyl/Lauroyl Lactylate, Magnesium Chloride, Salvia Officinalis (Sage)Oil, Heloianthus Annus (Sunflower) Seed Oil, Rosmarinus Officinalis (Rosemary) Leaf Oil, Foeniculum Vulgare (Fennel) Fruit Oil , Sclerotium Gel,Cocos Nucifera (Coconut) Absolute, Gardenia Jasminoides (Gardenia) Oil, Plumeria Alba Flower Extract.
45% fair trade certified and made with a blend of prebiotics, minerals, butters and essential oils – all while remaining affordable at under $10 – the deodorant sticks are ph balanced, help good bacteria flourish, and provide 24 hour odor protection. The peppermint and peppermint oil gives it the minty kick. I didn't exactly test out the 24 hour part as morning to night is good enough for me. I tested this one specifically to see if it would last even through a Drake concert filled with 17k people after having been applied during the day and really held up. At one point during the concert I started getting a hit of bad body odor and was afraid it might be me, but after I left the concert it was clear that it was most likely the men sitting around me who were the culprit. My only complaint with this deodorant is that it is a little drier than I'd like it to be as I'm used to slicker applications and tiny clumps of product are visible when you're further into using the product.