Honua Hawaiian Skincare is a luxury organic skincare brand that combines healing Hawaiian botanicals with modern skincare technology. Honua was founded by Kapua, who is a licensed esthetician with a background in herbalism and traditional Hawaiian healing, in 2015 and is a family run operation. Honua means "Earth, Land, Foundation" in Hawaiian and gives tribute to the true founder of their skincare line, Mother Earth. Honua uses aloha-filled and phyonutrient-rich ingredients like Olena, Noni, Alo Alo, Kukui, Kamani, Kalo, Wai Niu, 'Awa and Laukahi. They also source ingredients from as many local Hawaii farms as possible to harness the unique properties of the island's rich soil. For eco-luxe Hawaiian skincare, read on for my Honua Hawaiian Skincare review of their Malu Protecting Day Cream SPF 30.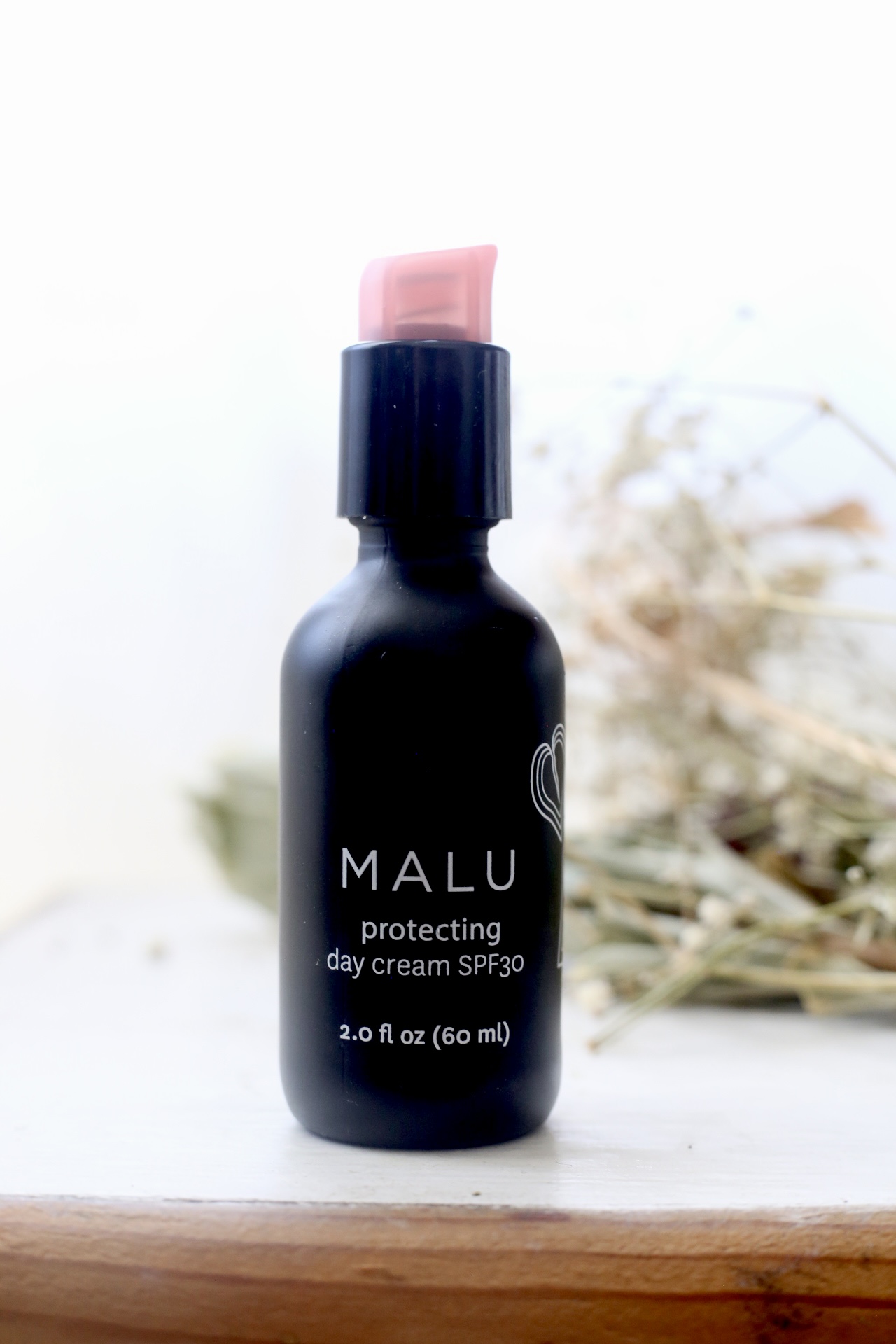 Honua MALU Protecting Day Cream is:
Ideal for oily skin or if you prefer a matte finish
Light hydrating lotion
Moisturizer + SPF 30
12% non-nano zinc oxide
Vegan and palm oil free
Strong jasmine scent
Contains noni fruit extract, Plantain extract, oat bran extract, sodium Hyaluronate, Squalane
Aloe leaf juice base
Honua MALU SPF 30 is a luxury face moisturizer + SPF in one that begins in an aloe leaf juice base. It's enhanced with skin nourishing ingredients like noni, laukahi, oat bran extract and more.
More on laukahi: It bears no relation to the plantains we know as cooking bananas. Laukahi is only common in Hawaii and was traditionally used as a medicinal herb for boils, wounds, lacerations, and other skin maladies. It's a great  source of beta carotene (vitamin A), calcium, ascorbic acid (vitamin C) and vitamin K.
A percentage of each MALU sale benefits Sustainable Coastlines Hawaii, a non-profit that educates their community and keeps oceans clean.
Consistency
Malu SPF 30 is a light and hydrating lotion that sinks in easily and feels weightless on skin. To compare this to other light lotions, Malu is a tad lighter than Native sunscreen.
Finish
Malu SPF's finish leans matte. I do feel the sensation of the product sitting on my skin immediately after applying.
White Cast
Yes there is a slight hint of white cast. I have light olive tone skin, so Malu is most likely  unsuitable for darker skin tones.
Scent
I was surprised by how fragrant the Honua Malu SPF is. If you're not a fan of jasmine scents, you may find it off putting. The scent is all natural, but it's stronger than most other sunscreens. If you love a floral jasmine scent, then Malu will smell like a dream to you.
Save 20% July 1-3, 2022 with code MIDSUMMER.