Providence Perfume Review: Natural & Organic Fragrances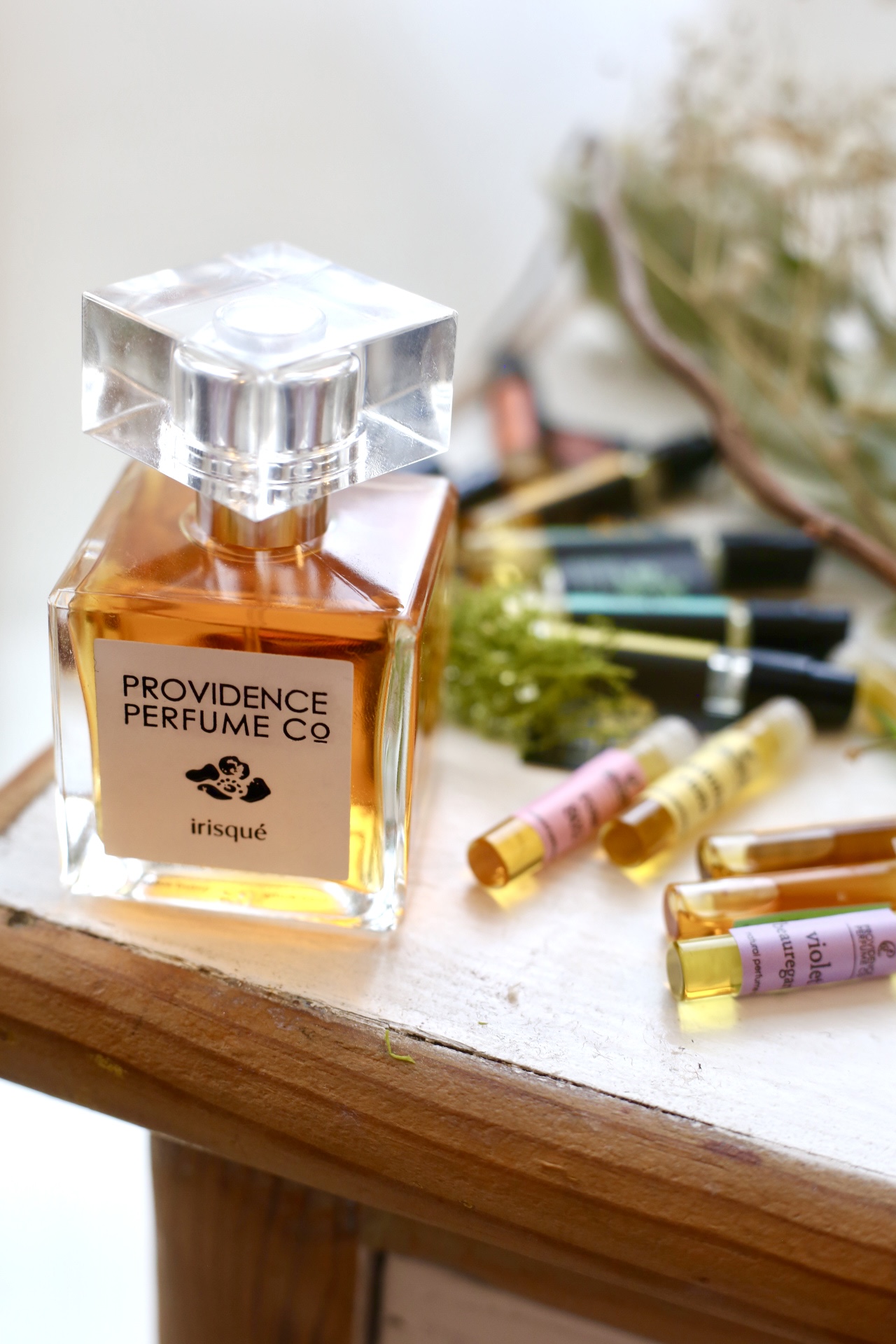 Providence Perfume Co is a truly natural and organic perfume brand based out of Providence, Rhode Island. They offer fine fragrance-esque botanical perfumes along with perfume classes taught by award-winning perfumer and founder Charna Ethier. Truly natural, organic perfumes are few and far between, as many clean perfume brands opt to mix synthetics with natural ingredients. With cheaper costs and better longevity, it's the easiest route to take, and one that Providence Perfume Co avoids. If you're looking for beautiful feminine fragrances that are non-toxic and clean, Providence Perfume offers the widest range of 100% natural botanical fragrances for women. I have so many favorite scents from this line, each so unique and stunning in their own right. So toss aside your Chanel No 5 and read on for my Providence Perfume Co review.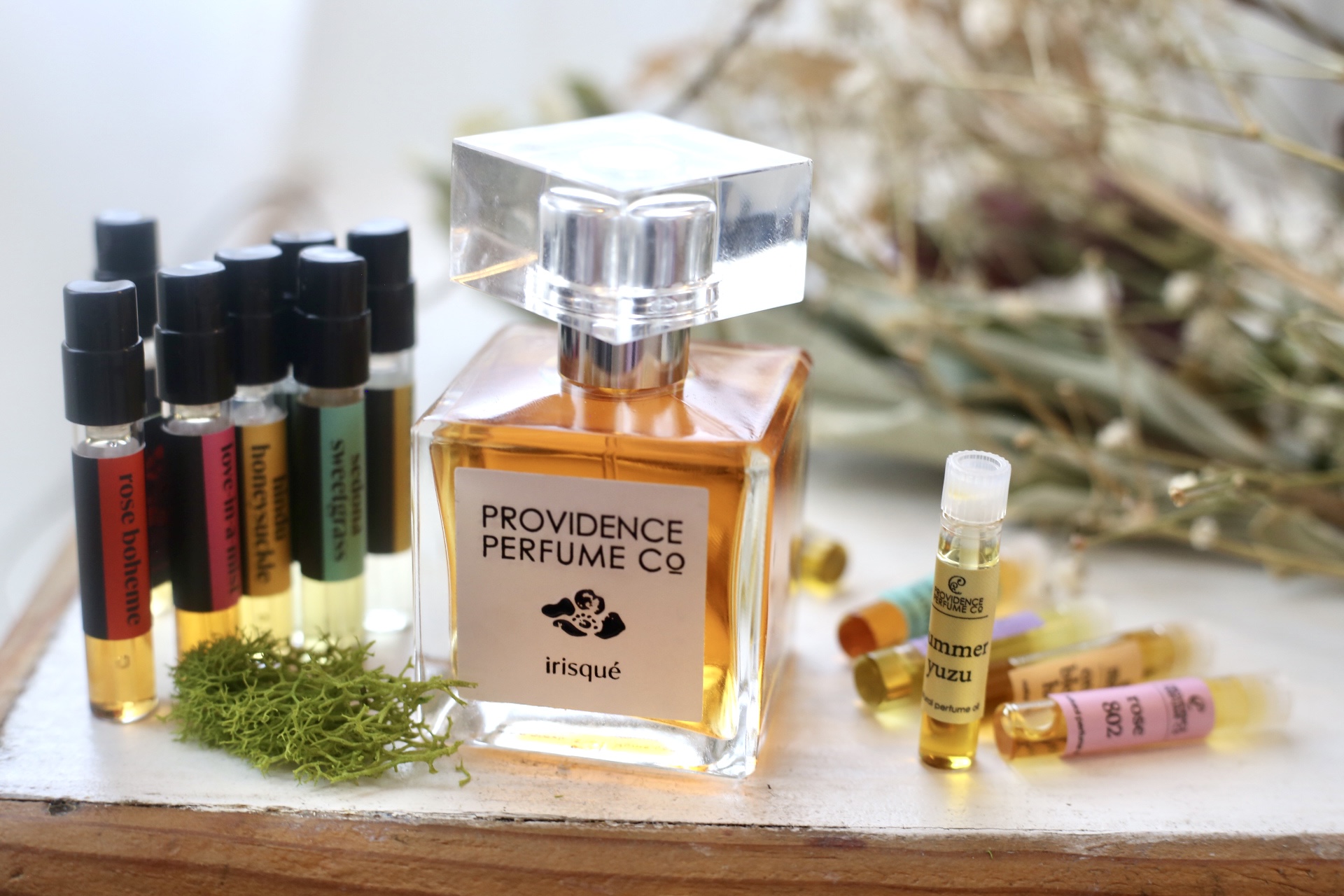 These are fine fragrances that use the highest quality botanical essences. If you've already dabbled in clean perfumes, you'll be able to tell the quality and lack of synthetics or fragrance oils immediately. Out of all the organic perfume brands I've tried so far, Providence Perfume Co is one of the few natural brands that are most similar to a fine fragrance house AND also has a wide variety of scents that aren't all unisex. If you've tried clean (but mixed with synthetics) perfume brands with a floral focus like Floral Street or Phlur, the experience is completely different with organic perfumes – there's just no comparison, they are two totally different worlds.
Each fragrance is created by hand, in small batches using real plants, flowers, fruits and woods.  Charna combines the ancient art of natural perfumery and the exquisite aroma of natural essential oils and absolutes. Providence Perfume Co perfumes are 100% natural, blended in a pure alcohol spirit base.
I tried 14 Providence Perfume scents and my top favorites are:
Sweet Jasmine Brown
Rose 802
Love In A Mist
Violet Beauregard
Ivy Tower
Summer Yuzu
Jadeite
Overall, I found that most of the perfume oil fragrances tended to lean very feminine, while many of the Perfume sprays tended to lean somewhat masculine.
If I could pick just two scents, I would place Sweet Jasmine Brown and Rose 802 as my absolute favorites. All my top seven favorites are so beautiful though.
Providence Perfume Oils cost $45 while their perfume sprays cost around $175. There's also perfume sampler sets for you to try a variety of scents.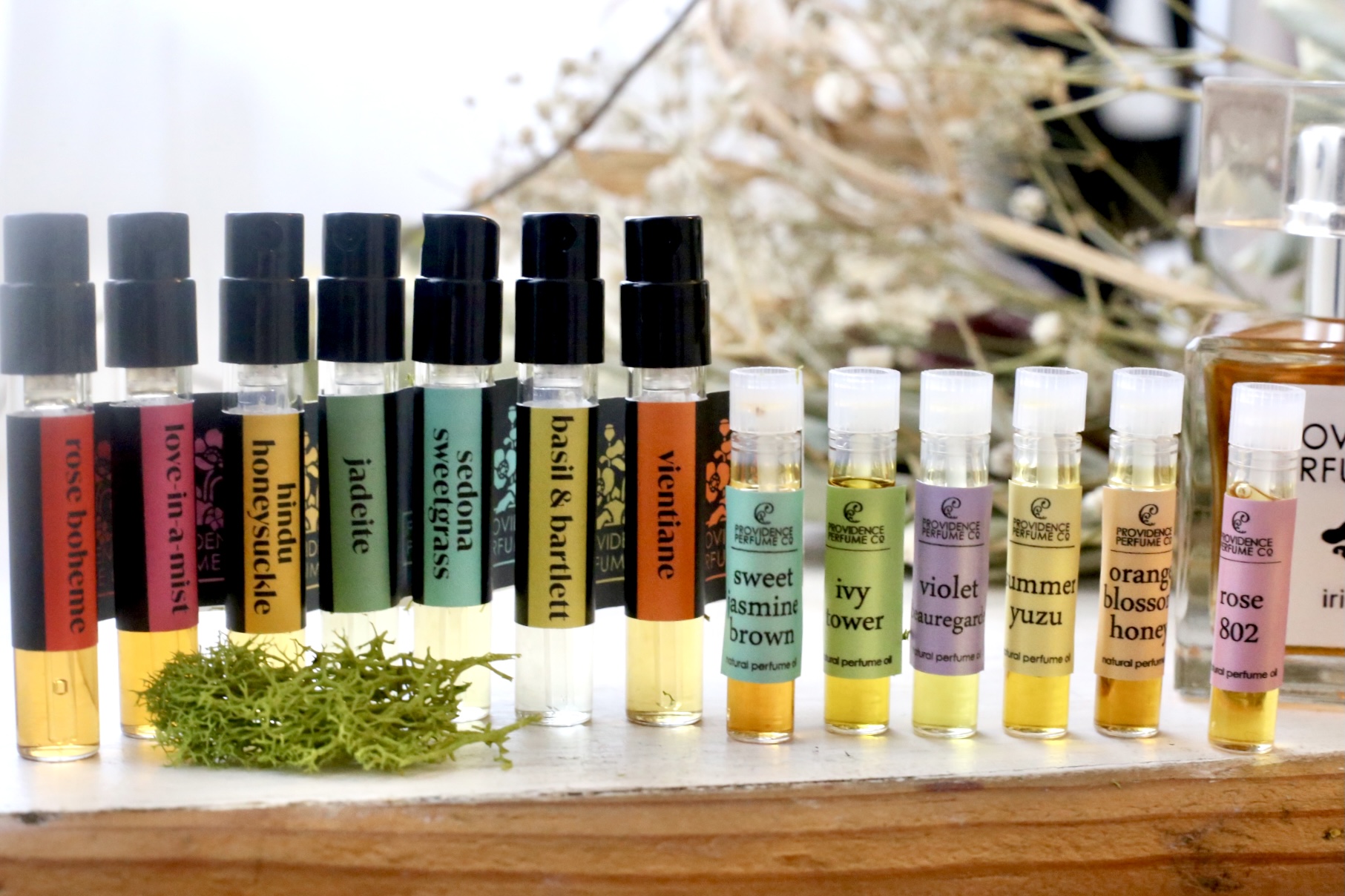 Organic Floral Perfumes:
You're probably going to enjoy plenty of Providence Perfume Co scents if you enjoy florals. They have an incredible variety of floral scents that smell so real, you might as well be smelling the actual flower(s).
Sweet Jasmine Brown
Rose 802
Love-in-A-Mist
Irisque
Violet Beauregarde
Ivy Tower
I didn't enjoy these floral perfumes as much as the above, but if you enjoy an earthy floral check out:
Hindu Honeysuckle (leans masculine)
Rose Boheme
Sweet Jasmine Brown
Notes: jasmine, vanilla, pink pepper, tonka, cocoa nib, ylang ylang, musk ambrette
This is a delicious jasmine scent that's yummy and seductive. It feels like a cup of fragrant jasmine tea with a hint of burnt sugar.
This is one of my top choices to buy a full size bottle
Rose 802
Notes: rose, black currant, cedar wood, fir, vanilla, bergamot, myrtle
I can always get down with a Rose scent, but I don't enjoy boring Rose perfumes. I want it to be an interesting Rose, but not so interesting it's not wearable.
Rose 802 is a very bright, uplifting Rose scent with a side of sweetness
Utterly feminine and beautiful
Love-In-A-Mist
Love-in-A-Mist is a more "perfumey" floral out of Providence Perfume's floral scents
Rare distillation of nigella damascene (the flower romantically called "love in a mist") with it's honeyed floral aroma
Notes: love-in-a-mist flower, mimosa, pink peppercorn, sandalwood, sweet clover
This is a true floral fragrance but the sweet clover gives it an extra layer of oomph that makes it rich, while mimosa makes it bright and the sandalwood adds a woodsy factor
Violet Beauregarde
Notes: ylang ylang, violet leaf, alpha ionone, vanilla, sandalwood, mimosa, jasmine
If you're a violet fragrance lover, you should try Violet Beauregarde as it's a violet scent through and through
This scent is highly floral, feminine, bright and punchy
Irisque (Great for Men)
Notes: Orris root, Germanica and Pallida iris, oud, deep carrot seed and botanical musk
A rich iris scent that's musky and powdery
A more grown up floral with an oud quality
Smells like you dug up the iris with your own hands along with the soil
The rooty dark character of Irisque makes it lean masculine and would smell amazing on a man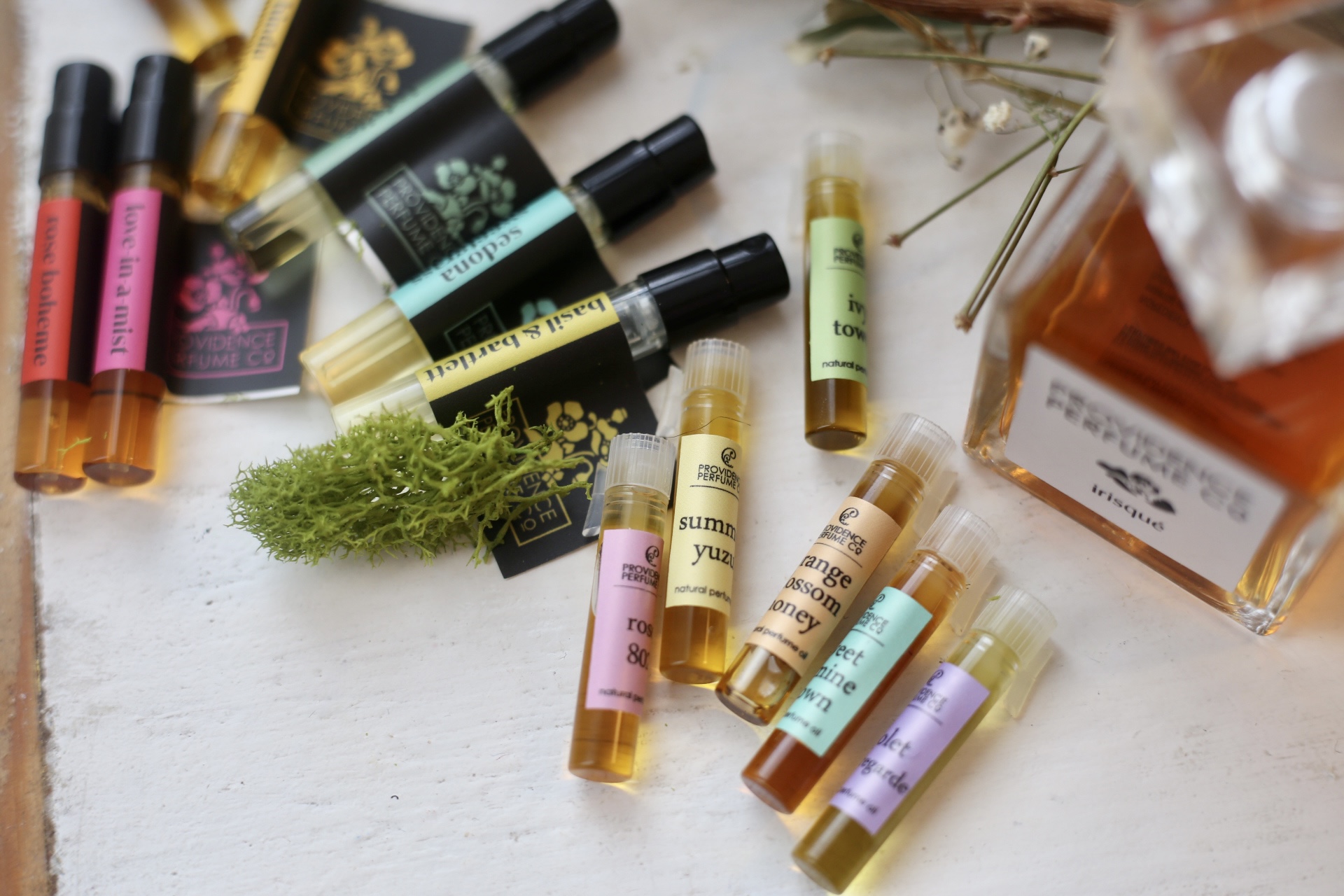 Organic Fruity Perfumes
If you're looking for a fruity or citrus perfume for summer, I recommend trying out Summer Yuzu.
Summer Yuzu
Notes: sunflower, cedrat, aglaia blossom, yuzu, tomato leaf, pink grapefruit, frankincense
Summer Yuzu is a totally easy and wearable soft citrus and floral scent
While I didn't enjoy these fruity scents as much, you could also check out:
Orange Blossom Honey
I thought this would be another fruity scent I'd enjoy, but Orange Blossom Honey leaned a little too masculine for me. The notes are honey, vanilla, neroli, balsam, tonka, orange blossom, ginger, sweet orange. There's so many notes in here that I usually love like vanilla, Neroli, and tonka, orange blossom, but the addition of the other notes created a scent that wasn't my cup of tea.
Basil & Bartlett
This is a scent that I enjoyed but neither particularly loved nor hated. It's a very summer appropriate scent so worth sampling if you'd like a warm weather scent that isn't JUST floral or JUST fruity. This is an interesting and complex herbaceous yet also quite fruity and floral scent.
Basil & Bartlett is a sweet fruity herbal scent, and one you might enjoy if you like pear and lily scents with a hint of herbs. It's also an eau de cologne, formulated to be refreshing mist perfume rather than an eau de parfum.
Top Notes: basil, green mandarin
Heart Notes: lily accord, Bulgarian rose, pear accord, chrysanthemum
Base Notes: sandalwood, copaiba balsam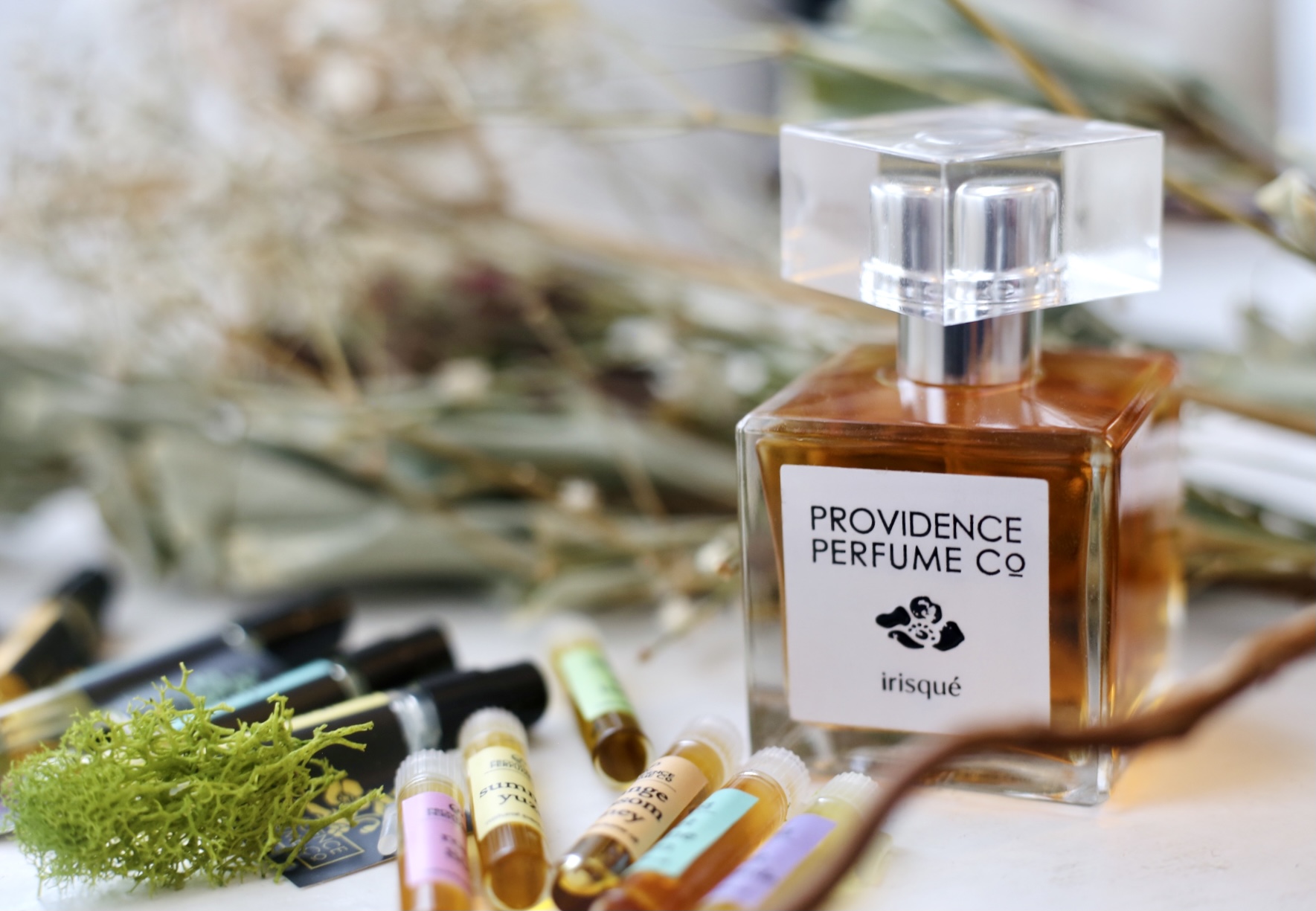 Organic Green Perfumes
The scents that I found to be green or grassy perfumes were:
Sweet Sedonagrass
Ivy Tower (favorite out of this category)
Jadeite
It's harder for green-leaning scents to win me over, but I thought that Ivy Tower and Jadeite were very beautiful scents that I could see myself wearing often.
Jadeite smells like a literal glass of green tea with fresh mint. It smells fresh and airy, perfect for summer. Note that this is an eau de cologne and not an eau de parfum, which doesn't mean it's a cologne for men, but that it's the lightest category of scent with 3-5% aromatics. This also makes it priced lower than the rest of the line.
Top Notes: bergamot, water mint
Heart Notes: green tea, linden blossom accord
Base Notes: frankincense, musk ambrette
Ivy Tower transports me to an ivy garden. It's probably one of the more beautiful green floral scents that I've come across. It contains geranium and ivy accord blended with a crystalline white floral and rare essences of narcissus, mimosa and jasmine on a bed of sandalwood. Definitely worth sampling even if green scents aren't usually your thing. You get a lot of green in this scent, but it's also sweet and floral like a lush garden and not a grassy field.
Notes: narcissus, mimosa, blue tansy, lily, sandalwood, geranium, jonquil, jasmine
Sweet Sedonagrass I didn't love it but I didn't hate it. It was a bit of a confusing scent as the opening of the perfume wasn't pleasant at all for me, and even a few minutes later I still didn't like it, but the final dry down left a sweet grassy scent that made me feel nostalgic for countryside memories. It's a true sweet summer grass scent.
That opening really throws me off though. It transports me back to summer open air concerts out in the middle of nowhere fields – and you're walking by the port-a-potties and cotton candy stands.
Notes: Piñon pine, sweet grass, sage, vetiver, sweetgrass, incense, grass and dry wood.
Vientaine
Sadly I didn't enjoy Vientaine though it's probably someone else's cup of tea. This one felt the most "masculine-leaning" out of all the scents and is a very sandalwood forward scent. Apparently too much for my liking. Something about it, perhaps the powdery-ness, seemed to make it lean into granny territory for me.
soft sandalwood scent built upon a creamy jasmine rice accord, three types of rare and costly sandalwood, Chinese silk vine, vanilla and rice paddy herb. A rich, powdery, real sandalwood forward scent.
Longevity
With 5-6 sprays, these last me at least 3-4 hours while a couple sprays will last me about 1-2 hours.
Packaging
I'm not a huge fan of the packaging as the cap doesn't stay on securely and the paper label isn't the best quality. I tend to pick up perfume bottles from the top, but doing so with these perfumes causes the bottle to fall off. You just need to be careful to not grab the perfume by the cap.