I've been using Routine Natural Deodorant for a few years now, so I'm excited to share my Routine review and why this has been my go-to deodorant! Proudly Canadian and founded in Calgary by sisters Neige and Pippa, Routine deodorants are ethically crafted with natural ingredients and low-waste packaging. With humble roots that began in 2012 in local Calgary markets, Routine has grown a much-deserved, loyal fan base, entered Credo Beauty stores, and has expanded their line to body oils, soaps, solid perfumes and candles — all available in their signature deodorant scents. No matter how much or often I use Routine deodorants I've never gotten a rash or irritation. So without further ado, let's dive right into this Routine deodorant review and use Routine discount code OBL10 to save on all Routine products here.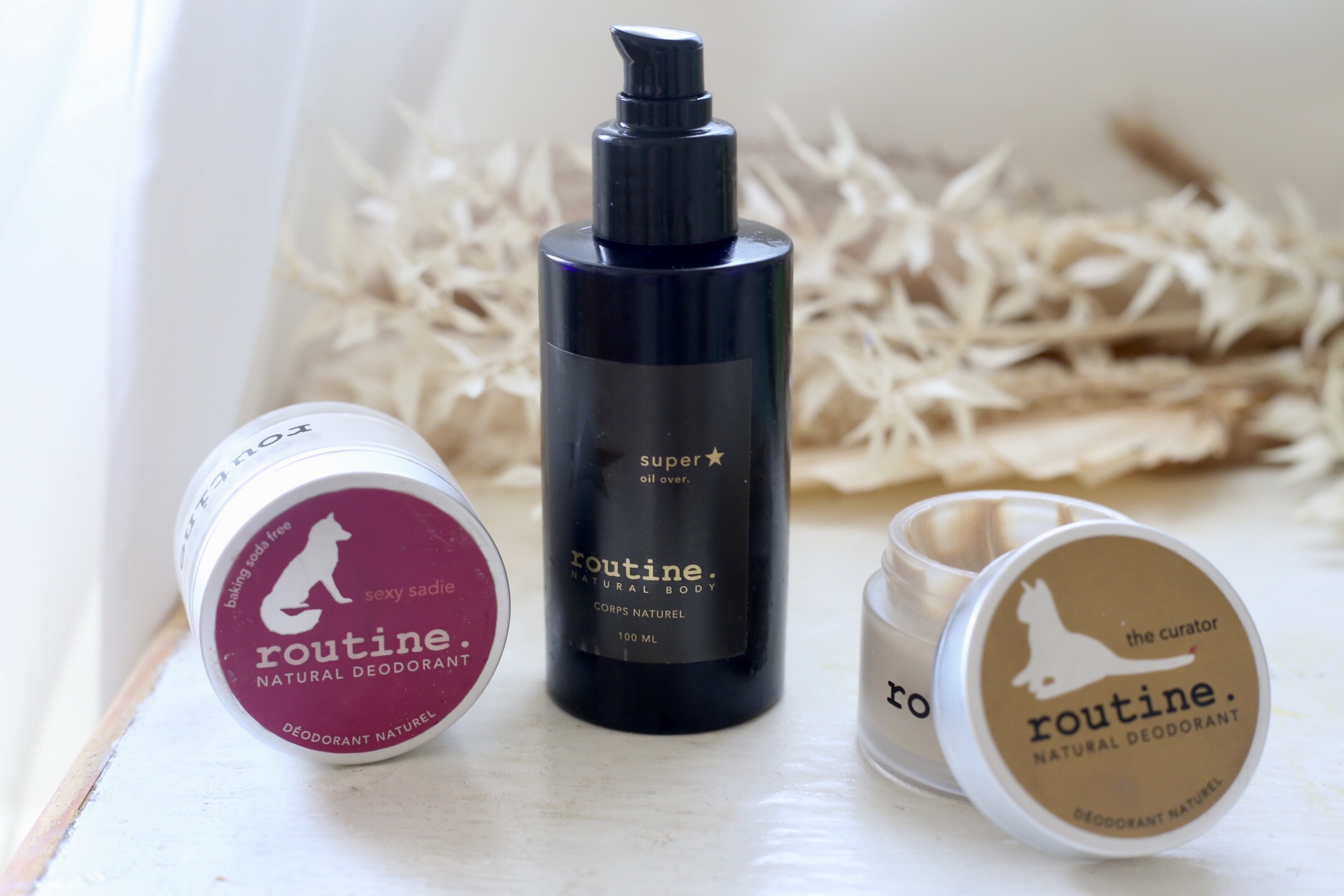 But before we dive deep, it's important for me mention that Routine deodorants are priced high. It's not going to make economical sense for everyone to spend $24 on a deodorant when you can buy Schmidt's Natural Deodorant for $6 on Amazon. But, if you're on the hunt for a superbly effective deodorant, incredible scents you can't find anywhere else, luxurious sustainable packaging, and 100% clean ingredients, then Routine might be for you. I often hear from those who have never had luck with clean deodorants that Routine and Taos Aer were what worked for them.
And more good news, Routine has a "Damaged Goods" section on their site where they sell products that have a slight superficial defect at a discount (plus Routine discount code OBL10 works on sale items). They also offer each deodorant in a 5g Mini size for $4.99 so you can try before you commit.
If you fall in love with a particular scent, the good news is there's a body oil, body lotion, soap, candle, shampoo and perfume for many of their most popular scents!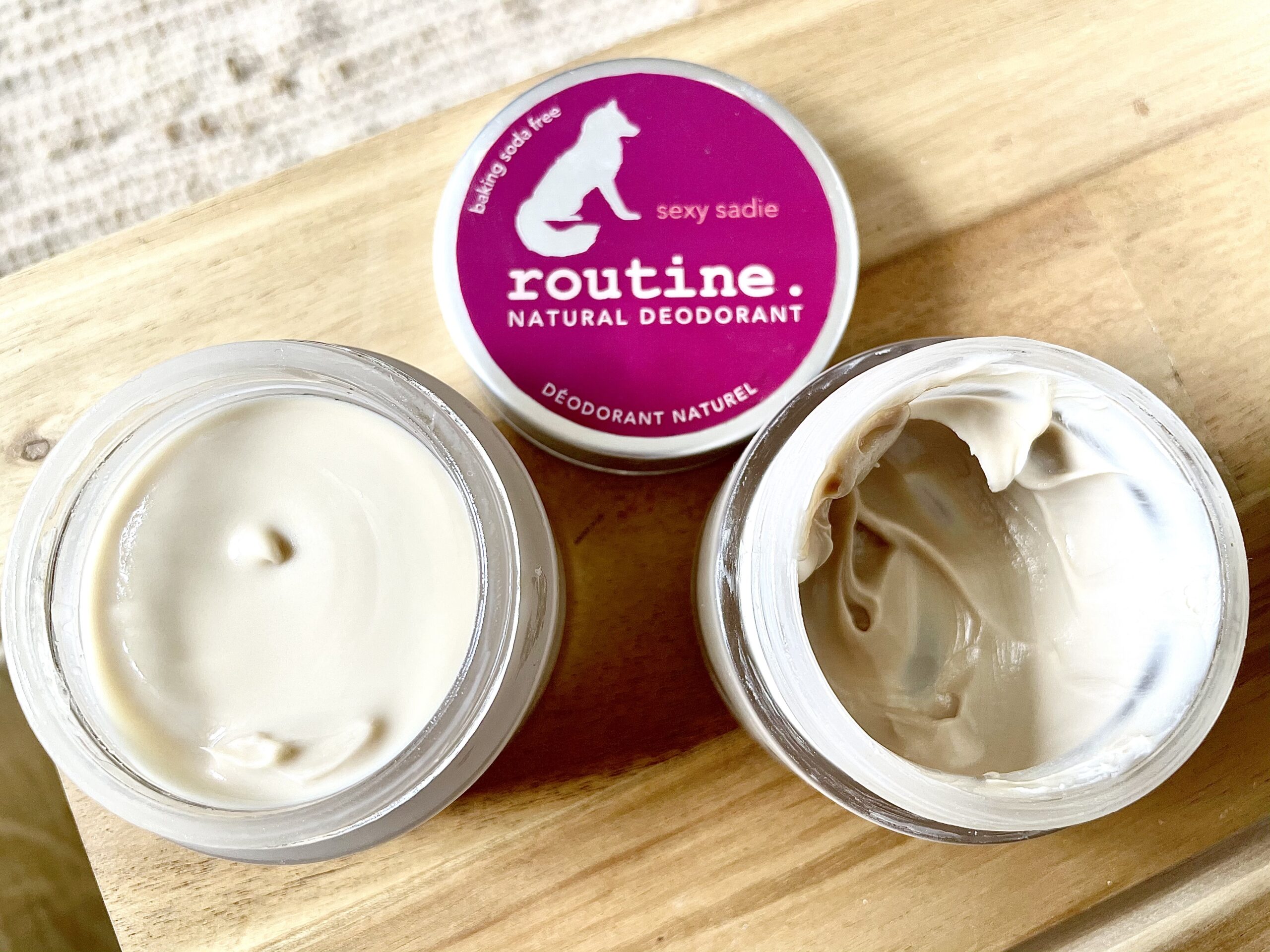 Let's cut past the boring bit about Routine deodorants being made with pure, natural, non-toxic, and good-for-your armpit ingredients (which they are) and get to the fun part.

Alanis Morissette loves Routine!
I grew up listening to Alanis Morissette and now we use the same deodorant!
Routine Deodorant comes in 15+ different scents
Each Routine deodorant scent is sublime, complex and so unique. So much so they're practically perfume scents with top notes and low notes for me. Their incredible scents are what stood out instantly to me about Routine when I first tried their Minis years ago.
Sexy Sadie and Superstar are my all-time favorite Routine scents, but Like A Boss and The Curator also come very close. Sexy Sadie is such a seductive yet sweet scent I really cannot get enough of it. Superstar is also seductive with a hint of spicy earthiness to it. Like A Boss is more floral but it has a certain je ne sais quoi. It's so hard to describe the complexity of these scents and I'm not a perfume blogger, so you'll just have to hopefully try them one day for yourself.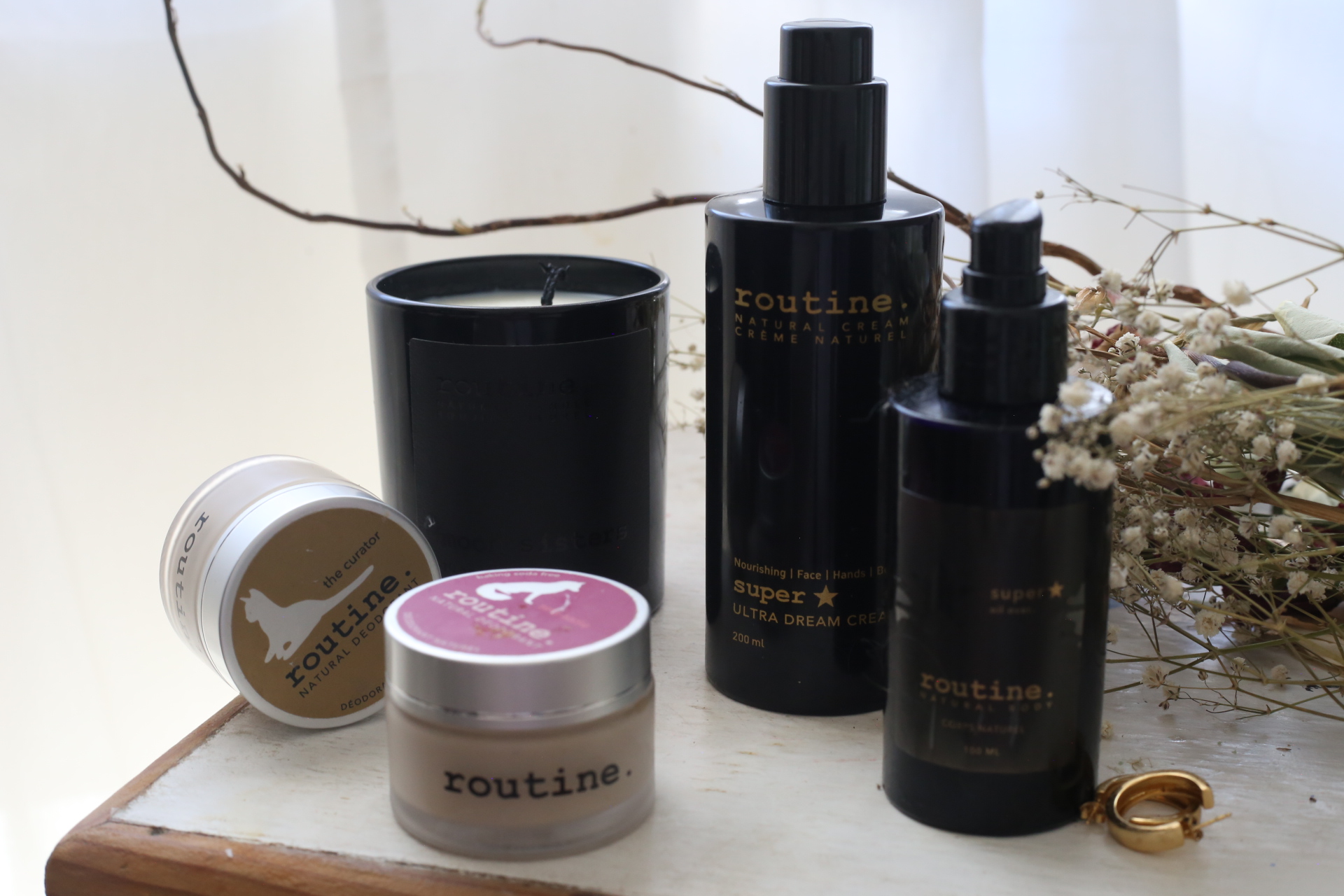 I still have a Sexy Sadie Routine jar from over a year ago that has hit the bottom, and the scent has not faded ONE BIT. The force is strong with these ones.
Routine Sexy Sadie scent profile: Champa, Vanilla, Patchouli, Ylang Ylang,  Sweet Orange
Routine Superstar scent profile: Tonka Bean, Vetiver, Vanilla, Cardamom, Rosalina, Black Pepper, Clary Sage (seriously?!)
Routine Like A Boss scent profile: Rose Geranium, Bergamot, Lavender, Mandarin, Spearmint, Sweet Orange
Routine Offers 5 Different Types of Deodorants
Routine offers five different types of deodorants to suit all needs and desires. Choose the deodorant that fits your lifestyle and body:
Full strength (Maximum Baking Soda)
Classic (Reduced Baking Soda, more Magnesium)
Baking Soda-Free (for sensitive skin)
Vegan (no beeswax)
Charcoal with prebiotics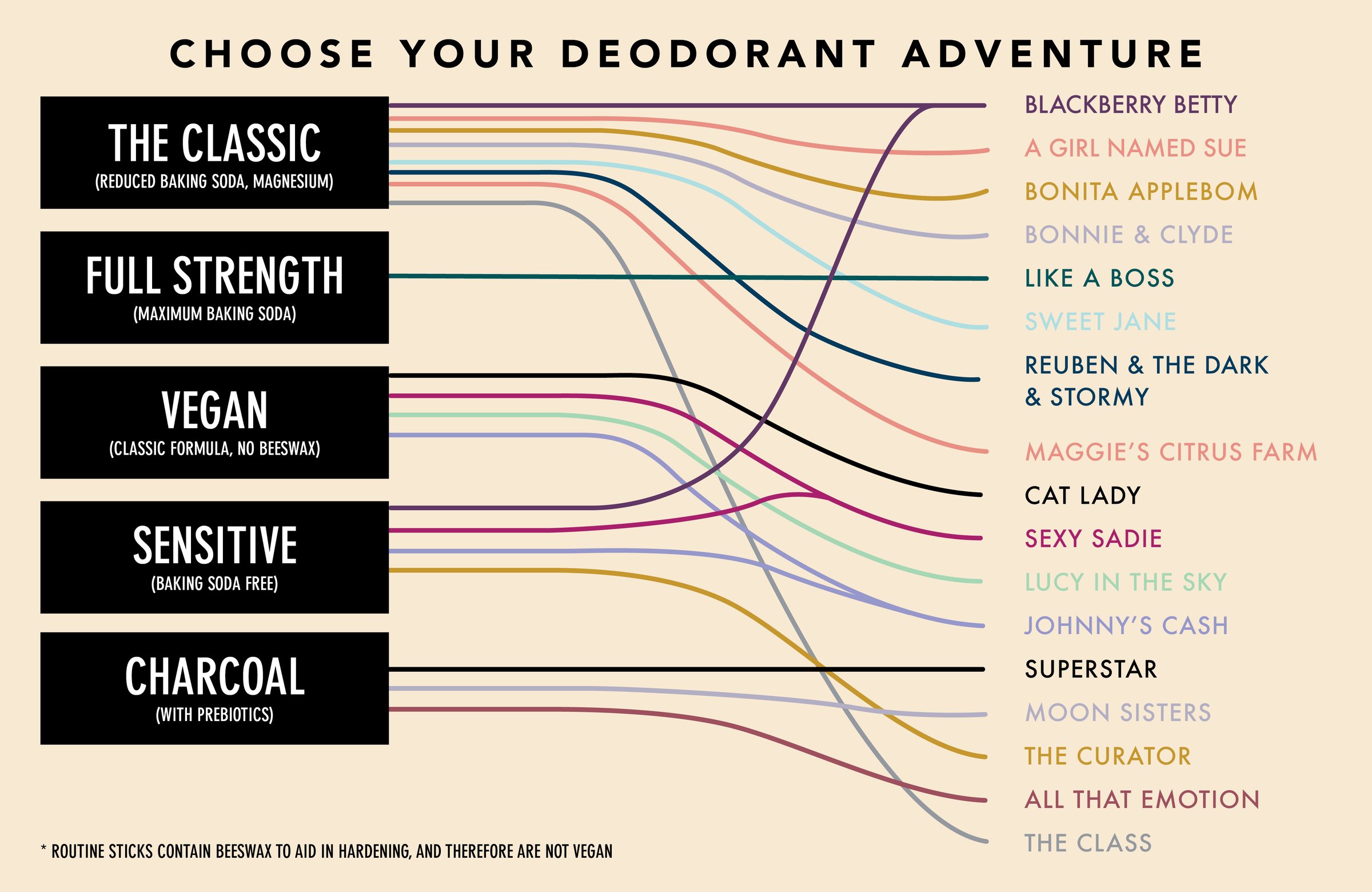 I find this chart a little confusing so I've listed them below for you.
Routine Full Strength (Maximum Baking Soda) deodorant:
Routine Classic Strength (Reduced Baking Soda, more Magnesium) deodorants:
Blackberry Betty, A Girl Named Sue, Bonita Applebom, Bonnie & Clyde, Reuben and the Dark and Stormy, Maggie's Citrus Farm, Sweet Jane, The Class
Routine Vegan deodorants (no beeswax):
Sexy Sadie
Lucy In The Sky
Johnny's Cash
Cat Lady
Routine Baking Soda-Free deodorants:
Sexy Sadie
Blackberry Betty
Johnny's Cash
The Curator
Routine Activated Charcoal deodorants:
Superstar
Moon Sisters
All That Emotion
Routine's Luxury Scents:
The Class (crystal-charged)
All That Emotion

Routine offers Stick Deodorants, Minis and Mini Kits
11 of Routine's most popular scents are offered in stick form that are packaged in cardboard on the outside and 100% post consumer recycled plastic on the inside. I have not personally tried the sticks but I remember catching wind that these are not as great as the cream versions.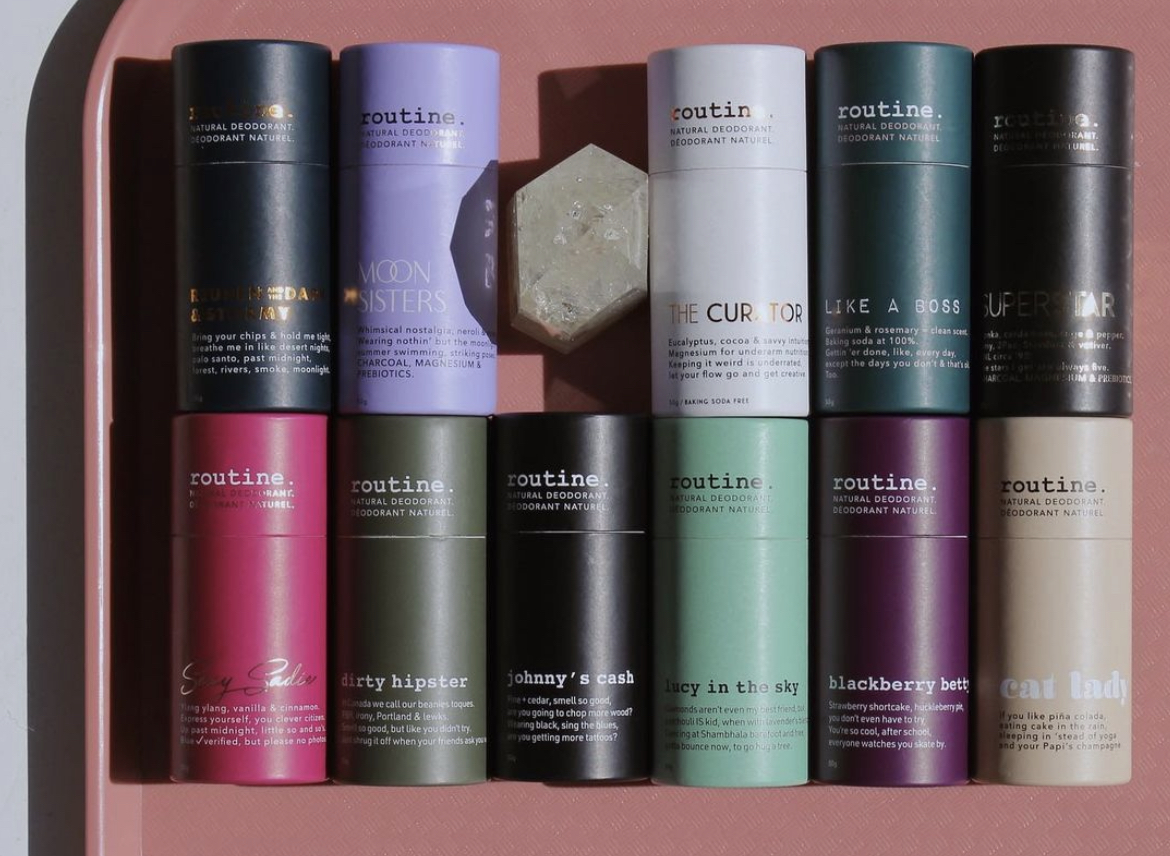 If you're hesitant about spending $24 for a deodorant or aren't sure which scent to pick, Routine conveniently offers many of their deodorants in 5g sample jars. If you want to try out more than 1 sample jar, Routine offers a variety of sample kits at a built-in discount.
Routine has a Refill Program (Canada only)
If you're in Canada, Routine offers a refill program at 146 locations and counting.

Routine is 100% clean so you won't find any nasties or questionable ingredients like aluminum zirconium, aluminum chlorohydrate, parabens, triclosan, or propylene glycol. Instead, Routine deodorants are made with oils, butters, clays and soothing ingredients like Calendula. Some of their deodorants like Superstar and Moon Sisters are supercharged with activated charcoal, magnesium and prebiotics.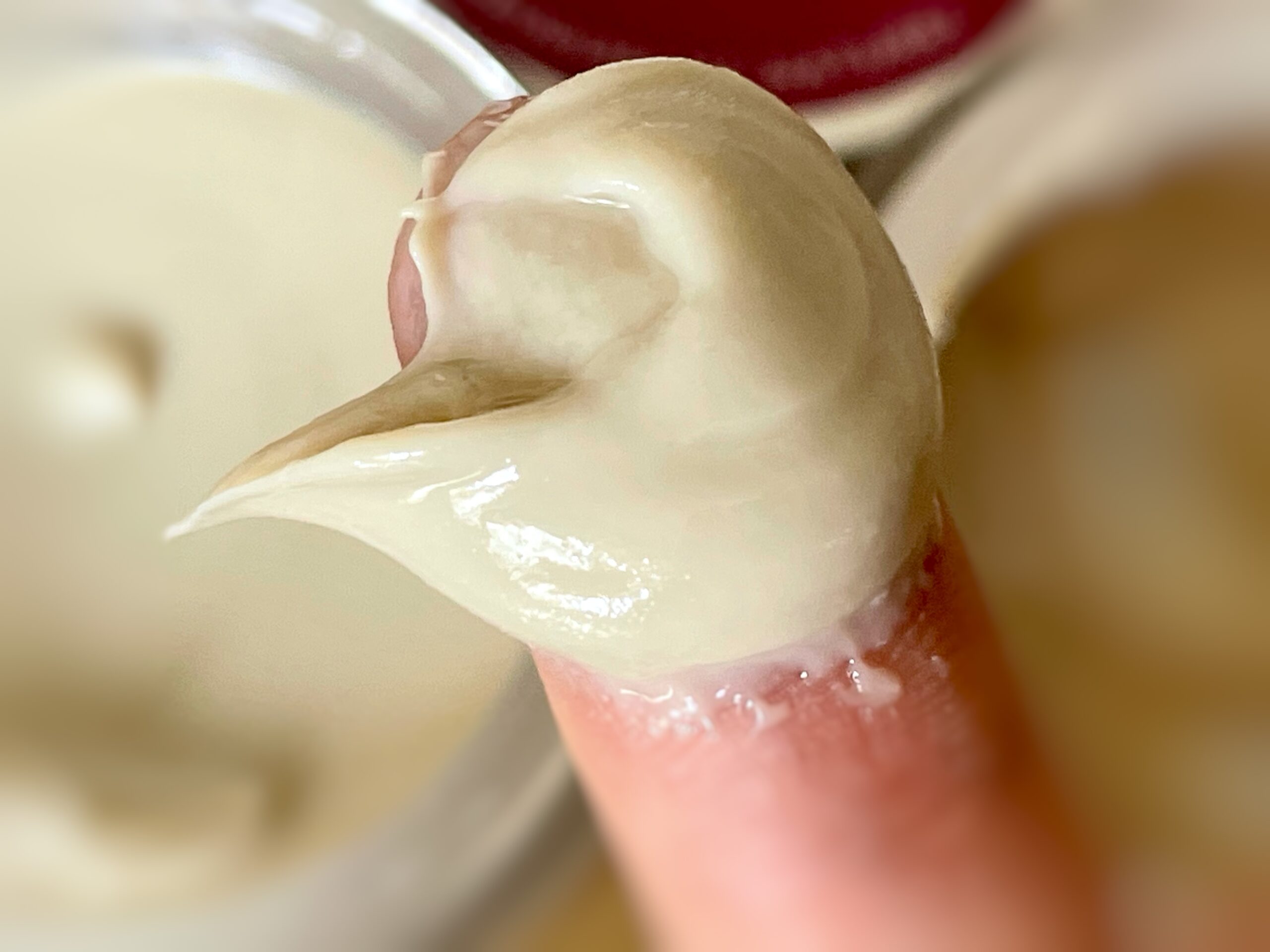 If you've never used a cream deodorant before, it can take some getting used to. While it's not as hassle-free as a stick deodorant, this alternative application method reduces bacterial contamination to the product, making it effective all the way to its last use. Routine deodorant jars last a VERY long time because a little goes a long way. I would say depending on how often you wear deodorant and if you rotate between different deodorants, a Routine jar could last you anywhere between 3 months to a year.
Routine Cream deodorants are applied the same way as a lotion. You just take your finger, scoop up a little and rub it around your armpits. You then wash off the remaining residue from your fingers. I take one small scoop with the swipe of my index finger and use it for both armpits.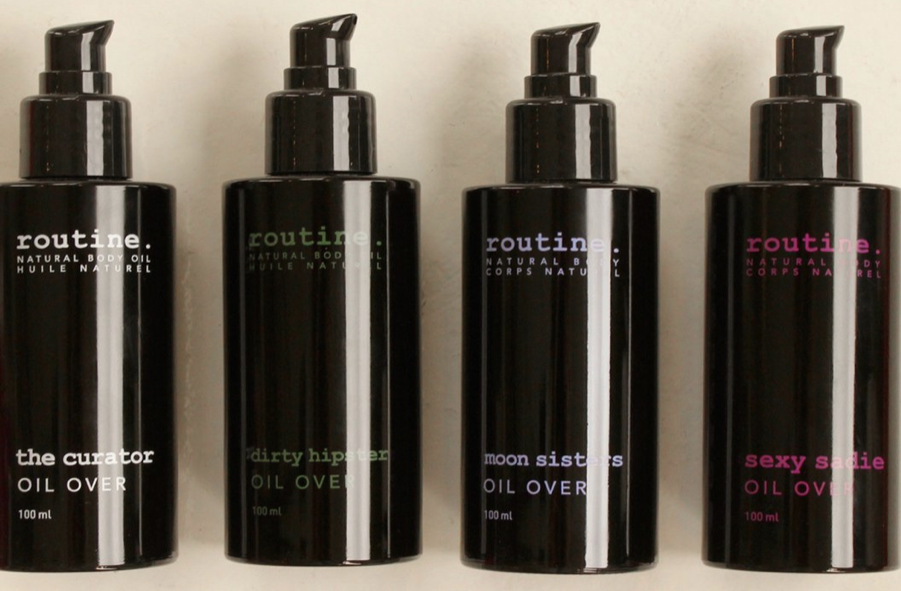 Routine launched their popular scents as body oils, and I was able to try one of my favorite scents Superstar. While they're called body oils Routine oils are actually all purpose and can be used for hair, removing makeup, shaving, and massage. Superstar Body Oil has the same scent profile as its deodorant cousin, but with a base of Organic Jojoba, Apricot Kernel, Rosehip and Sunflower seed oils.
The Routine body oils feel like the $80 luxury ones for under $40 (with discount code OBL). This is amazing value that's hard to find in the green beauty world.
Routine's luxurious oils are packaged in ethically-made biophotonic glass bottles from the Netherlands. This unique packaging helps keep the antioxidants present in the ingredients intact so Routine oils work better for you, longer.
I've used Superstar Oil Over Oil as a face cleansing oil, shaving oil, hair oil and of course body oil and love that I can introduce the scent I'm enamored with in so many other areas of my beauty routine. I see what you did there Routine! They get you hooked on the deodorant first, and that's how they get you. I'm all for it though and am eyeing their Superstar soy candles next!
Save 10% with Routine discount code OBL10 at the Routine website.

The site is in Canadian dollars so you need to scroll to the bottom to change the currency.
Free shipping to US/Canada.
Shop the entire Routine line here.