Looking for affordable organic skincare? Organic no longer has to break the bank thanks to brands like Beauty By Earth. Their mission is to create the most effective skincare products possible using the cleanest ingredients available. This isn't an easy feat, but Beauty By Earth makes it look effortless. Beauty By Earth was birthed from outrage – outrage at the skincare industry's disregard for our health, outrage at hidden toxins and outrage at the sky high prices for natural high-quality skincare.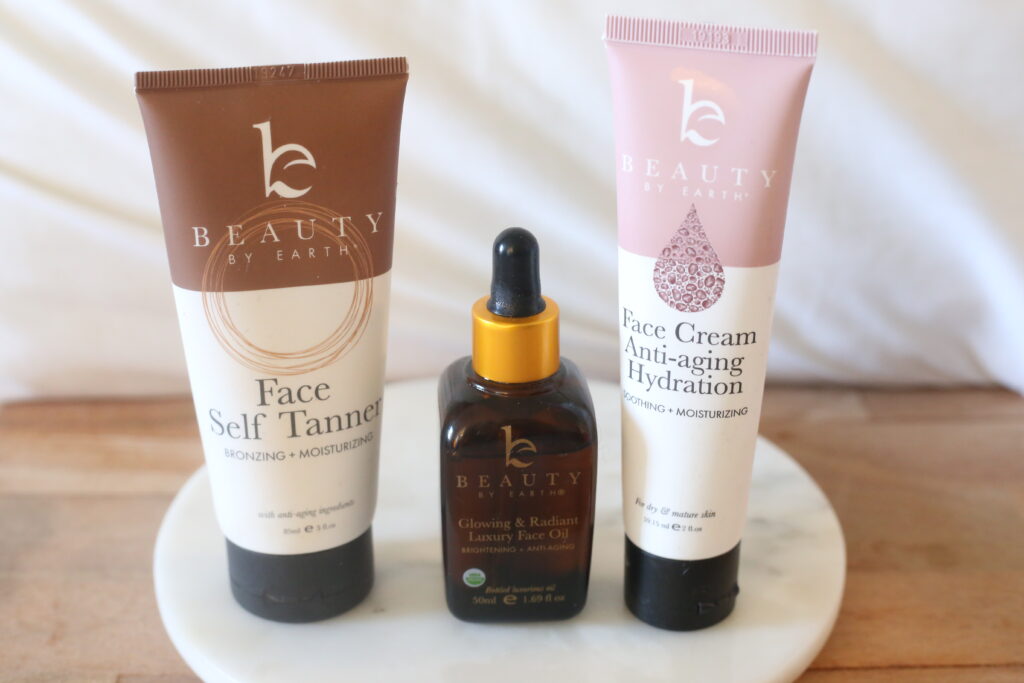 This is the Beauty By Earth promise:
Organic & Natural Ingredients.
No Harmful Toxins or Chemicals.
Never Tested On Animals.
Affordable Prices.
Environmentally Sustainable.
Made in the USA
30 Day 100% Customer Satisfaction Guarantee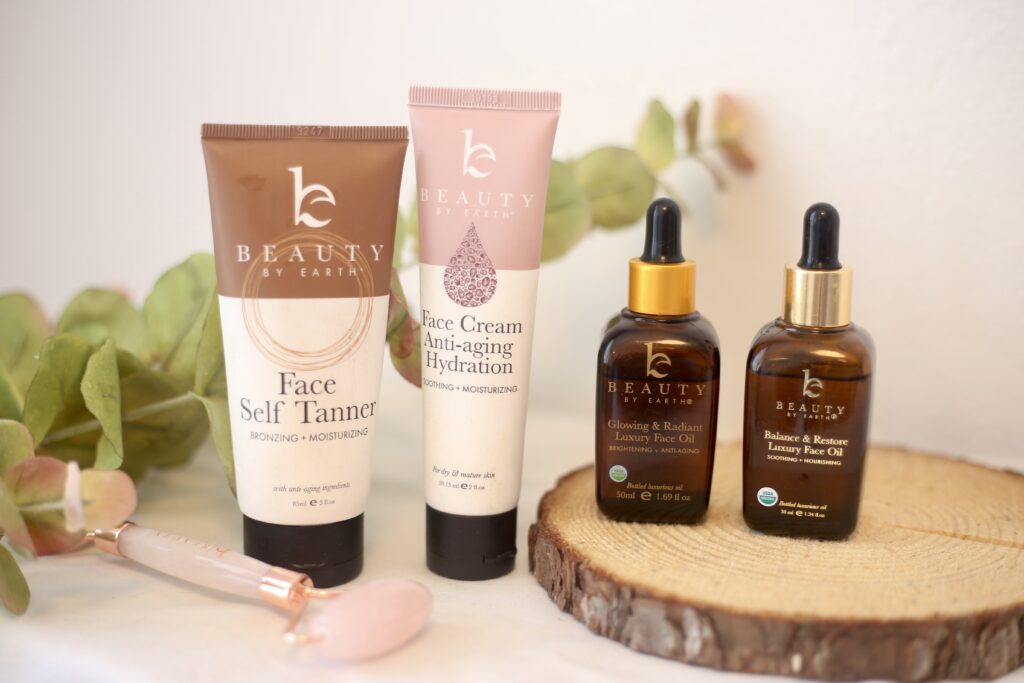 This brand is a great option for those searching for budget organic beauty. The Beauty By Earth range includes:
Skincare
Natural self tanner
Sunscreen
Shampoo
Sea Salt Hair Texturizer
Natural Deodorant
Body Wash
I tested out the brand's Organic Face Oils, Natural Face Moisturizer, and Natural Self Tanner, and am sharing my thoughts in this Beauty By Earth review. First of all, Beauty By Earth is so affordable, yet the packaging is still pretty to look at. A lot of times, budget organic beauty comes with an aesthetic sacrifice aka ugly packaging. But not with Beauty By Earth! It feels like you're using a luxury product for a fraction of the cost.
Second I love the brand's commitment to truly clean ingredients. So many brands market themselves as clean these days that it has really lost a universal definition of the term. Beauty By Earth is pure, clean and toxin-free to the highest standard. There aren't any hidden iffy ingredients to worry about, which means peace of mind whenever you purchase from the brand.
If you are still going to tanning salons and using tanning beds, stop! Skin cancer is no joke and there are safe and better ways to get a natural looking tan. Like tanning lotion! There are not many natural and organic self tanners on the market, but this is where Beauty By Earth comes to the rescue. The Beauty By Earth Natural Self Tanner is by far one of the most popular organic options available. This Organic tanning lotion has been tried and tested by many a green beauty lover before me, so I was excited to test it out these past months myself. It promises no hideous streaks or orange looks. Instead the Natural Face Self Tanner builds one golden layer at a time without turning you into an oompa loompa.
Beauty By Earth's tanning lotion benefits:
Non-comedogenic
Safe for sensitive and acne prone skin
Safe for pregnant women and new moms
No sun damage or exposure to harmful UV rays
Post vacation glow even though we are under a travel ban
How to use it:
First, exfoliate skin.
Apply a thin layer on face up to the hairline, neck and down the chest
Wash hands after applying to avoid turning your hands orange
Wait about 6 hours for tan to fully develop
Keep skin hydrated to make the tan last longer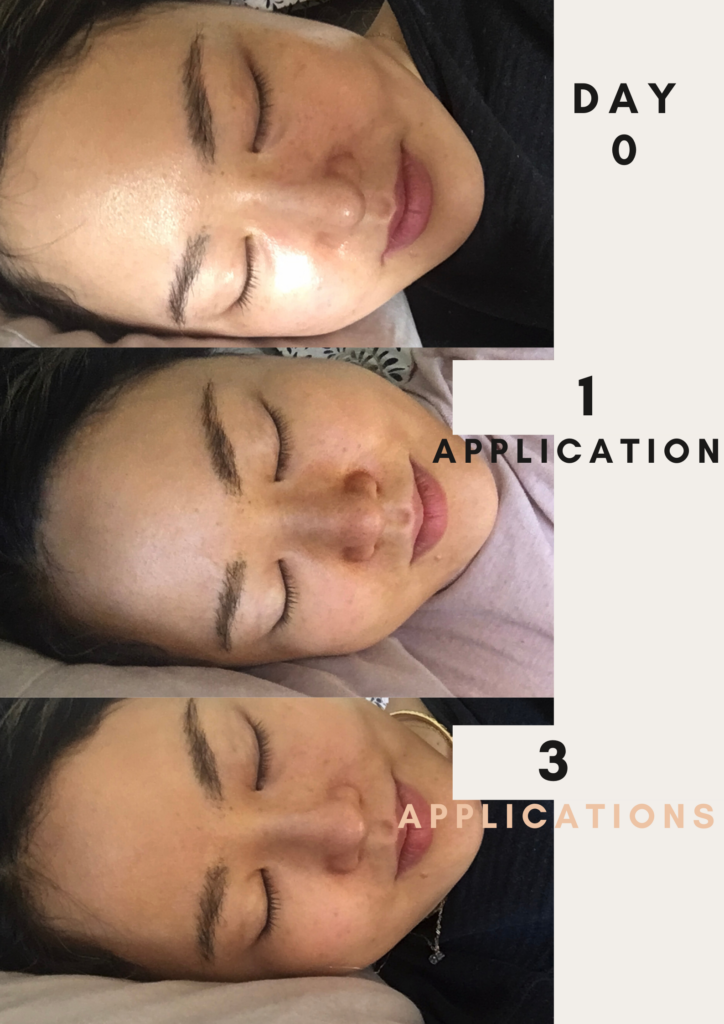 My experience:
I tested building layers to deepen the tan, and for me personally, the Self Tanner looks best with just one application. When I continued to use the self tanner to build the tan, I would end up looking orange, but one application on its own gave me a natural sunkissed look. For olive skin tones like mine, I would recommend just one application!
I do love how hydrating and lightweight this tanning lotion feels and the vanilla scent is scrumptious! It doesn't have that weird smell tanning lotions typically have, but after the tan develops you will notice it. Nothing major though. Definitely remember to wash your hands after, because mine turned orange when I forgot. I also tried the Natural Face Self Tanner on my body and it gave my legs a beautiful tan! There's no reason why you can't use the face self tanner on your body or the body self tanner on your face! I have heard great feedback on the latter.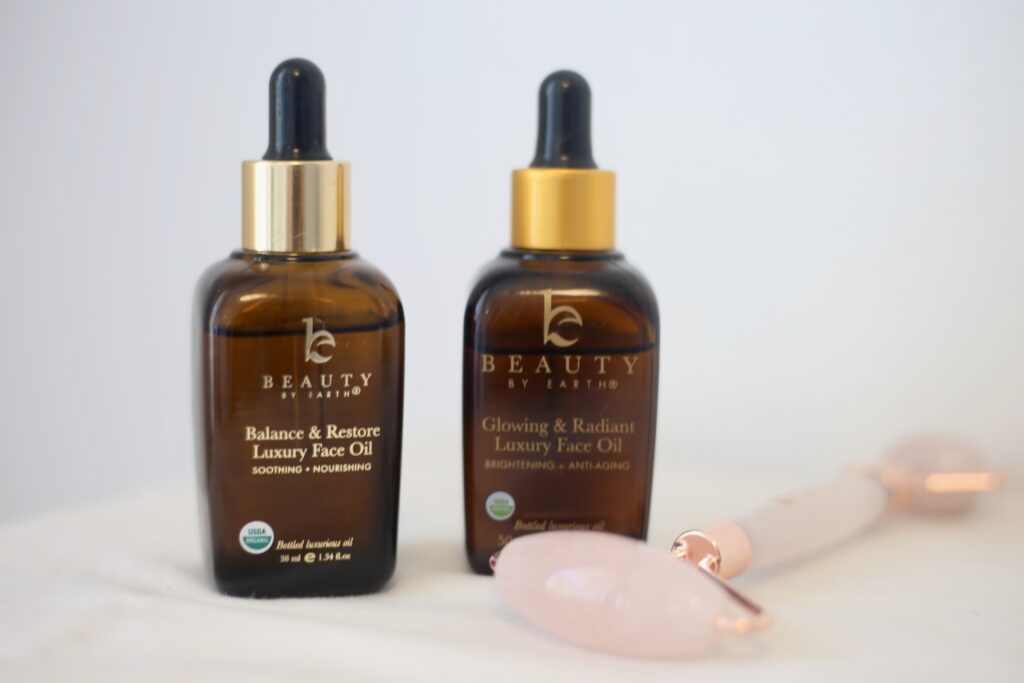 Glowing & Radiant Luxury Face Oil
A USDA Certified Organic facial oil with no fillers or synthetics for under $27? Not one but two different kinds? At an affordable price? Beauty By Earth has brought them to life with their new face oil launches – Balance and Restore Luxury Face Oil and Glowing and Radiant Luxury Face Oil.
The Beauty By Earth organic face oils come in luxurious glass packaging with gold accents and a gold printed label. The ingredients are entirely certified organic – every single ingredient!
The Glowing & Radiant Luxury Face Oil begins with an organic argan and jojoba oil base and is packed with other amazing skincare oil like:
Moringa Oil
Passionfruit Seed Oil
Sea Buckthorn Fruit Oil
Pomegranate Seed Oil
Tangerine Peel Oil
Rosemary Leaf Extract
Lavender Flower Oil
This is a light to medium weight face oil that has a mixed herbal and fruity scent. I can't figure out which scent is more dominant, but it feels like a well balanced blend of lavender, herbal and citrus. The yellow-hued Beauty By Earth face oil sinks in well. feels moisturizing..I honestly have no complaints! For this price point, all organic ingredients, and luxe dark glass packaging, it can't get any better than this. You won't find any phthalates, sulfates, or artificial dyes or fragrances.
Balance & Restore Luxury Face Oil
The Beauty By Earth Balance & Restore Luxury Face Oil is designed for oily and acne prone skin. It's specifically formulated to fight acne and soothe problematic skin. The formulation of the Balance & Restore face oil is very different from the Glowing & Radiant face oil. It begins with a sunflower and jojoba seed oil base, and contains:
Green Tea Leaf Extract
White Tea Leaf Extract
Rosehip seed oil
Eyebright extract
Gotu Kola extract
This facial oil feels a little bit lighter than the Glowing & Radiant Face Oil and the scent comes from essential oils of ylang ylang, myrrh, chamomile and geranium flower. While I don't have acneic or oily skin I really love this oil and prefer it to the Glowing & Radiant Face Oil. The oils pair well with their Rose Quartz Face Roller.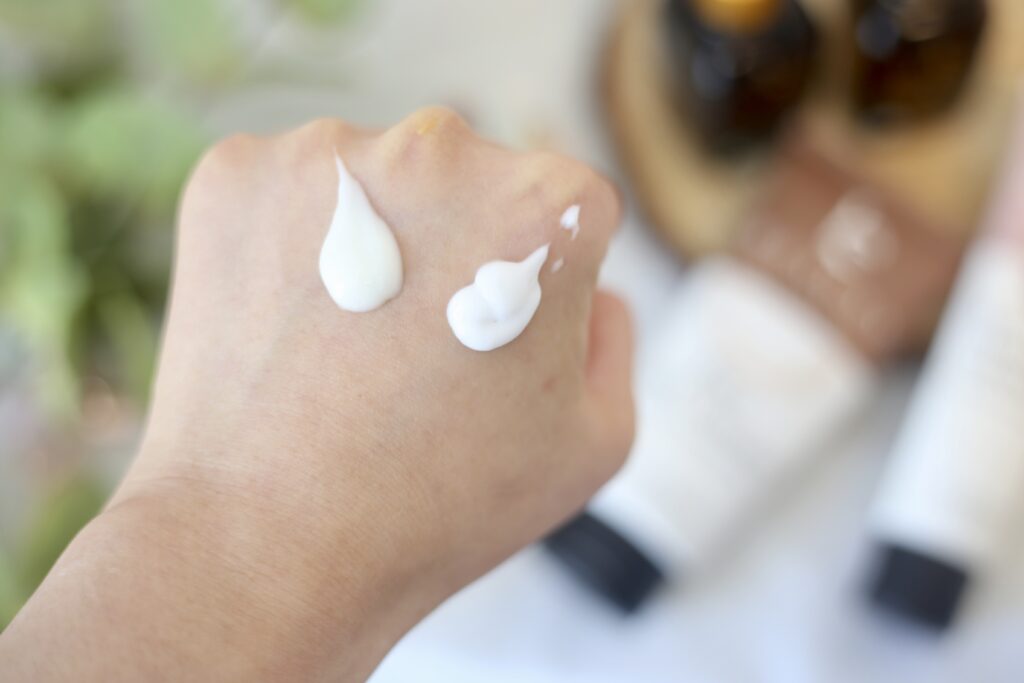 The natural and organic anti aging face cream is an antioxidant-rich lotion that improves skin elasticity, supports healthy cellular structure, reduces fine lines and wrinkles, and provides a major boost of hydration.
I was not a fan of the scent of this moisturizer, and because of that I didn't find myself reaching for this product. I've also gotten so used to using moisturizers from a jar or glass bottle that it was a foreign experience squeezing it out of a tube.
The Beauty By Earth Anti Aging Cream is a very lightweight lotion..too lightweight for my dry skin but may be more suitable for someone with oily skin. I do appreciate that for a budget organic skincare product, the Beauty By Earth Anti Aging Face Cream begins with a base of Organic Aloe Vera Leaf Juice, which means they chose to not cut any corners. All in all, not my favorite product from the Beauty By Earth skincare line, but hope to see it improved in the future.
Ingredients: Organic Aloe Barbadensis (Aloe Vera) Leaf Juice, Organic Cocos Nucifera (Coconut) Oil, Cetearyl Olivate (and) Sorbitan Olivate, Organic Simmondsia Chinensis (Jojoba) Seed Oil, Organic Argania Spinosa Kernel (Argan) Oil, Carthamus Tinctorius (Safflower) Oleosomes, Organic Cucumis Sativus (Cucumber) Fruit Extract, Organic Camellia Oleifera (Japanese Green Tea) Leaf Extract, Organic Glycyrrhiza Glabra (Licorice) Root Extract, Organic Hamamelis Virginiana (Witch Hazel) Extract, Salix Nigra (Willow) Bark Extract, Organic Chamomilla Recutita (Matricaria) Flower Extract, Stearic Acid, Glyceryl Stearate (Vegetable Derived), Hyaluronic Acid, Glycerin (Vegetable), Methylsulfonylmethane (MSM), Radish Root Ferment Filtrate, Ascorbic Acid (Vitamin C), Sodium Citrate, Sclerotium Gum, Organic Butyrospermum Parkii (Shea) Butter, Citrus Bergamia (Bergamot) Essential Oil, Salvia Sclarea (Clary Sage) Essential Oil, Citrus Aurantium (Neroli) Essential Oil
Overall, Beauty By Earth is a fantastic option to consider if you are on a budget and are looking for affordable organic beauty. Organic skincare can be one of the priciest products to invest in, and this is a safe and easy way to dive into healthy, high-quality skincare without putting a dent in your wallet. After tying out Beauty By Earth's products, I'm happy to recommend the Beauty By Earth Natural Face Self Tanner and Organic Face Oils!