Even with the thousands of CBD brands that have popped up in the last few years alone, my favorite clean CBD skincare brand remains Code Of Harmony. I first met Code Of Harmony at Indie Beauty Expo Los Angeles a few years ago and have been hooked ever since! Based out of Long Beach, California with their very own spa called The Skin Lab nestled downtown, Code Of Harmony crafts clean, small-batch CBD skincare with bespoke formulas developed by founder Janet Schriever.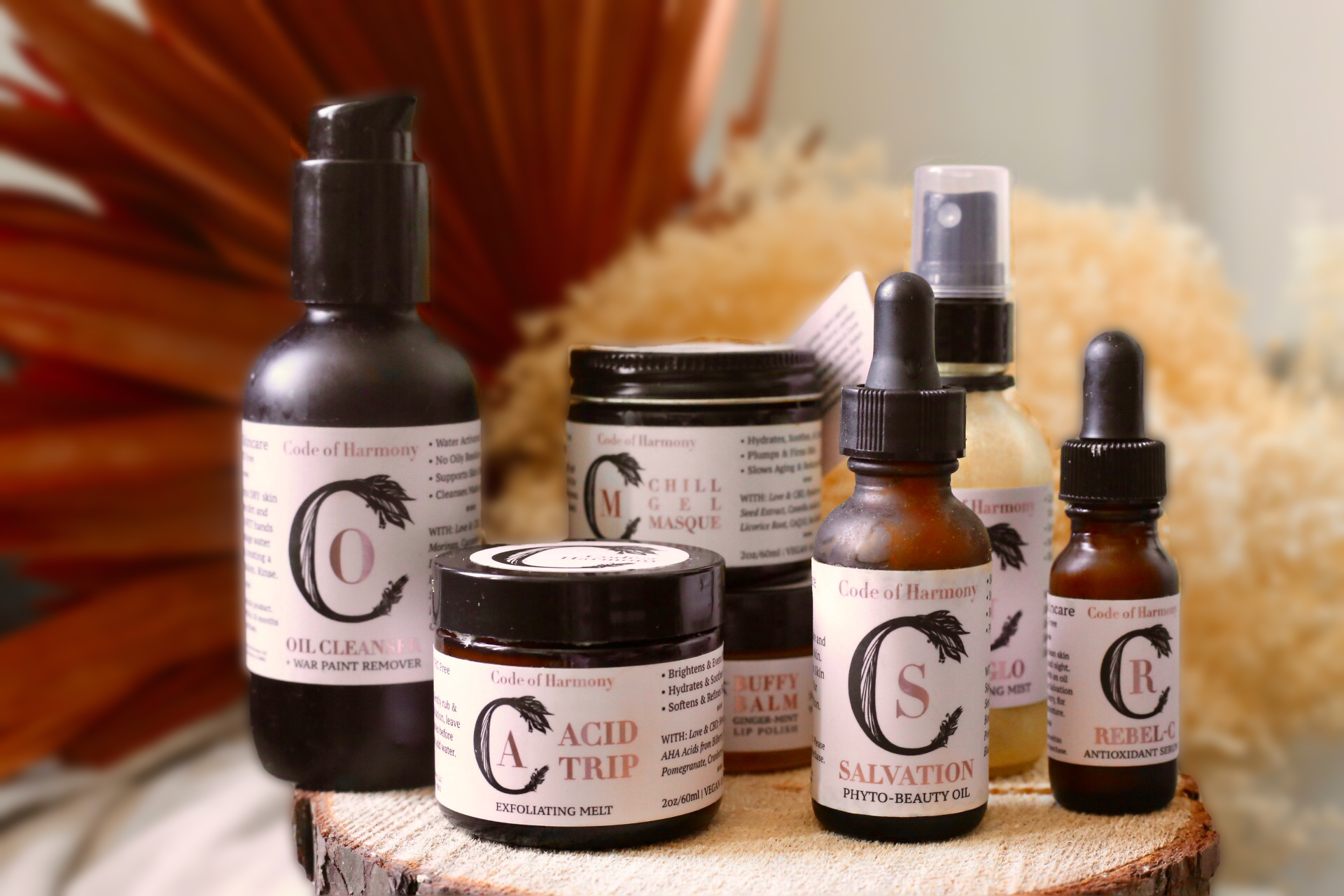 With years of experience as a licensed esthetician under her belt, Janet took it upon herself to formulate products for her own acne-prone, sensitive and aging skin for four years before finally launching them as Code of Harmony. Fast forward to now, Code of Harmony is widely used and loved by estheticians across the country and has grown to line of 11 products sold via their website and a dozen stores.
There are no fillers or unnecessary ingredients in Code of Harmony's products. Each chosen ingredient serves a necessary purpose, and together, the ingredients work synergistically in harmony. That's the Code by which Code Of Harmony formulates. What you get from that is a thoughtful and unique skincare range that's just as effective as it is fun to use. How often do you find clean skincare with pale pink labels and daredevil-esque names like "Rebel-C" and "War Paint Remover." Like never.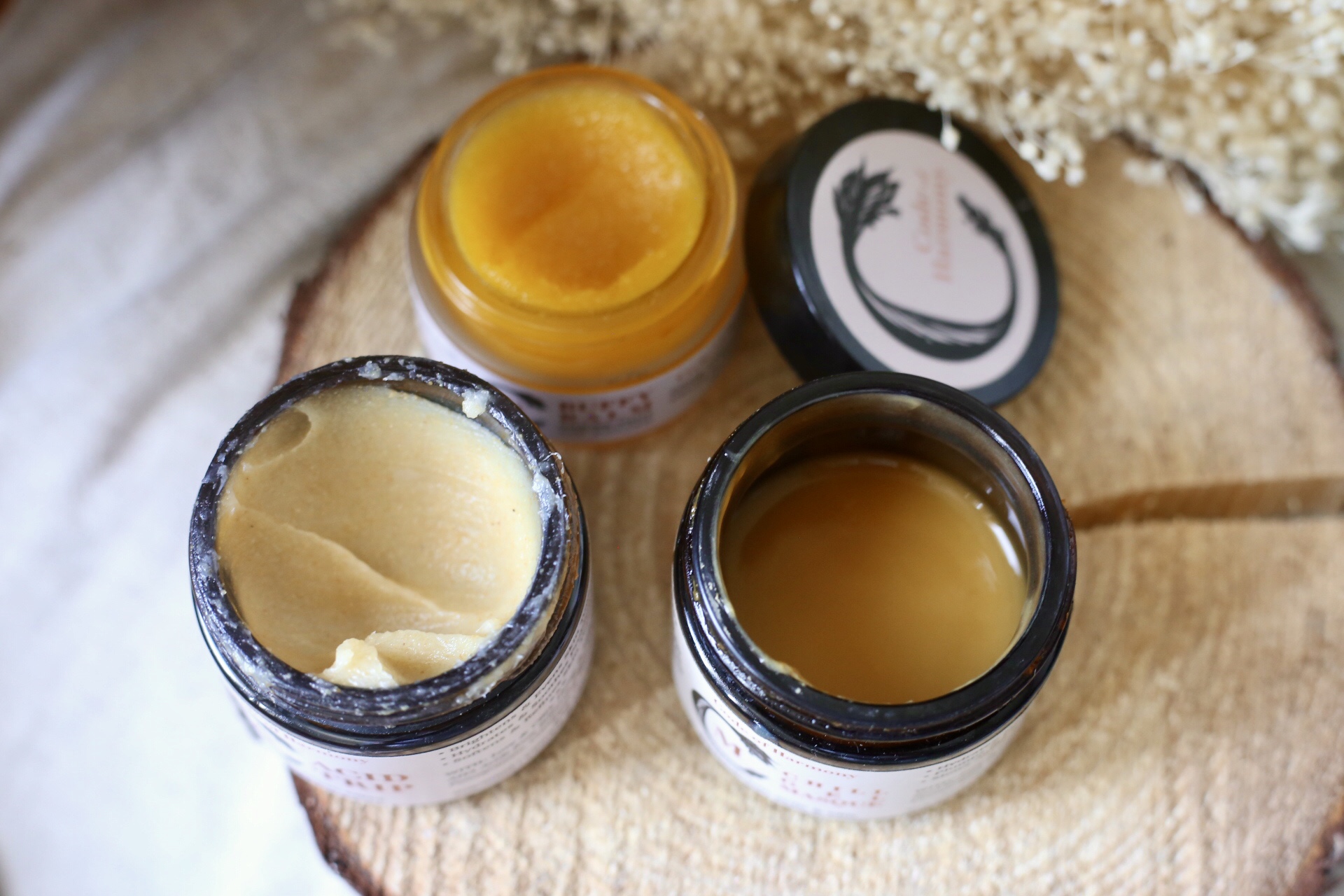 This line is appealing to the youngest generations yet powerfully anti-aging enough for the oldest. After all, it was birthed from an esthetician's personal need for effective anti-aging skincare. Another major plus – prices remain largely accessible with most products retailing just under $50. Rest assured, there are no $120 face oils in this line.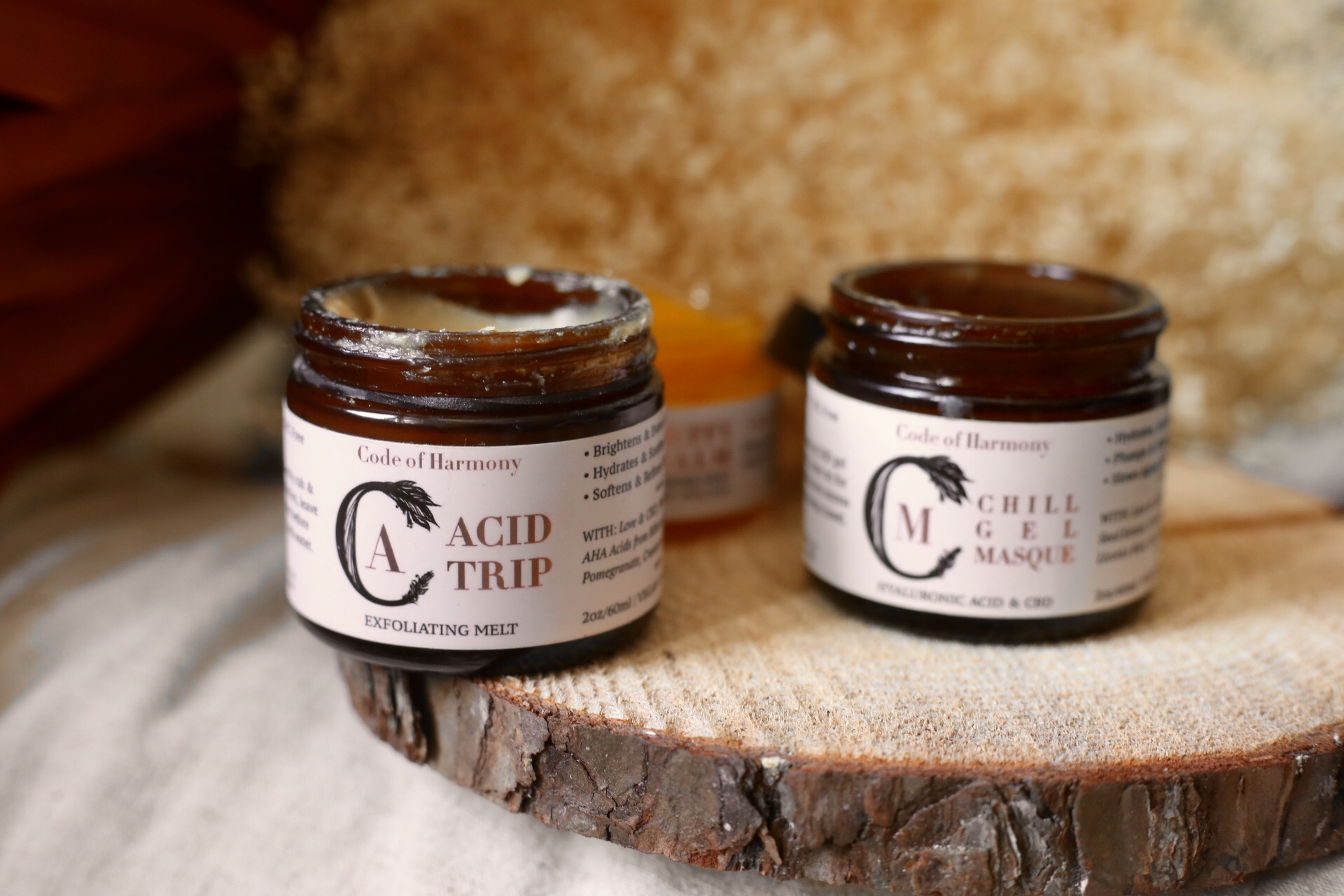 About Code of Harmony's CBD
Code Of Harmony is sold legally in all 50 states, because the CBD they use is grown in compliance with the 2014 Farm Bill.
They use a highly purified form of non-psychoactive CO2 Extracted CBD Isolate from organically grown hemp. Code of Harmony formulas contain:
NO THC so you won't feel high
No hemp smell or irritation that is sometimes caused by the natural occurring Terpenes in Hemp
No fragrant Essential Oils from Hemp which can be irritating (Code of Harmony removes them)
Why CBD Skincare
CBD is such a buzzed about word and covered in so many articles all over the Internet, I don't want to bore you with the details. CBD is simply an extract from the leaves, flowers, and stalks of the cannabis plant. But don't confuse it with hemp seed oil, which is entirely different. Hemp seed oil results from cold-pressing the seeds from the cannabis plant and does not contain any CBD.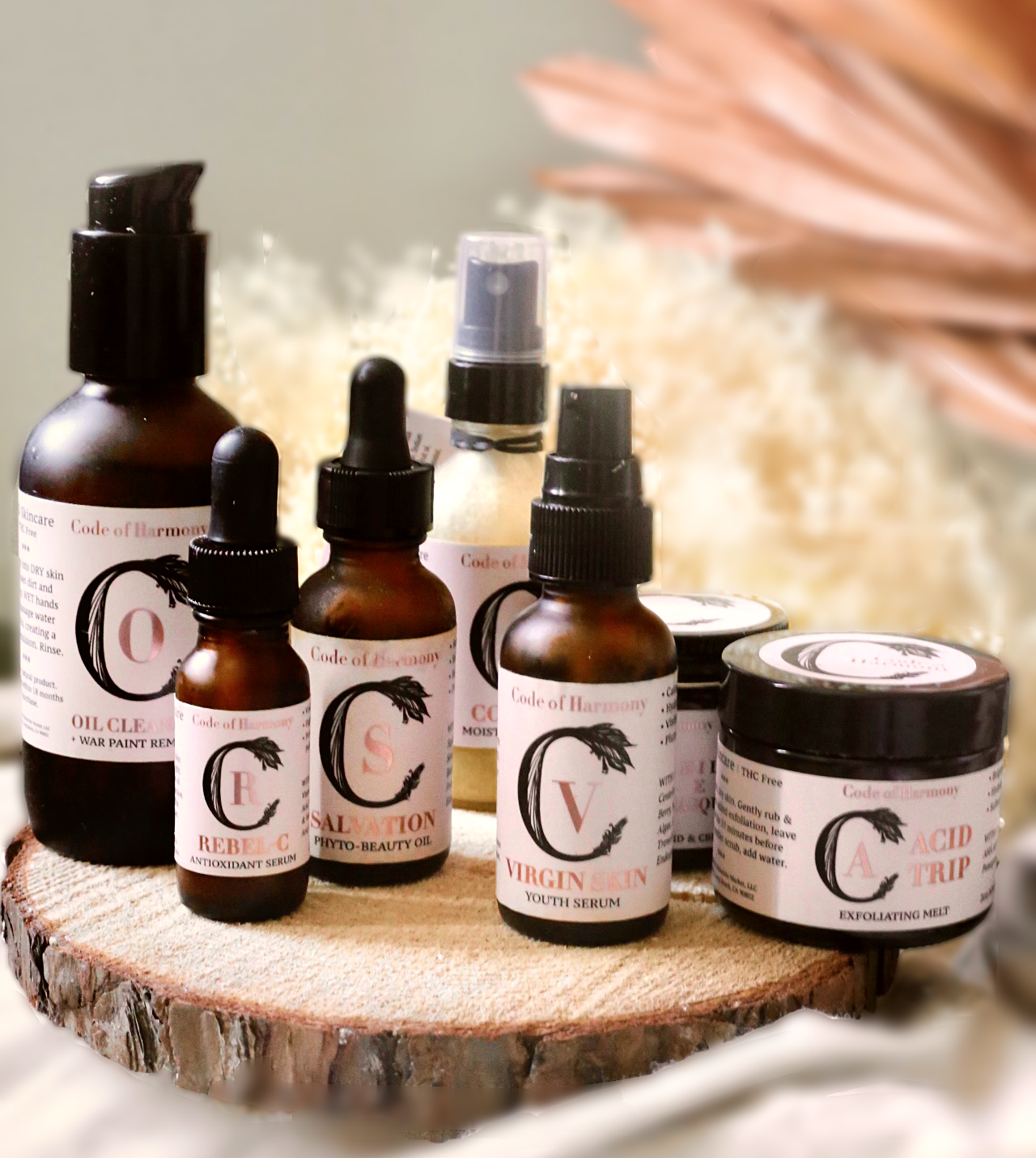 So what's with all the CBD hype? While more studies need to be done, what we do know is CBD has antioxidant and regenerative qualities to help curb damage from the sun, pollution, and aging. It's anti-inflammatory, and since the root of all skincare problems is inflammation, we want all the anti-inflammatory action we can get. Also, CBD has actually been used for centuries to treat skin conditions like eczema, psoriasis, and rosacea.
Finally. It's time for me to dive into all the products I've tried in this much anticipated Code of Harmony review. Kidding, no one actually asked for it. But I'm sure someone out there is wondering!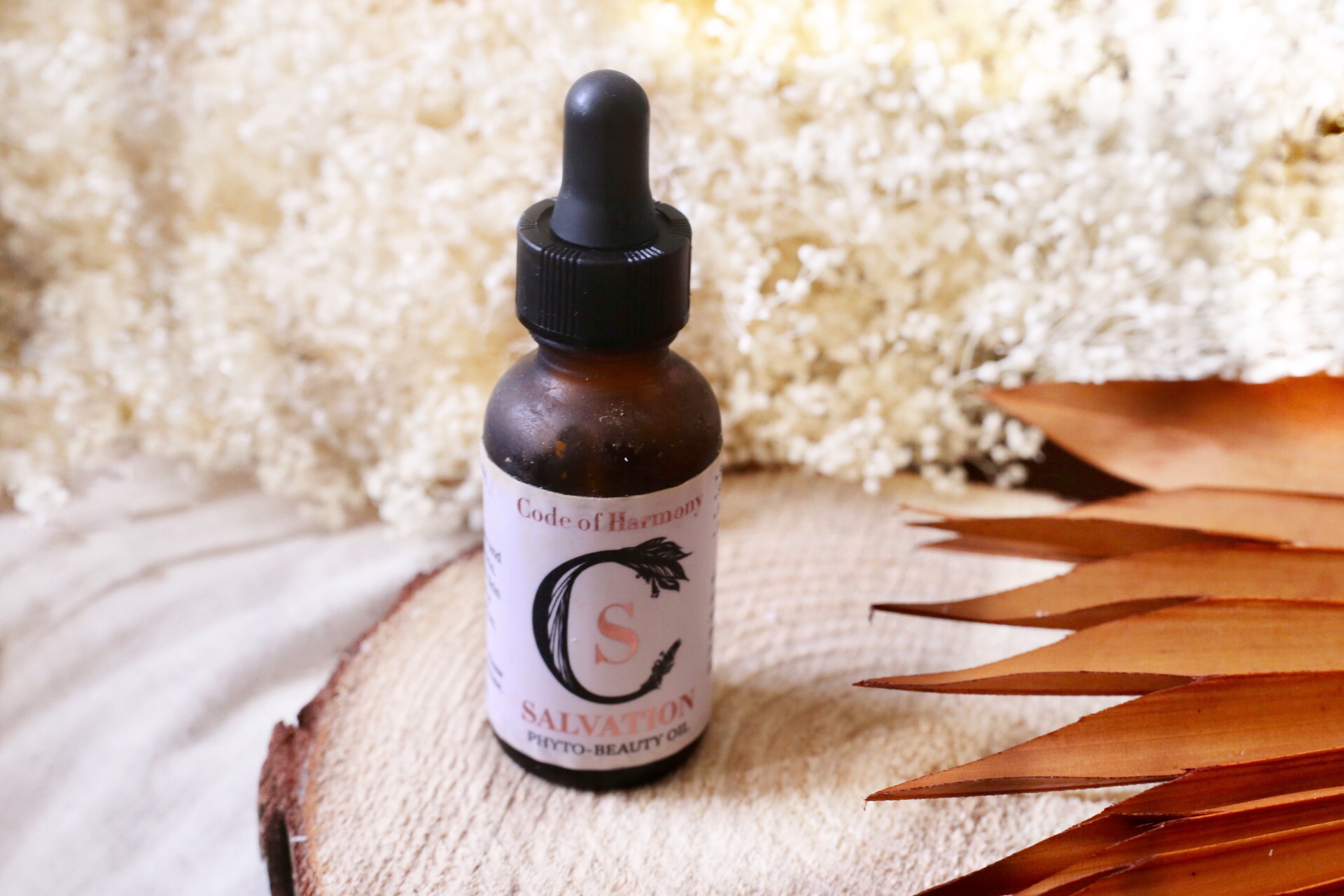 I love how luxuriously formulated the Code of Harmony Salvation Phyto Beauty Oil is with 14 carefully chosen youth-enhancing plant oils. The Salvation Oil Serum is packed with Omega 3,6,7, and 9 to provide skin with a diverse lipid profile that's easily absorbed. This oil is suitable for all skin types, even Oily skin, and is non-pore-clogging. This isn't just any beautiful blend of oils though. It's further infused with their CBD Extract, skin-brightening Curcumin and CoQ10.
I also love that the formula begins with squalane oil, which on its own, is a very liquid-like featherlight oil. Mixed with all the other oils in this formula, the result is a medium light oil that still sinks into skin. The scent is grounding with a hint of earthy sweetness – it's hard to describe because it's the natural result of the oil blend and there are no added essential oils.
Ingredients: Squalane (Olive), Macadamia Ternifolia Seed Oil, Simmondsia Chinensis (Jojoba) Seed Oil, Borago Officinalis (Borage) Seed Oil, Echium Plantagineum Seed Oil, Cannabis Sativa Seed (Hemp) Oil + Cannabidiol (Hemp derived CBD), Salvia Hispanica (Chia) Seed Oil, Moringa Olifera Seed Oil, Oenothera Biennis (Evening Primrose) Oil, Nigella Sativa (Black Cumin) Seed Oil, Rosa Mosqueta (Rosehip) Fruit Oil, Caprylic/Capric Triglycerides (Coconut), Punica granatum (Pomegranate) Seed Oil, Lecithin (Sunflower, Non-GMO), Hippophae Rhamnoides (Sea Buckthorn) Fruit Oil, Pelargonium Graveolens (Geranium) Oil, Canarium Luzonicum (Elemi) Oil, Bisabolol (from Chamomile), Tocopherol (Vit E), Ubiquinone (CoQ10), Tetrahydrocurcuminoids (Curcumin)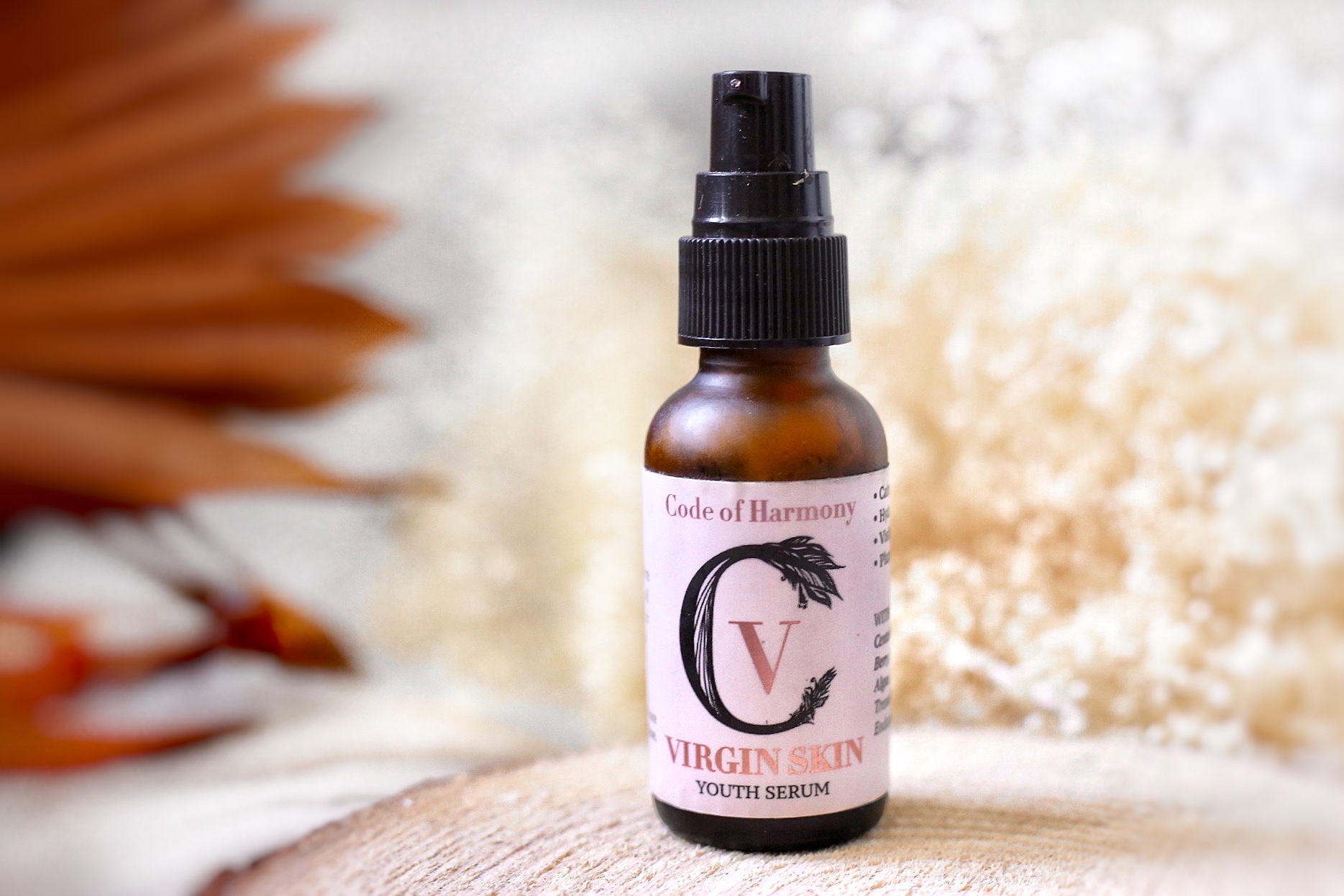 The Virgin Serum is one of Code of Harmony's most popular products and for good reason. As I've mentioned in many a review, your best face serum needs to beat your best face moisturizer. This is the product that's going to deliver active nutrients to your skin cells and the product you should consider investing in most.
Code of Harmony's Youth Serum is loaded with Sea kelp, Algae, Tremella mushroom extract, Centella asiatica, Coconut endosperm, Green tea, and Licorice root. And that's not all. CBD extract, Niacinamide, N-Acetyl Glucosamine and renewing Beta Glucan help calm irritated skin, firm, smooth, plump, brighten and even skin tone. This serum definitely packs a punch, and is affordably priced.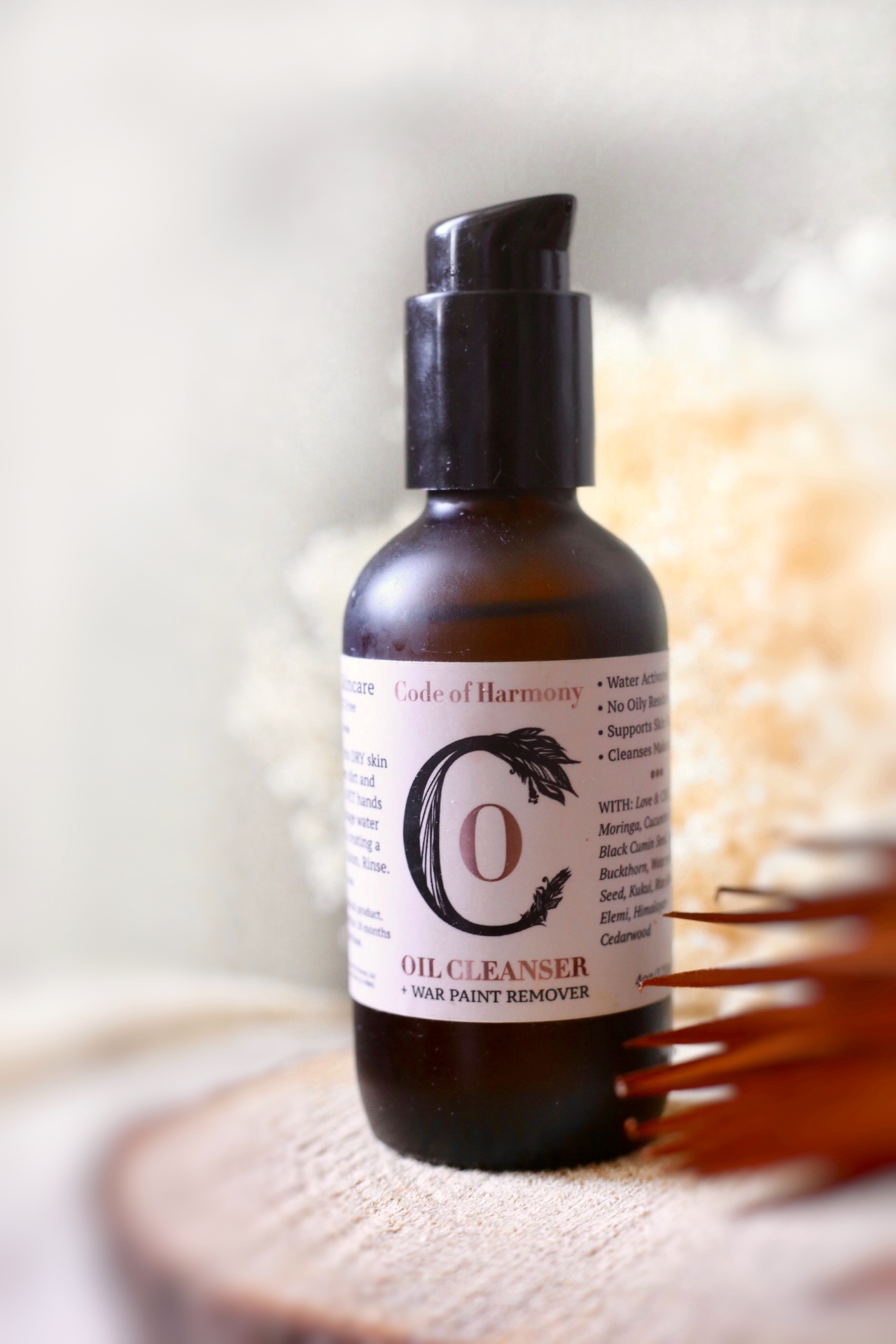 It might be hard to tell because I tend to sound monotonous when I blog, but I'm most excited to talk about the Code of Harmony War Paint Remover. I never imagined I'd ever be this enamored with an oil cleanser. I've tried many oil cleansers and they all get the job done and some are really high-end, but it takes a certain kind of oil cleanser to really capture my heart. Only one other oil cleanser has accomplished that besides Code of Harmony's.
The War Paint Remover comes in a hefty dark glass bottle with a pump dispenser and subtly emulsifies as it's rinsed off. I would describe it as having medium consistency since I've experienced lighter formulas. But it's not overly heavy.
The formula is an impressive blend of plant oils from Rice Brain, Elemi, Cucumber, Kukui Nut, Watermelon, Moringa, Black Cumin, and Hemp Seed Oil as well as 100mg of CBD extract. This is an oil cleanser that I like to really let sink in for my skin to reap all the benefits. It's effective at melting away makeup, including eye makeup without burning the eyes and smells so soothing. I would definitely repurchase this product.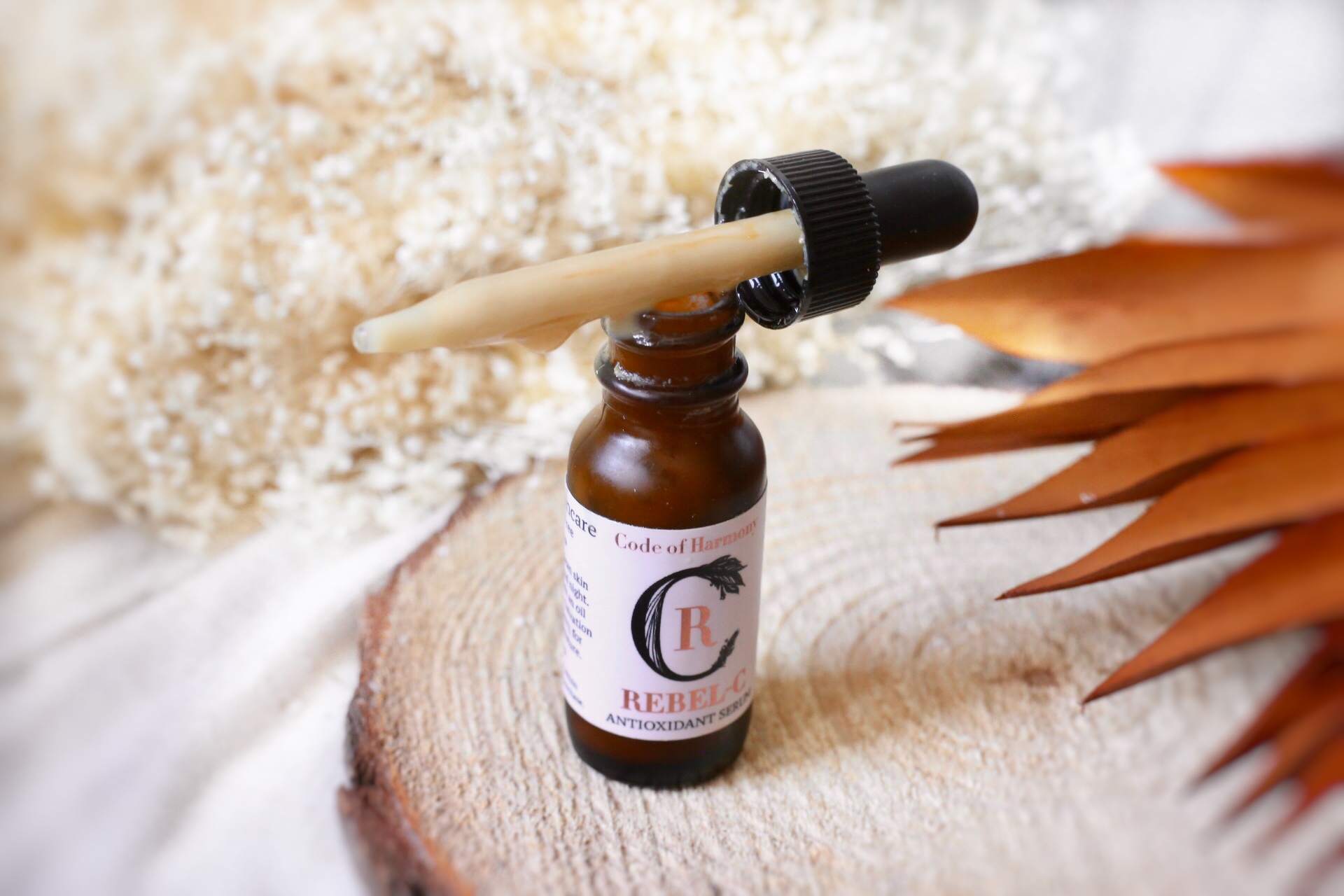 This is an interesting Vitamin C serum in many ways. You have the trifecta combination of Vitamin C + Vitamin E + Ferulic Acid which is a sign of a truly superb Vitamin C serum. It's also been specifically supercharged with Melatonin and Quercetin because of their purported abilities to enhance the effects of Vitamin C. Rebel C also has Sea Kelp Bioferment, Watermelon and calming Edelweiss from the Swiss Alps (my forever home) to provide additional skin soothing benefits and, of course, 60 mg of CBD.
Another interesting aspect of Rebel C is its creamy, milky texture as you can tell by the image above. I tried the trial size by the way. The normal size comes in a pump dispenser form, but thanks to the dropper you can get an accurate picture of what the product actually looks like.
The opaque creaminess is unusual for a Vitamin C serum, but certainly not unwelcome. In a world of private label skincare brands, I love trying innovative and surprising skincare. Could this be a new skincare category? Milk serum sounds like it could be the newest trend. The Rebel C is light in consistency and feels so hydrating. It works to fight environmental damage, protect skin health and restore skin's vitality.
Despite having only tried a trial size of Rebel C and a full size of Virgin Youth Serum, I wouldn't be able to pick a favorite between the two. I think both are elegantly and interestingly formulated and effective. I think if you prefer a Vitamin C serum that's clear or gel-like you may find Rebel C to be a little too unusual.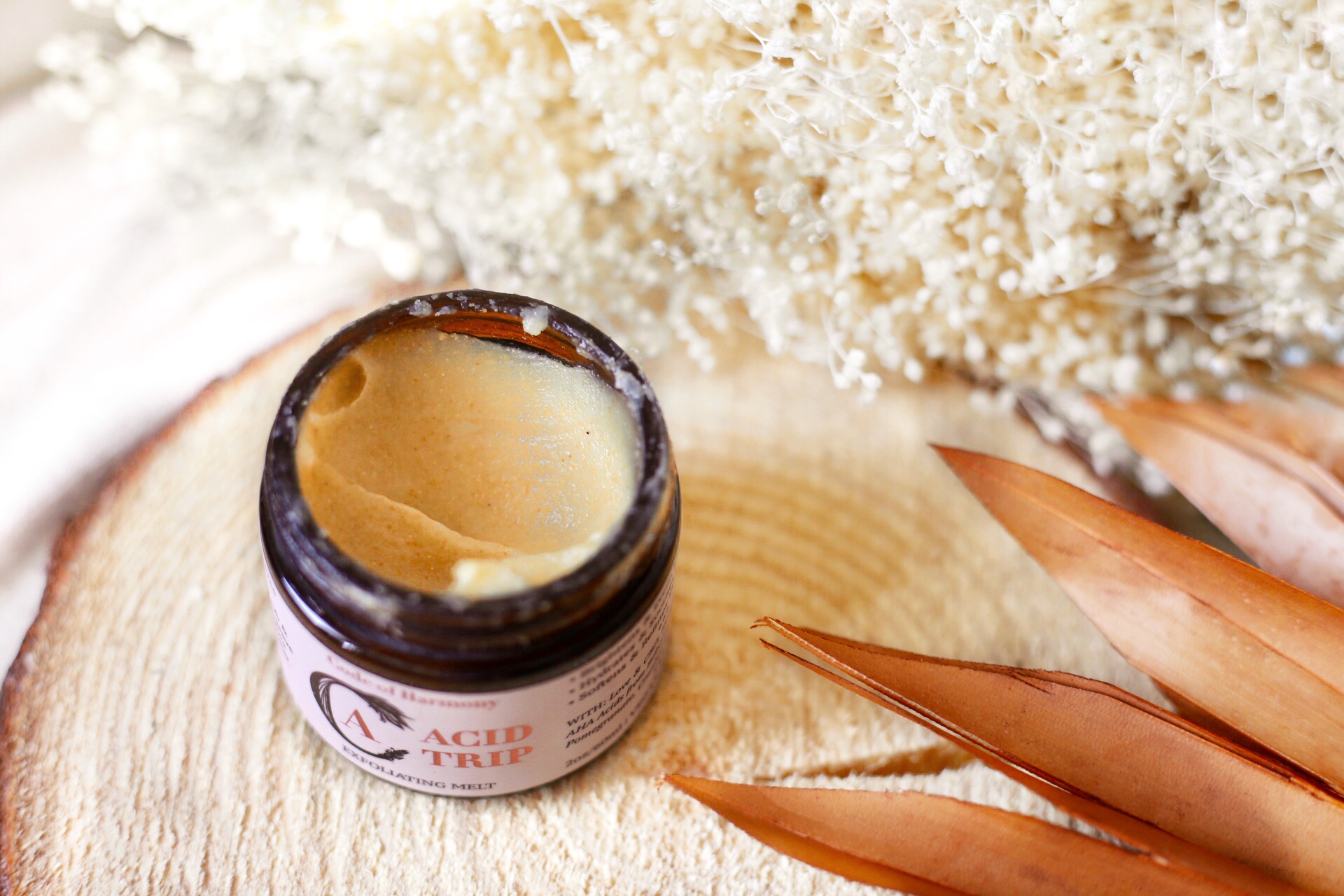 Code of Harmony's Acid Trip is called an exfoliating melt and it's actually an emollient balm that helps dissolve dead skin cells with naturally occurring AHAs from Bilberry (Lactic Acid), Sugar Cane (Glycolic Acid), Orange and Lemon (Citric Acid), and Sugar Maple (Malic and Tartaric Acids). It also provides ever so subtle manual exfoliation from super fruit seeds (Blueberry, Cranberry, and Pomegranate).
In fancier terms, Acid Trip is an oil-based gommage that can also be used as a face mask. The vegan formula contains Hemp Seed, Milk Thistle Oils, 100mg of CBD, all those good AHAs I mentioned before and Candellilia Wax, Rice Bran Wax, Vitamin E, Litsea Cubeba, and Green Tea Extract.
This is a very gentle product for me and would be a great option for sensitive skin. If you're looking for an acid product that stings and tickles as it works, this is not it. It feels super moisturizing on, and once washed off, I notice a subtle effect of softer, slightly brighter and more hydrated skin.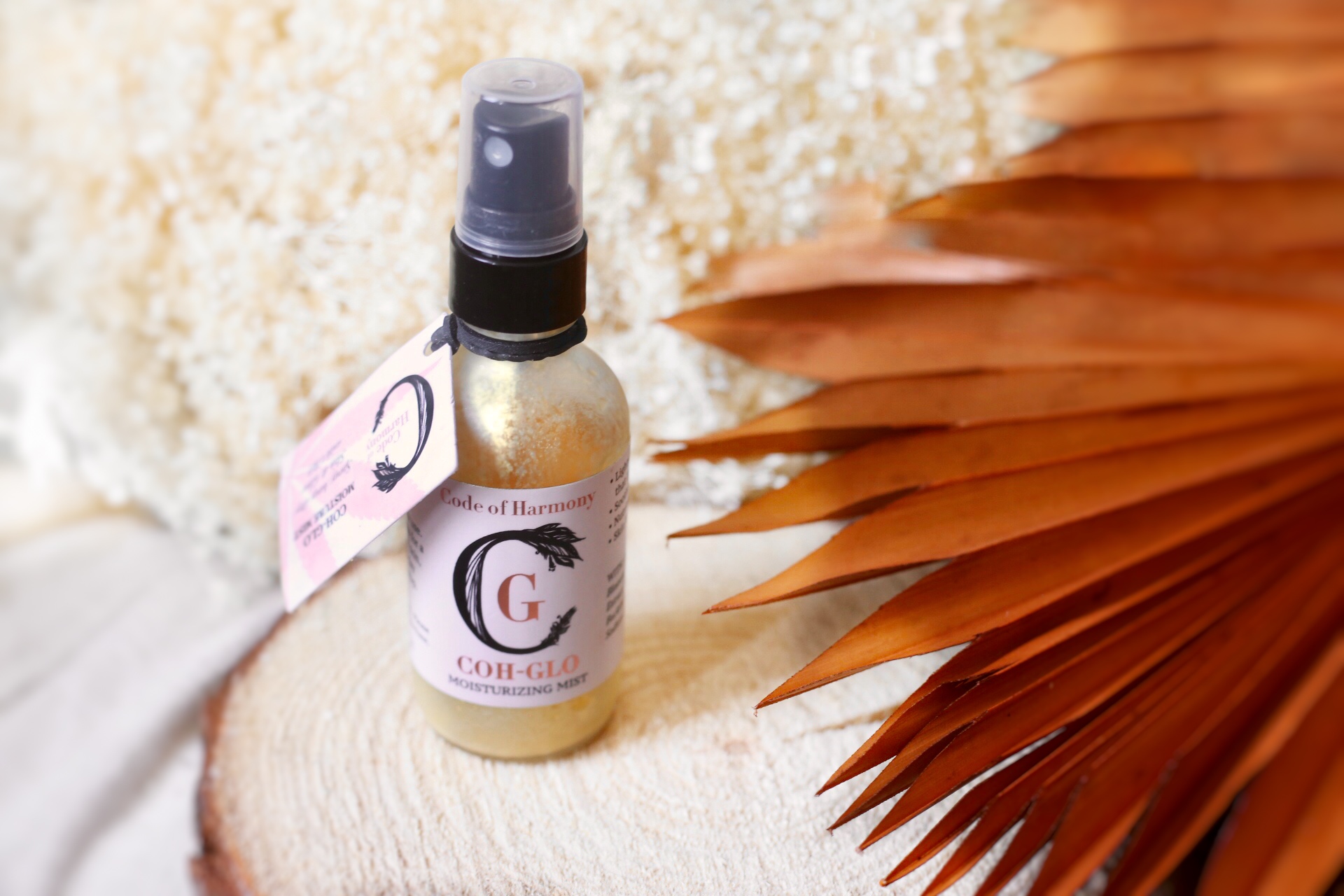 The Code of Harmony Moisturizing Mist is a shimmery face mist containing ethically produced mineral mica. This is the most feminine product in the line. It reminds me of orange juice with its Orange Blossom hydrosol base and super sweet fruity scent.
So far it sounds like Victoria's Secret body mist, but COH GLO is actually a powerful skincare product with hydrophilic and lipophilic ingredients. Skin-identical hydrators like Sodium PCA, Sodium Isomerate and Sorbitol, Edelweiss from the Swiss Alps, organic Rosehip Oil, soothing Sea Buckthorn Fruit Oil, and 100mg of potent CBD elevate this face mist into a powerfully hydrating skincare creation.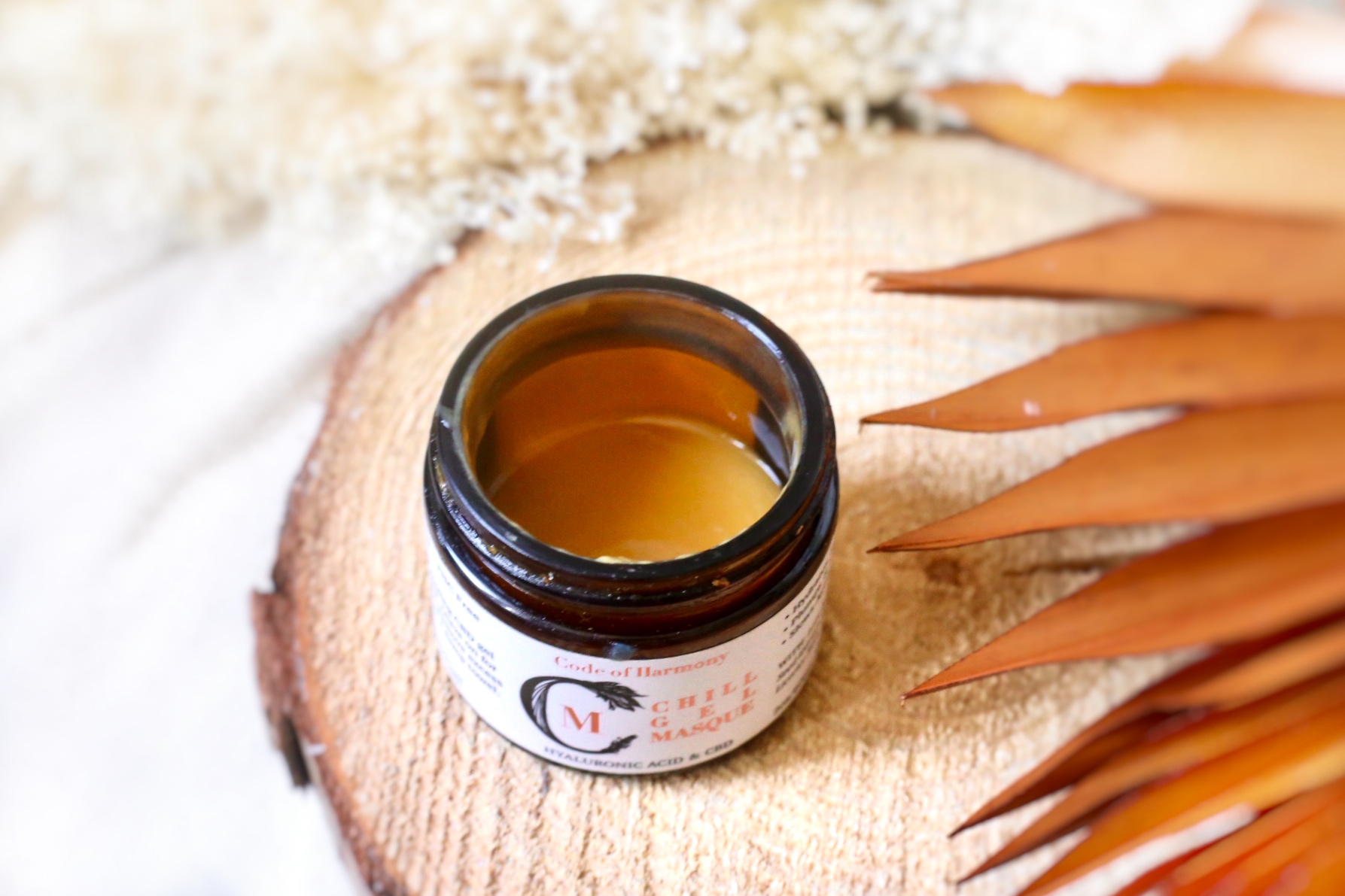 The Chill Gel Masque is an effective hydrating mask with a powerful blend of 200 mg CBD and Hemp seed extract, Licorice root, Colloidal oat, Panthenol and Allantoin, Hyaluronic acid and Sodium PCA. It's also infused with Centella asiatica to firm and visibly soften lines and CoQ10 to energize skin's own regenerative capabilities.
With all these amazing ingredients, I love using this as an overnight sleeping mask and I always wake up to hydrated and brighter skin in the morning. It dries into a thin film during the night and easily comes off the next day. Oddly enough, it's hard to find a hydrating mask in clean beauty that actually feels hydrating and does the job of hydrating. Code of Harmony's Gel Masque is a rare creation to say the least.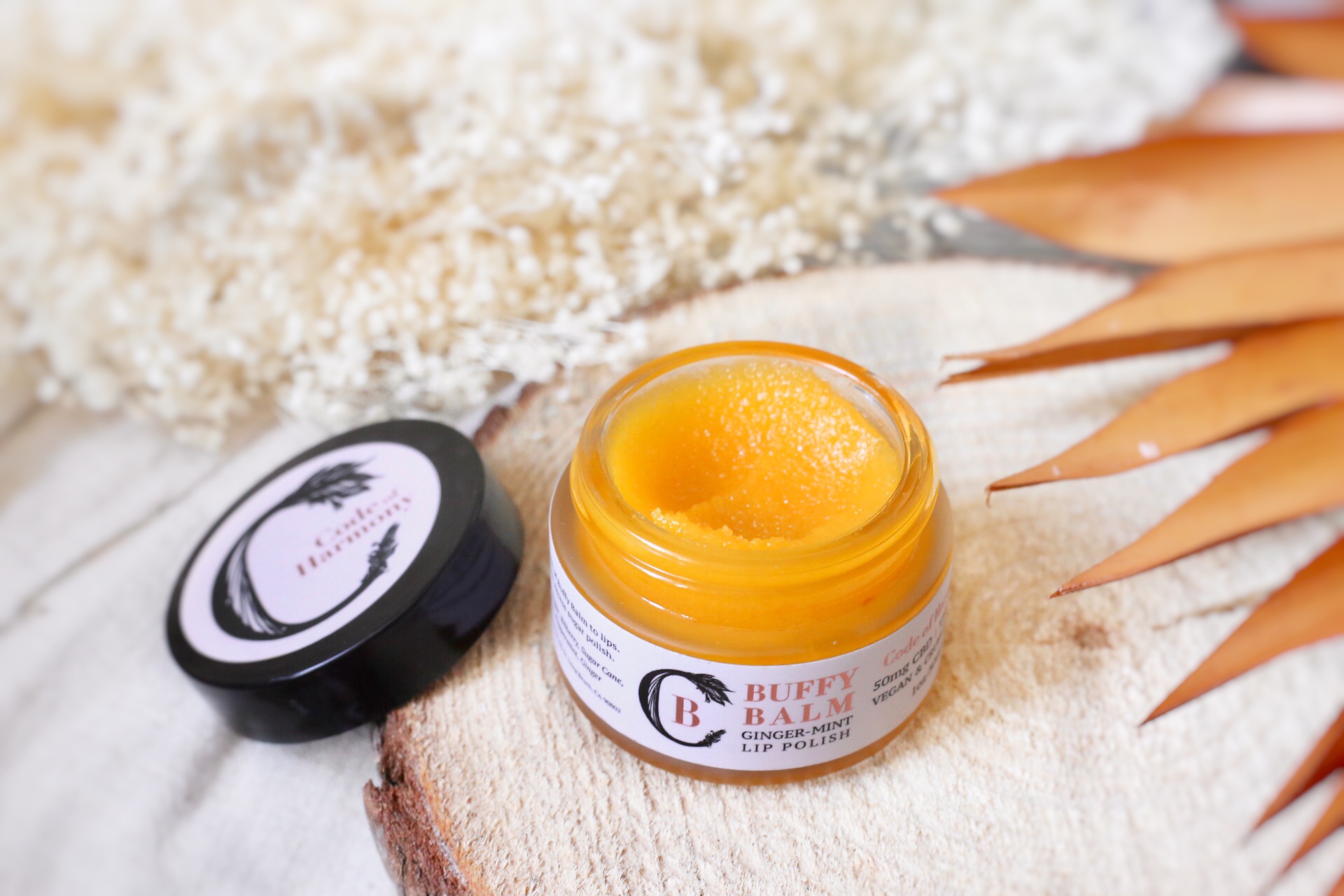 The Buffy Balm Lip Polish is a 2-in-1 lip treatment that acts as both an exfoliator and a moisturising balm. This isn't just your average sugar and butter blend, but a serious lip product that exfoliates with AHAs from Bilberry, Sugar Cane, Orange, and Lemon and nourishes with 50 mg of CBD, Hemp Seed Oil, Sea Buckthorn Fruit Oil, and Milk Thistle Oil.
I like to use this as a true lip treatment rather than a quick fix scrub, by leaving it on my lips while I do a gua sha or microcurrent ritual. After letting the ingredients absorb for a good 5-10 minutes my lips go from chapped and dry to hydrated and moisturized. If your lips are feeling perpetually dry, try using Buffy Balm as an overnight lip mask and apply over you lips before going to bed.