Evolve Organic Beauty is a natural skincare line from the UK with a wide range of skin, hair and body care products all at a reasonable price. Evolve Organic Beauty products are handmade in small batches at their studio in Hertfordshire, England. Their vegan, cruelty free and eco-friendly products are made fresh with butters, plants and oils and are at least 98% natural. Transparency is key with each Evolve Beauty product displaying the exact % of organic and natural. Evolve Beauty checks that each of their 150+ ingredients has been ethically and sustainably sourced and it is biodegradable and GMO free. I first tried Evolve Organic Beauty several years ago when they launched in the US at Credo Beauty, and as the line has grown immensely over the years, I've tried more of their products which has expanded into hair and body care. Read on for my honest opinion on Evolve Organic Beauty!
The Evolve Beauty Radiant Glow is a chocolate dessert treat for skin. The cacao smell is sweet and delicious and my skin feels so soft and smooth after each use. The Radiant Glow Mask is nearly 90% organic and raw cacao powder and clay revitalises and purifies, whilst coconut particles buff the skin to smooth perfection. Natural sugar extracts turn the exfoliating mask into a creamy milk on contact with water, which rinses off easily and skin is left smooth, moisturised and calm.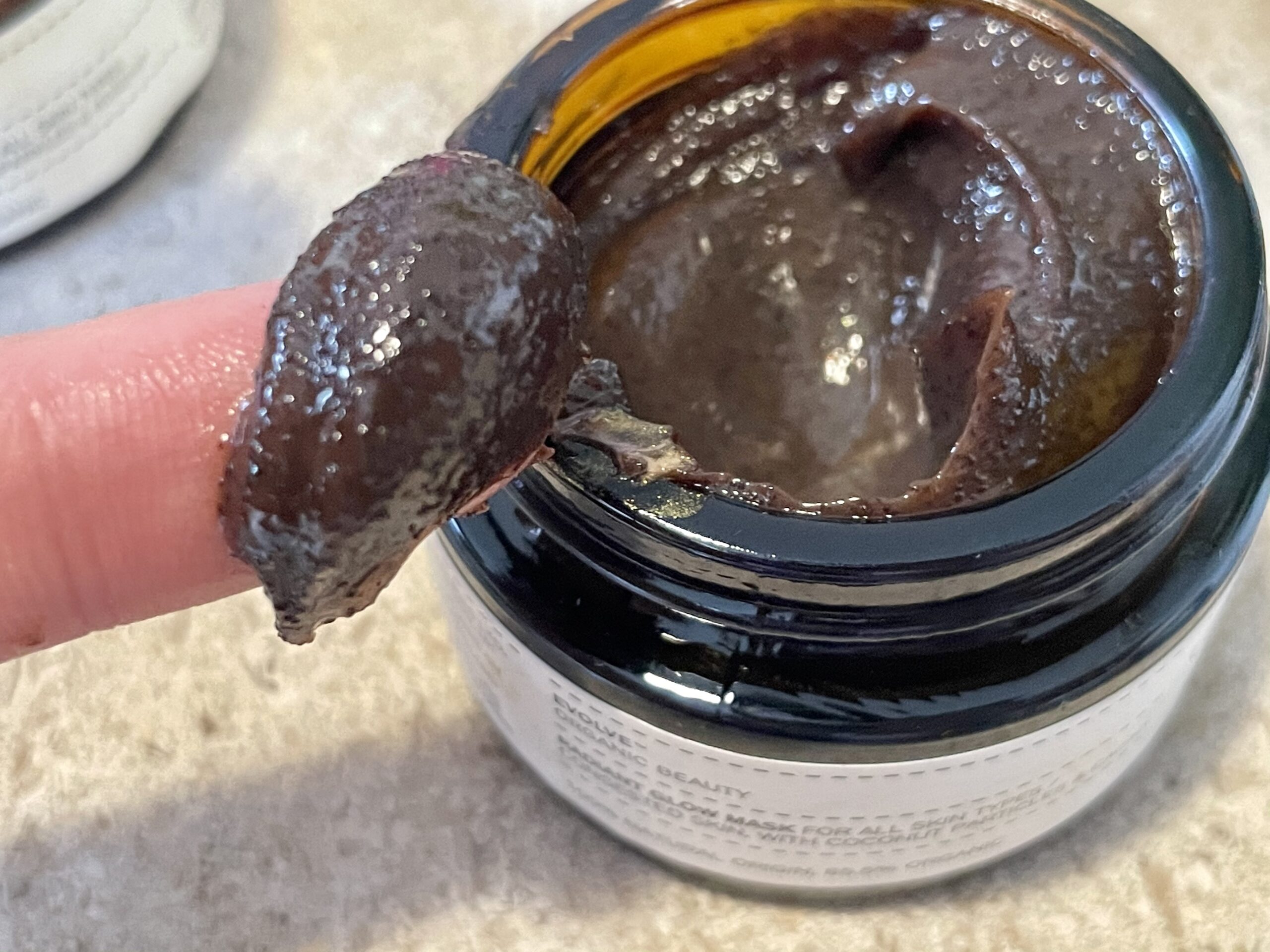 The Radiant Glow Mask is a blend of organic oils, glycerin, powders and clay. It has a sweet, delicious scent from added Organic Vanilla oil. If you fancy a chocolatey face mask and are looking for physical exfoliation, this is an enjoyable natural face mask.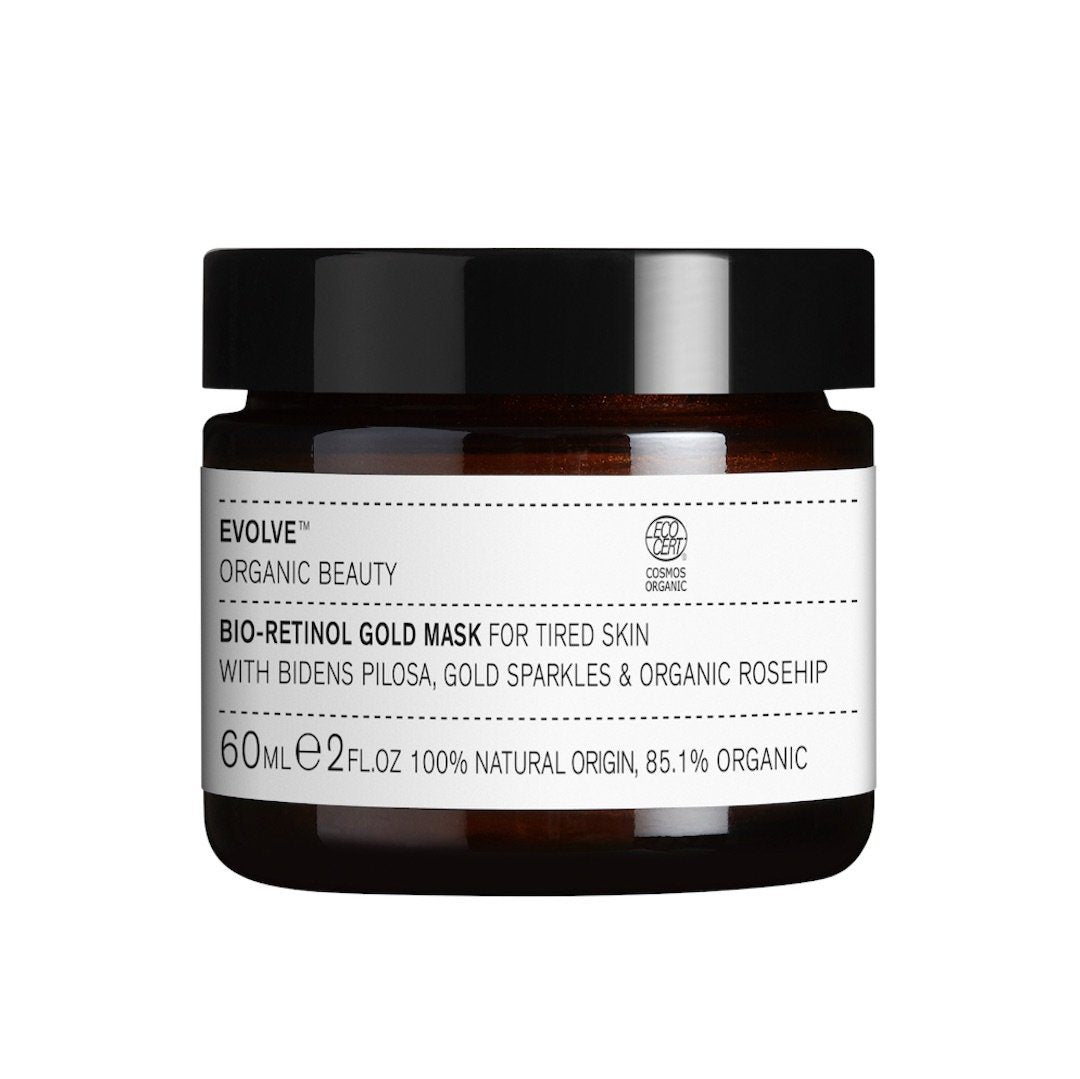 100% natural and 85% organic the Evolve Beauty Bio Retinol Gold Mask is a brightening mask that uses Bio-Retinol, a natural retinol-like plant extract from Bidens Pilosa. This golden mask also contains organic Argan Oil and Rosehip Oil to nourish and moisturise your skin. The brilliant gold shimmer comes from sustainably sourced mineral Mica.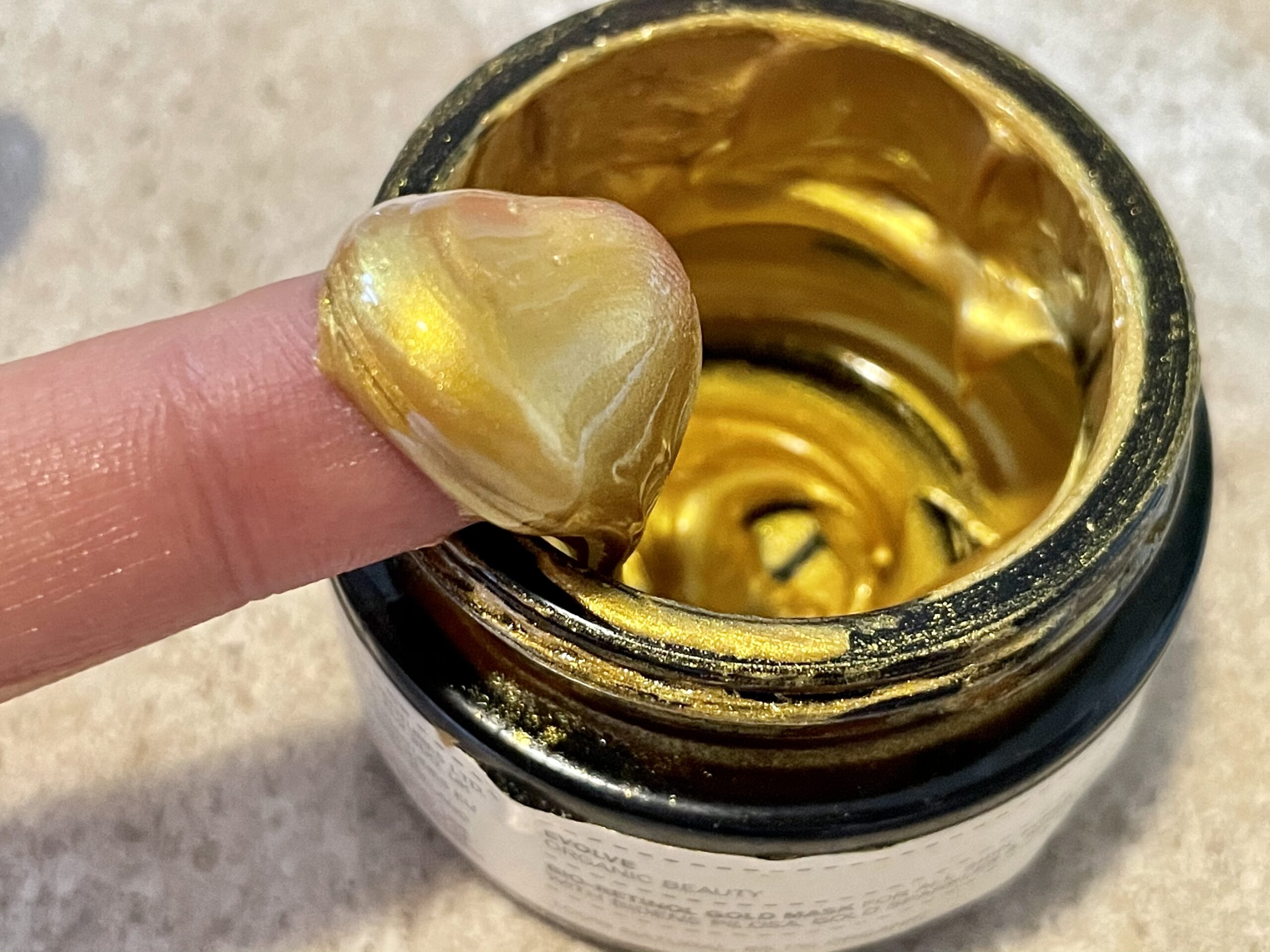 While I don't believe you really reap the benefits of retinol by using a mask, especially when it is a natural alternative ingredient, this gold mask is utterly fun to use. The consistency is silky smooth and makes you feel like royalty, which is always a plus. While the mask doesn't work any miracles, it's a nice treat for tired, rough and dry skin as a little pick-me-up. I don't notice any visible change to the skin except that my skin feels more moisturized.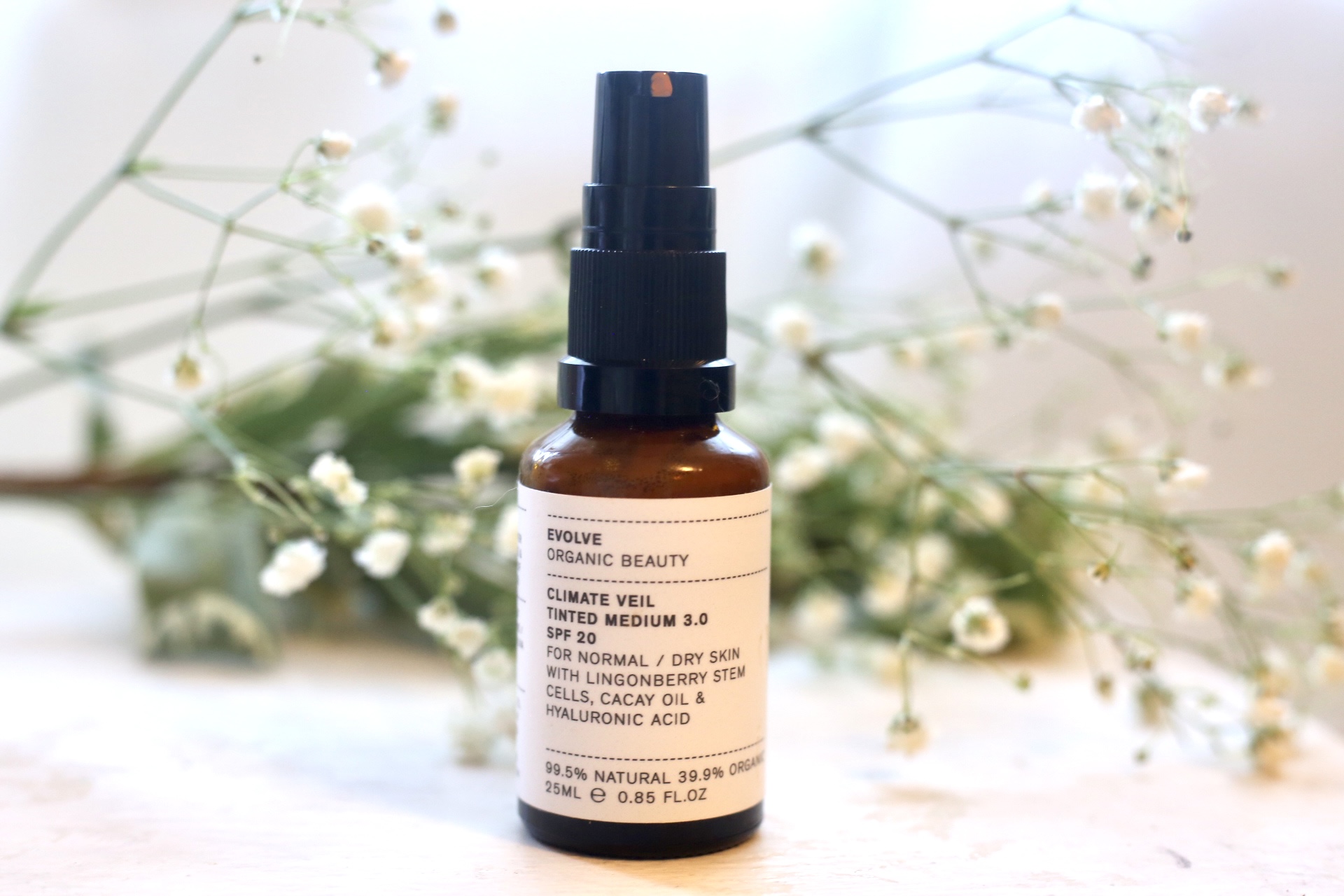 The Evolve Beauty Climate Veil SPF 20 is a combination of suncare and skincare together. Their  tinted SPF is available in four shades and includes high tech anti-ageing ingredients such as polyphenol-rich Lingonberry stem cells and hyaluronic acid, with reef safe, non-nano mineral-based zinc oxide. Evolve Beauty's tinted sunscreen contains:
Lingonberry Stem Cells: plant stem cells obtained from superfruit, Vitamin C and poylphenol-rich Lingonberry. Lingonberry has protective properties against the damaging effects of sun radiation.
Cacay Oil: Obtained from the seeds of Amazonian trees, this oil is packed with Bio Retinol and Linoleic acid to support the skin barrier layer and to lock moisture into the skin. Cacay Oil has been shown to be non photo toxic.
Low Molecular Weight Hyaluronic Acid: helps to reduce the appearance of wrinkles, making the skin look fresher with an improved skin tone. Evolve Beauty uses lower molecular weight Hyaluronic Acid which penetrates the skin deeper and has more effective hydrating properties.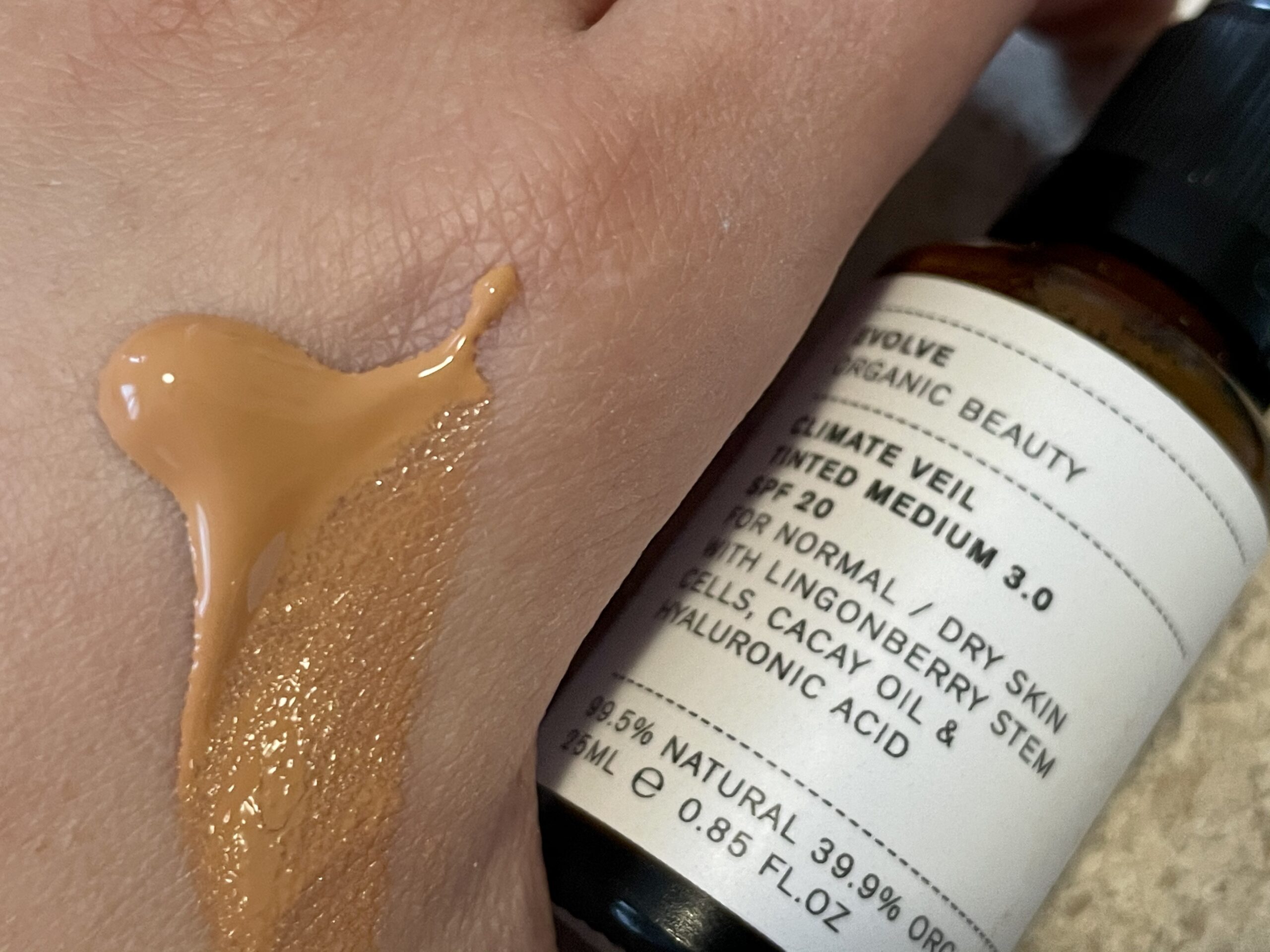 I'm not satisfied with SPF 20 in my sunscreen products (SPF 30 is the bare minimum for me, SPF 50 is ideal). For that reason, I wouldn't re-purchase the Evolve Beauty sunscreen, but I do find this product otherwise thoughtfully formulated. The consistency is on the thick side and texture is silky smooth and pleasant to use. The Evolve Beauty Climate Veil leaves my dry skin with a natural, satin finish.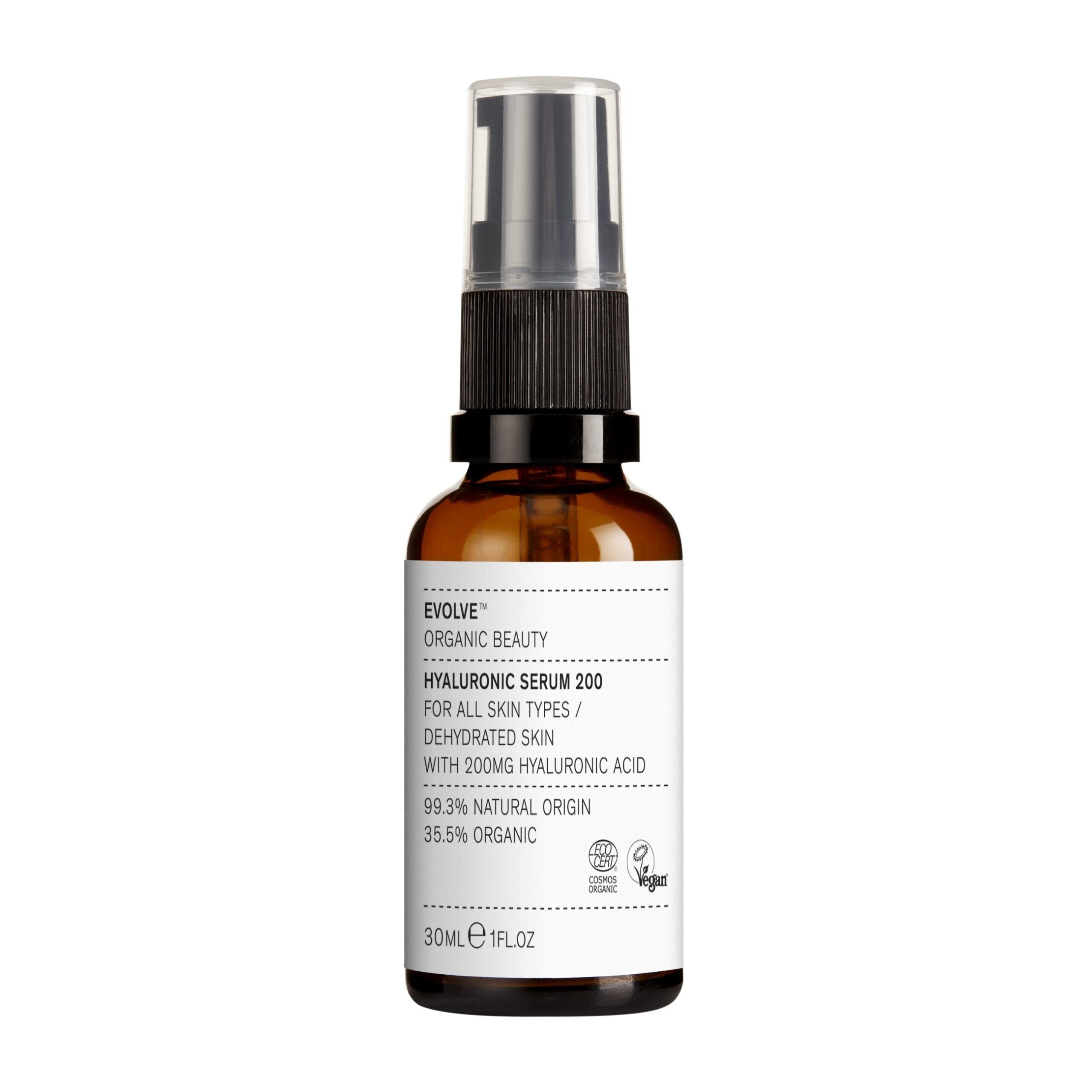 Evolve Beauty Hyaluronic Serum is an excellent budget-friendly natural hyaluronic acid serum.  They use 200mg of concentrated low molecular weight hyaluronic acid per bottle, to be able to deeply penetrate the skin. This Hyaluronic Acid serum is fast absorbing and has a light rose scent, leaving my skin feeling ultra hydrated and subtly plumper.
Evolve Beauty Superfood Shine Natural Shampoo & Conditioner
I purchased the Evolve Beauty shampoo and conditioner because they're affordable and the ingredients are all natural. I wouldn't repurchase the conditioner again. I found it to be too light for my dry and damaged hair. This might work well for normal hair, but if your hair needs extra nourishment I would skip Evolve Beauty's.
Evolve Beauty Satin Body Gloss
The Evolve Beauty Satin Body Gloss is a lightweight dry oil with brilliant gold flecks and a subtle island-y scent. The nozzle did not work when I screwed it on, so I have to pour it directly into my hand. This is a very thin, liquid-like oil that requires a good shake to evenly dispense the gold flecks. It contains Organic Camellia Seed Oil and tropical Tahitian Monoi as well as 100% natural Rose, Lavandin, Jasmine, Orange blossom. I love a very fragrant body oil, and the Evolve Beauty Satin Body Gloss doesn't provide me with an aromatic experience. For this reason, I wouldn't repurchase.
Where to Buy Evolve Beauty
US: Credo Beauty
Worldwide: Naturisimo (free shipping)
UK: Evolve Organic Beauty website (UK addresses can also order from their 50% off outlet which offers products with shorter "best before date" but all have a minimum of 3 months remaining. I've ordered from the Outlet and it's a great way to save!)