Juice Beauty Review 2022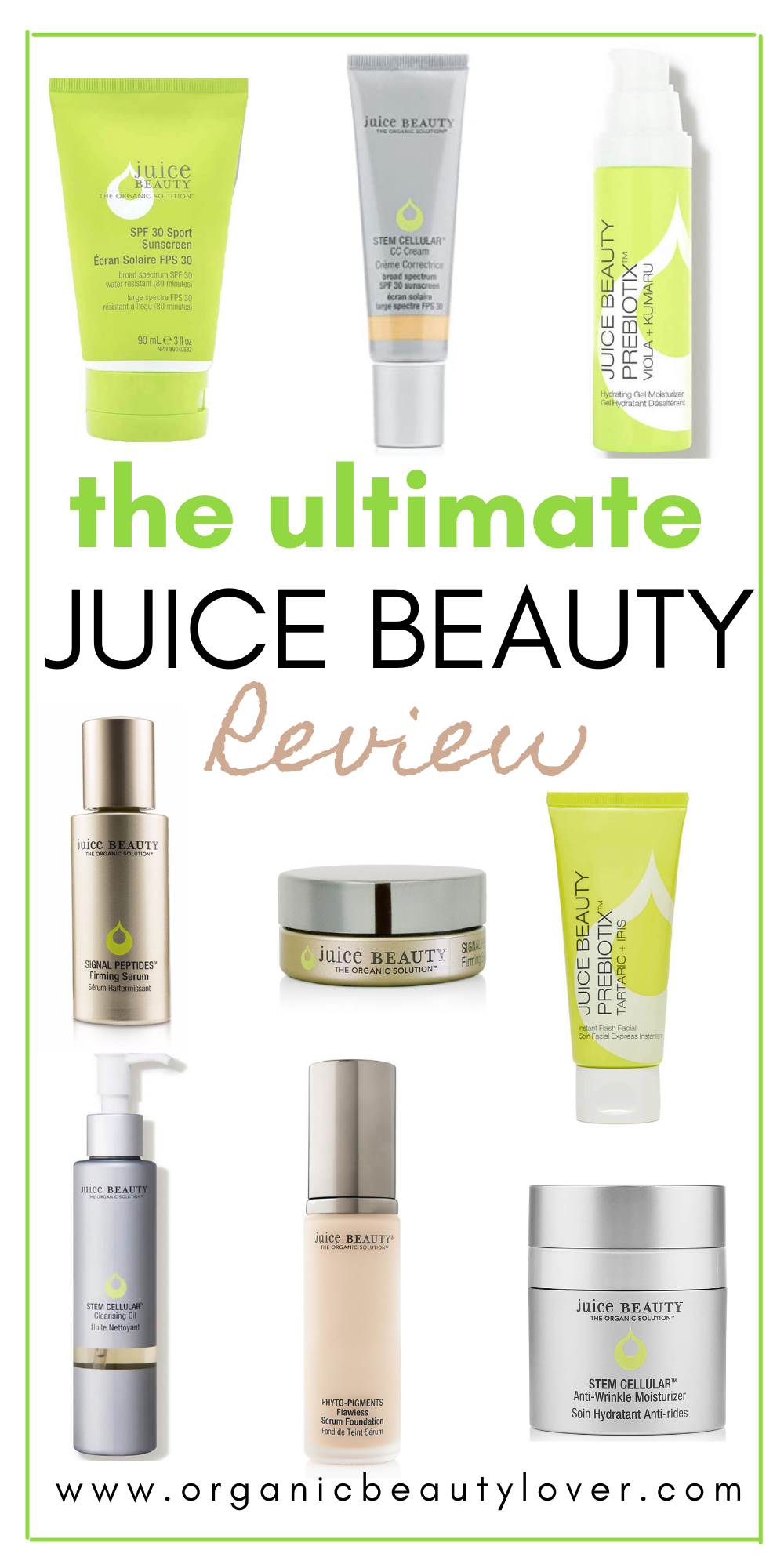 One of the original clean beauty brands, Juice Beauty has been around since 2005 and uses certified organic ingredients with a farm-to-beauty approach. From mineral sunscreen to skincare and plant-based makeup to wellness, Juice Beauty has an extensive range of products that have earned them a loyal following. Star power from Gwyneth Paltrow as the Chief Creative Officer helped put Juice Beauty on the map,  and the vegan and sustainable brand even purchased their own organic farm in Sonoma County. I recently had the chance to interview Juice Beauty founder Karen Behnke in person – check out the video here. In this ultimate Juice Beauty review, I'll be sharing the best Juice Beauty products, sunscreens, skincare and makeup! Save 20% off Juice Beauty here until Oct 23, 2022.
​
To better understand Juice Beauty's gigantic offering of products, here is a breakdown of the Juice Beauty line. Juice Beauty has six skincare collections to suit a variety of skincare needs:
Stem Cellular Anti Wrinkle: To fight fine lines and wrinkles, for aging and mature skin
Green Apple: For skin aged 20 and up that doesn't suffer from rosacea or redness. Green Apple Collection is formulated with Juice Beauty's patented organic hydroxy-acid juice solution (organic apple, lemon, white grape, raw cane sugar, milk peptides and willow bark extract)
Blemish Clearing: For acne prone skin to fight and prevent breakouts
Signal Peptides: The most advanced Juice Beauty line inspired by epigenetics and the biomimetic power of active plant lipids
Prebiotix: Skin microbiome focused with fermentation technology
Daily Essentials: This is the simplest line and is Juice Beauty's core collection
Juice Beauty's Organic Farm in Sonoma
Juice Beauty is pioneering the next wave in clean beauty by growing superior grapes and olives specifically for their skincare on their own organic farm. The Juice Beauty organic farm has over 300 olive trees from 13 different tree varieties that's used for olive oil in Juice Beauty's Stem Cellular and Green Apple skincare lines. Juice Beauty's growing food for skincare will even be part of a UC Davis study over the next several years. Other ingredients featured on the organic farm include green apples, sunflowers, sacred lily & evening primrose, roses, aloe, borage, viola, sage, and lavender.
The best Juice Beauty products include (but aren't limited to):
Juice Beauty Stem Cellular Cleansing Oil
Juice Beauty Stem Cellular CC Cream SPF 30
Juice Beauty Sport Sunscreen
Juice Beauty Phyto Pigments Flawless Serum Foundation
Juice Beauty Signal Peptides Firming Serum
Juice Beauty Green Apple line
Juice Beauty Blemish Clearing line
Juice Beauty Illuminating Primer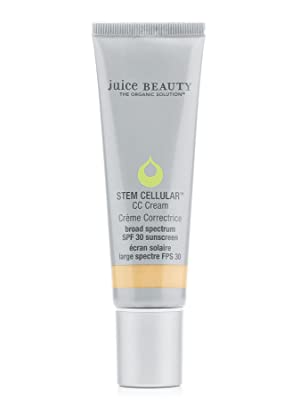 Juice Beauty Stem Cellular CC Cream SPF 30 Sunscreen
I'm kicking off with a Juice Beauty CC Cream review. One of Juice Beauty's most popular products is their Stem Cellular CC Cream with SPF 30. This CC Cream comes in 7 shades, provides 12 benefits, has a perfectly silky texture and medium consistency.
Stem Cellular CC Cream is formulated with 20% non-nano reef safe zinc oxide and without any dimethicone, silicones or chemical sunscreens.
One thing to note is that does contain organic coconut oil, so if your skin sometimes reacts to coconut oil, I would suggest trying it out in store and seeing how your skin fares.
The Juice Beauty CC Cream helps blur imperfections with light coverage that doesn't feel heavy or greasy on the skin. If you're not keen on using foundations this summer, this is the perfect alternative!
Coverage: Sheer to Light
SPF: Zinc Oxide SPF 30
Finish: Dewy

Stem Cellular CC Cream Swatches
Juice Beauty CC Cream SPF 30 comes in 7 shades, but I've swatched five above (missing Rosy Glow and Beach Glow). Rosy Glow and Beach Glow were out of stock at ULTA at the time of swatching.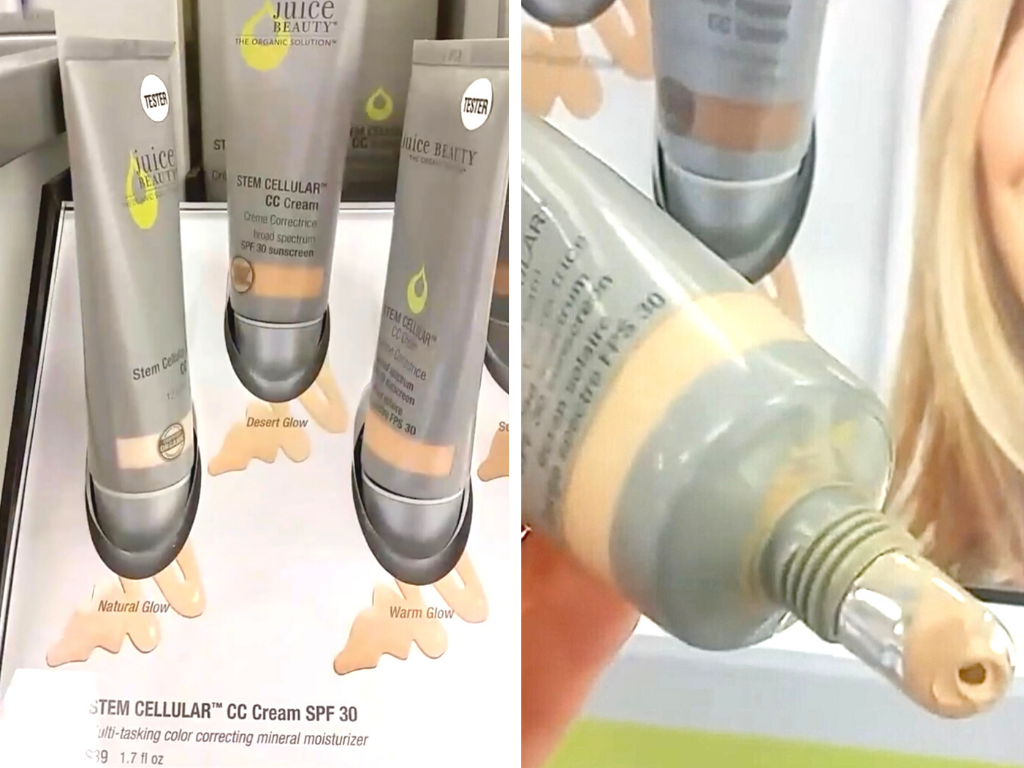 Juice Beauty makeup can be widely found at SEPHORA and ULTA stores. If you're not sure which shade is right for you, you can always visit your local ULTA or SEPHORA store to test out Juice Beauty makeup in person.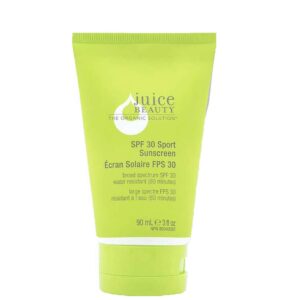 One of Juice Beauty's most affordable products is their SPF 30 Sport Sunscreen at $18 (or $13.50 with my Promo code OBL) and it's also one of their best products! Their sport sunscreen is water resistant and ideal for beach days, outdoor activities and active sports enthusiasts.
Formulated with organic ingredients like Organic Apple Juice, Coconut Oil, Jojoba Oil, Vitamin C & E and Organic Aloe Juice, the Juice Beauty Sport Sunscreen nourishes skin while providing broad spectrum sun protection with non-nano zinc oxide. While I wouldn't use Juice Beauty's sport sunscreen for face, this is great option to protect the body.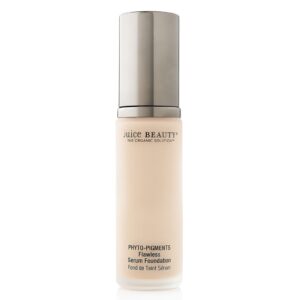 The Juice Beauty Phyto Pigment Serum Foundation is a lightweight foundation that provides medium long-lasting coverage. It acts as a skincare-in-one makeup product that helps improve your skin while hiding imperfections. Juice Beauty's foundation is liquid like and needs a good shake before use. It goes on very liquid-y but dries to a luminous glow and works great for my dry skin.
Juice Beauty Phyto Pigment Serum Foundation does not contain any silicones and is formulated to work well for sensitive skin and mature skin.
Some of Juice Beauty Phyto Pigment Serum Foundation's key features is its:
Age-defying serum technology with resveratrol rich grapeseed and fruit stem cells
Buildable coverage from medium to full.
Weightless texture for comfortable long wear
Reduces the appearance of lines, wrinkles and pores with smoothing coconut alkanes
Antioxidant protection with Vitamin C & E
Soothes and hydrates with organic aloe juice
Does not settle into fine lines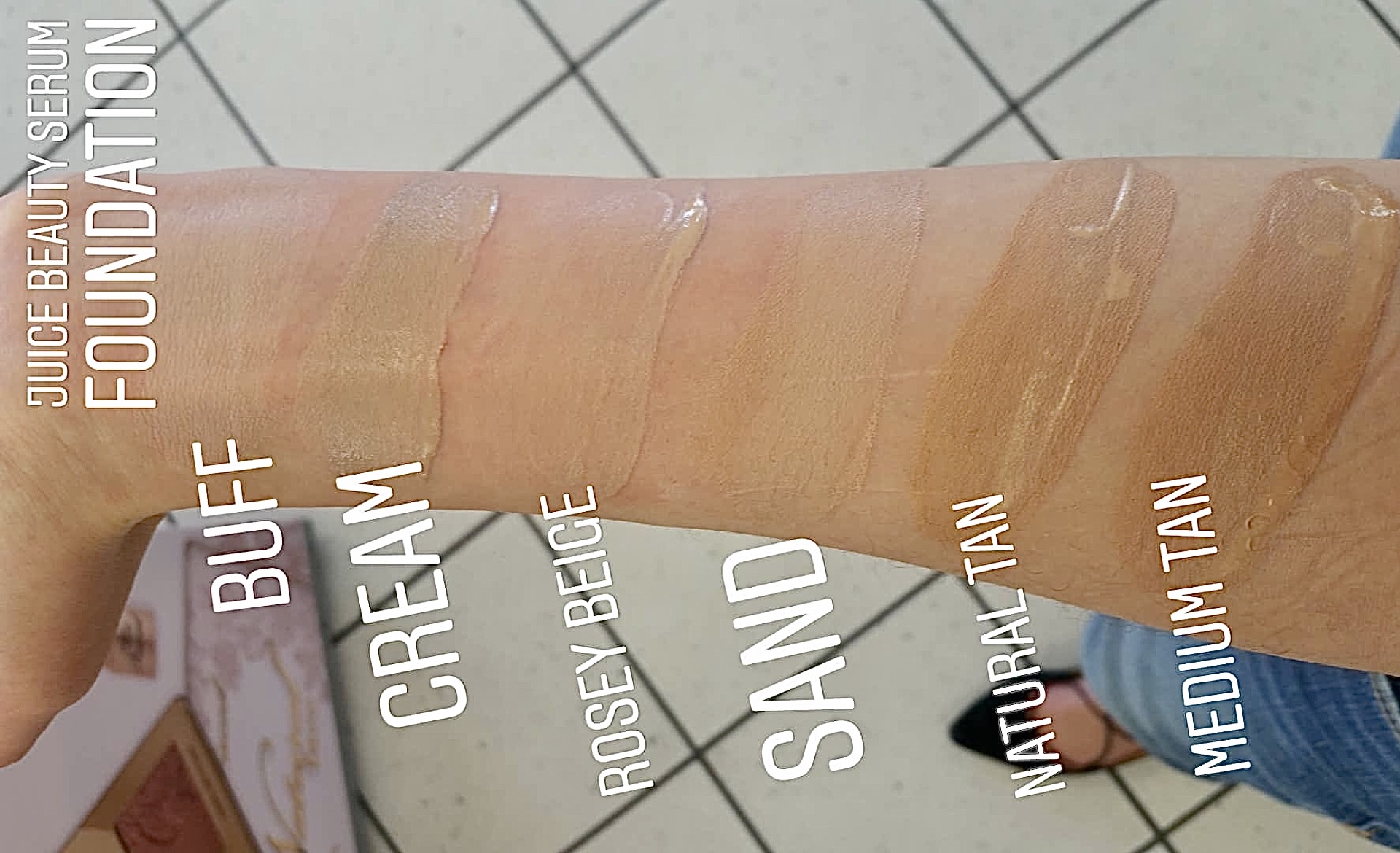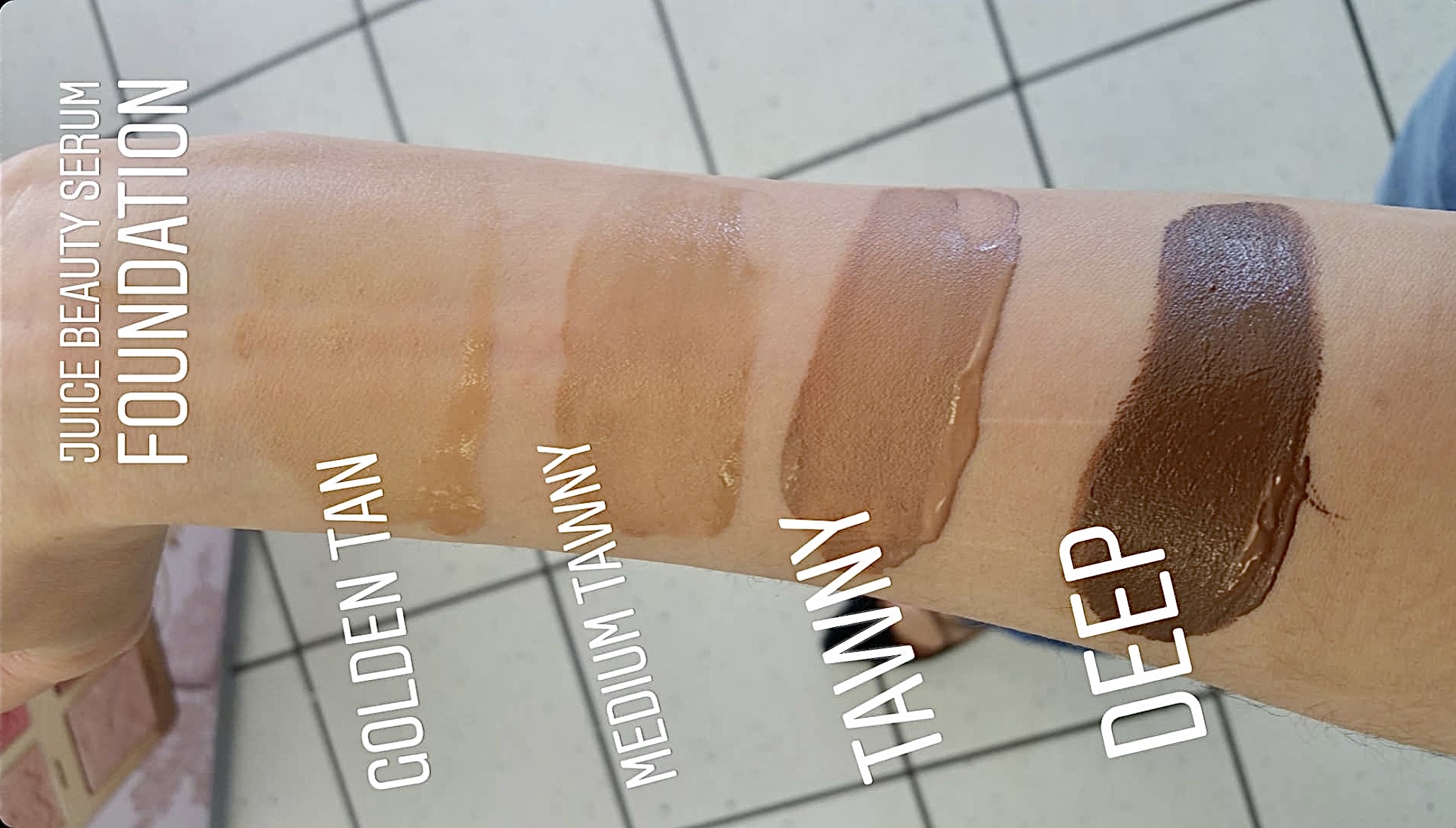 Juice Beauty Phyto Pigment Serum Foundation Swatches
Juice Beauty Phyto Pigment Serum Foundation comes in 13 shades. Below I was able to swatch Juice Beauty Phyto Pigment Serum Foundation in shades Buff, Cream, Rosy Beige, Sand, Natural Tan, Medium Tan, Golden Tan, Medium Tawny, Tawny and Deep.
Juice Beauty Phyto Pigment Serum Foundation is available internationally via online beauty shop Naturisimo (free global shipping).
One of the more under-hyped products in the entire Juice Beauty range is their Stem Cellular Instant Eye Lift Algae Mask. These eye masks, which are made of nutrient rich freeze-dried biomatrix, are on the pricy side, costing $12 per mask. But they make a noticeably dramatic difference in my undereyes after use. I only wish Juice Beauty would offer these as a package of multiple instead of single use.
Juice Beauty's eye masks help:
Reduce the appearance of puffiness around eyes with organic cucumber, white tea, and arnica extracts.
Hydrate and refresh with algae and organic aloe.
Encourage supple skin texture with hyaluronic acid and chamomile.
Each single use packet comes with:
1 pair of freeze-dried algae masks
1 activator fluid
Warning: Be VERY careful when handling the Juice Beauty Algae Eye Lift masks. They are very thin and easily break so you have to be extremely delicate when holding it. I've ripped these on a few occasions, which is not cool considering how $$ each mask is.
The Juice Beauty eye masks involve a two-step process that allows the STEM CELLULAR Activator Fluid and eye masks to perform at the highest level of potency. First I take the ampoule and apply the liquid evenly across the eye mask. Then I gently lift up by the tip of the eye mask and place on my undereyes. Again, you have to be very careful here otherwise the mask will rip. I leave on the Algae Eye Lift Mask on for 10 minutes or longer and have noticeably hydrated and brighter undereyes.


I have not found a clean beauty primer that I like more than the Juice Beauty Phyto Pigments Illuminating Primer. This is also a skincare and makeup in one product with coconut alkanes for the primer function & Juice Beauty's signature anti-aging serum for the skincare function. There are no silicones or dimethicone in the Juice Beauty Illuminating Primer.
The Juice Beauty Phyto Pigments Illuminating Primer is thin in consistency, silky and smooth and gives skin the best luminous glow ever.  Think Smashbox primer but actually good for your skin and less greasy. Their primer also contains Witch Hazel Extract to control oil, making it ideal for oily/combo skin. Juice Beauty Illuminating Primer is a great option if you're looking for a thin, lightweight primer to go underneath your makeup.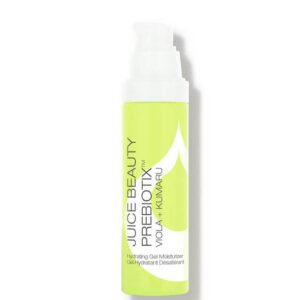 The Prebiotix Gel Moisturizer boasts an ingredients list full of antioxidant-rich, organic ingredients and a bio-fermented complex containing high-performance prebiotic ingredients to help balance the microbiome. What you'll immediately notice about Juice Beauty's gel moisturizer is its beautiful light blue shade and how lightweight and thin the consistency is.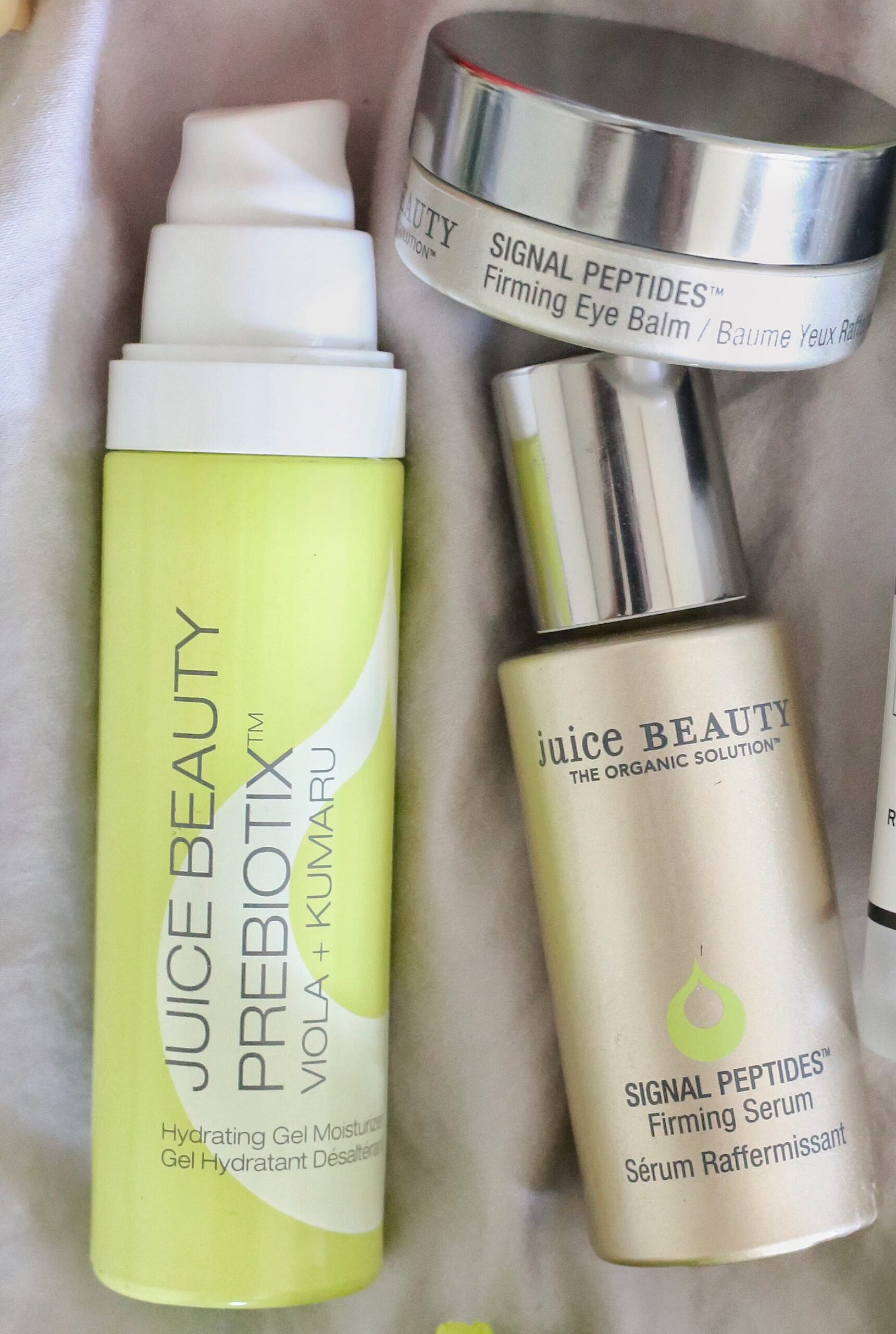 Here's how the ingredients inside Prebiotic Gel Moisturizer work to improve skin:
A proprietary prebiotic blend including viola flower, chia & coconut extract acts as a protective layer on the skin, locking in moisture for a more radiant, hydrated and balanced appearance
Boosts skin glow with fermented kumaru known for its ability to absorb ultra- violet light and reflect back visible light
Helps soothe distressed skin with linseed
Fermented American bamboo smooths skin
Hydrates and moisturizes skin with organic antioxidant-rich jojoba & prickly pear
Fights free radical attack with an antioxidant juice base of organic grape & apple and organic aloe rich in Vitamin E
Even with dry skin like mine, this moisturizer felt amply hydrating and my skin seemed to soak it all in. It feels perfectl smooth and silky and since it actually feels much like a thick serum to me I was able to layer on heavier oils and balms guilt free.
I will say the one ingredient I do not like that's all the way at the end of the ingredients list is bismuth chloride oxide, which I'm not sure why they needed to include. I emailed Juice Beauty customer service asking them and they replied that they chose it because it helps brighten the skin, blurs imperfections and minimizes the appearance of lines, wrinkles, dark circles. Still, this is one of those ingredients I'm iffy about because it goes through so many refinement processes to make it safe for cosmetic use that contamination is a risk.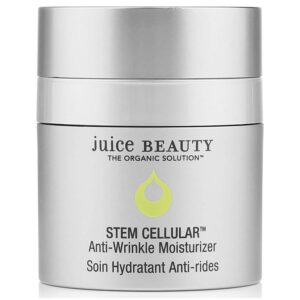 The Juice Beauty Stem Cellular Anti-Wrinkle Moisturizer is designed for aging skin to combat fine lines and wrinkles. This anti-aging moisturizer uses fruit stem cells and Vitamin C infused into a resveratrol-rich grape formula to smooth fine lines  and evening primrose, linseed & borage seed oils to provide antioxidants and essential fatty acids.
The scent is an uplifting citrus one, the texture is luxuriously smooth, and the consistency a medium richness. The Juice Beauty Stem Cellular Anti-Wrinkle Moisturizer is neither lightweight nor overly rich and falls somewhere in the middle of the spectrum. I'm not a huge fan of the pump dispenser that dispenses the product in the middle, but I understand it's to help prevent bacteria from transferring to the product.
Juice Beauty Stem Cellular Anti-Wrinkle Moisturizer beautifully hydrates and moisturizes the skin and helps keep my skin soft and supple. While I don't have any deep set wrinkles and do not have mature skin, anti-aging skincare should be used from mid 20s.
Juice Beauty Stem Cellular Cleansing Oil is one of my favorite cleansing oils and a Juice Beauty bestseller for good reason. Formulated with a blend of organic oils including May Chang and Ho Wood oil and Vitamin C & E, the Juice Beauty Stem Cellular Cleansing Oil is a hydrating and liquid-like cleansing oil. This cleansing oil emulsifies so you can easily rinse it off. Juice Beauty Stem Cellular Cleansing Oil is so lightweight, smells amazing and effectively removes makeup and sunscreen. Skincare tip: Cleansing oils and balms only act as a first step and must always be followed by a water based cleanser.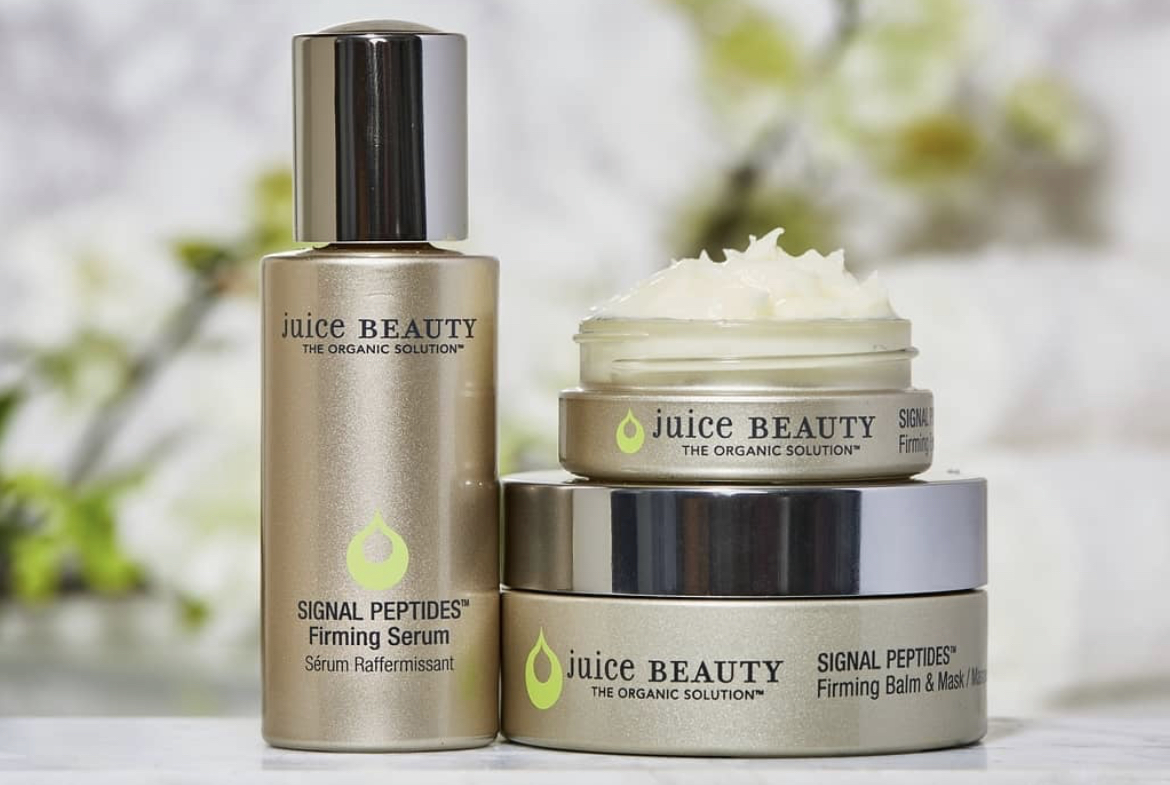 Part of their Signal Peptides line, Juice Beauty Signal Peptides Firming Serum is notably interesting because it's a micro-serum. This is the first time I've come across a micro-serum, which has a unique micro-emulsion technology (10x smaller than standard emulsion droplets) that facilitates delivery of active ingredients to the skin.
It's actually formulated for people over the age of 40 and focuses on restoring the appearance of firmness and skin elasticity with certified organic ingredients and firming peptides. Their custom blend of sunflower-derived plant lipids combined with rice peptides and pterostilbene-rich wild blueberry extract work to boost hydration, renew the skin's surface and protect from external aggressors.
I love how supple Juice Beauty Signal Peptides Firming Serum makes my skin feel once applied. It has an immediate softening and hydrating effect and it doesn't just sit over the skin but properly absorbs. The reason I say this with confidence is because I've never had a pilling problem with this serum and it never feels like it's just sitting on top of my skin and drying into a layer.
Similar to the Signal Peptides Firming Serum, The Juice Beauy eye balm also features sunflower-derived lipids combined with rice peptides and pterostilbene-rich wild blueberry extract but with paracress extract.
The Signal Peptides Eye Balm is also in a base of organic coconut oil and sunflower seed oil which may not fare well with some of you. You may also be thinking $80 for an eye balm in a pretty standard base is a LOT- and it is.
So while I do love the consistency and texture of this balm I do not believe it is worth the price as it's also a small amount of product that you receive. But I do want to say that this balm has an amazing consistency that makes it feel luscious, velvety and smooth. It's not at all greasy or overly rich/heavy and moisturizes well.
​
The Juice Beauty Stem Cellular Vinifera Replenishing Oil is a drier oil that absorbs quickly. If you don't enjoy rich oils this liquid like oil is a good option. It has an interesting scent that I find difficult to describe – sweetly earthy and grounding. I'm not a huge fan of the first ingredient being sunflower seed oil as I think squalene, which is also part of the formula, would have been a better first ingredient. But that's just my opinion! Juice Beauty only carries two face oil, the Stem Cellular Replenishing Oil and the Organic Treatment Oil which is part of their Daily Essentials line.
The Vinifera Replenishing Oil boasts:
A proprietary blend of Fruit Stem Cells and Vitamin C infused into Resveratrol-Rich Grape Seed Oil (Vitis Vinifera) to improve the appearance of skin tone and luminosity.
Jojoba Esters help smooth and prime skin for perfect makeup application.
Lipid complex derived from Macadamia, Jojoba and Olive Squalene helps boost and balance the lipid profile for a more youthful looking skin surface.
Organic Sunflower Seed Oil and Organic Jojoba Seed Oil provide great emollient and moisturizing properties that soothe, soften and improve the appearance of skin elasticity.
Organic Pomegranate Seed Oil and Vitamin E for critical antioxidant protection.
Juice Beauty's Prebiotix Antioxidant Beauty Boost is their first wellness dietary supplement product promoting beauty from inside out.​ This powder supplement stays true to Juice Beauty's roots and includes their Proprietary Blend of apple fiber, blueberry fruit juice, acerola, pomegranate fruit juice, goji and acai. The Prebiotix Antioxidant Beauty Boost comes in individual sachets and can be added to water, smoothies or anything you'd like. I really enjoy the taste of this powder – it isn't overly sweet and has no strange aftertaste.
Juice Beauty Prebiotix Antioxidant Beauty Boost is also great for gut health and contains:
Proprietary probiotic blend of Bifidobacterium Lactis, Lactobacillus Acidophilus & Lactobacillus Rhamnosus GG to help maintain a healthy digestive system, combined with Organic Jerusalem Artichoke prebiotic which supports a healthy microbiome.
Nutrient-rich moringa to hydrate for a healthy looking complexion.
The Juice Beauty Phyto Pigments Jelly Eyeshadow are liquid eyeshadows formulated with shimmer and skin nourishing ingredients. They come in just three shades: Mimosa a copper peach, Sangria a cool toned sugar plum, and Prosecco a nude rose. These jelly eyeshadows have a metallic sheen and provide subtle color with one swipe and are buildable for more intensity. I'm not a big fan of liquid eyeshadows and I did not find that these shades matched my skin tone. 
​ The Juice Beauty Phyto Pigments Jelly Eyeshadow are formulated with oils and butters as well as a unique active ingredient derived from Swiss Ice Wine and Caesalpinia Spinosa Gum to help visibly smooth lids and provide long-lasting hydration.
Save 20% off Juice Beauty here until Oct 23, 2022.