Created by an ocean lifeguard of 20 years, Raw Elements is an OG organic sunscreen brand made completely of natural ingredients and numerous certifications to back them up. Raw Elements was founded back in 2012 and was one of the first organic sunscreens I switched to.  Raw Elements fits a particular type of customer, namely surfers, water sports enthusiasts, and people who enjoy earthy hemp scents and emollient rich consistencies. If you don't tick any of the above boxes, then I'm not sure you'd enjoy their regular sunscreens. Raw Elements does also offer sunscreen serums for face with a lighter consistency and SPF 30 lip balms (I have repurchased their Pink Shimmer one numerous times over to protect my lips from aging!). Read on for Raw Elements sunscreen review.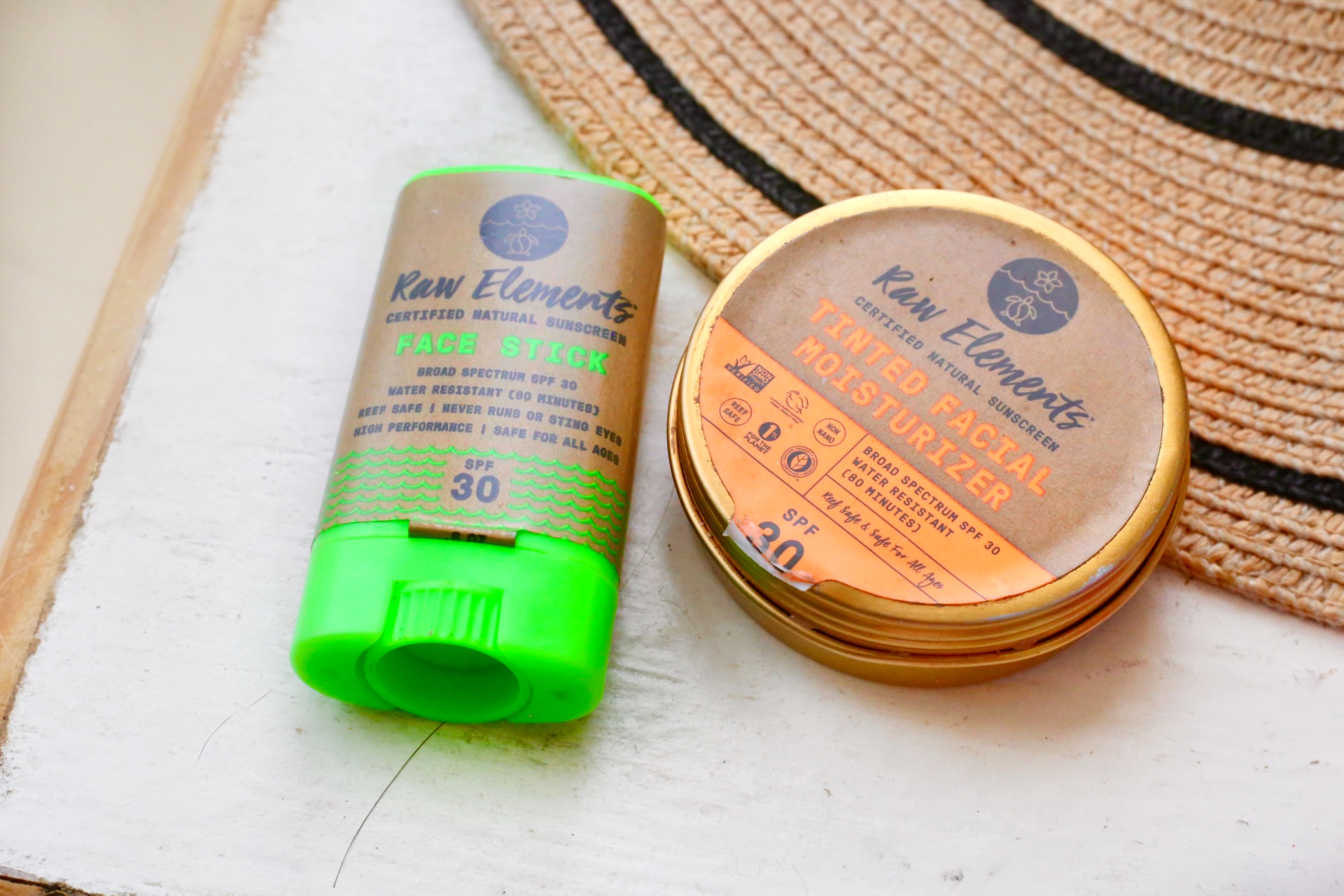 Raw Elements is great for:
Rich and emollient sunscreen lovers
Hemp scent lovers
Moisturizing buttery sunscreens
Water sports enthusiasts
Surfers
Beach days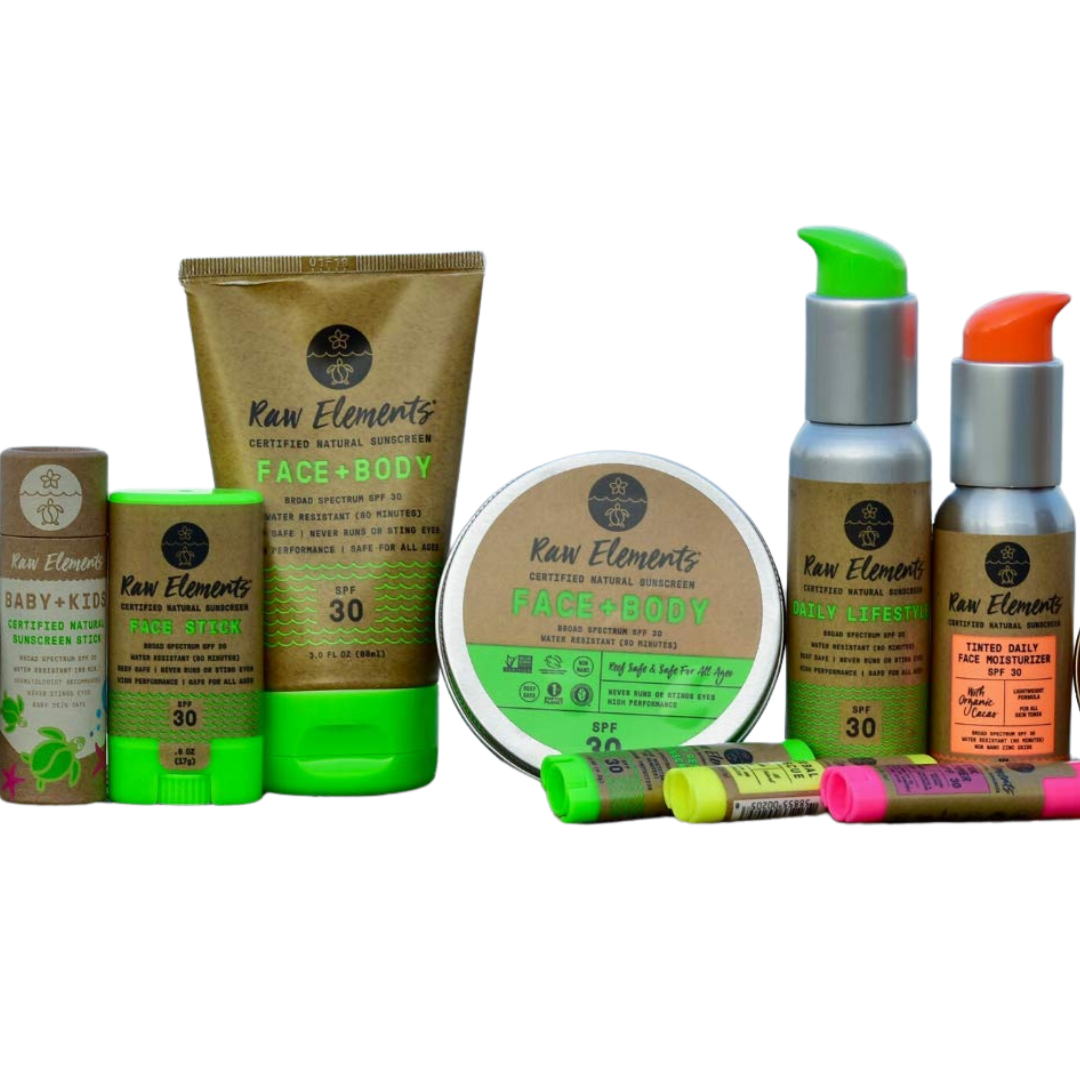 Raw Elements is 100% natural and made with clean, organic ingredients that protect and nourish skin. They're:
95% organic
EWG # 1 rating
NPA certified natural
Non GMO Project verification
Leaping Bunny Approval
2015 Best Sunscreen in the Natural Industry
All packaging is recyclable, reusable, compostable, and/or plastic-free.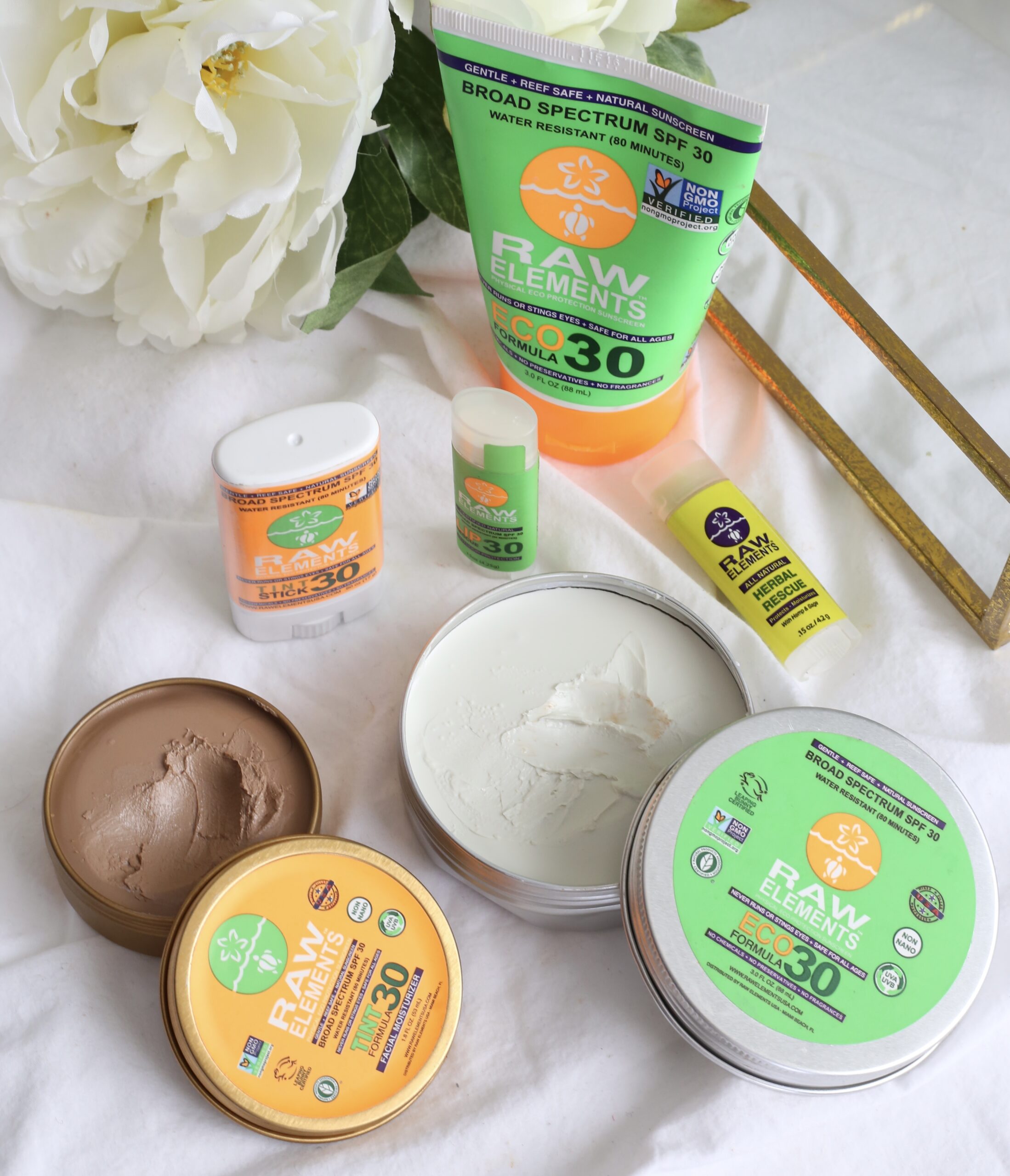 While the packaging design has had a few changes, the formulas have remained the same.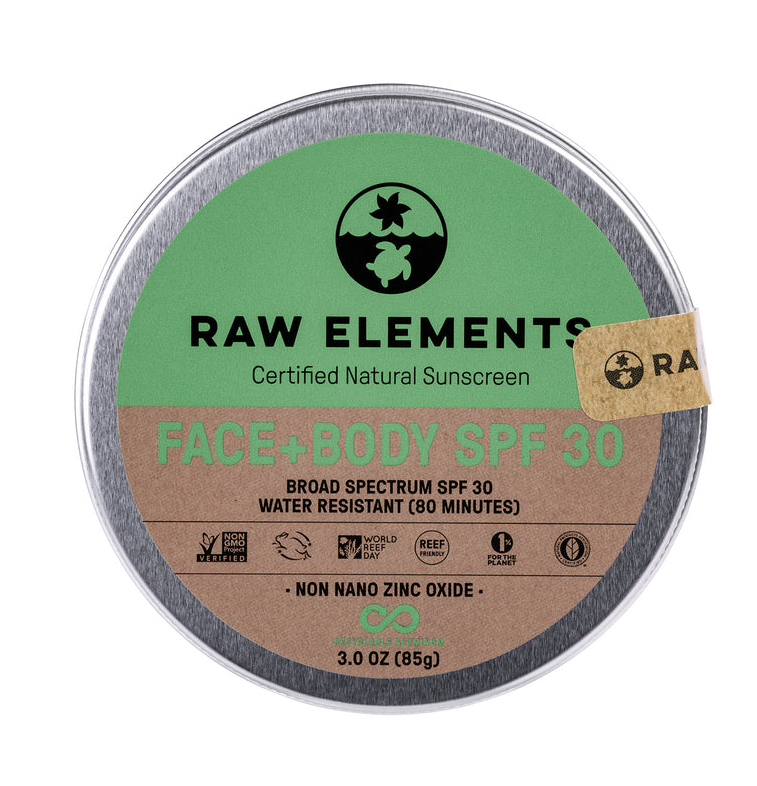 SPF 30+
Broad spectrum protection
Reef safe
Biodegradable
Safe for all ages
Never runs or stings eyes
Very water resistant (up to 80 minutes)
Soy, gluten and nut free
While all organic sunscreens feature fantastic ingredients, Raw Elements is unique in that the first ingredients are organic green tea and organic black tea. It also has organic hemp seed oil (not to be confused the other kind of hemp) and organic coffee bean.
I personally enjoy the earthy hemp scent, but I know that those who prefer unscented or feminine scents might find it off putting.
Active Ingredient: Non-Nano Zinc Oxide, Sunlfower Oil, Cocoa Butter, Vitamin E
Inactive Ingredients: Camellia Sinensis Leaf Extract (Organic Green Tea), Camellia Sinensis Leaf Extract (Organic Black Tea), Cannabis Sativa Seed Oil (Organic Hemp Seed Oil), Cera Flava (Organic Beeswax), Coffea Arabica Seed Extract (Organic Coffee Bean), Helianthus Annuus Seed Oil (Organic Sunflower Oil), Mangifera Indica Seed Butter (Natural Mango Butter), Rosmarinus Officinalis Leaf Oil (Natural Rosemary), Theobroma Cacao Seed Butter (Cocoa Butter), Tocopherol
* USDA Certified Organic
** Certified Natural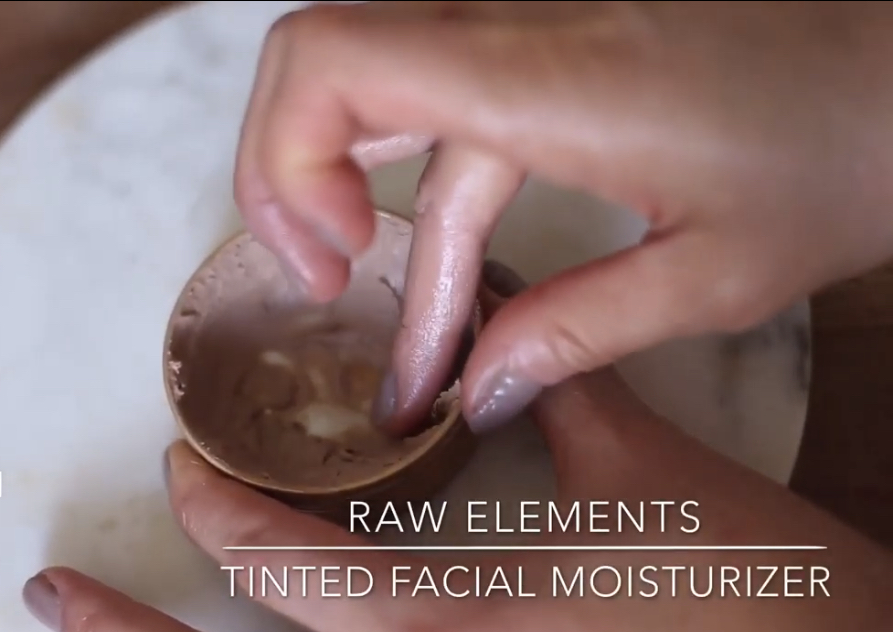 Raw Elements Cons
The consistency might be too rich for you
Hemp scent could also be a con for some
Tinted Face Sunscreen can be a little too dark depending on your skin tone
Sunscreen sticks work well in warmer months but need some warming up in colder months/climates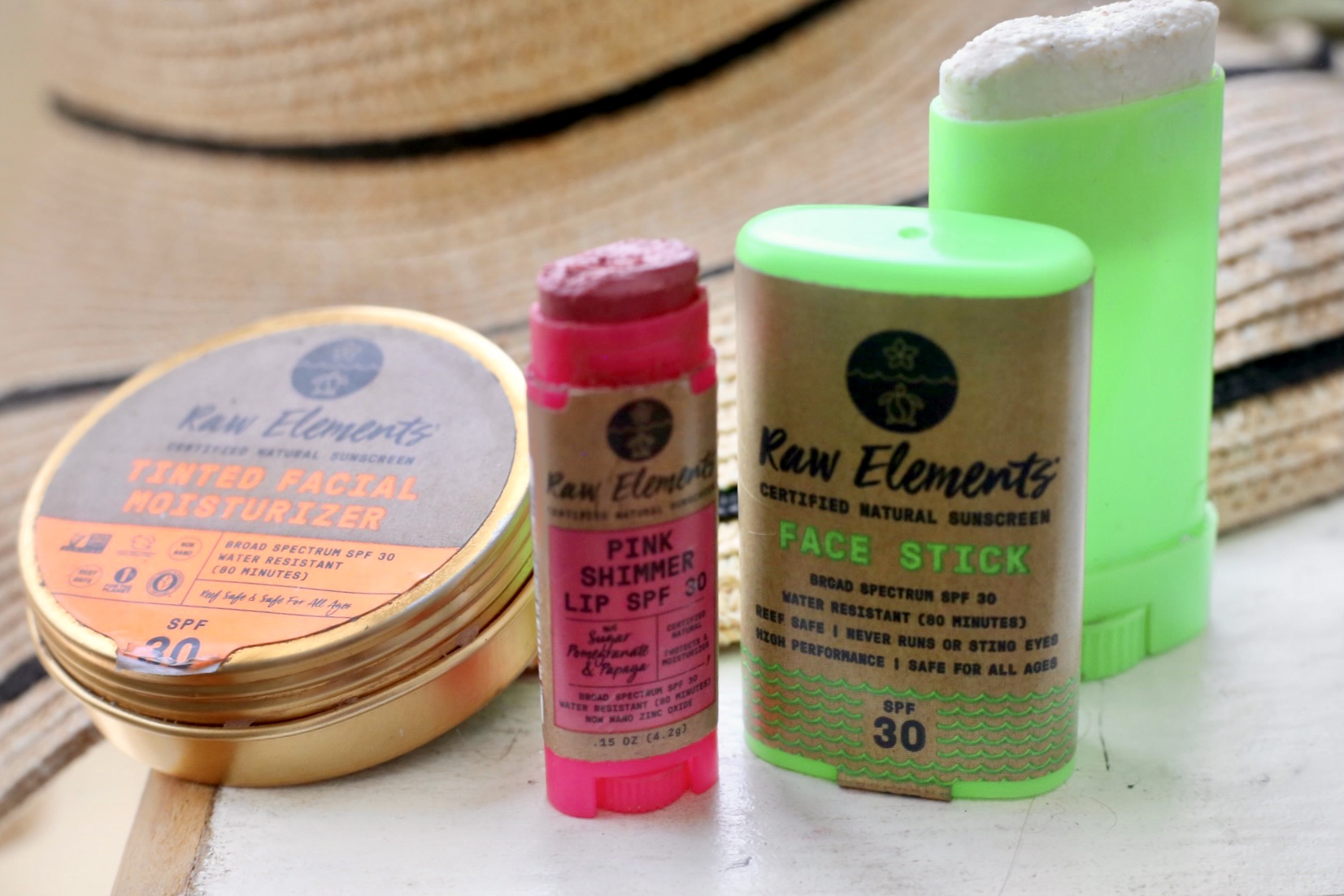 Raw Elements SPF 30 Lip Balm
I've tried all three Raw Elements lip balms with SPF 30 and my favorite is Pink Shimmer. I love the color of this lip balm – leave it to a sunscreen company that doesn't even specialize in makeup to make one of my favorite pink shades ever. So crazy. But I really love this pop of pink that's so fun and youthful. The texture of the lip balm is grainy, which was off putting at first as I'm so used to perfectly smooth balms, but I got over it. They're very moisturizing and buttery and I appreciate the high SPF 30 instead of SPF 15.