Skylar Review: Clean Fragrance For Women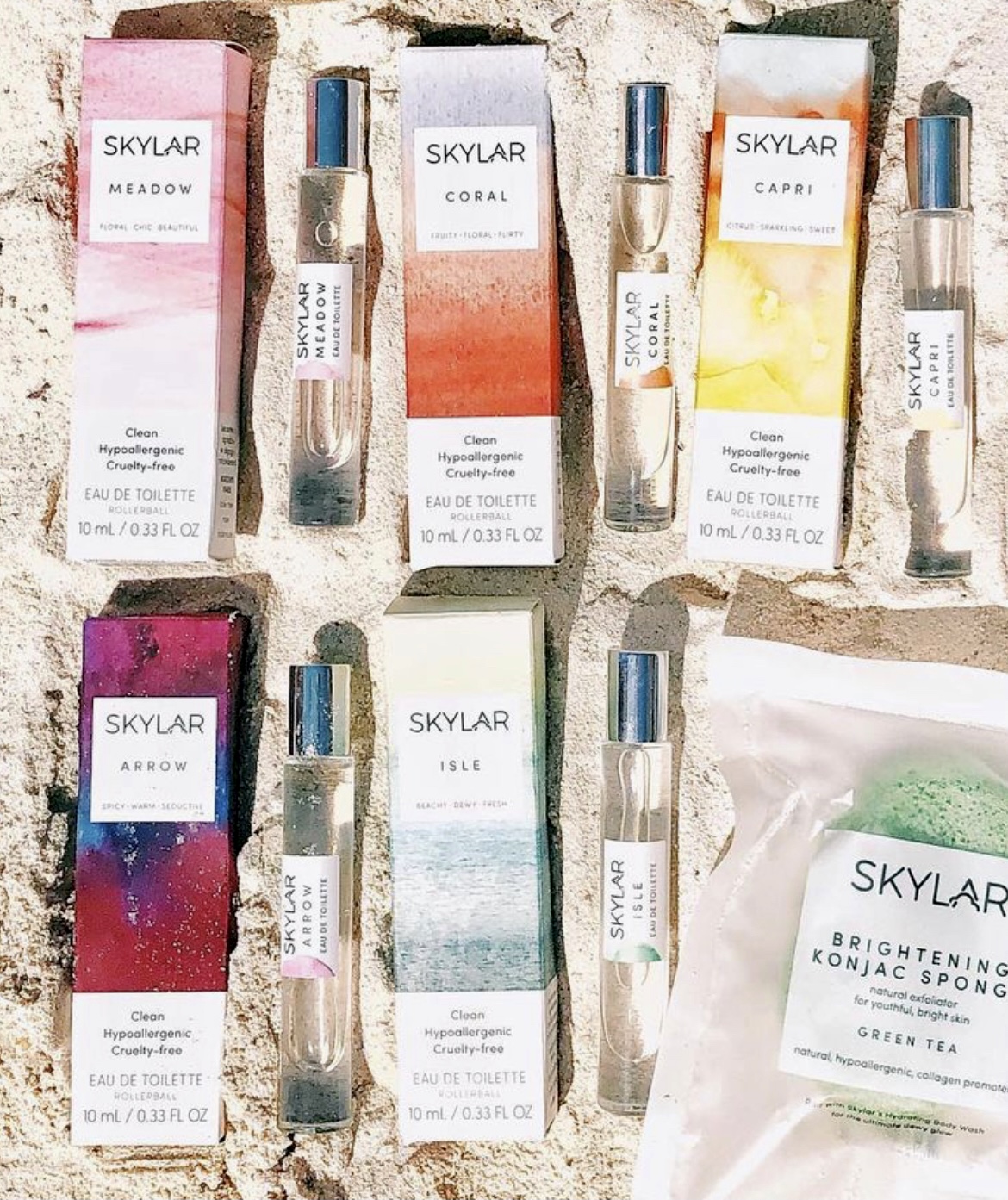 Skylar makes clean fragrances that are girly, approachable and safe for your health. Founder Cat Chen created Skylar after her daughter began experiencing allergic reactions to her everyday perfume. They're mostly natural with the addition of safe synthetics to make them perform as well as conventional fragrances (but without the risks to our health). Skylar perfume scents are inspired the landscapes of the founder's home state California with names that remind you of a beach vacation like Isle Escape, Capri Summer and Coral. All Skylar perfumes are:
Hypoallergenic
Safe for sensitive skin
Vegan
Cruelty-free
Formulated above EU clean standards
Tested in third-party labs
Skylar is also the only clean fragrance brand to have something called the Scent Club, which is a monthly clean perfume club that allows club members to receive a limited edition monthly perfume rollerball. Read on for my Skylar perfume review and check out my full Non-Toxic Organic Perfume Guide here.

Skylar Clean Fragrances
I felt that most of the Skylar fragrances were very feminine, fresh and uplifting. These are easy scents that I can see young people loving.
Meadow is a very sweet scent while Arrow is more spicy and musky. Capri is a sweet sophisticated citrus scent and Coral is very fresh.
Skylar has new scents like Honeysuckle Dream, Vanilla Sky and Coconut Cove for those who like yummy, dessert-like scents.
Isle Escape
Top notes: Bergamot, Orange Mist, Fresh Quince
Middle notes: Cardamom, Peony Caress, Ginger Root
Base notes: Sandalwood, Subtle Musk, Golden Amber
Capri Sunmer
Top: Grapefruit, Blood Orange, Bergamot
Middle: Neroli, Muguet, Dewy Rose
Base: Teakwood, Sheer Vetiver, Crystal Musk
Honeysuckle Dream
Top: Bergamot, Sparkling Cassis, Pear Leaves
Middle: Honeysuckle, Lily, Orange Flower Water
Base: Cashmere Wood, Sandalwood, Sheer Amber
Pink Canyon
Top notes: Dewy Lemon, Grapefruit, Sage Leaves
Middle notes: Magnolia, Lily of the Valley, Tiare Petals
Base notes: Sheer Amber, Pink Salt, Cedar, Musk
How Long Do Skylar Perfumes Last?
Depending on the number of spritzes, Skylar fragrances last several hours and gradually fade.
Skylar offers discovery sample sets, roller balls, full sized and candles.