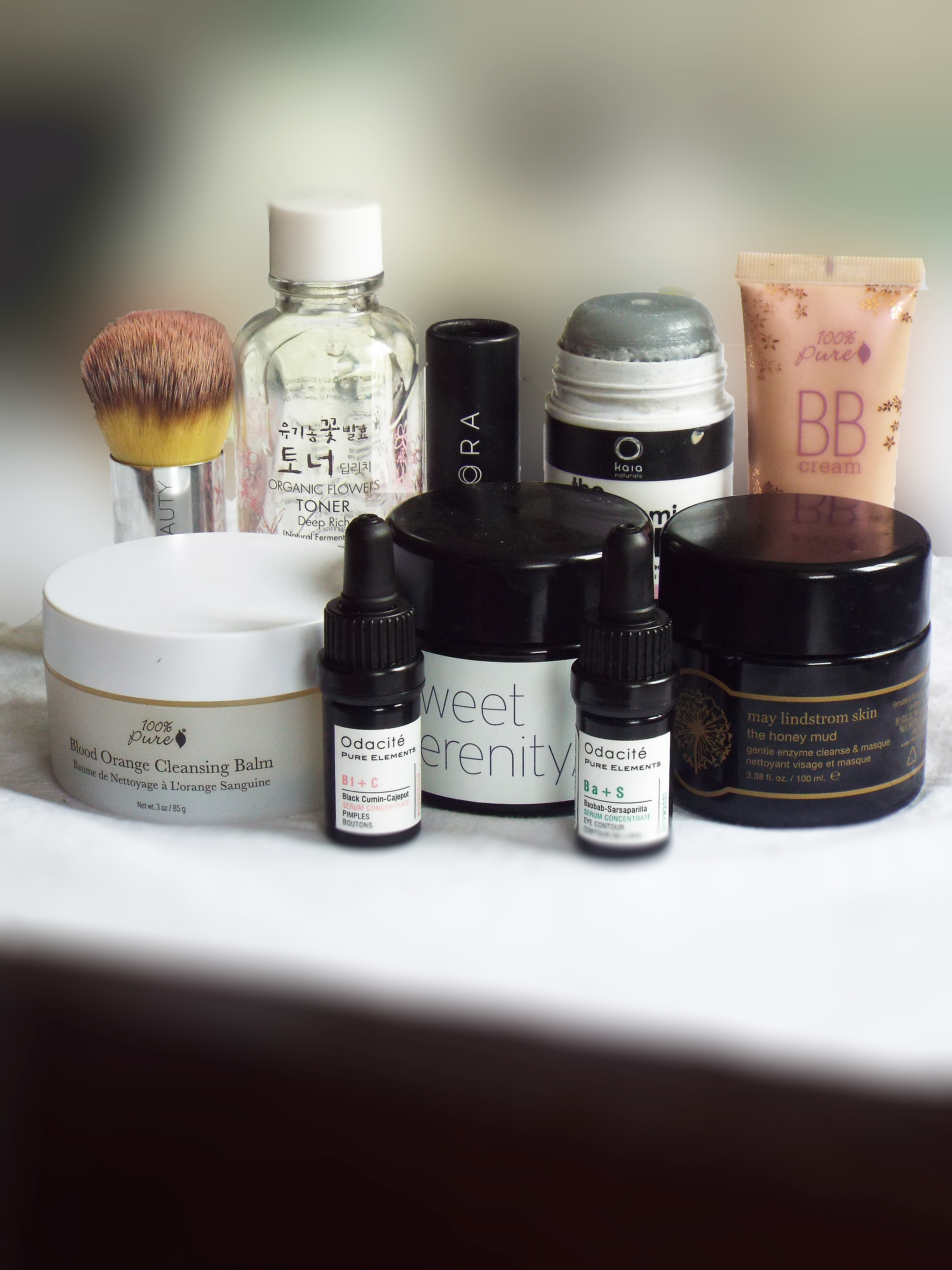 I usually focus on one brand in each blog post but this time I'm switching things up with my first Current Faves post. I'll highlight a variety of products that I'm currently using and loving.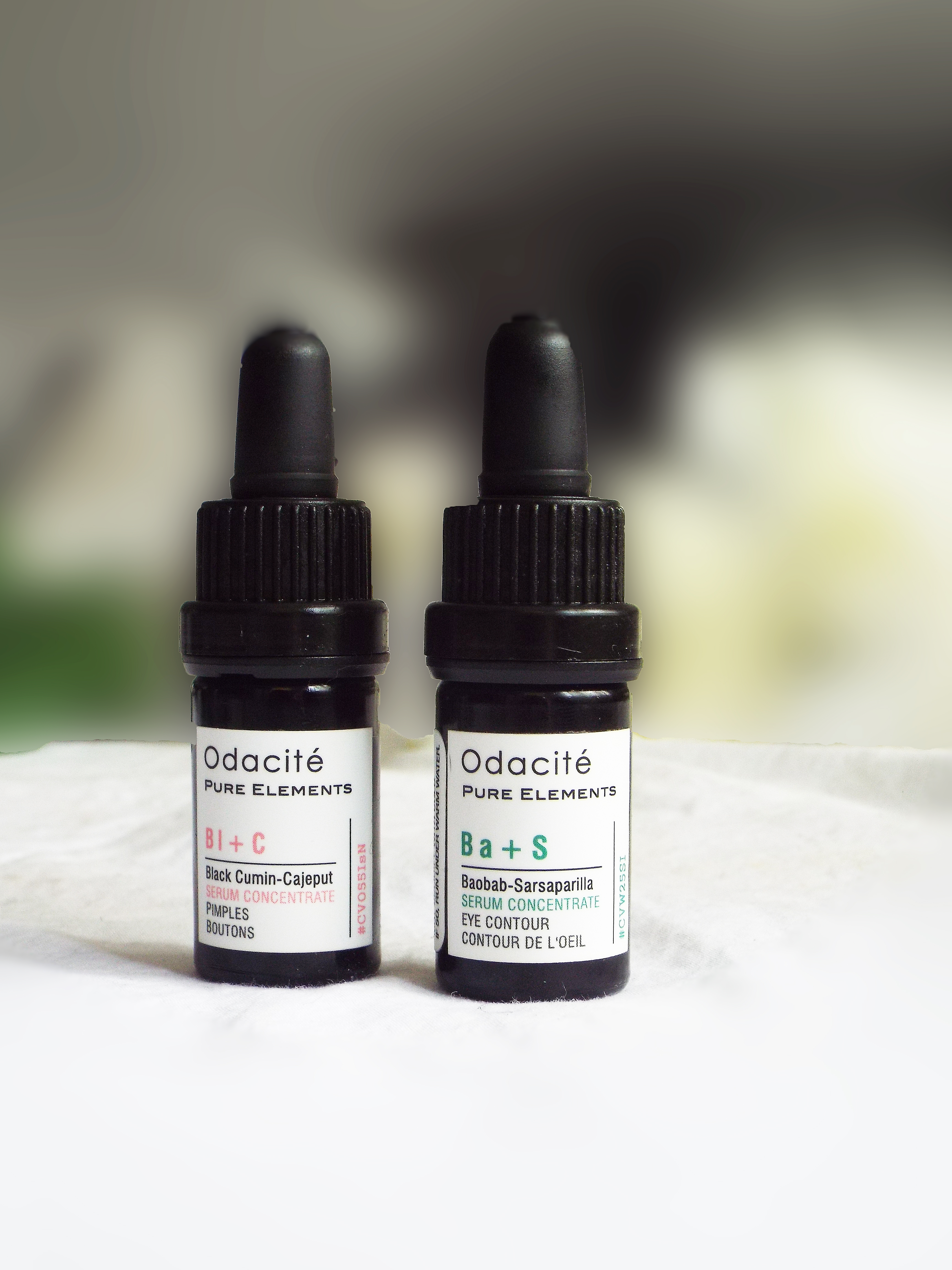 Odacité EYE CONTOUR SERUM & PIMPLE SERUM
I add a few drops of this around my eye contour before bed when this area is looking particularly shriveled and I wake up to smooth & hydrated sleepy eyes  I love using products specifically formulated for the eye area even though much of it IS marketing. I appreciate that eye products are specifically formulated for the super fragile eye area and are richer than average. The pimple serum I've been using to spot treat small zits that I get around that time of the month and I feel that it helps clear up my skin quickly without leaving any acne marks left behind.
Eye Contour Serum Ingredients:
Highest-grade cold-pressed certified virgin wildcrafted Baobab (Adansonia digitata) seed oil, Sarsaparilla, Palmarosa, Lavender, Neroli, Roman chamomile, Sandalwood, Geranium, Bisabolol (Hemidesmus indicus, Cymbopogon martinii, Lavandula angustifolia, Citrus aurantium, Anthemis nobilis, Santalum spicatum, Pelargonium graveolens, Vanillomopsis erythropappa) essential oils, Certified GMO free Vitamin E (Tocopherols) oil.
Pimple Serum Ingredients:
Highest-grade cold-pressed certified virgin organic Black Cumin (Nigella sativa) oil, Certified organic Cajeput (Melaleuca minor) essential oil, Certified GMO-free Vitamin E (Toco- pherols) oil.
Discount code OBL saves 10% at checkout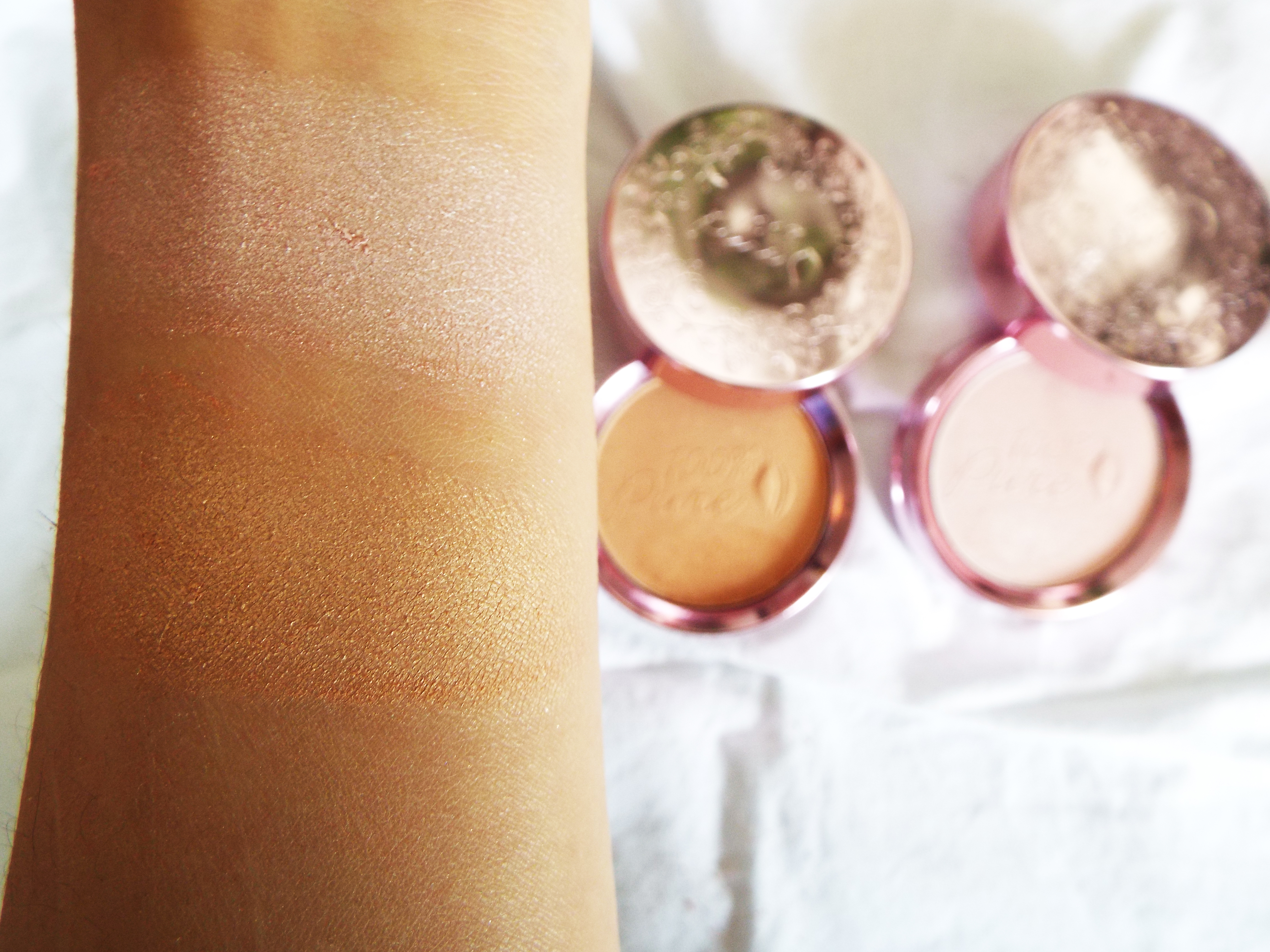 The new gemmed luminizers in Moonstone Glow & Rose Gold from 100% Pure are absolutely beautiful. I like them way better than rms Living Luminizer. Instead of adding oily mica to your face this luminizer brings so many beneficial ingredients to your skin, including actual gemstones (search for gemstone if you're curious about why I like gemstones and gemstone-infused skincare) AND a gorgeous tint to your skin. This will be great for the summer months when my skin goes from dry to the oily side. Moonstone is my favorite out of the 2 new shades though I've been leaning towards Rose Gold more as summer approaches.
Affiliate code OBL5 saves 5% in the entire store at checkout til Apr 21.
Ingredients
Oryza Sativa (Rice) Starch, Silica, Persea Gratissima Oil (Avocado Butter), Theobroma Cacao (Cocoa) Seed Butter, Extracts of Punica Granatum (Pomegranate), Vaccinium Macrocarpon Fruit (Cranberry), Fragaria Vesca Fruit (Strawberry), Rubus Idaeus Fruit (Raspberry), Prunus Serotina Fruit (Cherry), Prunus Armeniaca Fruit (Apricot), Prunus Persica Fruit (Peach) and Vitis Vinifera Fruit, (Cabernet Grapes) and Matricaria Chamomilla Leaf (Chamomile), Punca Granatum (Pomegranate) Extract, Lycium Chinese Fruit (Goji Berry) Extract, Tocopherol (Vitamin E), Mica (natural shimmery mineral), Labradorite (Natural Mineral Stone), Moonstone (Natural Mineral Stone), Australian Opal (Natural Mineral Stone), Pyrite (Natural Mineral Stone), Sunstone (Natural Mineral Stone), May Contain Iron Oxides.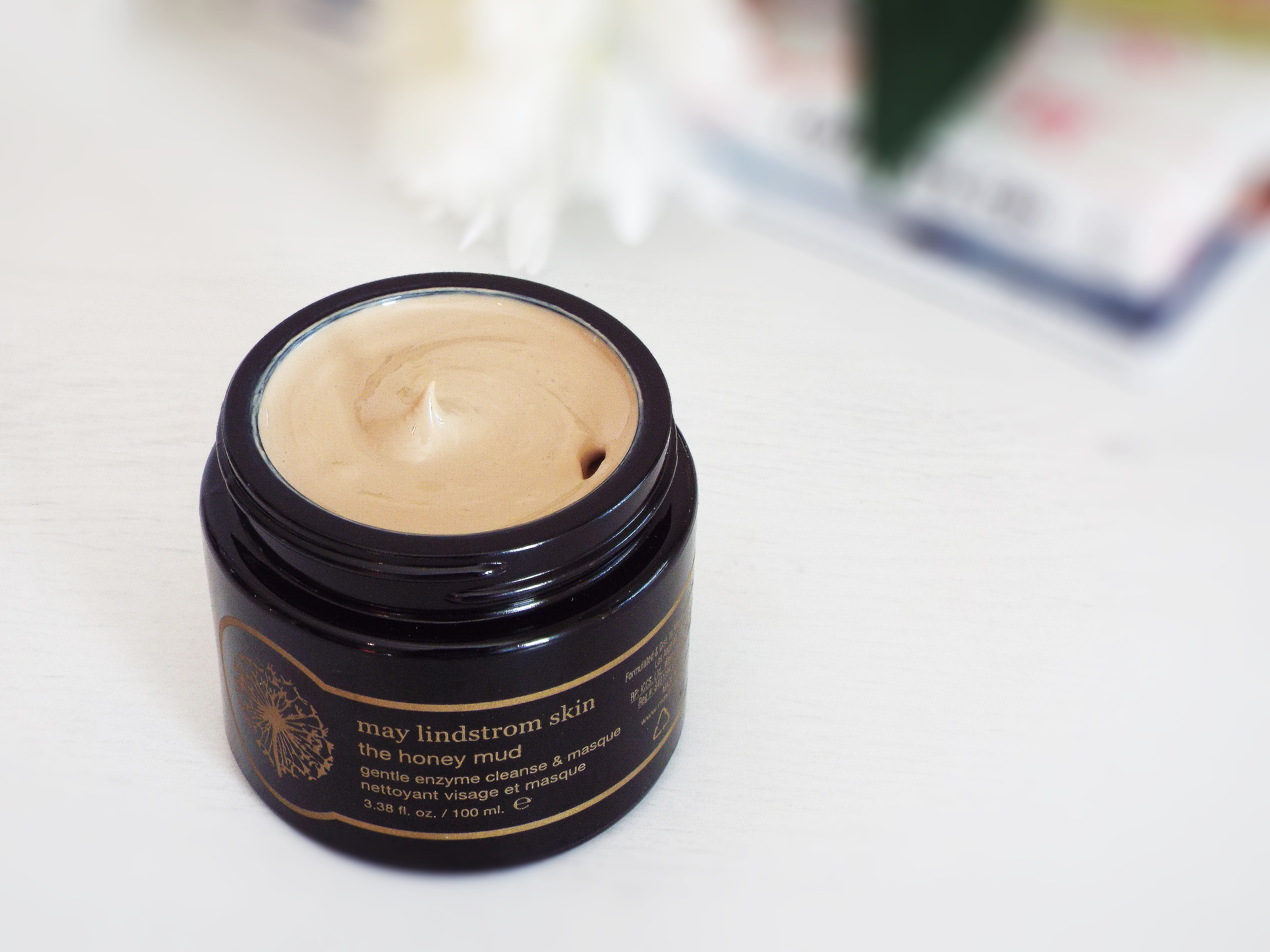 MAY LINDSTROM HONEY MUD CLEANSING MASK
I've been using this honey mask almost everyday after removing makeup and cleansing, so I have 3 cleansing steps most days now. This honey mask is so moisturizing that I feel like I'm also using a hydrating mask at the same time. Raw honey, white halloysite clay, Collodial Silver, Cacao aboslute oil & macadamia nut oil envelope your skin & infuse it with enzymes and nourishment. It has a silken pudding-like texture that I have not found in any other mask product. May's products will undoubtedly make you fall in love with taking care of your skin.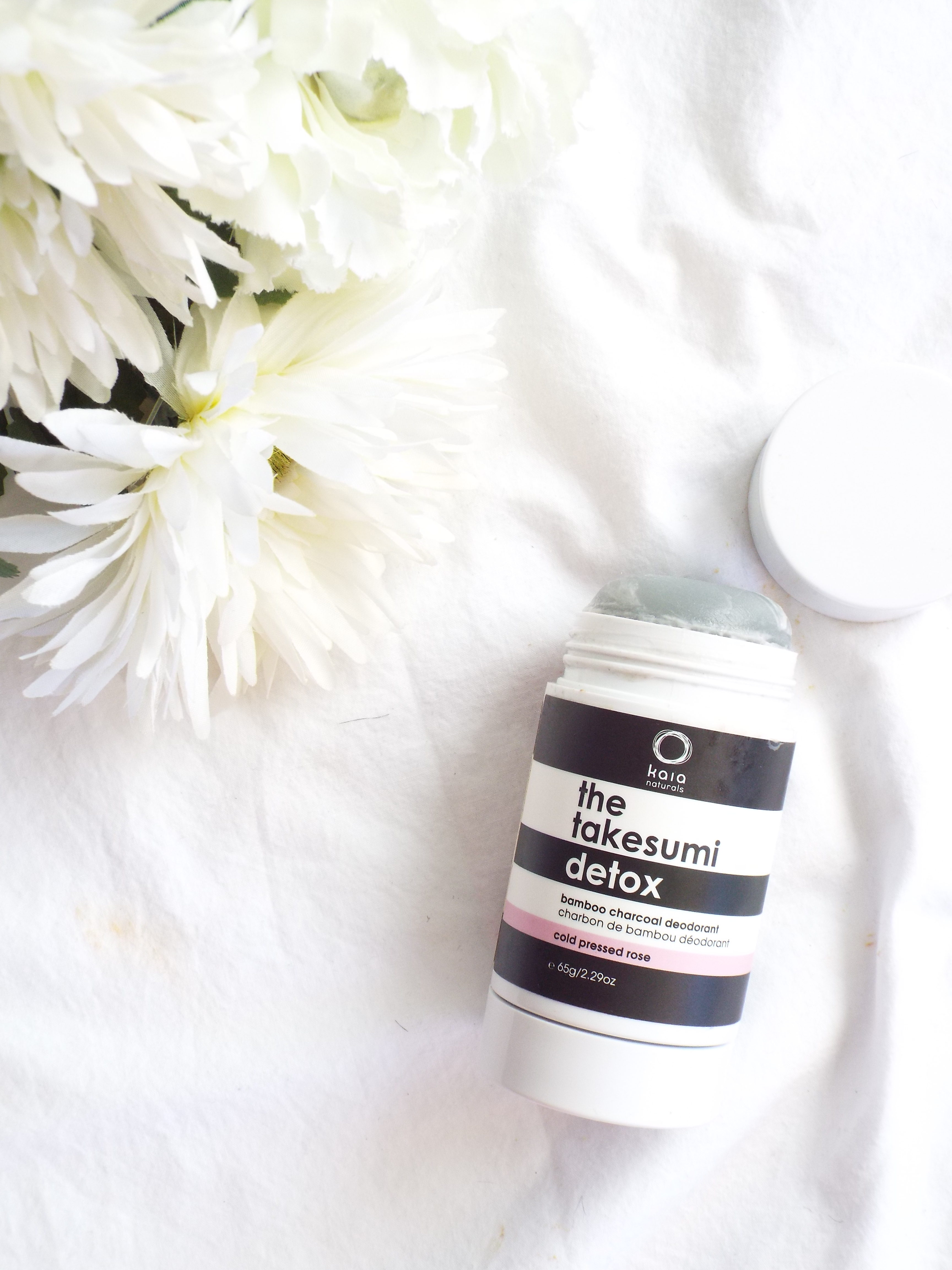 I've been using this deodorant for almost a month now, switching between the Cold-Pressed Rose & Juicy Bamboo versions, and though it took me a while to get used to the wet texture, i must say i really enjoy it now. This is a 99% natural & vegan dedorant with no baking soda – instead it has activated charcoal to draw out toxins & natural fermentation technology to fight odor-causing bacteria. Deodorants are a hit and miss for people so what works for 1 person may cause an adverse reaction for another. I used this on a day where I had a 5am workout, had to take an hour plane ride to a meeting and sit in an office all day without being able to take a shower in between and I had no stench at the end of the day. This deodorant is an everyday product & it's designed to detox your armpits in 30 days  so I do recommend you give this a try if you are having difficulty switching to a natural deodorant. They have a travel size version for just $9.50 but note that the print on the packaging fades off quickly unlike the full size deodorant.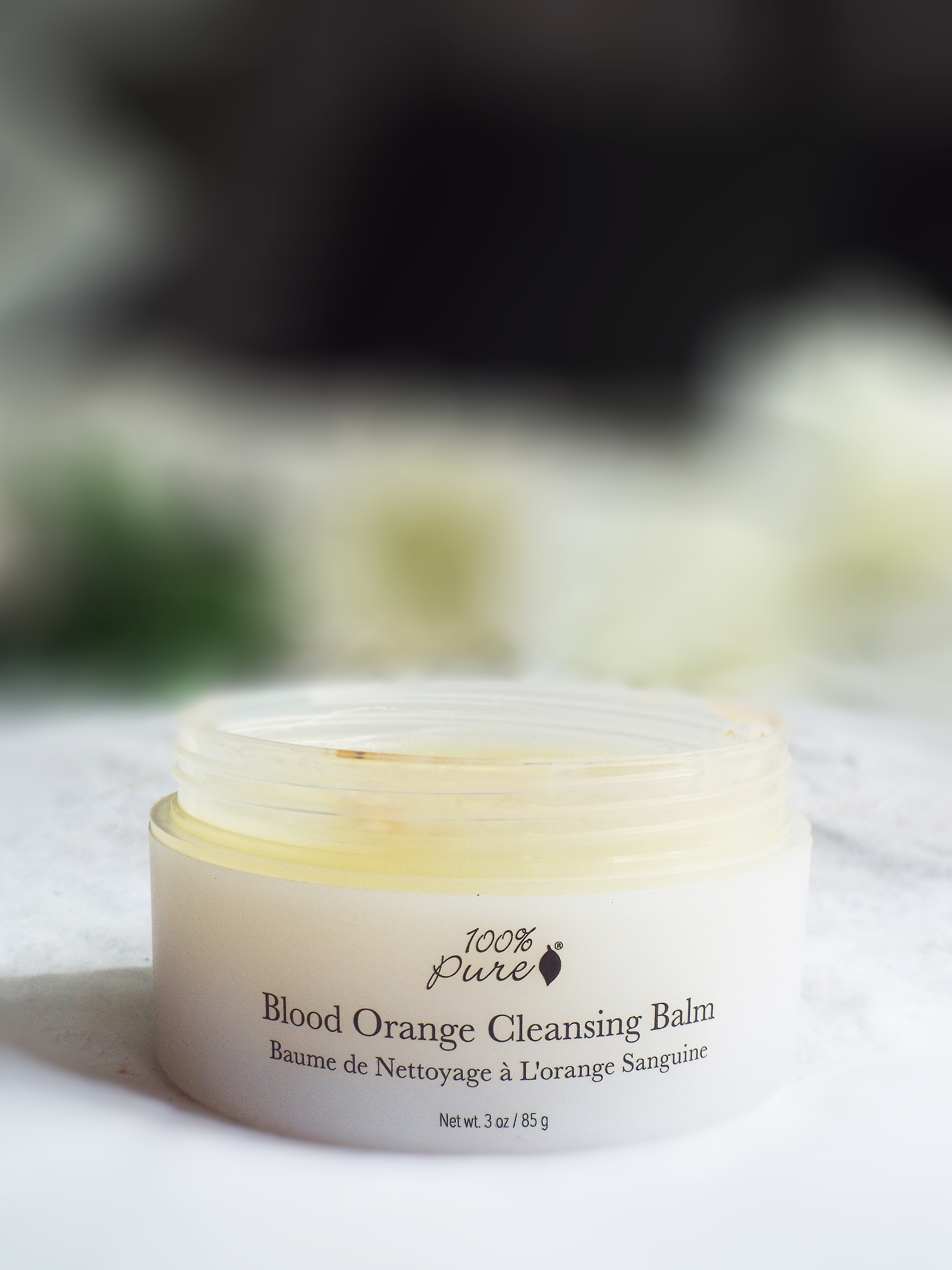 100% PURE BLOOD ORANGE CLEANSING BALM
This new cleansing balm is an excellent way of removing makeup, dirt & grime if you have super dry skin. My skin becomes parched during the winter/spring months and this balm cleanses effectively while hydrating my skin. I take a pea sized amount, spread it all over my face, let it sink in for a minute or 2 and then wipe of with a cloth. The texture reminds me greatly of more solid Vaseline. If you've tried the EVE LOM cult cleansing balm, which is super emollient and mushy, this is more dense.
Ingredients
Persea Gratissima (Organic Avocado) Oil, Cocos Nucifera (Organic Coconut) Oil, Olea Europaea (Organic Olive) Leaf Oil, Olea Europaea (Organic Olive) Oil, Cera Alba (Organic Beeswax), Citrus Aurantium Dulcis (Blood Orange Essential Oil) Fruit, Polyglyceryl-3 Palmitate (Derived from Coconuts)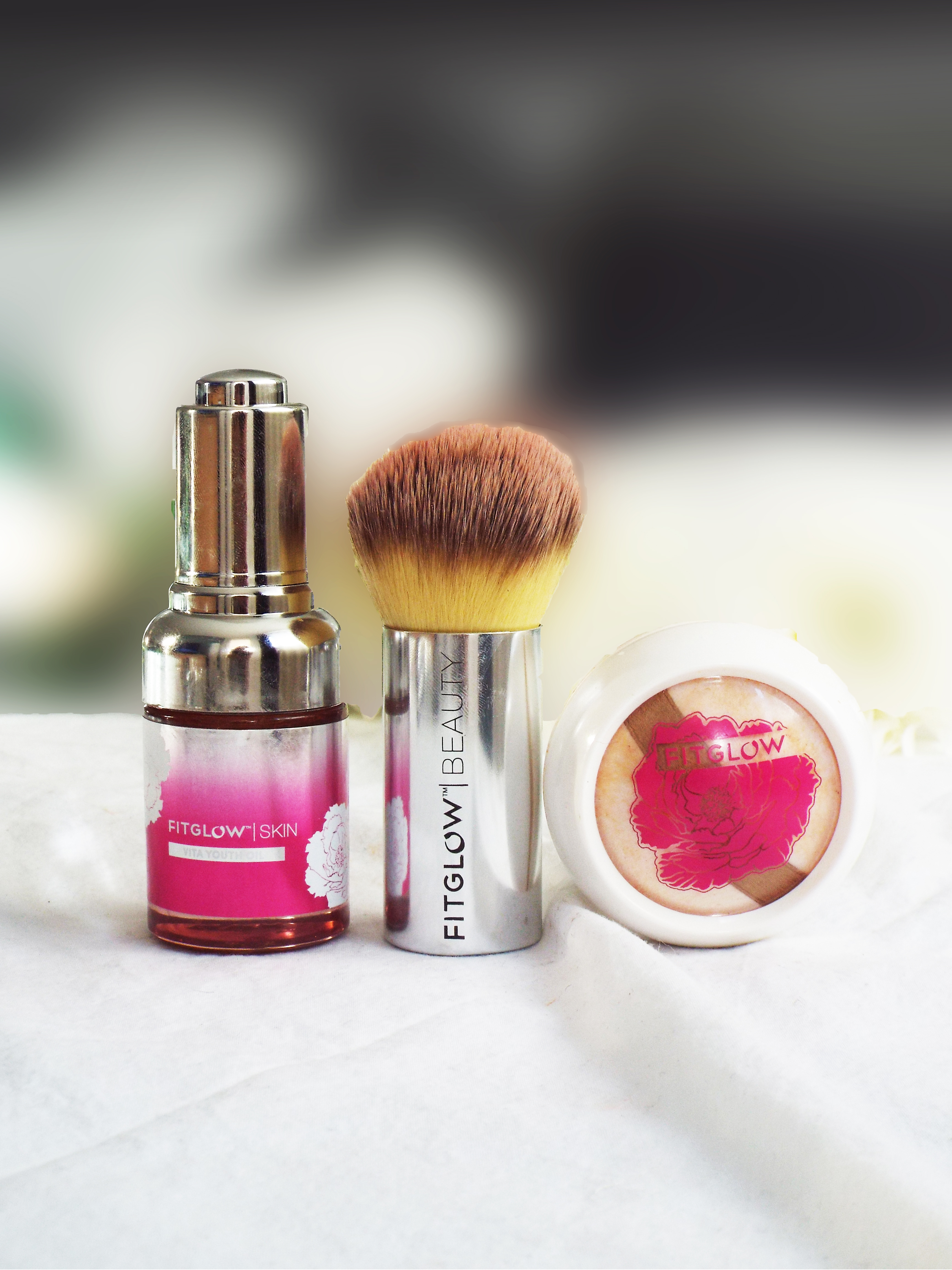 The picture above has 3 of their newest products but I have not used the other 2 enough yet to give a full opinion. The brushes, however, I've gotten well acquainted with and they are so soft & luxurious. The vegan teddy round brush pictured above blends makeup effortlessly is great for applying mineral powders like foundation, blushes & bronzer.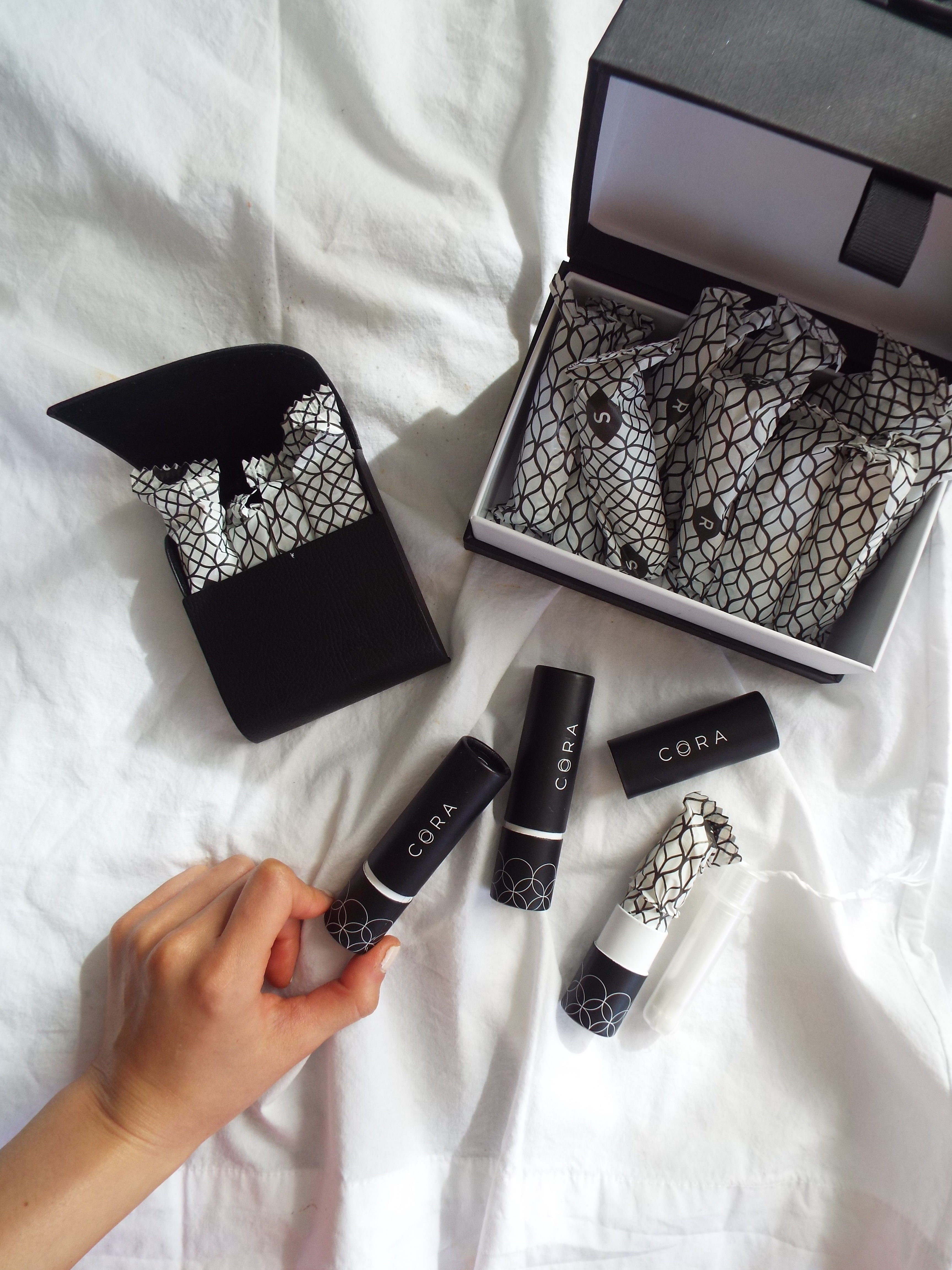 CORA ORGANIC NON-TOXIC TAMPONS
You've probably seen these on my Instagram from the giveaway I did a while back. Tampons contain dioxins, which are byproducts of the bleaching process involved in the manufacturing process and are deemed "Highly toxic & a known human Carcinogen" by the World Health Organization. Each tampon contains a small amount but the cumulative effect of using tampons increases your risk for disease.
They can also contain polyester, adhesives, polyethylene (PET), polypropylene and propylene glycol (PEG), contaminants linked to ▶Infertility▶Cancer▶ Birth Defects as well as GMO's.? Toxins that enter your vagina can end up in your bloodstream as the vaginal walls are highly permeable.
ABOUT CORA.
CORA makes 100% Certified Organic Tampons that are biodegradable & hypoallergenic (available at Targets nationwide). I found them to be just as absorbent as regular tampons. The application is not as comfortable due to the applicator stick but it's minor. They're also part of an incredible social program – for all tampons sold each month they purchase the equivalent in natural, sustainable pads from local partners in India. This employs women in rural villages & urban slums in India to produce biodegradable natural pads which are then distributed to girls in local schools who wouldn't be able to afford them otherwise. .
This toner stands out in the world of toners because it's a cross between an essence and a toner. I have a brand review of Whamisa here that includes this product but had to include it in this top 10 favorites list. It has a viscous bouncy like liquid texture that deeply hydrates my skin and dries quickly.
Ingredients
*Aloe Maculata Leaf Extract, *Chrysanthemum Morifolium Flower Extract, *Avena Sativa (Oat) Kernel Extract, *Lactobacillus/Chrysanthemum Sinense Flower Ferment Filtrate, *Lactobacillus/Nelumbo Nucifera Flower Ferment Filtrate, *Lactobacillus/ Taraxacum Officinale (Dandelion) Rhizome/Root Ferment Filtrate, Galactomyces Ferment Filtrate, *Persea Gratissima (Avocado) Oil, *Argania Spinosa Kernel Oil, *Helichrysum Arenarium Flower Extract, *Brassica Oleracea Italica (Broccoli) Extract, *Glycerin, ***Scutellaria Baicalensis Root Extract, ***Paeonia Suffruticosa Root Extract, ***Glycyrrhiza Glabra (Licorice) Root Extract, Hibiscus Sabdariffa Flower Extract, Lithospermum Erythrorhizon Root Extract, Xanthan Gum, Aniba Rosaeodora (Rosewood) Wood Oil, Citrus Aurantium Bergamia (Bergamot) Fruit Oil, Cymbopogon Schoenanthus Oil, **Fragrance, d-Limonene, Linalol 
This is a love it or hate it type BB cream because it's so thick and I love it. It gives you a dewy luminous look, has cool pink undertones & blurs imperfections. I've shared more of my thoughts in a previous foundations post.
active ingredients: 8.7 % Zinc Oxide 4.6 % Titanium Dioxide other ingredients: Aloe Barbadensis (Organic Aloe Juice) Leaf Extract*, Centaurea Cyanus Flower Water / Centaurea Cyanus (Cornflower) Flower Water, (Non-Nano) Zinc Oxide, Caprylic / Capric Triglyceride (Derived from Coconut Oil), Sorbitan Sesquioleate (Derived from Sugar) Titanium Dioxide, Vegetable Glycerin, Stearic Acid (Derived from Coconut), Hydrated Silica, Leuconostoc / Radish Root Ferment Filtrate, Magnesium Stearate (Derived from Salt), Mica (Mineral), Sodium Phytate (Sodium Salt from Plant Seeds), Xanthan Gum (Non GMO), Simmondsia Chinensis Seed Oil / Simmondsia Chinensis (Jojoba) Seed Oil, Butyrospermum Parkii Butter / Butyrospermum Parkii (Shea Butter), Vaccinium Myrtillus Seed Oil / Vaccinium Myrtillus (Bilberry) Seed Oil, Lavandula Angustifolia Oil / Lavandula Angustifolia (Lavender) Oil, Rosmarinus Officinalis Leaf Extract / Rosmarinus Officinalis (Rosemary) Leaf Extract, Prunus Avium Seed Oil / Prunus Avium (Sweet Cherry) Seed Oil, Prunus Cerasus Seed Oil / Prunus Cerasus (Bitter Cherry) Seed Oil, Punica Granatum (Pomegranate) Fruit Extract, Helianthus Annuus Seed Oil / Helianthus Annuus (Sunflower) Seed Oil, Rubus Idaeus Seed Oil/ Rubus Idaeus (Raspberry) Seed Oil, Tocopherol (Derived from Rice Bran-Non GMO), Benzyl Alcohol (Plant derived), Dehydroacetic Acid, Potassium Sorbate (Salt of Sorbic Acid), Sorbic Acid (Derived from Sugar) May contain: Titianium Dioxide, Iron Oxides
MAX AND ME SWEET SERENITY MASK & WASH
Max and Me is a high-vibrational eco-luxury skincare line from Austria and this mask if one of my favorite products from their line. It's designed for stressed-out, irritated, dull and thirsty skin and to treat difficult skin issues. This line is up there with May Lindstrom as one of those brands that make you deeply fall in love with your skin ritual. The creamy clay & honey blend can be used as a face wash or as a mask and I prefer to use it as a mask because well it's $240. I add a little bit of water & mix to turn it into a paste and then apply all over my face for about 30 minutes. I'm always left with brighter clearer skin without fail.
Ingredients
White Kaolin Clay, Leptospermum Scoparium Mel (Raw Manuka Honey), Butyrospermum Parkii Butter1, Garcinia Mangostana Pericarp Powder1, Calophyllum Inophyllum Seed Oil1, Cranberry Seed Oil1, Theobroma Cacao Seed Powder1, Cocos Nucifera Oil1, Rosa Canina Fruit Oil1, Tocopherol, Prinsepia Utilis Seed Oil1, Glycine Soja Oil, Argania Spinosa Kernel Oil1, Punica Granatum Seed Oil1, Nigella Sativa Seed Oil1, Gardenia Tahitensis Flower Extract, Helichrysum Angustifolium Flower Oil1, Santalum Album Oil2, Rosa Damascena Flower Oil1, Leptospermum Scoparium Oil3, Citrus Aurantium Flower Extract1, Pelargonium Graveolens Oil1, Pogostemon Cablin Leaf Oil1, Cananga Odorata Flower Oil1, Lavandula Angustifolia Herb Oil2, Cymbopogon Martinii Herb Oil1, Linalool4, Geraniol4, Citronellol4, Limonene4, Alcohol, Farnesol4, Benzyl Benzoate4, Propolis Cera, Benzyl Salicylate4, Citral4, Eugenol4.