Geek & Gorgeous Skincare Review 2023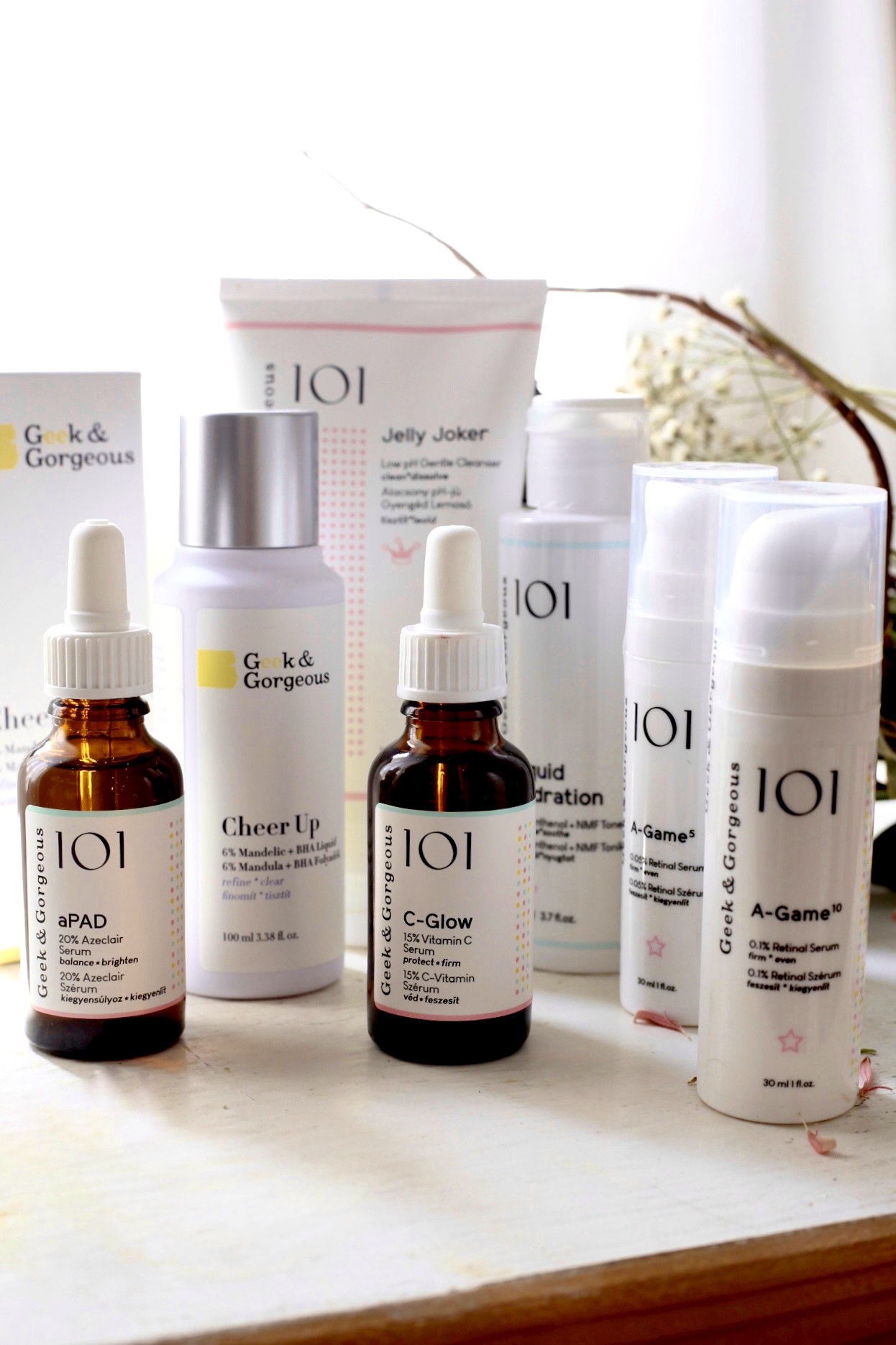 A European dupe to infamous The Ordinary, Geek & Gorgeous believes in transparency of ingredients and maximum affordability. Geek & Gorgeous are able to keep their prices so low because they avoid getting into big retailers who take huge profit margins which means brands need higher retail prices. Geek & Gorgeous also have something most small beauty brands don't — their own development & manufacturing which allows them full control over their formulations and product creation. While they do not market themselves as clean beauty, Geek & Gorgeous does not add any fragrance, artificial dyes and common allergens. So they lean clean but are not trying to be all natural. Check out what I think are hits and misses from the Geek & Gorgeous line.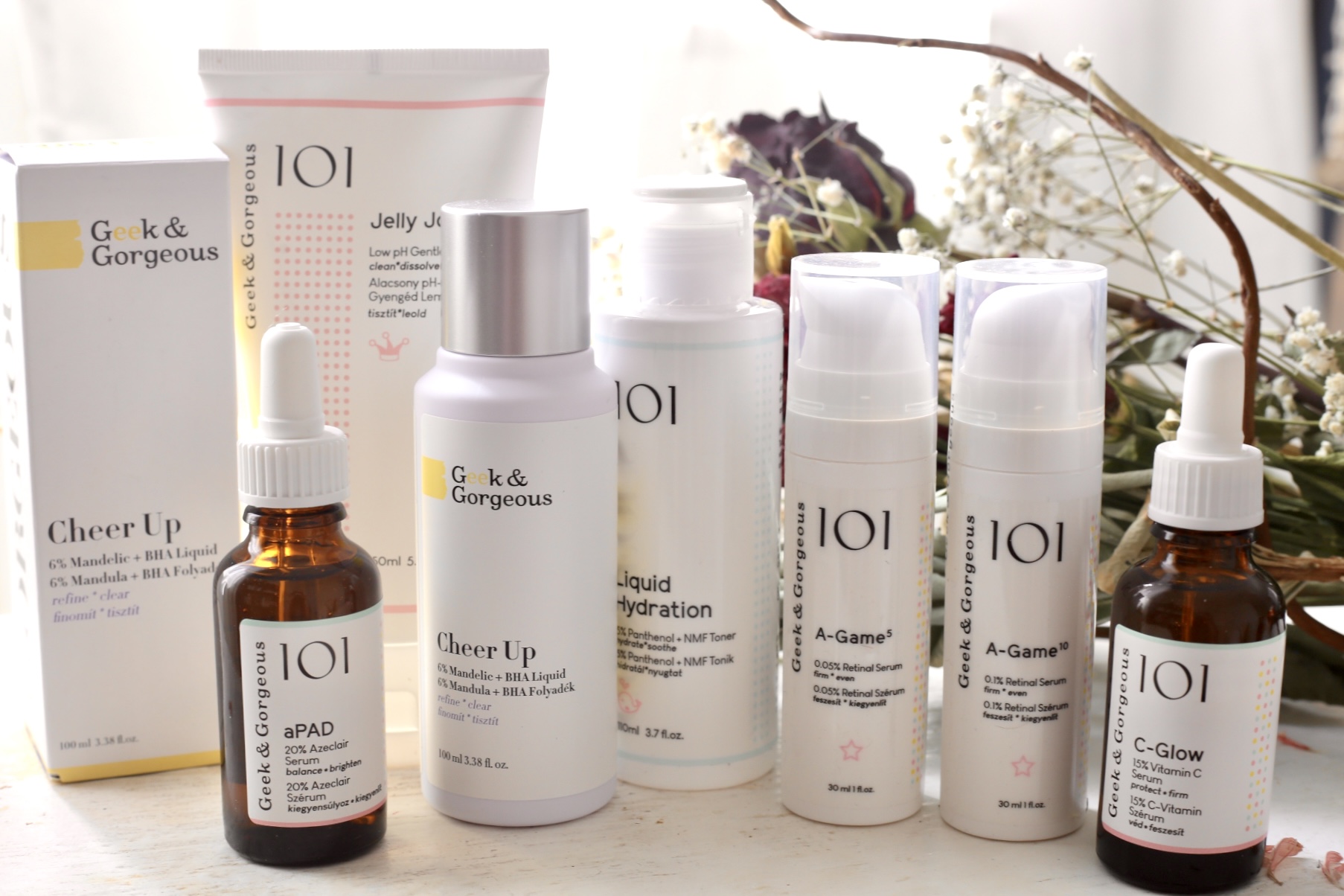 Geek & Gorgeous uses clinically proven actives in cosmetically sophisticated formulas that are free of:
Fragrance (artificial or natural)
Colorants
Drying alcohols
Common allergens
Plant extracts that are scientifically questionable for the skin such as most essential oils, lavender or citrus extracts
You will find chemical preservative Phenoxyethanol and certain questionable ingredients like Disodium EDTA.The prices are simply unbeatable. A 5 weight hyaluronic acid serum for under $10 and retinol Serum for under $15 is dirt cheap. If you look at the ingredients lists for their products, it's filled with mainly the actives and hardly any extra ingredients aside from what they deem necessary to make the formula work.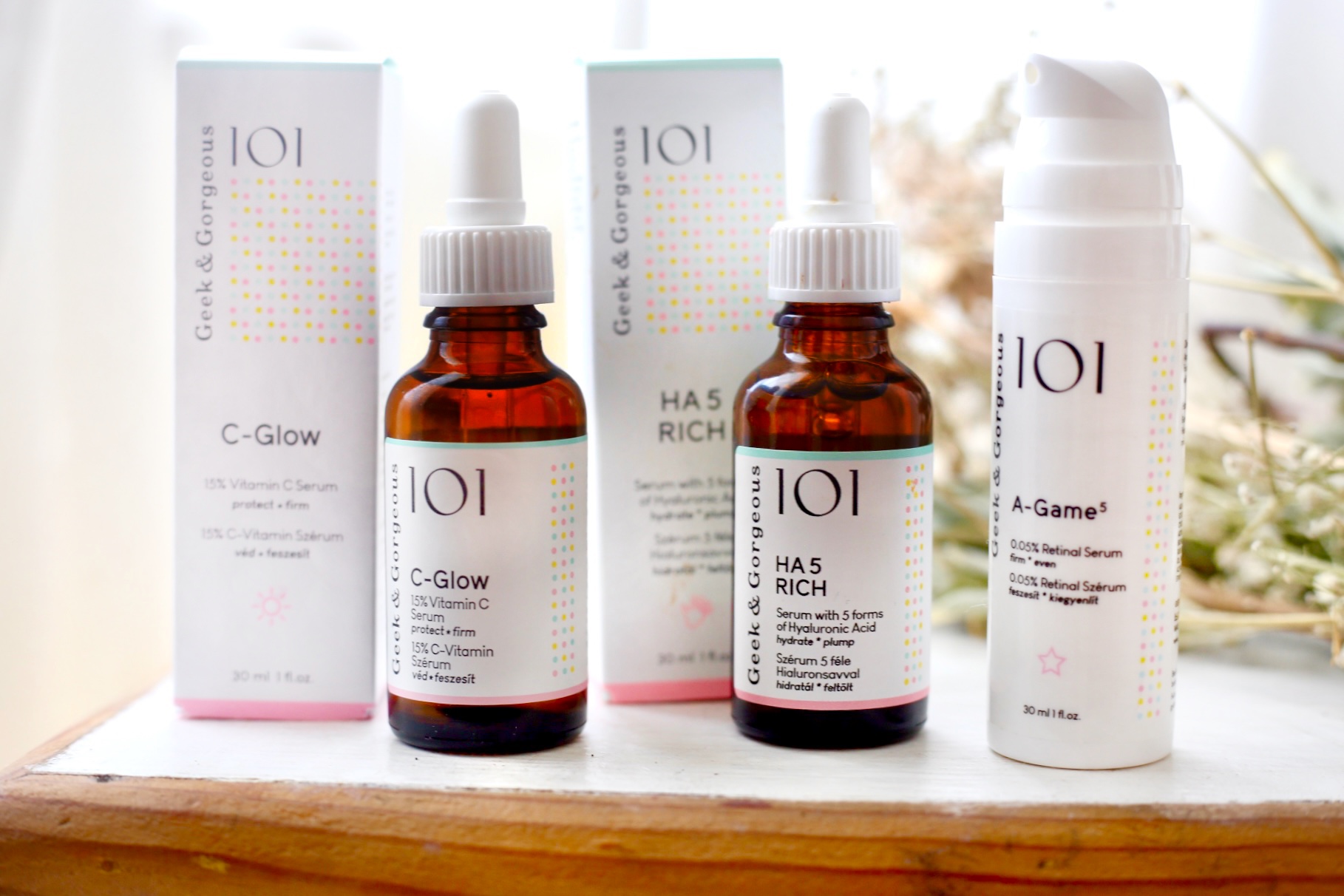 Best Geek & Gorgeous Products
The best Geek & Gorgeous products in my humble opinion, that I'd want to repurchase are:
The rest of the products in the line were ok but didn't stand out to me. If there is one product only you have to try from Geek & Gorgeous it's their C-Glow Vitamin C serum, assuming your skin can tolerate synthetic Vitamin C.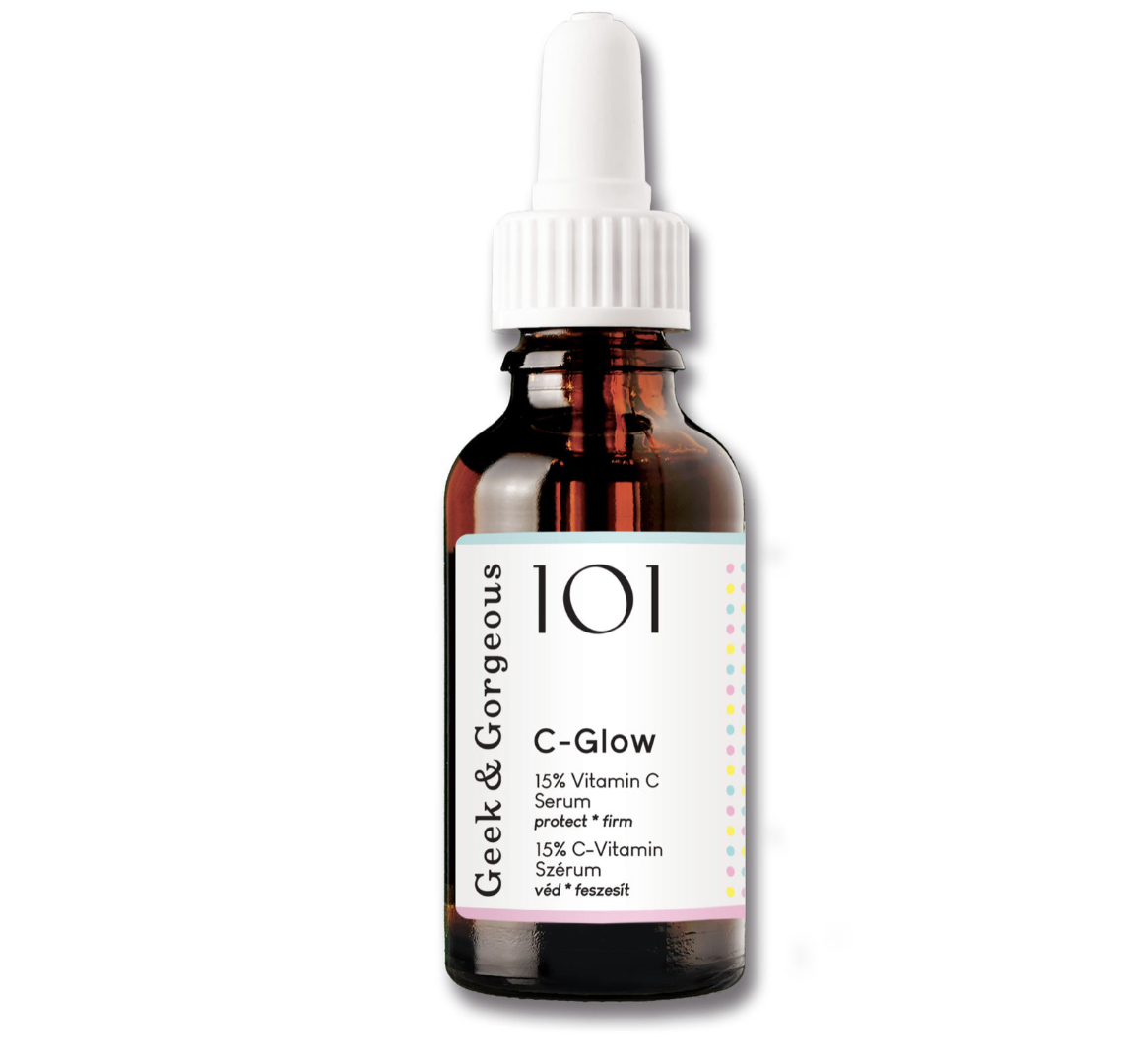 Geek & Gorgeous C-Glow is the closest budget dupe to Skinceuticals out of all the budget dupes I've tried. It also happens to me one of the least inexpensive budget dupes out the budget dupes.
It's a water thin consistency with 15% Vitamin C + extra antioxidants (Ferulic Acid & a smaller amount of Vitamin E) formula to give the skin environmental protection, boost collagen and fight hyperpigmentation. This is a very potent product, so sensitive skin may not fare well with C-Glow or skin that just doesn't like Vitamin C.
Here's where things get interesting with C-Glow. Geek & Gorgeous ensures maximum freshness by creating C-Glow in small batches once a week. Not sure I've seen any other Vitamin C making brand say that and if you are familiar with Vitamin C Skincare you already know that most Vitamin C Serums have oxidized by they time they reach you. It's important to store C-Glow in the fridge, as the company also does so with their batches before they're shipped to the customer.
C-Glow can't be sitting around for months on end on your skincare shelf. Vitamin C is highly unstable and C-Glow needs to be used up quickly, so daily use for the buyer. If you store C-Glow in the fridge it will last 3+ months, and if kept at room temperature, 6 weeks. Unopened, C-Glow will only last several months.
Vegan, pregnancy safe, essential oil free, fragrance free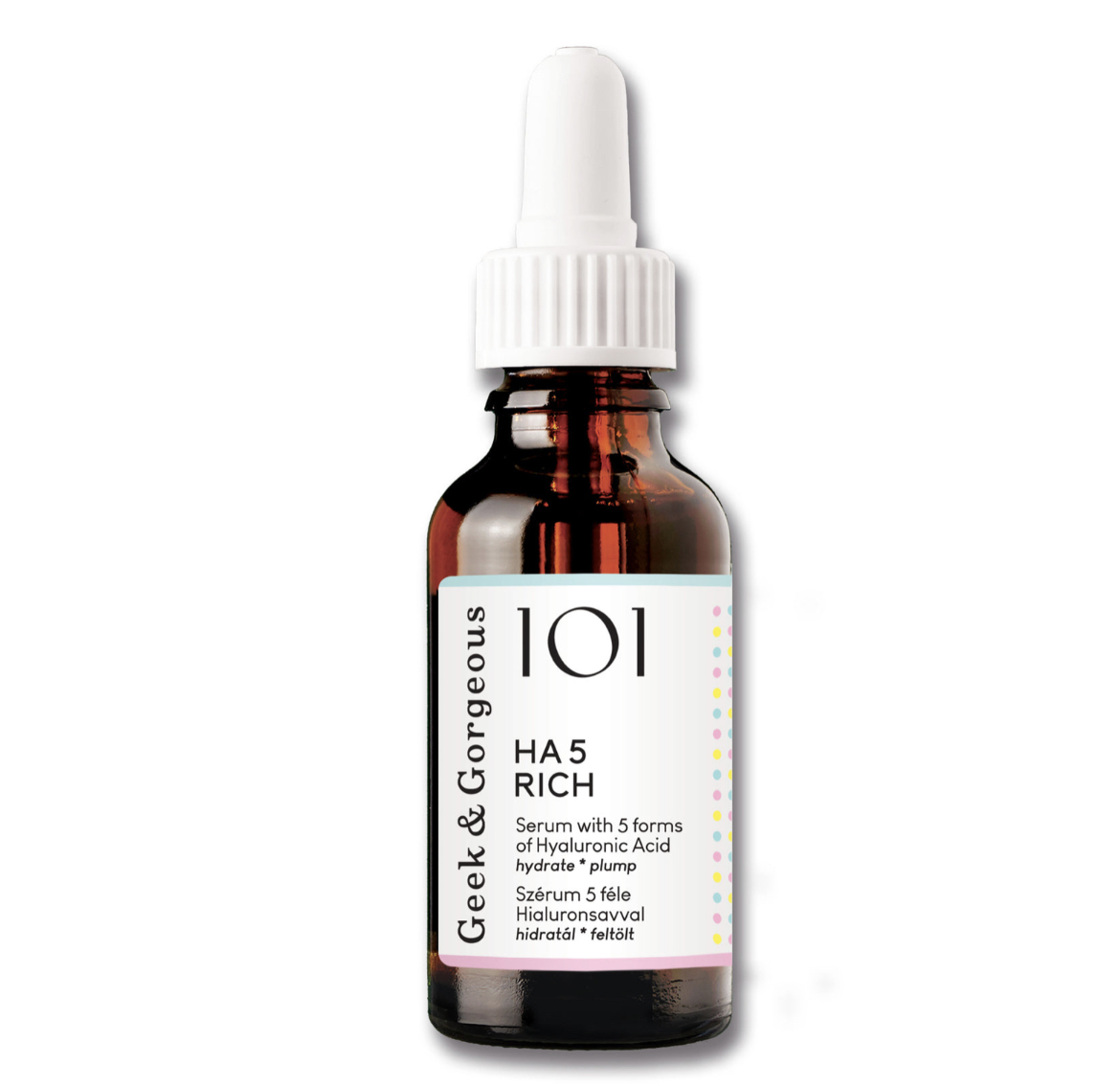 My 2nd favorite after C-Glow is HA5 Rich. There's a light version for oily and acneic skin or a rich version for normal to dry skin. This is a water-like serum with 5 different weights of hyaluronic acid. This is one of the cleanest formulas in the Geek & Gorgeous line as it doesn't contain Disodium EDTA.
Sodium Hyaluronate Crosspolymer – A new generation, cross-linked hyaluronic acid, whose water binding ability is several times greater than the already amazing water-binding ability of hyaluronic acid. Also offers longer-term moisturizing benefits.
Sodium Hyaluronate – The most common, salt-form of hyaluronic acid that can be found in larger and smaller molecular weight in the formula.
Tremella Fuciformis (Mushroom) Extract – The extract of silver ear mushroom known for its amazing water-binding abilities. It contains sugar constituents including Glucuronic acid, one of the building blocks of Hyaluronic Acid. It also cosmetically elegant, non-sticky, and has additional antioxidant benefits.
Hydrolyzed Hyaluronic Acid – A smaller molecular weight version of Hyaluronic Acid that is known for its ability to reinforce the skin's natural defense & healing mechanisms.
Panthenol – A classic skincare ingredient that is a reliable soothing, moisturizing and skin-protecting agent.
Geek & Gorgeous Misses
Liquid Exfoliant Cheer Up 6% Mandelic + BHA: This acid toner was not strong enough for me and I felt no effect whatsoever on my skin unfortunately. Even with acid toners that are formulated to be gentle I can usually feel the slightest tingle, but not with this one
Liquid Hydration 5% Panthenol + NMF Toner:  While I appreciate the actives I prefer a toner that also provides some aroma therapeutic effects.
Free shipping to US & EU with orders €60 and €50, respectively.