If you're looking for the strongest and highest quality CBD products, NuLeaf Naturals is among the best CBD companies around. With thousands of new CBD brands popping up every year, the amount of choices are overwhelming. It can be very confusing to know where to begin, what to look for and who to trust. From chronic pain to anxiety to sleep, CBD offers a wide range of benefits, but not all CBD is created equal. Today, I'm sharing how NuLeaf Naturals is legit and which product may be right for you. Use NuLeaf discount code OBL to save 20% at NuLeaf.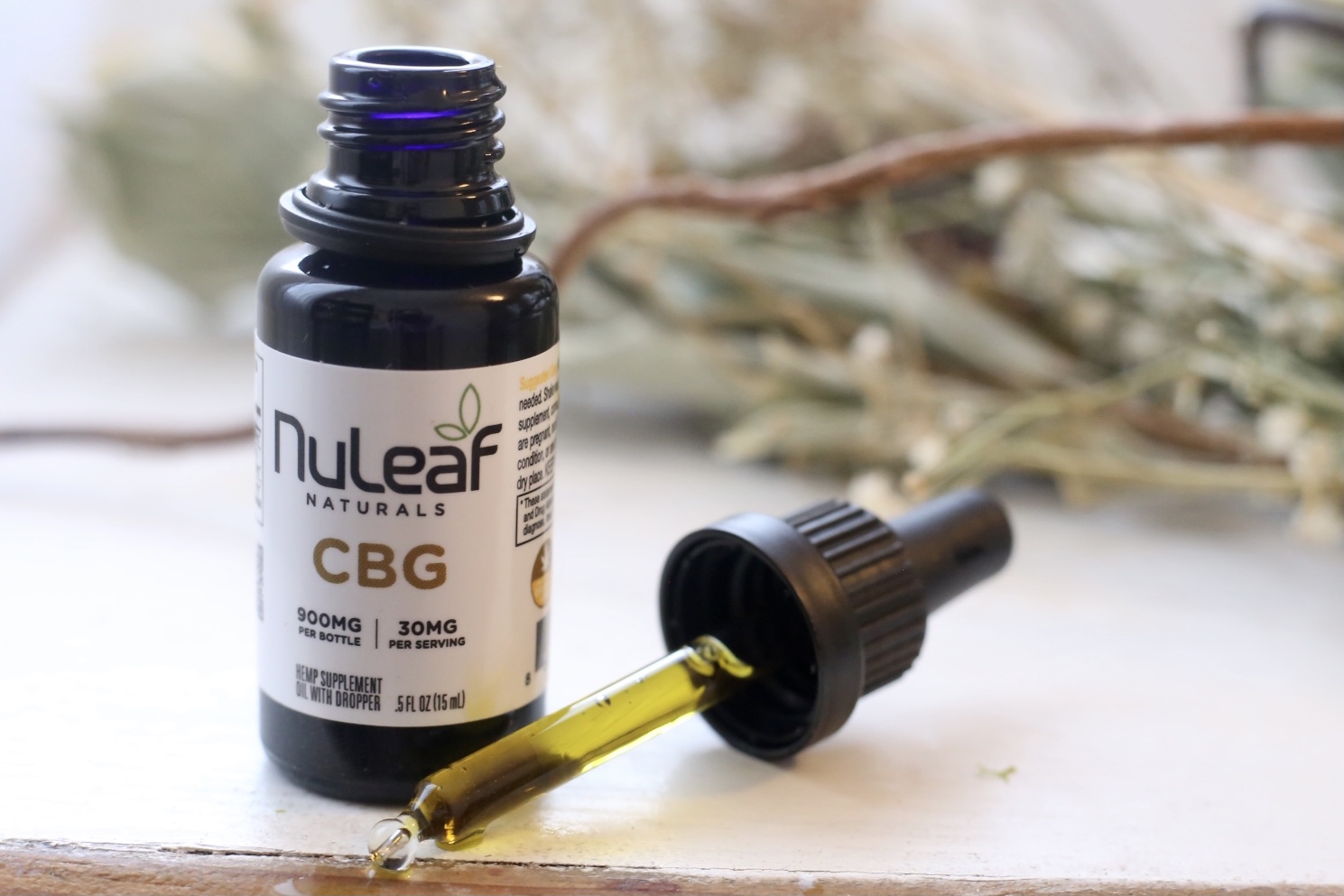 There's a variety of reasons as to why NuLeaf Naturals is a legit CBD brand you can trust.
1. NuLeaf Launched in 2014
While the majority of trendy companies have launched in the past few years alone, NuLeaf has been dedicated to hemp wellness for eight years and counting. They were making high quality products before their product actually became mainstream "cool".
2. NuLeaf is 3rd Party Tested
Majority of CBD brands test their own ingredients, but some brands go to independent labs to provide that extra layer of trust. NuLeaf uses an independent lab to make sure the results 100% accurate and sound.
NuLeaf is free of pesticides, herbicides, mold, fungi, heavy metals, and mycotoxins. Their independent testing also guarantees products contain the optimal amount of cannabinoids and terpenes.
3. Certifications, Certifications, Certifications
NuLeaf has multiple certifications to back up their claims.
cGMP Certified: Everything is produced in accordance with current Good Manufacturing Practices and the QR code on each package links to the Certificate of Analysis online batch search system so customers can see the third party lab results for their product.
Detox Project Certified
ISO Certified: international standard demonstrates their ability to consistently provide products and services that meet the highest regulatory requirements.
Certified B Corp: Meets the highest verified standards of social and environmental performance, transparency and accountability.
4. NuLeaf uses sophisticated extraction methods
The way in which the ingredients are extracted have a profound effect on their potency. Using CO2 extraction without any harsh chemical solvents, NuLeaf products retain a complete range of cannabinoids, terpenes, essential oils, and other beneficial phytonutrients. This method of clean extraction ensures no toxins are left behind.
4. Rigorous growing standards
NuLeaf uses the highest quality hemp from organic, sustainable hemp oil farms in Colorado. NuLeaf controls the entire farming and production process from seed to shelf to guarantee products are of the highest quality.
5. Ultra concentrated
There's no fluff in NuLeaf's CBD oil products – just Full Spectrum Hemp Extract and Organic Virgin Hemp Seed Oil. They're ultra concentrated at 30mg CBD per serving with precise and personalized dosing with 3mg CBD per drop.
6. Tailored formulas & secondary cannabinoid options
NuLeaf offers quantities ranging from 300 all the way up to 6000 mg of CBD per bottle. They also offer a line of secondary cannabinoids (CBC, CBN, CBG) for you to maximize your health from all angles.
Cannabinol (CBN): for sleep, pain, and muscle spasms
Cannabigerol (CBG): acts as an antidepressant, muscle relaxant, and antibiotic agent
Cannabichromene (CBC): has anti-inflammatory, antibiotic, antifungal, and anti-cancer properties
Delta-8 Tetrahydrocannabinol (Delta-8 THC): a non-psychoactive form of THC that helps with pain, anxiety, brain fog, and nausea.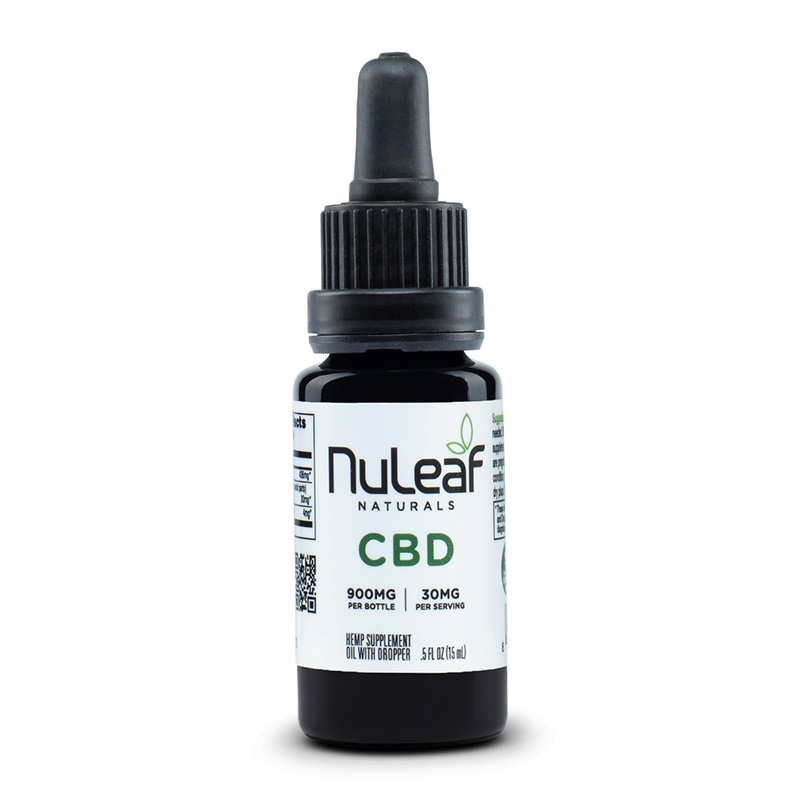 Which NuLeaf Product is Right for You?
Multi – General Wellbeing
CBC – Cognitive Support
CBG – Gut Health
CBN – Sleep Aid
Best For Sleep: CBN
NuLeaf's CBN oil is a whole-plant extract that promotes deep sleep and relaxation.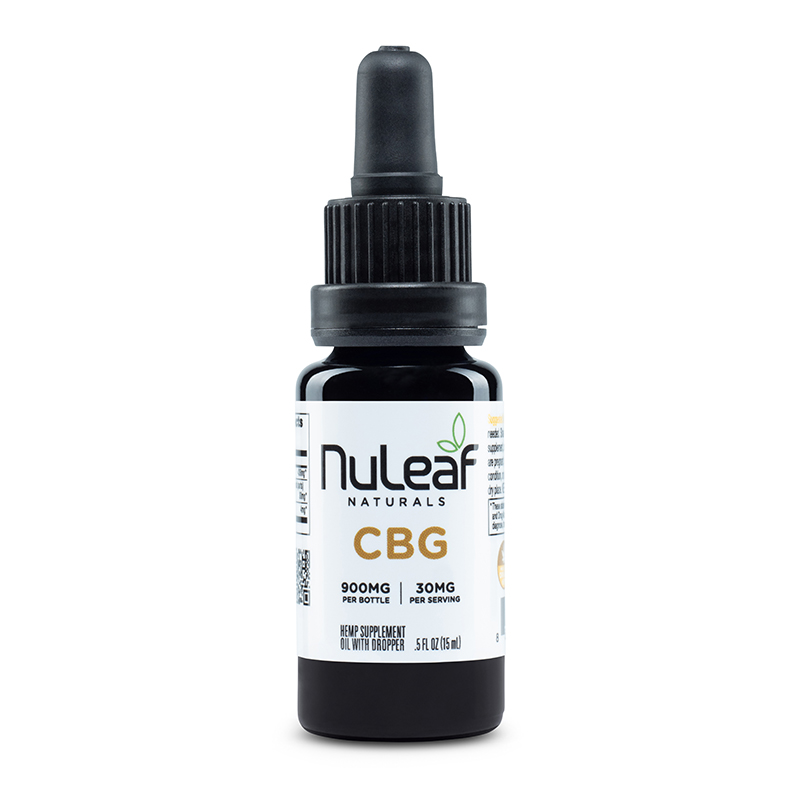 Best for Gut Health: CBG
Cannabigerol has been shown to reduce inflammation and support gastro-intestinal (GI) system health.
Best for Acne: CBC
CBC may help balance skin inflammation such as the kind seen with acne.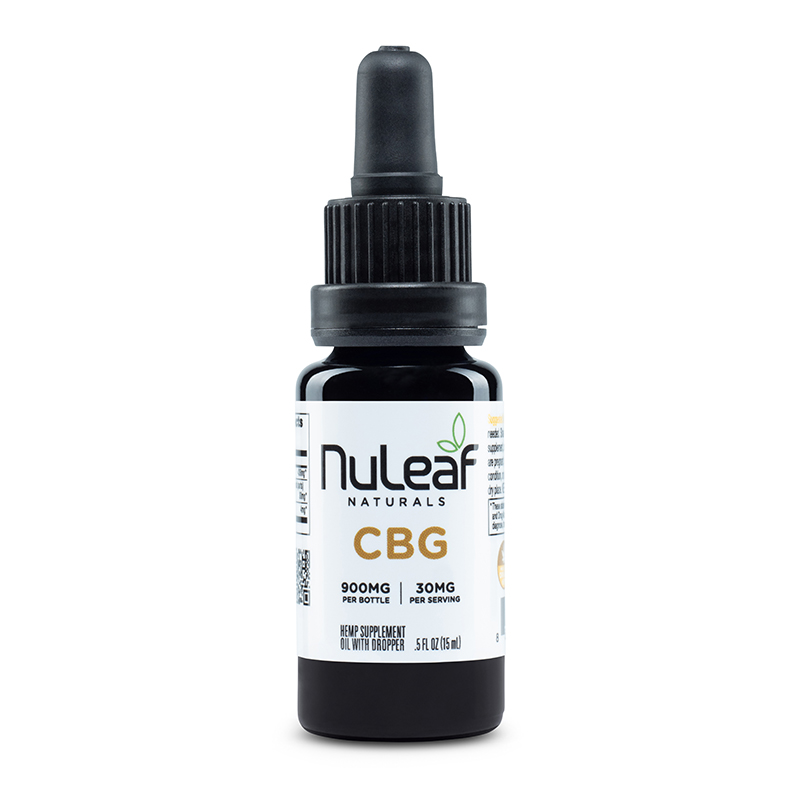 CBG works by binding to endocannabinoid receptors where it is thought to strengthen the function of anandamide; a neurotransmitter that plays a key role in enhancing pleasure and motivation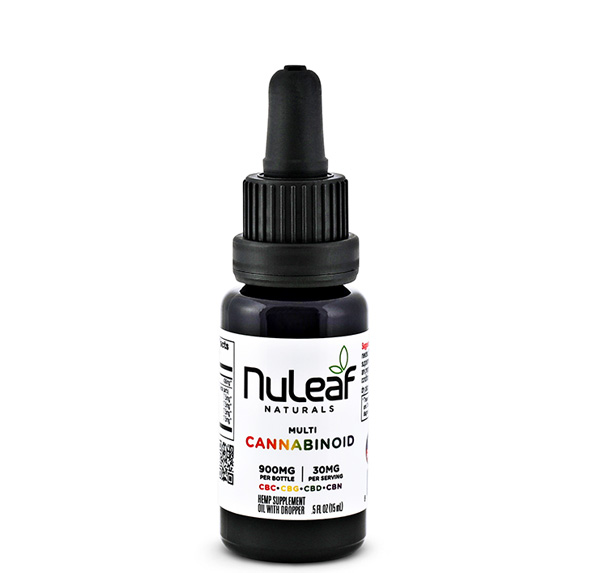 NuLeaf Multicannabinoid
The NuLeaf Multicannabinoid is a daily blend containing all the essential cannabinoids: CBD; CBC; CBG; and CBN in a balanced profile to supercharge your endocannabinoid system. There's also a version with Delta8THC but is excluded from shipping to certain states.
How to Take NuLeaf?
Hold your dose under the tongue for 30-60 seconds (recommended for fastest absorption), apply the oil topically to your skin (can be applied directly to a problem area or mixed with your favorite moisturizer), or blend the oil in a health-conscious snack.
Taking CBD oil sublingually (under the tongue) is a fast and direct method of absorption as the veins under the tongue absorb the CBD and other cannabinoids directly into the bloodstream.
Ingesting a soft gel or placing it in your feed will result in slower absorption compared to taking it sublingually, with the speed dependent on the body's speed of digestion. On the other hand, with a slower absorption method like GI ingestion, the cannabinoids remain in circulation longer and thus effects tend to last longer than when taken sublingually.
How Long Does it Take NuLeaf to Work?
When starting a CBD regimen, it's important to understand that while some people may notice effects quickly, it usually takes several weeks of consistent use to see results. CBD, CBC, CBG, and CBN take time to build up in our body's endocannabinoid system (ECS), so the key is consistency and continued use over time.
You're also not going to suddenly feel different. It's more of an absence of feeling like reduced pain, fewer symptoms of anxiety, less restless or sleepless nights.
The recommended dosage is also not something that you need to follow – it's more of a starting point. Everyone's biochemistry is different, and you should experiment with dosage to see what's right for you. You can gradually up the dosage, gauge and assess from there.
NuLeaf Discount Code – OBL saves 20%
Free 2-3 day US shipping. For international customers, global shipping costs $25.